Copycat Chick-Fil-A Nuggets with honey mustard dipping sauce. Skip the drive-thru and make some homemade real chicken nuggets at home. Give this Chick Fil A copycat chicken recipe a try today.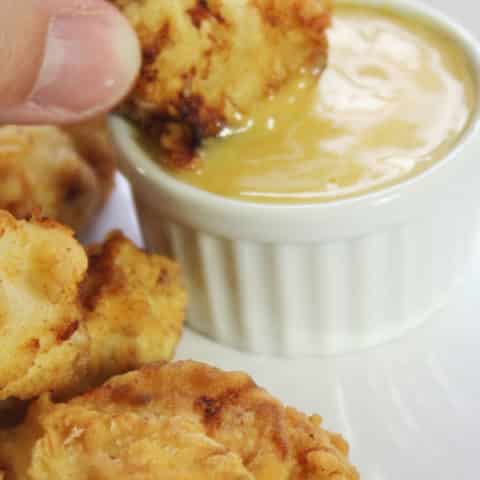 Copycat Chick-Fil-A Nuggets with homemade honey mustard dipping sauce will blow your mind. Juicy chicken nuggets that are lightly breaded and fried. Skip the drive thru and make your favorite Chick Fil A chicken at home.
These Chick-Fil-A Nuggets will satisfy your craving and give you the same crispy, tender chicken. Made with real chicken breasts and real ingredients. Try my Chick Fil A Sandwich as well.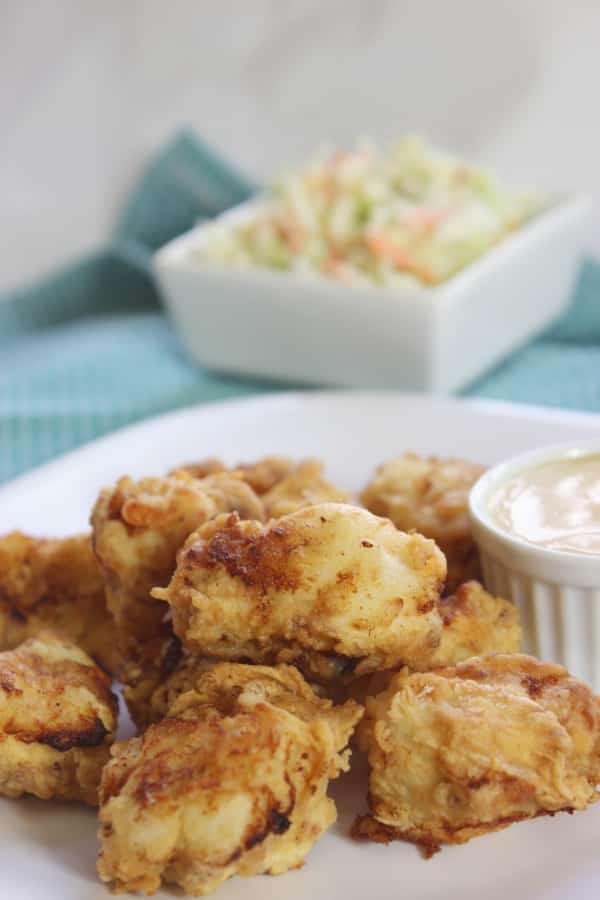 I could live off homemade chicken nuggets. This Chick Fil A chicken nugget recipe is one that I will be making over and over again! I mean I can't even express how incredible the flavor is of these.
Plus the honey mustard dipping sauce took seconds to make and elevated the flavor of the nuggets. Give these nuggets a try, or even a Chick Fil A Chicken Sandwich! Pair this with the Chick Fil A Coleslaw Recipe as well!
This Chick Fil A Nuggets Recipe Is A…
Fried chicken nuggets
A copycat Chick Fil A Recipe
I share recipe for the Chick Fil A chicken nugget dipping sauce
Made with real chicken
Freezer Friendly
Kid Friendly
Ingredients You Will Need
Chicken – Boneless chicken is key. If you are working with tenderloins make sure to remove the tendon, or it can create a chewy chicken.
Pickle Juice – Dill pickle juice is a must for this recipe.
Milk and Egg – You will use the milk and egg for a portion of the dredging the diced chicken pieces for breading. Once the chicken has soaked in the pickle juice, you then soak in milk mixture.
Flour and Seasonings – For the batter you will use flour and a handful of spices and seasonings. Mix well so you get even flavor.
Powdered Sugar – I know it sounds strange but the powdered sugar is going to add a hint of sweetness. This is what makes Chick Fil A chicken so delicious.
Oil – Oil for frying up in a skillet is needed. Peanut, canola or even vegetable oil work great.
How to Make
Full directions for making this Chick Fil A nuggets recipe is in the printable recipe card at the bottom of the post. This is a visual walk through.

Step One: Start by dicing up your chicken into inch cubes. Place in a bowl or bag. Then pour your pickle juice in the chicken and let it soak in the fridge for 1 hour.
Step Two: Drain off the pickle juice. Then mix up egg and milk whisking. Then soak the chicken in the milk for 15 minutes on counter.
Step Three: While the chicken is soaking, mix up your flour and seasonings, mix and set aside.
Step Four: Heat oil in a skillet on the stove to around 350 degrees. Then take your soaked chicken and dredge in the flour mixture, coating all sides.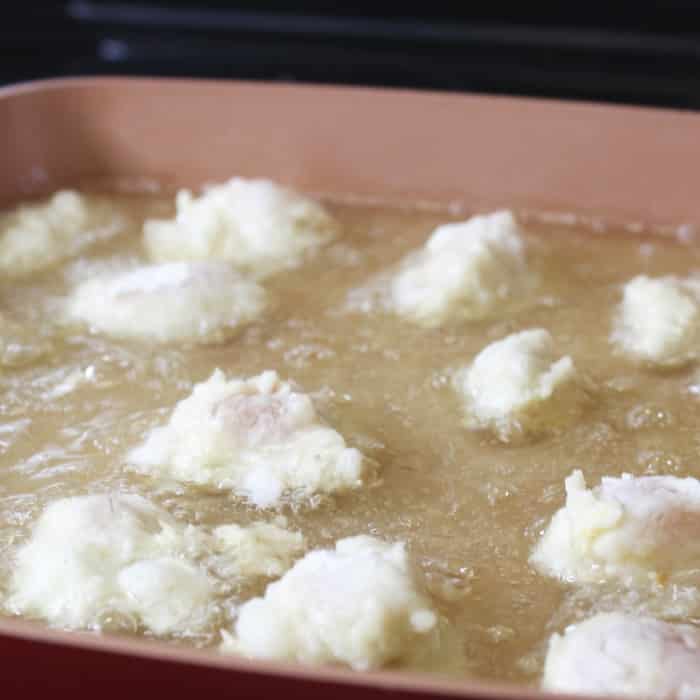 Step Five: Place chicken pieces in the hot oil and fry up on all sides. This takes a few minutes and remove and place on lined paper towel.
Chicken is fully cooked at 165 degrees Fahrenheit. Make sure to use a meat thermometer to ensure the chicken is fully done.
What to Pair With Chicken Nuggets
I made the honey mustard dipping sauce that is in the recipe tab below, and then paired with Coleslaw! Such an incredible dinner for the families.
You could also do fries, potato salad, vegetable salad, or any of your favorite sides. This chick fil a nugget recipe is very versatile on what to pair with it.
Storing Nuggets
Refrigerate: Your nuggets need to be refrigerated in an airtight container or sealed bag. They will store for 3-4 days in the fridge.
Freezer Option: Once the nuggets are cooked just allow to cool and then store in a freezer friendly container. You can freeze them for around three months.
Then when you want to serve them thaw in the fridge the night before and heat in the microwave or warm them up in the oven, until they are cooked through. Or heat them up from frozen in the oven at 350 degrees until warmed all the way through.
Frequently Asked Questions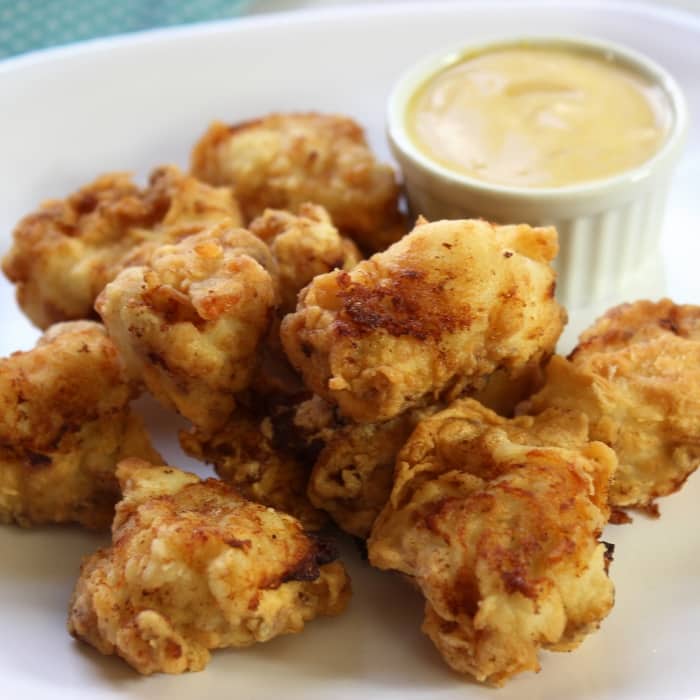 Related Recipes
Have you tried the recipe? If so, please leave a star ⭐️⭐️⭐️⭐️⭐️ rating in the recipe card below or drop a comment. Also stay in touch with me through social media by following me on Facebook, Pinterest, or My Facebook Group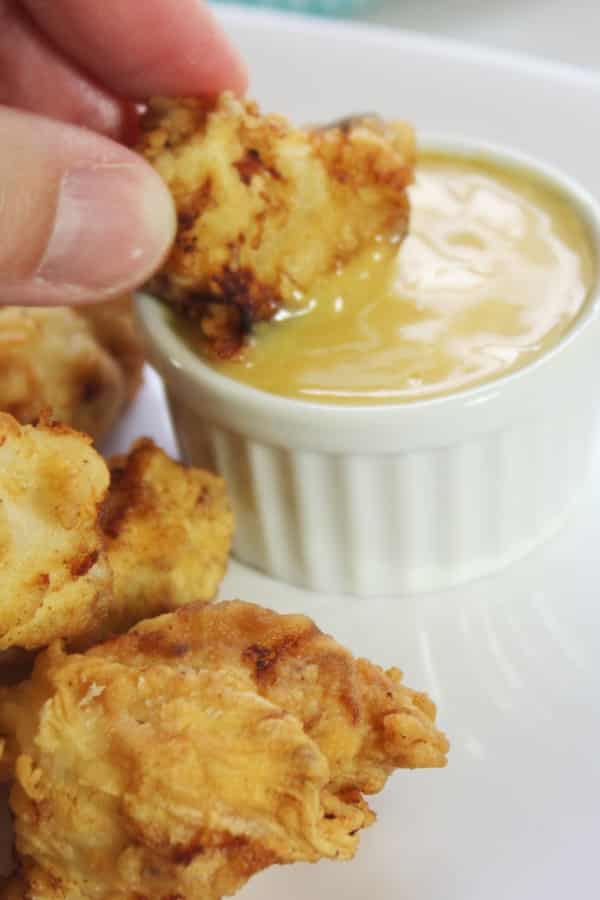 Copycat Chick-fil-A Nuggets with Honey Mustard Dipping Sauce
Servings 40 -50 nuggets
Copycat Chick-Fil-A Nuggets with honey mustard dipping sauce. Skip the drive-thru and make some homemade real chicken nuggets at home. Give this Chick Fil A copycat chicken recipe a try today.
Ingredients
1 Package Chicken Breast Or Pack of Tenderloins
1 Cup Dill Pickle Juice
1 Cup Milk
1 Large Egg
2 Cups Flour all purpose
2 teaspoons salt
1/2 teaspoon pepper
3 tablespoons powdered sugar
Peanut Oil
Ingredients for Dipping Sauce
1/2 Cup Ken's Steakhouse Honey Mustard Sauce
1/2 teaspoon Apple Cider Vinegar
1 tablespoon BBQ Sauce Kansas City Style
Instructions
To make the sauce combine honey mustard, bbq, and apple cider in a bowl, mix and place in fridge.

Dice up your chicken into bite-size pieces and place in a bowl with one cup of pickle juice. Store in the fridge for one hour.

Once the hour is up you want to combine milk and egg and give a good whisk. Put chicken in egg and milk and let it soak for 15 minutes.

While that is soaking you can combine your flour, powdered sugar, salt and pepper and stir. Heat your oil on medium – medium/high heat.

Take chicken out of egg wash and let roll around in the flour mixture.

Place battered chicken in hot grease and cook 3-4 minutes on each side until golden brown on outside and cooked through.

Place the cooked Chick Fil A nuggets on a paper towel to soak up excess oil and serve hot.
Notes
Chicken – The chicken needs to read 165 degrees internally to be fully cooked. Depending on the size of chicken pieces you use the cook time will vary. Dipping Sauce – You can make the homemade sauce or buy or use any sauce you prefer. Freezing: Let your nuggets cool once cooked and then freeze in a proper container for 3-4 months. This is a great way to stock your freezer. Microwave or heat in oven at 350 degrees or until warmed through.
Nutrition
Serving: 8gCalories: 330kcalCarbohydrates: 40gProtein: 13gFat: 13gSaturated Fat: 3gPolyunsaturated Fat: 9gCholesterol: 52mgSodium: 1619mgFiber: 1gSugar: 12g
This is a great way to save money and still serve your family the food you enjoy!
We have to travel hours to our closest Chick Fil A. So having a copycat version to help give me the flavors of this famous fast food joint makes it fun for our family! If you are a fan of chicken, give this recipe a try.
Have you tried a copycat Chick-Fil-A Chicken Nuggets recipe?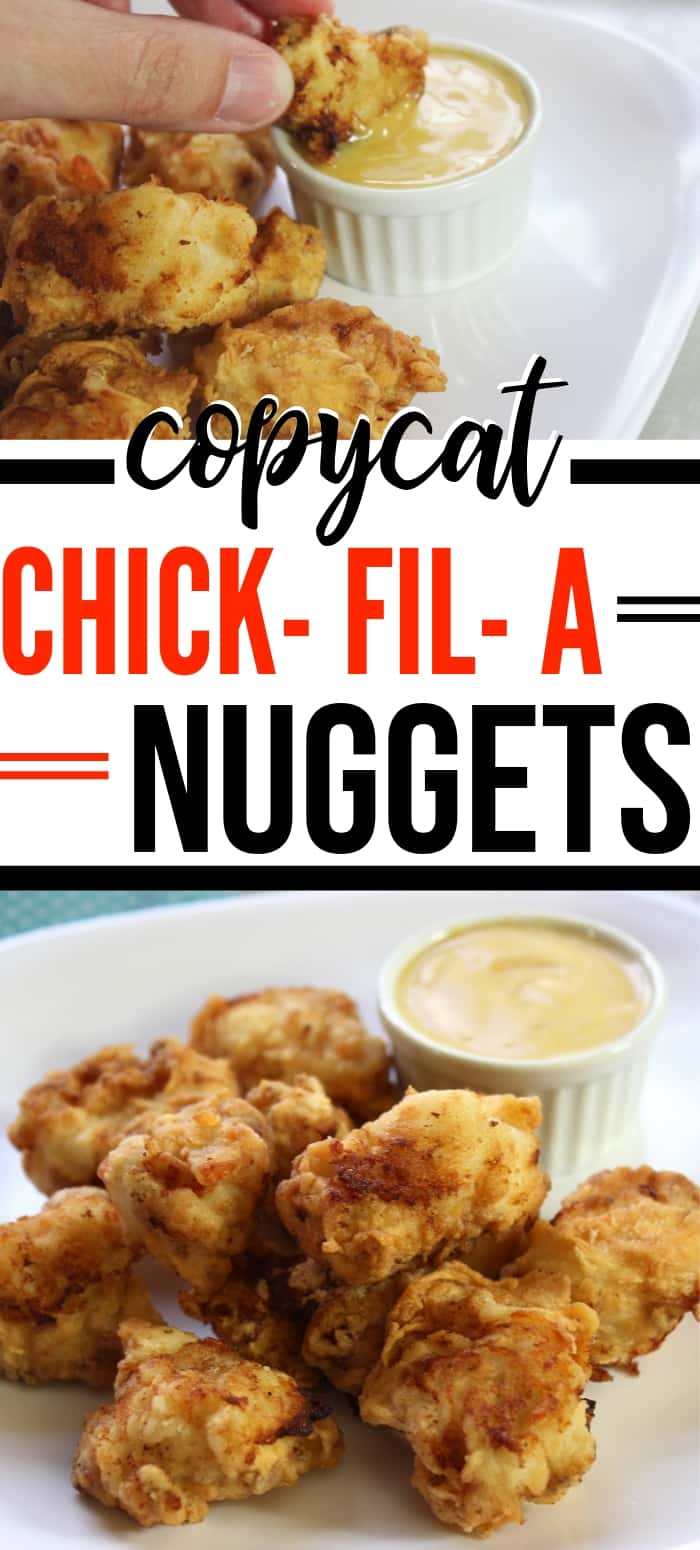 Reader Interactions