Copycat Chick-Fil-A Nuggets with homemade honey mustard dipping sauce will blow your mind. Juicy chicken nuggets that are lightly breaded and fried.
These Chick-Fil-A Nuggets will satisfy your craving without having to make a quick trip through the drive-thru. Made with real chicken breasts and real ingredients.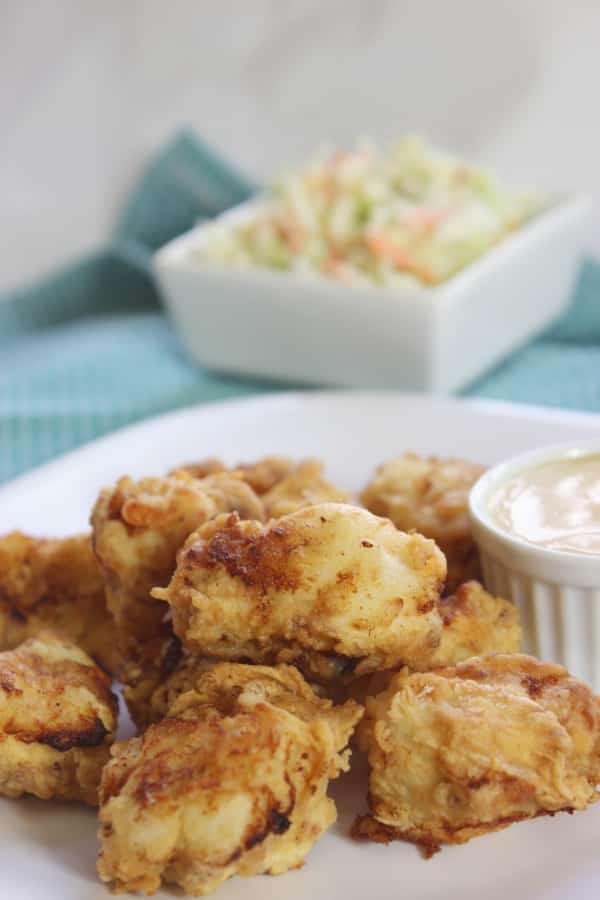 Chick Fil A Nuggets
I could live off homemade chicken nuggets. This Chick Fil A chicken nugget recipe is one that I will be making over and over again! I mean I can't even express how incredible the flavor is of these.
Plus the honey mustard dipping sauce took seconds to make and elevated the flavor of the nuggets. Give these nuggets a try, or even a Chick Fil A Chicken Sandwich! Pair this with the Chick Fil A Coleslaw Recipe as well!
How Do I Make Chick-Fil-A Nuggets At Home?
Start with real chicken breast or tenders and dice into bite-size pieces (around an inch). Then soak in a pickle juice, dip in egg wash, and coat in flour base, and then fry to perfection.

Does Chick-Fil-A Use Pickle Juice To Brine The Chicken?
Yes. Chick-Fil-A uses dill pickle juice to brine their chicken. From chicken sandwiches to nuggets.
After you soak in pickle juice transfer to the egg/milk wash to help pull a bit of the pickle flavoring from the chicken.
What Kind of Pickle Juice to Use For Brining Chicken?
Reach for dill pickle juice. Stay away from bread butter style, spicy, etc. Just the basic pickle juice will work breast to soak the chicken pieces in. The pickle juice brine is what makes this chicken stand out from other fast food chains.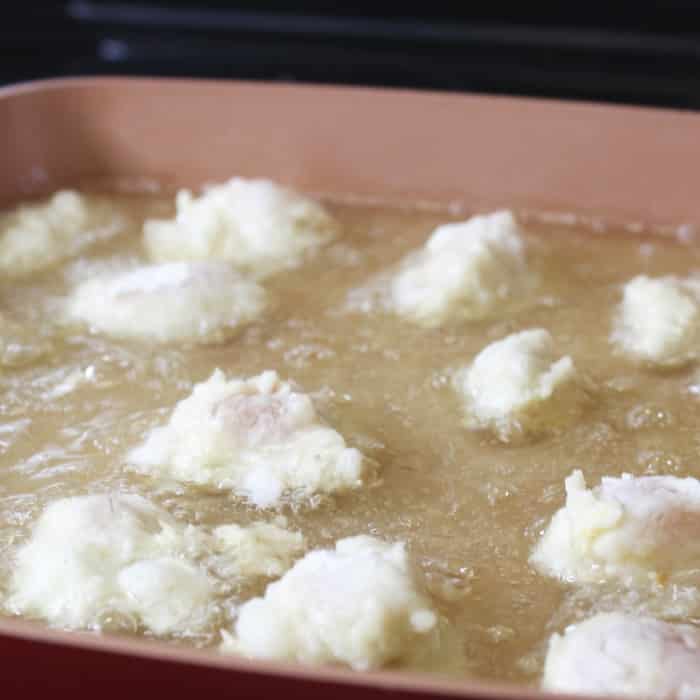 What Oil Does Chick-Fil-A Use?
Chick-Fil-A uses Peanut Oil when frying their chicken products. If you don't have peanut oil you can opt for a different oil like Canola.
Using a different oil will change the flavor slightly, but overall it will still offer a similar taste. The peanut oil will offer a nice golden brown crust as well.
How Many Nuggets Will A Pack Of Chicken Tenderloins Make
I bought a pack of boneless chicken tenderloins and once I diced up the chicken it made around 50 nuggets. My package was around 1-1/2 lbs of chicken if I remember correctly. Depending on the size of the chicken you buy will depend on how many nuggets you will get.
What to Pair With Chicken Nuggets
I made the honey mustard dipping sauce that is in the recipe tab below, and then paired with Coleslaw! Such an incredible dinner for the families.
You could also do fries, potato salad, vegetable salad, or any of your favorite sides. This chick fil a nugget recipe is very versatile on what to pair with it.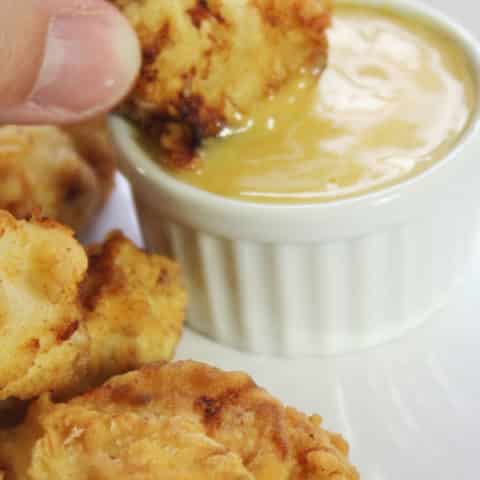 Copycat Chick-fil-A Nuggets with Honey Mustard Dipping Sauce
Total Time:
1 hour
30 minutes
Copycat Chick-Fil-A Nuggets with honey mustard dipping sauce. Skip the drive-thru and make some homemade real chicken nuggets at home.
Ingredients
1 Package Chicken Breast Or Pack of Tenderloins
1 Cup Dill Pickle Juice
1 Cup Milk
1 Large Egg
2 Cups Flour (all purpose)
2 teaspoons salt
1/2 teaspoon pepper
3 tablespoons powdered sugar
Peanut Oil
Ingredients for Dipping Sauce
1/2 Cup Ken's Steakhouse Honey Mustard Sauce
1/2 teaspoon Apple Cider Vinegar
1 tablespoon BBQ Sauce (Kansas City Style)
Instructions
To make the sauce combine honey mustard, bbq, and apple cider in a bowl, mix and place in fridge.
Dice up your chicken into bite-size pieces and place in a bowl with one cup of pickle juice. Store in the fridge for one hour.
Once the hour is up you want to combine milk and egg and give a good whisk. Put chicken in egg and milk and let it soak for 15 minutes.
While that is soaking you can combine your flour, powdered sugar, salt and pepper and stir. Heat your oil on medium - medium/high heat.
Take chicken out of egg wash and let roll around in the flour mixture.
Place in hot grease and cook 3-4 minutes on each side until golden brown on outside and cooked through.
Place on a paper towel to soak up excess oil and serve hot.
Nutrition Information:
Yield:

8
Serving Size:

8
Amount Per Serving:
Calories:

330
Total Fat:

13g
Saturated Fat:

3g
Trans Fat:

0g
Unsaturated Fat:

9g
Cholesterol:

52mg
Sodium:

1619mg
Carbohydrates:

40g
Fiber:

1g
Sugar:

12g
Protein:

13g
This is a great way to save money and still serve your family the food you enjoy!
Can You Freeze Copycat Chick Fil A Nuggets
Yes, you can freeze your copycat chick fil a nuggets! Once they are cooked just allow to cool and then store in a freezer friendly container. You can freeze them for around three months.
Then when you want to serve them thaw in the fridge the night before and heat in the microwave or warm them up in the oven, until they are cooked through.
How Long Do Homemade Chick Fil A Chicken Nuggets Last In Fridge
You can store your nuggets in the fridge for up to three days. They taste best day one, but my breading held up nicely in the fridge. I then just reheated them in the microwave! But you are welcome to heat in the oven as well.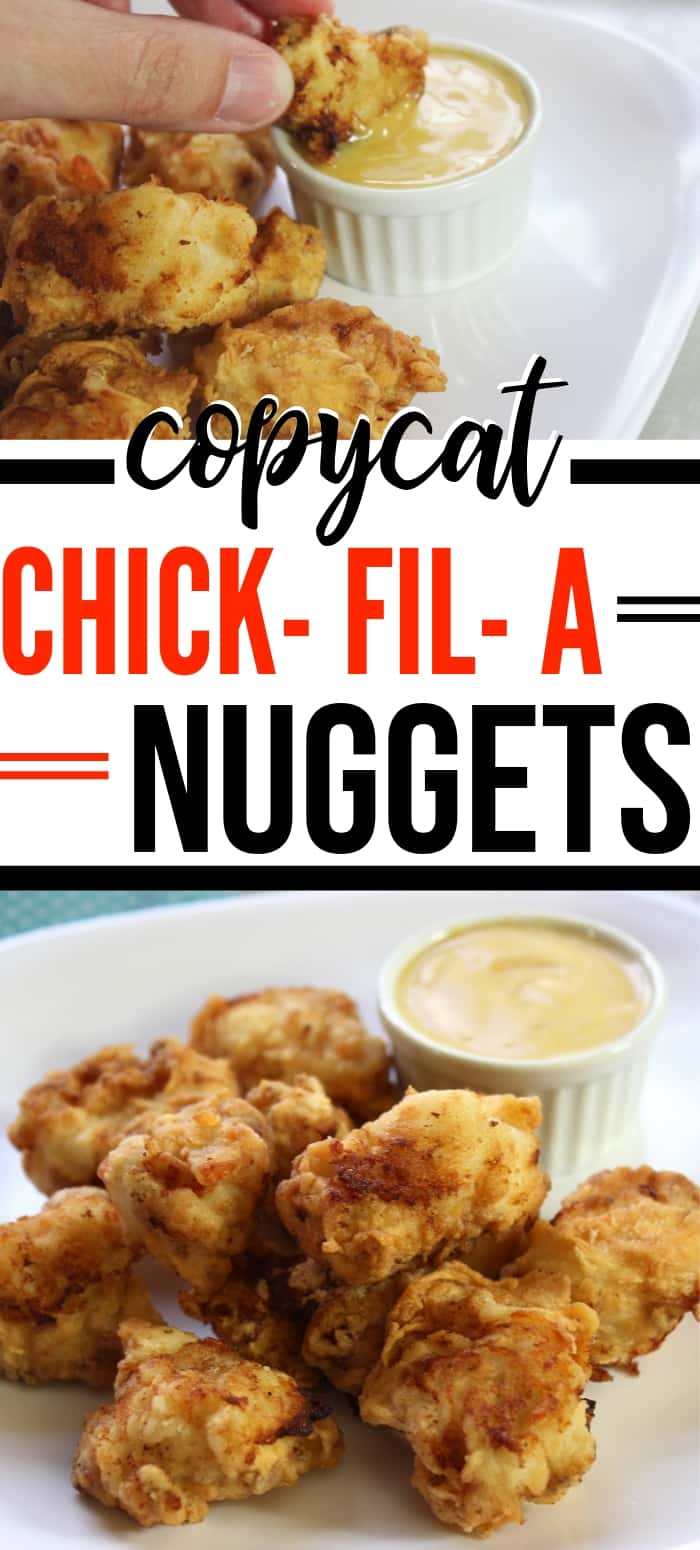 We have to travel hours to our closest Chick Fil A. So having a copycat version to help give me the flavors of this famous fast food joint makes it fun for our family! If you are a fan of chicken, give this recipe a try.
Have you tried a copycat Chick-Fil-A Chicken Nuggets recipe?