Kung Pao Chicken is an easy and delicious Chinese Kung Pao chicken recipe. This recipe is so easy to make, and versatile in ingredients used. Skip pricey takeout and learn to make homemade Kung Pao at home.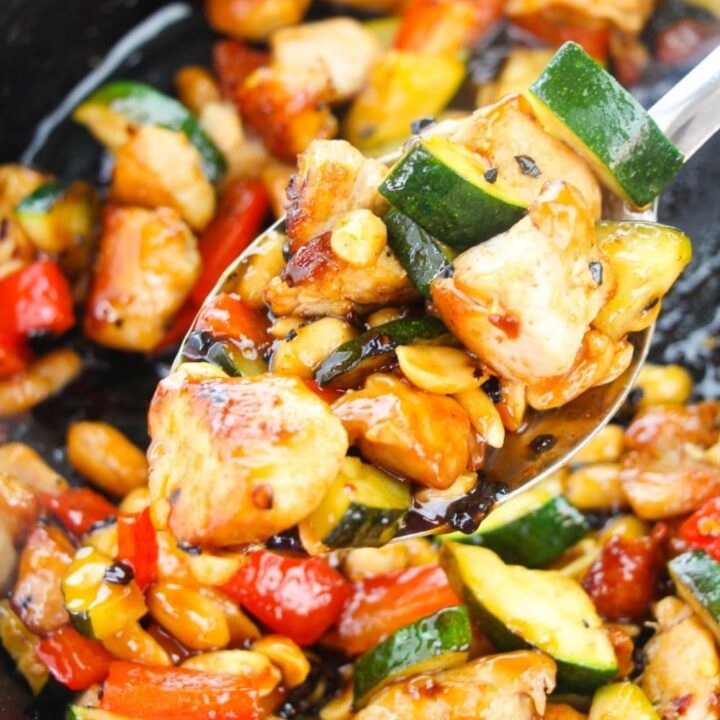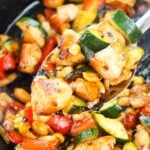 Love ordering takeout from your favorite Chinese restaurant? If you are a fan of the Kung Pao chicken this Chinese Kung Pao Chicken is going to win you over. Add in any of your favorite veggies, and smother in the homemade sauce that elevates this easy chicken recipe to a whole new level.
This chicken dinner idea is going to make you feel like it was from your favorite restaurant. Stay in and enjoy this Chinese chicken recipe any night of the week.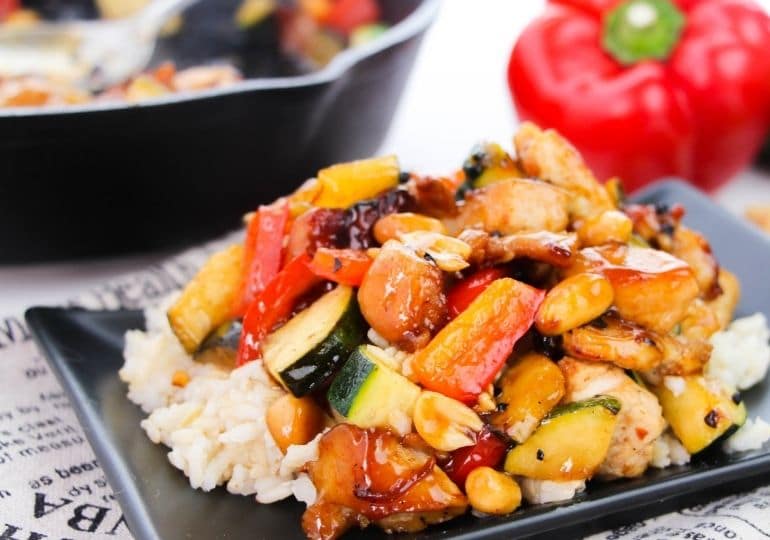 Table of contents
Pair this with some fried rice, crab rangoons, Chinese lo mein noodles, or any of your favorites.
You may also know this Chinese dish as Kung Po or even Gong Bao. However you choose to call it, here is my version of this famous Chinese recipe.
So I used bell peppers and zucchini as my stand out veggies to compliment the chicken. Feel free to change it up with what you have on hand.
Why This Recipe Is A Hit
Simple Ingredients – Nothing fancy, just simple ingredients are mixed together to create a dynamite dinner the whole family loves.
Mild or Spicy – You get to choose if you want this dish to be milder or spicy. Adjust the ingredients as needed to fit your preference.
Affordable Compared to Ordering Out – You will find you can make a lot more for the price you would pay for a smaller portion. This chicken recipe is tasty, and will serve more people.
Meal Prep Chicken Recipe – Use this chicken recipe to meal prep with. Pair with rice, cauliflower rice or even quinoa. Just cook and portion into containers for grab and go lunches.
Ingredients You Need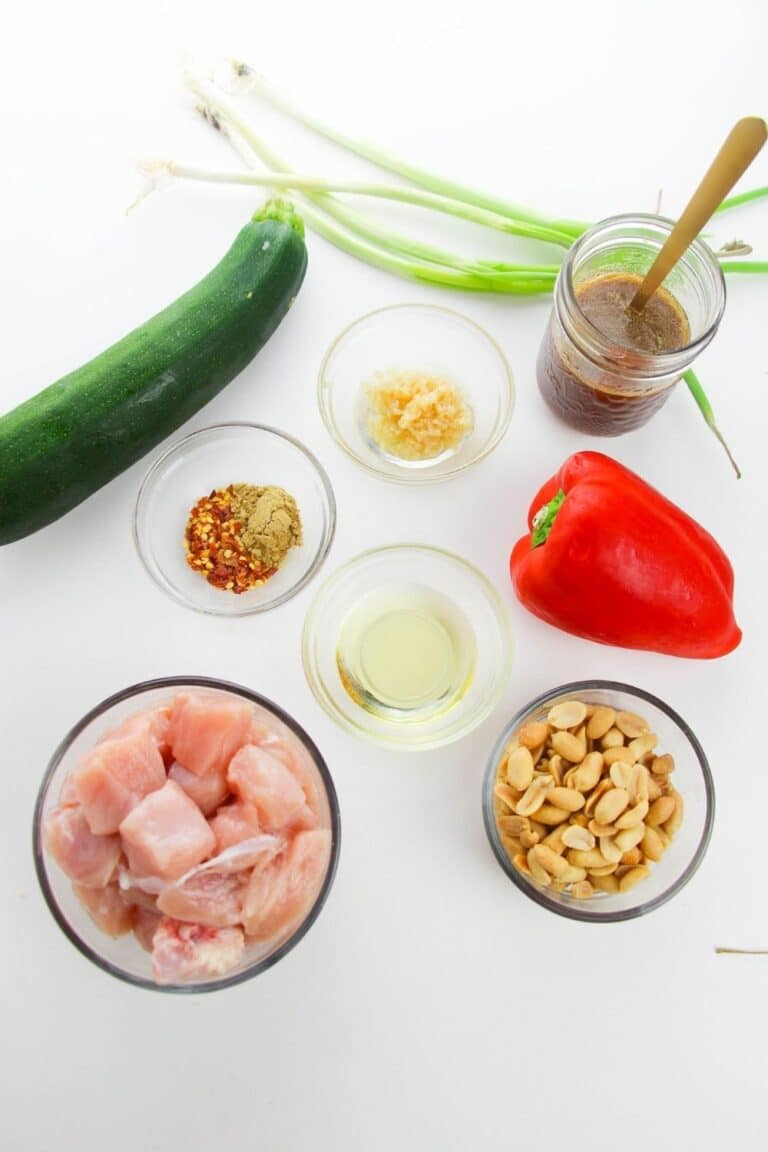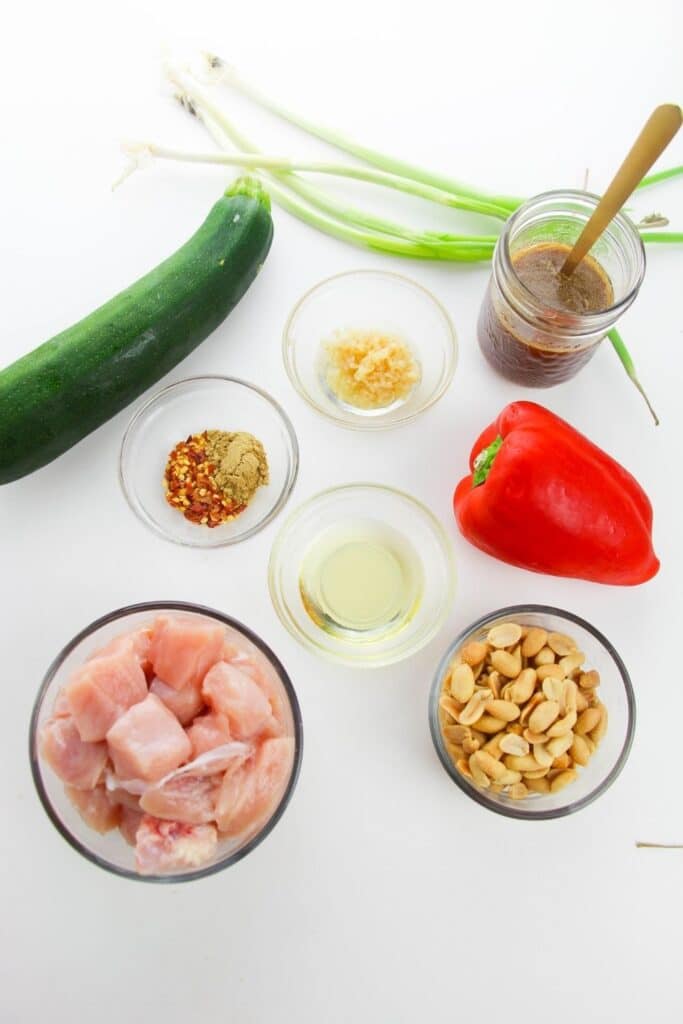 Chicken – Any boneless chicken works that you will cut up into cubes.
Oil – For searing in skillet. Canola, Vegetable or Olive oil all work.
Salt and Pepper
Spices – Ground ginger, red chile flakes, along with minced garlic will help to bring incredible flavor to the dish. 
Veggies – Zucchini and bell peppers are what I used but use any veggies you want. Snow peas, broccoli, carrots, etc.
Peanuts – The peanuts add a nice nutty and crunchy texture to the Kung Pao stir fry. If you are not a fan les d the nuts out.
Green Onions – A gorgeous element of flavor and pop of color to the dish.
Kung Pao Sauce – I made homemade Kung Pao sauce. If you don't want to make your own, you can buy a bottled sauce to stir in.
How To Make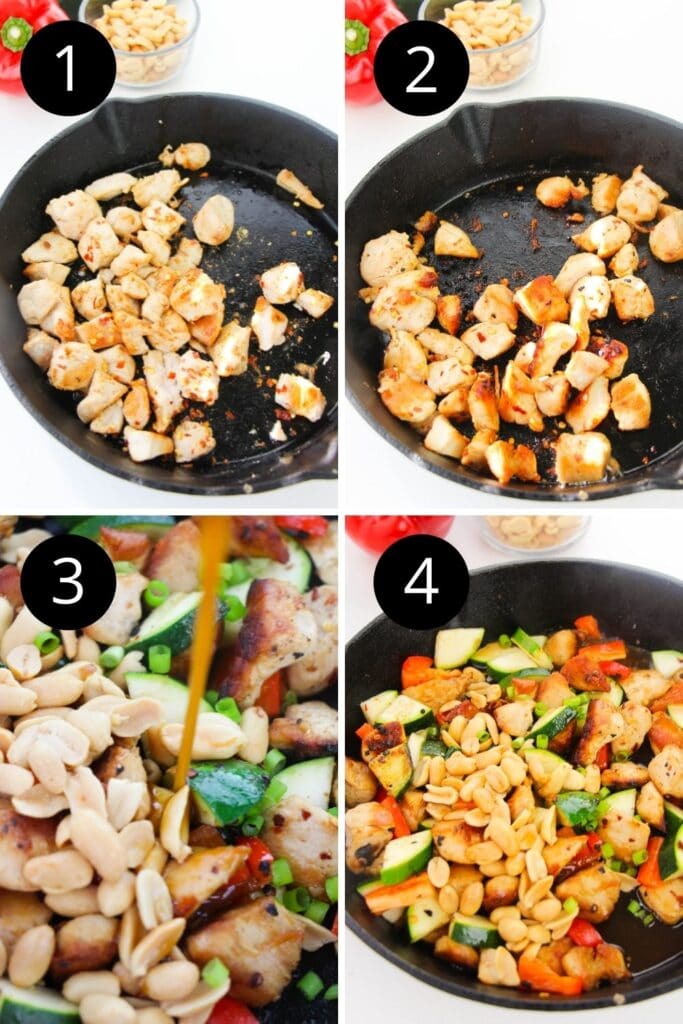 Step 1: Start by dicing up your chicken into small cubes, season with salt and pepper. Then heat your oil in a skillet over medium-high heat. Toss the chicken in and cook until brown and fully cooked.
Step 2: Next, add in the chili flakes and minced garlic. You want to cook for a minute or so to allow both to become fragrant.
Step 3: Then add in the diced veggies and cook to soften as directed in the recipe card below.
Step 4: Mix up the kung pao sauce and pour in the skillet. Toss in the green onions and peanuts.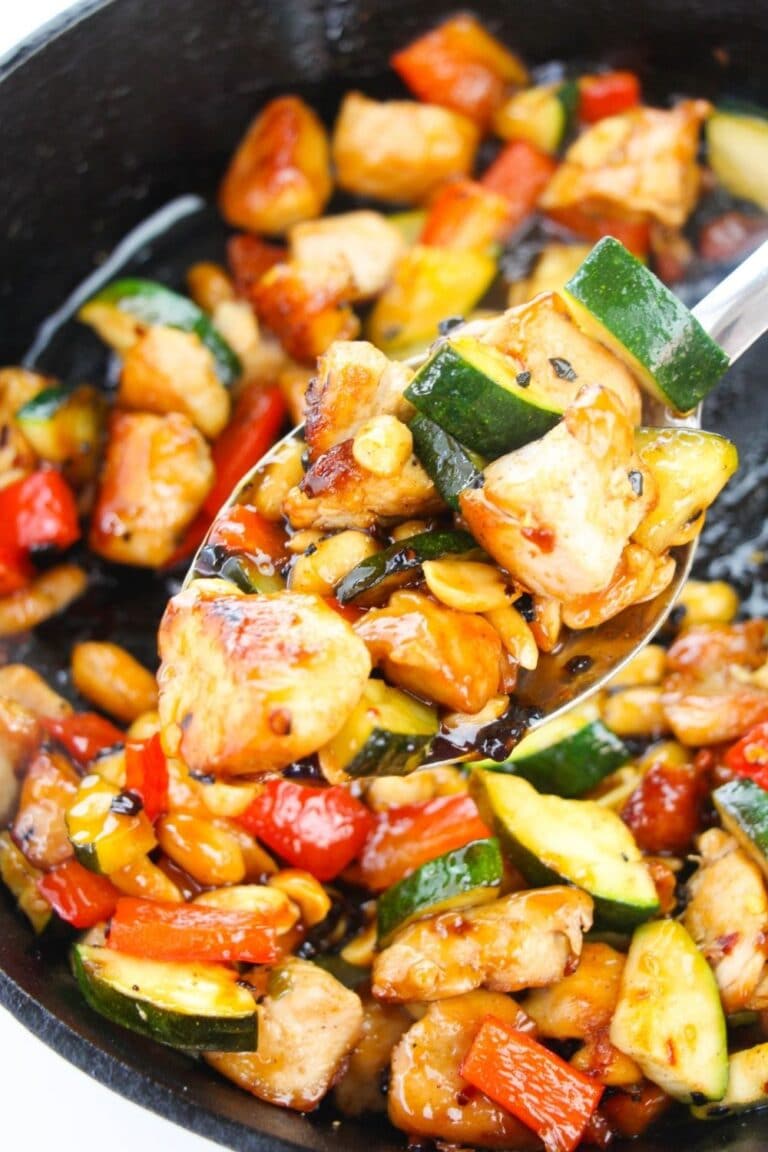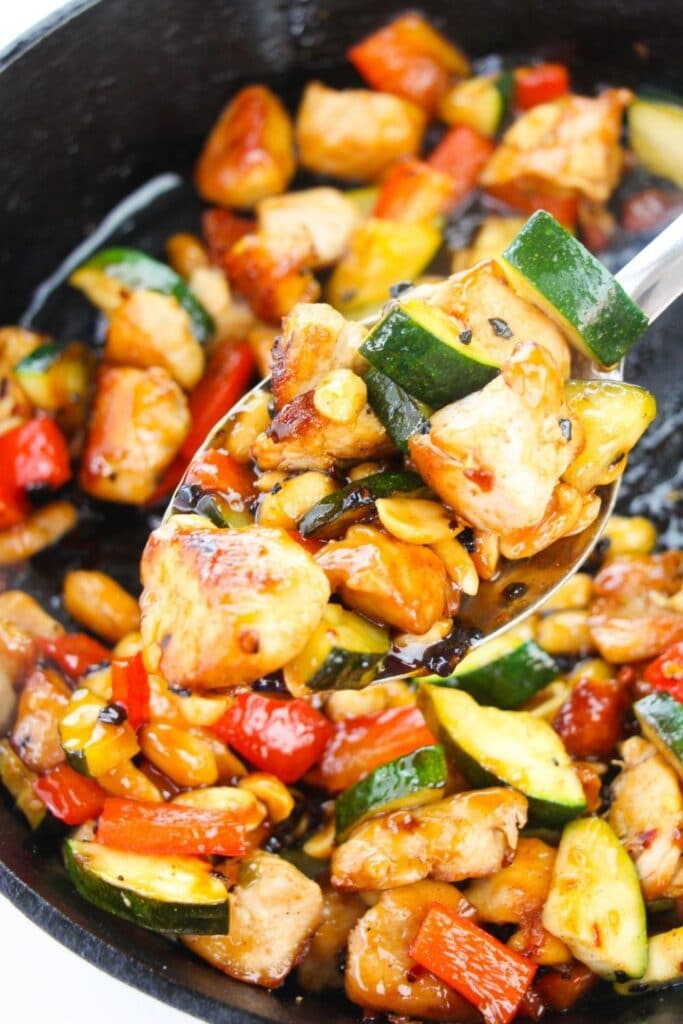 Step 5: Cook for a couple minutes to thicken the sauce, then top with remaining green onions and peanuts if you would like to garnish.
Serve with rice, noodles, or any of your favorites.
Storage and Meal Prep
Storing Leftovers – Store any of the chicken leftover in the fridge for up to 3 days. Then just reheat in the microwave, in a skillet, etc. I find the microwave is the best as it won't burn the sauce.
Meal Prep – Place in a meal prep container and pair with rice and use for grab and go lunches, or even a reheat and eat dinner option.
New to meal prepping? Here is my meal prep guide and great recipes to make!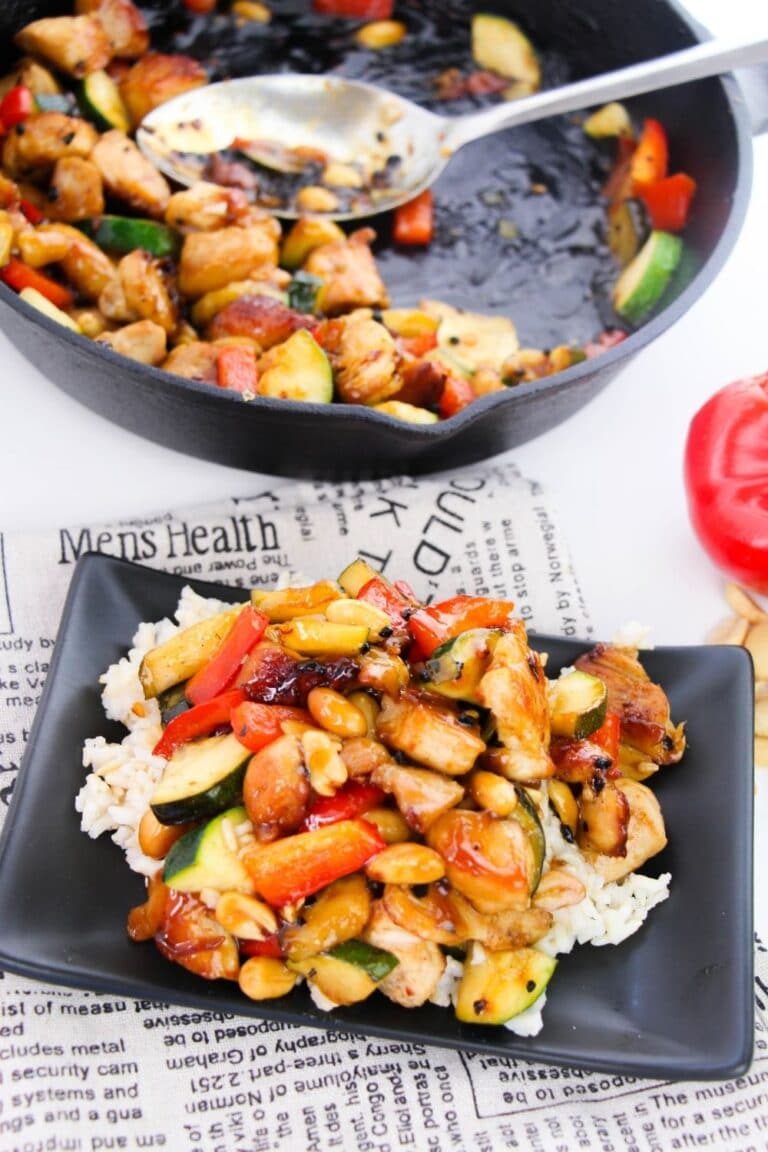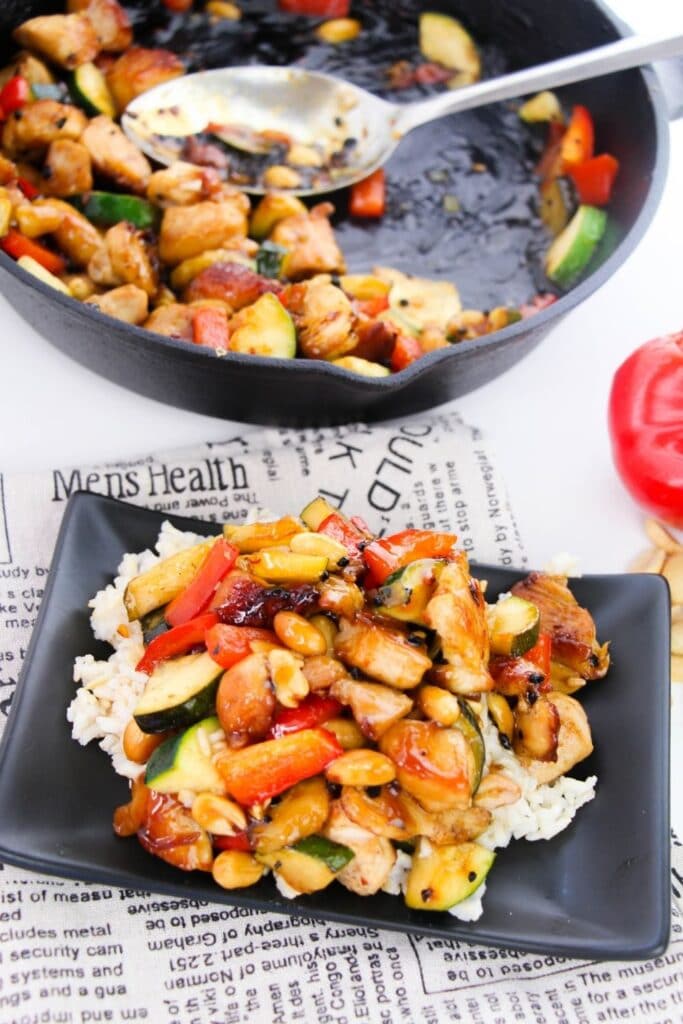 Expert Tips
Dice chicken in similar size so it cooks evenly.
I love to get a nice sear on chicken and veggies to create a char. It adds flavor.
Make sure to stir sauce when you pour in. It will thicken pretty fast once it hits the heat.
You can use ground chicken in replace of cubed chicken. Just cook until no longer pink.
Variations To Recipe
Swap out the veggies with other veggies. Use broccoli, carrots, snap peas, etc. Any of your favorites can be stirred in.
Skip the peanuts if you don't like nuts.
Use store bought sauce in replace of homemade if you want to simplify the steps even more.
FAQs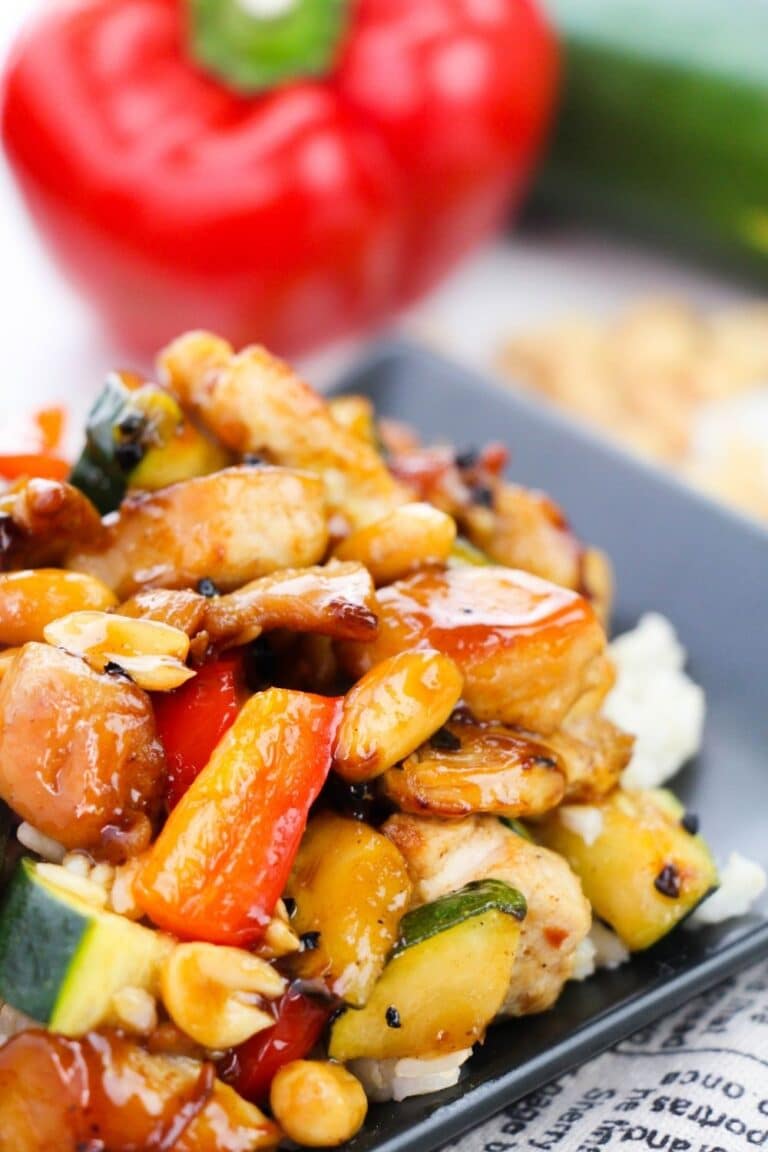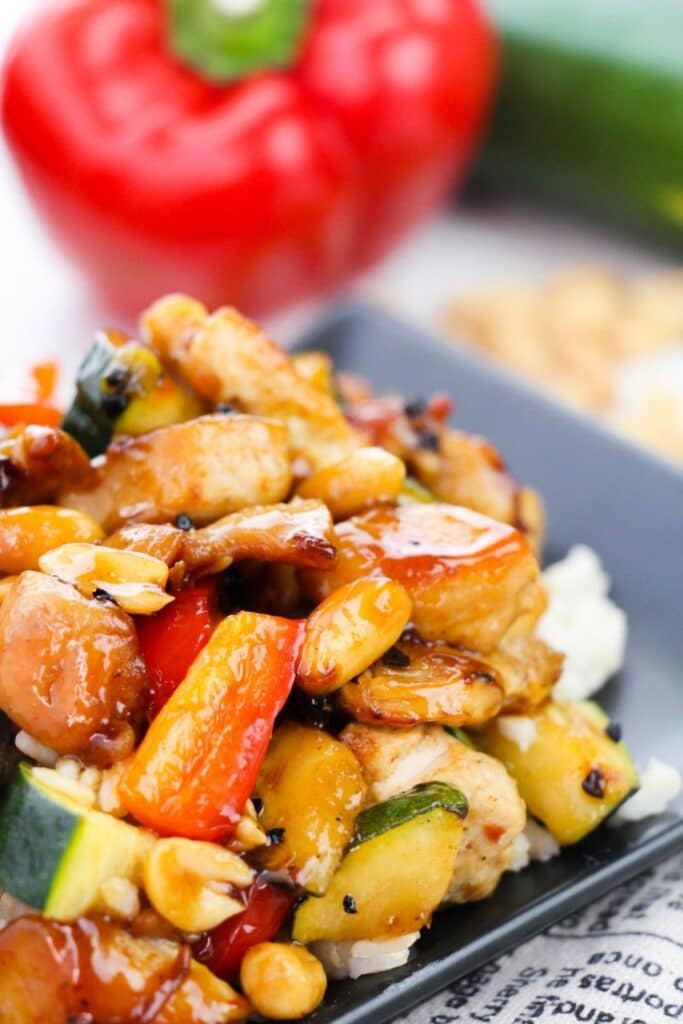 Related Recipes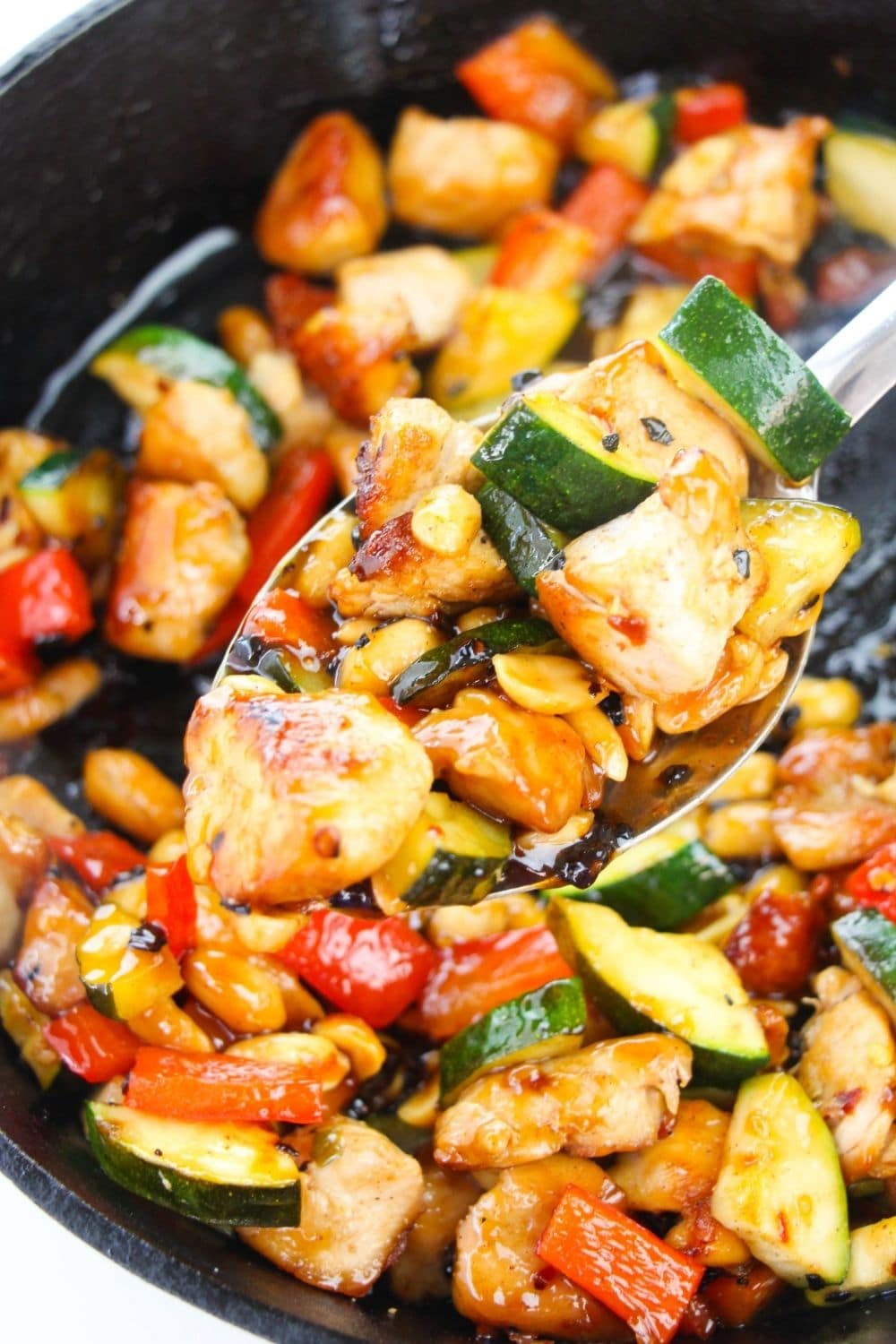 Kung Pao Chicken
Servings 4 -5 Servings
Kung Pao Chicken is an easy and delicious Chinese Kung Pao chicken recipe. This recipe is so easy to make, and versatile in ingredients used. Skip pricey takeout and learn to make homemade Kung Pao at home.
Ingredients
1 Tablespoon Oil
1 pound Diced Chicken approximately 2-3 chicken breasts
Salt and Pepper to taste
1 teaspoon Ground Ginger
1 teaspoon Red Chile Flakes or to taste
3 teaspoons Minced Garlic
1 Zucchini chopped
1 Red Bell Pepper chopped
1/4 cup Peanuts optional
2 Green Onions green parts sliced (white stems discarded)
Kung Pao Sauce this is my homemade recipe
Instructions
Add oil to pan and let it get hot. You will dice up your chicken into bite size cubes, and season with salt and pepper.

Add the chicken to the hot skillet and saute for 5-7 minutes or until the chicken is fully cooked.

Then add in the ginger, Chile flakes and minced garlic, and let cook a minute to become fragrant.

Next you will toss in the peppers and zucchini that are diced up into cubes. Stir and cook for around 5 minutes, or until slightly charred. If the skillet is too dry add in a little extra oil to prevent sticking.

Once veggies are cooked you will mix up and pour in your Kung Pao sauce. You can make homemade from my recipe (

click here

) or buy store bought sauce.

Stir in most of the sauce (save some for adding extra later if needed), part of peanuts, and 1/2 of the green onions. Stir often and cook for about 2 more minutes. The sauce will thicken pretty quick. Once thick and all the ingredients are coated.

Remove Kung Pao chicken from heat and serve with rice, noodles, etc.
Notes
Sauce – Make homemade Kung Pao or buy a bottle. I used all of the recipe for my sauce. You reserve some for adding on top if you enjoy heavy sauce. Serving – Serve with white rice, rice noodles, lo mein, etc. Spice Factor – If you want a mild Kung Pao use less red Chile flakes, or discard them altogether if you don't like spice. Storing Leftovers – Store your leftover chicken in the fridge for around 3 days. Use for grab and go lunches or dinner.
Nutrition
Serving: 1gCalories: 523kcalCarbohydrates: 10gProtein: 59gFat: 27gSaturated Fat: 6gPolyunsaturated Fat: 18gCholesterol: 184mgSodium: 407mgFiber: 3gSugar: 4g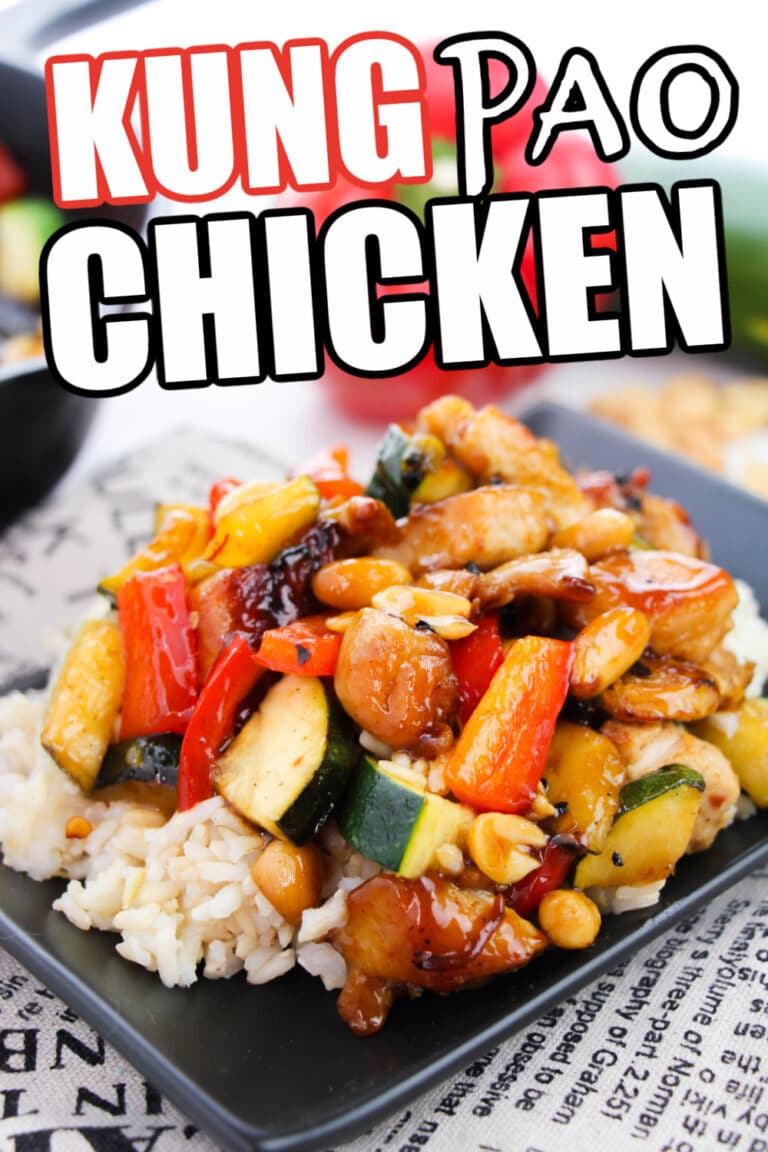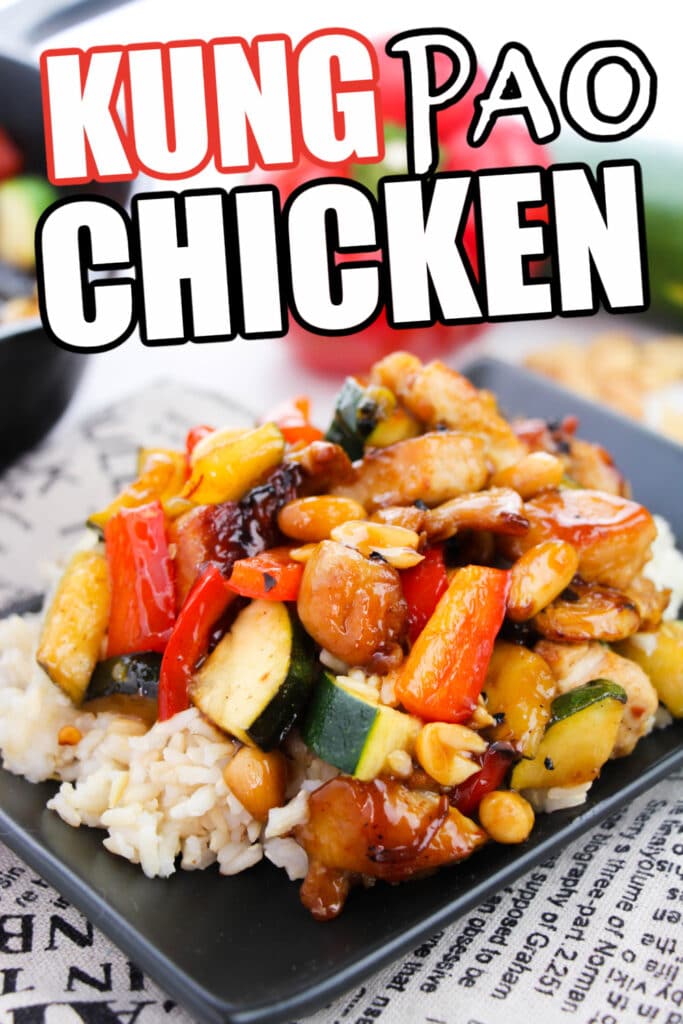 Reader Interactions