Chicken Leg Quarters with Mushroom sauce is a delicious pan seared chicken with mushroom gravy. A delicious bone-in chicken recipe to make for dinner.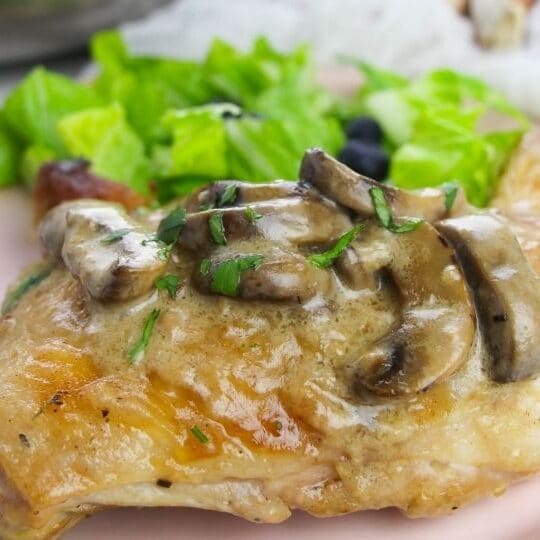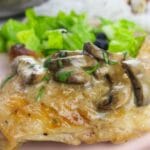 If you are on the hunt for a pan-seared chicken leg quarters recipe, this recipe right here might hit the spot. Chicken and mushrooms sauce that is pan-seared to golden perfection. Pair with your favorite sides and ring that diner bell.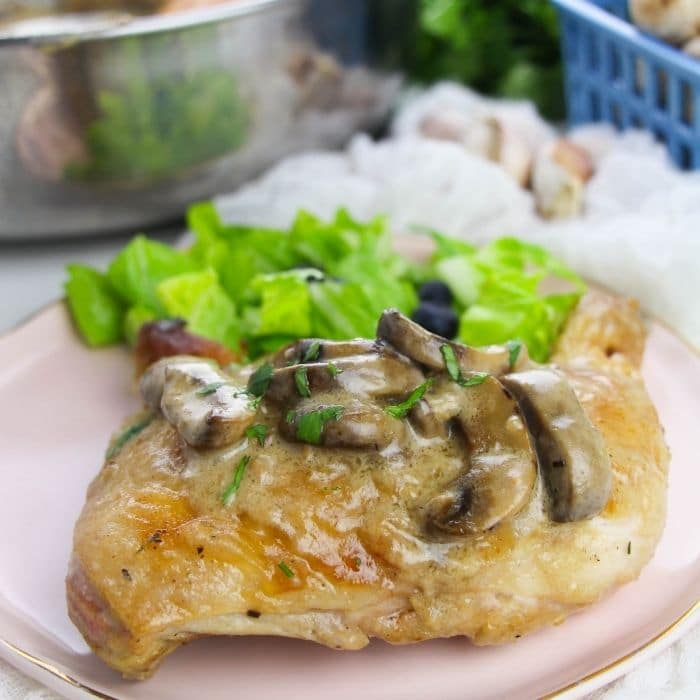 Skillet chicken is always a winner to me. You can whip up an affordable chicken that tastes better than ordering chicken and mushroom gravy at your favorite restaurant.
Now you can easily make this a chicken thighs and mushroom sauce or even chicken legs. Whatever bone-in cut of chicken will work! Give this creamy chicken and mushroom a try for dinner.
🍗  Why You Will Love This Recipe
Affordable to make
Quick and easy prep
Homemade cream sauce for chicken
Easy chicken and mushrooms recipe
Pairs well with salad, mashed potatoes, veggies, etc
Stores well leftover
Family friendly chicken recipe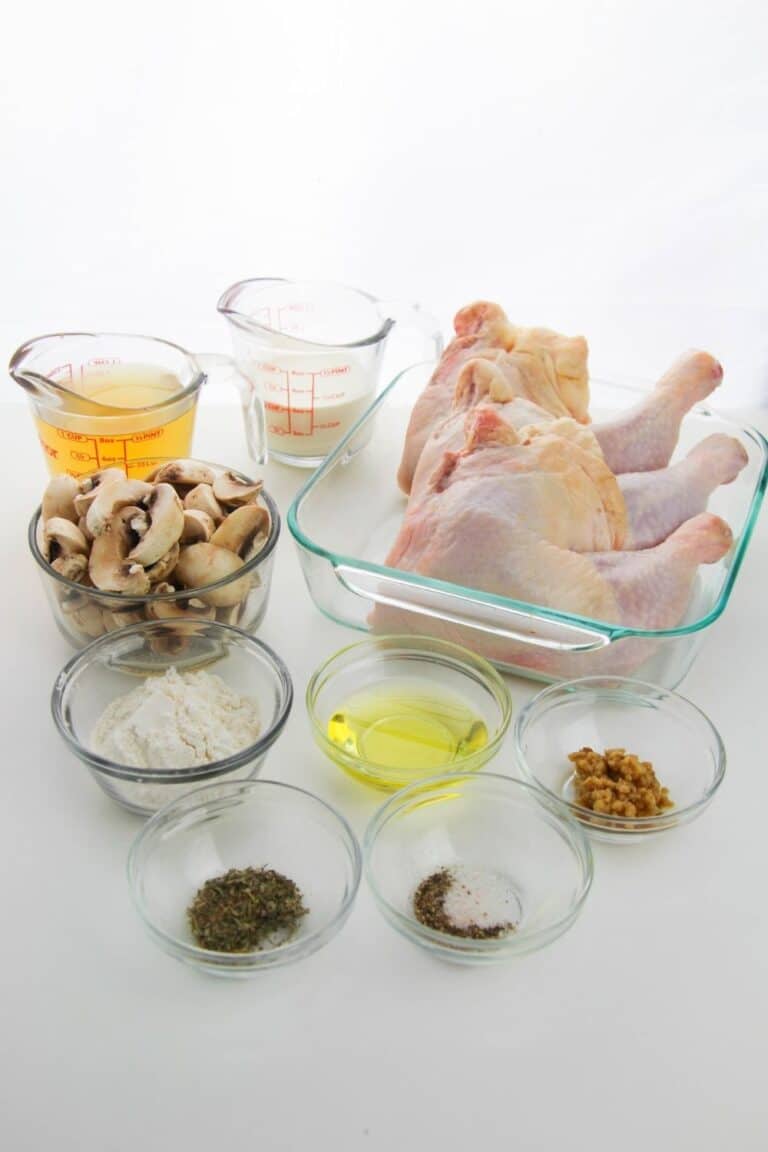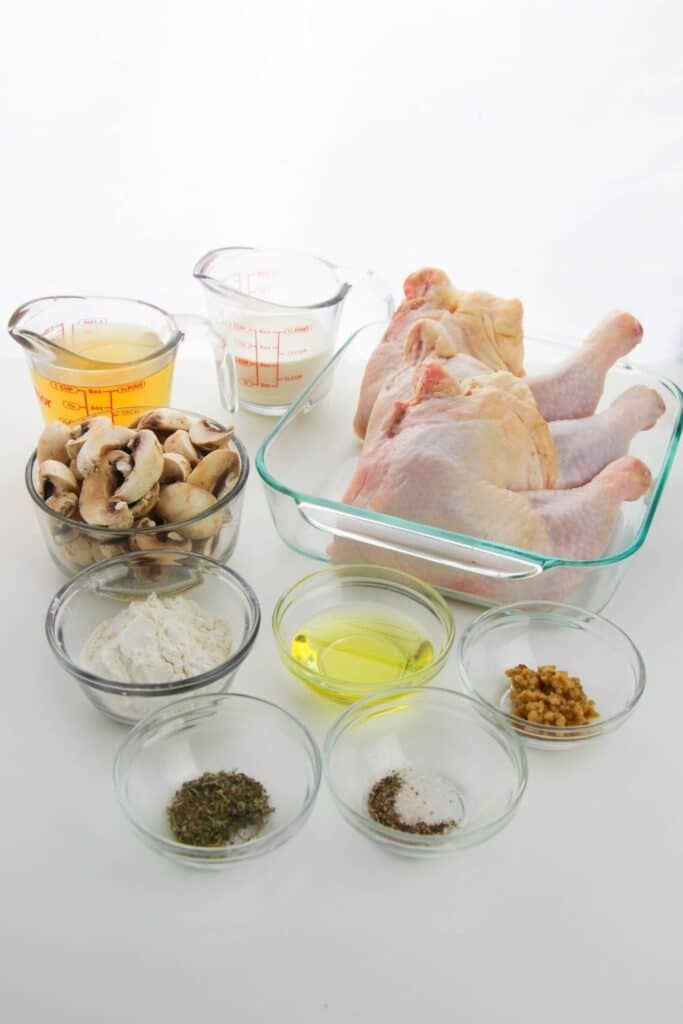 🍄 Ingredients
Chicken Quarters – I used chicken quarters, but any bone-in chicken can work well. If you use boneless chicken just know it can be a bit drier in texture.
Mushrooms – Grab your favorite mushrooms, wash and prep then slice. The mushrooms saute and break down to make an incredible creamy mushroom sauce to top your chicken.
Seasonings – Salt, pepper, poultry seasoning, are the seasonings I used. Then minced garlic is used as well to season.
Flour – You will flour to dredge the flour to help create a crispy skin on the chicken.
Chicken Stock and Heavy Cream – The two liquids I used to help create the creamy mushroom sauce.
How to Make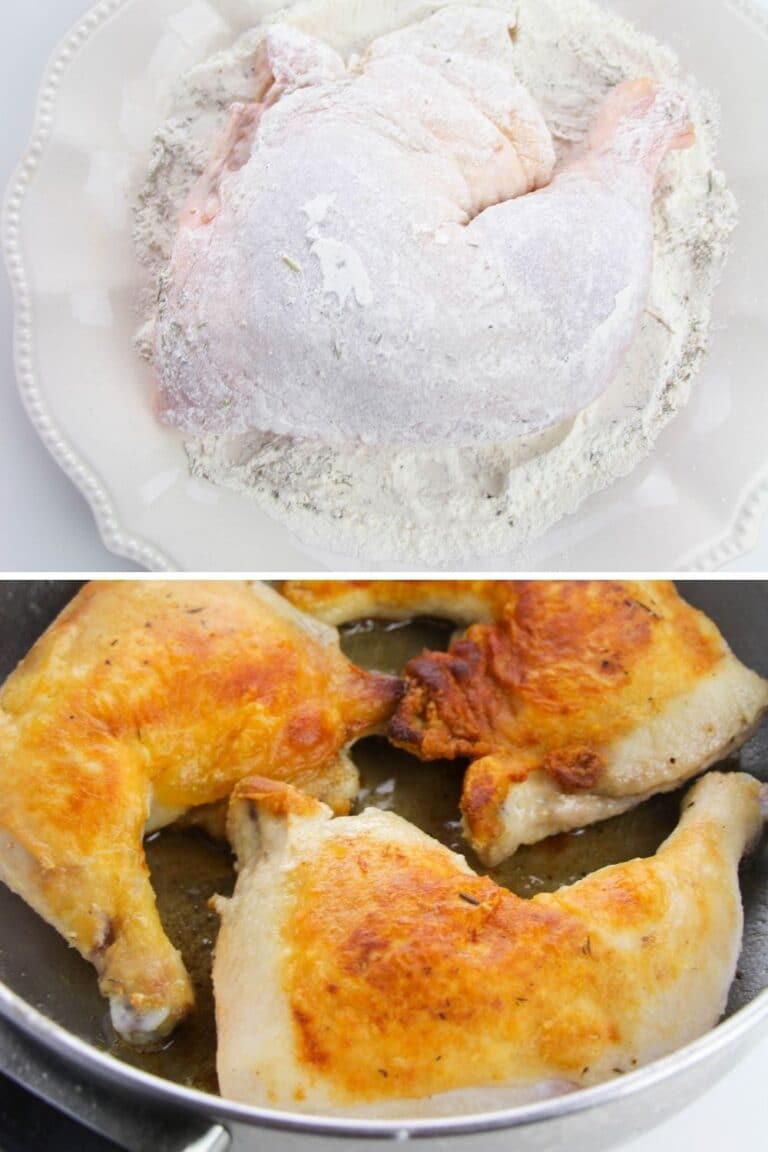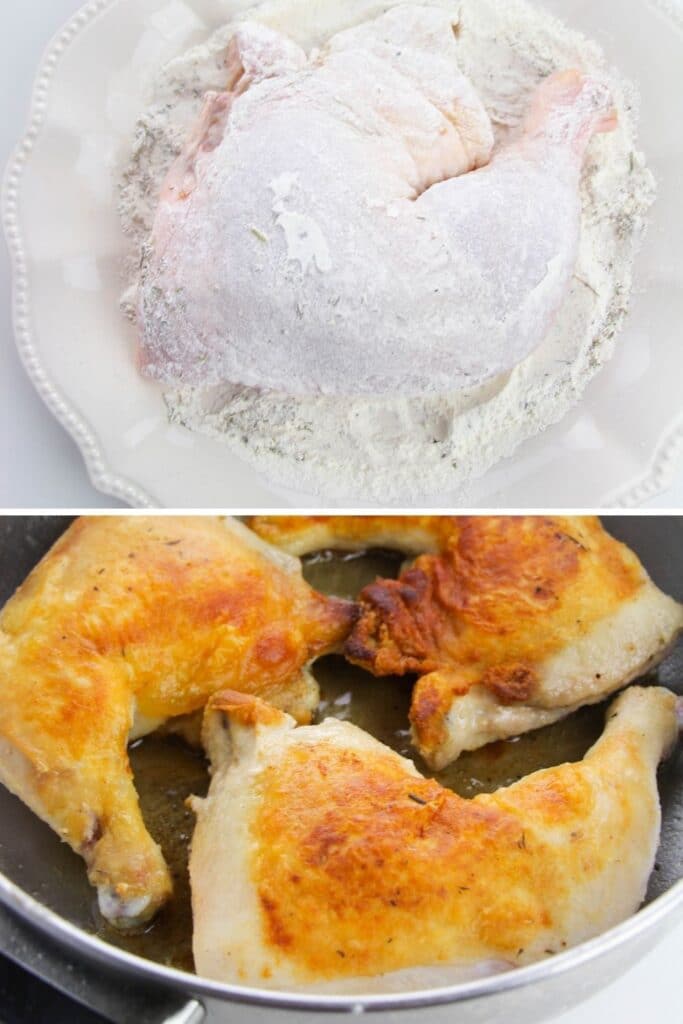 Step 1: In a bowl add your flour and seasonings and mix well. Then coat your chicken in the flour mixture.
Step 2: Now you will add oil into a skillet, and pan sear your chicken leg quarters until golden brown. Once seared, remove and place on a plate.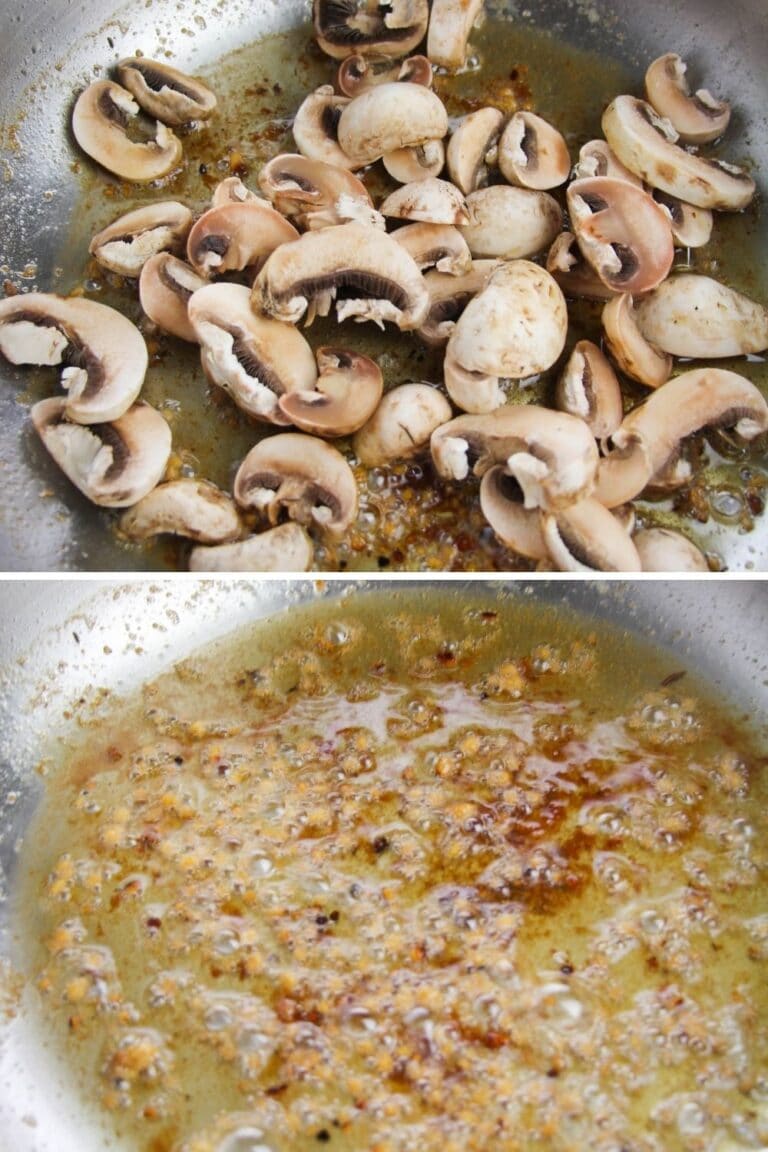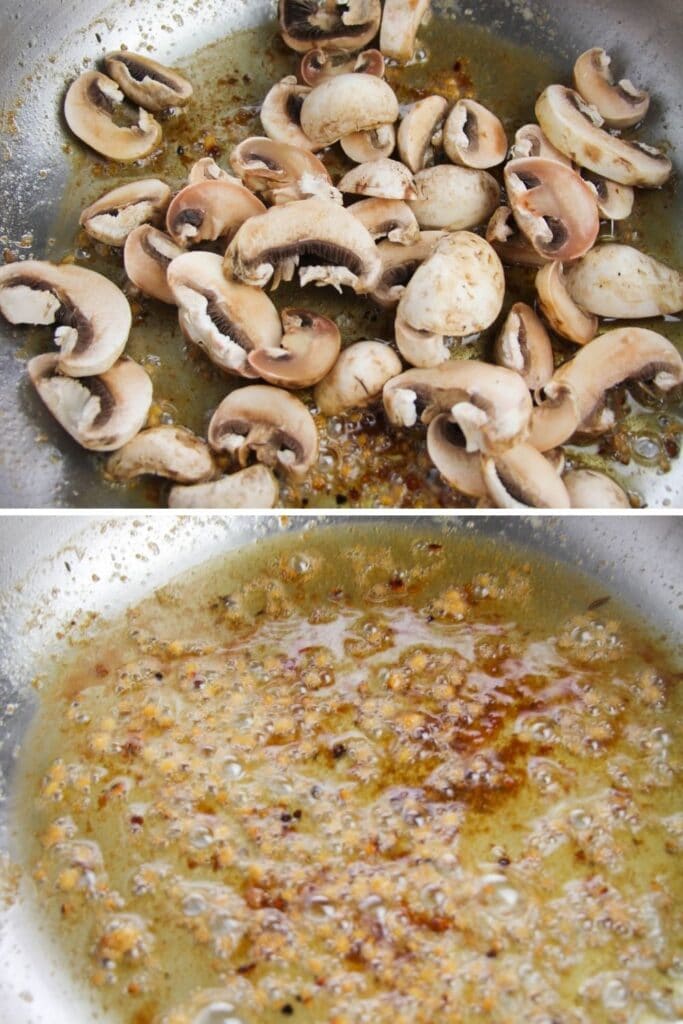 Step 3: Now you will work on your mushroom gravy. Cook down your mushrooms and add in the garlic. Once it is done, stir in the stock and bring to a boil.
Step 4: Place chicken into the pan and bring to a boil. Once it becomes to a boil, reduce heat and simmer 20 minutes. You then want the chicken to cook till it is 165 degrees internally.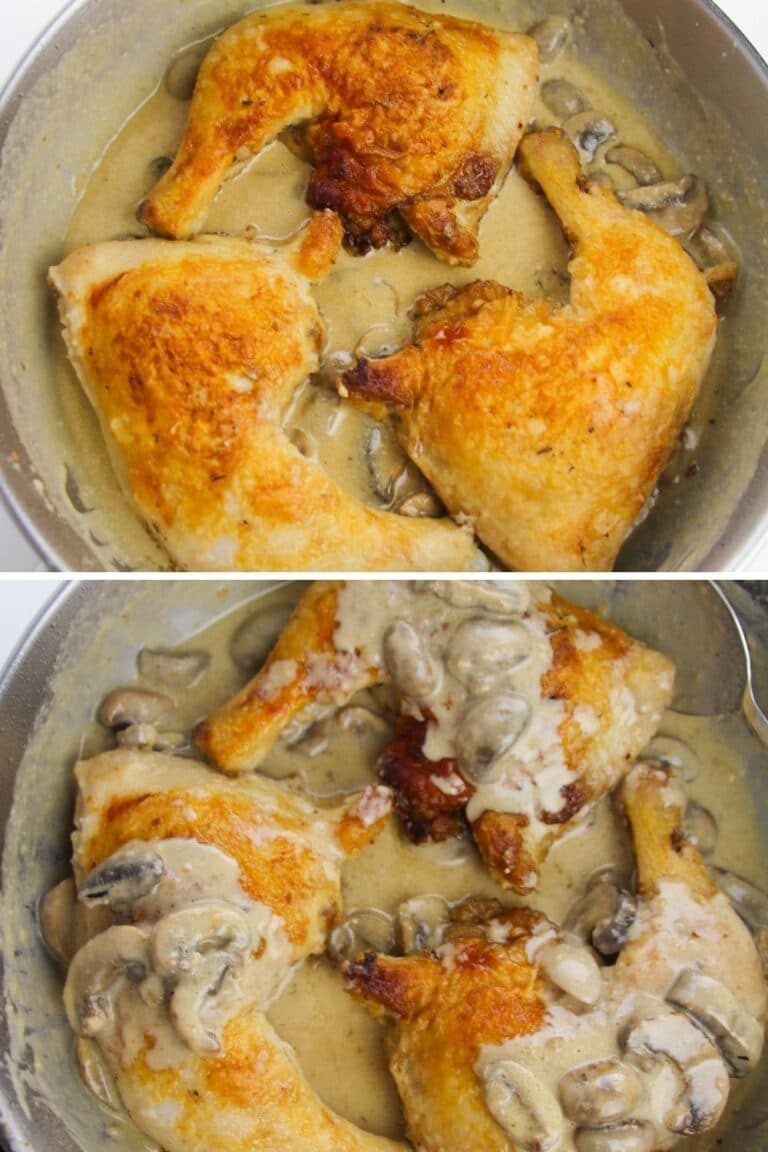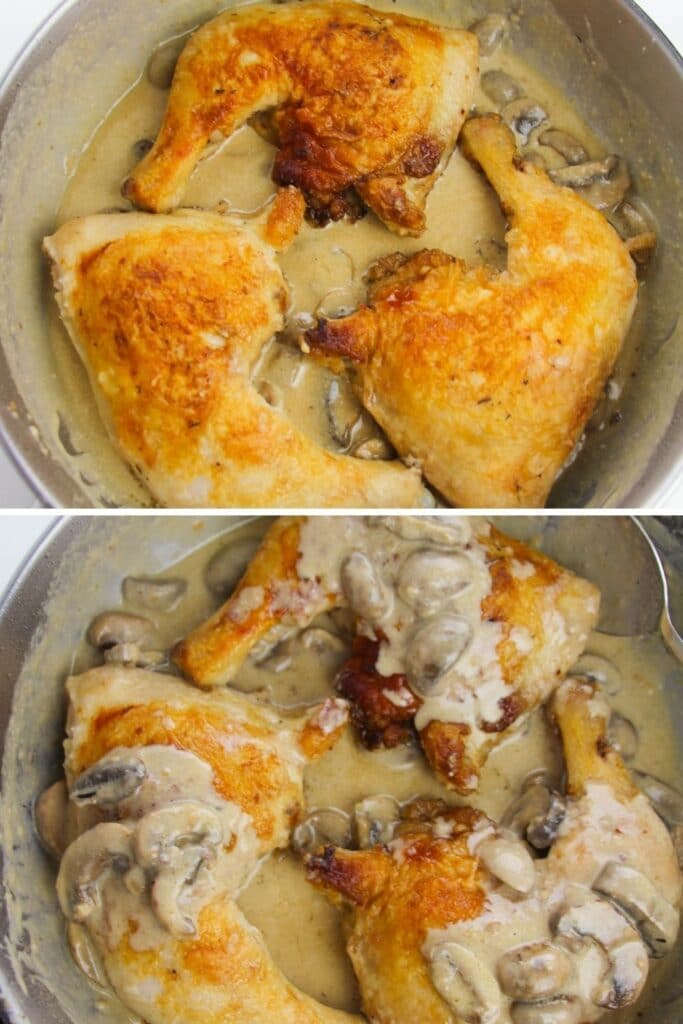 Step 5: Remove chicken and whisk in the heavy cream to finish off the mushroom gravy. Then spoon mushroom mixture over chicken.
💡 Storage
This creamy mushroom sauce for chicken and the chicken stores well. You will find the sauce can thicken a bit once it is refrigerated.
Just store your chicken and cream sauce together in an airtight container for around 3 days in the fridge. Then reheat.
If you reheat on the stove you can add more broth or cream to help thin the sauce out. Heat on low so you don't burn the mushroom sauce.
👩‍🍳 Expert Tips
You can make this a chicken thigh recipe, or pan seared chicken breasts. Any cut of chicken works, just make sure the internal temperature is done.
Chicken needs to reach 165 degrees internally to be done.
You can use a white wine in replace of the chicken broth if you want.
Fresh thyme adds nice flavor to this dish.
Grate with fresh parmesan cheese if you want
I hope these tips help you to have success with this chicken leg quarters recipe.
Recipe FAQs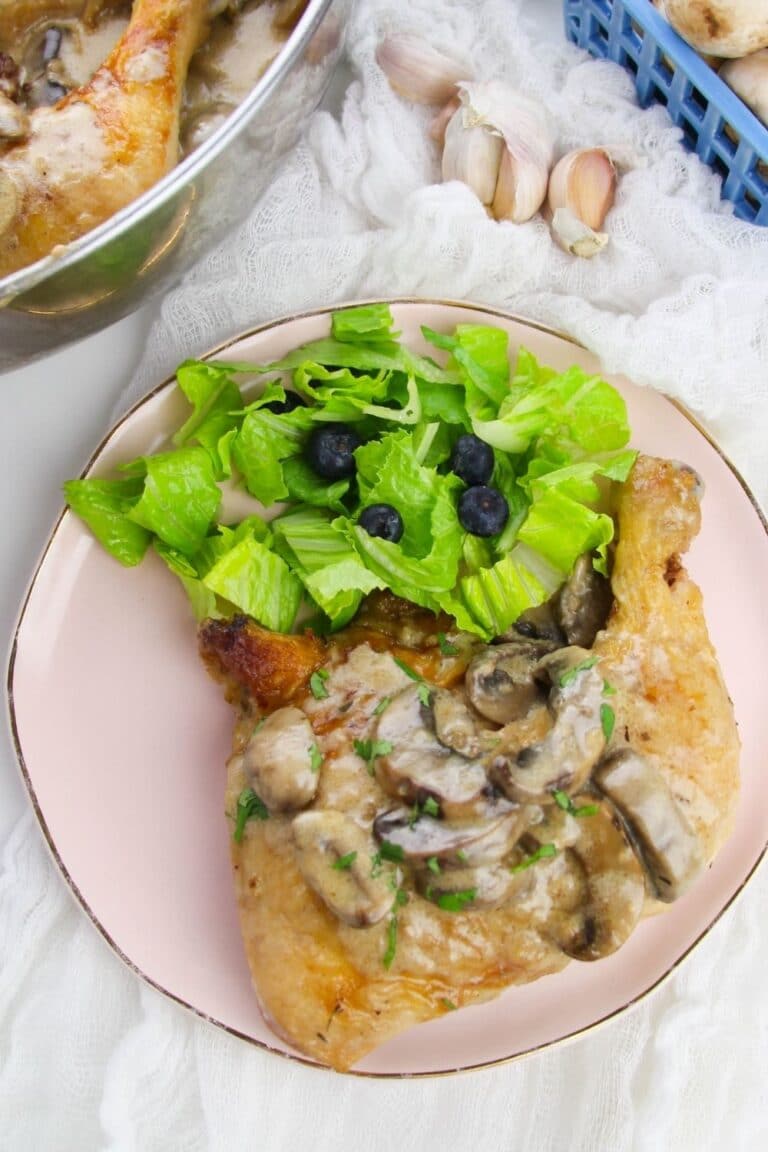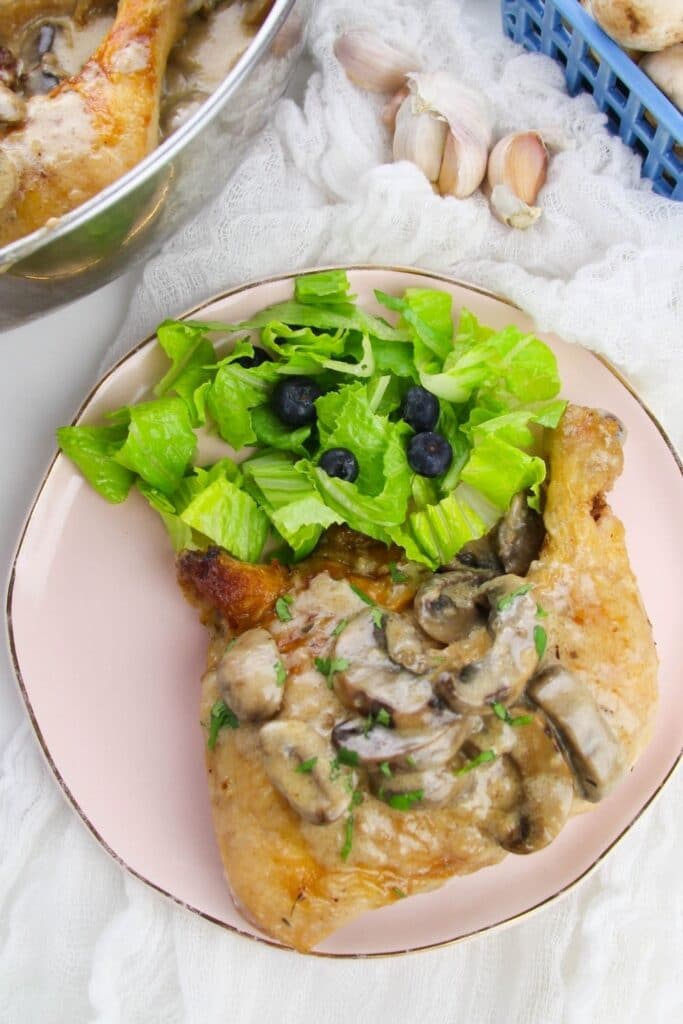 Craving More Chicken Recipes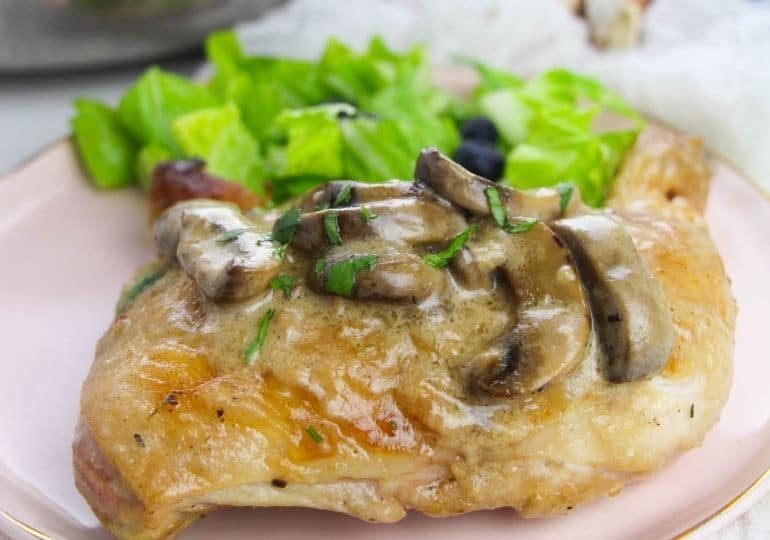 Chicken Leg Quarters with Mushrooms
Servings 4 -6
Chicken Leg Quarters with Mushroom sauce is a delicious pan seared chicken with mushroom gravy. A delicious bone-in chicken recipe to make for dinner.
Ingredients
Chicken Leg Quarters and Gravy Ingredients
4-6 chicken quarters
1/3 cup flour
Salt and Pepper to taste
1 tablespoon poultry seasoning
3 Tablespoons olive oil
3 cups mushrooms sliced
3 teaspoons minced garlic
1 cup chicken stock
1/2 cup heavy cream
Instructions
Start by adding your flour, salt, pepper, and 1/2 tablespoon of the poultry seasoning in a bowl or plate. Mix until combined.

Now you will dredge your chicken quarters in the flour.

Place oil in a skillet and let it heat to medium-high heat. Place the chicken skin side down and let cook 4-5 minutes to sear the chicken to golden color. Flip and repeat the other side. You want a nice sear.

Now remove the chicken from the skillet. Toss in your garlic and sliced mushrooms and saute 5 minutes, on medium heat.

Whisk in the chicken stock and add the chicken back to the pan. Bring to a bowl then lower heat and simmer 20 minutes or until chicken is fully cooked.

Increase heat, remove chicken, and bring to a boil. Whisk in the heavy cream and remaining poultry seasoning. Once creamy and thickens, place chicken in and top with the mushroom cream sauce.

Serve the chicken with musrhoom gravy on top.
Notes
Chicken needs to reach 165 degrees internally to be done. Don't touch the bone of the chicken when using a meat thermometer or you get a false reading. As the sauce cooks it will thicken. If you find it won't thicken, add 1 tablespoon cornstarch with 1 tablespoon cold water and whisk in after you pour the cream in to thicken. You can pair this chicken with any sides you want. You can use chicken legs, thighs, breasts, etc.
Nutrition
Serving: 1gCalories: 423kcalCarbohydrates: 12gProtein: 30gFat: 28gSaturated Fat: 10gPolyunsaturated Fat: 16gCholesterol: 121mgSodium: 188mgFiber: 2gSugar: 3g
Reader Interactions