This Instant Pot Chicken Fajita Bowl is a pot-in-pot method. This allows you to cook your seasoned chicken, rice, and peppers and onions for an incredible fajita rice bowl. Whip this up for lunch, dinner, or meal prep. Pile on your favorite toppings for this chicken fajita rice bowl.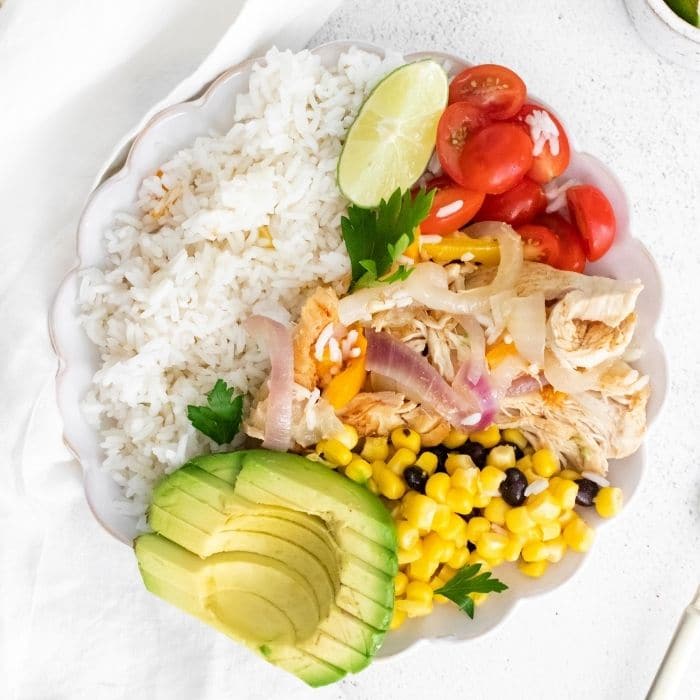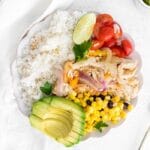 This fajita chicken bowl is my go-to fajita bowl meal prep recipe. Whip this up on a Sunday and have a few quick grab and go lunches for the week. A chicken fajita rice bowl with all your favorite toppings.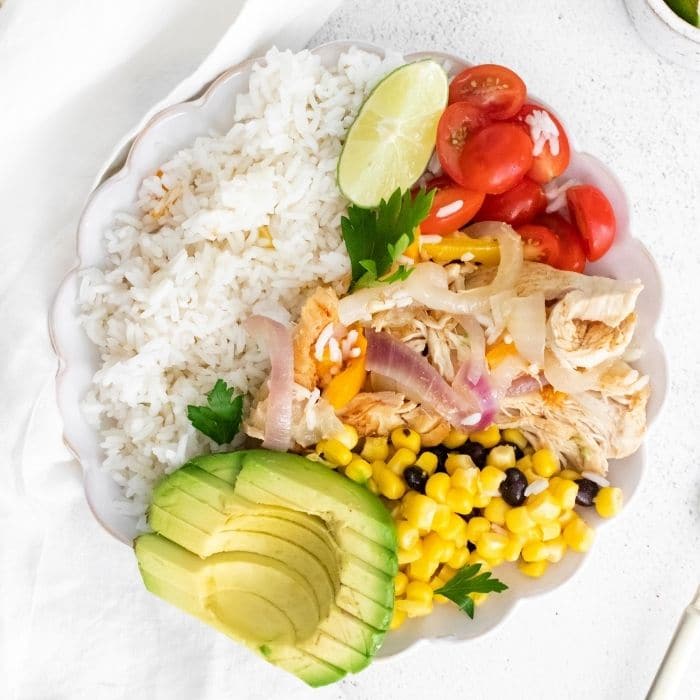 The pot-in-pot method allows you to cook your rice and the chicken and vegetables all at the same time! Now, if you don't want to make the rice, go ahead and keep the recipe the same, just leave out the rice!
If you enjoy using your Instant Pot to meal prep, you might enjoy this rice bowl. I grab my single-serve containers, toss in the chicken and veggies, and all my favorite toppings. Toss in the fridge and then send off with my husband to work.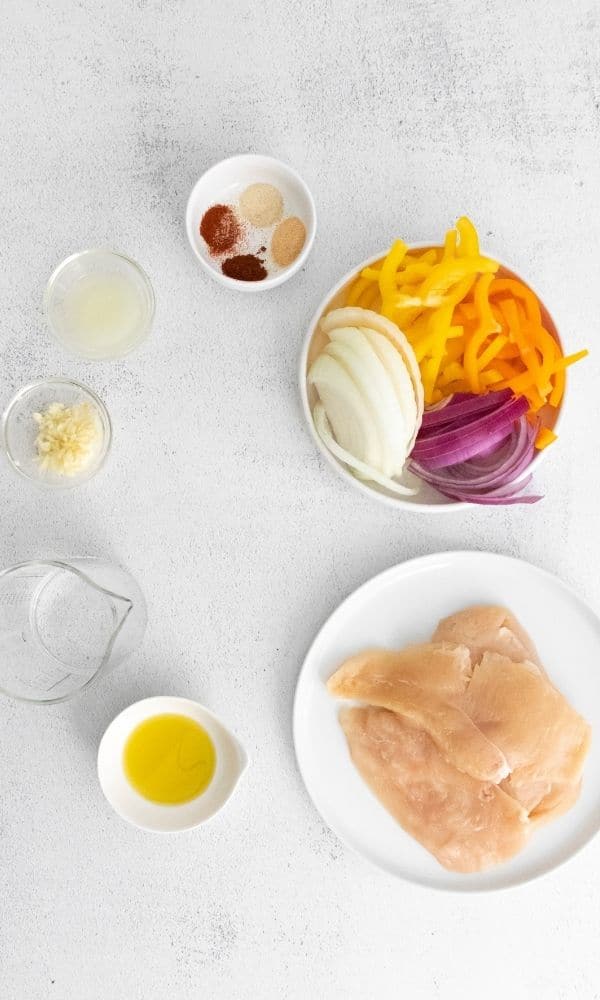 🥣 Ingredients for Fajita Chicken Bowl
Chicken | Reach for a boneless chicken breast or chicken tenderloins. Depending on the thickness of the chicken you might sear it a bit longer. You just want that golden brown color. This adds tons of flavor to your fajita bowl recipe.
Seasonings | I used a homemade season blend. If you don't want to reach for packet fajita seasoning or even taco seasoning.
Peppers and Onions | These two are my favorite to go with the chicken. It gives you that rich fajita flavor.
White Rice | Rice is optional in this dish. I did the pot in pot rice method but go right ahead and skip it if you want to make this a low carb option. Serve over a bed of lettuce or even cauliflower rice.
🍽️ Meal Prep and Storage
This fajita mix is great for meal prep. The only thing is the peppers and such will of course get softer. But, I find it's just as flavorful.
The fajita meat and rice can be put in containers and then topped with your favorite toppings. Then store for up to 3 days.
If you want to heat up the mix consider keeping toppings separate so they don't get hot if you microwave. I love meal prepping with this Instant Pot Mexican bowl!
🧀Fajita Bowl Topping Ideas
Corn 
Black beans 
Tomatoes
Sour cream 
Shredded cheese
Avocado or Guacamole
Pico de Gallo or salsa 
Essentially pile on any of your favorite toppings for this chicken bowl Instant Pot recipe!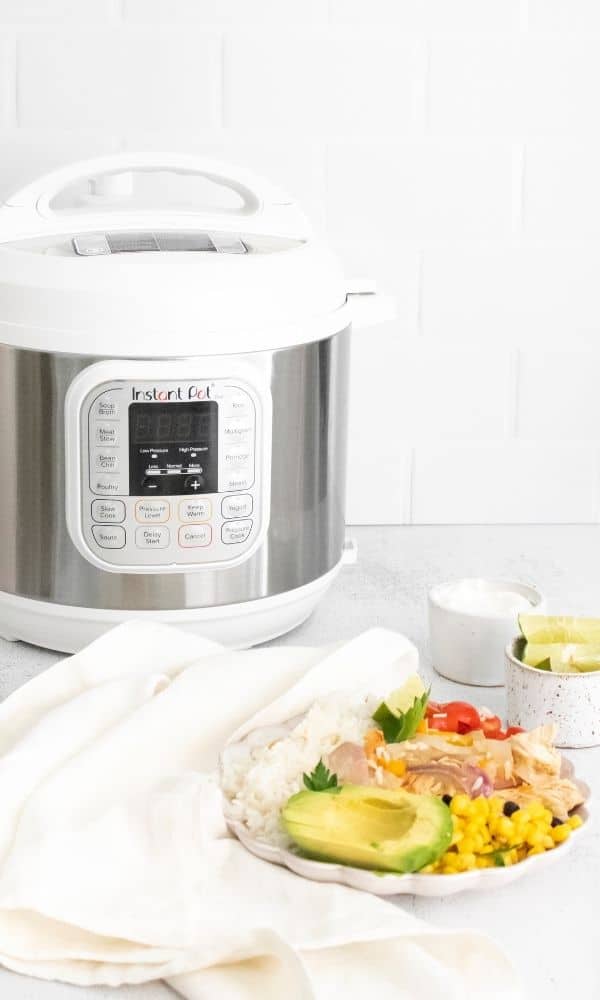 🥄 Variations and Expert Tips
If you want crisper veggies skip cooking them in the Instant Pot and cook them just in the oven. The pressure cooker makes it very soft. 
Use your own favorite fajita blend spice to change up the flavor of the chicken. 
Dice up the chicken instead of shredding for a different texture. 
I use meat claws for a quick shred of my meat. It's one of my favorite kitchen tools! 
For a healthier twist cook up quinoa or serve over a bed of lettuce.  It makes a great Instant Pot fajita bowl pairing.
🧅Recipe FAQs
Can you use minute rice in the Instant Pot?
Unfortunately, minute rice can't be used in the Instant Pot. You will find if you pressure cook the rice, it will kind of mush up. The pressure is too much.

White long grain rice is my go-to rice for cooking in the Instant Pot. It pressure cooks nicely.
Do I need to adjust cook time if I double fajita bowl Instant Pot recipe?
If you want to double the Instant Pot fajita recipe I recommend keeping the cook time the same. Otherwise, you can overcook the chicken and rice.

The pressure cooker will take a bit more time to come pressure.
How long does it take to cook chicken in a pressure cooker?
10 minutes is all it takes to cook chicken in the Instant Pot. Try to arrange in an even layer. Then pressure cook high for 10 minutes! 
How much water do you put in a pressure cooker for chicken?
You always want at least 1 cup of liquid in a 6-quart instant pot or 1 ½ – 2 cups in an 8 quart. This will help the pressure cooker come to pressure and keep the chicken moist.
Can you overcook chicken in a pressure cooker?
The beauty of the pressure cooker is it helps prevent dry overcooked chicken. All the moisture is locked in! So overcooking can be done but it is a lot harder to do in the pressure cooker.
How to know when chicken is done?
Grab a meat thermometer and check your chicken. It needs to read 165 degrees Fahrenheit. Never serve undercooked chicken, it can make you sick.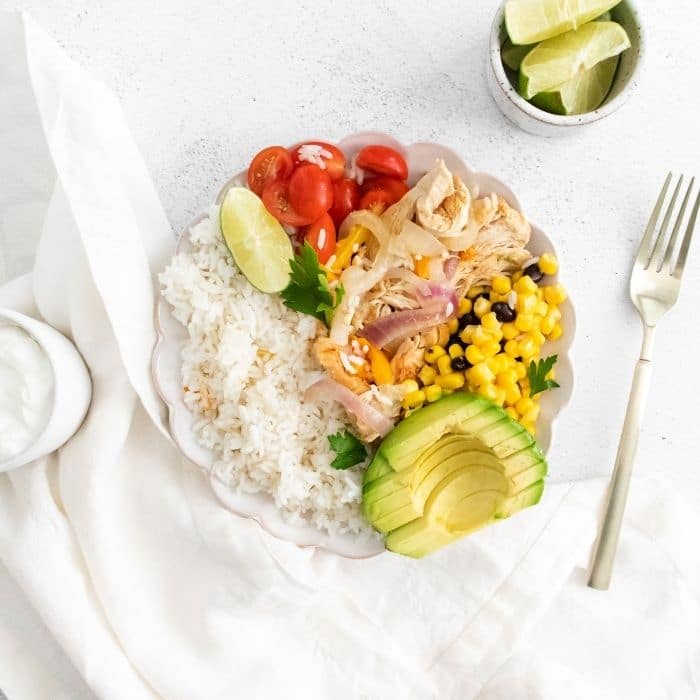 Even more crave worthy pressure cooker recipes
Recipe for Fajita Chicken Bowl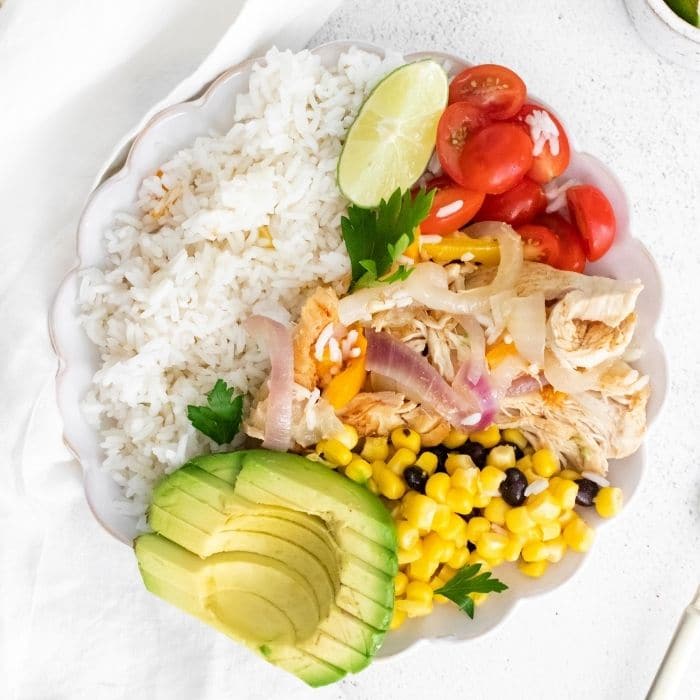 Instant Pot Fajita Chicken Bowl
Servings 6 -8 servings
This Instant Pot Chicken Fajita Bowl is a pot-in-pot method. This allows you to cook your seasoned chicken, rice, and peppers and onions for an incredible fajita rice bowl. Whip this up for lunch, dinner, or meal prep. Pile on your favorite toppings for this chicken fajita rice bowl.
Ingredients
Supplies
Rice Ingredients
1 1/2 cup white rice
1 1/2 cup water or chicken broth
1/8 teaspoon salt
Fajita Chicken Bowl Ingredients
1 tablespoon olive oil
1 tablespoon chili powder see notes
2 teaspoons garlic powder see notes
1 teaspoon onion powder see notes
1 teaspoon paprika see notes
2 garlic cloves minced
2 large or 4 small boneless skinless chicken breasts
⅔ cup of water
1 teaspoon lime juice
For the Peppers and Onions
½ sweet onion sliced
1 red pepper sliced
1 orange pepper sliced
1 teaspoon oil
Instructions
Start by rinsing your rice in a strainer and drain the water, until it runs clear. You want to remove off the excess starch.

Pour the rice into a 7-inch cake pan or other Instant Pot safe pan. Add in your water and salt. Set the dish aside.

Next, you will grab a piece of aluminum foil. Make it into a little container and place your onion, pepper, and teaspoon of oil. Toss the vegetables. Then wrap up the aluminum foil to create a pouch. Make sure it is sealed up tight. Set it aside.

Heat the instant Pot using the Saute function. Add the olive oil.

In a small bowl, combine the chili powder, garlic powder, onion powder, and
paprika. Sprinkle the spice mix evenly over all sides of the chicken breasts. Add the chicken breasts to the pot and sear for 2-4 minutes per side.

After searing both sides, remove the chicken. Slice your chicken up into chunks, this will help cook faster. Then add the water and lime juice into Instant Pot. Use a wooden spoon to deglaze the bottom of your pot.

Toss the chicken back into the mixture.

Then place the packet of sweet onion, red pepper, orange pepper, on top of the
chicken.

Carefully take your pot with the rice and place it on top of the aluminum foil
pouch. Lock the lid and make sure the valve is set to sealing. Do a manual cook or high pressure for 5 minutes. Allow it to naturally release pressure for 5-10 minutes. Release the remaining pressure and take the lid off.

Remove the rice carefully, and set it aside. Taste the rice and if it is not quite done, cover it with aluminum foil, to allow it to steam for a few minutes. Take the pepper and onion mixture out.

Remove the chicken and shred it. Transfer the chicken and peppers to a baking
sheet.

Broil on High for 3-5 minutes, or until the edges have started to crisp and char. Serve with your favorite garnishes.

Notes
Toppings Ideas | Diced tomatoes, black beans, corn, avocado, sour cream, salsa, pico de gallo, etc. You do not have to broil chicken and peppers, it just adds some extra flavor. You can double the recipe, just make sure to keep the cooking time the same.
Nutrition
Serving: 1gCalories: 264kcalCarbohydrates: 25gProtein: 20gFat: 9gSaturated Fat: 2gPolyunsaturated Fat: 6gCholesterol: 61mgSodium: 316mgFiber: 2gSugar: 8g
Let me know how you enjoy this Instant Pot rice bowl!
Reader Interactions