Instant Pot Peaches and Cream Breakfast Quinoa is a hearty and healthy way to kickstart the day. Tender quinoa, peaches, cream and more.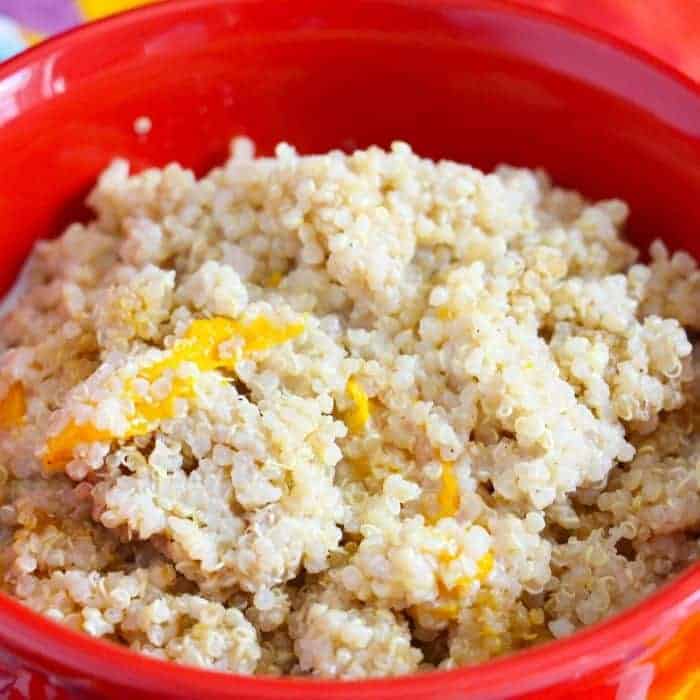 Breakfast Quinoa is a great way to kickstart the day. Instant Pot Peaches And Cream Breakfast Quinoa is perfectly sweet, easy and downright filling.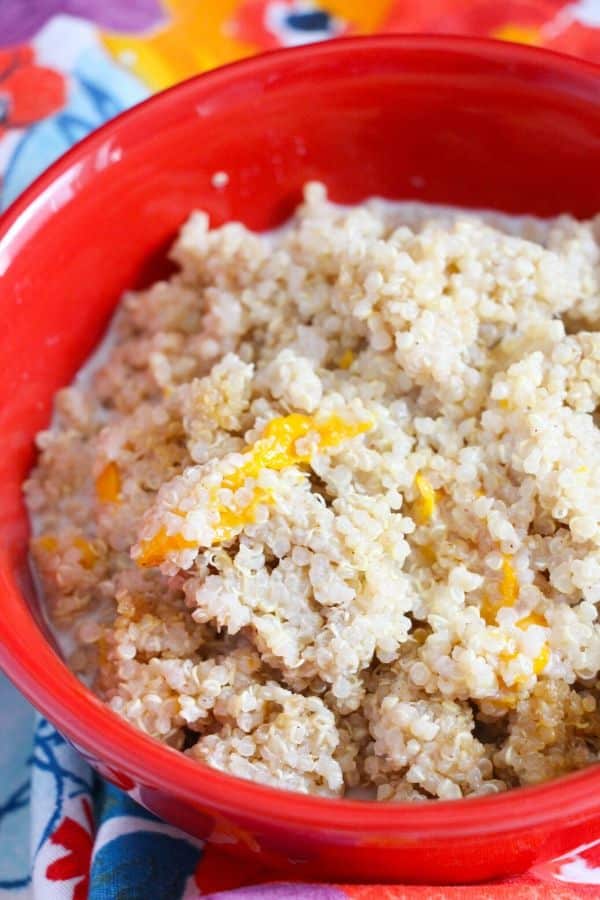 If you are looking for an Instant Pot breakfast recipe, this is going to treat you right. A hearty and healthier breakfast idea that will leave you full till lunchtime. Instant Pot Quinoa is crazy simple, and the perfect peaches and cream recipe to make in your pressure cooker.
Breakfast Quinoa
I love making cream of wheat, old fashioned oatmeal and such for breakfast. That is how I grew up, and I want my son to enjoy the same things I did. Quinoa is great, but sometimes it is hard to lure little kids to like it.
So adding peaches and cream to the quinoa makes it sweet enough he will ask for seconds. Try my Canned Cinnamon Roll Donuts too for a super easy breakfast recipe.
Fresh Frozen Or Canned Peaches for Breakfast Peaches And Cream Quinoa
You and truly use any type of peaches you would like. Whether you want to peel fresh peaches, frozen, or canned, it all works. Now if you like peaches that have peels, feel free to leave it on. I personally prefer skinless peaches when it is mixed in recipes like this.
Is It Hard to Cook Quinoa In The Instant Pot
Making quinoa in your pressure cooker is rather easy to do. You will cook your two cups of quinoa for just 4 minutes, and then do a quick release. You will have tender and perfectly cooked quinoa.
Can I Make Breakfast Quinoa On Stovetop
Absolutely! If you don't want to make this in the Instant Pot, just follow the directions on the box of quinoa and cook on the stove. Then once cooked, stir in peaches, vanilla, milk or cream and such and you have a tasty breakfast ready to go!
Other Variations to Breakfast Quinoa
top with pecans or walnuts
As you can see you have endless ways to dress up your breakfast quinoa. Then you can serve up a warm breakfast to your whole family.

Ingredients Needed For Breakfast Quinoa Peaches and Cream
Instant Pot Quinoa
Now if you want to make Instant Pot Quinoa and leave out the peaches and cream, you can use this recipe just for that. Then season it how you would like. But, we prefer the sweet aspect for breakfast so we always add in some sweetness. Make this into a quinoa breakfast bowl!
Looking for more breakfast recipes
Is Quinoa Better For You Than Rice
Quinoa is better for you than rice. The reason being is quinoa has twice the amount of protein in a cup and fiber. Quinoa will fill you up, leave you feeling full and you can eat a smaller portion of quinoa compared to traditional rice.
Why Do You Wash Quinoa
You will find many rinse quinoa to remove the coating called saponin. This can offer a bitter and even soapy flavor to your quinoa. Now, most boxed quinoa is pre-rinsed, so it is up to you if you choose to rinse your quinoa or toss it in dry. Either route will work just fine in this breakfast recipe.

How to Store Leftover Peaches and Cream Quinoa
You will want to store any leftovers in an airtight container. This will store up to four days in the fridge. You can eat it cold leftover or warm it up. We prefer to reheat it in the microwave or on a skillet on the stove. Feel free to add more cream or milk if your mixture gets a bit dry as it chills.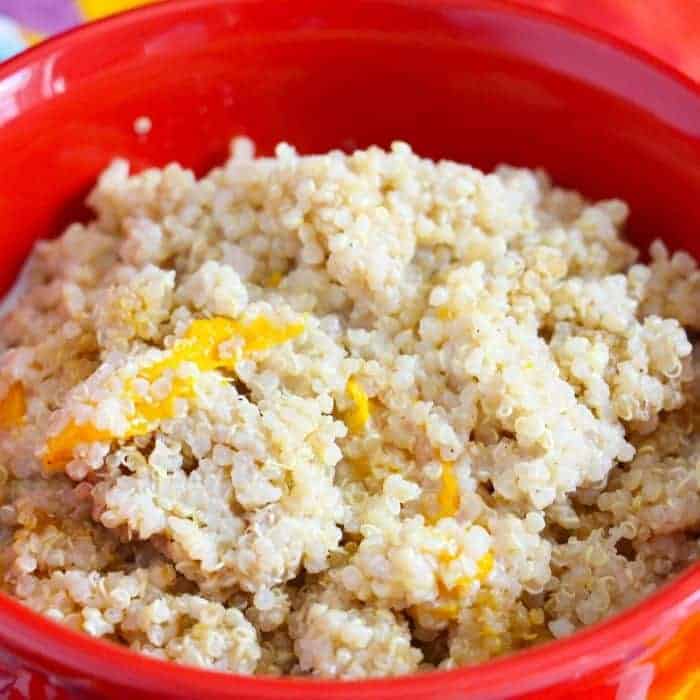 Instant Pot Peaches And Cream Breakfast Quinoa
Servings 8 servings
Instant Pot Peaches and Cream Breakfast Quinoa is a hearty and healthy way to kickstart the day. Tender quinoa, peaches, cream and more.
Ingredients
2 cups quinoa
2 Tablespoons butter optional
1 cup water
2 cups milk
2 cups peaches fresh or thawed from frozen
2 Tablespoons cinnamon optional
1 teaspoon vanilla
1 1/2 cups milk or half and half cream
Instructions
Place butter in Instant Pot and hit saute, and then once butter is melted add in the quinoa and cook for 2 minutes until fragrant. This is optional, but it does add flavor to your quinoa.

Add in milk and water and cinnamon in with your quinoa and seal the Instant Pot lid.

Cook manual, high pressure for 4 minutes, followed by a quick release.

Stir in milk or cream, along with peaches and vanilla extract. Stir and serve warm.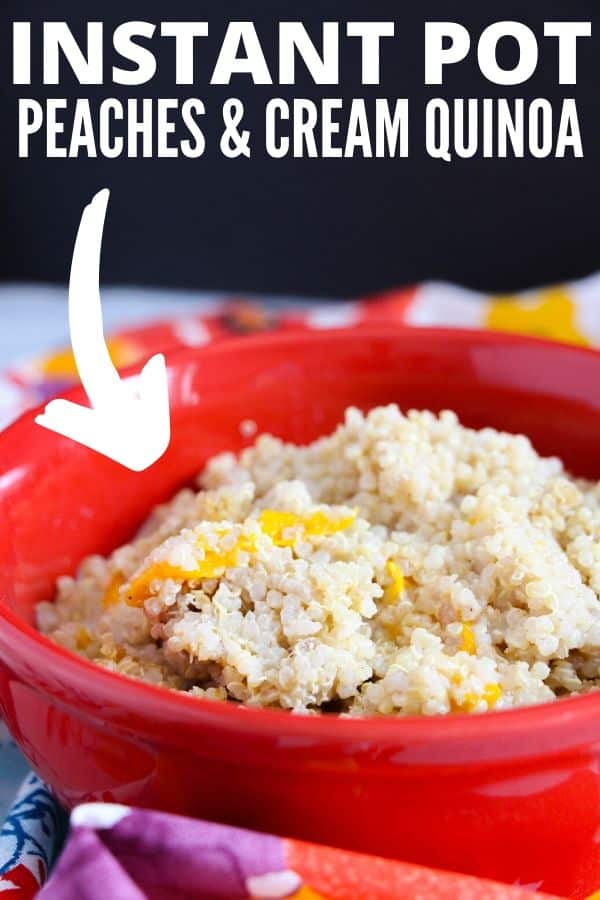 Are you a fan of breakfast quinoa?
Reader Interactions