A fresh peach pie with a light and flaky crust. This easy peach pie recipe is perfect for peach season. A great way to use peaches up from the season.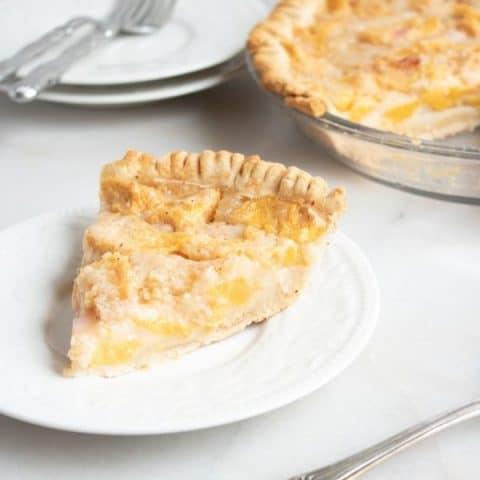 Whip up this fresh peach pie today, to treat you and your family. This is a homemade peach pie recipe made with fresh peaches. Bursting with peach flavor, paired with a light and flaky crust.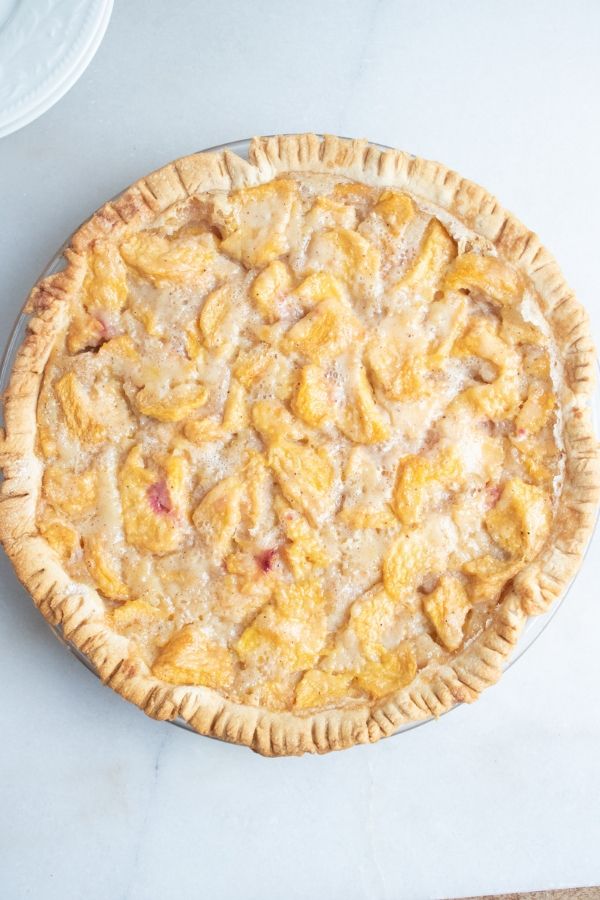 Look at how stunning this pie looks. It is my go-to fresh peach dessert recipes I make for friends and family. Check out my peach muffin recipe as well.
Whether you are giving to a loved one who just had a baby, gifting to your neighbor, or serving up at your next potluck party. This pie is perfect for peach season.
Why Make This Pie Recipe…
Easy
Simple Ingredients
Made with Fresh Peaches or Can Use Frozen
Homemade Pie recipe
Great way to use fresh peaches
Freezer Friendly
Make Ahead Dessert
Want more easy peach recipes – Peach salsa, grilled peaches, peach tart, or served with a scoop of vanilla ice cream.
There is no wrong way to enjoy this fruit. I am all about pies, and there is something about a pie shell that is baked to a light and flaky consistency that is filled with sliced peaches.
It just works, add in the spices and it throws it over the edge for me.
Ingredients Needed
Peaches
Pie Crust
Butter
Granulated Sugar
Flour
Egg
Nutmeg
How to Make
Step 1:First, preheat your oven and then lay out your pie crust in a pie pan, or reach for store-bought pie dough.
How Many Peaches Do You Need For A Pie
Step 2: Next, peel and slice your peaches, and place them in a bowl. Then in a small bowl, add your spices and other ingredients and let it sit for 5 minutes with the peaches.
This helps the peach pie filling soak together. You could even call this a peach cream pie since it is a cream filling.
Step 3: Then you will pour the mixture into the pie pan, and bake for an hour to 70 minutes as directed.

Step 4: Lastly, let the peach pie cool a bit and then slice and serve.
Overall, this is an easy peach pie that comes together in no time. If you want a fresh peach recipe.
I highly recommend this peach pie recipe with fresh peaches.
Storage
How Long Is Peach Pie Good For? If you store your peach pie at room temperature on the counter it lasts for up to two days. If you cover it loosely and place it in the fridge your peach pie will store for up to 4-5 days.
I always keep the leftover pie in the fridge to maximize the time it is good for.
Can you freeze peach pie? Simply bake your pie and allow it to fully cool down on a cooling rack.
Then wrap the peach pie tightly in plastic wrap or aluminum foil. Then toss in a freezer bag and freeze for up to three months. Thaw in the fridge or on the counter when you are ready to serve it up!
Recipe FAQs
Can I Add Other Fruit To My Peach Pie
If you want to make a fruit pie consider adding in some fresh raspberries or even a few slices of strawberries.
Both of those fruits pair nicely with the peaches and spices. Or experiment with other fruits. Just aim for 5 cups of fruit altogether for the pie.
Craving More Desserts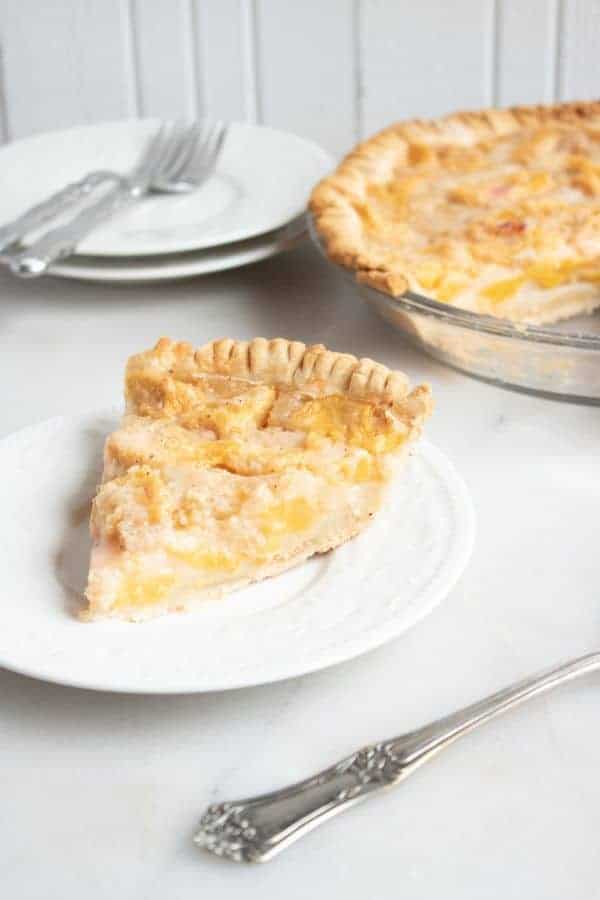 Fresh Peach Pie Recipe
Servings 1 pie
A fresh peach pie with a light and flaky crust. This easy peach pie recipe is perfect for peach season. A great way to use peaches up from the season.
Ingredients
5 cups sliced fresh peaches
1/3 cup unsalted butter melted
1 cup granulated sugar
1/3 cup all-purpose flour
1 egg
1 teaspoon nutmeg
Instructions
Preheat your oven to 350 degrees. Then prepare your crust in a baking dish. You can use homemade pie crust, or roll out a store-bought dough.

Now you want to peel and slice your peaches in a large bowl.

Then in a smaller bowl add all your spices and ingredients from the list together, and then pour on top of the peaches and stir. Let it sit for 5 minutes.

Once it has sat for a few minutes, pour the peach mixture into pie crust and spread it around evenly.

Bake for 65-70 minutes or until the pie is set.

Let your peach pie cool a bit then slice and serve.
Notes
You can use fresh or frozen peaches in this pie recipe. Store your peach pie in the fridge covered to extend the shelf life. Freeze any leftover peach pie for up to three months. You can add other fruit into the recipe like raspberries or even blueberries to change up the flavor a bit.
Nutrition
Serving: 1gCalories: 231kcalCarbohydrates: 38gProtein: 2gFat: 9gSaturated Fat: 5gPolyunsaturated Fat: 3gCholesterol: 43mgSodium: 10mgFiber: 2gSugar: 33g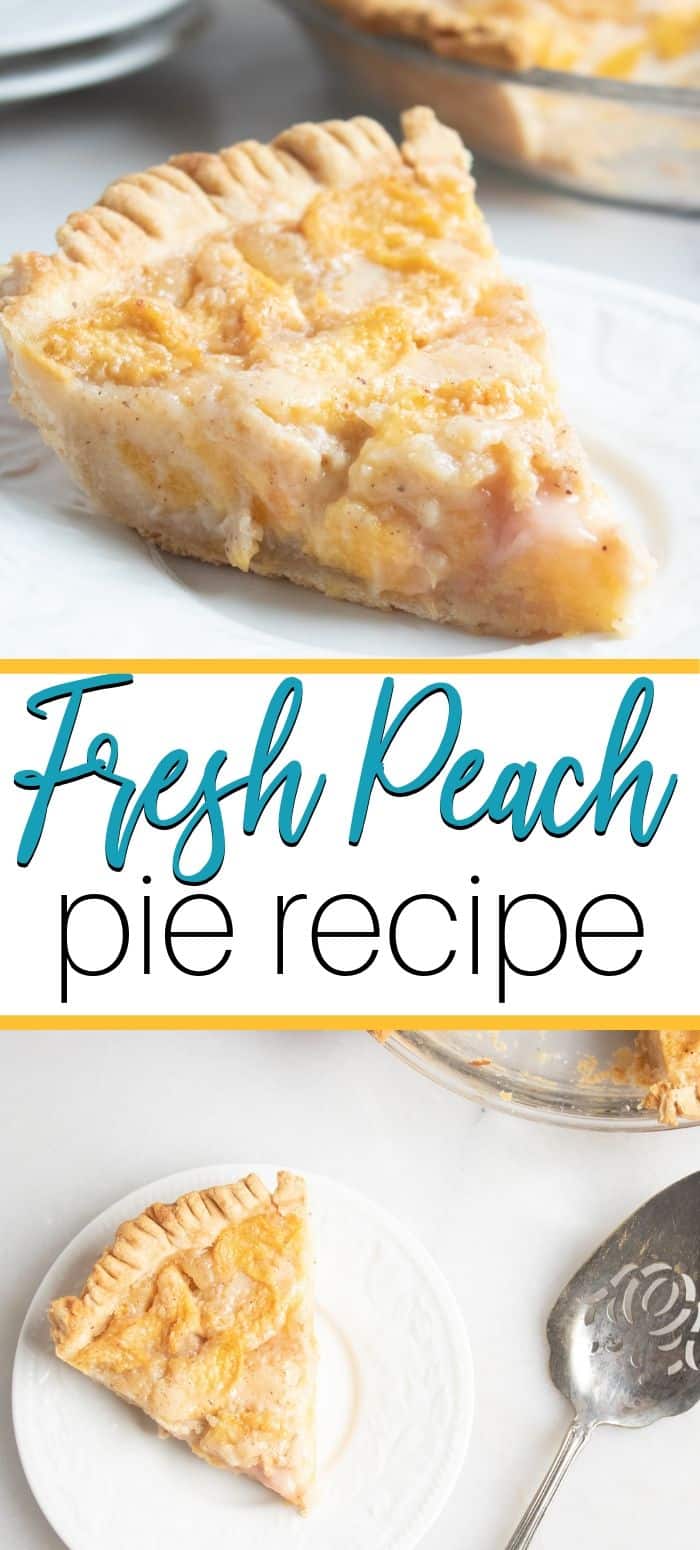 Overall, this peach pie recipe with frozen peaches or fresh is just what the summer sun needs.
Reader Interactions