Whip up this fresh peach pie today, to treat you and your family. This is a homemade peach pie recipe made with fresh peaches. Bursting with peach flavor, paired with a light and flaky crust.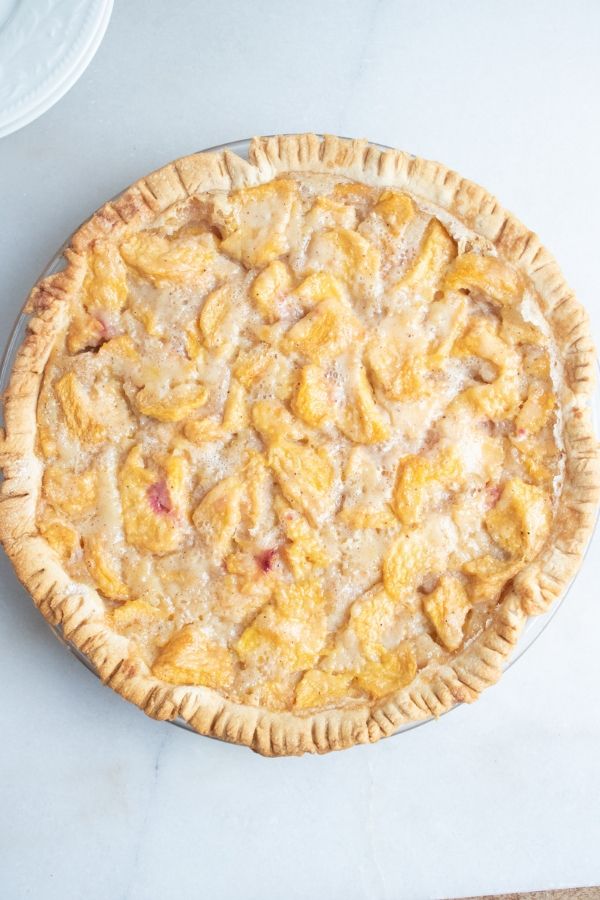 Fresh Peach Pie
Look at how stunning this pie looks. It is my go-to fresh peach dessert recipes I make for friends and family. Whether you are giving to a loved one who just had a baby, gifting to your neighbor, or serving up at your next potluck party. This pie is perfect for peach season.
Peach Dessert Recipes
Peach salsa, grilled peaches, peach tart, or served with a scoop of vanilla ice cream, there is no wrong way to enjoy this fruit. I am all about pies, and there is something about a pie shell that is baked to a light and flaky consistency that is filled with sliced peaches. It just works, add in the spices and it throws it over the edge for me.
Do You Have To Peel Peaches for Pie
Pealing your peaches is a personal preference. You can leave them on to add a pop of deep red color to your pie or peel them. I personally prefer a pie without the skins.
So I take a little time and just use a peeler
and shave it off. Then slice and pour the summer peaches into a bowl. Peeling almost any fruit pie is a personal choice.

How Do I Make My Pie Crust Not Soggy
One key thing I always recommend is starting with a preheated oven. Don't toss your pie into a cold oven, or you can end up with a soggier crust. Allowing the pie to go into a hot oven, will help to ensure you don't have a soggy crust in the end.
You can also make an egg wash and brush the crust that is showing around the pie.
Adjustable Pie Crust Shield, BPA-free Silicone
The Edges Of My Pie Crust Overcook
I also recommend buying these pie crust shields
, if you happen to get an over-cooked crust. This will protect the crust, and then 15 minutes before you pull pie out of the oven, take off the shield, and you end up with golden brown pie crust each and every time.
How Many Peaches Do You Need For A Pie
Depending on the size of your peaches will depend on how many you need. I used around 5-6 peaches for this pie. My peaches were on the medium to large size, so take note in that. But in general, this is a good guide on knowing how many peaches you need for a pie.
How Long Is Peach Pie Good For
If you store your peach pie at room temperature on the counter it lasts for up to two days. If you cover loosely and place in the fridge your peach pie will store for up to 4-5 days. I always keep the leftover pie in the fridge to maximize the time it is good for.
Can I Use Frozen Peaches For This Pie Recipe
Yes. You can use five cups of frozen peaches if you prefer. I let them thaw a bit to drain off any excess juice, and then mix as I normally would and bake. Peaches tend to be frozen at their prime, so they will offer a sweet taste, and be just as good as fresh. It will turn up to be a fantastic baked pie either way.
Can I Add Other Fruit To My Peach Pie
If you want to make a fruit pie consider adding in some fresh raspberries or even a few slices of strawberries. Both of those fruits pair nicely with the peaches and spices. Or experiment with other fruits. Just aim for 5 cups of fruit altogether for the pie.
Craving More Desserts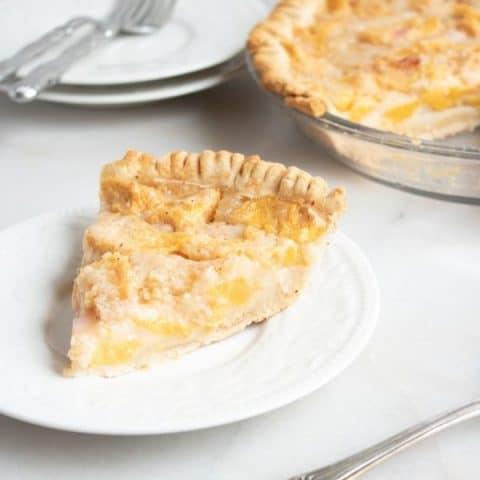 Fresh Peach Pie Recipe
Cook Time:
1 hour
10 minutes
Total Time:
1 hour
20 minutes
A fresh peach pie with a light and flaky crust. This easy peach pie recipe is perfect for peach season.
Ingredients
• 5 cups sliced fresh peaches
• 1/3 cup unsalted butter, melted
• 1 cup granulated sugar
• 1/3 cup all-purpose flour
• 1 egg
• 1 teaspoon nutmeg
Instructions
Preheat your oven to 350 degrees. Then prepare your crust in a baking dish. You can use homemade pie crust, or roll out a store bought dough.
Now you want to peel and slice your peaches in a large bowl.
Then in a smaller bowl add all your spices and ingredients together, and then pour on top of the peaches and stir.
Once combined, pour the peach mixture into pie crust and spread it around evenly.
Bake for 65-70 minutes.
Recommended Products
As an Amazon Associate and member of other affiliate programs, I earn from qualifying purchases.
Nutrition Information:
Yield:

8
Serving Size:

1
Amount Per Serving:
Calories:

231
Total Fat:

9g
Saturated Fat:

5g
Trans Fat:

0g
Unsaturated Fat:

3g
Cholesterol:

43mg
Sodium:

10mg
Carbohydrates:

38g
Fiber:

2g
Sugar:

33g
Protein:

2g
Can You Freeze Peach Pie
Yes! Simply bake your pie and allow it to fully cool down on a cooling rack. Then wrap the peach pie tightly in plastic wrap or aluminum foil. Then toss in a freezer bag
and freeze for up to three months. Thaw in the fridge or on the counter when you are ready to serve it up!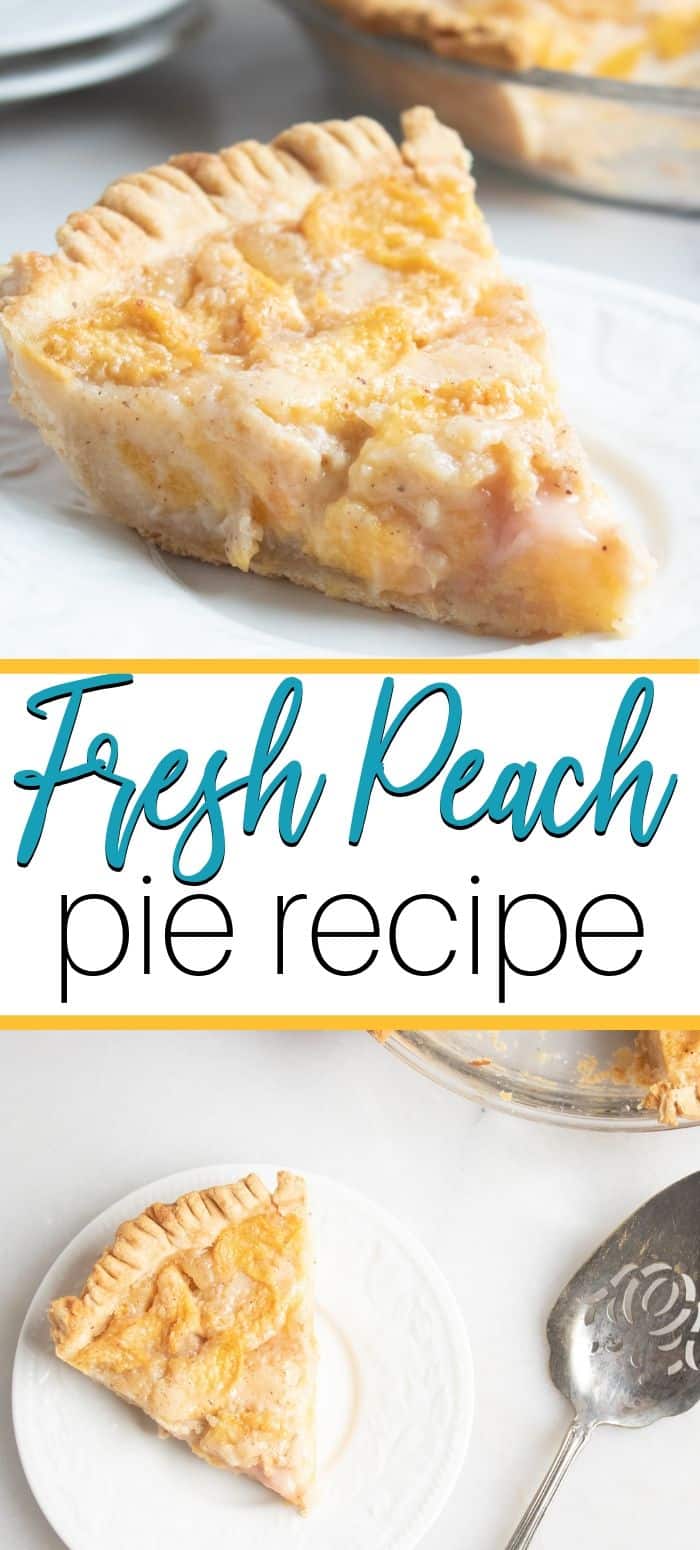 How do you enjoy eating fresh peach pie?