Do you love peach cobbler? Here is a peach cobbler muffin that is a delicious muffin loaded with diced peaches, warm cinnamon, and topped with a sugary streusel. A peach muffin that is perfect for breakfast or a dessert to serve up after dinner.
Peach season is here, and so that means peaches are filling our homes. Warm weather, and satisfying sweet peach recipes like this muffin recipe.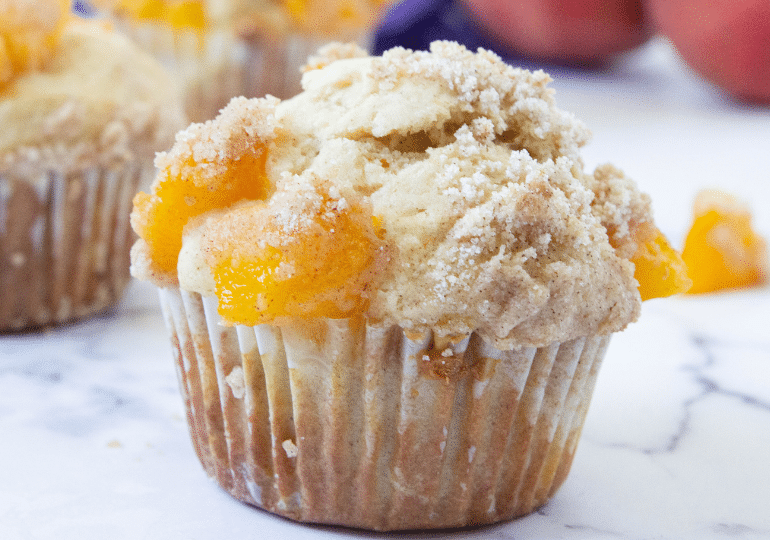 Table of contents
This peach muffin recipe can be made with canned peaches, fresh, or even frozen peaches. No matter what time of year it is, these fruit muffins are bursting with flavor.
Give this peach streusel muffin recipe a try today. Enjoy!
Why This Recipe Is A Hit
Peaches – So for this recipe, you can use frozen peaches, sliced fresh peaches, or drained canned peaches.
Easy Ingredients – You will find that this muffin recipe is very simple on ingredients used. Nothing fancy and great flavor in each bite of the muffins!
Freezer Friendly – This peach dessert is freezer friendly. Let the muffins fully cool then freeze your muffins for a snack or breakfast later on down the line.
Kid Friendly – This is a kid friendly recipe. Your kids might even love helping whip up these peach cobbler cups!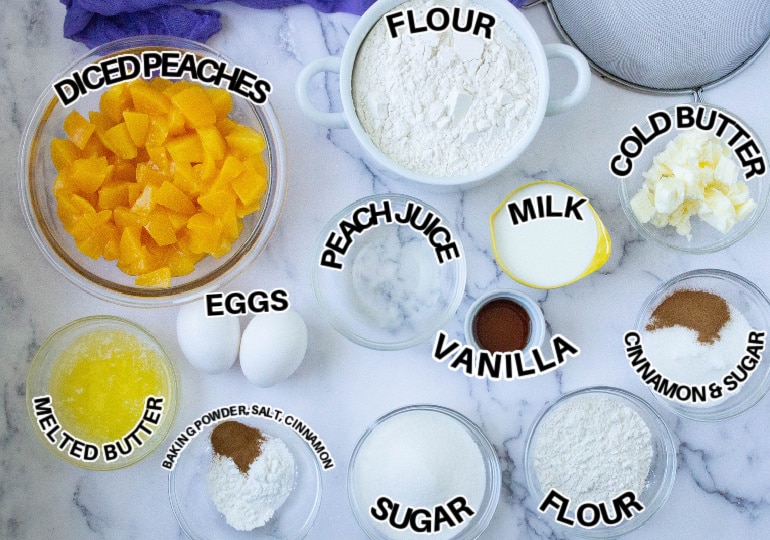 Ingredients
Diced Peaches + Juice – If you are using canned peaches, you will reserve some of the juice for the cobbler muffins. If you are using fresh, just omit that extra juice.
Butter – I used unsalted, but if you want salted butter just omit the salt in the recipe.
Baking Powder
Salt
Vanilla
Milk – I used a lactose free milk, but any milk or plant based milk will work for this recipe
Flour – All purpose flour is what I used. Make sure to measure the flour properly.
Eggs
Sugar– Granulated sugar, but could swap with brown sugar for a buttery caramel flavor.
Cinnamon
How To Make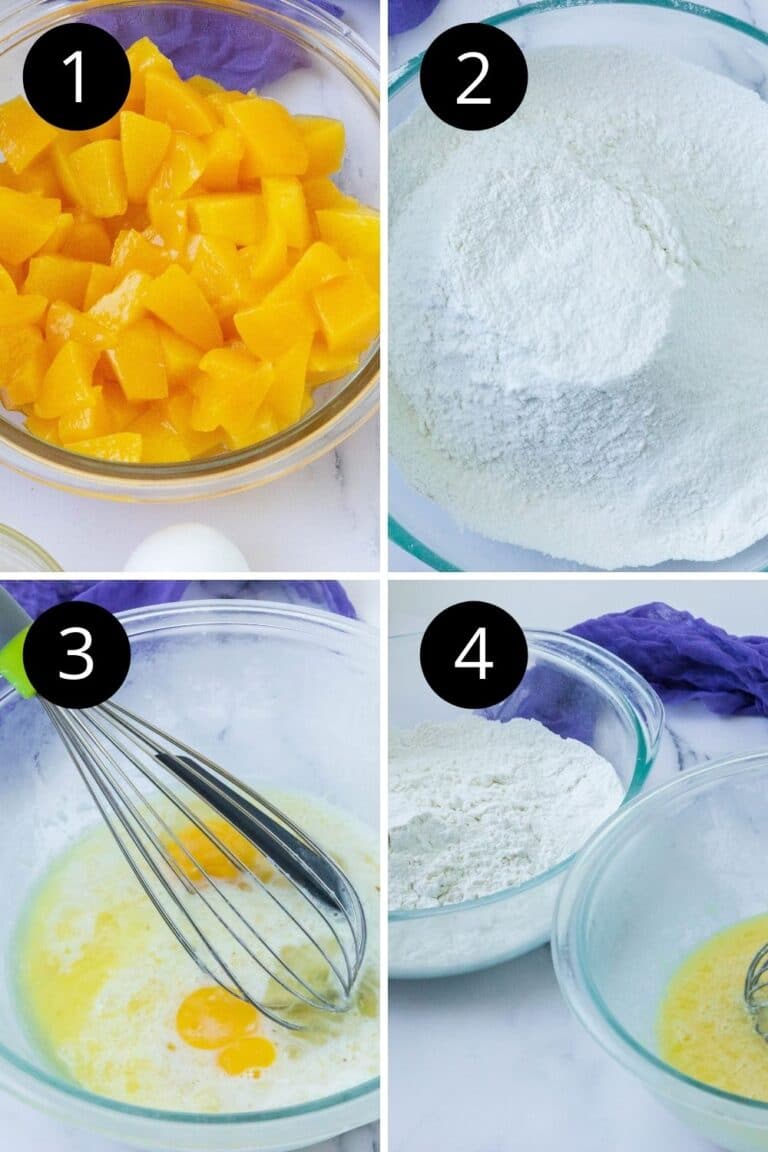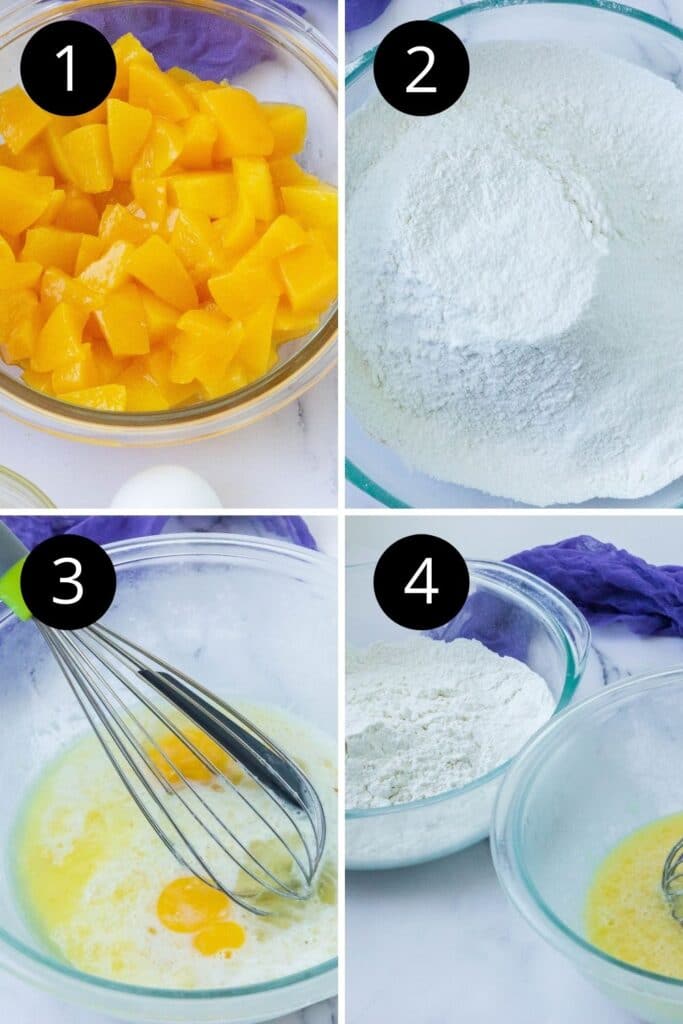 Step 1: Start by dicing your peaches into small cubes. If you are using fresh peaches peel first, then dice up. If you are using canned peaches, drain, and reserve 2 tablespoons of juice.
Preheat the oven to 425 degrees then line your muffin tin with liners and set aside.
Step 2: Now you are going to sift your flour, baking powder, cinnamon, and salt.
Step 3: In a bowl add your milk, eggs, melted and cooled butter, granulated sugar, peach juice, and vanilla. Mix until incorporated.
Step 4: Gently add in the flour mixture a little at a time. Make sure to not overmix the dough.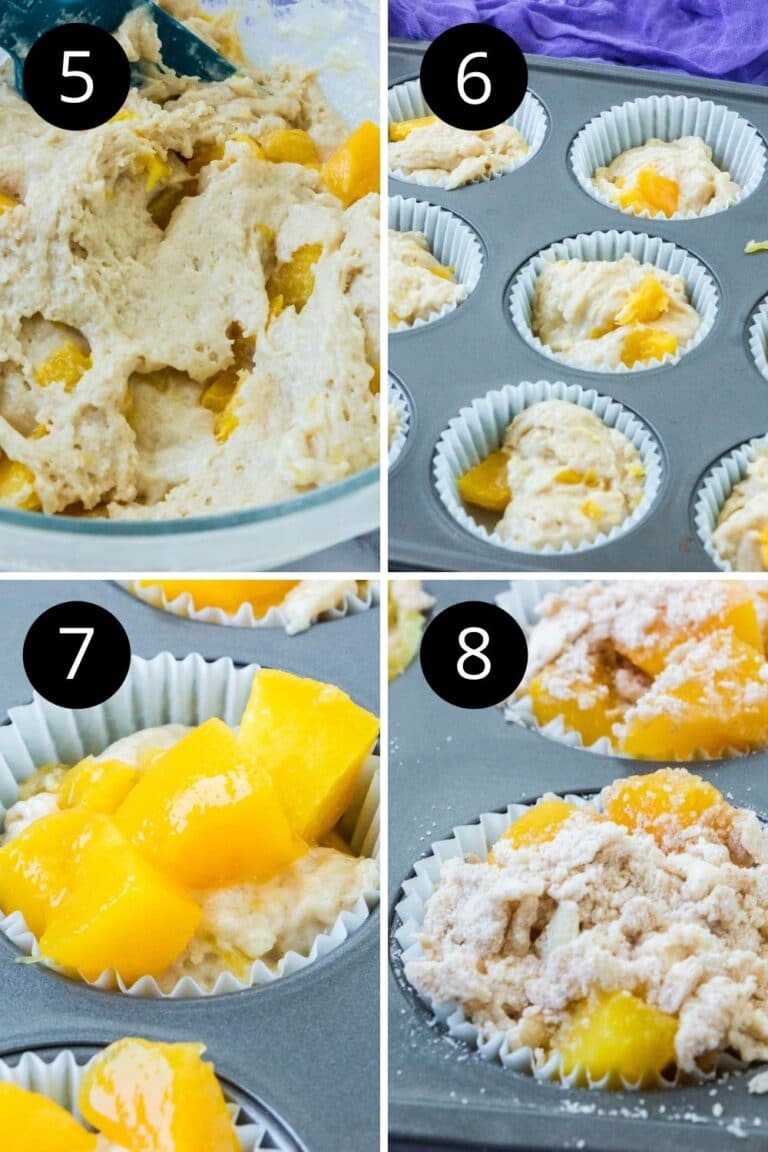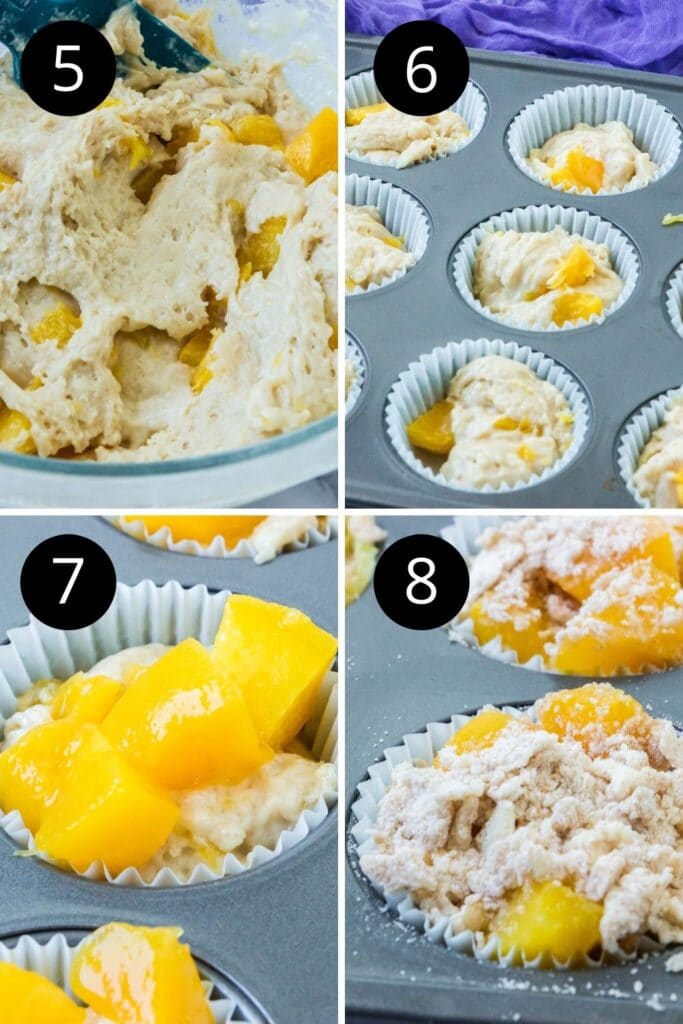 Step 5: Add 1 cup of diced peaches to a bowl and add in the tablespoon of flour. Mix well. Then fold into the muffin batter.
Step 6: Fill muffin tin cups 3/4 the way full with the batter. I used a scoop to dump in the muffin batter.
Step 7: Take your remaining drained and diced peaches and top each muffin cup. This is going to add a lot more peach flavor.
Step 8: Add your streusel ingredients in a small bowl and mix with a fork, breaking up the cold butter. Then spoon the streusel on top of each muffing.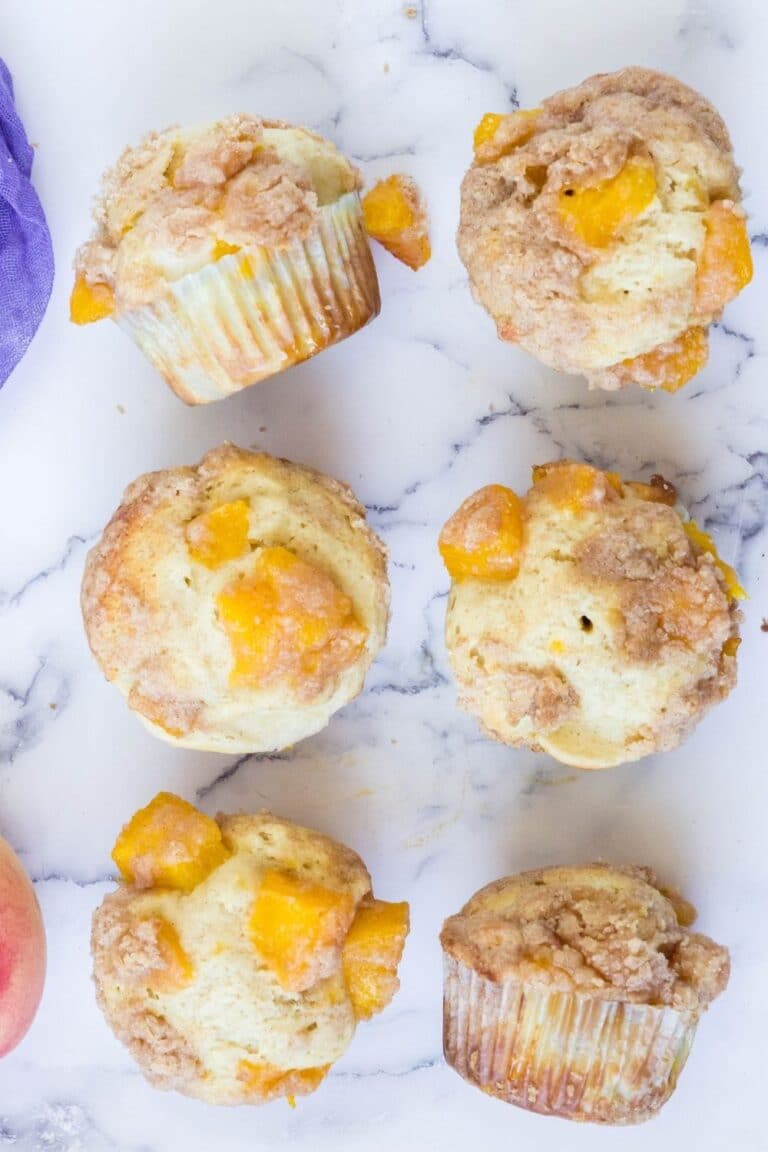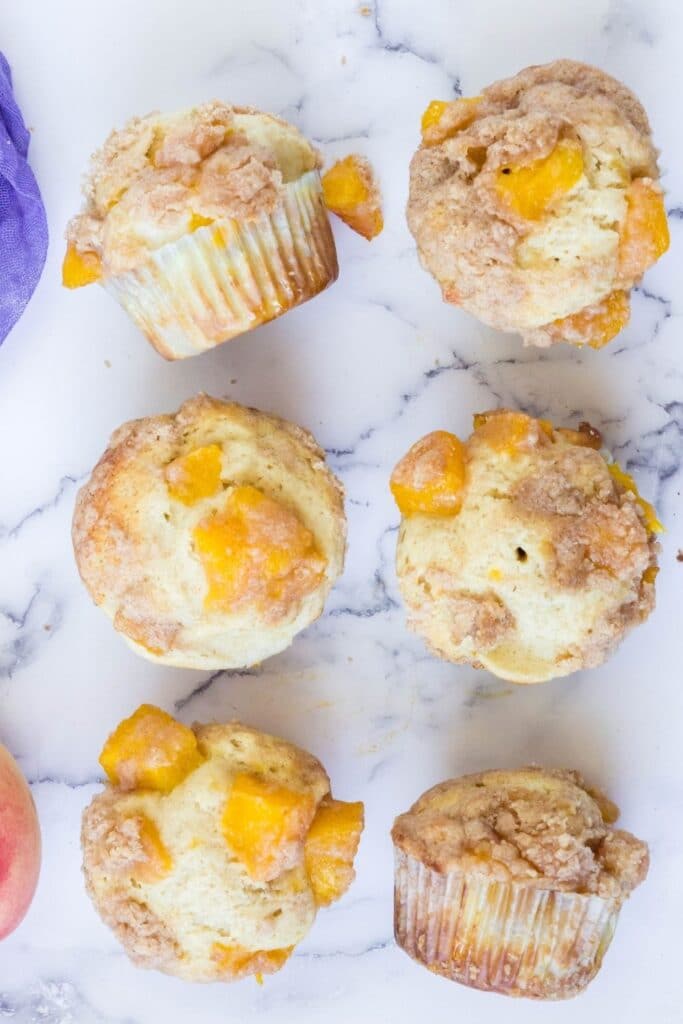 Step 9: Bake in the preheated oven until the muffins are done. Let cool a bit then serve warm!
Storage
Refrigerate – You will want to store the leftover peach cobbler cups in the fridge in an airtight container. They will last for 4-5 days.
Freezer – You can also freeze any muffins you do not eat right away. Just allow to fully cool, then place in a freezer bag or airtight container. Freeze for up to 3 months. Thaw in the fridge or microwave.
Looking for more recipes using canned peaches? Easy peach scones, Instant Pot raspberry peach cheesecake, or even breakfast quinoa.
Expert Tips
If you are using fresh peaches, peel them first. The skins will offer too much chewy texture.
Dice peaches into small cubes, or they will weigh down the muffins.
This recipe can be doubled, just use a larger muffin tin, or batch cook the muffins.
For the batter you will use melted butter, but make sure to allow it to cool first, or it can cook the eggs as you mix it up with the wet ingredients.
The crumb topping is optional, but it does add some nice sweetness.
Serve with a scoop of vanilla ice cream or even whipped cream.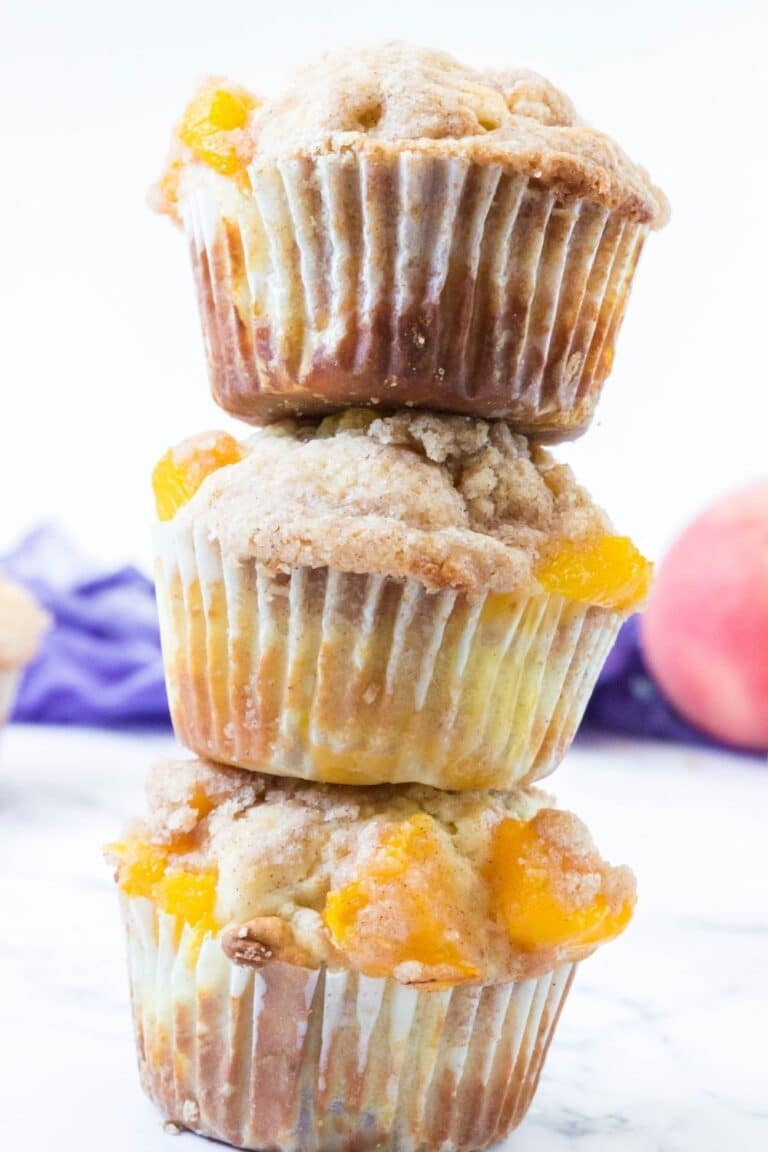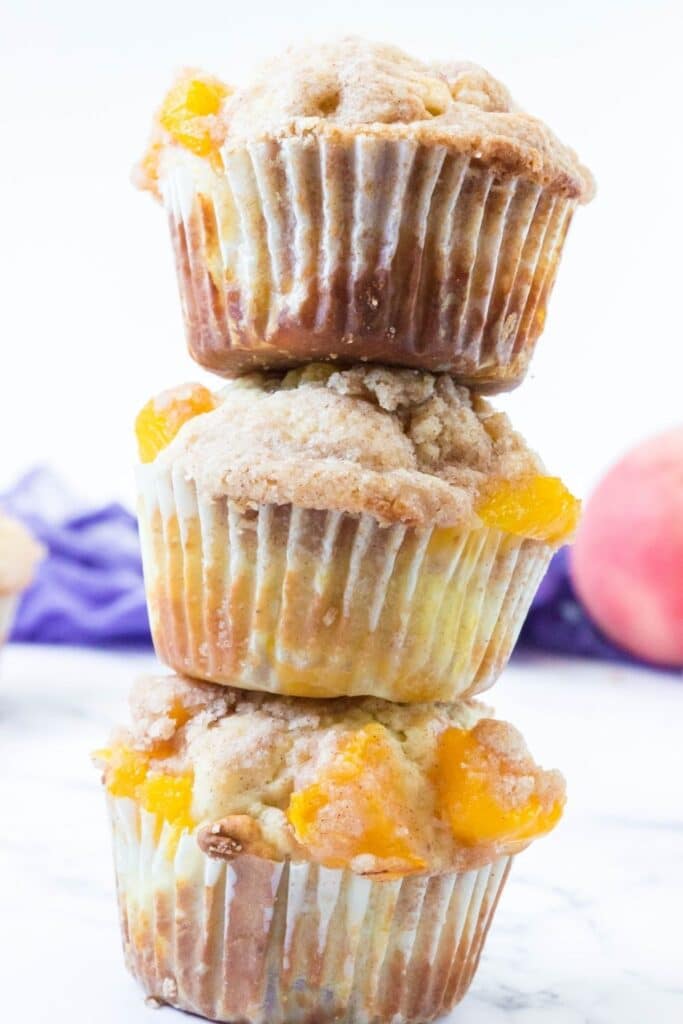 Variations To Recipe
Do part peaches and part raspberries, or another type of fruit for added flavor.
Swap the peaches out altogether with any other flavor of fruit. Strawberries, blueberries, etc.
Leave off the crumb topping and do a drizzle of a powdered sugar glaze instead.
Add in 1/3 cup white chocolate chips for added sweetness to the muffins.
FAQs
How long to bake muffins?
For this recipe I baked my muffins at 425 degrees for around 15 minutes. Depending on where you live and how your oven heats you can expect to bake these muffins around 12-18 minutes.
How to know when muffins are done?
Take a toothpick and stick in the center of the muffins. If the toothpick comes out clean from wet batter the muffins are done. You will also notice any flavor of muffins will firm up on top and become a light golden color.
Why are my muffins dry?
There are three answers to why your muffins could be dry. One of the big ones is overmixing the batter. If you overmix muffin batter it can become thick, heavy, and offer a drier texture. The other variable is adding in too much flour, or cooking the muffins too long.
How to know a peach is ripe?
Here are a few pointers on how to know that your peaches are ripe. First you want to look at the peach. Make sure it is colorful, and free of bruising or blemishes. Then feel for the firmness. The peach should have a little give when gently squeezed. If it is very firm it is under ripe and will be a few days to ripen.
Related Recipes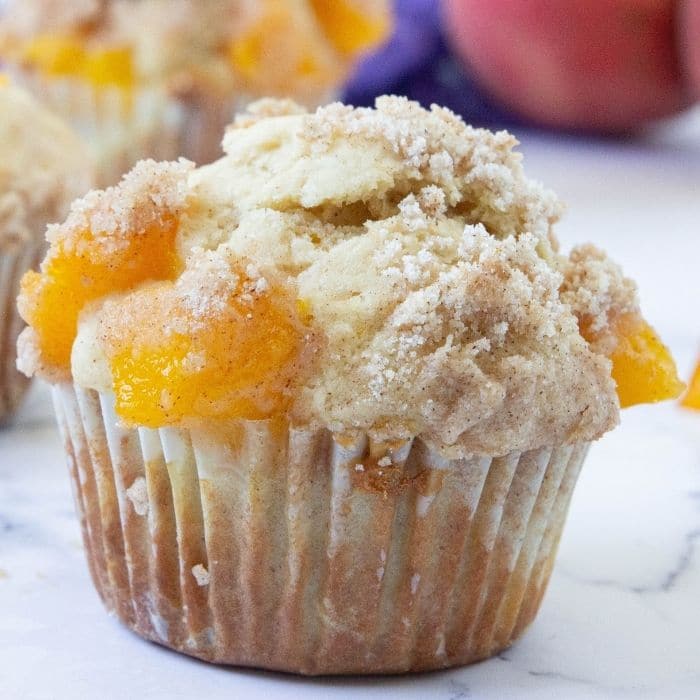 Peach Cobbler Muffins
Servings 12
Peach cobbler muffins are a delicious peach muffin with a sweet streusel on top. These are a tasty peach dessert you can make with fresh, frozen, or canned peaches.
Ingredients
Peach Muffin Ingredients
2 cups all purpose flour + 1 tablespoon
1/2 teaspoon salt
2 teaspoons baking powder
1 teaspoon vanilla
1/4 cup butter melted and cooled
1/2 cup milk
1/2 cup granulated sugar
1 teaspoon cinnamon
2 eggs
2 tablespoons peach juice from canned peaches
30 ounces canned peaches or use fresh or frozen
Streusel Topping
1/3 cup sugar
1/2 teaspoon cinnamon
1/4 cup butter cold and diced
1/3 cup flour
Instructions
Preheat the oven to 425 degrees. Place liners in the muffin tin and set aside.

Drain your peaches, and reserve 2 tablespoons of the peach juice if you use canned. Otherwise, dice up the fresh or frozen peaches. Do smaller pieces.

Now you will sift your flour, baking powder, and salt, and set aside.

Next, in a bowl mix up your eggs, sugar, melted butter, milk, and peach juice. Make sure to mix it up really well.

Now gently mix in the dry ingredients a little at a time.

Take around 1 cup of peaches and mix with the 1 tablespoon flour, you had extra. Then fold into the batter.

Scoop the batter into the muffin tin about 3/4 the way full. I got 12 regular sized muffins out of the batter.

Top the muffins with the remaining diced peaches.

Then in a bowl mix the streusel ingredients together, and sprinkle on top of each peach muffin.

Bake in the oven for 12-18 minutes or until your muffins are fully cooked.

Remove and place on a cooling rack. Then serve up your peach cobbler muffins.
Notes
Peaches – You can use fresh, frozen, or canned peaches. Drain the juice off canned peaches. Streusel Topping – You can skip the streusel topping if you want. I love it adds a sugary crunch to the muffins. Storage – Store your peach cobbler cups in the fridge in an airtight container. Freezer – You can freeze the muffins for 3 months, in the proper container as well. Thaw in the fridge overnight or warm up in the microwave.
Nutrition
Serving: 1gCalories: 262kcalCarbohydrates: 42gProtein: 4gFat: 9gSaturated Fat: 5gPolyunsaturated Fat: 3gCholesterol: 52mgSodium: 251mgFiber: 2gSugar: 22g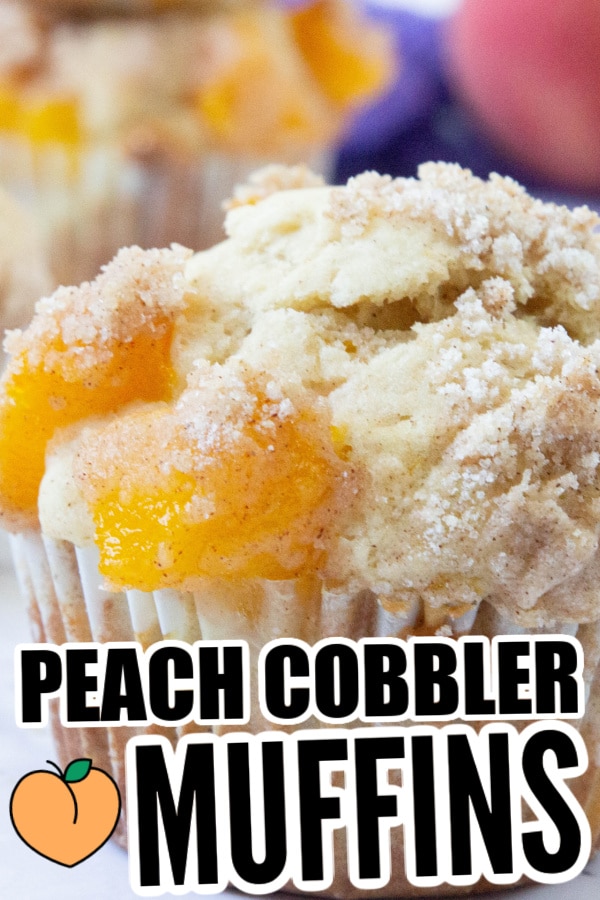 Reader Interactions