BBQ Peach Crockpot Chicken Thighs Recipe is a delicious crockpot chicken recipe. You can use any cut of chicken for this bbq peach chicken recipe. A slow cooked chicken that has a sticky glaze.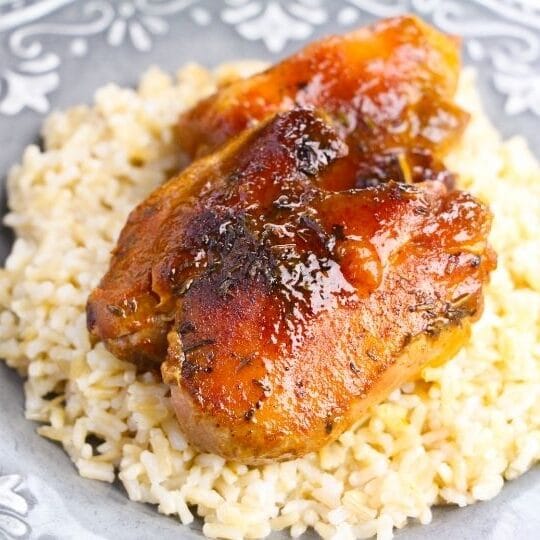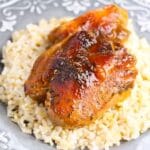 Consider whipping up this crockpot chicken thighs dinner. Bbq peach chicken that is slow cooked in your crockpot. An easy chicken recipe that you can dump and forget till dinner.
I am a sucker for good crockpot meals. This peach bbq chicken is no exception. Tender and juicy chicken that is great served over a bed of rice, with pasta, or veggies and a salad. Another slow cooker idea is my slow cooker whole chicken. Try this Swiss chicken casserole as well.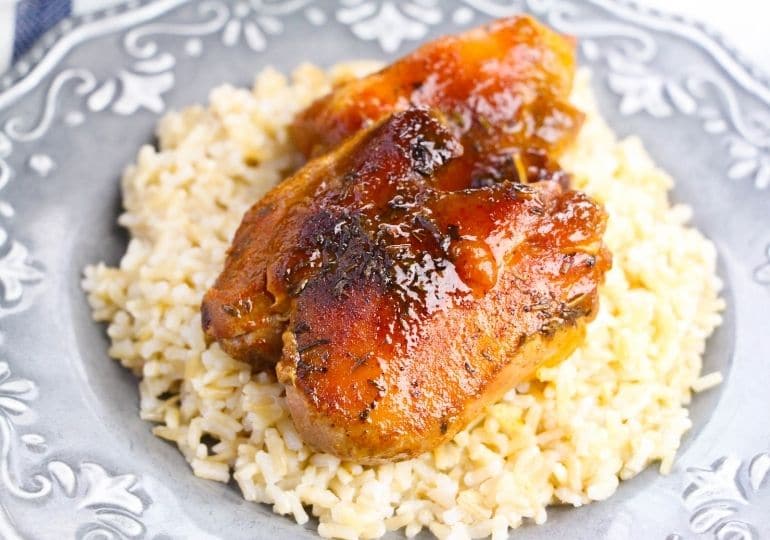 If your looking for a simple bone in chicken recipe, this dish might fit what you are on the hunt for. Sweet and savory flavors in each bite!
For a sweet version of a peach recipe, try my peach cobbler muffins.
Why This Recipe Works
Pantry Meal – This is a wonderful pantry meal. All ingredients you can store in your pantry and the chicken in the freezer. Then when you want toss in and cook! I always have the ingredients stocked.
Freezer Meal – You can make this slow cooker BBQ chicken thighs recipe into a freezer meal. You can toss all ingredients in a bag, freeze until ready to eat. I share all directions in the printable recipe card below.
8 ingredients – 8 ingredients is all it takes to make. If you are on a budget or don't want to buy special ingredients for a recipe, give this crockpot chicken a go.
Quick Prep Dinner Idea – I can literally toss this in my slow cooker and have it cooking in minutes. It is so easy to dump, cover and let cook.
Family Friendly – I have a 5 year old, so he is a tad picky. Having a family friendly dinner that I know he will eat is a huge plus for me.
Oven Friendly – Not looking for a crockpot dinner? That is okay, this can easily be made into an oven baked bbq chicken recipe. I share instructions in the recipe card below.
Ingredients Required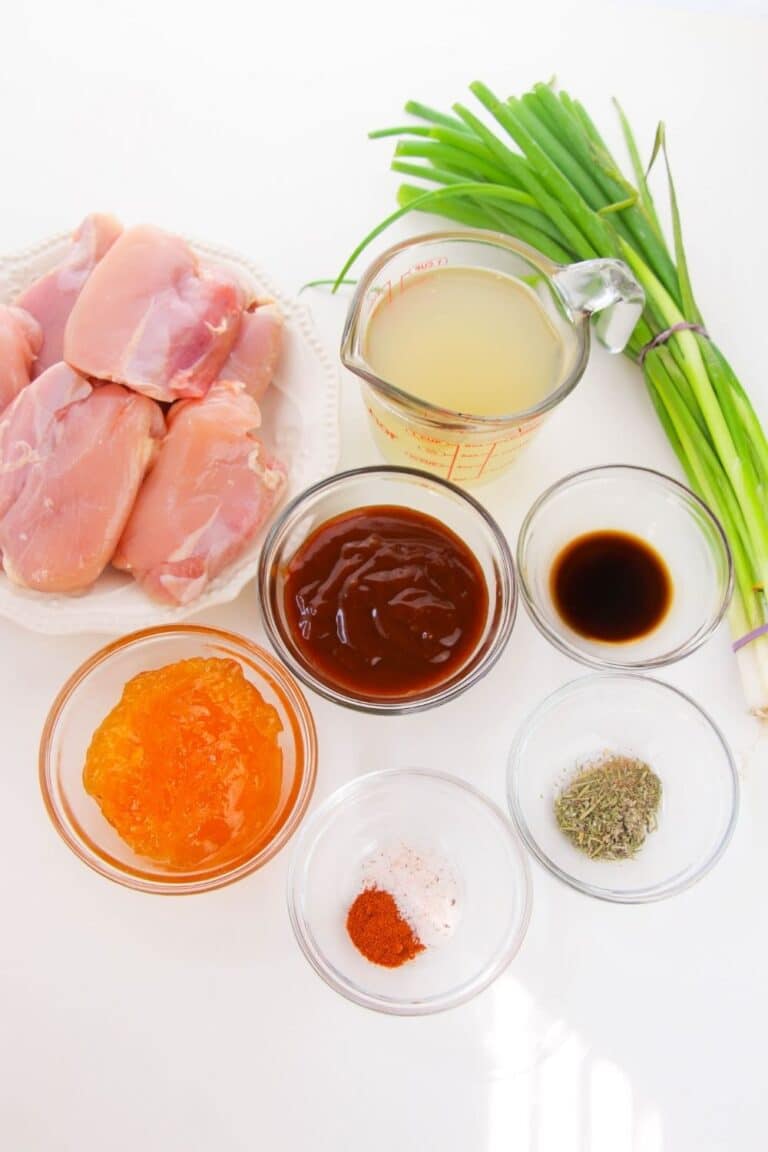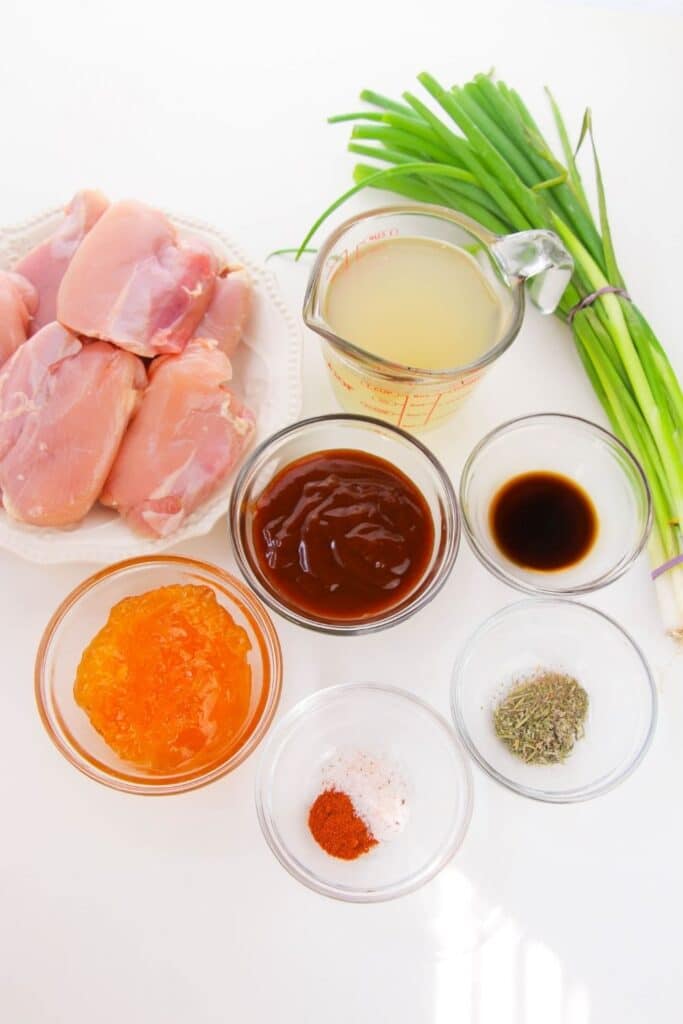 Chicken – Any cut of chicken works. Bone-in or boneless chicken. Just know bone-in chicken holds more flavor and offers a juicier texture.
 Bbq Sauce – We love a Kansas City style sauce but any brand or type of bbq sauce works. 
Peach Preserves or Jam – The hint of peach but also adds that sticky texture to the chicken that is mouthwatering.
 Cayenne – This is optional. It adds some heat but you can leave it out if you want mild flavoring and no heat. 
Salt
Poultry Seasoning – You can buy poultry seasoning at the store. Or if you don't have it, a season salt blend would work as well. 
Chicken Broth
Worcestershire Sauce – I love the hint of smokiness this adds to the chicken. 
How to Make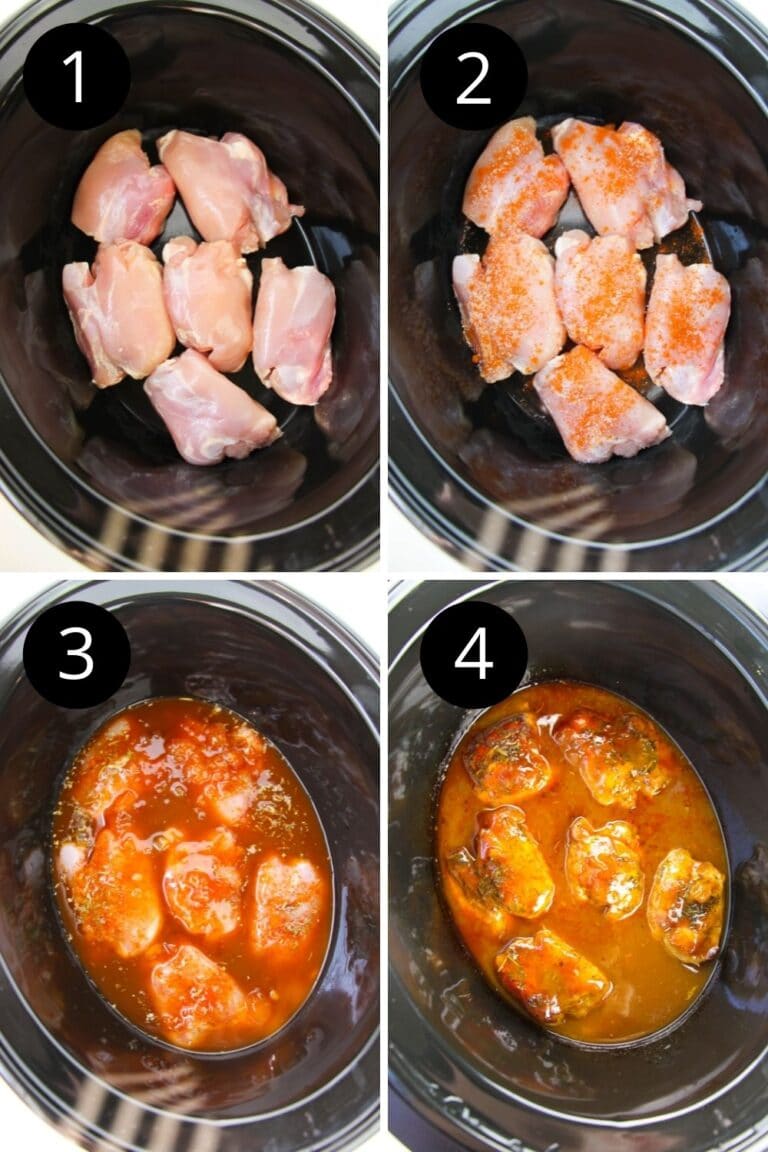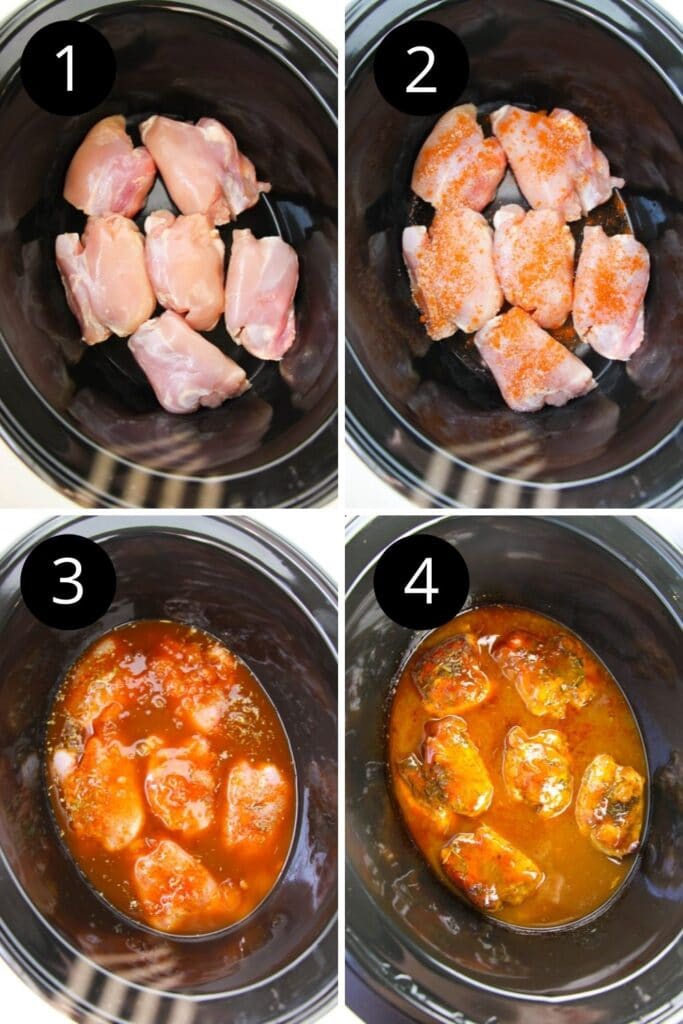 Step 1: Start by placing chicken into crockpot.
Step 2: Next you will sprinkle on the seasonings, coating both sides of the chicken. Use the poultry seasoning, salt and cayenne.
Step 3: Now, in a small bowl mix the peach preserves, bbq, Worcestershire and broth. Once mixed pour over the chicken.
Step 4: Place lid on the crock pot and cook on high for 3-4 hours or low 6-7 hours. The internal temperate needs to read 145 degrees.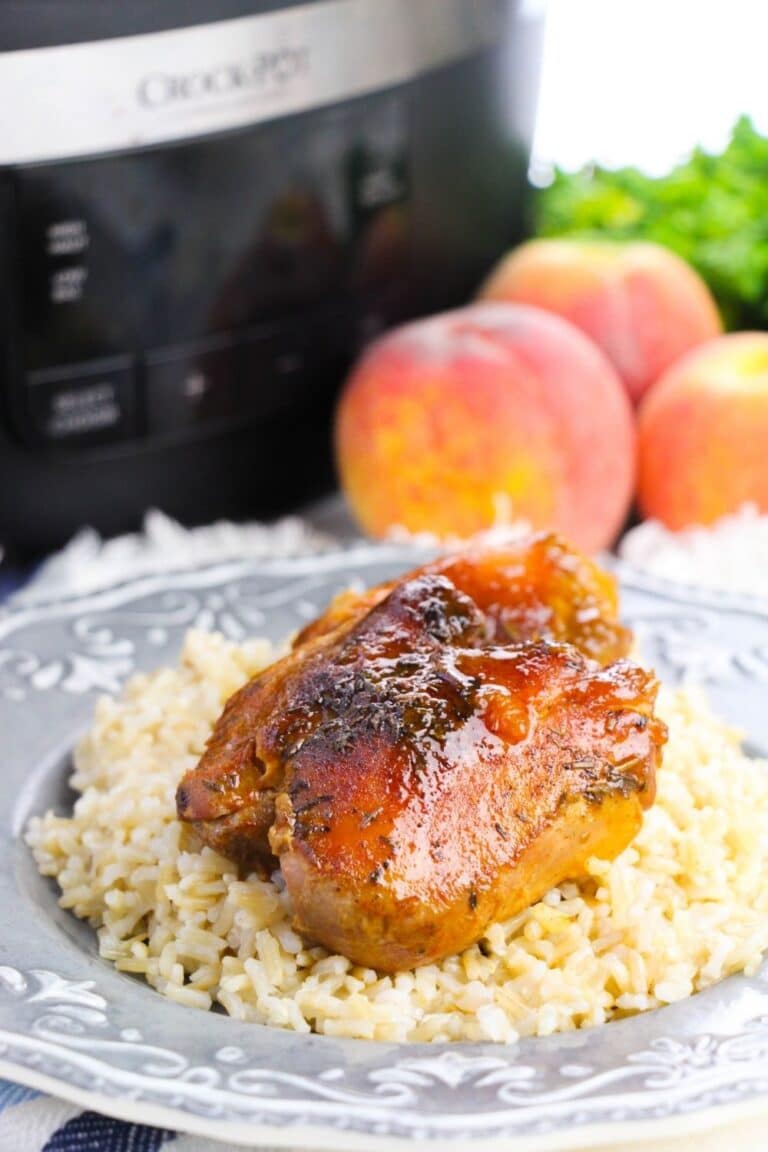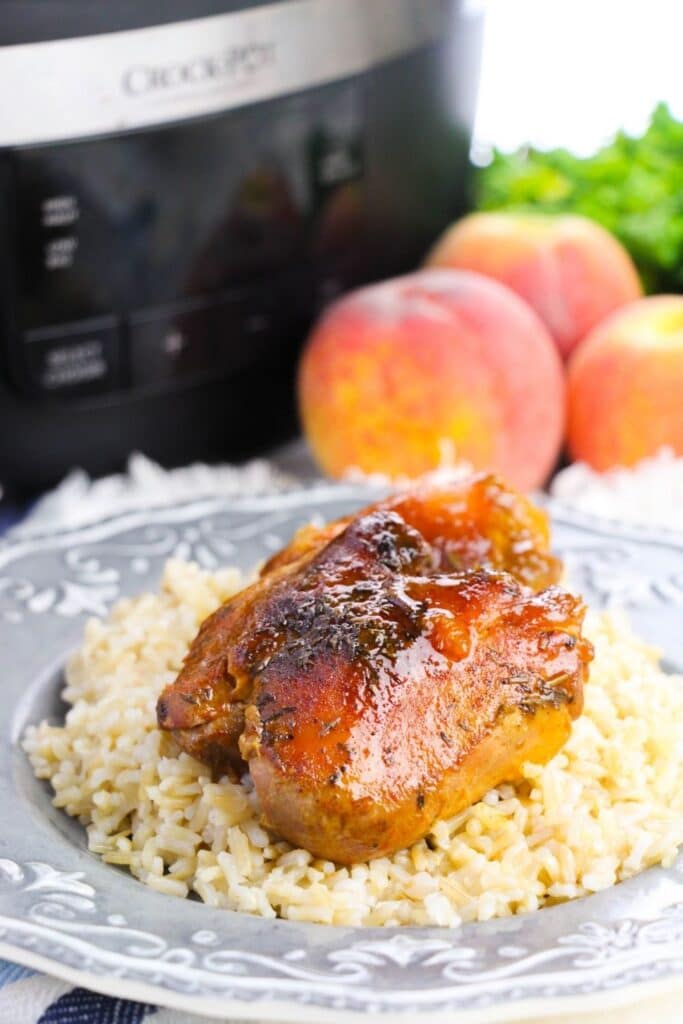 Step 5: When done pair with any of your favorite side dishes! I love to do rice or cauliflower rice as the pairing.
Storage
If you do not eat all the chicken, store in a proper container in the fridge. The leftover chicken will last 3-4 days.
You can reheat in the microwave. Or cover with foil in pan for the oven. If you don't cover the chicken the sugary glaze will burn.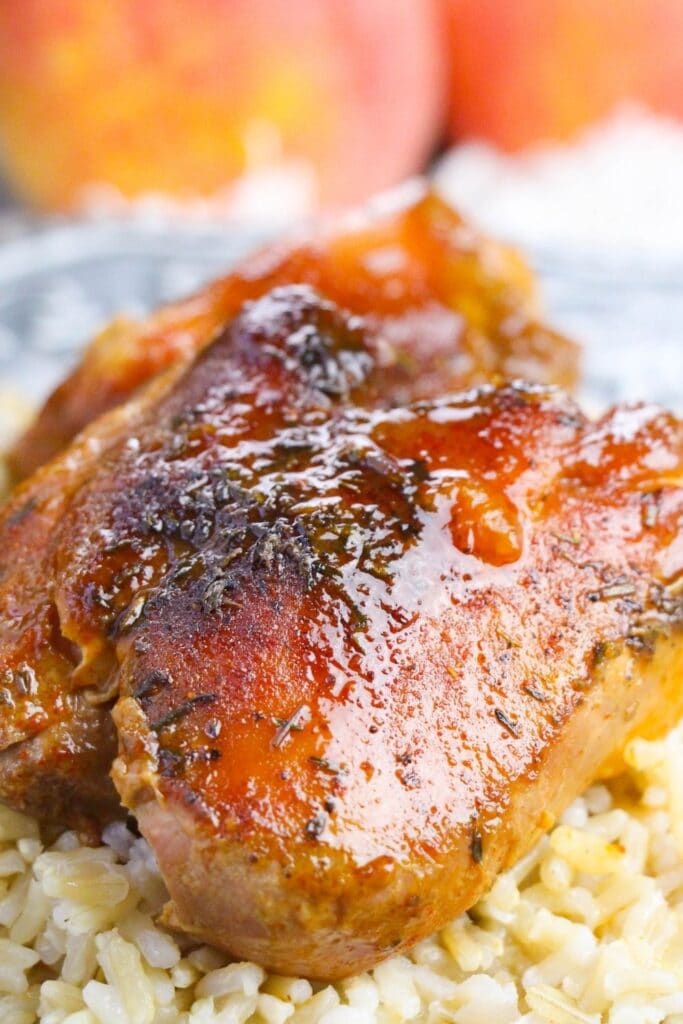 Expert Tips
Choice of chicken – Reach for any cute. Boneless is great but it will give you a drier meat. Bone in chicken will offer a juicier texture.
Ensure chicken is done – Use a meat thermometer to check your chicken. Place in the largest piece, do not touch the bone. The thermometer needs to read 165 degrees!
Touching a chicken bone will make the temperature go higher than what the meat is actually cooked. It gives a false reading.
Let it rest – Let your chicken rest for 5-10 minutes once it is cooked. This allows the juices to stay in, providing a juicy and tender chicken.
Cutting right out of oven, crockpot, etc. leads to dry meat.
Sear the chicken – If you want go an extra step further and season the chicken with salt and pepper. Sear the chicken on all sides in a hot skillet with oil.
You want a golden crust, but not cooking the chicken all the way thru. Searing the meat creates more texture and flavor!
Variations
You can bake in the oven, assemble chicken. Cover and bake at 350 for 45 minutes to 1 hour. Check chicken and then remove the cover to finish cooking. Make sure chicken is fully cooked.
Swap the peach with apricot or even cheesy for a twist of flavor.
You can use sugar free ingredients. It will alter the flavor a bit.
FAQs
What to serve with the crockpot bbq chicken thighs?
We serve our chicken over a bed of rice, cauliflower rice or even quinoa at times. You can also do a salad, cucumber salad, or any of your favorite sides.
How to know crockpot chicken legs are done?
Chicken is done when you take a thermometer and stick into the chicken at the largest part. If bone-in make sure to not touch the bone, or it will give a higher reading. Make sure the chicken reaches 165 degrees internally.
Can I make this chicken a crockpot freezer meal?
Take all the ingredients and pour into a freezer bag or container. Then freeze for up to 3 months. Thaw the chicken mixture in the fridge the night before you want to eat. Dump all ingredients in the slow cooker, cover with lid and cook until the chicken is fully cooked. This makes a quick freezer meal.
Related Crockpot Recipes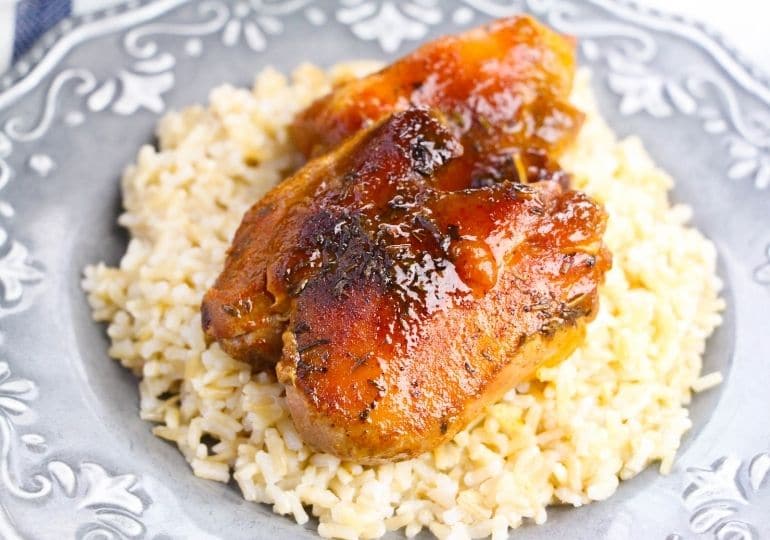 BBQ Peach Crockpot Chicken Thighs Recipe
Servings 5 -6 servings
BBQ Peach Crockpot Chicken Thighs Recipe is a delicious crockpot chicken recipe. You can use any cut of chicken for this bbq peach chicken recipe. A slow cooked chicken that has a sticky glaze.
Ingredients
5-6 Chicken Thighs or other cut of chicken
1/2 cup BBQ Sauce of choice I used Kansas City
1/2 cup Peach Jam or Preserves
1 teaspoon Salt
1/2 teaspoon Cayenne Pepper
1 teaspoon Poultry Seasoning
1/2 cup Chicken Broth
1 Tablespoon Worcestershire Sauce
Instructions
Place your chicken in your crockpot. Then you will sprinkle with salt, poultry seasoning and the cayenne pepper. I seasoned both sides of the chicken then massaged it in a bit.

In a small bowl, pour in the bbq sauce, peach jam, broth, and Worcestershire sauce. Mix well till combined. Then pour over the chicken.

Place lid on the crockpot and let this crockpot bbq peach chicken cook for 3-4 hours on high, or 5-6 on low.

The chicken is done when you reach an internal temperature of 165 degrees. Once the crockpot chicken thighs are done, remove and let rest 5 minutes. Serve with your favorite sides.
Notes
Oven Bake: To bake the chicken in the oven, you will place chicken in a casserole dish. Preheat the oven to 350. Season the chicken the same way, then pour the glaze mixture over the chicken. Bake for 45 minutes, and then check. Continue cooking if the chicken is not done. Freezer Meal Directions: Place all the ingredients in a freezer bag. Freeze for up to 3 months. Thaw in the fridge overnight then place in the crockpot and cook the same way as you would originally. Just make sure chicken is fully cooked! How to Know Chicken Is Done: Chicken needs to reach 165 degrees internally for the chicken to be fully cooked. Cuts of Chicken – Use boneless or bone-in chicken. Just alter the cook time depending on how thick or thin the chicken pieces are. Then slice, serve and enjoy. Sugar Free – You can use sugar free bbq sauce and jam in replace of regular if you want a lower sugar dish.
Nutrition
Serving: 1gCalories: 438kcalCarbohydrates: 31gProtein: 34gFat: 20gSaturated Fat: 6gPolyunsaturated Fat: 14gCholesterol: 180mgSodium: 945mgFiber: 1gSugar: 23g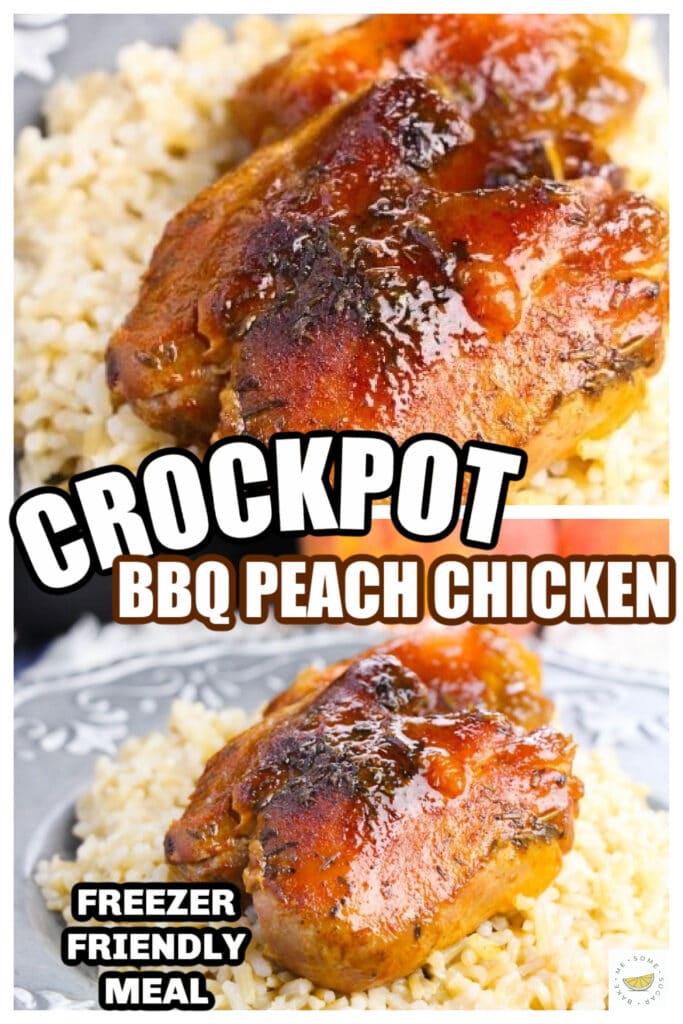 Reader Interactions