This Slow Cooker Pork Loin is a great recipe that the whole family will love. Pair up that tender pork loin with the sweet taste of apples and a sprinkle of cinnamon, and you've got yourself a hearty meal! Give this easy pork loin recipe a try.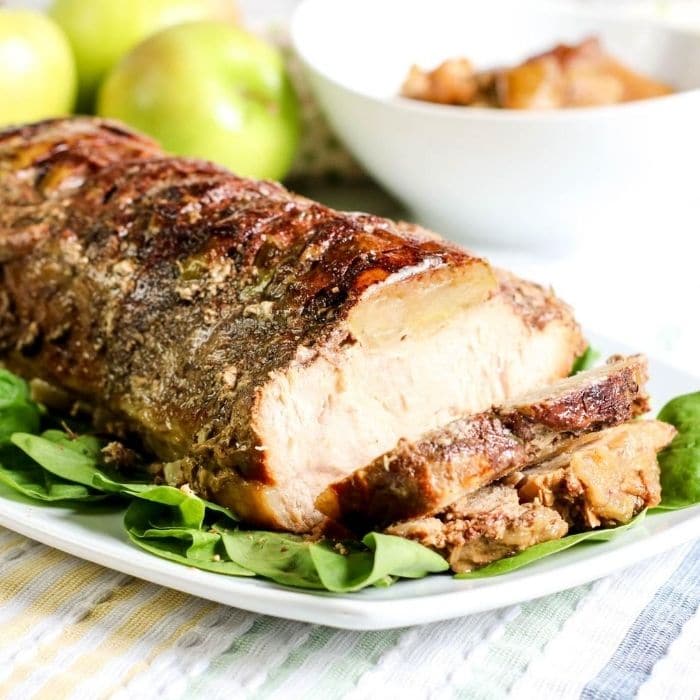 If you are a fan of the slow cooker, I have a few more recipes for you to consider trying. 3 ingredient grape jelly meatballs, meaty slow cooker lasagna, or even this slow cooker pepper steak.
Slow Cooker Pork Loin
Now that fall is in the near future, it's time to start thinking about breaking out the slow cooker and cooking up something delicious.
This means that you'll have several months that you'll be able to slow-cook your meals with ease.
And this Slow Cooker Honey Apple Pork Loin is one of my favorite dinners. I meal plan this recipe at least once a month and have yet to get tired of it! 
If you're craving a great taste and flavor, this Honey Apple Pork Loin is certain to be a hit!
How To Make Slow Cooker Pork Loin
Step 1: Start by spraying your slow cooker with nonstick spray or use a slow cooker liner.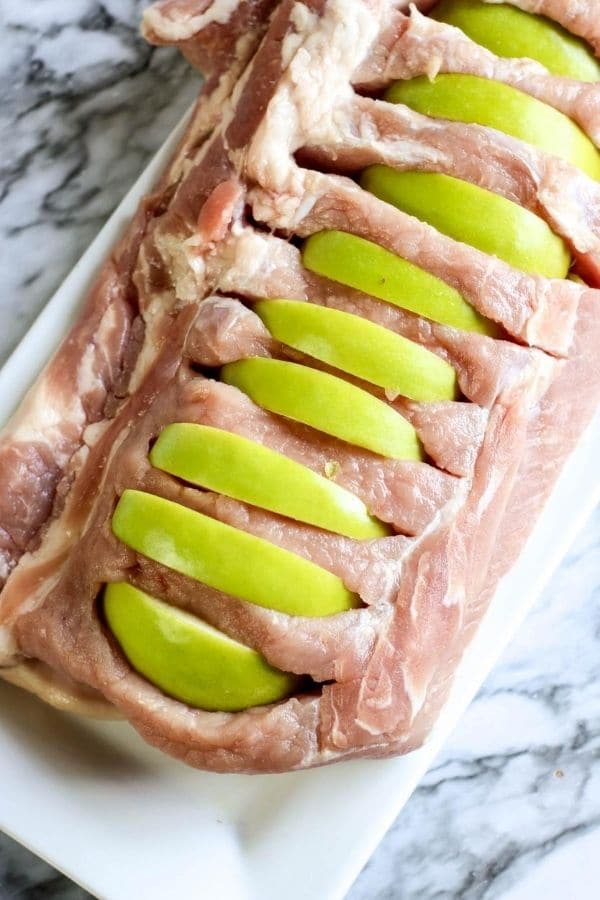 Step 2: Now begin cutting 1 inch deep slits in your pork loin all the way down. This is where you will place your sliced Granny Smith apples.
Step 3: Now you will place your pork loin into the slow cooker and place the remaining apples and sliced onions around the pork loin.
Step 4: Now you will mix your dry ingredients together and sprinkle it over the whole pork loin. This is going to add tons of flavor to your pork and the onions and apples.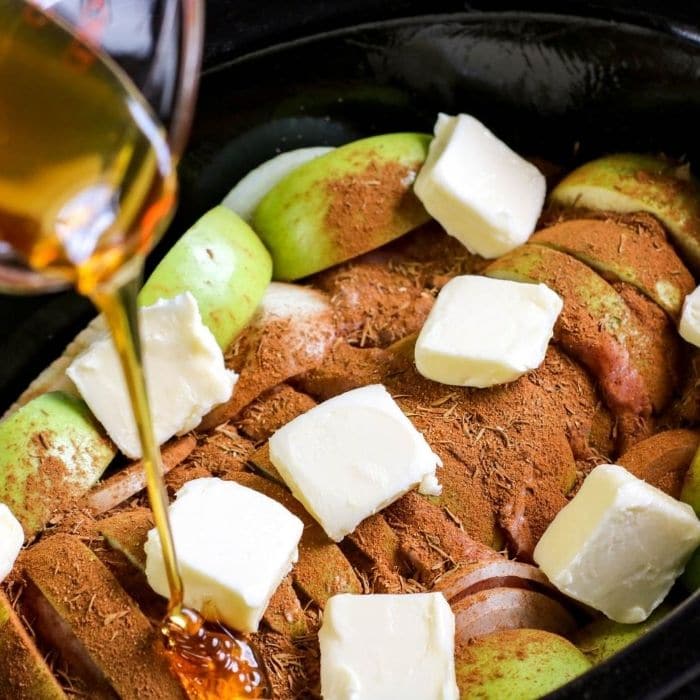 Step 5: Add slices of butter on top of the loin as well. Then pour honey over the top.
Cover and cook on high for 4 hours or do low for 6 hours or until the pork loin is fully cooked.
Step 6: Remove the cooked loin from the slow cooker, and cover with an aluminum foil tent. Then allow it to rest 5-10 minutes before slicing to ensure it stays moist.
Can I Swap Out The Granny Smith Apples  
I used Granny Smith apples because the tartness cuts through the sweetness of the honey. If you're wanting a more mild flavor, you can use a Fuji apple instead.
Other than that, I really don't recommend using any other types of apples.  Just keep in mind that when you're adding in the apples, they're going to become soft once they start slow cooking with the pork.
There are some apples that will turn mushy which is why I don't recommend any besides the use of the Granny Smith or the Fuji.  
At What Temperature Is A Pork Loin Fully Cooked?
Pork loin to be considered safe to eat, it needs to have an internal temperature of 145 degrees. This is what is recommended by the USDA.
You can check the meat temp easily by using a meat thermometer.  Also it is recommended that you let your pork rest for a few minutes once it's done cooking as well. This will help prevent the pork from drying out.
This can help it tenderize a bit and really bring out the taste and flavor.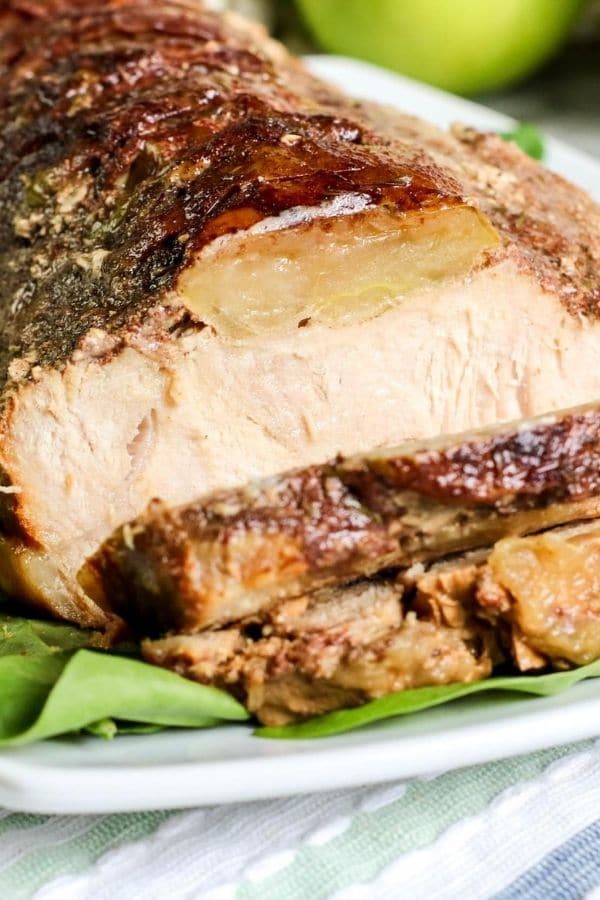 Can I Bake This Apple Pork Loin Recipe In Oven?
You can. This recipe can be done in the oven and you'll just have to make certain that it has the internal temperature of at least 145 degrees.
A good rule of thumb to guess the amount of time it will take to cook in the oven is to plan on cooking the pork loin for 25 minutes per pound.
Why not have a taste test and see which you prefer better? Pork loin in the slow cooker or pork loin in the oven?
Can I Add Raisins to This Pork Loin Recipe?
Adding raisins will give the pork loin a more natural sweetness. Just be certain to add them near the end of cooking in the slow cooker so that they don't cook too much and become hard. 
Just as a note of caution – adding in the raisins is definitely a preference sort of thing.
And there are many people who don't care for raisins at all. So if you're making this dish for others to join, this might be an optional ingredient that you leave out during that time. 
What Type Of Onion To Use With Pork Loin
I love the combination of pork and onions! If you're going to use onion in this recipe, make certain to choose a sweet onion from the store.
This will give you awesome flavor paired with the salty pork. (My mouth is literally watering just thinking about it!) 
Sides To Pair With Honey Apple Pork Loin
The great part about this Crockpot Apple Pork Loin is that it pairs up well with a lot of delicious sides. Steamed veggies are always a good choice as are roasted mashed potatoes, too. Don't forget to make some homemade bread to go along with the meal as well!
And if you're wanting to have a lighter side, you can easily pair up this pork dish with a simple side salad as well.
A Few More Easy Dinner Ideas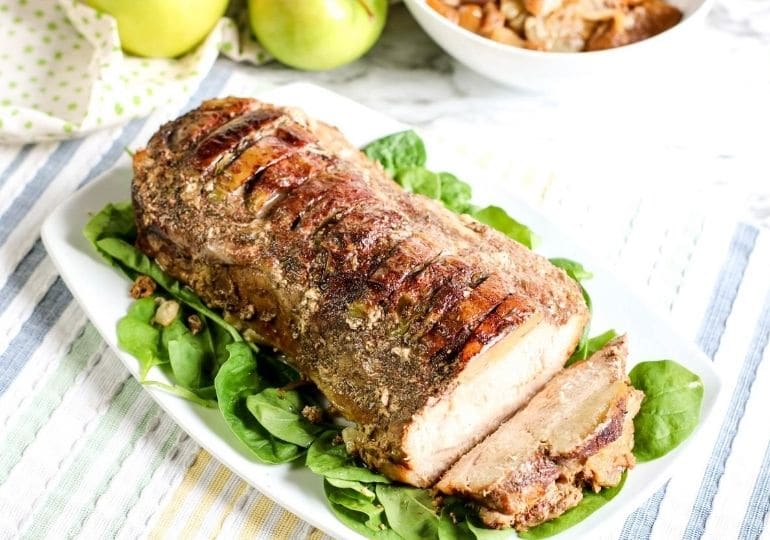 Slow Cooker Pork Loin With Apples And Honey
Servings 1 pork loin
Slow cooker pork loin that is a tender pork loin with the sweet taste of apples and a sprinkle of cinnamon. This slow cooker apple pork loin is fantastic. Honey, Granny smith apples, and more are what really elevate the flavor of this pork loin recipe. 
Ingredients
1 3 ½ to 4 pounds pork loin
½ cup 1 stick butter, sliced into pats
2 granny smith apples sliced into wedges
1 white onion sliced
¼ teaspoon salt
¼ teaspoon pepper
½ teaspoon cinnamon
½ teaspoon dried thyme
¼ cup honey
Instructions
Start by spraying your slow cooker with cooking spray or place a slow cooker liner in.

Then on a cutting board cut 1 inch deep slits on yoru pork loin, around 1-2 inches apart.

Now you will slice up your apple slices and place them into each whole you cut in the pork loin. There will be extra apples, reserve for later.

Place your pork loin in the slow cooker, and then place the remaining sliced apples and sliced onions around the edge of the pork loin.

Mix together the salt, pepper, dried thyme, and cinnamon. Sprinkle the dry seasonings all lvoer the pork loin on top.

Now take your stick of butter and slice into pats. Place them all over the pork loin.

Pour your honey over the top of the loin. Place the lid on the slow cooker and cook for 6 hours on low or 4 hours on high.

Once the pork loin is fully cooked you will remove and place on a baking pan that is tented with aluminum foil. Let rest 5-10 minutes.

Slice and serve up your honey apple pork loin.
Nutrition
Serving: 1gCalories: 43kcalCarbohydrates: 11gSodium: 54mgFiber: 1gSugar: 9g
Reader Interactions