Looking for that perfect slow cooker lasagna recipe? Here you have a slow cooker lasagna with no-boil noodles, for the easiest dinner any day of the week.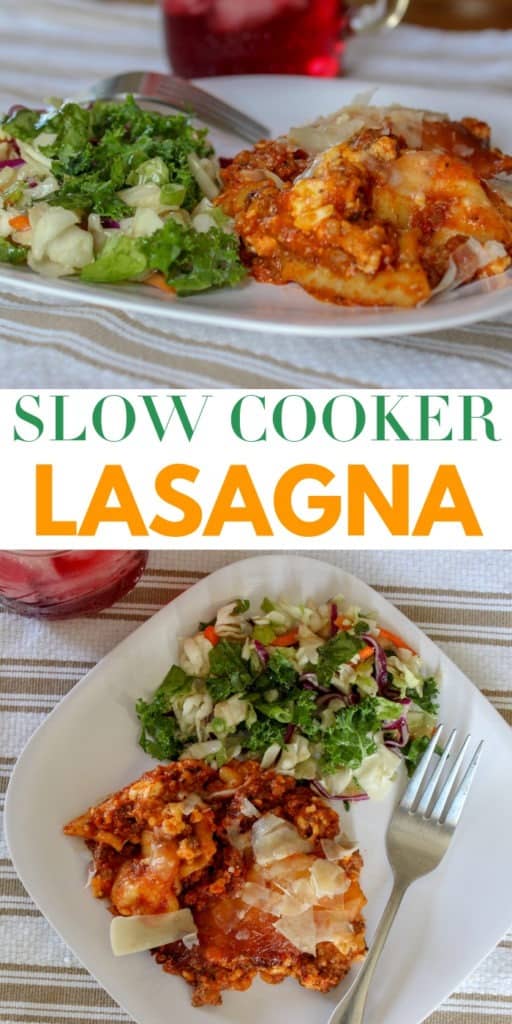 Slow Cooker Lasagna
Get that tender cooked pasta that is smothered in meat sauce, cottage cheese and topped with cheese. This is a super easy crockpot lasagna recipe, you all will love.
Meal Prep Crockpot Recipe
This slow cooker lasagna recipe is my go-to for those nights I don't want to fuss with dinner. Around lunchtime, I cook up the meat and assemble the lasagna in the slow cooker, and then allow it to cook on low for 4-6 hours.
I served ours with a chopped Asian salad and dinner was ready. I am all about easy and simple meals, to incorporate into our rotation for those days I just don't have the time or want to cook.
Even More Weeknight Dinner Ideas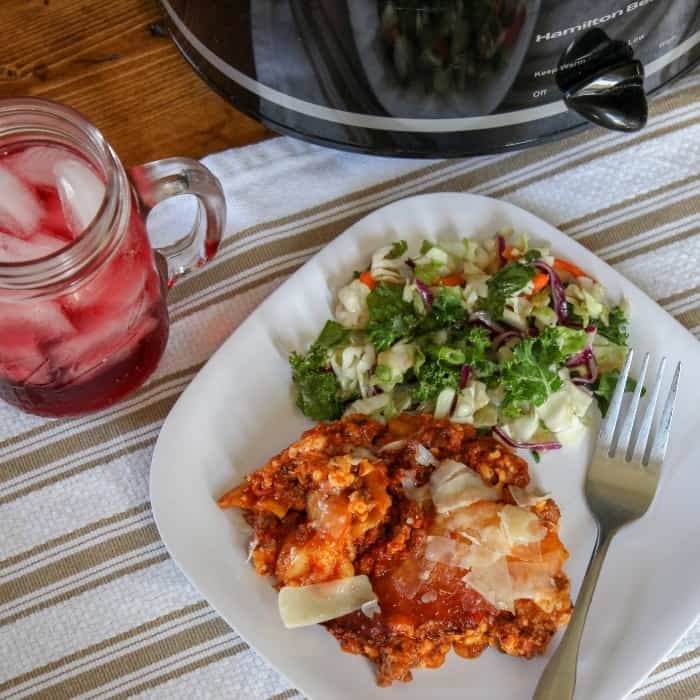 I am an Amazon Affiliate, so if you purchase through my link I can earn a commission on sales.
How To Make Slow Cooker Lasagna
Cook up your ground beef in a skillet. Add in pasta sauce and mix it around.
Now you will begin to layer your lasagna in a greased slow cooker.
Cover and cook according to the directions in the printable card below.
Spoon out and serve with your favorite side dishes.
Freezer Friendly Lasagna
I even had some leftover supplies after prepping my crockpot lasagna so I grabbed a tin style throw away container, made a small batch of lasagna and tossed in the freezer for next time we want lasagna.
Just then pop it in the oven for around 45 minutes with foil on, remove foil and bake an additional 20-30 minutes.
Best Lasagna Noodles To Use
I use the no-boil lasagna noodles. If you haven't tried no-boil, you have to! These noodles require no boiling ahead of time, so that is one step checked off your list.
I picked mine up at my local grocery store, but you can also find them online as well.
Ingredients For Slow Cooker Lasagna
Can I Use Ricotta Cheese Instead Of Cottage Cheese
ground beef
cottage cheese (we use whole milk cottage cheese)
Pasta sauce (any brand that you like works)
mozzarella cheese
salt and pepper
We prefer the cottage cheese as a layer, but if you like Ricotta cheese mixture go-for-it!
Either route works, it is all about preference. Assemble like you would a regular lasagna, I have a video that walks you step-by-step for easy how-to make lasagna in slow cooker.
This is a great guide if you are new to lasagna.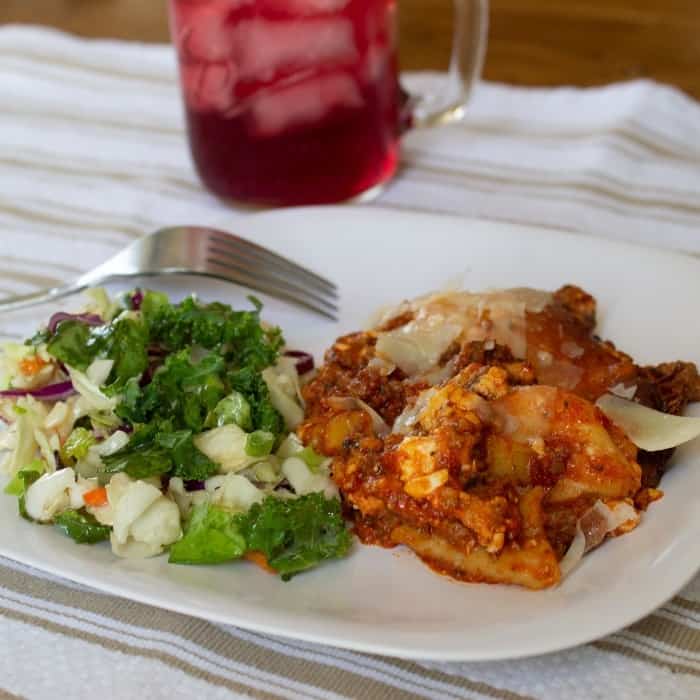 How Do You Know Slow Cooker Lasagna Is Done
It is all about the noodles. I use no-boil so I don't have to mess with one extra step of pre-cooking noodles before I assemble. I cooked my lasagna for around 5 hours, and I check to see if the pasta is done.
Since your meat sauce is pre-cooked and all other ingredients it all comes down to tender pasta. So once your pasta is done, you are ready to dish it up!
Allow Lasagna To Cool To Set Up
I did unplug my slow cooker for 10 minutes and allow to sit with the lid off. This helps it to set up slightly so when you go to slice you have a thicker more formed lasagna.
I do the same with cooking lasagna in the oven as well. I found this trick does help for a prettier presentation.
Can I Use Ground Turkey in Slow Cooker Lasagna
Absolutely! We prefer beef, but you are welcome to use ground turkey or even chicken.
This easy slow cooker lasagna recipe is all about making it adapt to your liking. Create a dish you and your family enjoy.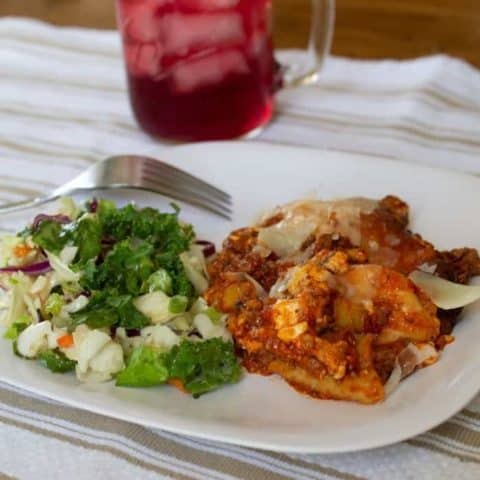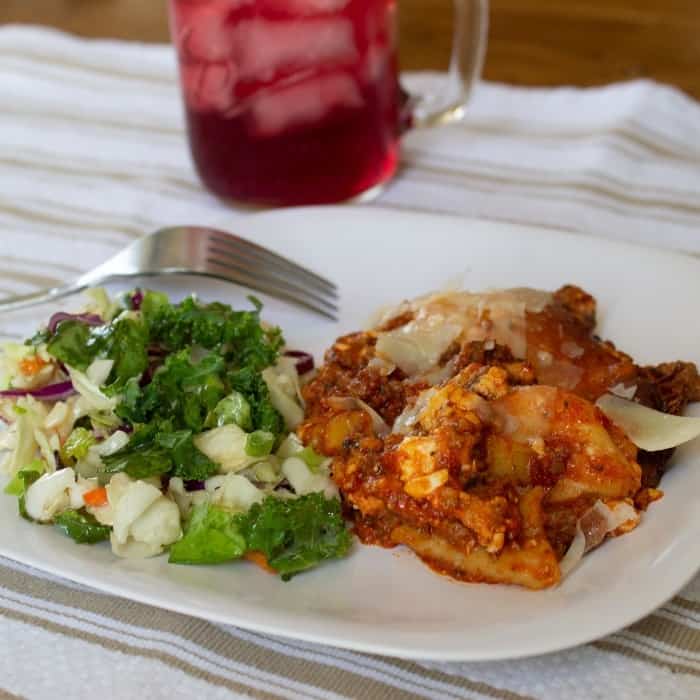 Slow Cooker Lasagna
Additional Time:
10 minutes
Total Time:
6 hours
20 minutes
A super simple slow cooker lasagna recipe that is no fuss. Quick, easy no-boil noodles for even easier prep. Try this slow cooker lasagna today.
Ingredients
1 lb ground beef
2 cups cottage cheese, we use whole milk cottage cheese
6-8 no-boil lasagna noodles
1 jar Pasta sauce, any brand that you like works
2 cups mozzarella cheese
Instructions
I start out by cooking my ground beef in a skillet on the stove until cooked through. Stir in all the pasta sauce except enough to cover the bottom of the slow cooker.
Start by adding a thin layer of pasta sauce to the bottom of the slow cooker. This will help it not to stick.
Break your no boil lasagna noodles to fit and cover the bottom layer of the slow cooker.
Top with a thin layer of ground beef and pasta sauce mixture.
Follow by cottage cheese layer, then sprinkle with mozzarella cheese.
Repeat the layering of noodles, meat sauce, cottage cheese, and mozzarella until you are happy. I did 2 layers, but you can easily do 3-4 layers.
Turn on low and allow to cook for 4-6 hours or until the pasta is tender.
Serve your crockpot lasagna with your favorite side dishes.
Nutrition Information:
Yield:

6
Serving Size:

1 cup
Amount Per Serving:
Calories:

481
Saturated Fat:

12g
Cholesterol:

95mg
Sodium:

561mg
Carbohydrates:

24g
Sugar:

3g
Protein:

33g
Minimal prep is what you find in this tasty easy crockpot lasagna recipe. I hope you all enjoy this recipe as much as we do!
What is your go-to easy weeknight recipe?