Instant Pot Crab Cheesecake is an appetizer cheesecake. This crab cheesecake is savory and great for pairing with fresh veggies, crusty bread and more.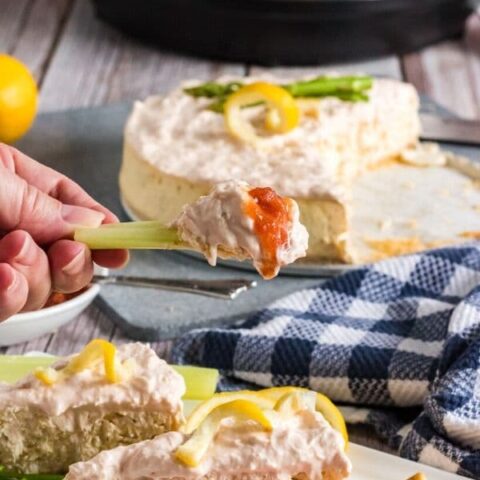 We all know and love Instant Pot Cheesecakes! But have you tried a savory Instant Pot Crab Cheesecake before? A fun instant pot seafood recipe to try.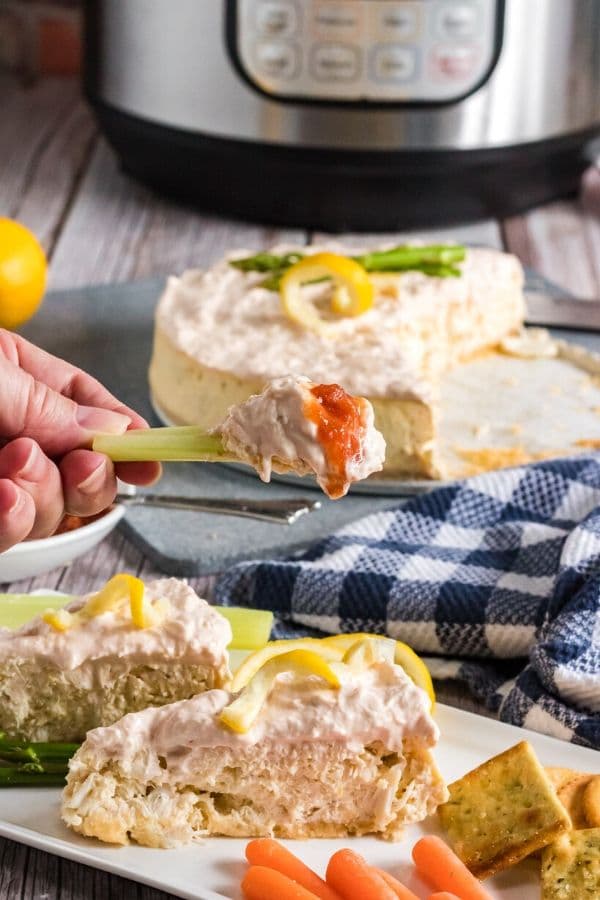 A cracker crust, cream cheese, and crab cheesecake layer topped with a sour cream crab meat topping.  Try my crab rangoons as well, for another crab loving recipe.
Instant Pot Crab Cheesecake
I know it might sound crazy to eat a savory seafood cheesecake, but trust me. Pair with crackers or crisp veggies and dig in.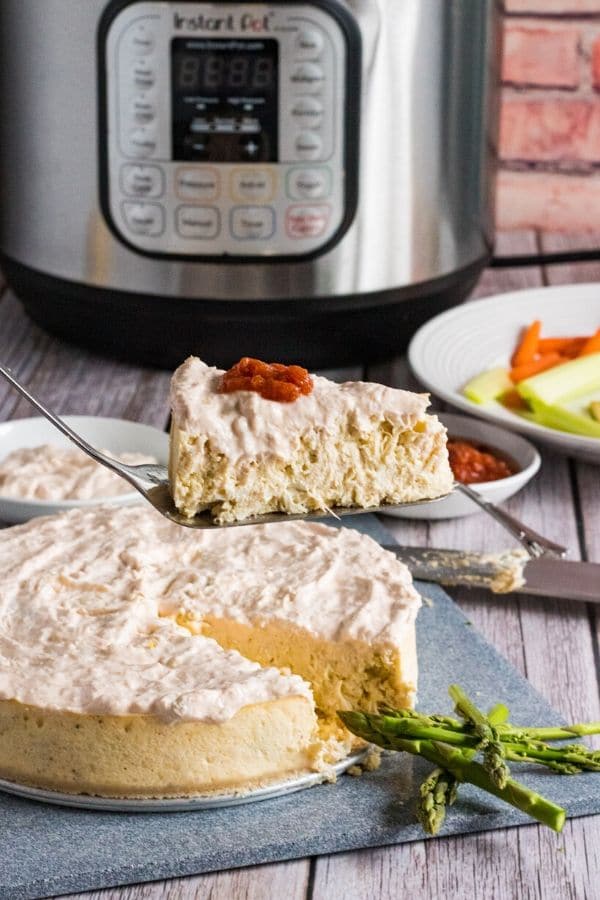 What Is A Crab Cheesecake
You need to think out of the box a bit with this cheesecake. This recipe is very similar to a cheeseball but with a different presentation.
You use crackers to create a crust, a cream cheese and crab filling that cooks in the pressure cooker. Then once you pull out and it has cooled, you can opt to create a sour cream and crab topper.
Slice up your cheesecake and let guests and yourself enjoy.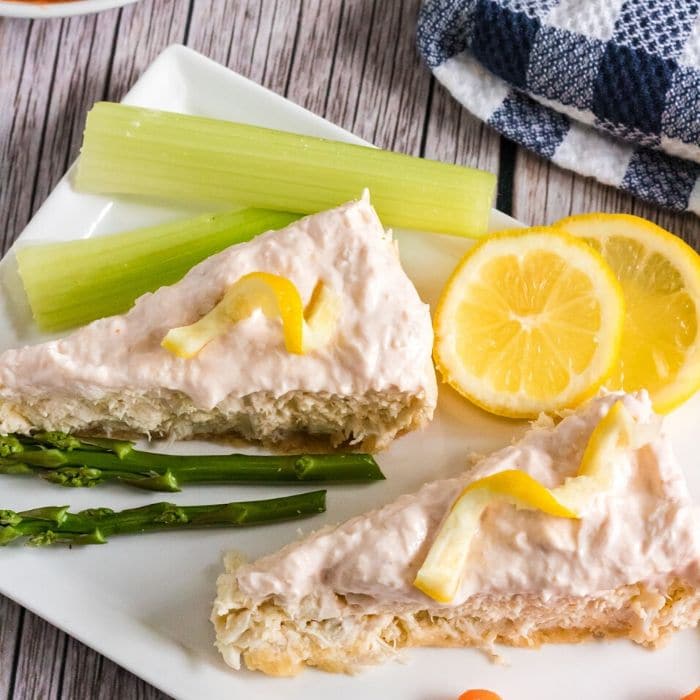 How to Serve Savory Cheesecake
There are so many ways to serve up this homemade crab cheesecake. Here are some ideas.
Serve with crisp vegetables for dipping
Crackers, baguettes, pretzels, etc
Slices of French bread or a crusty bread to slather on.
Eat plain with a fork
Etc
What Type of Pan To Use
I used a 7 inch Instant Pot pan. Now you are welcome to improvise and use what you have.
You just want to ensure the pan properly fits in your instant pot. I have made this cheesecake in my 6 quart and 8 quart Instant Pot.
A push pan or springform pan are the two that I recommend. They both allow for you to remove the cheesecake for a beautiful presentation valid.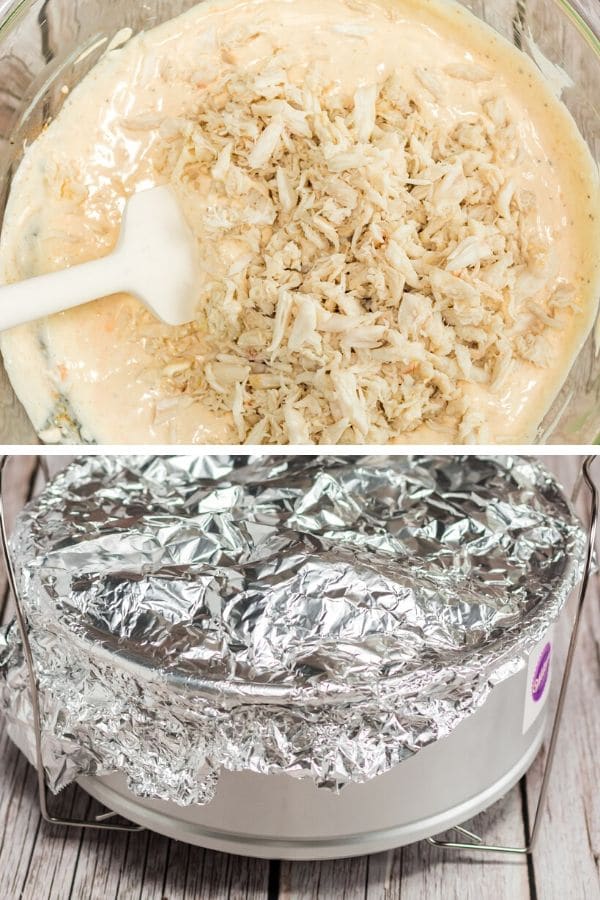 Tips For Making Instant Pot Seafood Cheesecake
Use room temperature cream cheese when mixing up. If you don't let cream cheese warm up it will be curdled.
Cover cheesecake with aluminum foil. This will prevent condensation getting inside as your cheesecake cooks.
The quality of the crab will affect the flavor of the cheesecake.
Allow your cheesecake to cool in the fridge. If you don't it will be runny and not set up when you slice in.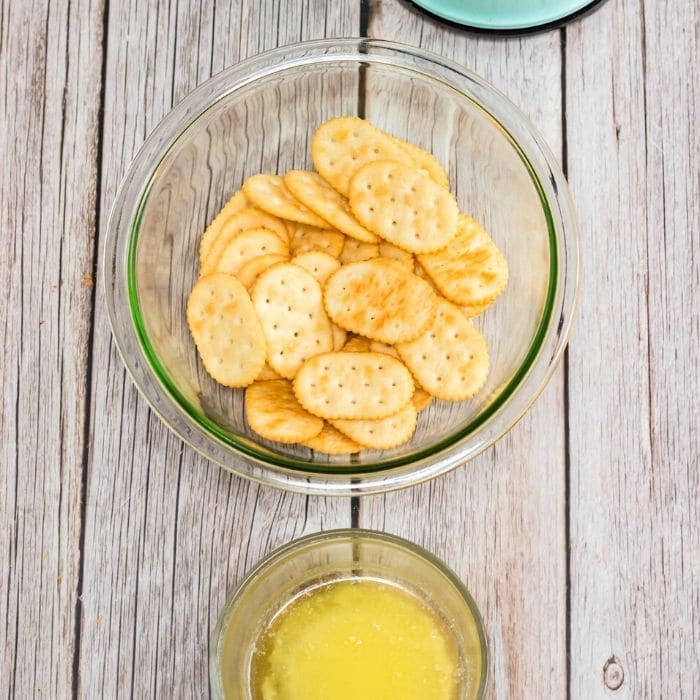 Crust Variations
If you are interested in changing out the recipe here are some ideas. I used Townhouse crackers since that is what I had on hand. It gives a nice buttery flavor to the crust.
You can use other crackers like Ritz, saltines, Wheat Thins, etc.
Or you can even reach for dried bread to break up. If you are looking for a keto approved crust reach for crushed pork rinds.
Is Crab Cheesecake Similar To A Cheeseball
Essentially yes. You will find savory cheesecakes are somewhat similar to a cheeseball.
You can slice cake into wedges and serve. And you will use the same dippers as a Cheeseball.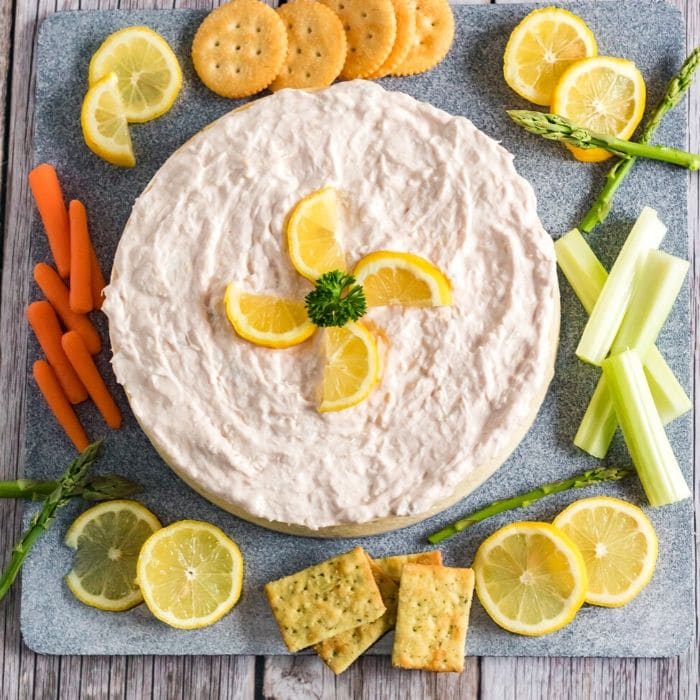 How To Store Cheesecake
Cover properly and store your cheesecake in the refrigerator. When stored properly you will find this cheesecake can last up to three days in the fridge.
Due to the seafood, you won't find it lasts much longer. If you do go over your three-day mark use your best judgment in terms of quality.
Cheesecake Appetizer
I generally serve this as an appetizer. Pair with other finger foods to let your guests enjoy. You could even think of this cheesecake as a dip.
Want More Appetizer Recipes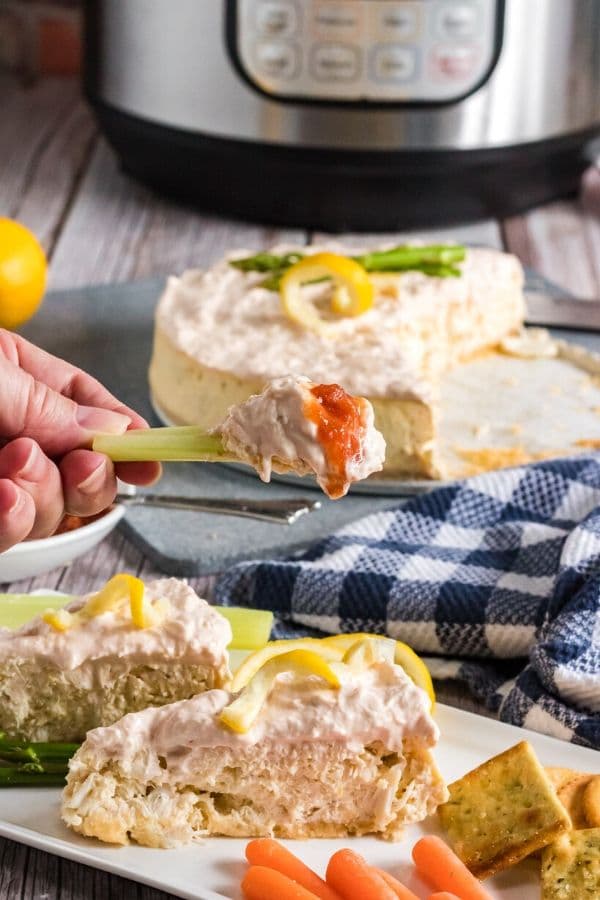 Instant Pot Crab Cheesecake
Servings 10 -12
Instant Pot Crab Cheesecake is an appetizer cheesecake. This crab cheesecake is savory and great for pairing with fresh veggies, crusty bread and more.
Ingredients
Crust
● 1½ cup saltine or similar cracker crumbs
● ¼ cup butter melted
Crab Cheesecake Filling
● 16 oz cream cheese softened
● ¼ cup buttermilk
● 3 large eggs
● ½ tablespoon minced onion
● juice from 1 lemon
● zest from 1 lemon
● 1 teaspoon seafood seasoning such as Old Bay
● 2 cups lump crabmeat
Toping
● 4 oz cream cheese softened
● ¼ cup sour cream
● ½ cup crabmeat optional
● 2 tablespoonseafood sauce
● 1 tablespoonlemon zest
Instructions
Start by cutting parchment paper to fit in the bottom of your 7 inch springform pan. You can use a push pan as well. Spritz pan with cooking spray.

In a food processor, add your crackers, and mix in the butter.

Press the cracker mixture into the bottom of the pan and push about 1 inch up the sides of pan. Toss crust in freezer to harden while you work on the crab cheesecake filling.

Now in a bowl mix your softened cream cheese and buttermilk together until smooth. Add eggs one at a time, making sure to incorporate each egg. Now add your lemon juice and lemon zest, minced onions, and your Creole or Old Bay Seasoning.

Now you will fold in your lump crab meat and then pour into your chilled cracker crust.

Use aluminum foil to cover the pan, sealing the edges.

Add 1 1/2 cups water into your Instant Pot Pot. Use a trivet or sling to lower your cheesecake into the Instant Pot.

Seal the lid and make sure valve is venting. Select high pressure for 40 minutes. Then do a natural release of pressure.

Remove foil and allow your cheesecake to cool.

Now in a new bowl you will work on the topping. Mix the softened cream cheese, sour cream, seafood sauce, and lemon zest. Once mixed well fold in your lump crab meat.

Top your cheesecake, and then cover and store in the fridge for 4 hours or longer before serving.

When ready pair crackers, bread, and vegetables to your crab cheesecake. Then you can serve with extra seafood sauce to add more flavor when dipping vegetables.
Nutrition
Serving: 1sliceCalories: 332kcalCarbohydrates: 11gProtein: 12gFat: 27gSaturated Fat: 16gPolyunsaturated Fat: 9gCholesterol: 160mgSodium: 566mgFiber: 1gSugar: 7g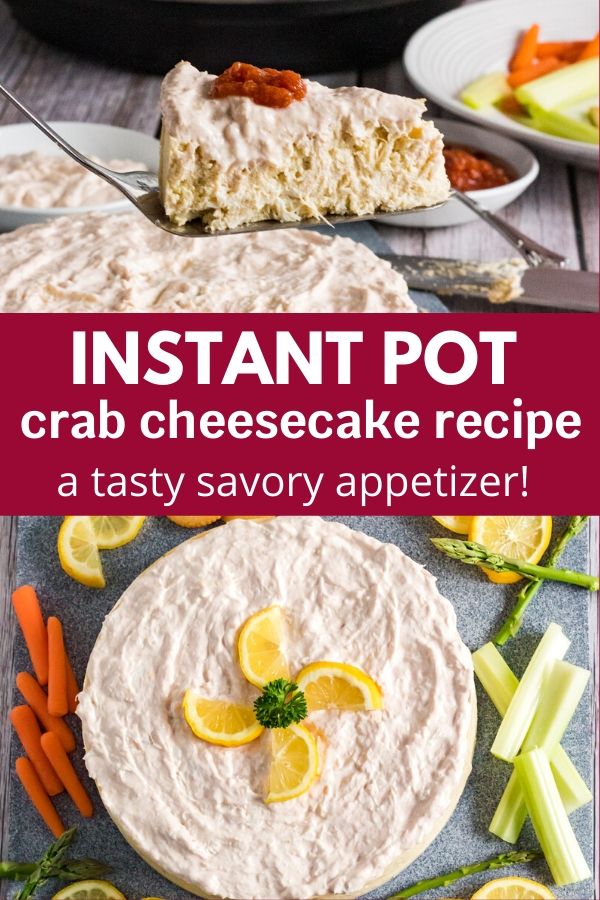 Have you ever tried a crab cheesecake before?
Reader Interactions