Air Fryer BBQ Chicken Wings are one of our favorites. A quick and easy way to get your favorite restaurant quality sticky wings right at home. BBQ wings in air fryer are the perfect method for making homemade wings.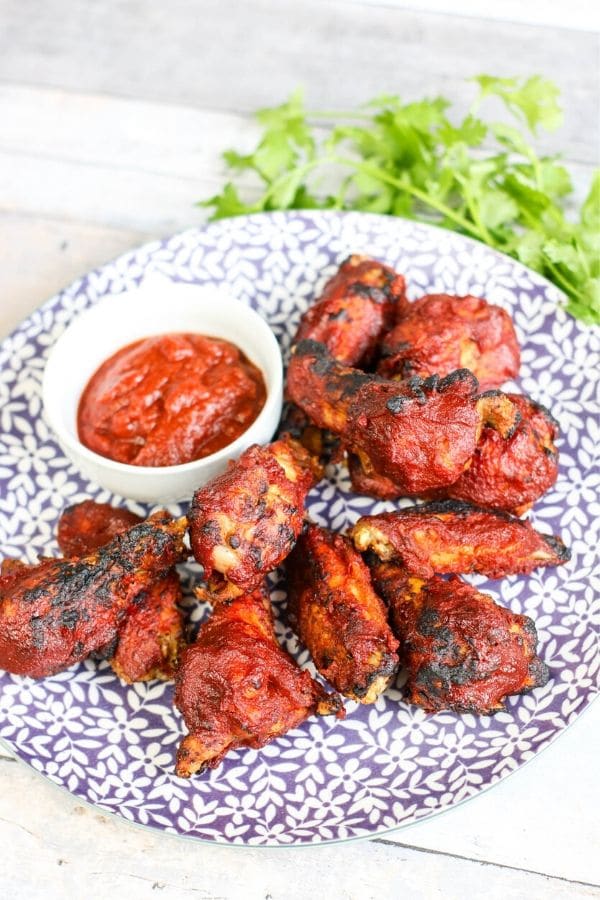 Air Fryer BBQ Chicken Wings
Skip the fryer chicken wings recipes, and make air fryer chicken wings that give you that same sticky but crunchy texture you love. You will shave off some unwanted carbs, and still satisfy your tastebuds.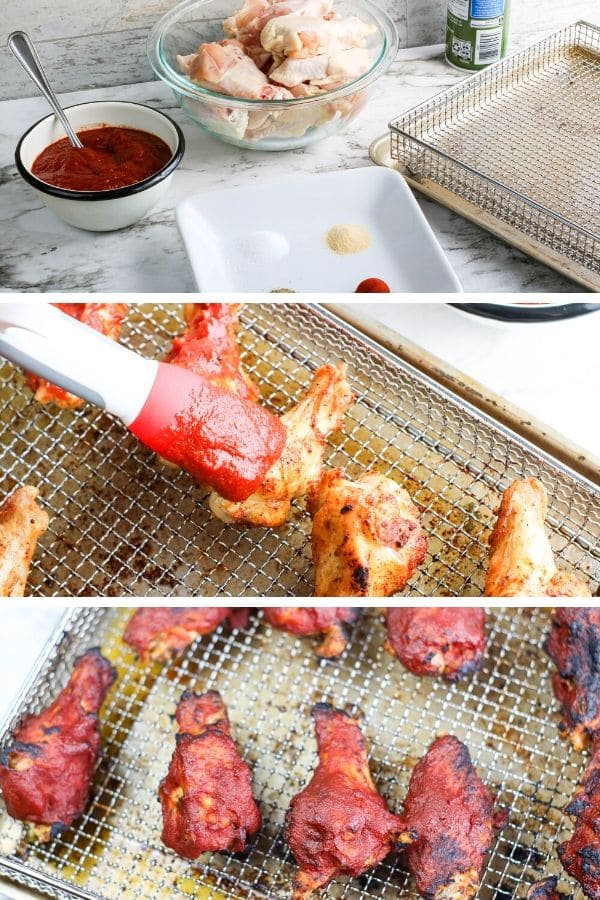 How To Make Air Fryer Wings
Start by preheating your air fryer to 390 degrees.
You want to dry off your wings with a paper towel. Then make up your seasoning and do a dry rub on your wings.
Place your wings in your air fryer basket and spray with olive oil. This will help give your wings crispy skin.
Cook your chicken wings, flipping halfway through. Then when wings are almost done, brush with bbq sauce.
Cook an additional 5-8 minutes or until wings reach an internal temperature of 165 degrees.
Remove wings and add more barbeque sauce and serve with your favorite dipping sauce.
The full recipe and ingredients are listed in the printable recipe card below.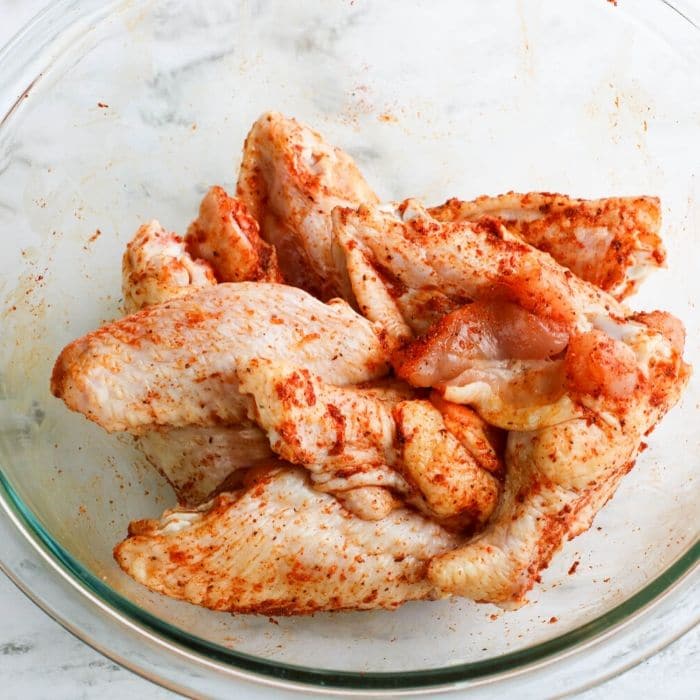 Are These Air Fryer Chicken Wings Keto
Yes, if you want it to be ketogenic then reach for a keto-approved bbq sauce. Everything else in this recipe is keto-approved. So just buy or make your own sauce and use that to baste your wings.
Do Ninja air fryer chicken wings, use an air fryer oven, or an air fryer with a basket. This recipe works on any and all air fryers.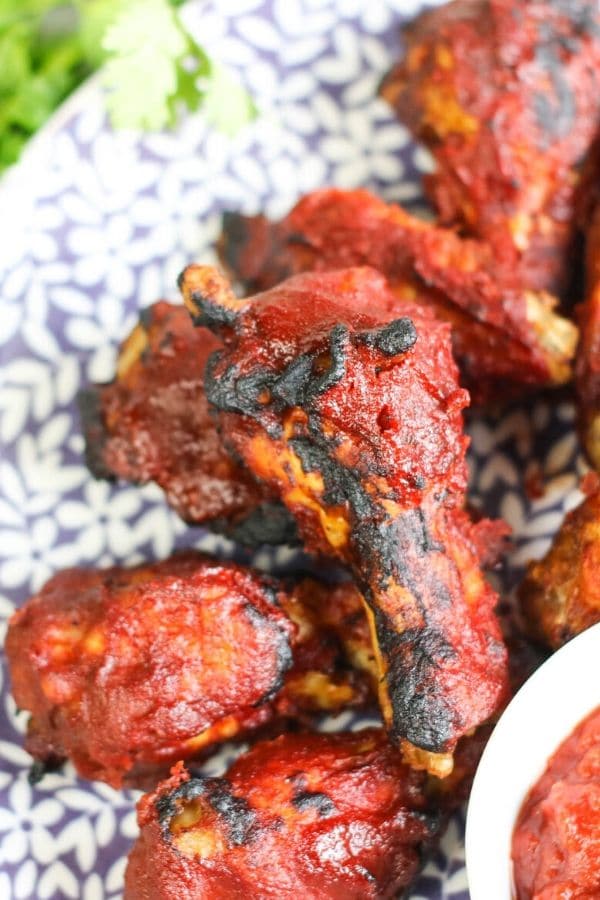 Tips for Making Wings In Air Fryer
Leave space between each chicken wing in your basket or tray. If you overlap the wings they will not crisp up the way you hope for them too.
Always spritz them with a cooking spray. You can buy an oil spritzer that is safe for air fryers.
Check to ensure chicken reaches an internal temperature of 165 degrees. All air fryers cook differently so time can be subject to adjust.
Batch cook if you don't have room for all your wings. Then place cooked wings on a cookie sheet and place in a 200-degree oven to keep them warm.
Chicken wings in the air fryer are easy, and these tips help to ensure you get the best wings you can make.
How Many Wings Are In A Pound
It is estimated that there are around 4-5 chicken wings per pound. This recipe makes 2-3 pounds of bone-in chicken wings.
Now you can double or even triple the recipe, you just need to batch cook your wings. Then keep extra wings warm in an oven at 200 degrees.
Interested in More Wing Recipes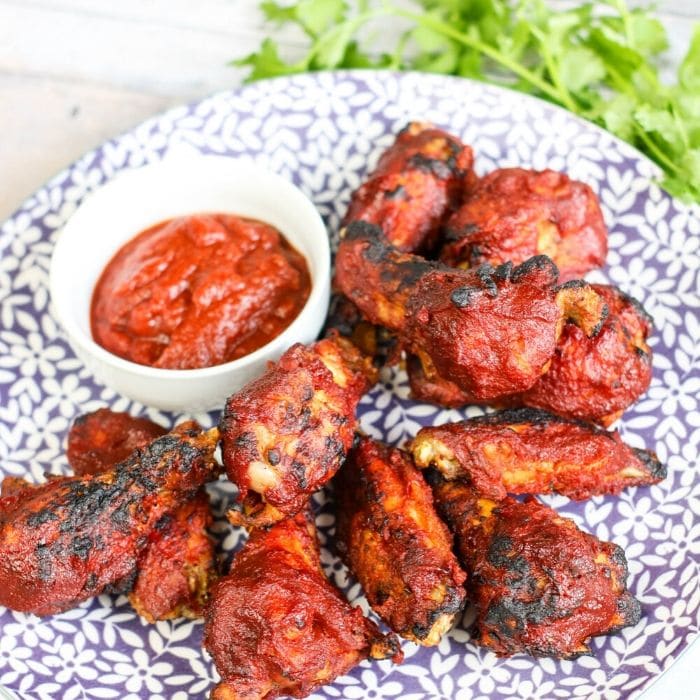 What Dipping Sauce To Serve With BBQ Wings
More BBQ Sauce
Ranch
Honey Garlic Sauce
Eat Plain
Etc
You can honestly pair these wings with any of your favorite dipping sauces. Or reach for them plain. I love doing plain or ranch, and then pairing with crisp veggies.
Can I Make This Recipe With Buffalo Sauce Instead of BBQ
Yes, you are welcome to replace the bbq with buffalo sauce if you want hot wings. Or you can do part bbq sauce and part hot wings. Reach for your favorite buffalo sauce to baste on at the end just like with the bbq sauce.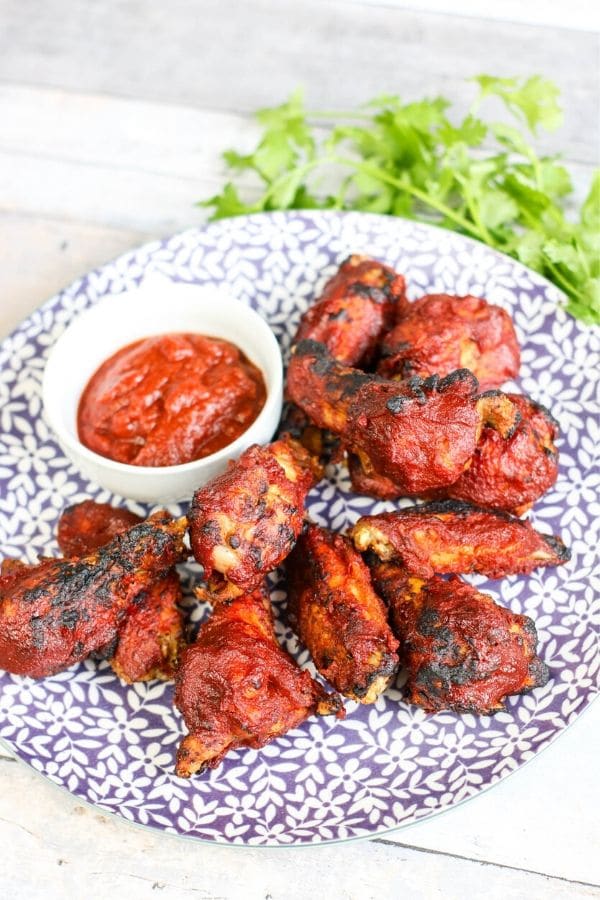 Air Fryer BBQ Chicken Wings
Servings 2 -3 lbs chicken wings
Air Fryer BBQ Chicken Wings are an easy and satisfying bbq chicken wing recipe to make in your air fryer. Whip up for an appetizer or fun weeknight dinner recipe.
Ingredients
2-3 pounds chicken wings
1/2 teaspoon salt
1/2 teaspoon pepper
1 teaspoo smoked paprika
1/2 teaspoon garlic powder
2 cups barbeque sauce of choice
Oil Spritzer
Instructions
Preheat your air fryer to 390 degrees. You will want to remove your air fryer basket or air fryer oven trays and spritz with cooking oil. You can buy an air fryer spritzer that is safe on the non-stick trays.

Now you will take a paper towel and pat down your raw chicken wings to remove any excess liquid.

In a bowl add your salt, pepper, smoked paprika, and garlic salt together.

Use this as a dry rub to coat all of the chicken wings. Place them on your air fryer basket or tray, leaving space between each wing. If you have to, batch cook your wings.

Cook your chicken wings for 20-25 minutes. Use tongs and flip them at about 10-15 minutes in, so they can cook evenly on all sides.

Your chicken wings will be close to done at this point. Remove them and take your barbeque sauce and brush it all over the wings coating all sides.

Place your barbeque wings back in the air fryer and cook an additional 5-8 mintues or until your wings reach an internal temperature of 165 degrees.

Remove bbq chicken wings from air fryer, and brush them with additional bbq sauce if desired.

Then serve your air fryer bbq wings with your favorite dipping sauce and enjoy.
Notes
There are 4-5 wings per pound of chicken wings. You can double or triple this recipe and batch cook. Just keep cooked wings in a 200 degree oven, on a baking sheet to keep them warm until ready to serve.
Nutrition
Serving: 3wingsSodium: 125mgSugar: 10gFiber: 2gCholesterol: 48mgCalories: 215kcalTrans Fat: 1gPolyunsaturated Fat: 10gSaturated Fat: 12gFat: 70gProtein: 20gCarbohydrates: 10g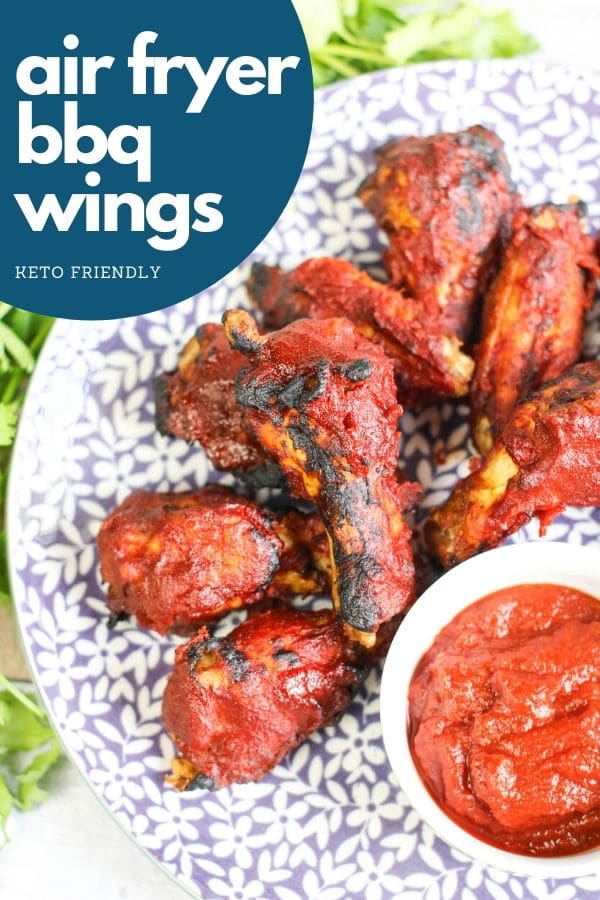 Reader Interactions