Instant Pot Hawaiian Meatballs is a 30-minute dinner that comes together in no time. Frozen meatballs, pineapple, in a sweet and savory sauce. Serve these Hawaiin meatballs over a bed of rice, quinoa, or eat plain!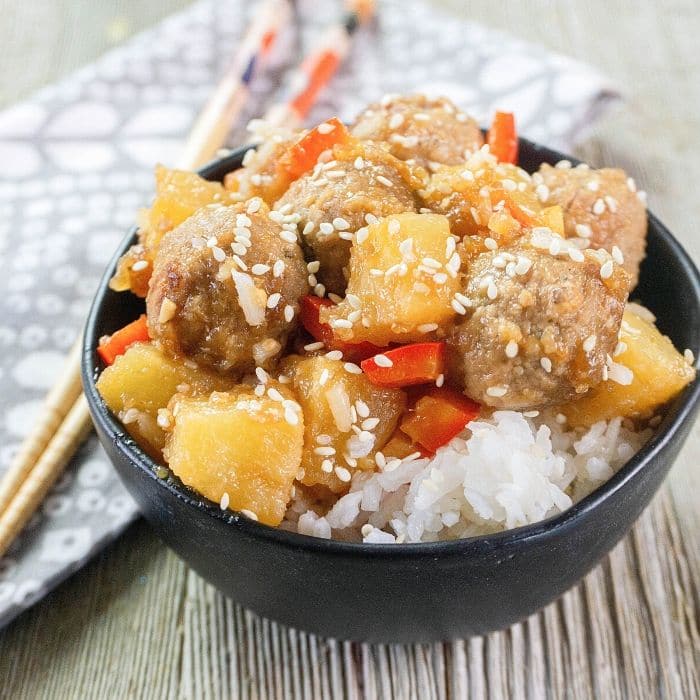 Instant Pot Frozen Meatball recipes are so easy to do. You literally dump and go with this recipe. And it can be packed as a freezer meal for when you don't have time to cook a full meal.
Instant Pot Hawaiian Meatballs
You can make these for lunch, dinner, or even skip the rice and serve the meatballs as an appetizer! If you love sweet and savory, these meatballs will be the perfect fit. Pair with some cream cheese wontons.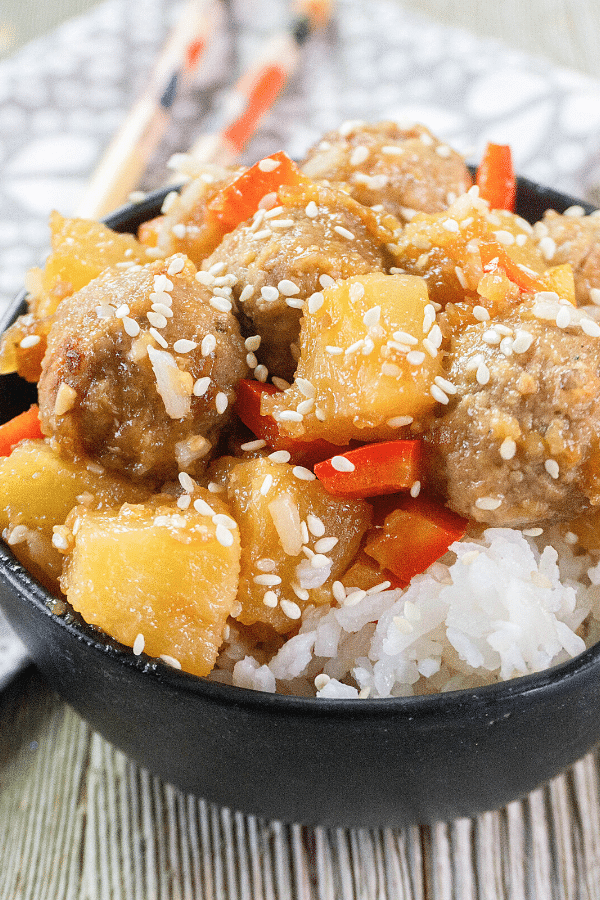 Sweet And Sour Meatballs
Some would call these meatballs sweet and sour meatballs. No matter what you call them, they are delicious. Plus even better, crazy simple to make and serve!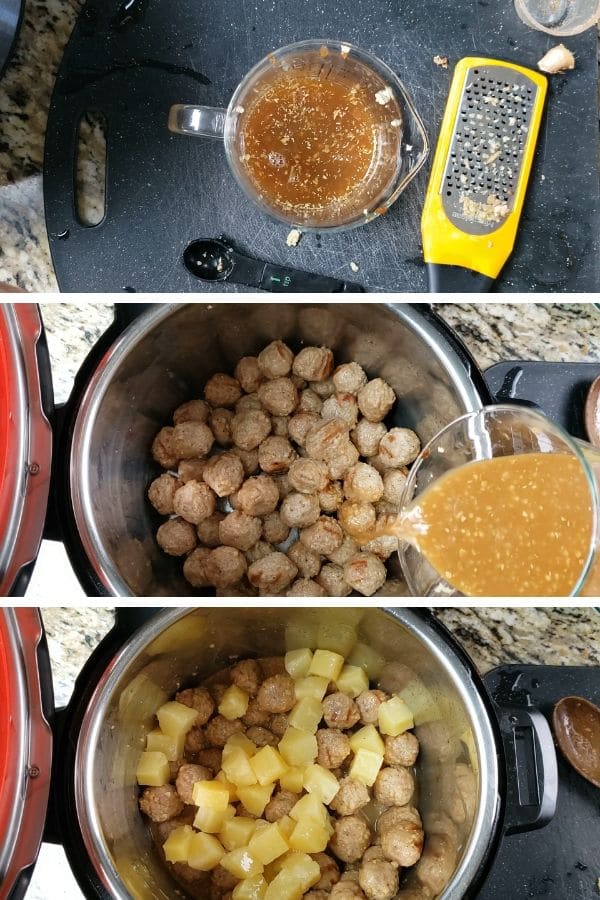 How To Make Hawaiian Meatballs in Instant Pot
Start by adding your meatballs into the Instant Pot.
In a cup or bowl, I add the pineapple juice, vinegar, soy sauce, garlic, and other ingredients to make the sauce. I stir it up well and then pour over meatballs. Add in your diced pineapples.
Place lid on your Instant pot and make sure the knob is set to sealing.
Pressure cook on manual high for 7 minutes. Then follow by a quick release once your timer goes off.
Remove the lid on pressure cooker, stir well.
Turn your Instant Pot To saute then add in your red pepper, and stir until the peppers reach the desired texture you like.
Feel free to top with sesame seeds for a fun presentation and added flavor. Serve with rice, quinoa, cauliflower rice, etc.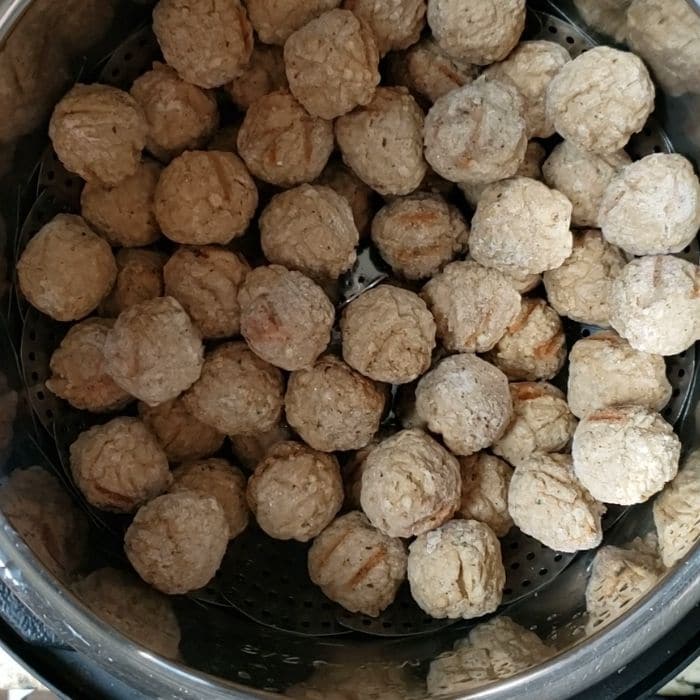 Can I Use Homemade Meatballs Instead Of Frozen Store Bought
Of course! If you have a meatball recipe you know and love go ahead and use homemade. I reached for a frozen store-bought for an easy and quick meal.
Interested in More Instant Pot Meatball Recipes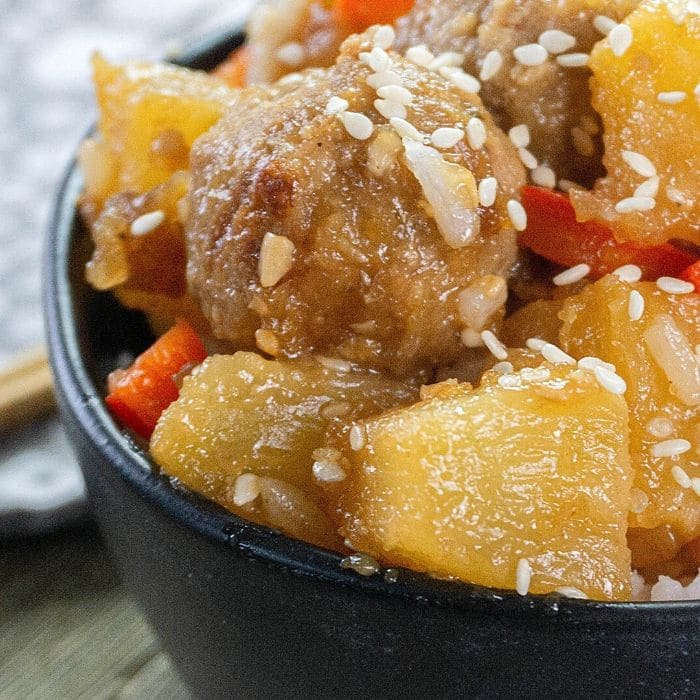 Variations To Recipe
Add in other vegetables at the end on saute – snap peas, broccoli, etc
Make homemade meatballs instead of frozen
I have also done chicken like this, I cut into chunks and then saute meat, and then follow the directions for cooking.
Serve as an appetizer on toothpicks
Make slider sandwiches with these meatballs
The ways to serve or change up these meatballs are endless. Have fun and find the perfect recipe that fits your needs.
Do I Need To Use A Steamer Basket
Using a steamer basket is optional to you. I personally have found it works either way. I tend to skip the basket just to simplify my cooking.
Many love steamer basket for meatballs in Instant Pot to ensure the meatballs stay together as they cook.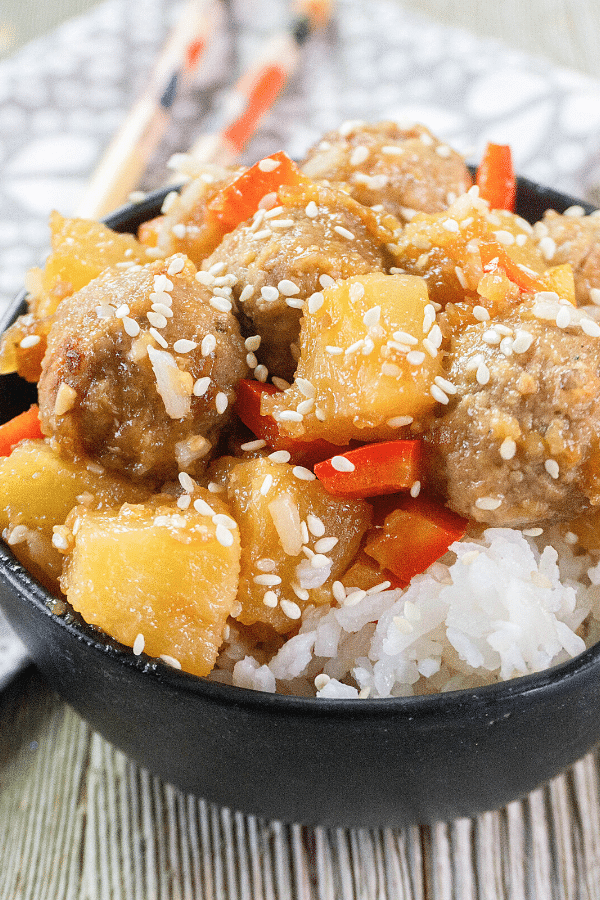 Instant Pot Hawaiian Meatballs
Servings 6 -8 servings
Instant Pot Hawaiian Meatballs is an easy and quick weeknight dinner. Frozen meatballs, pineapple, peppers in a homemade sauce. Easy Hawaiian meatballs will please the family.
Ingredients
1 bag frozen meatballs 32 ounces
1 can pineapple chunks 20 ounces
1 red bell pepper diced into chunks
3/4 cup brown sugar
2/3 cup white distilled vinegar
1/2 tablespoon fresh ginger
1/4 cup water
2 tablespoon soy sauce
Sesame Seeds optional
Thickening Sauce – Cornstarch Slurry
1 tablespoon cornstarch
2 tablespoons cold water
Instructions
Start by adding your meatballs into the pressure cooker. Drain your juice from the pineapple into a bowl. Then dump pineapple chunks into the pressure cooker.

In a bowl have your pineapple juice, brown sugar, water, vinegar, ginger, and soy sauce. Mix well and then pour over your meatball mixture.

Seal the lid and make sure the valve is set to sealing. Select high-pressure manual for 7 minutes, followed by a quick release.

Once you release pressure, you can then turn to saute and add in your red peppers. If your sauce is not thick enough for your liking make the cornstarch slurry to thicken. Just mix cornstarch and water in a bowl, and then stir it in while you are sauteing veggies. It will thicken the sauce.

Once peppers reach your desired consistency, and sauce is thickened, serve and top with sesame seeds and serve with rice, on sliders, etc.
Nutrition
Serving: 1gSodium: 241mgSugar: 22gFiber: 1gCholesterol: 2mgCalories: 124kcalPolyunsaturated Fat: 2gFat: 2gProtein: 2gCarbohydrates: 25g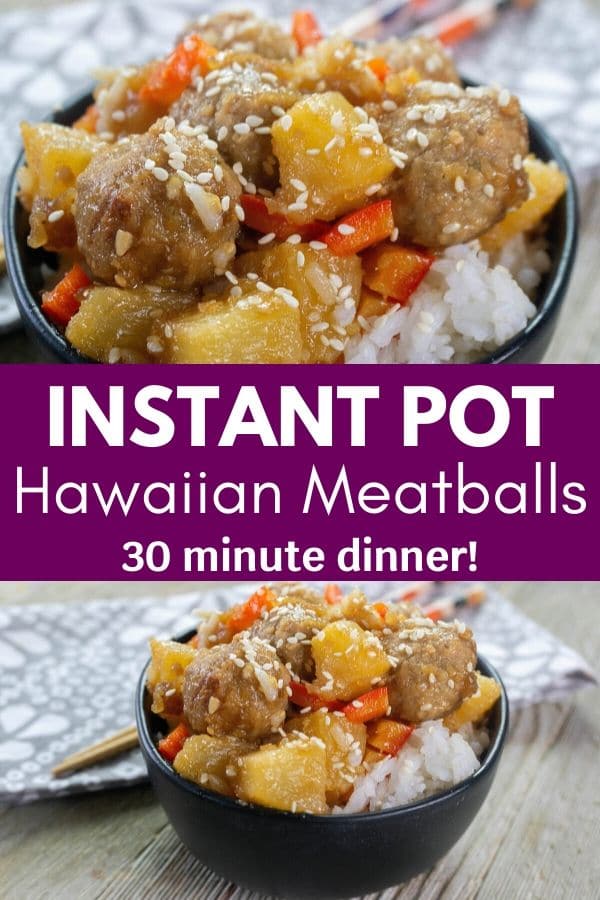 Have you tried Instant Pot Hawaiian Meatballs Before?
Reader Interactions