This incredible Instant Pot Spaghetti And Meatballs recipe is beyond easy, full of flavor and perfect for a weeknight dinner. This versatile Instant Pot spaghetti recipe can also be turned into a freezer meal too.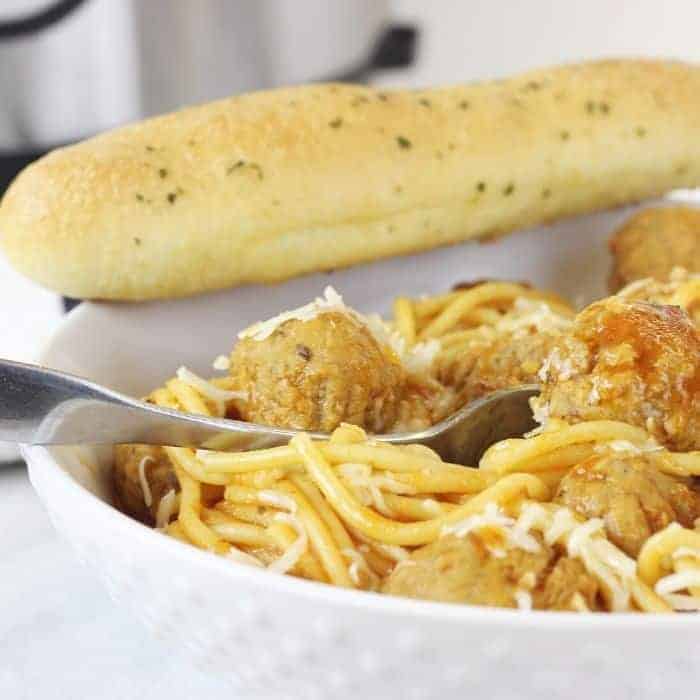 Instant Pot Spaghetti And Meatballs Recipe
This pressure cooker spaghetti with frozen meatballs is a breeze to make! You don't have to spend much time at all prepping and you have the perfect comfort food.
Or step out and try this Instant Pot Hawaiian Meatballs recipe!
How To Make Spaghetti And Meatballs
I was doing some meal prepping and decided to make this spaghetti recipe as a freezer meal. This made it so easy to dump the ingredients in the pressure cooker and let it do the work for me.
To get started, add 1 – 2 tablespoons of olive oil to the bottom of the Instant Pot to prevent sticking.
Place the spaghetti noodles in the bottom of the pressure cooker insert.
Pour enough water in to cover the spaghetti noodles.
Add in the meatballs and spaghetti sauce and put it on manual for 4 minutes cooking time.
After doing a quick release serve with a sprinkle of parmesan cheese and enjoy hot!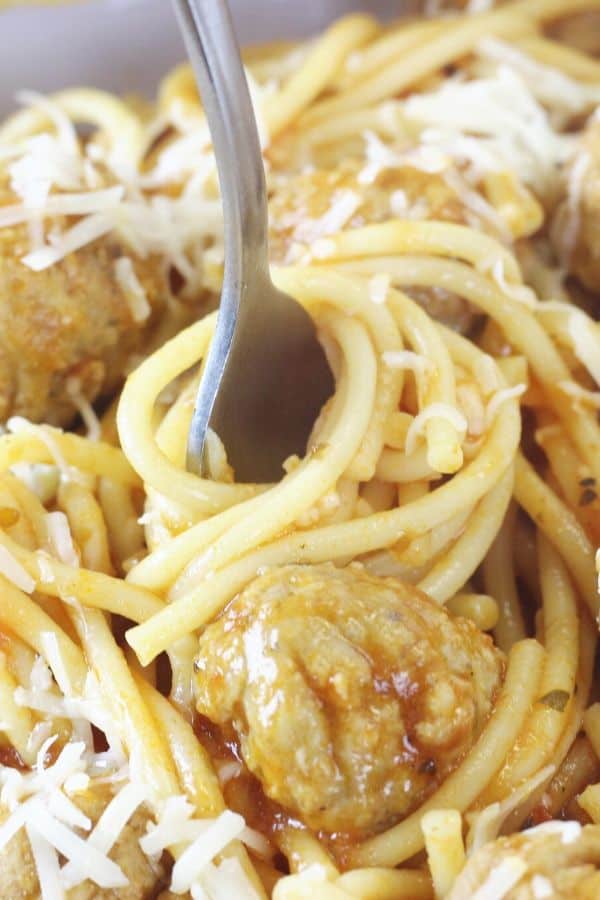 What To Serve With Spaghetti And Meatballs
Cheese
Fresh Basil
Fresh Garden Salad
Garlic Bread
Roasted Veggies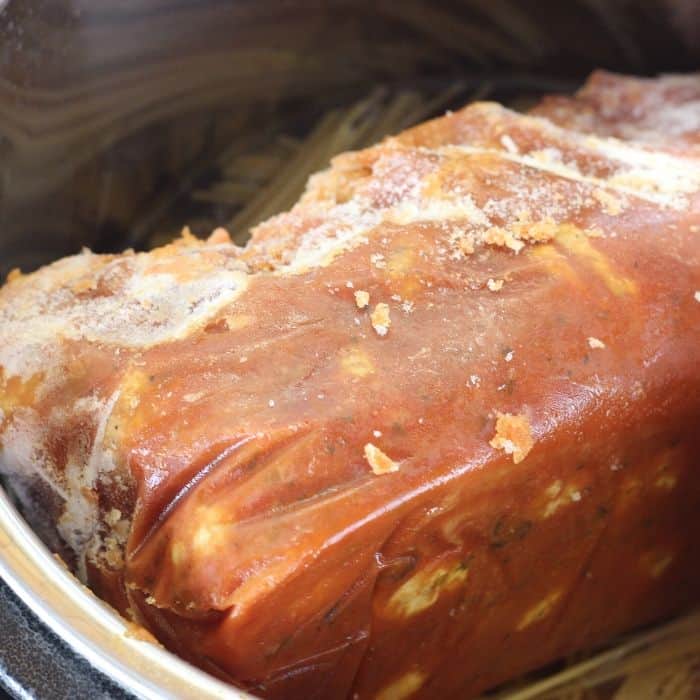 Instant Pot Freezer Spaghetti Meatballs Recipe
Yes, this spaghetti recipe can be made as a freezer meal or not depending on your needs.
I will go into detail on the recipe card. Then you can see how you can easily turn this into a time-saving freezer meal too!
Can I Add Veggies Into The Spaghetti?
Yes, if you love adding veggies to your spaghetti you sure can. Add them when you pour the spaghetti sauce in the pressure cooker.
Some ideas would be onions, peppers, olives, mushrooms, and garlic. They all add some flavor and vibrant colors to the dish.
Additionally, you can also add any extra Italian seasonings to the pasta sauce too. Don't add too much so it's not overwhelming. A little bit goes a long way.
What Kind Of Meatballs Do I Need?
You can use a variety of meatballs depending on your diet and preferences. There are some delicious options out there in the freezer department.
Chicken, Italian, beef, ground turkey, and pork are a few ideas that we have tried and loved. Easy Instant Pot spaghetti goes well with all of those meatballs.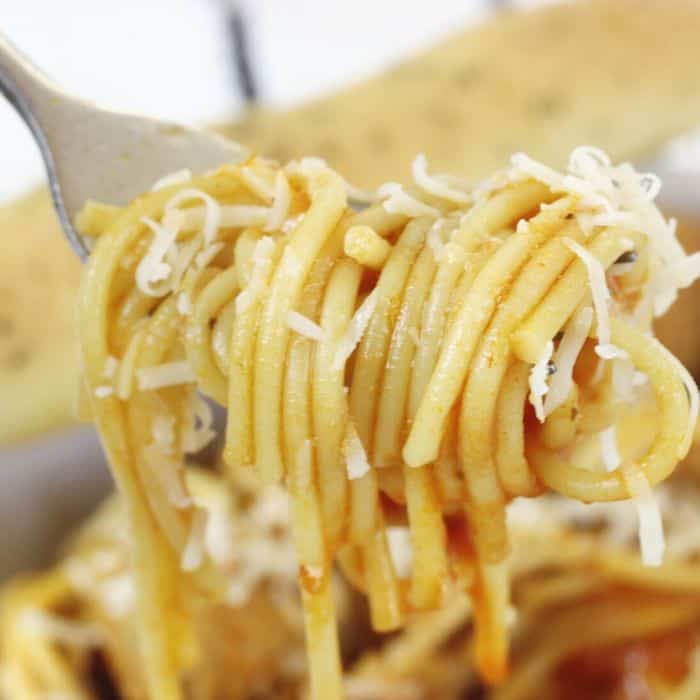 Why Cook Spaghetti In Instant Pot?
I know that you may be thinking spaghetti is pretty simple to make on the stovetop. While it is easy, I love cooking pasta in my pressure cooker. The texture is fantastic, plus I can make a meal that only requires one pot!
There is only one dish to wash and that is a huge time saver. Plus, as the sauce cooks in the Instant Pot it really brings out those flavors and spices.
Can I Use Wheat Spaghetti Noodles?
Yes, if you prefer wheat or gluten-free spaghetti noodles, simply swap out the regular for your preferred noodles. Having a recipe like this that's super versatile is amazing. You can easily adjust it to fit your dietary needs and it's going to turn out scrumptious!
Can I Use Homemade Pasta Sauce?
Yes, if you prefer to use homemade pasta sauce that is more than fine! Or if you are like me you can spruce up the jar pasta sauce to taste homemade. Check out my sauce hacks that will give you incredible flavor without tons of work.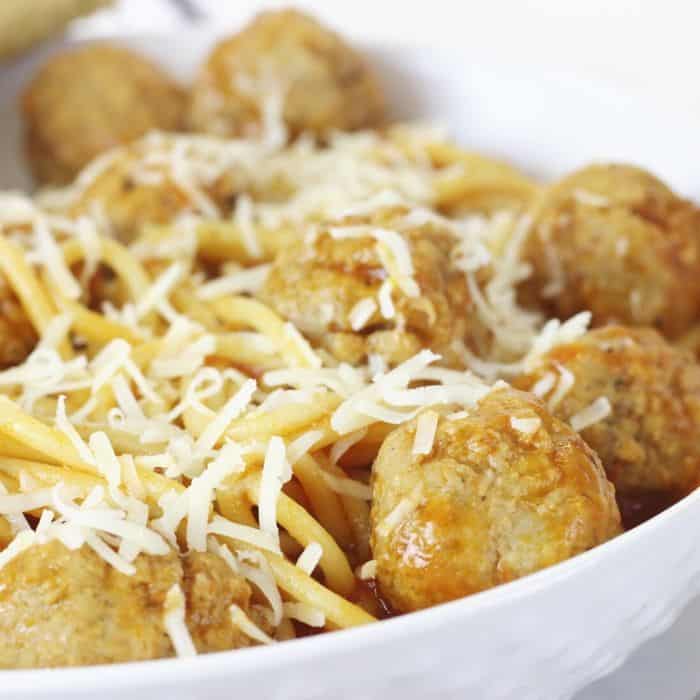 In the mood for more Instant Pot freezer meals?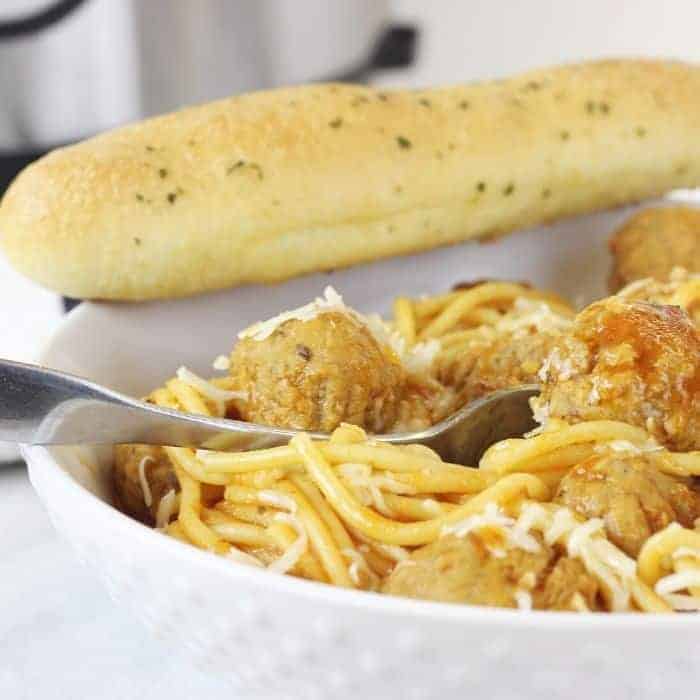 Instant Pot Spaghetti And Meatballs Recipe
Servings 12 servings
This Instant Pot Spaghetti And Meatballs Recipe couldn't be any easier! This spaghetti recipe is also a freezer meal idea to save you even more time!
Ingredients
1/2 Package spaghetti noodles
1 Jar of spaghetti sauce
1 Bag of frozen meatballs 56 counts
1 -2 Tbsp Olive Oil
3-4 cups beef broth or water
Instructions
Begin by pouring olive oil in the bottom of the pressure cooker.

Pour in meatballs and spaghetti sauce.

Add spaghetti noodles to the Instant Pot and put just enough water in to cover the noodles. Make sure to spread the noodles around so they don't stick.

Cook on manual for 4 minutes, then do a quick release.
Notes
FREEZER MEAL – Instant Pot Spaghetti With Meatballs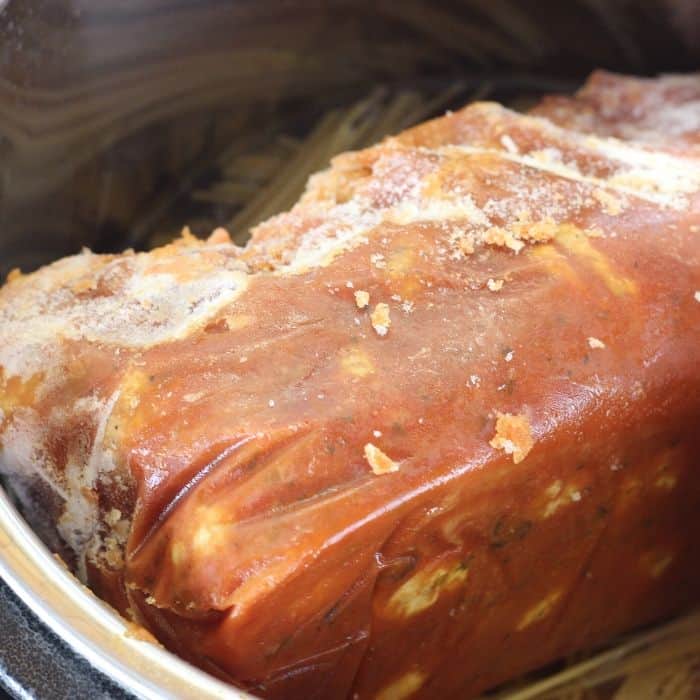 Add meatballs and pasta sauce to a gallon freezer bag. Mix in any additional veggies or seasonings and mix together.
Label the bag and freeze flat.
It will last up to 3 months.
COOK FROM FROZEN:
1. Add in noodles and pour broth or water over to ensure all noodles are covered.
2. Add in meatball mixture that is frozen.
3. Seal and cook on high pressure 4 minutes, with a quick release.
Nutrition
Serving: 1cupSodium: 952mgSugar: 1gCholesterol: 1mgCalories: 55kcalPolyunsaturated Fat: 2gSaturated Fat: 1gFat: 3gProtein: 3gCarbohydrates: 3g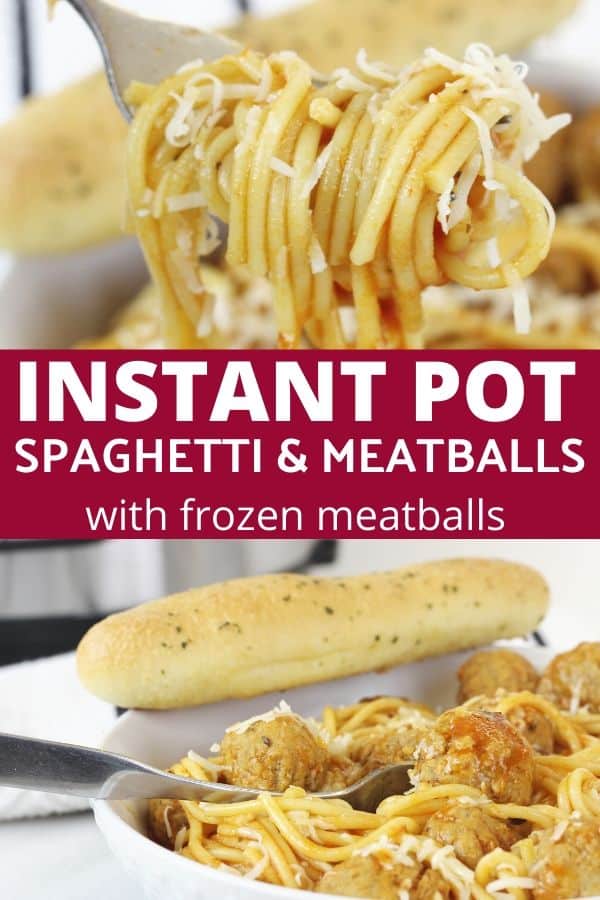 Reader Interactions