HOMEMADE Cheddar Bay Biscuits that are better than Red Lobster! Light, flakey, garlicky biscuits that can be made in 20 minutes. These cheddar biscuits are outstanding.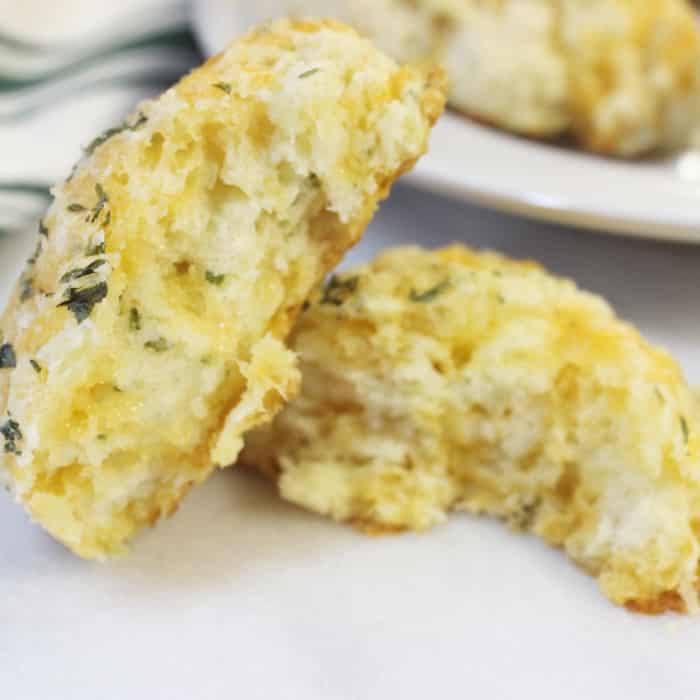 Cheddar Bay Biscuits are one popular biscuit, that is bursting with vibrant flavors. Sharp cheddar, garlic, parsley, and a slather of butter are what makes these cheddar biscuits a game changer! Red Lobster biscuits are so popular, and now you can make a similar biscuit at home anytime you want.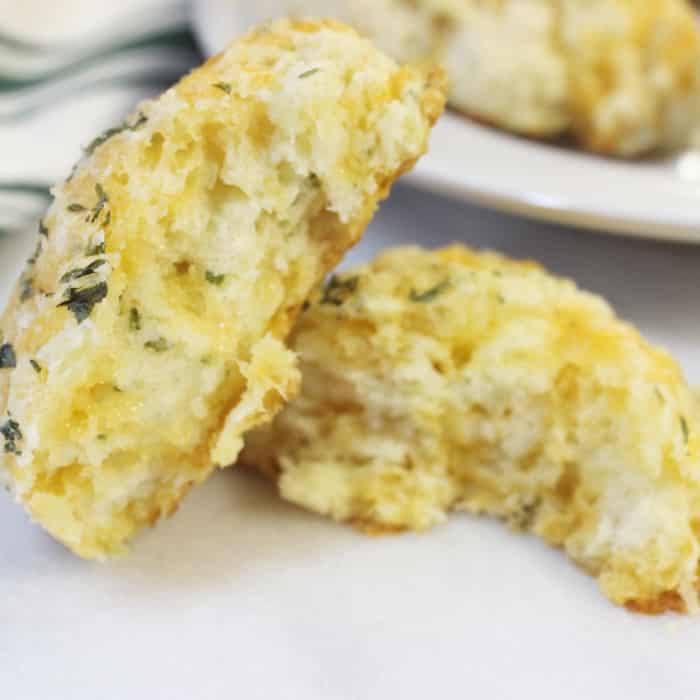 We made some pasta the other night, and I was wanting something a bit different to pair with it. I had around 30 minutes to whip up a side, and I came upon these cheddar bay biscuits from scratch. I thought I have all the ingredients on hand, why not make them!
The prep of these homemade cheddar garlic biscuits is easy, and before you know it you are pulling light and flaky biscuits from the oven and serving them up.
Main Dishes to Pair With Cheddar Bay Biscuits
20 Minute Cheddar Bay Biscuits
In just 20 minutes you can have homemade cheddar bay biscuits! This recipe uses all-purpose flour instead of Bisquick like a lot of recipes you find online. I have found that using this recipe offers a more light and flaky texture, which my family and I enjoy.

How to Make Cheddar Bay Biscuits
Start by mixing your dry ingredients together and setting aside. Then mix in your wet, combine, until combined. Pour in cheese and toss, and then scoop and bake.
Once your biscuits are done, pull out and brush on the topping and serve! These biscuits literally take minutes to prep, it is so simple, you can't go wrong.

Tips for Making Cheddar Bay Biscuits
Cheddar | Make sure to shred your cheese straight off the block or buy quality shredded cheese. If you buy cheaper cheese I find it doesn't offer enough flavor in the biscuits and will affect the flavor greatly.
Unsalted Butter | When I went to make these biscuits I reached for unsalted butter. It offers the best flavor if you get salted it could make these a bit over-salted.
Cooking | I used a silicone mat when I made my biscuits. It makes cleanup a breeze and helps prevent your biscuits from sticking to your pan!
Don't Overmix | Lastly, don't over mix your biscuit dough. The harder you are on it, the tougher your biscuits will be. Use a spatula and stir lightly and skip the hand mixer.
How to Make Your Own Buttermilk
My cheddar biscuits require buttermilk. If you don't have any on hand, within minutes you can make your own. Add two tablespoons of lemon juice or white distilled vinegar to 1 cup of milk. Allow it to sit for around 5 minutes, stir and you have homemade buttermilk!
This tip on making your own works in any recipe you can find! I do this a lot with my homemade coleslaw recipe!
Do I Need Sharp Cheddar Cheese for Cheddar Bay Biscuits
Yes! I find that using other blends of cheese doesn't offer that Red Lobster flavor of a cheddar biscuit. Now, if you are okay with a slight variance in flavor, go for a mild cheddar if you would like!
How to Store Cheddar Biscuits
To store your cheddar biscuits just allow them to cool fully, and then wrap them up and place in the fridge. I find this is the best way of extending the life of the biscuits. They will last around 3 days in the fridge.
Best Way To Reheat Your Red Lobster Biscuits
Take your Red Lobster biscuits out of the fridge and wrap tightly in aluminum foil. Place in a preheated 350 degree oven, and heat until the biscuits are warmed.
Wrapping them in aluminum foil will prevent them from drying out as they reheat. You can also use the microwave I just find the oven offers the best texture and flavor upon reheating.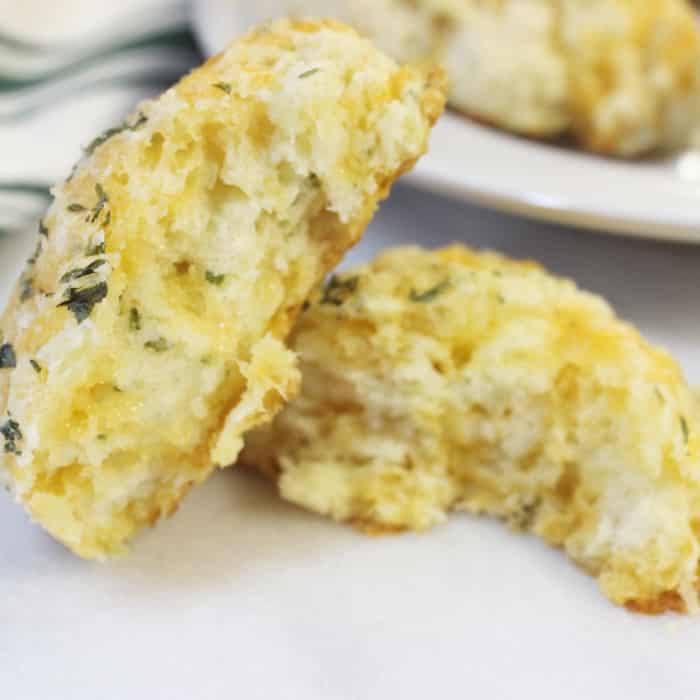 The Best Cheddar Bay Biscuits Recipe
Servings 10 -12 biscuits
HOMEMADE Cheddar Bay Biscuits that are better than Red Lobster! Light, flakey, garlicky biscuits that can be made in 20 minutes. These cheddar biscuits are outstanding.
Ingredients
2 cups of all purpose flour
1 tablespoon baking powder
1 tablespoon white granulated sugar
2 teaspoons garlic powder
Pinch of Salt and Pepper
1 cup buttermilk
1/2 cup butter melted
2 cups sharp cheddar cheese Freshly grated
1/2 teaspoon dried parsley
Topping of Biscuits
4 tablespoons butter melted
1 tablespoon dried parsley
1/2 tsp garlic powder
Instructions
Start by preheating your oven to 450 degrees. Take a baking sheet and place a silicone baking mat down or line with parchment paper.

Grab a bowl and add in your flour, baking powder, garlic powder, salt and pepper, sugar, and give it a good stir.

Then in another bowl add in your buttermilk and butter and mix. Slowly add in your flour ingredient, and fold in the shredded cheese.

Scoop your mixture onto the pan, and bake for 10-12 minutes or until they are no longer doughy.

Once you pull your biscuits out of the oven, take your toppings (butter, parsley, and garlic powder) and brush the tops of each biscuit. Serve immediately!



Nutrition
Serving: 1biscuitCalories: 366kcalCarbohydrates: 22gProtein: 13gFat: 26gSaturated Fat: 15gPolyunsaturated Fat: 8gTrans Fat: 1gCholesterol: 69mgSodium: 532mgFiber: 1gSugar: 2g
This recipe for cheddar bay biscuits is really easy. With a simple recipe like this, you can skip the canned biscuits and make homemade biscuits in the same amount of time.
If you are a fan of bread, check out my other dinner roll recipes.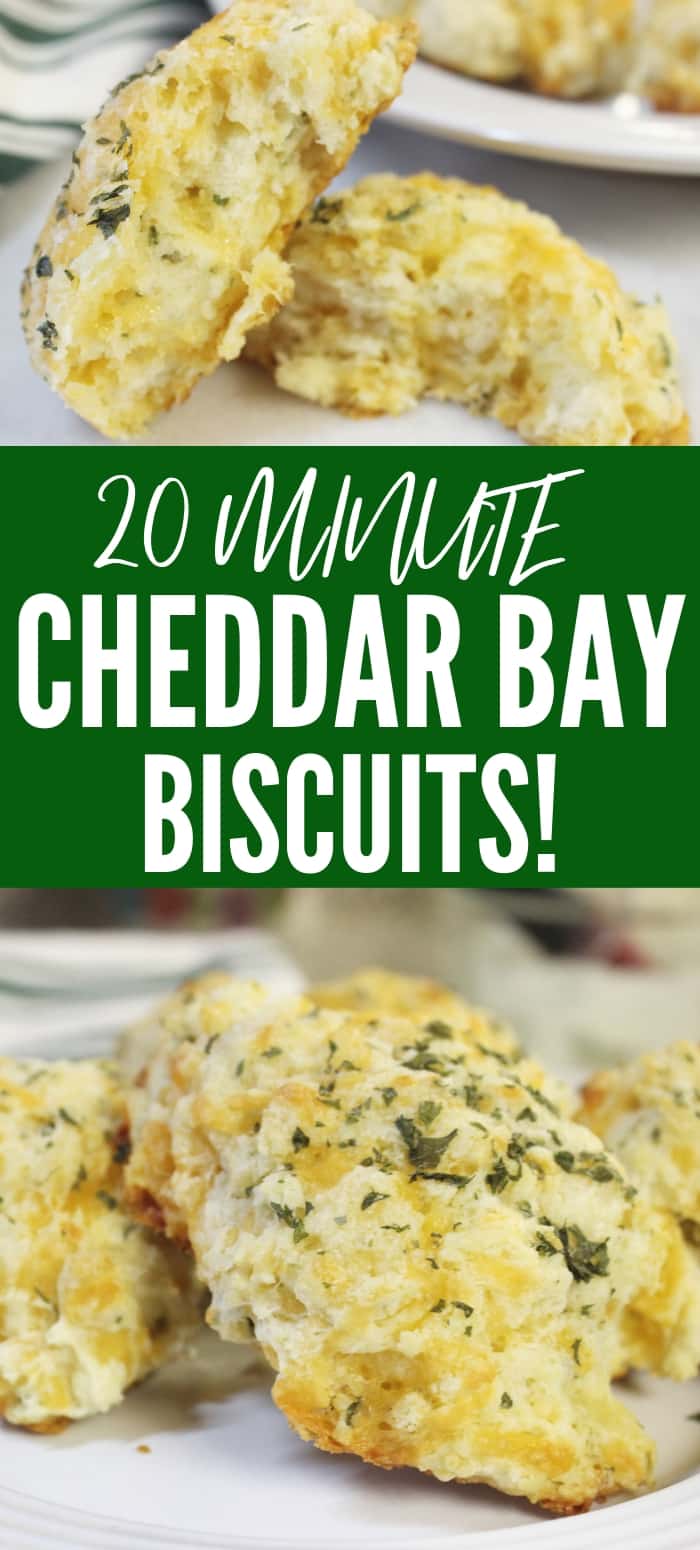 Are you a fan of cheddar bay biscuits?
Reader Interactions