A hearty pasta with ground beef that is cheesy and tomato based. A quick and easy weeknight meal.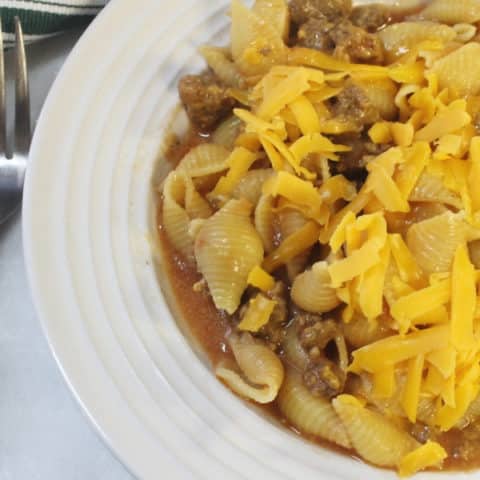 30-minute ground beef and pasta skillet recipe is here to save the day! This ground beef and pasta is so simple to make, savory, and topped with sharp cheddar cheese. A dish that is kid-approved and adults to enjoy!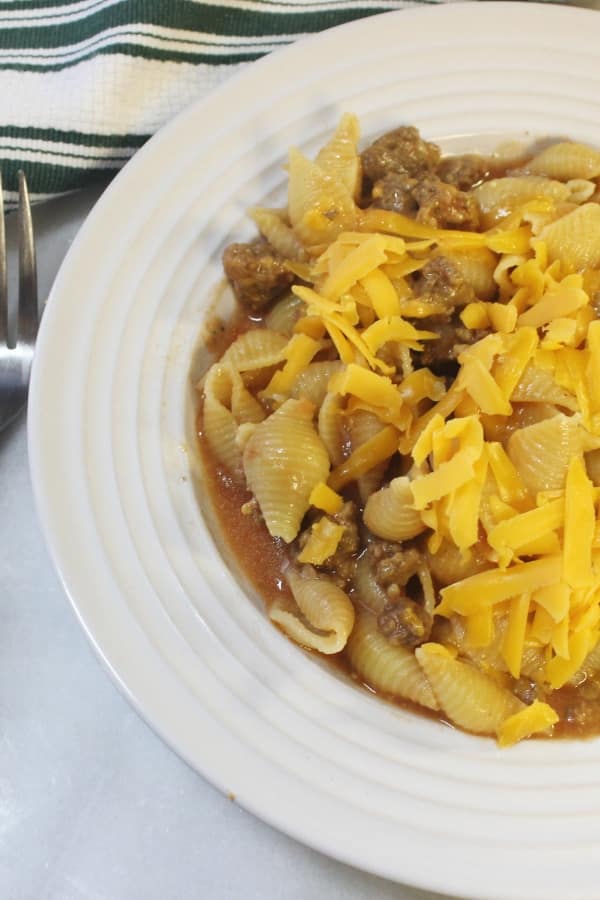 In our home we eat a lot of ground beef, it is my husband's favorite protein. I am always thinking of what to make for dinner with ground beef that is a bit different than the normal regular recipes we enjoy.
I raided our kitchen and grabbed what we had in stock and got to work. We love a good ground beef and pasta dish, so this fit into what I was looking for.
More Pasta Recipes To Try
Easy Ground Beef and Pasta
Minimal effort needed and a wonderful turnout. This made a lot, we had leftovers for a few days! There is only three of us here, and it was such a filling dish. Talk about a total comfort meal! As you can see this recipe is quick! Nothing beats a wholesome cooked meal ready in no time!
Ground Beef Pasta Skillet Recipe
This ground beef pasta skillet recipe requires no fancy kitchen accessories. Just a pan ( I used a copper pan
) and a pot for boiling water for your pasta. I will say one handy accessory I use anytime I ground up hamburger is my meat chopper
. This beauty has been with me for years and does a great job of chopping up the hamburger.
Variations to The Ground Beef and Pasta Recipe
The beauty of this recipe is it is versatile! I used Italian seasoning but you could very easily swap it out for another spice to add a completely different element of flavor.
Taco Seasoning – Gives it a Tex-Mex flavor. Skip the Italian and use 2 tablespoons of taco seasoning or one full packet.
Chili Seasoning – Another one to add in for a richer and full of depth flavor that pairs with the pasta and ground beef.

What To Pair With The Ground Beef and Pasta Recipe
For us, I paired it with a dinner roll, but you are welcome to take a lighter approach.
How to Store Ground Beef and Pasta
Once you are done eating, put all your extra in a sealable airtight container and store in the fridge for up to 3 days time. Anything after that you will want to toss it out, as it could spoil.
Best Way to Reheat Ground Beef and Pasta Skillet Dish
Reach for your microwave for a quick reheat or pour in a pan and heat on low on the stove. I recommend adding in extra milk or broth when reheating on the stove to add some creaminess back to the dish. Otherwise, you could end up with a little bit of a dry pasta if it gets too hot on the stove.
Can I Use Macaroni Noodles for Ground Beef and Pasta
Feel free to use whatever style of noodles you have on hand. Just aim for that 8-ounce mark, and use a noodle that fits your family. I loved the medium-size pasta shells but feel free to use what is in your pantry.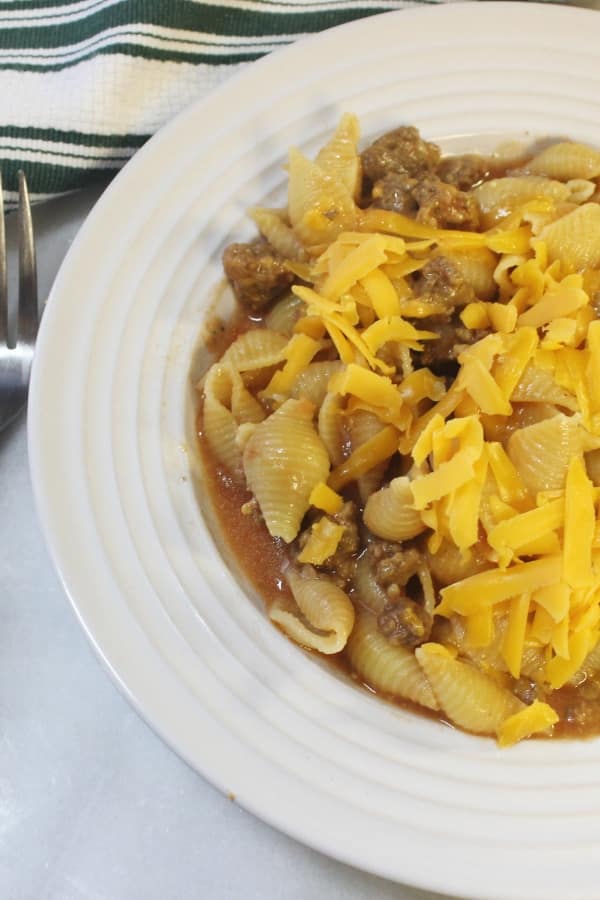 30 Minute Ground Beef and Pasta
Servings 8 servings
A hearty pasta with ground beef that is cheesy and tomato based. A quick and easy weeknight meal.
Ingredients
8 ounces pasta shells
1 pound ground beef
1/2 onion diced
1 teaspoon garlic minced ( I used a jar that was pre-minced)
1 teaspoon Italian seasoning
1 Can 15 oz tomato sauce
2 tablespoons all-purpose flour
2 cups beef stock
1/2 cup milk
Salt and Pepper for seasoning
2 cups sharp cheddar cheese
Instructions
Start by cooking your pasta as directed on the box.

In a skillet begin browning your ground beef. Once close to cooked, add in your garlic, and onions.

Once translucent, generally takes a few minutes, add in your flour and Italian seasoning. Stir for one minute.

Next add in your tomato sauce followed by your beef broth. Allow this to cook until it begins to thicken.

Then toss in your cooked pasta and milk and mix until combined.

Last add in your cheese (reserve some for topping) and stir until melted.

Serve and enjoy.
Notes
You can use heavy cream in replace of milk for a more creamy base sauce.
Nutrition
Serving: 1/2 cupCalories: 473kcalCarbohydrates: 17gProtein: 33gFat: 30gSaturated Fat: 15gPolyunsaturated Fat: 11gTrans Fat: 1gCholesterol: 108mgSodium: 920mgFiber: 2gSugar: 3g
What to Make For Dinner With Ground Beef
If you are a fan of ground beef, know you are not alone. I love changing things up from a basic Taco Tuesday or evne hamburgers. Make sure to follow my blog as I will always be adding in more ground beef recipes for you all to give a try!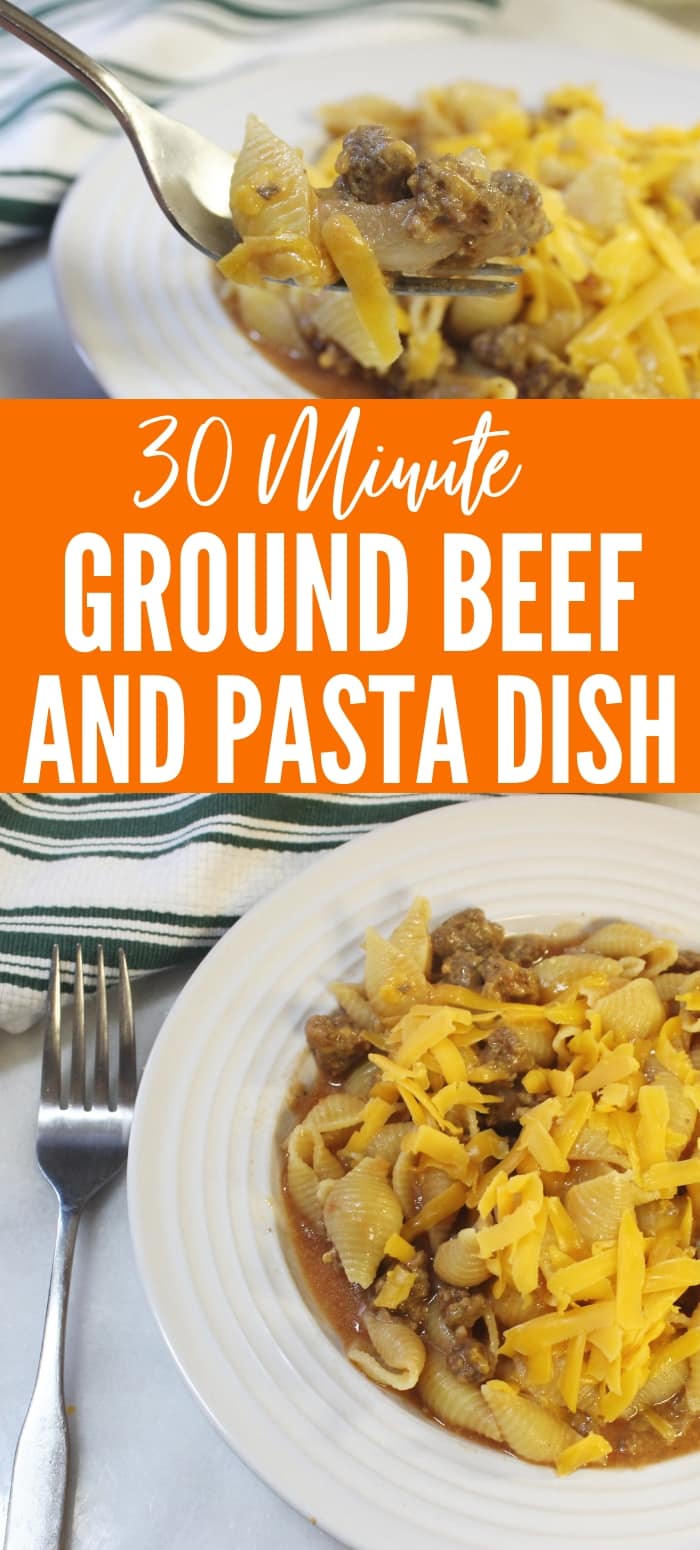 Are you a fan of ground beef and pasta recipes?
Reader Interactions