Creamy lemon dill coleslaw is going to be the go-to summer side dish for you and your family this year. Lemon dill coleslaw with a creamy coleslaw dressing, paired with crunch from sunflower seeds. It is no secret we love a good coleslaw, my favorite of all time is the KFC copycat coleslaw. It is a winner for sure.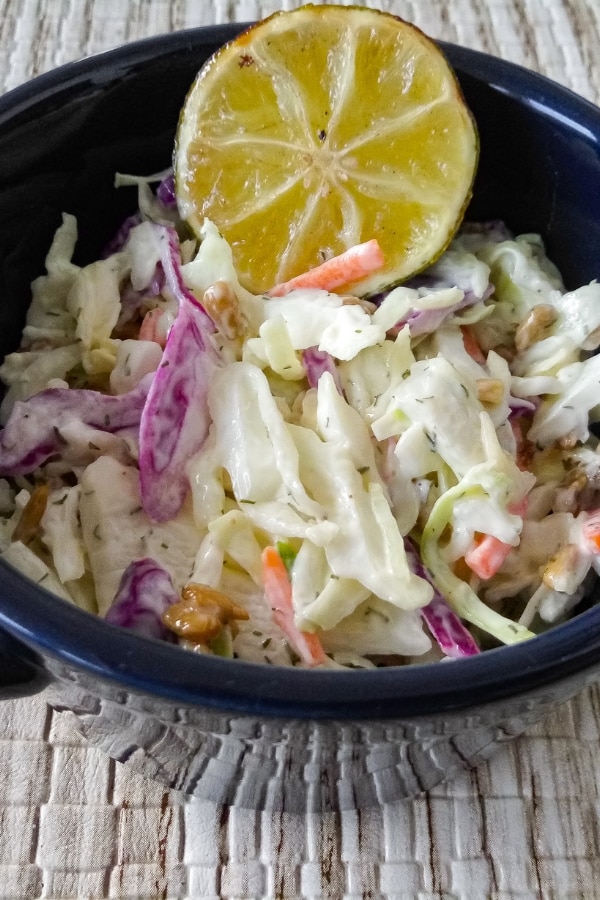 Lemon Dill Coleslaw offers that creamy and crunchy factor in a salad, that screams fresh flavors for spring and summer. This is a great side dish for your next weeknight dinner, picnic, or summer cookout.
Here are More Incredible Side Dishes
The Best Creamy Lemon Dill Coleslaw With Homemade Dressing
We are still in full swing of winter, but this dill coleslaw has me dreaming of warm sunshine from the vibrant flavors that are bursting throughout in each bite. Learn how to make this easy lemon pepper slaw today!
What Should I Serve With Coleslaw?
The beauty of coleslaw is this side dish goes well with pretty much any main dish!
Top on Tacos or Pulled Pork Sandwiches
Burgers or Brats
Steak
Seafood Main Dishes
Pork recipes
This coleslaw works well with almost anything! We generally use it as a side or top fish tacos or pulled pork sandwiches!
Is Coleslaw Good For Weight Loss?
Coleslaw can be a great crisp and creamy side dish that offers vitamins, fiber, and antioxidants! With the ingredients used it can often be a lower carb dish. You can always swap out the mayo with Greek yogurt for added protein if you want. I personally prefer the mayo in the dish, it offers a really nice creamy texture.
Can You Freeze Coleslaw Mix?
So you bought a bag of coleslaw and only used part of it. Now what? If you have the coleslaw still alone without other ingredients, you can seal up your coleslaw cabbage mix and freeze it. Just get all the air out and place in freezer bag for up to 2 months.
The mayonnaise in coleslaw can separate and break down in the freezing process. But just freezing the cabbage alone will work. I always use leftover coleslaw mix to pour into beef stews and such. It adds so much flavor to your soup.
How Long Will Homemade Coleslaw Keep In The Fridge?
You can expect coleslaw to last 3-4 days. With each day you will find your cabbage in the coleslaw begins to break down and become more tender.
How To Make Lemon Pepper Coleslaw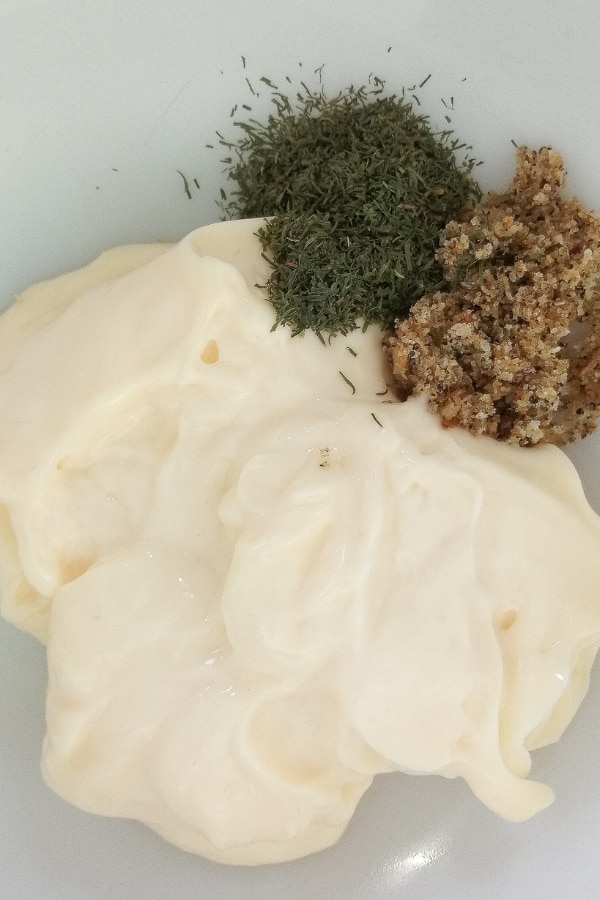 Start by mixing up your coleslaw dressing. Just put the mayonnaise, dill, and lemon pepper into a bowl. Give it a good whisk
until nice and creamy.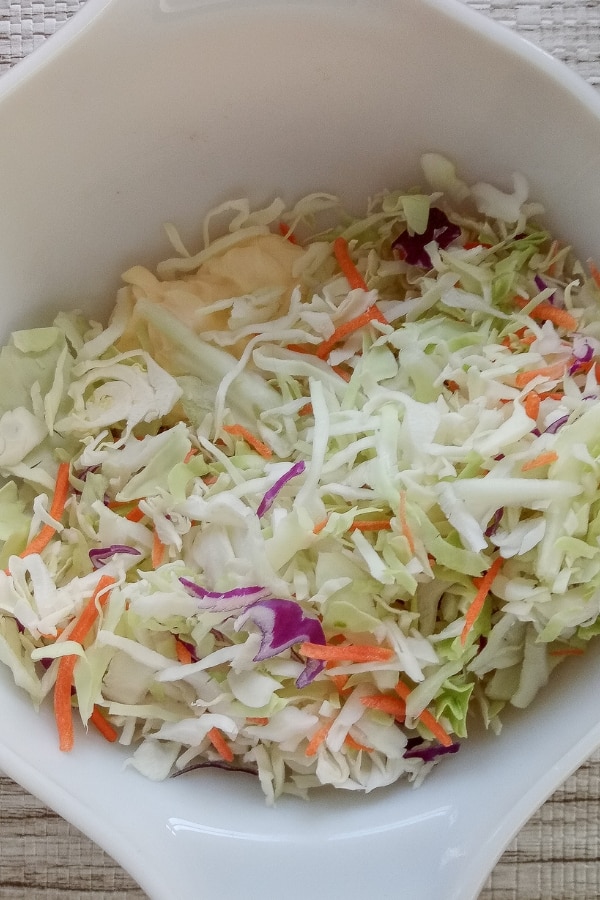 Top with coleslaw mix, and give it a nice stir.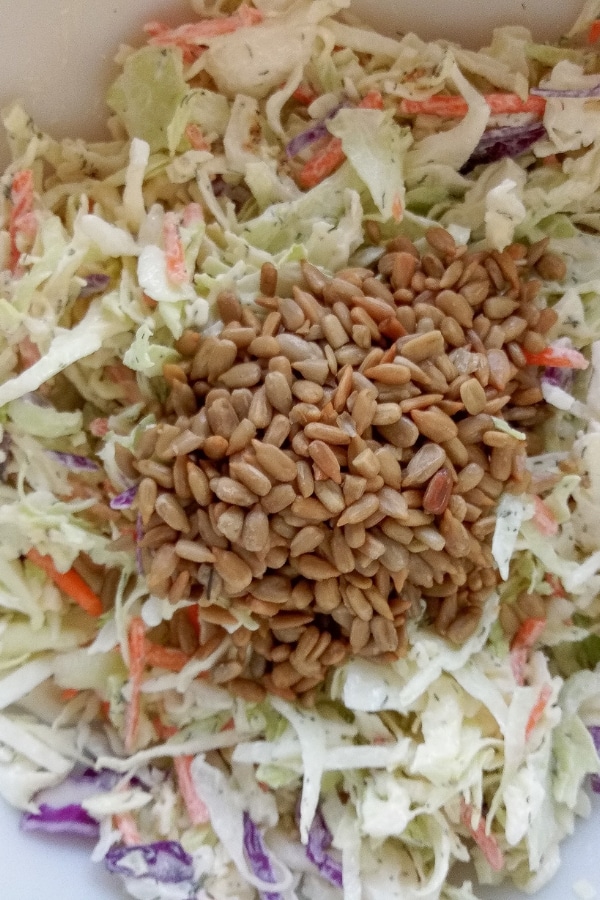 Next, add in those glorious sunflower seeds for that added crunch. Once it is well-combined toss in the fridge for 30 minutes minimum. We generally leave it in the fridge for at least 2-3 hours. I find it blends the flavors even more.
Then squeeze fresh lime juice on top and top with your pepper and salt and serve!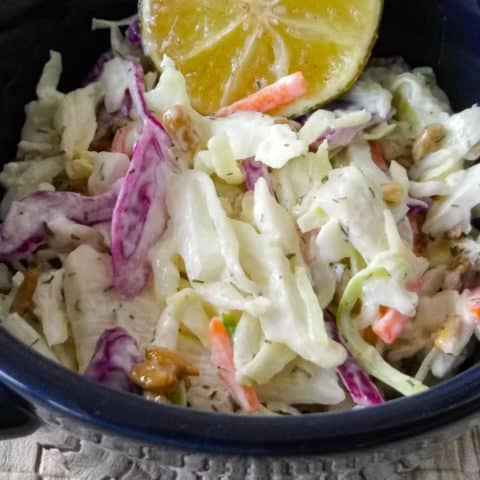 Creamy Lemon Dill Coleslaw Recipe
Additional Time:
30 minutes
Ingredients
1/2 cup mayonnaise
1 bag of coleslaw mix
1/3 cup sunflower seeds (optional)
half a lime
Instructions
Start by mixing your mayo, dill, and lemon pepper together. Create a creamy sauce.
Then stir in your coleslaw mix and sunflower seeds.
Refrigerate for at least 30 minutes but normally 2-3 hours is best.
Once ready to serve squeeze fresh lime juice over the top of slaw, and add salt and pepper to taste.
Nutrition Information:
Yield:

10
Serving Size:

1 cup
Amount Per Serving:
Calories:

117
Total Fat:

12g
Saturated Fat:

2g
Trans Fat:

0g
Unsaturated Fat:

10g
Cholesterol:

6mg
Sodium:

467mg
Carbohydrates:

3g
Fiber:

1g
Sugar:

1g
Protein:

1g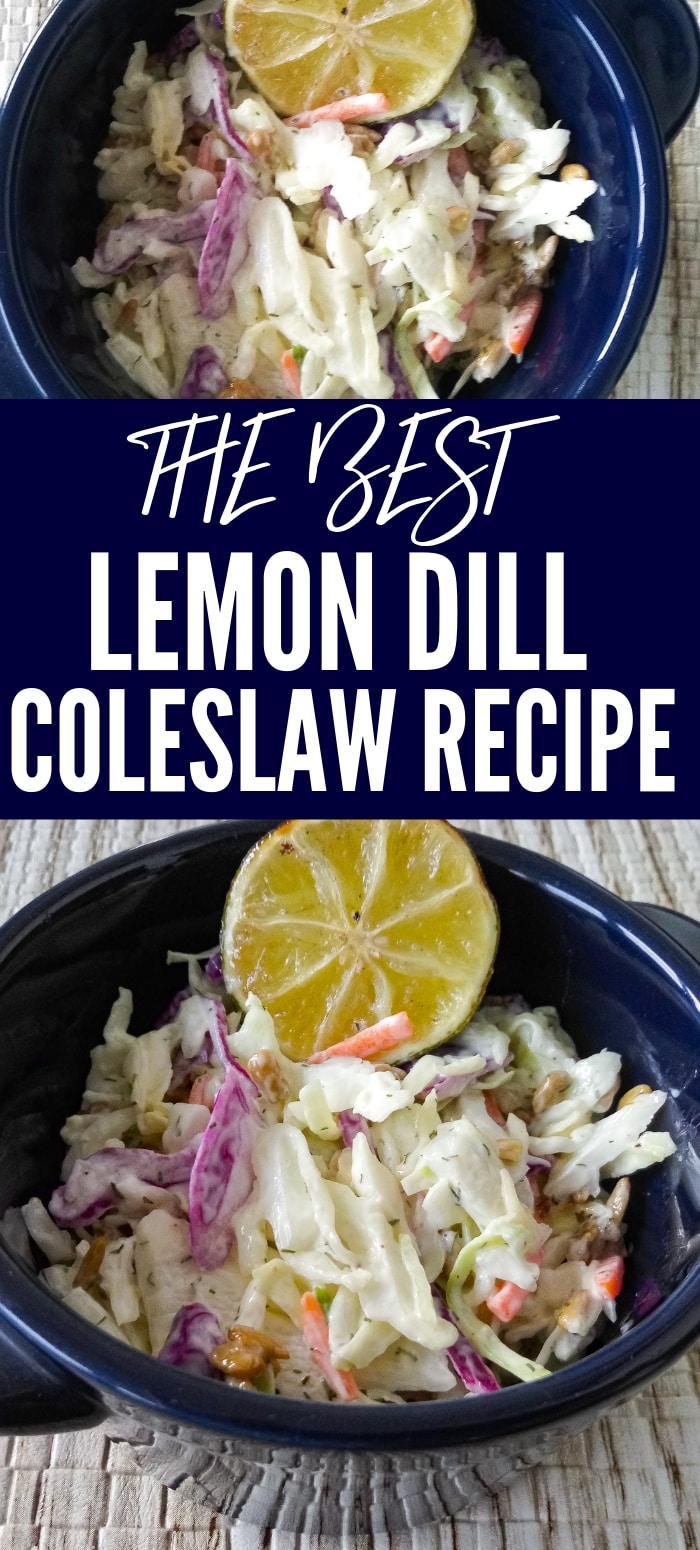 Can I Use Fresh Dill In Replace To Dry In Dill Coleslaw
Absolutely! Feel free to swap out the dried dill for fresh. Just dice and toss in like you normally would stir and enjoy.
Can I Use A Whole Head of Cabbage Instead of Bagged Coleslaw for Lemon Dill Coleslaw
You sure can use a whole head of cabbage over bagged coleslaw mix. I personally love the pre-packaged mix for easy prep, but also I love it has the carrots and red cabbage as well. Just slice and dice your head, add in some shaved carrots and do a mix of red and green cabbage if you want.
Will Lemon Dill Coleslaw Recipe Double Properly
Yes! You can double or even triple this recipe so easily. Just make as much dressing as you need, and then grab a large bowl and mix away! It is so simple to double, or triple.
This is great when you are wanting to serve a crowd! Give this lemon dill coleslaw a try and let me know what you think!
Have you tried a lemon dill coleslaw recipe before?