Easy ground beef recipes are always on my meal planner! Easy dinner recipes with ground beef are hands down our go-to recipes in this household. I love cooking with ground beef because it is versatile, affordable, and tasty. Plus my husband is totally a ground beef fan over chicken any day of the week.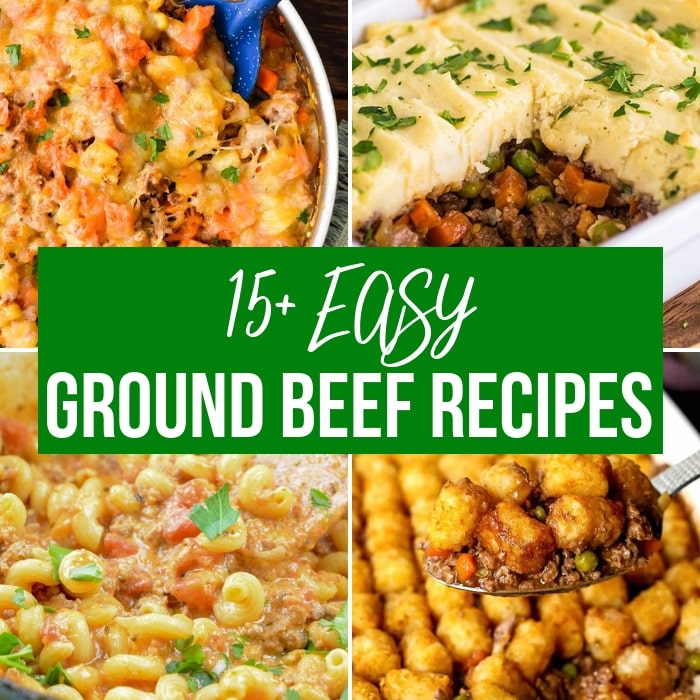 Here are some of my top ground beef recipes I recommend to give a try next time you are feeling like you are in a rut! Or whip up one of these dishes for a lunch option as well!
The Best Easy Ground Beef Recipes To Make Today
Easy Ground Beef Recipes
Looking for ground beef recipes? Here are some quick and easy ground beef recipes to whip up this week!
Photo Credit: bakemesomesugar.com
Yes you can make lasagna in the slow cooker, and here is a simple and satisfying recipe!
Photo Credit: bakemesomesugar.com
Serve up this incredilbe easy ground beef and pasta skillet. A quick and easy ground beef recipe the whole family can enjoy.
Photo Credit: bakingmischief.com
I love a good sheperd's pie, and this is made wiht ground beef, hearty veggies, and topped with creamy mashed potatoes and baked to perfection.
Photo Credit: bakemesomesugar.com
A savory Instant Pot Soup that will warm you up on a chilly day. Tomatoes, tender pasta, and ground beef.
Photo Credit: www.thisisnotdietfood.com
If you are a fan of beef and rice, give this cheesy dish a try. Tender ground beef, rice, cheese, corn and the tasty blend of spices.
Photo Credit: neighborfoodblog.com
Calling all meat and potato fans, this is right up your alley! I love this quick and easy ground beef skillet dish that is perfect any day of the week.
Photo Credit: www.mantitlement.com
I grew up eating tater tot casserole so this is always on our agenda. Give this recipe a try for that meat and potato experience with a few veggies sprinkled throughout.
Photo Credit: www.wholesomeyum.com
Warm up with this hearty bowl of cabbage soup with ground beef. This is one comforting soup that is a great way to detox your body.
Photo Credit: twosleevers.com
Talk about a twist to dinner. Step out of the box and try this outstanding ground beef recipe.
Photo Credit: www.thisisnotdietfood.com
Here is a casserole you might want to give a try if you like mashed potatoes and potatoes!
Photo Credit: adventuresofanurse.com
Whip up this classic goulash recipe that is cheesy, tender pasta, and loads of ground beef in every bite.
Photo Credit: www.sparklestosprinkles.com
Cheeseburger soup is one comforting soup. Ground beef, potatoes, carrots, in a creamy broth that taste like a cheeseburger!
Photo Credit: by-pink.com
Living the keto lifestyle? Here is a low carb keto taco skillet that will fill you up!
Photo Credit: lowcarbyum.com
A great summer dish when you have fresh produce from the garden. A Mexican zucchini and ground beef skillet dish that takes no time to make.
Pampered Chef Mix N Chop
Good Cook High-Temp Hamburger Meat Chopper
Look at all these easy ground beef recipes you can add to your menu! This just skims the surface on all you can do with ground beef. Both of these hamburger choppers are a MUST have item! I own the Pampered Chef Chopper, but there is a knock off that I am sure can hold up over time.
I have had my hamburger chopper
for over 5 years now, and it is new like day one. This works great at really cooking down the hamburger and grounding it up as it cooks! I didn't think I would love it as much as I do!
What Is Ground Beef Made Of?
Ground beef is made from a range of fats from the cow. They trim up the beef and use the less popular cuts of beef to grind up and makes a savory ground beef.
What Is The Best Ground Beef?
Ground Sirloin is leaner ground beef that is suggested most popular. It offers a richer flavor is is generally a lot less fatty, and comes in at around 7-10% fat vs. 20-30% fat.
Do You Have a favorite Easy Ground Beef Recipe?