Pasta sauce hacks is a quick and easy way to make jarred pasta sauce taste homemade when you are in a pinch. Jarred pasta sauce is affordable, easy, and quick. Now with a bit more prep, you can transform that sauce into something magical.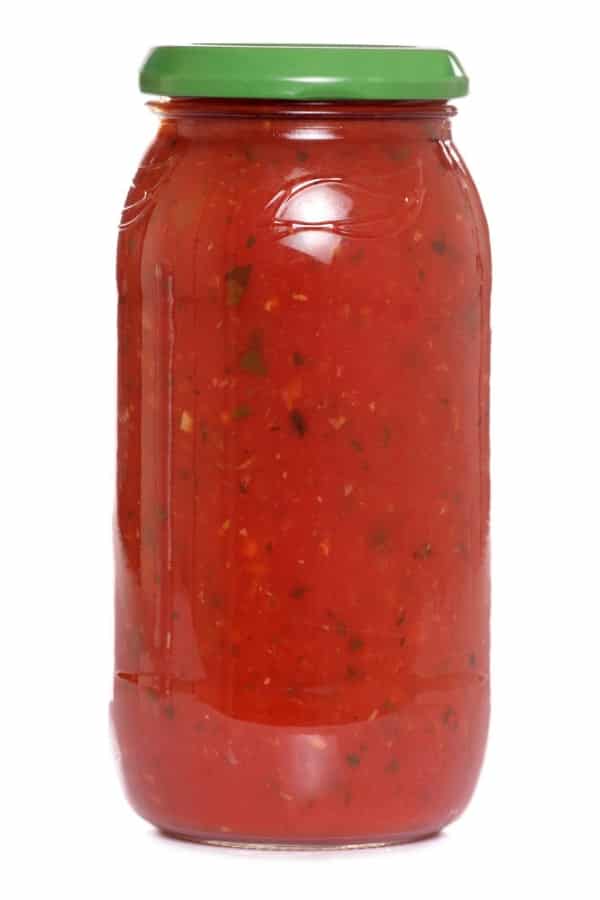 I won't lie, I pretty much always use jarred pasta sauce. I have made homemade here and there. When I learned all these pasta sauce hacks, I knew I could get homemade pasta sauce flavor from a jar! It's a no brainer to me!
Pasta Sauce Hacks You Need To Try
Dairy
By adding a half cup of milk or cream to your sauce will add so much depth and flavor. It goes from blah to outstanding in seconds.
Or add in cream cheese or ricotta for an even more creamy consistency. Just keep the sauce on low heat as you stir often to incorporate all the cheese.

Fresh Herbs
If you have fresh herbs in your garden or in the fridge pull them out. Using fresh herbs gives it a "fresh" flavor like it was low and slow simmered all day.
If you have a traditional or plain sauce reach for herbs like oregano, thyme, basil, or even a little parsley. Dice up small and stir in and then taste test to ensure the flavors are what you are looking for.
You can use dried herbs as well, I just find fresh offer more flavor. Italian seasoning is a good dried herb mix, or use any listed in the fresh section.
Pinch of Sugar
A small pinch or two of granulated sugar is also an incredible way to dress up jarred pasta sauce. It helps bring out flavors in the sauce and adds a subtle sweetness, that will leave family and friends guessing what's different.
Balsamic Vinegar or Red Wine
Either balsamic vinegar
or red wine, both will transform your sauce. Depth, richness, and elevated flavors. Start by adding a teaspoon or two, then tasting to see if you want to add more or not.
Hearty Veggies
Sauté some vegetables in a pan to really add a dimension of flavor. Onions, garlic, peppers, celery, carrots, etc. Any of these work or create a combination.
Make sure to dice vegetables up small so they blend well with the sauce. It is also a wonderful way to sneak in added vegetables into your child's diet!
Meat
Don't underestimate the power of meat! Italian sausage, ground turkey, ground beef, bacon, etc. Any of these meats add so much to a dish. Drain fat before combining with your pasta sauce.
Deglaze Pan
Reach for chicken or beef stock
, or step it up a notch with red wine. Deglaze your pan after sautéing the vegetables or meat. It will pull up all the stuck on particles in the pan that are loaded with flavor.
Then pour in your sauce and watch it become transformed. To thicken the sauce just allow it to simmer for a while on the stovetop. If it becomes too thick add more sauce or wine, whichever you used to deglaze.
Taco Seasoning
Half a packet of taco seasoning
or homemade mix will dress up your sauce instantly. I know it sounds a little out of the norm, but trust me.. it works!
Butter
Butter not margarine is another great ingredient to add to jarred pasta sauce. The butter adds a silky and bold flavor that helps to level out the acid in the tomatoes. A tablespoon or two will do!
Fresh Greens
As you warm up your sauce toss in some baby spinach or kale to your sauce. Allow it to wilt and then use that to pair with your pasta or protein like chicken. It adds so much flavor and color to the sauce!
Fresh Lemon Juice
Lemon juice is going to add in an acidic twist. You will be shocked at how amazing it tastes! I always think the sauce is missing something, squeeze in some juice and find a little acidic flavor is all it needed.
Pasta Water
Save back some of the water you used to cook your pasta in! The pasta water has starches that cook off as you cook your pasta, it will cause your sauce to stick to pasta instead of falling off like it normally does.
This will give your pasta more flavor when the sauce sticks to your noodles. A splash is all you need!
Simmer Sauce
Say you want to really gain depth and maybe even thicken the sauce. Simmer on low for 20-30 minutes will do wonders.
I also suggest if you dress up your sauce at all with any of the ideas listed you allow it to simmer to help incorporate the flavors.
How to Pick A Quality Pasta Sauce
I gave you all my secrets to how to make jarred pasta taste homemade! Now it's time to talk about what sauce you buy.
Low sodium, organic, traditional, and the list goes on. Make sure you reach for a quality sauce. Ingredients matter and you will have more success with the options above when your sauce is the best base it can be!
Look for a pasta sauce that has the first ingredient of whole tomatoes, and skip sauces with added sugars. I find that you can buy sauces at a decent price with these options that work well with the other ingredients.
Now you can do any of these pasta sauce hacks on your favorite sauces, just know each sauce offers different flavors.
Do you do any pasta sauce hacks for a more homemade flavor?