Are you searching for stuffed shells with spinach recipes? If so then you'll enjoy these delicious stuffed shells with spinach I'm featuring today. A meatless stuffed shells recipe!
The flavorful combination of four kinds of cheese stuffed inside a jumbo pasta shell with pasta sauce, spinach and seasoning will make your taste buds explode.
Stuffed shells With Spinach
Stuffed shells are one of those versatile meals that you can recreate time and time again without duplicating the ingredients.
My ricotta and spinach stuffed shells can easily be transitioned to a meat and cheese stuffed shell recipe, if you'd like. Simply replace the spinach with ground beef or ground turkey or ground sausage.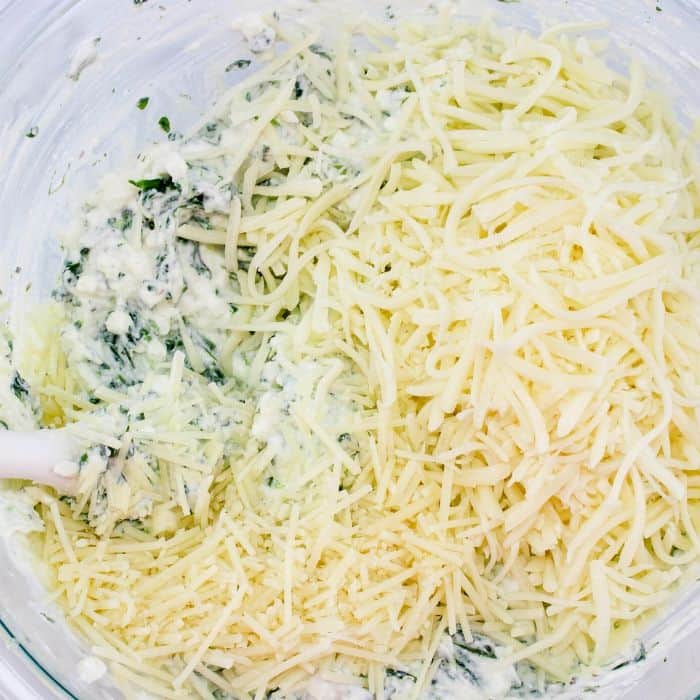 Is Spinach Better For You Cooked or Raw
While spinach does provide you with folate, potassium, Vitamin C and riboflavin in its raw format, it has been showing that cooking spinach increases some of the other nutrient properties of spinach.
Cooked spinach offers a higher level of protein, fiber, calcium, and iron. You see, you can't go wrong with spinach it's one of those versatile vegetables that's good for you regardless of whether you enjoy it raw or cooked.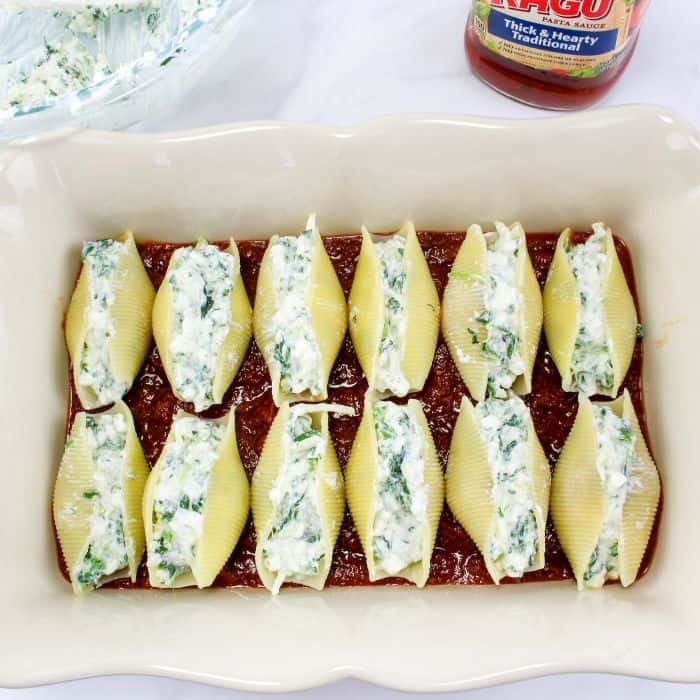 When cooking these stuffed shells with spinach but sure that you don't overcook the Jumbo shells pasta. The box instructions may leave your stuffed outer shell at the right texture right then. But it will cook a little longer in the oven.
Keep in mind cooking your Jumbo pasta shells for just under the instructions on the box. Such as 1-2 minutes less will ensure your spinach stuffed shells don't come out too crispy after baking in the oven.
What Side Dishes Go With Stuffed shells
While preparing your spinach stuffed shells, I'm sure you're wondering what side dishes go with stuffed shells.
Many options work as a complimentary side dish with stuffed shells. You could serve a traditional garden salad, garlic bread, or bread with butter. Or try my pull-apart garlic rolls.
Here are more pasta recipes to try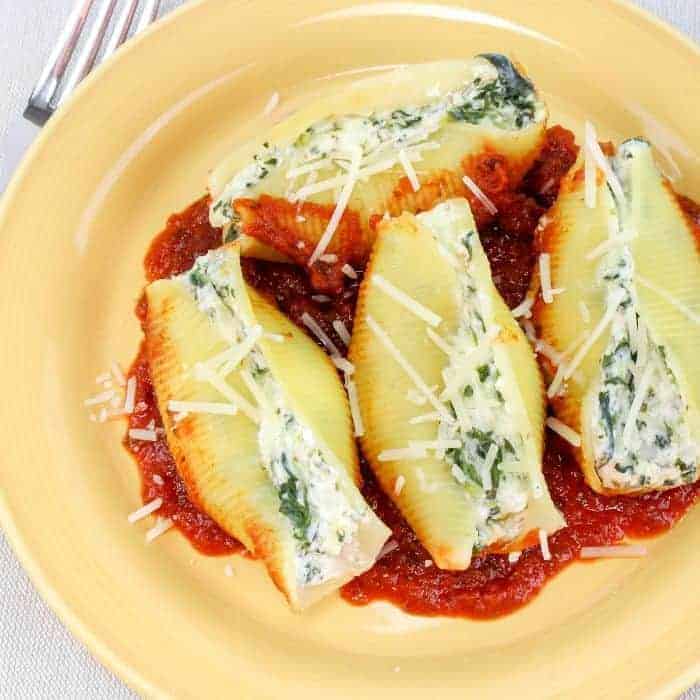 How To Make Stuffed Shells As A Freezer Meal
This dish is one of those make-ahead, freeze and serve later dishes. For those who enjoy meal planning, this recipe is freezer friendly.
Start by making your shells how you would, and then place them in a freezer-friendly container. Make sure you can cover the dish, and then freeze it for up to three months.
How Do You Heat Frozen Stuffed Shells
Then reheat for 50-60 minutes at 350 degrees for a quick grab, heat and serve dinner idea.
This is such a simple recipe that takes a small amount of prep time and can be served any time of the week with ease.
The kids won't even know that there's that icky spinach in their stuffed shells. They'll simply be happy to eat the cheesy stuffed shells over and over again.
Now that I've covered all of the basics about spinach stuffed shells. It's time to be blown away with this flavor-packed stuffed shells recipe.
Continue reading to find the list of ingredients and step by step instructions. A guide to making your ricotta and spinach stuffed shells today.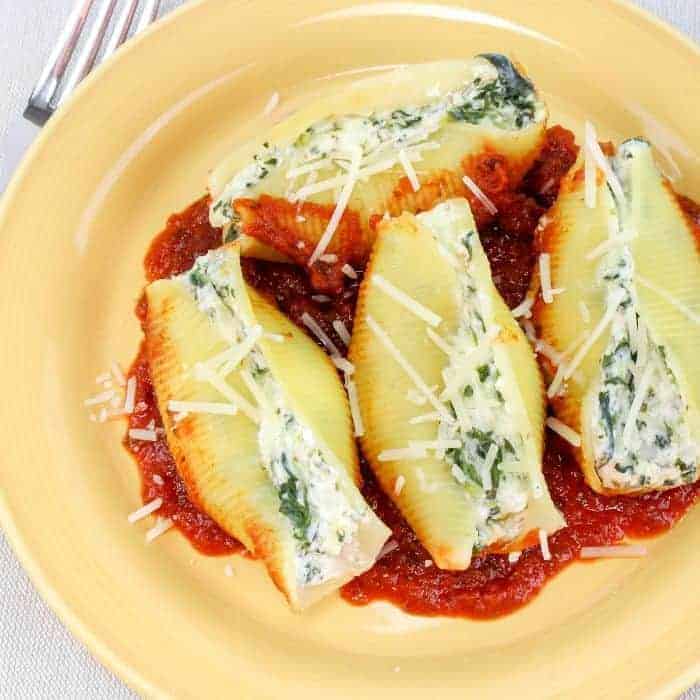 Stuffed Shells With Spinach
Servings 28 shells
Cheesy stuffed shells with spinach is a meatless pasta dish that is loaded with cheesy flavor in every single bite. Whip this up for a home cooked meal the whole family can enjoy.
Ingredients
12 oz. pkg. Jumbo Shells Pasta
24 oz. Jar Pasta Sauce
9 oz. Frozen Spinach thawed and squeezed dry
6 oz. Shredded Mozzarella Cheese
16 oz. Container Cottage Cheese
15 oz. Container Ricotta Cheese
½ cup Shredded Parmesan Cheese
2 tsp. Italian Seasoning
Instructions
Start by preheating your oven to 350 degrees.

In a bowl you will want to mix your thawed spinach, cottage cheese, ricotta cheese, seasoning, and mozzarella and parmesan. Set the mixture aside.

Now you want to grab a pan and cook the noodles according to the package, and drain.

I used 2 7×11 baking pans for this recipe. I poured half the sauce in one pan and half the sauce in the other pan.

Then scoop the cheese filling and spoon into the stuffed shells.

Cover the pans with foil and bake for 30 minutes.

Remove from oven and sprinkle on extra parmesan and serve.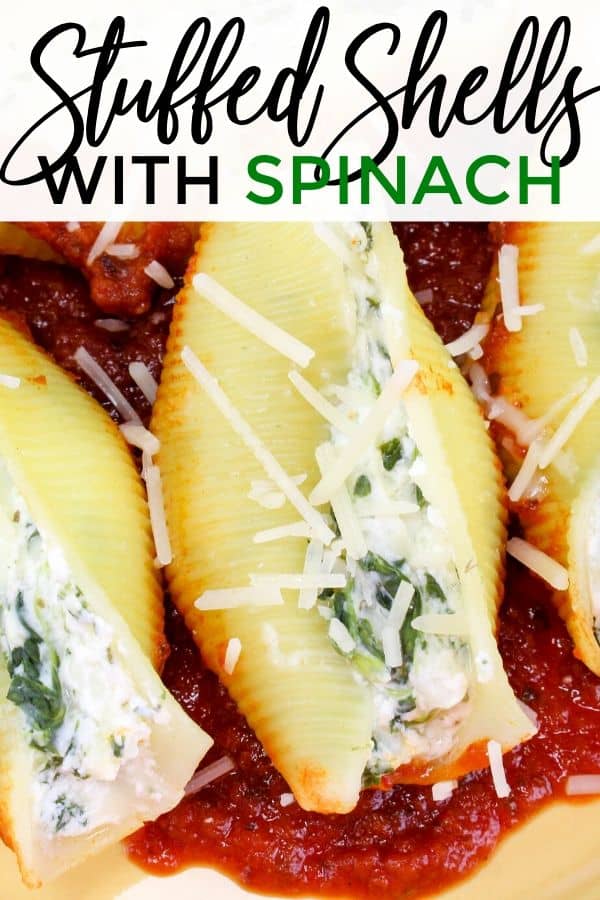 Reader Interactions