This is the best Air Fryer Chicken Fried Steak you will ever have. Crispy coating with a tender and flavorful cubed steak center. Country Fried Steak smothered in gravy.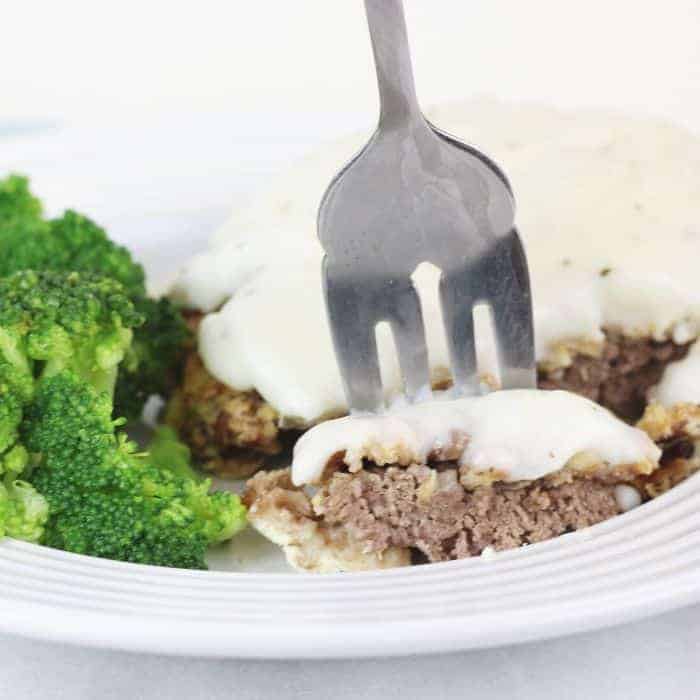 Air Fryer Chicken Fried Steak
Skip the grease and make a healthier version that still packs the punch of flavor and crispy outside coating. 
I won't lie I prefer the skillet version, a bit more than air fried. But it is how I grew up and what I know. I still really enjoyed this air fried Southern chicken fried steak.
I can't rave enough about my air fryer! This air fryer minute steak recipe is incredible and one that I will be making on a normal rotation in our home. If you have ever had a chicken fried steak, you know they are something to talk about! 
What is Southern Chicken Fried Steaks
You take a steak generally a cubed steak and you batter it, and then fry it up. With the air fryer, it will cook without all the oil.
You still get that crunchy battered outside with a tender steak on the inside! Depending on where you live you will find this is an incredible dinner recipe. 
Learn how to make chicken fried steak in the air fryer in the recipe card below.
Air Fryer Country Fried Steak
No grease splatters, no smelly grease home, just a home-cooked country-fried chicken steak calling your name.
Pair with a side of veggies, mashed potato, drizzle white gravy over or even pair with fries. No matter how you serve up this chicken fried steak, it is sure to please your taste buds. 
Cubed steak is a popular choice because it is a cut of steak that is tenderized. Using cubed steak will make this fork-tender, which is incredible. 
More Popular Air Fryer Recipes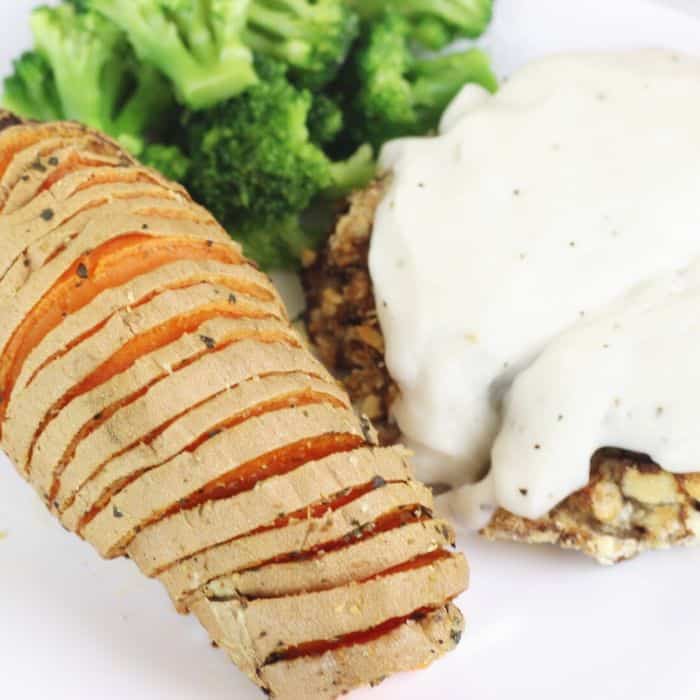 What To Serve With Chicken Fried Steak
Veggies like broccoli, corn, green beans, roasted potatoes, etc. 
Mashed potatoes and gravy
French fries 
Baked potatoes 
Sweet Potatoes
There is no wrong side dish to pair next to your fried Southern steaks.
Can I Make This Southern Fried Steak in the Instant Pot Duo
Yes, you can, you will use the crisper lid instead of the pressure cooker. It will mimic the air fryer and give you the exact result as using a regular air fryer.
What If My Steaks Are Larger In Size
If your steaks are larger in size and you can't fit the whole thing in your air fryer, you can cut your cubed steaks in half.
This will help to allow them to fit in the air fryer. Just cut and then dredge in the liquid and flour mixtures as directed in the recipe card.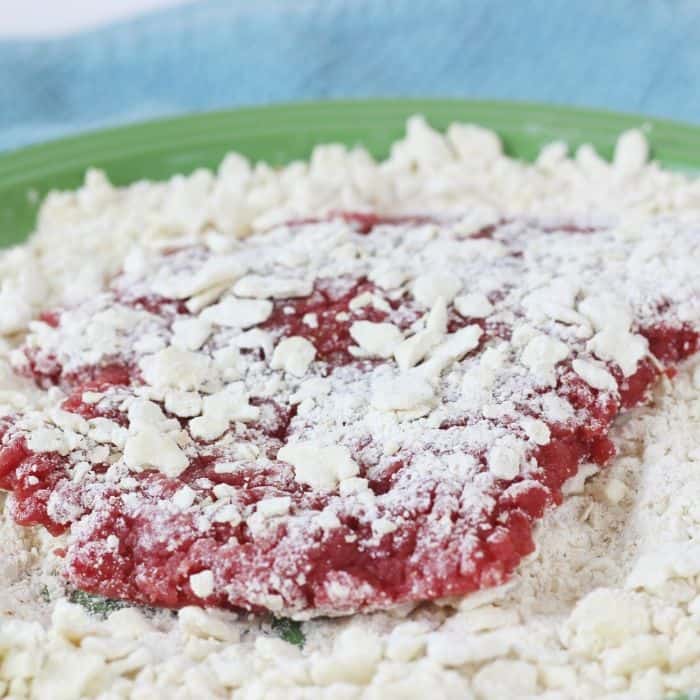 What If I Can't Find Cubed Steaks
If you can't find cubed steaks at your grocery store or butcher block you can make your own. You can buy a regular steak and use a meat tenderizer to pound it out and help to tenderize and flatten the steak.
Any cut of steak will work. Depending on the quality of the steak will depend on the tenderness of the steak for the end result. 
Pounding out the steak will help to break down the meat and give you a tender result.
Is Southern Fried Chicken Fried Steak Good Leftover
Yes, you will be amazed at how good this is the next day. Granted it is best when served fresh and warm.
But, for the next day, you can toast some Texas toast and make a sandwich out of it and eat it warmed up or even cold.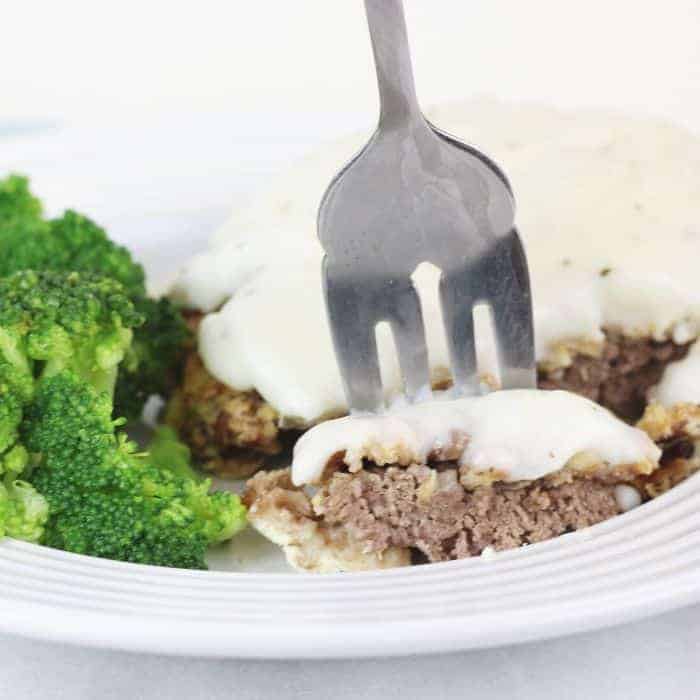 Air Fryer Chicken Fried Steaks
This is the best Air Fryer Chicken Fried Steak you will ever have. Crispy coating with a tender and flavorful cubed steak center. Country Fried Steak smothered in gravy.
Ingredients
2-4 Cubed Steaks or steaks that have been tenderized
1 cup buttermilk
1 large egg
Splash of hot sauce
20 saltine crackers crushed
1 1/2 cups flour
1 tablespoon Creole Seasoning
Salt and Pepper
Oil Spritzer and Canola Oil
Instructions
Season your steaks with salt and pepper and set aside.

Crush your crackers and place on a plate and then add flour and Creole seasoning. Mix it up and then set aside.

In a bowl add your buttermilk, 1 egg, and splash of hot sauce. Mix it up.

Now you want to dredge your steak in the flour mixture, followed by egg mixture. Let excess drip off, then put back in flour mixture.

Place battered steaks on air fryer rack, and spritz with cooking oil.

Turn to 400 degrees and cook for 8 minutes.

Remove and flip over, and spritz the other side with oil.

Continue cooking and flipping until your steaks are fully cooked.

Depending on the thickness of your steaks will depend on how long they take to cook. Mine took around 25 minutes to fully cook.
Notes
Cooking Time | Make sure to watch your steaks. Every steak will cook differently depending on how thick your steak is. So this is a guide but not a guarantee the steaks will be cooked in that time. Use a meat thermometer if you need to ensure your steaks are fully cooked. I put gravy all over my country fried steaks, but that is optional.
Nutrition
Serving: 1gCalories: 548kcalCarbohydrates: 51gProtein: 33gFat: 23gSaturated Fat: 6gPolyunsaturated Fat: 14gCholesterol: 127mgSodium: 1304mgFiber: 2gSugar: 3g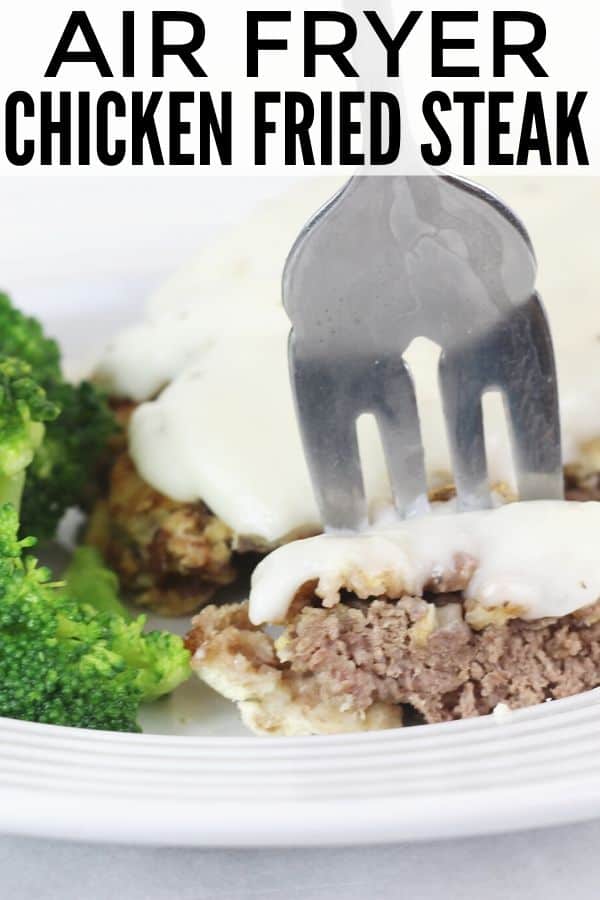 Have you tried making air fryer chicken fried steak?
Reader Interactions