Bacon waffles are the ultimate sweet and savory combination. This Belgian bacon waffle recipe is going to win you over with one single bite.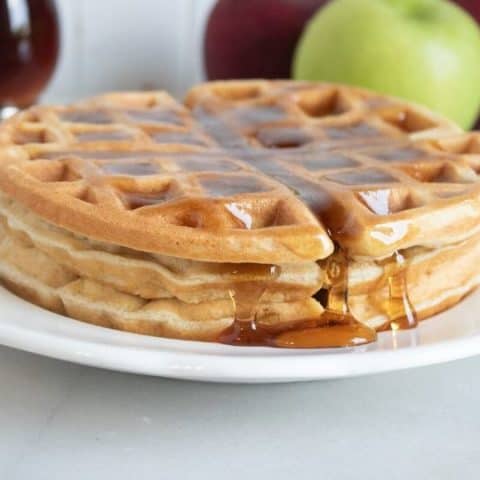 Bacon waffles are the ultimate sweet and savory combination. This Belgian bacon waffle recipe is going to win you over with one single bite. A sweet waffle with a hint of savory from the bacon.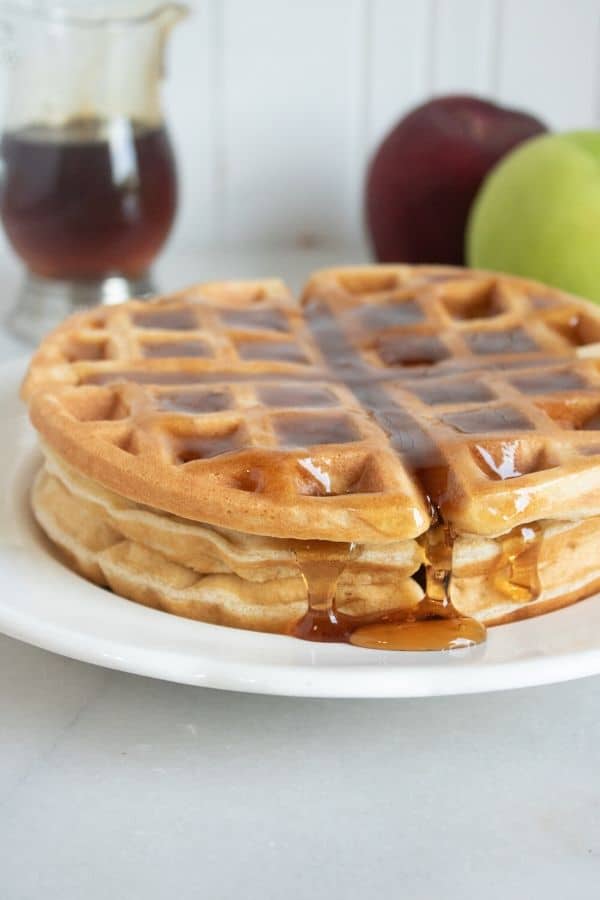 Bacon Waffles
Isn't everything better when bacon is involved? Grab your waffle iron and let's get to making some homemade bacon waffles that melt in your mouth.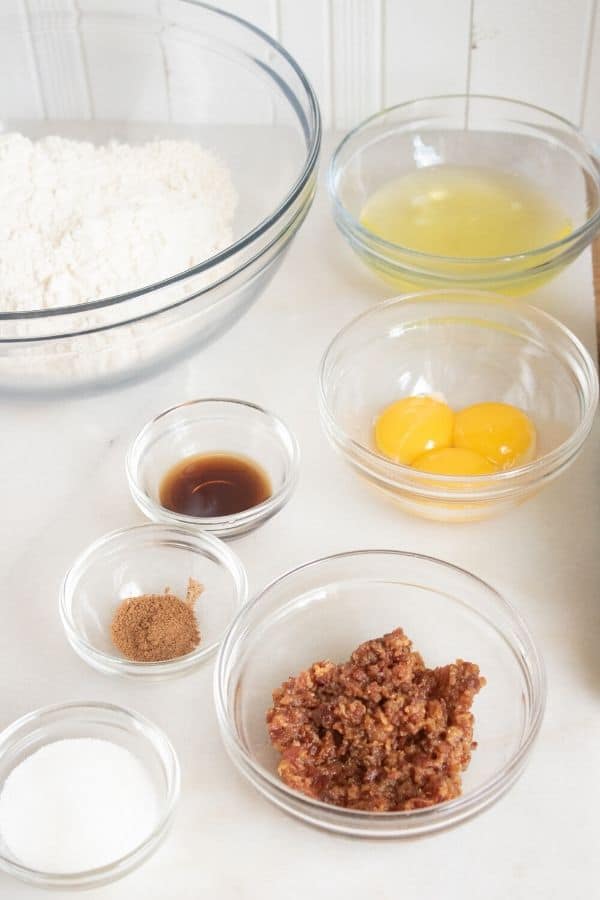 Is It Hard to Make Homemade Bacon Waffles
No, it is really easy to make homemade bacon waffles. You just need basic pantry essentials to whip up, light and fluffy homemade waffles.
Grab a fork and dive right into these loaded waffles.
What Is The Best Bacon To Use For Maple Bacon Waffles
You want to use quality bacon. Just cook it up until it is nice and crispy. You don't want it to be soft, as it will leave a chewy texture to your waffle.
Crispy is best and then you will chop it up really fine or even pulse it in a food processor. If you leave big pieces, it will offer a different texture to your homemade waffles.
Waffles and bacon are a great combo, so why not add bacon into your waffle mix.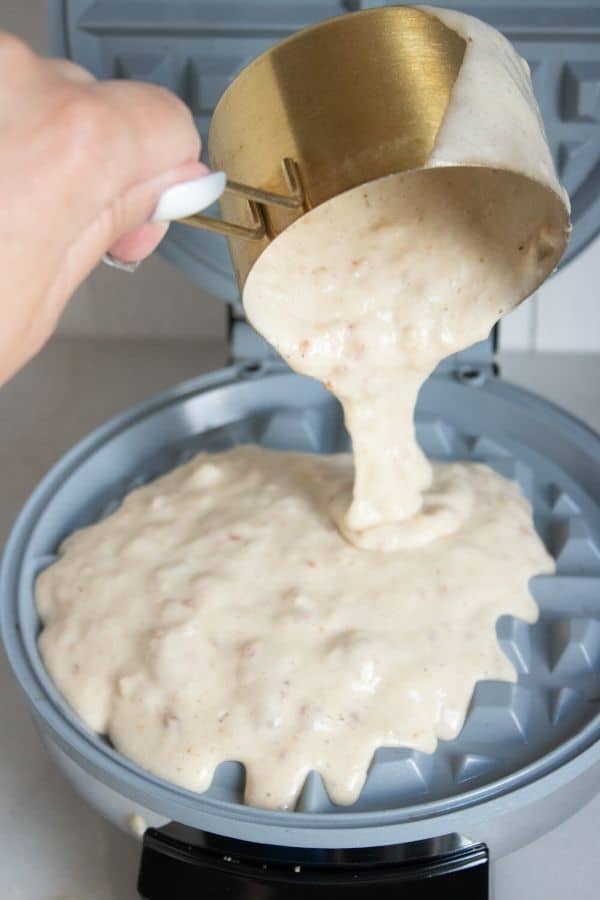 How To Make Bacon Waffles
Start by cooking up your bacon until it is crispy, then chop up really fine or place in a food processor. Set aside.
Now you want to whip up your egg whites until fluffy. Add in sugar and mix.
In a new bowl, add all other ingredients and mix until well combined. Toss in bacon, and then fold in the egg whites.
Pour into your greased waffle iron and cook accordingly to your iron.
Craving More Waffle Recipes
Carrot Cake Waffles | Love carrot cake? These carrot cake waffles are loaded with tender carrots, spices and more.
Pumpkin Waffles | Pumpkin waffles are the perfect fall-flavored waffle. If you love pumpkin these waffles are a must.
Healthy Strawberry Waffles | Here is a strawberry waffle recipe that is healthy and something that you don't have to feel guilty about.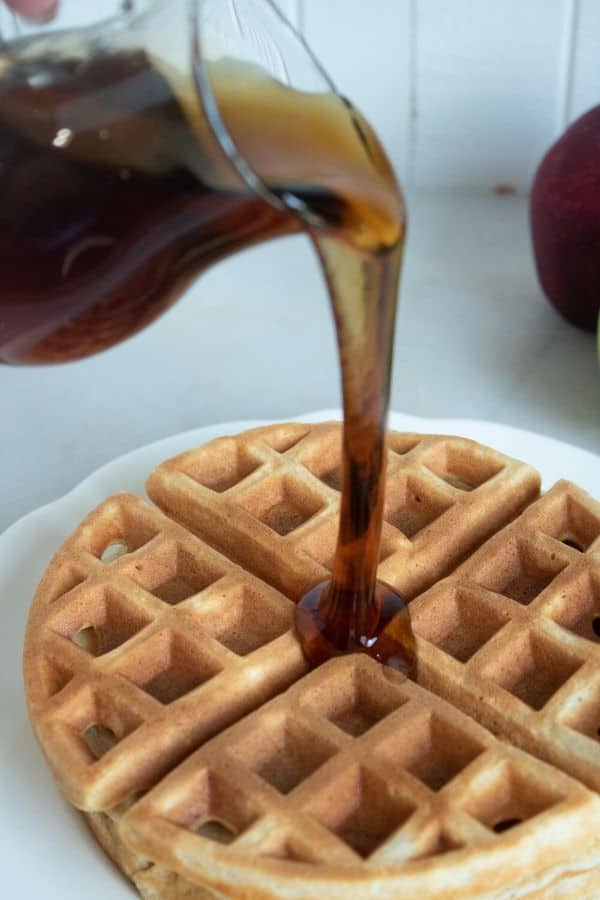 What Are Some Toppings For Waffles
Maple Syrup
Crumbled bacon on top
Fried chicken
Sliced apples or apple pie filling
Berry compote
Powdered Sugar
As you can see you have tons of options, and this skims the surface. Create a waffle that fits your exact flavor needs and wants.
Why Do You Flip Waffles
You will find some waffle irons will have you flip the batter after you have cooked it for a short time. The reason being is that some waffle irons need to be flipped for it to spread the batter evenly.
You can use less batter when you flip as it spreads and creates the perfect waffle.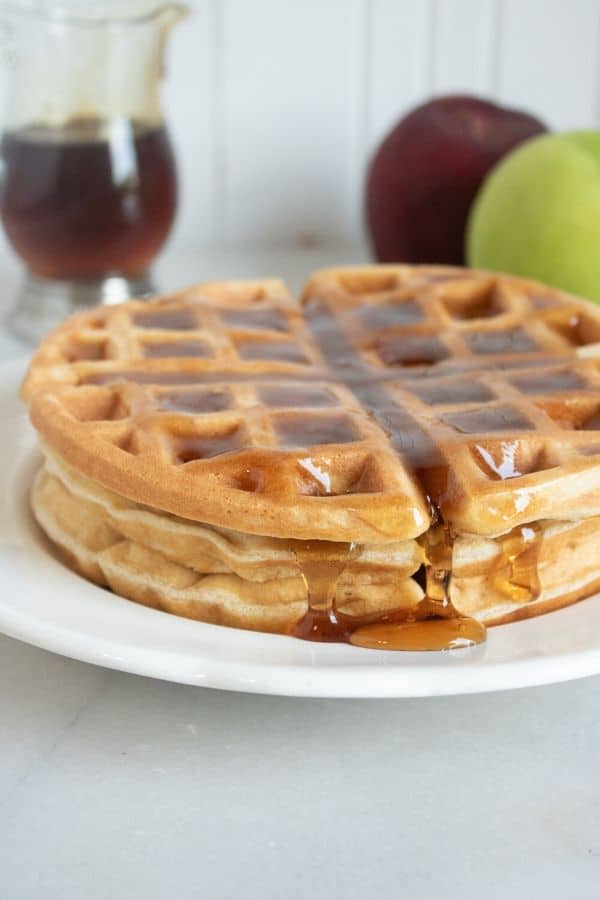 Can I Make These Waffles With Waffle Mix
If you want to make bacon waffles with a waffle mix, you can do that. Then add in the crumbled bacon, nutmeg, and applesauce. This is going to help give your waffles a similar flavor.
I find that a homemade waffle mix is best but you can try using a boxed waffle mix if you prefer to cut a corner. You might need to use less applesauce so it doesn't make your waffles to liquidy.
I think you will love this bacon recipe!
Can I Double This Waffle Recipe
This recipe will make 6-8 waffles depending on how large you make your waffles. You are more than welcome to double the recipe if you would like!
Just mix in one big bowl and then cook in your waffle iron as directed.
Can You Freeze Leftover Waffles
Yes! Allow your waffles to cool and then place them on a cookie sheet and flash freeze.
Then toss waffles in a sealable freezer bag or airtight container and freeze for up to three months.
Best Way To Reheat Leftover Bacon Waffles
Toss in the microwave for a quick reheat or opt to reheat in the toast or oven. The toaster will give it a nice crispy texture which I enjoy.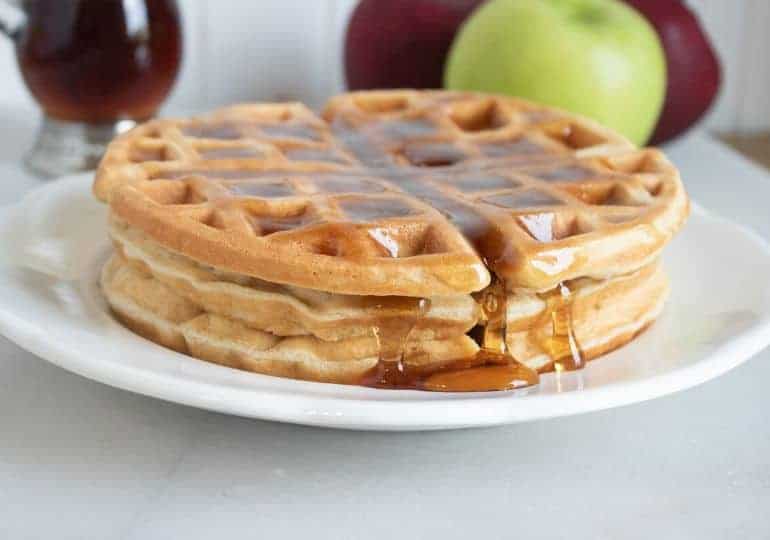 Bacon Waffle Recipe
Servings 6 -8 waffles
Bacon waffles are the ultimate sweet and savory combination. This Belgian bacon waffle recipe is going to win you over with one single bite.
Ingredients
• ½ pound bacon cooked crisp and chopped in food processor
• 3 large eggs separated
• 2 tablespoons sugar
• 2 ¼ cups all-purpose flour
• 1 tablespoon baking powder
• ½ teaspoon salt
• ½ teaspoon ground nutmeg
• 1 cup applesauce
• 2 cups milk
• ¼ cup maple syrup
• ¼ cup vegetable oil
• 2 teaspoons vanilla extract
Instructions
Start by frying up your bacon in a pan, and transfer to a plate with paper towel to soak up the grease.

Now chop the bacon really fine or toss in food processor and pulse.

In a stand mixer beat your egg whites until they are a stiff peak, make sure to add in the 2 tablespoons of sugar at the end of mixing. Set aside.

Now in a new bowl add all your other ingredients, along with egg yolks. Stir until it is mixed, do not overmix the batter.

Fold in the egg whites until they are incorporated.

Spoon mixture into your waffle iron and cook according to your waffle iron.

Top as desired, with whipped topping, nuts, fruit, berries, syrup, etc.
Nutrition
Serving: 1gCalories: 462kcalCarbohydrates: 48gProtein: 18gFat: 21gSaturated Fat: 5gPolyunsaturated Fat: 15gCholesterol: 103mgSodium: 872mgFiber: 1gSugar: 14g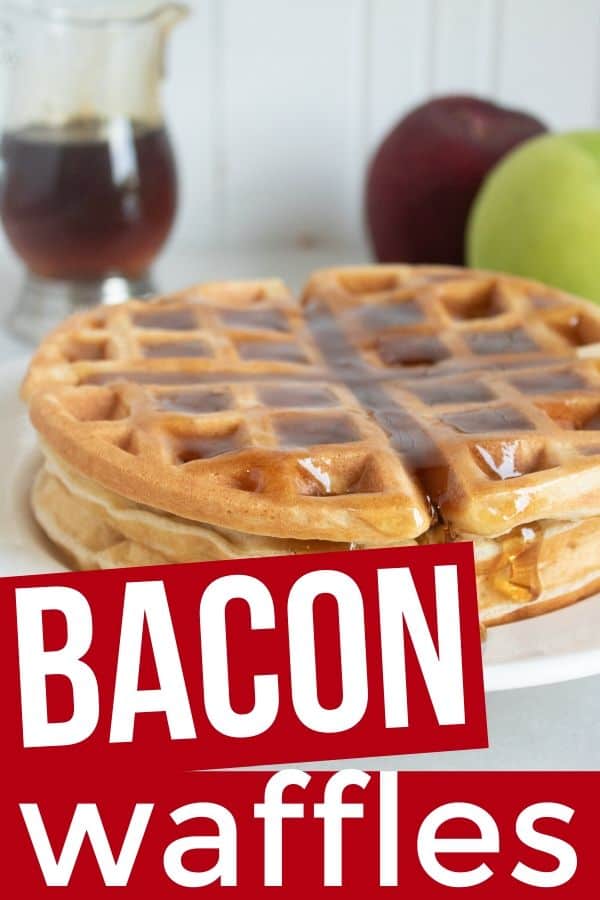 Reader Interactions