Carrot Cake Waffles is a homemade waffle loaded with flavors of carrot cake in every bite. My carrot cake waffles recipe gives you soft and fluffy waffles loaded with carrot cake spice.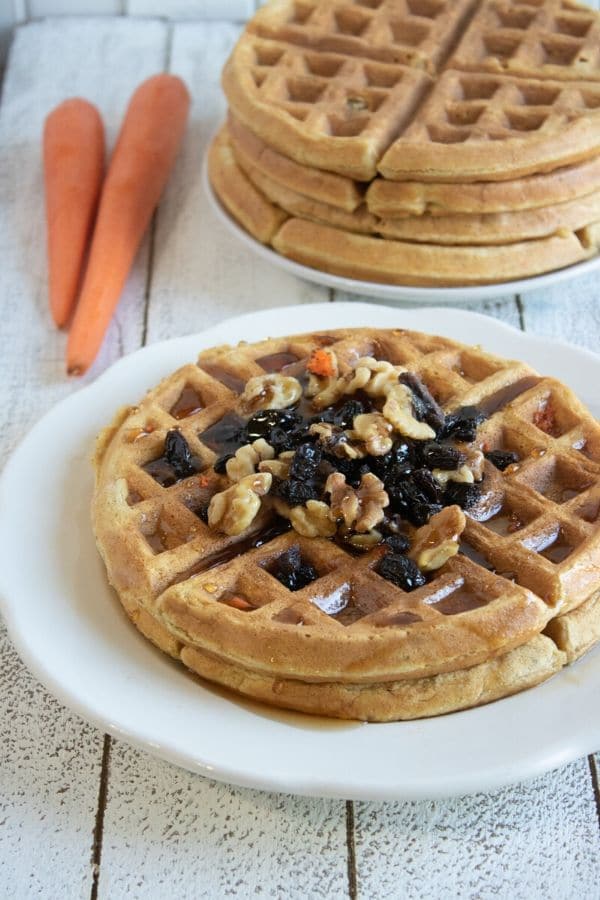 Carrot Cake Waffles
Who says you can't have cake for breakfast? These homemade carrot cake waffles are like eating cake for breakfast!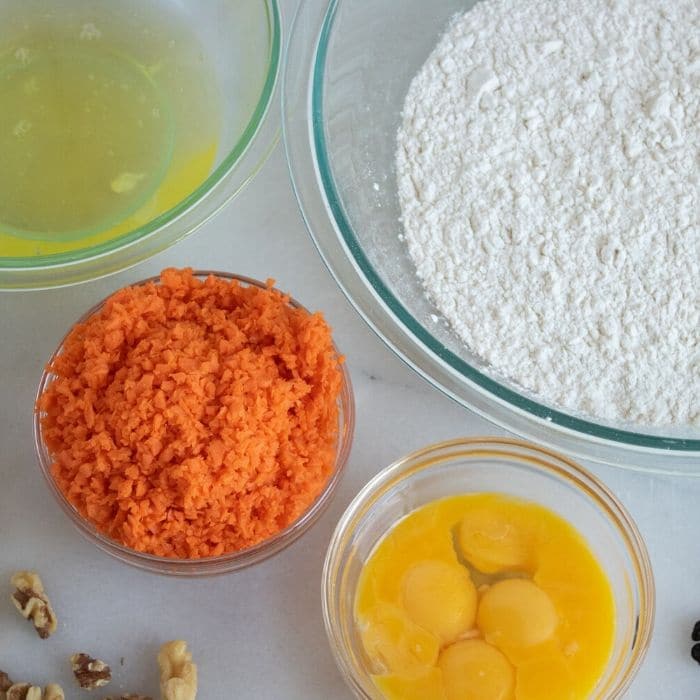 Waffle Iron Carrot Cake Waffles
Grab your waffle iron and a bowl and let's mix up one delectable breakfast recipe. Try my pumpkin waffles too!
How To Make Carrot Cake Waffles
Start by whipping up your egg whites in a stand mixer or with a hand mixer. You want to get the whites nice and fluffy.
Then add in all the other ingredients in a bowl and mix up the batter.
Now, fold in the egg whites carefully.
Then cook waffles according to your waffle iron.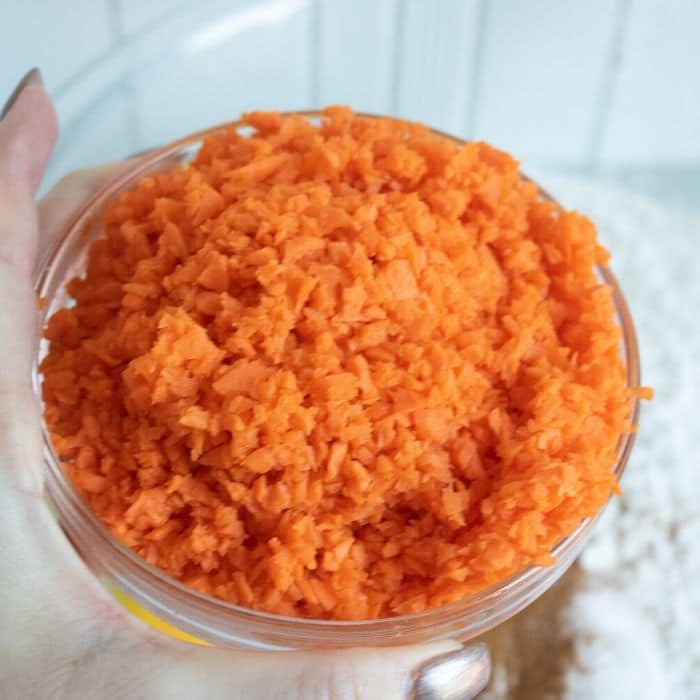 Do These Waffles Have Actual Carrots In Them
These carrot cake waffles do have grated carrots in the batter. I find using a regular grater to finely shred your carrots works great.

It really adds incredible texture and flavor to the waffles. Plus we couldn't call these waffles what they are without it.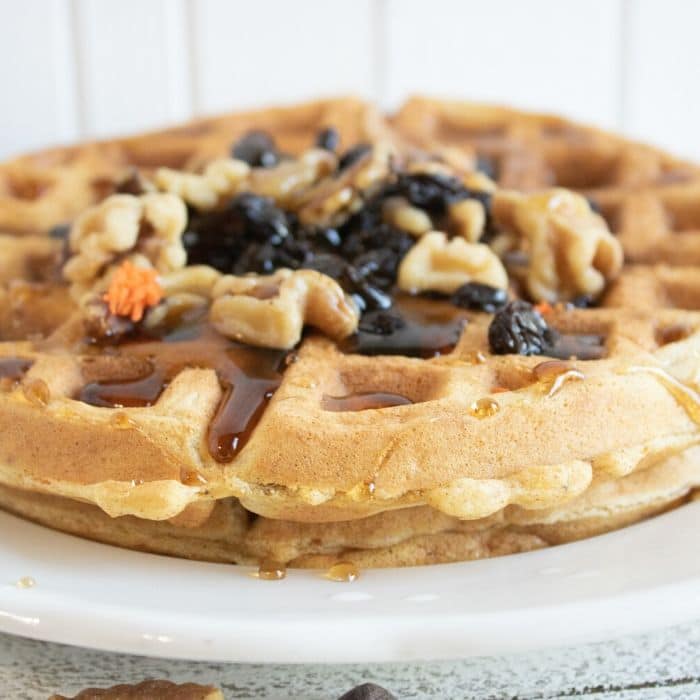 Best Way To Prevent Waffles From Getting Soggy
You have a few options here. All work really well at preventing your waffles from going soggy!
Place on a cooling rack, in one single layer.
Turn oven on to 200 degrees and lay waffles directly on the middle oven rack.
Place waffles on a cookie sheet and toss in oven at 200 degrees.
All of these ideas will keep your waffles warm as you finish cooking up the rest of the batter. Them too with butter, syrup or your favorite toppings.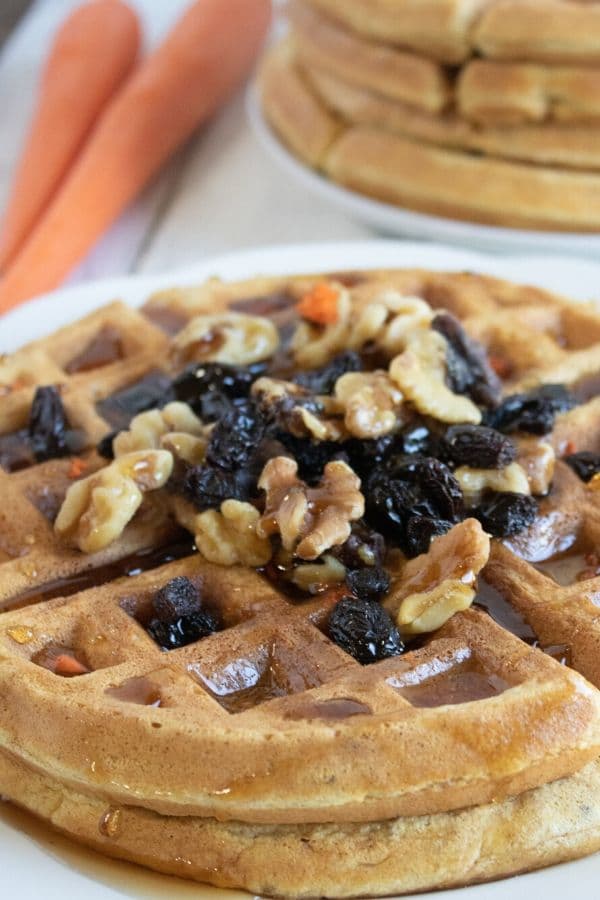 Toppings for Carrot Cake Waffles
Nuts
Raisins
Cream cheese frosting
Whipped cream
Fresh fruit
Fruit compote or Jelly
Etc
Toppings for these homemade carrot waffles are endless. Feel free to add any and all your favorite toppings.
Can You Freeze Waffles
Absolutely! Freezing these carrot waffles is easy. Just cook waffles and then lay them out on a cooling rack. Allow them to cool off then lay out on a cookie sheet.
Toss the waffles in the freezer on the pan for a flash freeze for 15-30 minutes. Then place waffles in a freezer bag.

You can freeze waffles for up to 3 months.
Best Way To Reheat Frozen Homemade Waffles
Place waffles in a 250-degree oven for 10 minutes. This keeps Waffles crispy.
Opt to pop in the toaster for a nice toasty texture.
You can microwave but it will change the flavor a bit.
You have many options to do. I tend to do the oven for the best texture!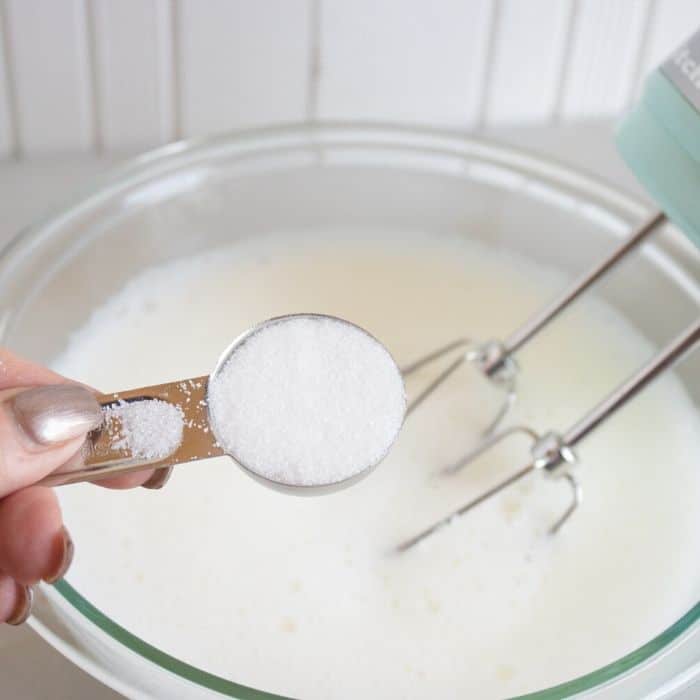 Belgian Carrot Cake Waffles
These are Belgian carrot cake waffles. The egg whites help to make these waffles insanely light and fluffy.
If you have a deep dish waffle iron, even better for thicker waffles! I used a hand mixer to whip up the egg whites.

Looking for more breakfast recipes
Can I Make These Carrot Waffles With Boxed Waffle Mix
I have been asked if you can dress up boxed waffle mix to taste like these carrot waffles. The truth is I haven't tried!
If you want to try, I would add in the spices, carrots and raisins and nuts. Then do your regular waffle batter.
I can't guarantee it will work but I would imagine it could work.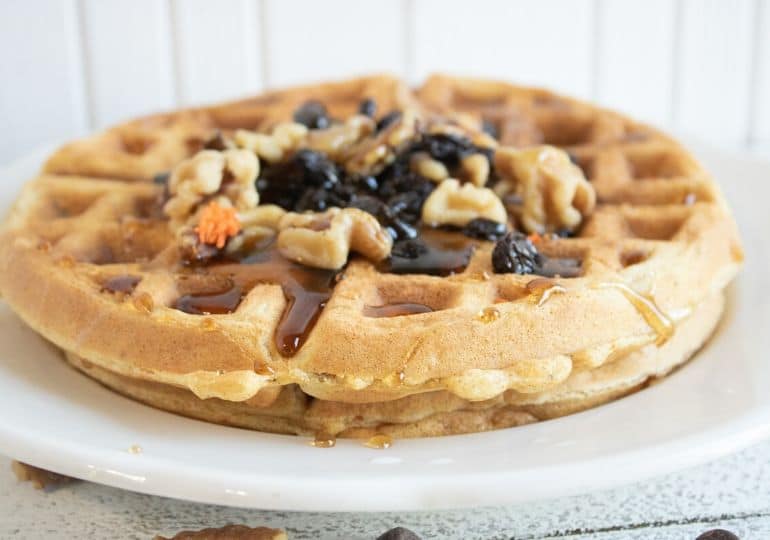 Carrot Cake Waffles
Servings 8 waffles
Carrot Cake Waffles are a homemade carrot waffle with warm spices, carrots, nuts and the rich flavor of carrot cake in every bite. Light and fluffy homemade waffles at your fingertips.
Ingredients
• 3 large eggs separated
• 2 tablespoons sugar
• 2 ¼ cups all-purpose flour
• 1 tablespoon baking powder
• 1 ½ cups grated carrots
• 1 cup raisins
• ½ cup walnuts chopped
• 2 cups milk
• ¼ cup vegetable oil
• 2 teaspoons vanilla extract
• ½ teaspoon salt
• 1 teaspoon ground cinnamon
• 1 teaspoon ground allspice
• ½ teaspoon ground cloves
Instructions
In a stand or handheld mixer you want to beat your egg whites until they form still peaks. Then add in the the 2 tablespoons of sugar. Make sure it is blended in, and set egg whites aside.

In a bowl add all remaining ingredients including the egg yolks. Whip up the mixture, making sure not to overmix.

Fold in egg whites just until it is incorportated.

Cook your waffles according to your waffle iron.

Top with your favorite condiments and enjoy.
Notes
Makes 6-8 waffles depending on your size of waffle iron.
Nutrition
Serving: 1gCalories: 380kcalCarbohydrates: 53gProtein: 10gFat: 15gSaturated Fat: 2gPolyunsaturated Fat: 12gCholesterol: 75mgSodium: 391mgFiber: 3gSugar: 16g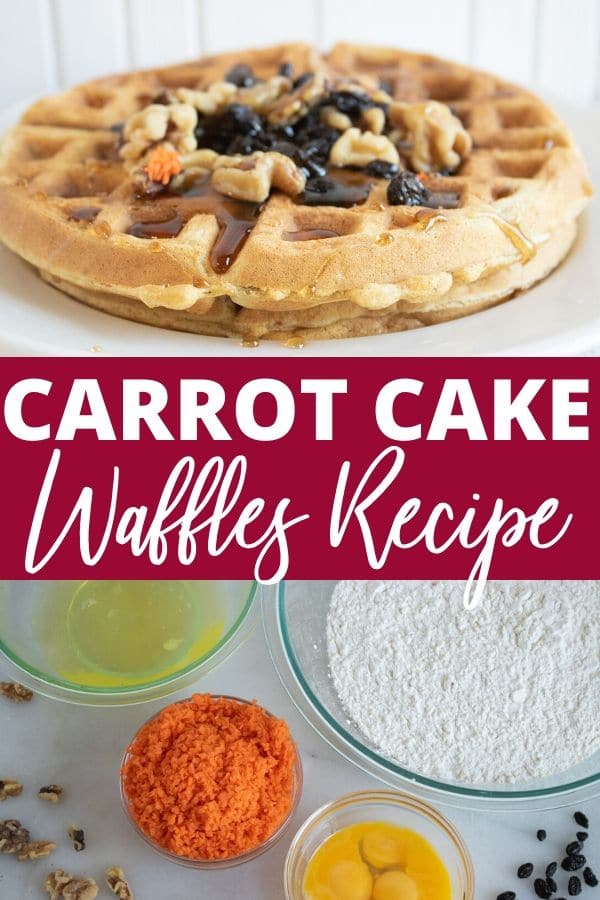 Reader Interactions