Instant Pot Sticky Buns are the perfect breakfast or mid-day snack. Homemade pecan sticky buns with a caramel sauce. You proof your dough right in the Instant Pot!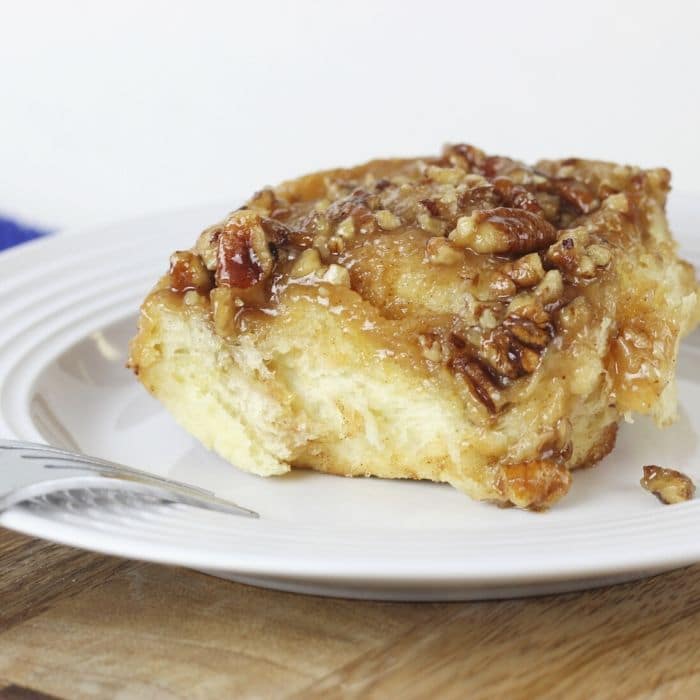 Instant Pot Sticky Buns are the perfect breakfast or mid-day snack. Homemade pecan sticky buns with a caramel sauce. You proof your dough right in the Instant Pot!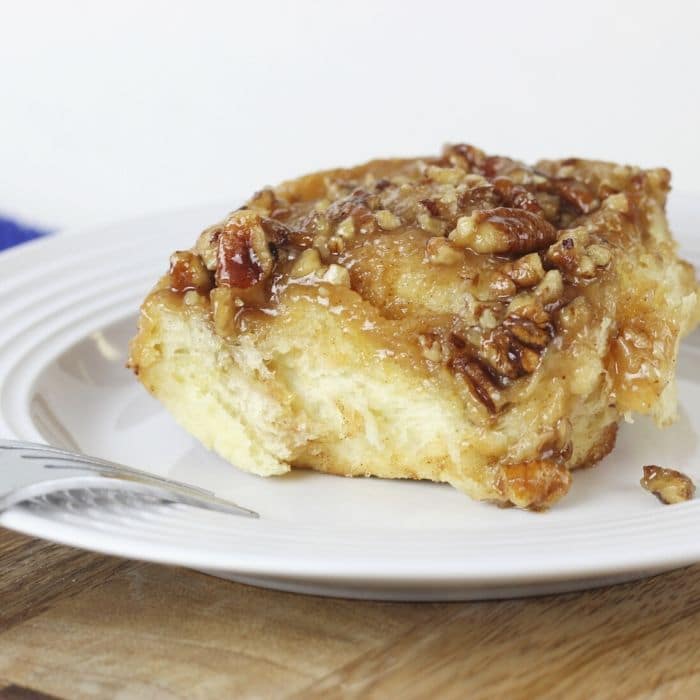 Pecan Sticky Buns
Pecan sticky buns are something my son enjoys eating. Tender and butter dough that has a cinnamon swirl in the buns.
Then the homemade caramel sauce on the bottom throws these sticky buns to a whole new level. Check out my Instant Pot bread or Easter sweet bread recipe as well.
How Do You Make Sticky Buns In the Instant Pot
You will proof your dough in the Instant Pot using your yogurt setting. It helps to speed up the process of your bread rising. This recipe is fantastic.
Can I Make These Caramel Sticky Buns Without An Instant Pot
Yes, you can just let your dough rise on the counter in a bowl. It will take a bit longer. But these rolls will turn out SO good no matter how you choose.
I make this homemade sticky bun recipe often, and before the Instant Pot, I always made them on the counter.
What Is The Difference Between Sticky Buns and Cinnamon Rolls
The difference between sticky buns and cinnamon rolls is sticky buns have a bottom layer, in this recipe, it is a caramel based sauce. It will give your rolls a sticky glaze, and you add in crunchy pecans.
While cinnamon rolls and sticky buns are similar there is some slight difference.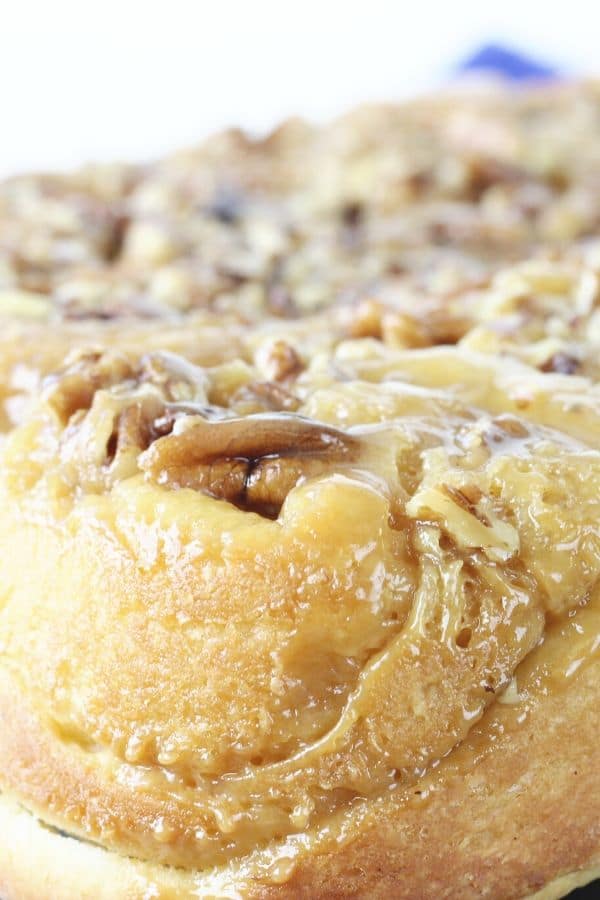 How To Make Pecan Sticky Buns
Dough | Making the dough for sticky buns is key. It is the base of your buns and I use eggs and butter for a rich and tender sticky bun roll.
Allow Dough to Rise | Rising your dough in the Instant Pot is going to speed up the rising process. I used the yogurt setting. This works great to speed up the proofing of the dough.
Filling and Caramel Glaze | You will want to make both the filling for rolls and the glaze. You will store the caramel glaze sauce in the fridge until you are ready.
Roll Out Dough | Now you want to work on rolling out the dough, sprinkling in the filling and then rolling up the dough tight.
Prep Rolls | Pour in caramel, top with pecans in the pan, and then slice rolls and cover and allow the buns to rise for 30 more minutes before baking.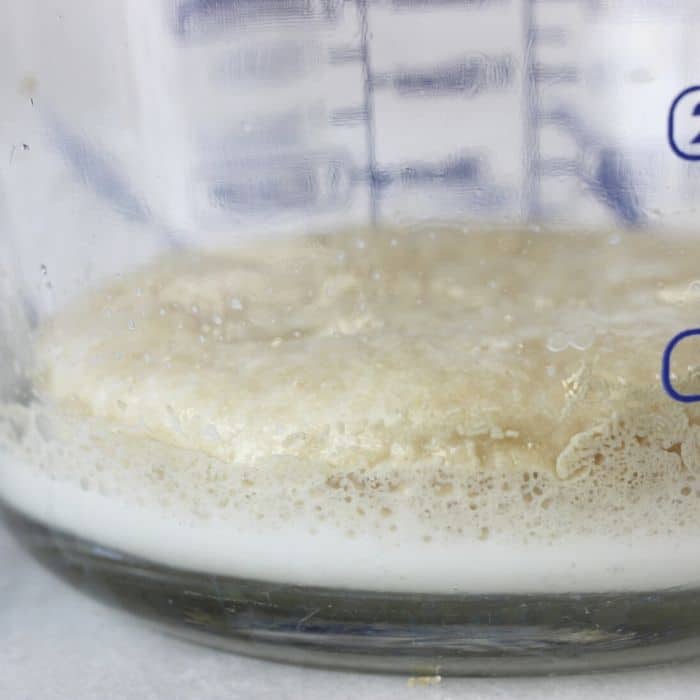 How To Know If Your Yeast Is Working
As you can see in this picture, the yeast will bubble up. I heat up the milk slightly and then add a bit of sugar.
Then sprinkle in the yeast and let it sit for 5-10 minutes. You want to make sure the yeast bubbles.
If the yeast does not become bubbly then it didn't work. The caramel rolls will not rise without active yeast.
More Instant Pot Desserts
How To Store Caramel Pecan Rolls
These caramel pecan rolls are best when served within 48 hours of being made. You can store in an airtight container at room temperature.
Or pop them in the fridge in an airtight container for up to 4 days. This will prolong the shelf life, but they will be stiffer if you don't warm them up in the microwave.
Can You Freeze Sticky Buns
Yes, you can freeze your cooked sticky buns for 2-3 months when stored properly. Place in a freezer-friendly container.
Then thaw in the fridge the night before you plan to eat, or warm them up in microwave right before serving. A perfect Instant Pot breakfast recipe!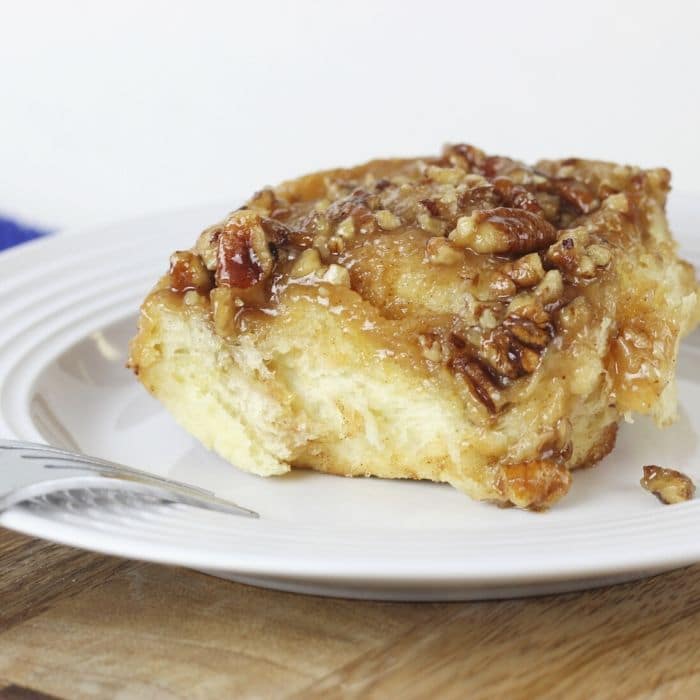 Instant Pot Pecan Sticky Rolls
Servings 12 rolls
Instant Pot Sticky Buns are the perfect breakfast or mid-day snack. Homemade pecan sticky buns with a caramel sauce. You proof your dough right in the Instant Pot!
Ingredients
For Dough
1 packet active dry yeast 2 tablespoons
1/4 cup granulated sugar
1/3 cup milk
3 large eggs room temperature
1 stick of unsalted butter room temperature
2 1/2 cups all purpose flour + Extra
1 teaspoon salt
For Filling
1/4 cup brown sugar
1/4 cup granulated sugar
1 teaspoon cinnamon
For Caramel Sauce
1 stick of unsalted butter
1 cup brown sugar
1/2 cup heavy whipping cream
1/2 cup chopped pecans
Instructions
First I make the filling for rolls. In a bowl mix your sugars and cinnamon together, and stir well. Set aside until ready to use.

In a container, you want to pour your milk and heat for 20-30 seconds, make sure to touch the milk to ensure it is not hot, you want it to be just warm.

I then take around a teaspoon of the 1/4 cup sugar for the dough portion to put in with the milk. Then pour your yeast over the top and let it sit for 5-10 minutes. It will begin to bubble up, that is how you know your yeast is activated.

Grab a bowl pour the milk mixture in, and stir in your eggs. Once mixed add in your flour, sugar and salt a little at a time until mixed.


Now you want to slice the softened stick of butter and work it into the dough until fully mixed.

You want the dough to form a ball in the center of bowl pulling away from sides. If your dough is too wet add a little flour at a time.

Now grab your Instant Pot and pour a teaspoon of oil in the pot. Rub around to cover the bottom and half way up the sides. Drop your dough and turn place with a glass lid.

Select low on yogurt setting and let it sit for 45 minutes.

The dough will rise and you can punch it down and lay it out on a floured surface. Then knead and work dough and roll it out into a long rectangle.

Add in your cinnamon filling and roll up the dough like a cinnamon roll.

In a pan on the stove add your stick of butter and let it melt. I did medium heat. Once melted add in the cup of brown sugar. Let it begin to simmer for 2-3 minutes. Then once the sugar has melted down you will remove from heat and whisk in your heavy cream.

Pour the caramel mixture into your pan and top with pecans. Slice the rolls and place on top of the caramel mixture.

Cover with a towel and let sit 20-30 minutes. Turn oven to 350 degrees and let it preheat as your rolls rise.

Bake for 10-15 minutes or until your rolls are done. I make my rolls thinner so they cooked faster.


Once cooked let cool for 5 minutes, then with sheet pan place on top of pan and flip carefully so the rolls show pecan mixture on top.
Notes
You can make the caramel sauce early, I did while my dough was in Instant Pot, then stored the caramel sauce in the fridge until I was ready to pour in pan.
Nutrition
Serving: 1bunCalories: 423kcalCarbohydrates: 49gProtein: 6gFat: 24gSaturated Fat: 13gPolyunsaturated Fat: 10gCholesterol: 99mgSodium: 209mgFiber: 1gSugar: 27g
How To Make Sticky Buns Without Instant Pot
Follow the recipe as directed, and then when it comes time to let the dough rise, just cover a greased bowl.
Let it sit in a warm place for 1-2 hours. Then punch down and roll out the dough as the recipe calls for.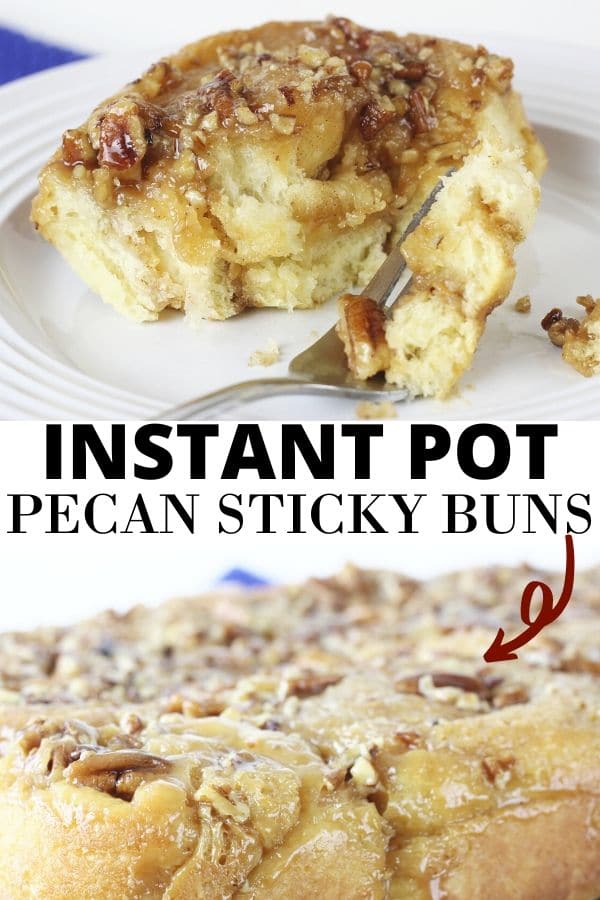 Have you ever made Instant Pot Sticky Buns Before?
Reader Interactions