Instant Pot Bread is the easiest way to get that homemade bread without any fuss. Tender and light white bread that is sliceable and great for serving up for dinner.
This Instant Pot Bread Recipe is so simple and only requires 4 ingredients! No kneading or electric mixer required.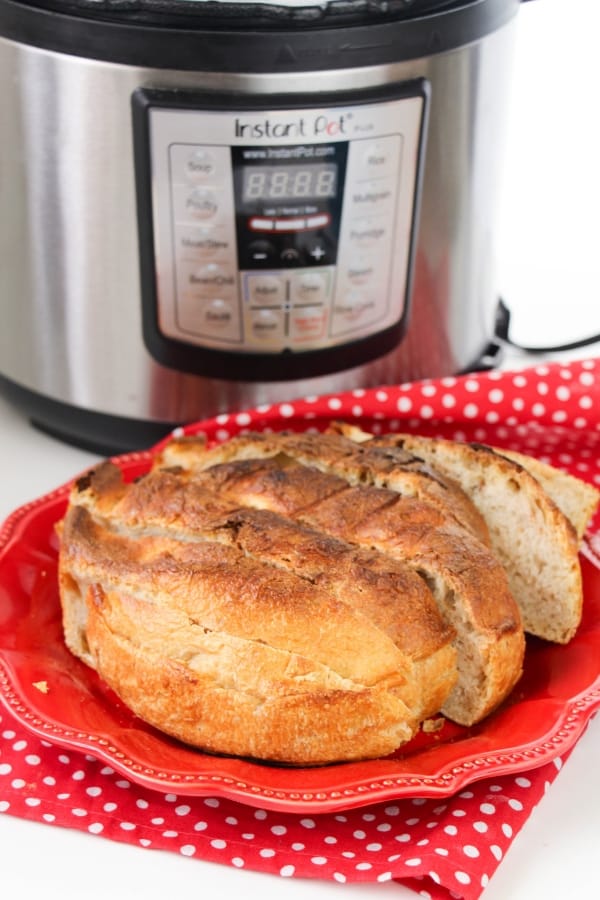 We LOVE homemade bread in our home. Pair with butter and our day is made. I wanted to try my hand at making bread in Instant Pot and I was pretty impressed with the turnout.
Try my Instant Pot Sticky Buns recipe! This is a fantastic recipe. Or if you want a sweet bread recipe try my Italian Easter bread recipe. 
Craving More Instant Pot Recipes
Instant Pot Bread
I have always had trouble making bread using my KitchenAid Stand Mixer. It always seems to overmix and leaves my bread tough and a flop.
So using a bowl and wooden spatula always is the route I take when working with dough for bread. 
I had this cooking while I prepped dinner on the stove, and it all turned out perfectly. Baking bread is something that takes trial and error, but this recipe is so simple.
I used all-purpose flour, and within no time my Pressure Cooker was saying the bread is ready. 
No Knead Bread Recipe 
This is a no-knead bread recipe, so it simplifies the process. Simple, easy, and a must make recipe. No having to knead your dough will shave off time of prep, and no give your muscles a workout! 
Tips for Making No-Knead Bread
When working with no-knead bread you need to ensure that you allow your dough to rise for at least two hours. This is what will give your bread the power it needs to bake up tender and light.
This gives the yeast the time it needs. 
How to Know Your Yeast Is Proofed 
Your yeast when mixed with the water and other ingredients will begin to foam. Generally, this happens within three to five minutes. If you don't see your yeast is getting bubbly it could mean that your yeast has gone bad or expired. 
If your yeast doesn't bubble up it will not rise and cook properly. 
Why Did My Bread Stick To the Pan
Make sure to line with parchment paper
and grease your pan. This will help prevent any sticking during the rising of the dough and baking process. 
How to Store Leftover No Knead Bread 
You can leave your bread at room temperature in a sealable bag or airtight container. Your bread will last 4-5 days on the counter, and it will begin to get dry. 
 Can I Freeze Instant Pot Bread 
Yes, you are welcome to freeze your loaf of Instant Pot Bread. Just allow the bread to cool and then wrap in aluminum foil then place in an airtight container or freezer bag. You can store the bread for up to three months in the freezer. 
To use, just sit out on the counter and allow to thaw, then slice and serve. 
How to Measure Flour Properly 
You want to spoon your flour into your measuring cup. Use a knife to use as a straight edge to level off the flour once you scoop it into the measuring cup. 
If you don't measure your flour properly you could end up with a dry over floured dough or even under floured and gooey.  

When to Serve No Knead Bread 
You can serve this for dinner, use to make sandwiches, or a treat to break up the day. This no-knead bread is mild in flavor and pairs with almost any recipe. 
Have you made Instant Pot bread yet? 
Yield: 1 loaf
4 Ingredient No Knead Instant Pot Bread Recipe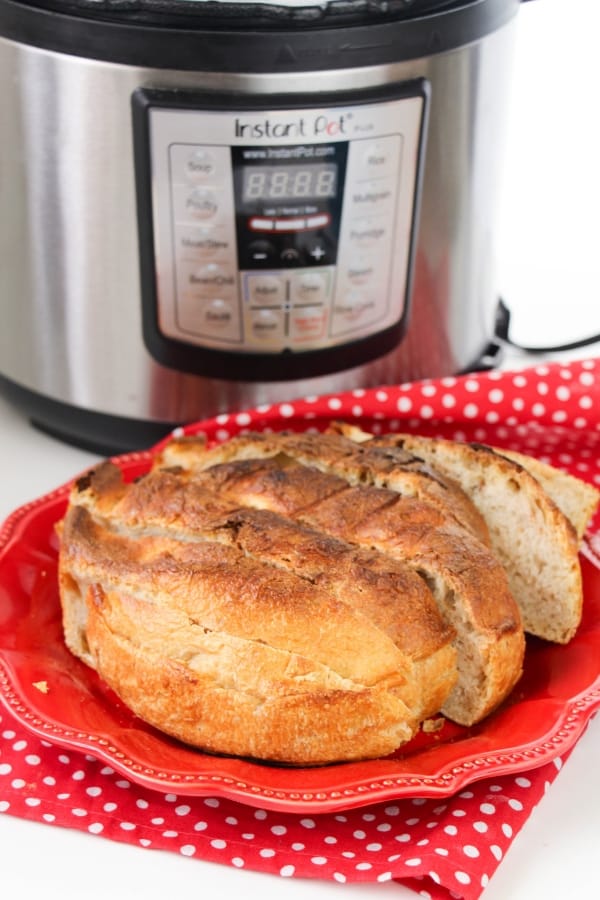 Super easy 4 ingredient Instant Pot Bread! No knead bread is a going to make this a no fuss recipe!
Total Time
2 hours
50 minutes
Ingredients
1 cup of warm water
1 1/4 teaspoons yeast
1/2 Tablespoons sugar
2 1/4 cups flour
Dash of Salt
Instructions
Start by lining with parchment paper and greasing your 6-8" cake pan. Make sure it easily fits into your Instant Pot.
Add in your trivet, and pour in 1 cup of water.
Then in a large bowl add your warm water, yeast and sugar, salt and let it proof for 3 minutes.
Then add in your flour and mix until it is mixed through.
Pour dough into your cake pan or springform pan (that is lined with parchment paper), and place in the Instant Pot and place the lid on top.
Set the dough in the Instant Pot and set the lid on top without sealing or use a glass lid. Give it 1-2 hours for the dough to rise. To speed up the rising process do yogurt setting on LOW for 30 minutes (with a glass lid on).
Once the dough has doubled in size, lay aluminum foil over the top of bread gently not tight, and then secure your Instant Pot lid and do manual or pressure cook setting (HIGH PRESSURE) for 45 minutes.
Natural release for 15 minutes.
Then once the bread is done, I toss under the broiler in the oven for 3-5 minutes to offer that golden brown crust. This part is optional.
Notes
If you are worried about yeast not being fed feel free to add 1 tablespoon sugar to yeast when you allow it to proof.
Not everyone has yogurt setting so if you do use it on low and it will speed up the process of the dough doubling in size. Just make sure it is on the low setting on Yogurt and use a glass lid.
Recommended Products
As an Amazon Associate and member of other affiliate programs, I earn from qualifying purchases.
Nutrition Information:
Yield:
8 slices
Serving Size:
1 slice
Amount Per Serving:
Calories:

130
Total Fat:

0g
Saturated Fat:

0g
Trans Fat:

0g
Unsaturated Fat:

0g
Cholesterol:

0mg
Sodium:

399mg
Carbohydrates:

27g
Fiber:

1g
Sugar:

0g
Protein:

4g