Behold, the glorious list of Instant Pot Beef Recipes that you can make in your magical pressure cooker. From the classic Instant Pot ground beef recipes to beef stew and all things in between. Plus if you are curious what Instant Pot accessories you need, I got you covered as well. I shared all my top favorite must-have items as well.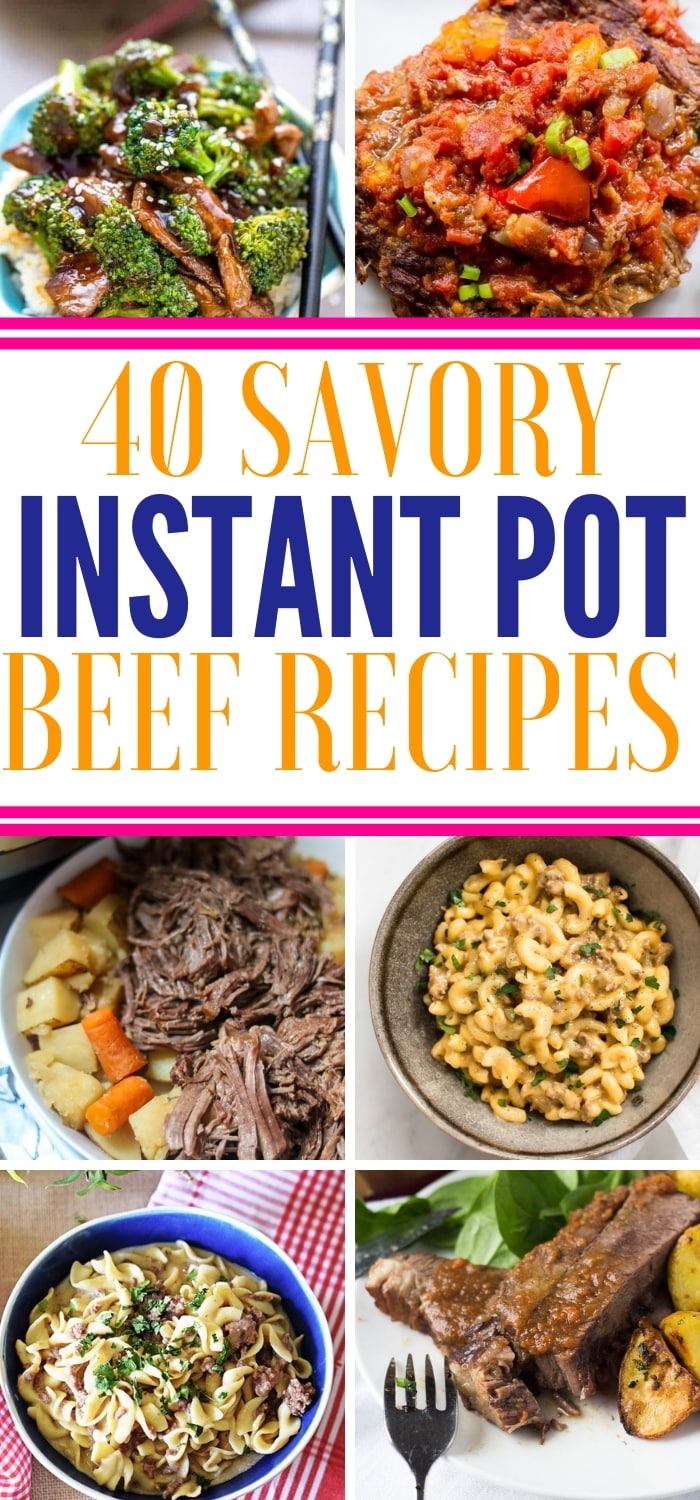 Nothing beats a quick and easy meal that is an Instant Pot Recipe! Why? Because the Instant Pot is the must-have kitchen device for cooking a savory pot roast in less than an hour or providing you that perfect chicken dinner in just 20 minutes. If you haven't taken the plunge on the Instant Pot yet, go for it! You are totally missing out!
Instant Pot Smart WiFi 6 Quart Multi-use Electric Pressure
Instant Pot DUO80 8 Qt 7-in-1
Skip ordering takeout and make a few of these beef Instant Pot recipes below. What I love probably the most about the Instant Pot is you don't have to thaw the meat, in case you spaced on setting it out of the freezer the night before. That is always a winning factor for me. Cause as a mom to a toddler, I feel that pregnancy brain is still lingering! Or should I ask, does it even go away?
The Best Instant Pot Beef Recipes

Instant Pot Swiss Steak is one savory dish that also has a side of red potatoes. Pair with a crisp side salad or a tender dinner roll and you have a dinner the whole family will dive in. It is a great recipe.
One Pot Instant Pot Beef Macaroni Soup is going to warm you up on a chilly day. It is hearty, meaty, and so comforting down to the broth.
Cheesy Taco Pasta is always a winner for the younger crowd. Tender pasta loaded with Tex Mex flavors in a cheesy sauce. Serve it up and you have a simple but satisfying meal.
Cheesy Heirloom Tomato and Ground Beef Pasta is another family favorite. If you are a fan of ground beef, cheese, pasta, and tomatoes you will fit right in with this recipe.
Serve up a tasty Beef and Broccoli in just 30 minutes for a lunch or dinner option. This is one delicious dinner that you will want to make soon!
Instant Pot Shredded Beef Tacos is another great dish. If you got a deal on your pot roast, give it a Mexican spin. Serve in warmed tortillas and top with your favorite condiments.
Dive into these Mozzarella Stuffed Meatballs. Whether you serve as sliders, pile on a hoagie bun, or top al dente pasta. These meatballs will steal the show. Pressure cooking at its finest.
Instant Pot Steak Rolls are keto friendly and a light dinner option. This keto Instant Pot dinner is going to satisfy in a nice way and leave you feeling energized for the day.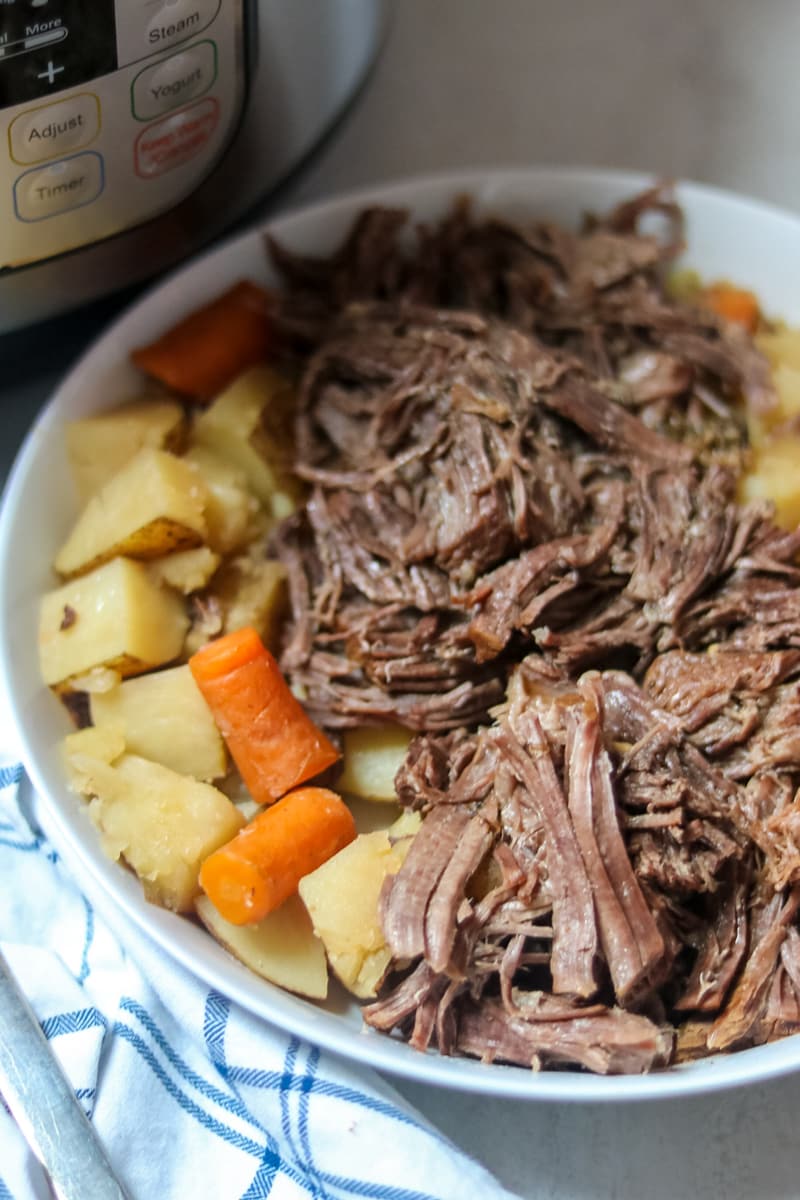 Skip the oven and try this Instant Pot Pot Roast recipe. Tender and juicy roast with potatoes and carrots as the side. So simple to whip up for that Sunday pot roast recipe.
Serve up a bowl of Instant Pot Spaghetti for your Italian cravings. You have meaty ground beef in a tomato sauce and you cook your pasta right in the pot.
Instant Pot Italian Beef is one hearty sandwich that is going to blow your mind on flavor factor. Hearty bread, tender beef, peppers and more.
Instant Pot Beef
Hearty, comforting, and downright delicious, is what you get with this Instant Pot Beef Stew recipe. With a little time, you can have a dinner to feed a crowd. Best of all, the leftovers are just as delicious.
Skip ordering takeout and make Instant Pot Mongolian Beef. This is going to taste better than your favorite restaurant and you might even have some leftovers!
Get that slow and simmered taste right in your Instant pot with this Chili recipe. Chili seasonings blend nicely with the beans and ground beef.
Instant Pot French Dips are perfect on a cold winter day. Au Jus sauce, for dipping on a starchy hoagie roll that is loaded with roast. Instant Pot Beef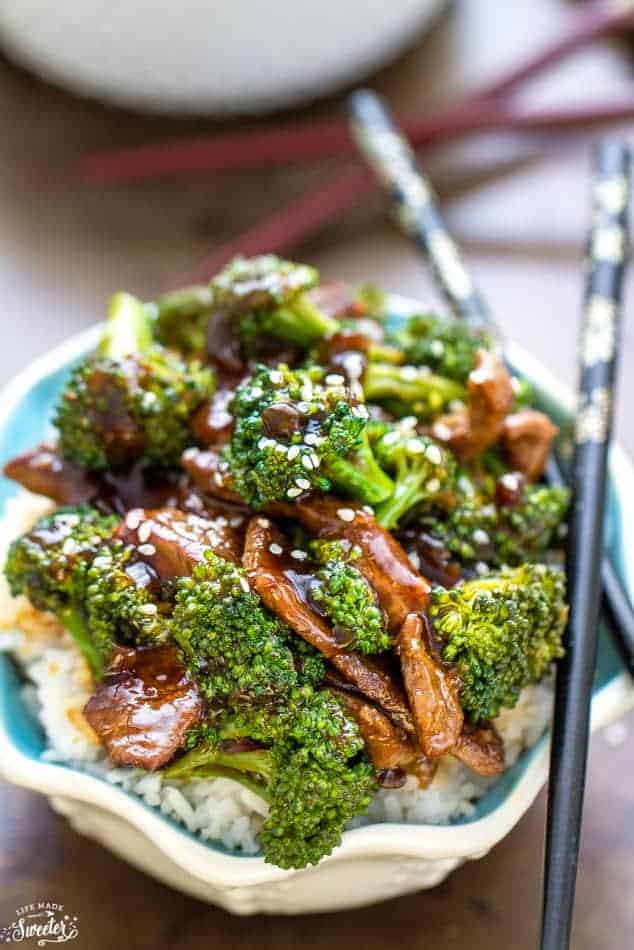 Whip up this Instant Pot Beef and Broccoli this week for a quick weeknight meal. One of my favorite pressure cooker recipes hands down.
Beef and Barley soup is a wonderful recipe to make on a cold chilly day. Or use this soup to meal prep for lunches and dinners on busy nights when you won't be cooking.
Make a batch of this Instant Pot Beef Pho! This is a 21-Day Fix Approved so it is a light and easy week night meal that makes you feel like you ordered takeout.
Pressure cooker beef curry is rich in flavor, juicy, and going to rock your dinner this week. If you love Japenese curry you will be jumping on the couch after you sink your teeth into this dish.
Beef Instant Pot Recipes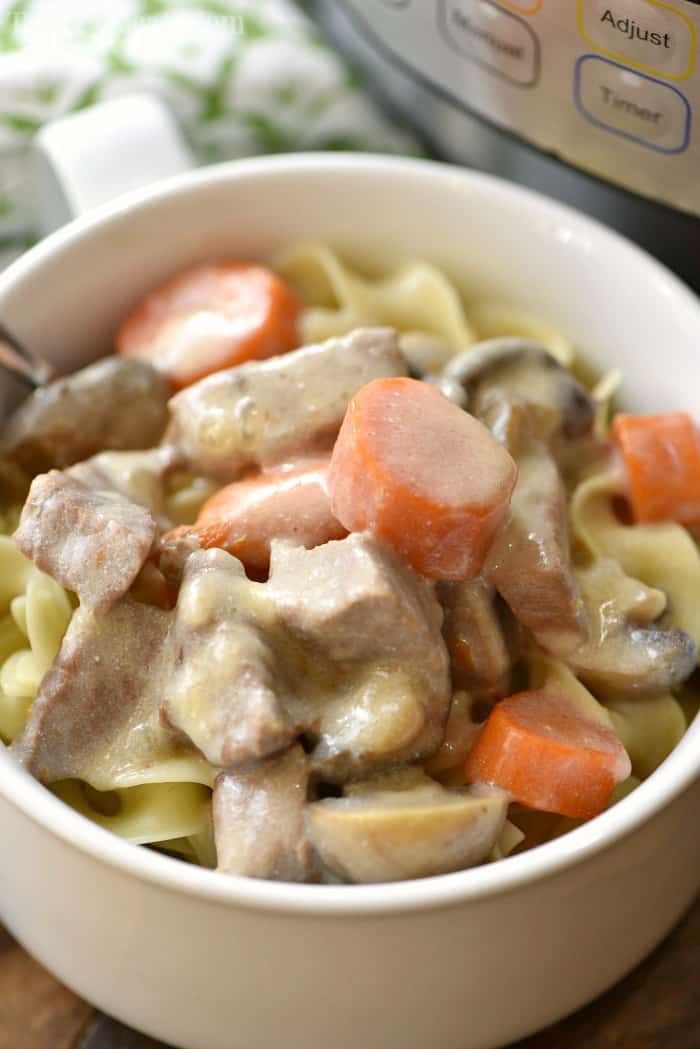 Another savory dinner idea is this Beef Stroganoff Pressure cooker recipe. Tender beef, mushrooms, carrots and of course pasta with a creamy sauce.
Quick, easy and affordable is what you will get with these Instant Pot Beef Tips. Serve over a bed of pasta or even rice for a simple weeknight meal.
Instant Pot Enchilada Casserole is a family favorite here. You have tender beef with tortillas, enchilada sauce for one savory dinner recipe.
Corned beef and cabbage is a really comforting dish that is great to be made around St. Patrick's Day. Or make it in the winter or fall for a hearty dinner.
Pressure Cooking Instant Pot Lasagna is a great way to give that Italian flavor right in your handy pressure cooker. Tender pasta, meaty sauce, and loads of cheese.
Easy Beef Ragu is one dish that brings pasta and tomato beef chuck sauce together. Serve over mashed potatoes, rice or even pasta.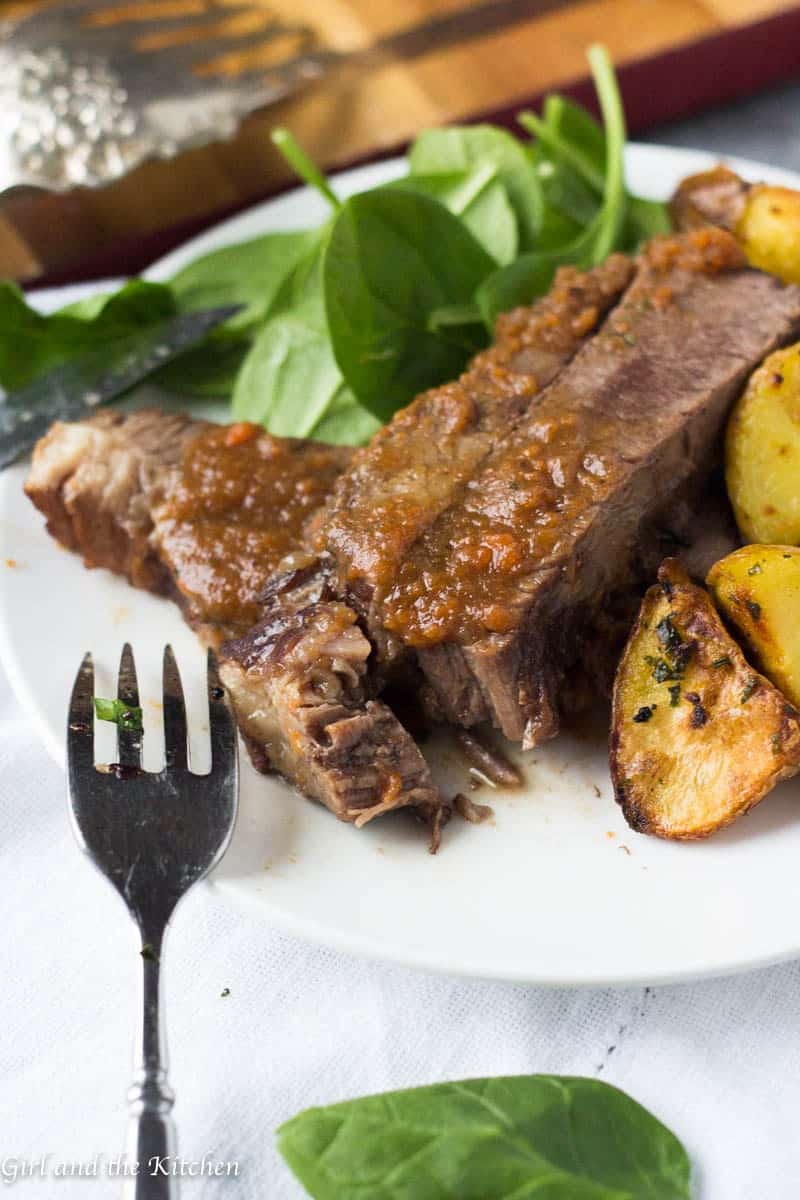 You will swoon over these Red Wine Braised Instant Pot Short Ribs. Let's say this is one extravagant meal that takes minimal effort on your part. A must make instant pot recipe for sure.
Feeling like Mexican? Steak fajitas is a one-pot recipe that is going to wow you. Skip the restaurant and stay home for a flavorful weeknight lunch or dinner.
Beef and Cabbage soup is such a vibrant soup to serve up. Low on calories, packed full of flavor and downright tasty. Give it a try the next time you want to make soup.
Feel like your grandma made you a homemade Beef Pot Pie! This pressure cooker recipe offers a meaty base with a soft and light crust topping to sprinkle on.
Instant Pot Honey Hoisin Beef gives you the perfect blend of savory and sweet. Serve over rice or even cauliflower rice.
Beef Vegetable soup is another great soup recipe to have on hand. A great way to get some veggies into your diet with a nice hint of beef throughout to make it more protein rich.
Instant Pot Ground Beef Recipes and More
Instant Pot Creamy French Onion Ground Beef and Noodles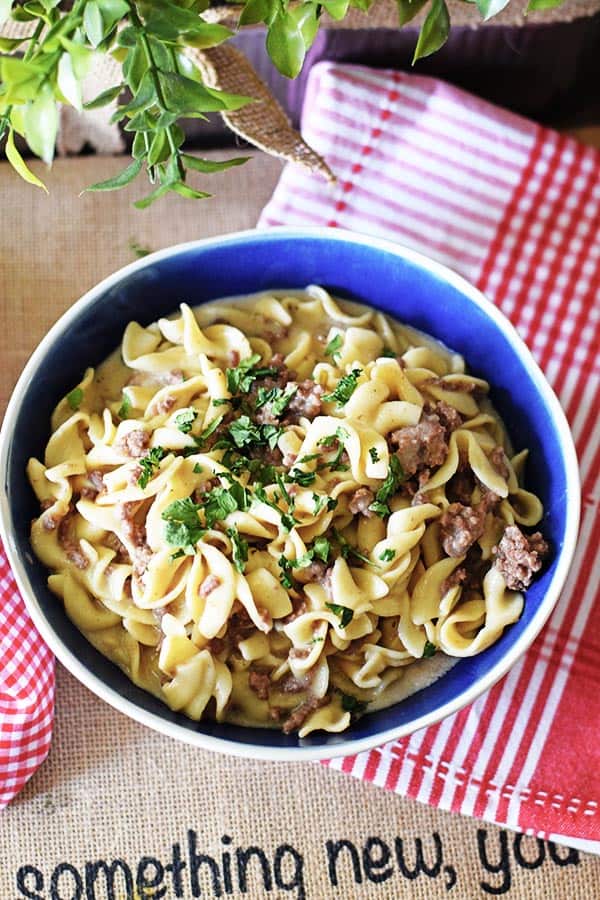 will give you that french onion flavor next to egg noodles, ground beef that will warm your belly.
You can't go wrong with a classic sloppy joe recipe. This ground beef Instant Pot recipe is going to win over kids and adults. Pair with some salty chips, vegetable salad, or any other tasty side.
Beef burritos are meaty, cheesy, and an absolute delight for your menu list. Plus beef burritos don't require many ingredients so it is an affordable dinner idea.
Here is an Instant Pot Stuffed Pepper Casserole that gives you the stuffed pepper taste but in a casserole form. The prep for this is so much easier than actual stuffed peppers.
Hamburger soup is a light and refreshing soup that is Whole30 approved. A tomato-based broth, veggies, and ground beef throughout.
30 minutes is all that is required for this Instant Pot Keto Indian Kheema dish. A twist to the classic Indian Kheema recipes you see on the web.
Easy Instant Pot Beef Recipes
Hamburger mac and cheese combines the love of pasta and hamburgers in one. Add in all the cheesy goodness and you have a meal kids will go bonkers for.
Get Tex-Mex flavors in this taco soup recipe made right in your pressure cooker. Top with a dollop of sour cream, fresh cilantro, avocado, and you have one satisfying soup.
Pressure Cooker Burrito Bowls give you the flavors of a burrito but in a bowl form. Less prep and hassle to making but you get all your favorite burrito flavors.
Look at all these awesome weeknight or weekend dinner ideas that you can make at home. I love a good Instant Pot recipe, and if you do too you will love this list. Here are more ideas for what to make next.
Pressure Cooker Meatloaf is a tried and true recipes that has a nice and quick cook time. Just 20 minutes is all it takes to make. Pair with your favorite sides and ring that dinner bell.
In a fraction of the time, you can make a luscious Instant Pot Beef Burgundy that will compare nicely to the traditional recipe. Less prep, less cook time, equals a winner dinner.
More Instant Pot Recipes
I am a huge fan of my Instant Pot. I am still somewhat considered a newbie as I haven't had my pressure cooker for that long. Now if you are like me, I know you are looking for great recipes to add to your dinners.
For us we love ground beef, roast and all things beef. I wanted to make this list of beef Instant Pot recipes to help you have a nice size list all in one spot. It helps me too when I am trying to look through the pantry as to what to make for dinner!
Let me know your favorite Instant Pot beef recipes, so I can give them a whirl as well. I am always looking for delicious recipes to test out. I also love chicken and pork, but ground beef, roast, and steaks are generally are main go-to recipes around here. My husband loves his beef. So, I like to have quite a handful of recipes in my pocket.
As always, thanks for stopping in and checking out my site, I am still a new blog, so come back for more kitchen tips, tricks, and loads of delicious recipes from main dishes to desserts and all things in between.
What is your go-to Instant Pot Beef Recipe?