Instant Pot Hot Beef Sandwich with Mashed Potatoes is the ULTIMATE comfort food. Tender juicy roast smothered in brown gravy and homemade mashed potatoes. This hot beef sandwich is cooked all in your Instant Pot so you don't have to turn the oven on!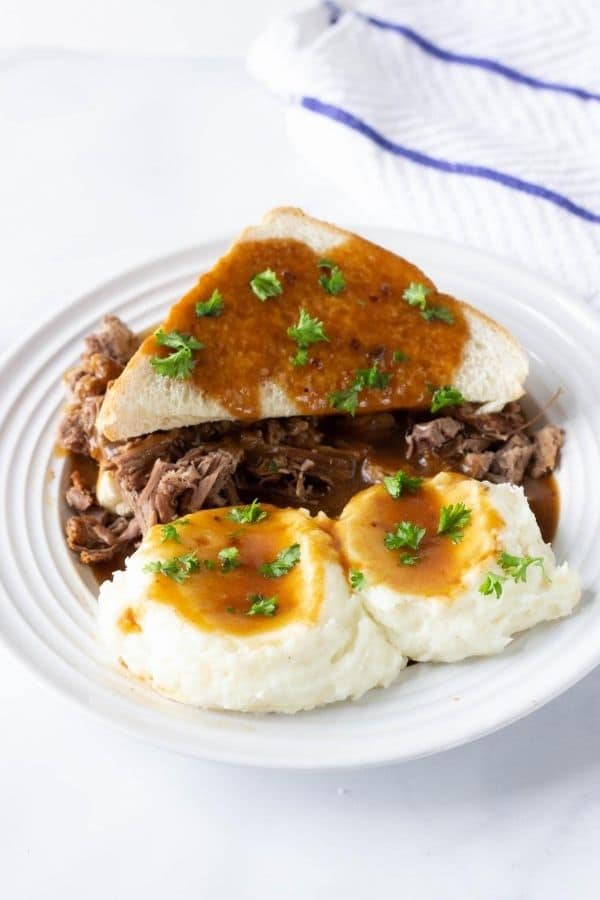 If you love your Instant Pot like me, I have a few more recipes to try. Instant Pot BBQ Ribs, easy Instant Pot Honey Chicken, or check out these 30 Instant Pot freezer meals.
Instant Pot Hot Beef Sandwich
I will also share the instructions for the Slow Cooker Hot Roast Beef Sandwich recipe in the recipe card as well! So you can do your electric pressure cooker or slow cooker if you prefer.
A hot roast beef sandwich is what I grew up eating. Pair with Texas toast, creamy mashed potatoes all smothered in a brown gravy. A must make.
How to Make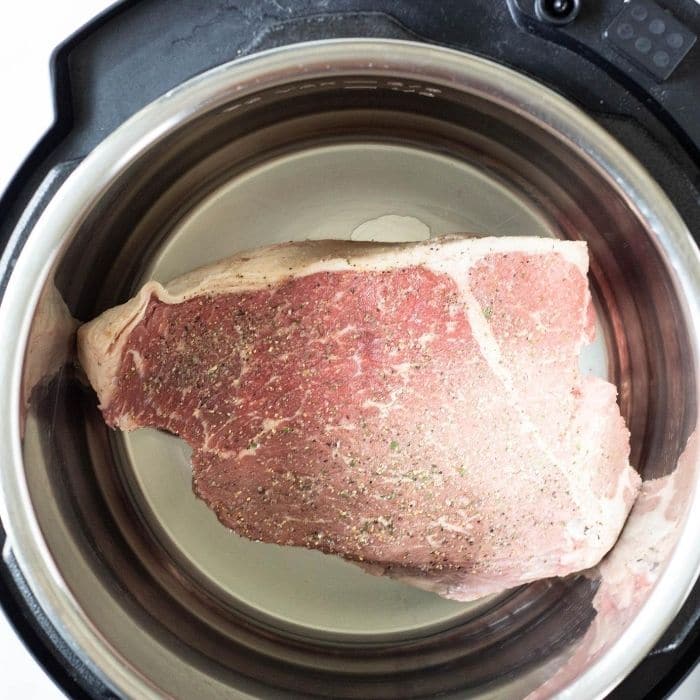 Step 1: Start by seasoning your beef roast with salt, pepper, and garlic salt with parsley. You will massage all over the roast.
Step 2: Add oil in Instant Pot and turn to saute. Place your beef roast in when the oil is hot, to sear the outside of the roast. This takes just a few minutes to do. This takes about 4-5 minutes per side.
Step 3: Once the roast is seared, turn to saute off and add in beef broth. Use a wooden spoon to scrape the bottom of Instant Pot to remove any stuck-on meat pieces.
This is to make sure you don't get the burn notice with this pot roast recipe when you go to pressure cooking.
Top with sliced onion, and place lid on your Instant Pot. Make sure the lid is set to seal, and cook for 75 minutes, with a 15-minute natural release.
Step 4: While your meat is naturally releasing the pressure, I work on washing, peeling, and slicing potatoes into cubes. Place in a steamer basket, and you will place this right on top of the roast once you open your Instant Pot.
Step 5: With your potatoes in the Instant Pot put back on high pressure for 15 minutes followed by a quick release.
Step 6: Mash up your potatoes as directed in the recipe card below. Remove your roast and allow it to rest 10 minutes before shredding. I used my meat claws.
Then turn your Instant Pot to sauce, and remove any excess fat floating in the broth. Then pour in your 2 packets of beef gravy mix, and whisk until it thickens!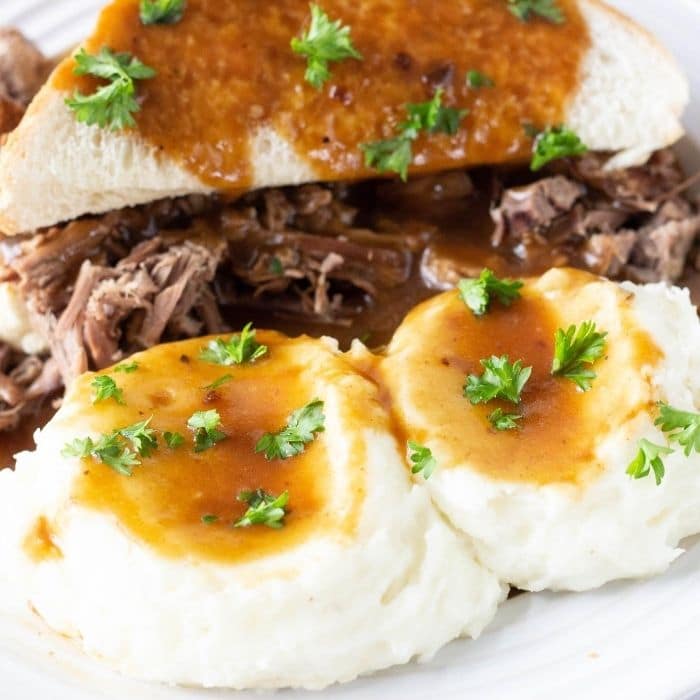 Step 7: Assemble your open-faced roast beef sandwiches with a side of mashed potatoes! One of my favorite Instant Pot Pot Roast Recipes!
What Is The Best Roast To Buy For Pot Roast
Personally I always reach for a chuck roast. But this time I did an online order through Instacart, and they picked out a bottom roast for me.
Any roast that has some fat in it will be a good pick. The fat will help to offer flavor to your roast, and help to keep the meat moist and tender.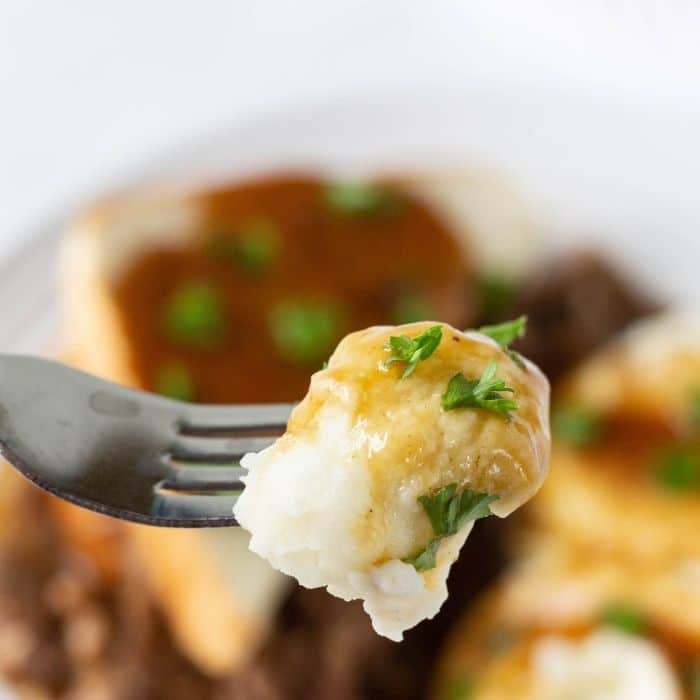 How Many Cups Of Potatoes Do I Need For Instant Pot Mashed Potatoes
So for this Instant Pot Pot Roast recipe, I used 4 cups of diced potatoes. This equaled about 6-7 medium sized russet potatoes.
Depending on the size of your potatoes will vary in how many you need. The 4 cups filled up my steamer basket.
Join My Newsletter To Get Free Emails Of New Recipes
Could I Use Just 1 Packet of Brown Gravy Mix
If you want to use just one packet of brown gravy mix, go right ahead. We love gravy in our home. Just remove about a cup of liquid before you turn on the saute feature and mix in your packet.
The reason being is if you add in one packet with that amount of liquid it will be super thin. Or you can then add in 1 tablespoon corn starch mixed with 2 tablespoons cold water, to help thicken while your pot is on saute.
We love extra gravy smothered on our hot roast beef sandwiches. So we wanted extra gravy leftover as well.
Looking For More Instant Pot Beef Recipes
Storing Leftovers
Store all your roast, gravy and mashed potatoes in the fridge. It will store for up to three days. Anything after that use your best judgement.
Just reheat in the microwave or opt to reheat on the stove in a skillet.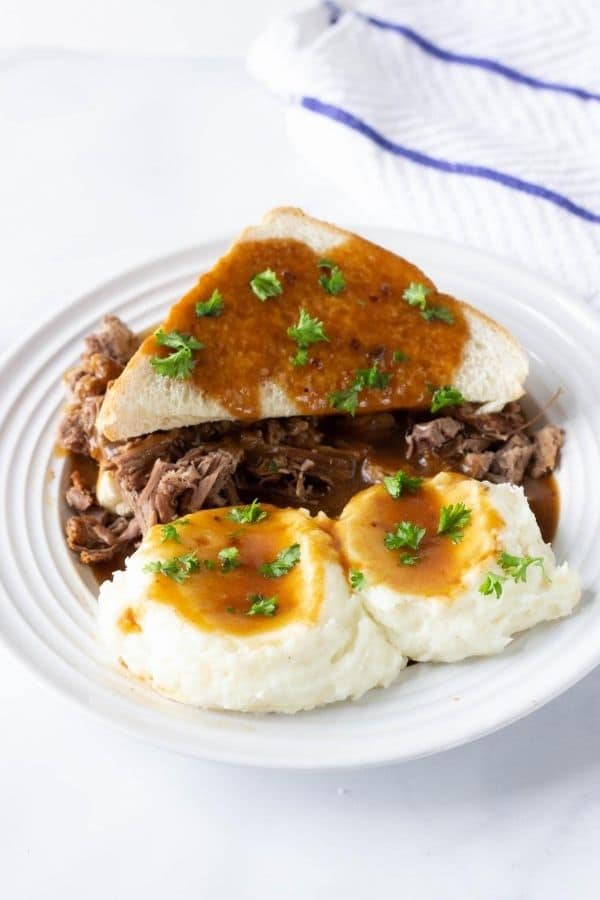 Instant Pot Hot Beef Sandwich And Mashed Potatoes
Servings 1 roast
Instant Pot Hot Beef Sandwich And Mashed Potatoes is so easy to make in your pressure cooker. A juicy tender roast, that you smother in brown gravy and pair with homemade Instant Pot mashed potatoes!
Ingredients
For The Roast
1 beef roast 2-3 lbs
1/2 teaspoon Kosher salt
1/4 teaspoon pepper
1 teaspoon garlic salt with parsley
1 tablespoon oil
1 small sweet onion thinly sliced
2 cups beef broth
2 packets brown gravy mix
Texas Toast
For Mashed Potatoes
4 cups peeled and diced russet potatoes around 6-7 medium potatoes
2 ounces softened cream cheese
1/4 cup sour cream
1/4 cup milk
2 tablespoons butter
Salt and Pepper to Taste
Instructions
Start by placing your kosher salt, pepper, and garlic salt with parsley in a bowl. Mix it up and then rub on both sides of your raw beef roast.

In your Instant Pot pour the tablespoon of oil and turn the saute feature on high. Let it get hot, and then place your roast in the pot to sear the sides.

You will sear for 4 minutes or so on each side of the roast. This will add texture and flavor to your roast.

Now when your roast is seared on both sides, turn off the saute and pour in your beef broth. Use a wooden spoon to scrape the bottom of the pot to remove any stuck-on debris. Add in your sliced onions on top of your roast, and place your Instant Pot lid on the pressure cooker. Make sure the valve is set to sealing.

Cook high pressure for 75 minutes followed by a 15-minute natural release.

While the roast is naturally releasing, wash, peel, and dice up your potatoes. Place them in a steam basket. If you don't have a steam basket you can toss on top of the roast in Instant Pot.

Once you release remaining pressure off, open the lid and place potatoes in the Instant Pot. Place the lid back on and make sure it is sealed on the vent. Cook for 15 minutes high pressure followed by a quick release. Set the basket right on top of the roast.

Once done, remove potatoes from Instant Pot, and place potatoes in a bowl or stand mixer and add in milk, sour cream, butter, cream cheese, and mix up into mashed potatoes. If the potatoes are too thick add a bit more milk. Then salt and pepper to taste the potatoes.

For the roast, you will remove from the Instant Pot and let rest 10 minutes. Then shred up the beef with

meat claws

or two forks.

In the instant pot remove any fat or drippings in the broth. Then turn to saute and pour in your gravy packets. With a whisk whip up the mixture until it thickens. Stir very often or it will burn.

Once everything is all done, take your Texas toast and slice in half. Lay one slice down on the plate. Pile on some shredded roast, top with gravy, followed by another piece of bread and more gravy. Then add your scoop of mashed potatoes and gravy as well!

Serve up your Instant Pot hot beef sandwich and homemade mashed potatoes!
Notes
Slow Cooker Method
Saute your roast in a skillet vs your Instant Pot. You will season the exact same way.
Place your roast in the slow cooker, with broth and top with onion slices. Cook for 6 hours on low.
Then at the 6-hour mark prep your potatoes and dice just as you would for the pressure cooker method. Place in the slow cooker and cook an additional 2 hours or until potatoes are tender.
Remove potatoes and make mashed potatoes.
Remove roast and let rest before shredding.
Turn slow cooker to high and whisk in gravy mixture to help it thicken.
You can also cook potatoes on the stove if you don't want to make them in the slow cooker.
Nutrition
Serving: 1gCalories: 226kcalCarbohydrates: 27gProtein: 7gFat: 10gSaturated Fat: 4gPolyunsaturated Fat: 4gCholesterol: 26mgSodium: 791mgFiber: 3gSugar: 3g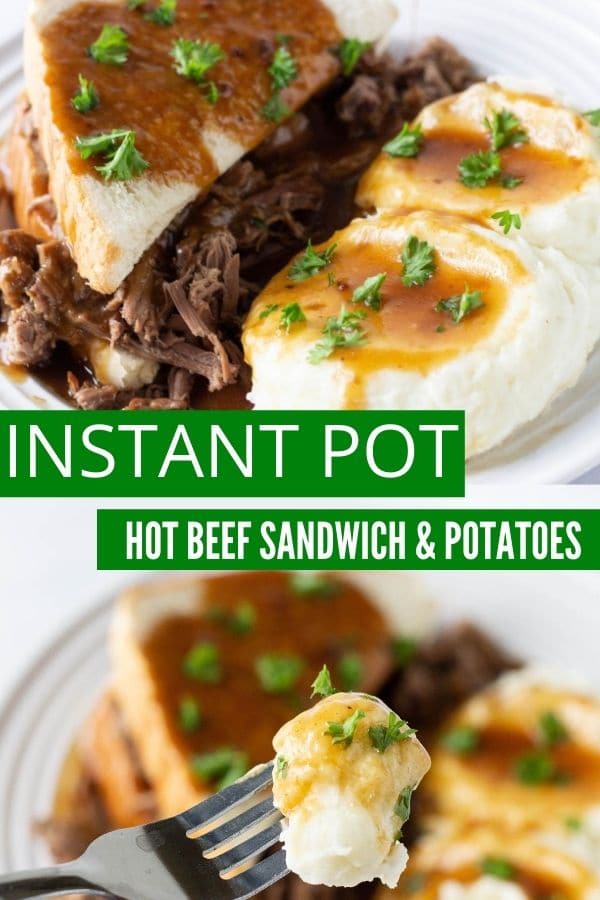 Reader Interactions