Chili Cheese Fries Pizza is one of our favorites. A pizza crust loaded up with chili, french fries, cheese, and your favorite toppings. Try this chili cheese fry pizza recipe!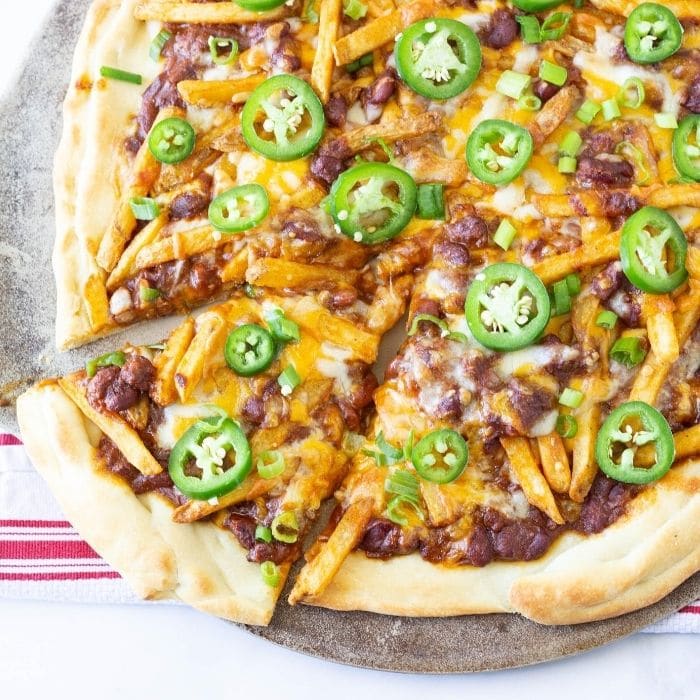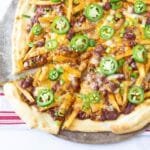 Chili Cheese Fries Pizza is one of my favorite pizzas! Pizza crust loaded with chili, crispy seasoned fries, and cheese! Bake this chili cheese fry pizza until golden brown! The ultimate chili cheese pizza recipe!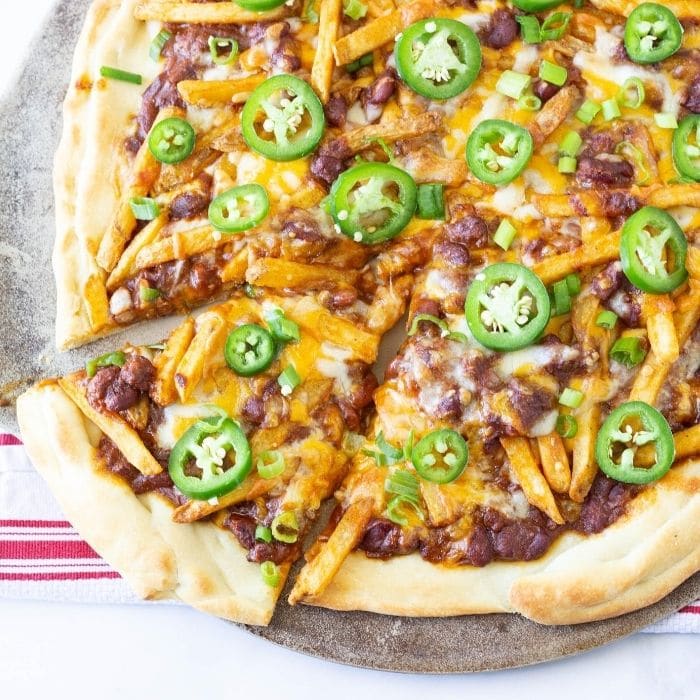 I have a few more tasty recipes for you to check out. Bacon-wrapped pickles, chicken club wrap, or air fryer potato wedges. Or pair this pizza with my famous Bloody Mary drink.
Chili Cheese Fries Pizza
Pizza Crust + Chili + Fries + Cheese = PERFECTION. This is a fun pizza that is kid-friendly and can be made in under 30 minutes!
Use canned chili or use leftover homemade chili to pile on your pizza.
How to Make
The full directions are in the recipe card below. You can print it off if you would like!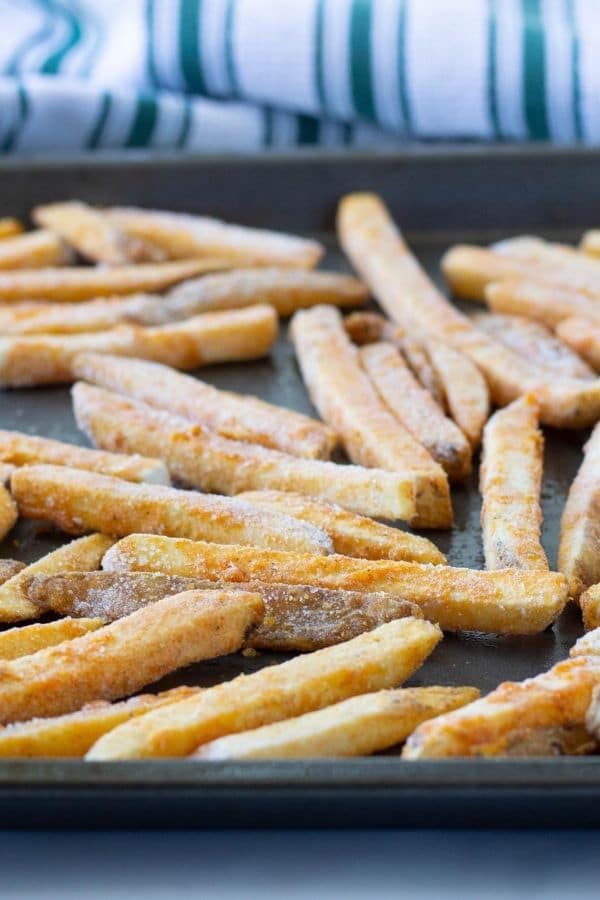 Step 1: Pre-cook your french fries. You can bake in the oven, air fryer, or fry up in oil. I used seasoned fries for this recipe to add more flavor. Any brand works!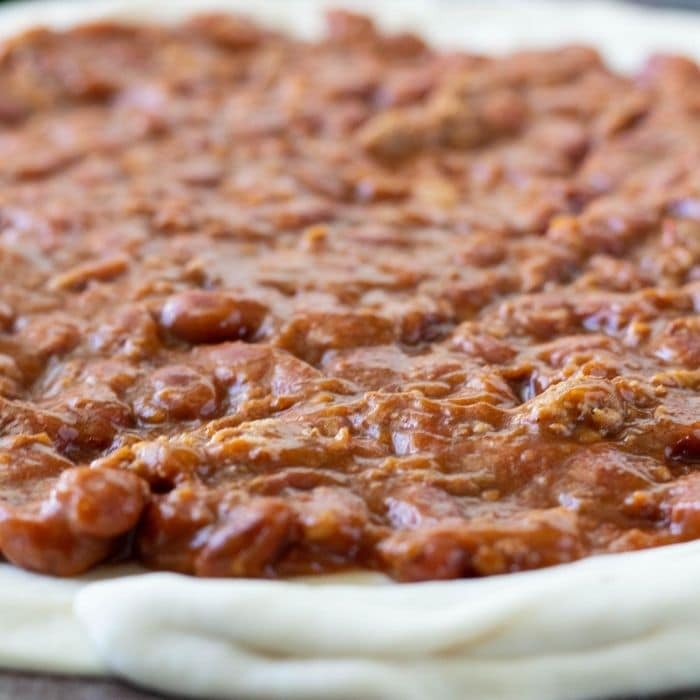 Step 2: Spread out your pizza crust, I used a pizza stone, you can use any style of pizza pan.
Then spread on a layer of your chili. Leave room around the edge for the crust of the pizza.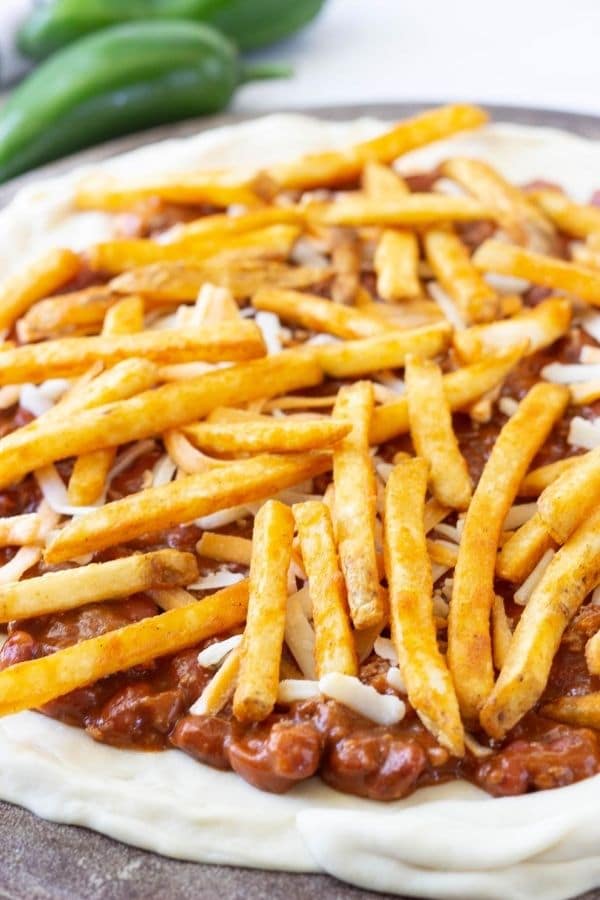 Step 3: Load on a thin layer of cheese, followed by your cooked french fries.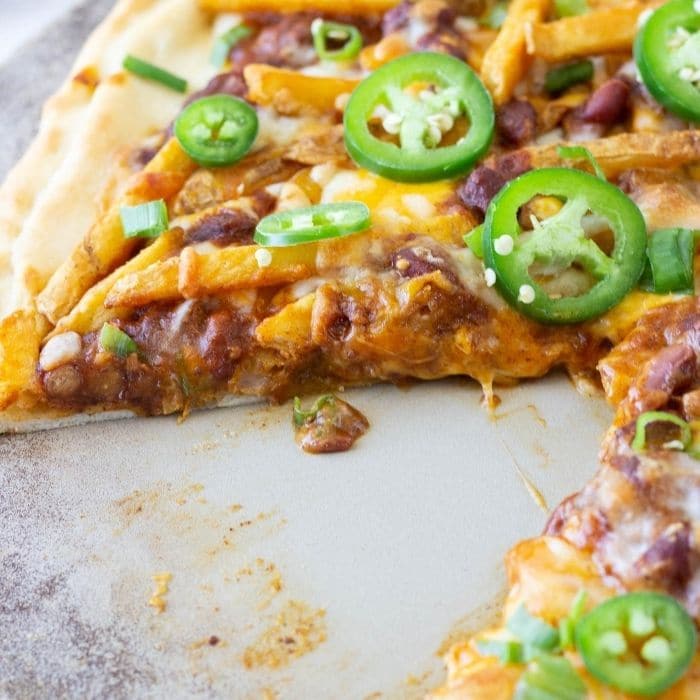 Step 4: Then I added extra chili, and the rest of the cheese on top of the pizza, and then tossed in a 425-degree oven and baked until golden brown and cheese was fully melted.
Topping Ideas For French Fry Chili Cheese Pizza
Crispy Bacon
Red Onions
Frito Chip Crumbles
Jalapenos
Green Onions
Drizzle of Ranch Dressing
Etc
You can honestly pile on any of your favorite toppings! My husband loves spice so I made sure to do some fresh jalapenos and some green onions.
Join my Free Newsletter for New Recipes Delivered To Inbox
Store Bought VS Homemade Pizza Crust
If you have a favorite homemade pizza crust you enjoy, go right ahead and whip it up. I reached for the Wewalka classic pizza crust that you can find in the refrigerator sections.
It taste similar to homemade and you roll it out and shape. This is why it takes under 30 minutes to make this pizza. Quick and easy when you use store bought.
Best Chili To Use On Chili Cheese Pizza
You can easily use canned chili. Or save back leftover chili from the night before. This is a fantastic leftover chili recipe!
The leftover chili will thicken, and then it is easy to spread on the pizza crust. But Hormel canned chili does work just as good.
It just depends on the flavor you want from your chili. Personally, homemade taste best.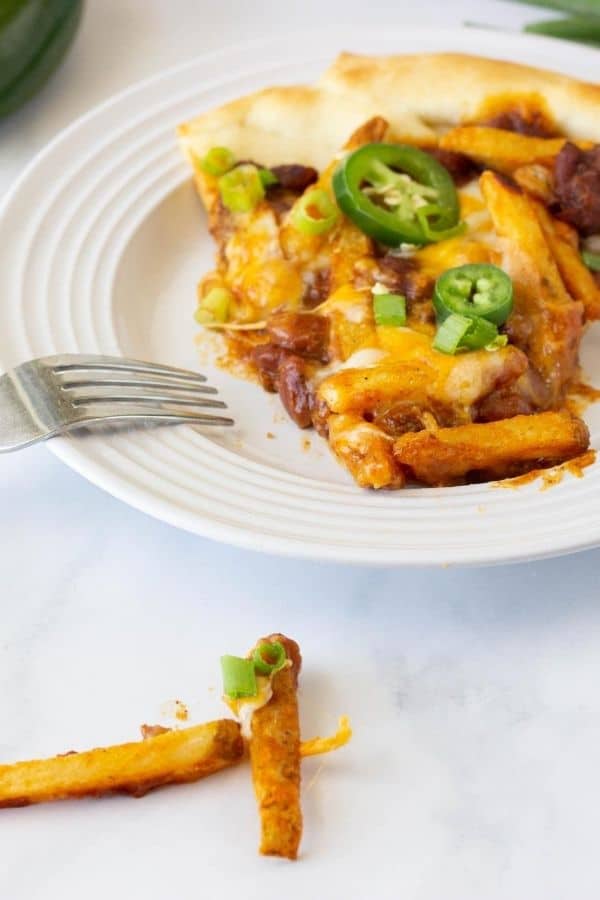 Storing Leftover Chili Fry Pizza
If you have any leftovers, just place in an airtight container and store in the fridge. Then when you want to reheat, toss it back in the oven for a reheat.
I did 350 degrees and heated for around 5 minutes and then just checked until the pizza was warm enough. You can also reheat in the microwave.
It will sog up the pizza crust a bit though if reheated in the microwave.
Desserts To Pair With Pizza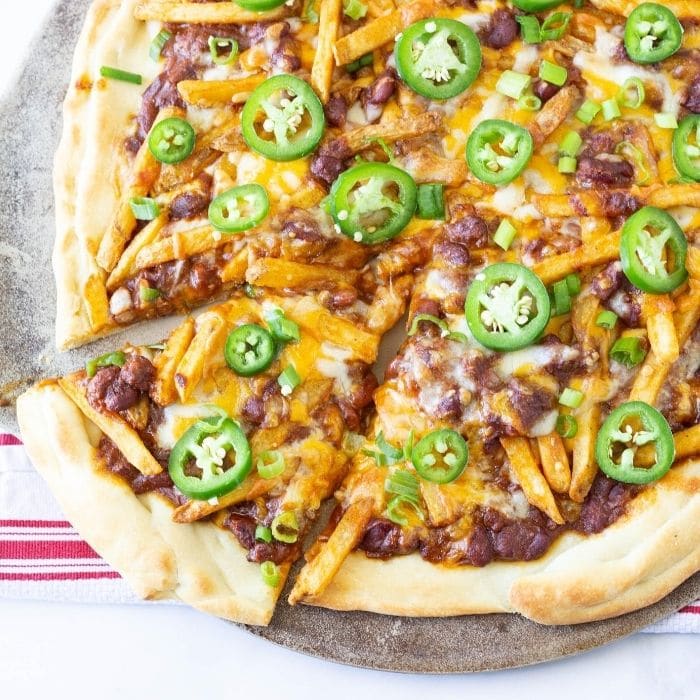 Chili Cheese Fries Pizza
Servings 1 pizza
Chili Cheese Fries Pizza is one of our favorites. A pizza crust loaded up with chili, french fries, cheese, and your favorite toppings. Try this chili cheese fry pizza recipe!
Ingredients
1 pizza dough I used Wewalka Classic Pizza Dough
2 1/2 cups chili canned or leftover homemade chili
2 cups cheese
1 1/2 cup cooked seasoned french fries
Toppings: Jalapeno slices green onions, etc
Instructions
Start by cooking your seasoned french fries. I just baked mine in the oven. You can do an air fryer or a deep fryer if you prefer.

While fries are cooking, spread out your pizza crust on a

baking stone

or pizza pan.

Now spread almost all the chili on the raw pizza crust. Leave an edge to act as the crust edge.

Sprinkle a small amount of shredded cheese on the chili, followed by piling on cooked french fries. Add as many as you want.

Then with the leftover chili I added a few more spots, and then added the rest of the cheese.

Bake in the oven at 425 degrees and cook for 5-10 minutes or until your pizza crust is done and your cheese is melted.

Once done, pile on toppings if you want. We did jalapenos and green onions.
Notes
You can use homemade pizza crust, or homemade chili. This is a quick and easy pizza recipe that can be made any day of the week.
Nutrition
Serving: 1gCalories: 170kcalCarbohydrates: 8gProtein: 9gFat: 12gSaturated Fat: 5gPolyunsaturated Fat: 5gCholesterol: 31mgSodium: 362mgFiber: 1gSugar: 1g
Do you think you would like this chili cheese fries pizza recipe?
Reader Interactions