Serve up these delicious Cosmic brownies for dessert tonight! A cocoa brownie that is topped with a rich chocolate ganache and sprinkled with rainbow sprinkles. Similar to the Little Debbies Cosmic Brownies we grew up eating.
If you want more easy brownie recipes to whip up, try these! Mint Oreo brownies, s'mores brownies, or peanut butter blondie brownies.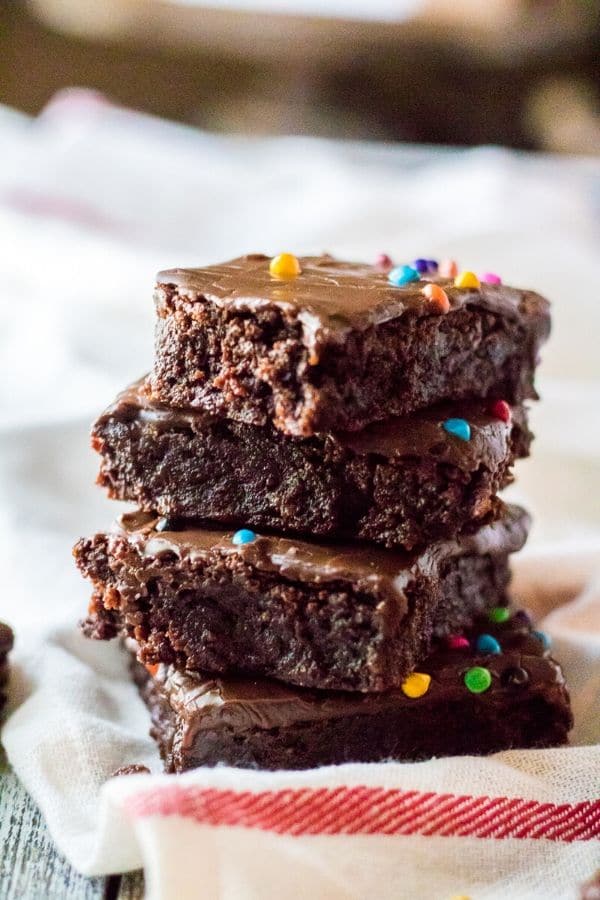 Fudge topped brownies always win me over. Add the mini candy-coated chocolate sprinkles on top, and I feel like a kid again.
Why This Dessert Is A Hit
Copycat Little Debbie Recipe – Here is a similar recipe to the classic Little Debbie brownie we know and love. A fudgy brownie topped with a rich frosting and rainbow candy sprinkles!
Easy to Make – Simple directions and ingredients. They have a few more steps than a traditional brownie, but overall, they are so simple to make.
Freezer Friendly – You can freeze any brownies you don't eat right away. They last for around 3 months, which is great for a grab and go dessert.
Kid Friendly Recipe – A kid friendly dessert that is fun for an after school treat, packing for lunches, or a fun dessert for after dinner.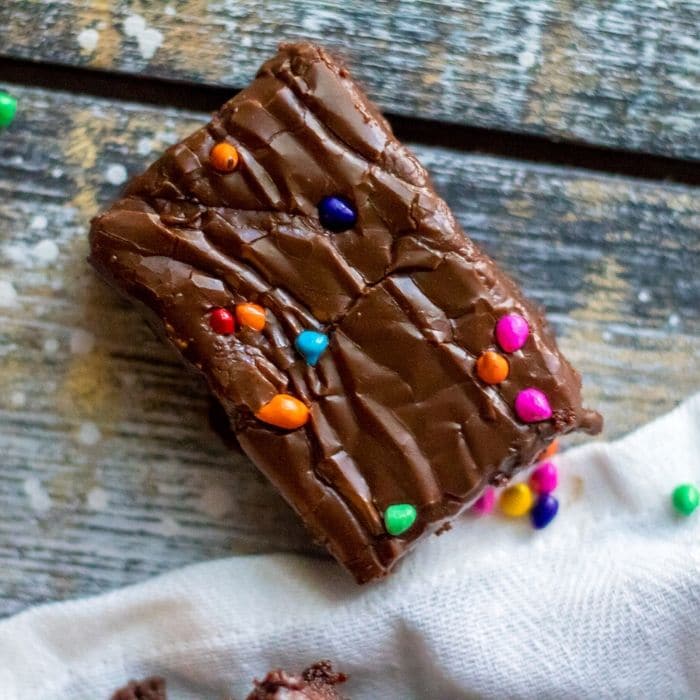 Ingredients
Here are the cosmic brownie ingredients you will need to make these frosted brownies with rainbow sprinkles!
All Purpose Flour
Unsweetened Cocoa Powder – I used classic but you are welcome to use dark cocoa if you want a richer brownie.
Granulated Sugar
Brown Sugar – Both the sugars adds a really sweet flavor to the brownies.
Egg – The egg acts as the binder keeping the batter together.
Unsalted Butter- If you use salted just omit salt in the recipe.
Oil – Canola or vegetable oil works for this recipe.
Salt
Semi-Sweet Chocolate Chips
Sweetened Condensed Milk – This is a big part of the frosting. Thick, creamy and helps for a sweet frosting.
Rainbow Sprinkles – I got these candy coated sprinkles for the cosmic brownie sprinkles.
How To Make
Full directions on how to make cosmic brownies are in the printable recipe card. This is a quick walk through on how to make them.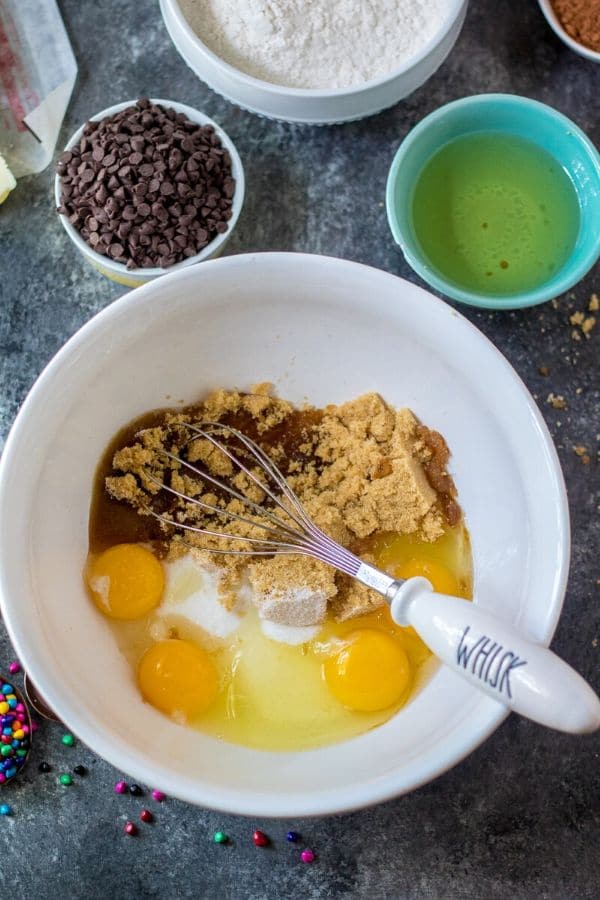 Step One: Start by preheating your oven, and greasing your 9×13 pan. Now you will add in your eggs, both sugars, vanilla, and salt.
Whisk your mixture together until creamy and well mixed.
Step Two: Now in a double boiler you will melt your chocolate and butter until fully melted and creamy. Make sure to stir often so it doesn't burn.
Or you can do the microwave if you don't have a double boiler. Just do 20 second intervals and stir in between each reheat.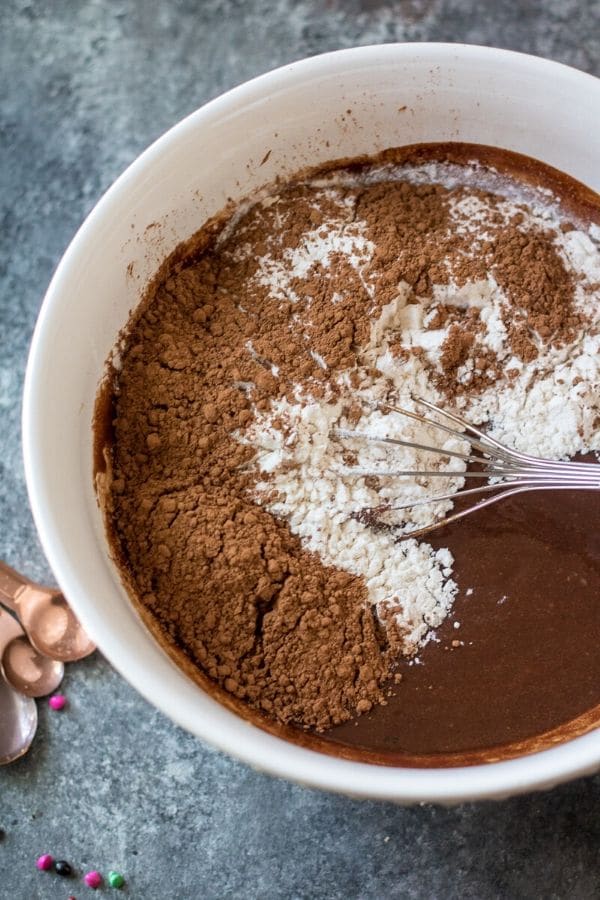 Step Three: Now you will combine wet and dry ingredients together. Mix until it is well incorporated. Try not to over mix your brownie batter though.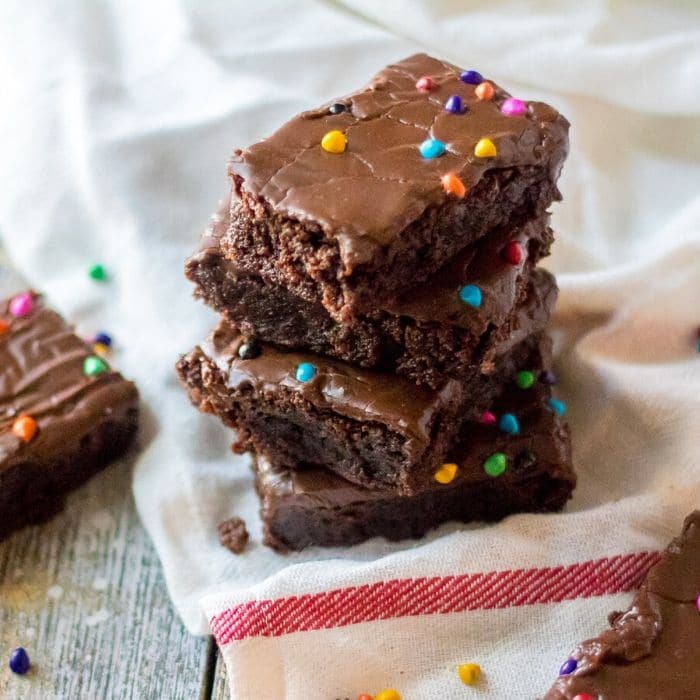 Step Four: Bake your brownies as directed in the printable recipe card below. Once your brownies are cooled you can whip up the ganache, pour over the brownies. Then top with candy-coated sprinkles!
How Long Do Brownies Last
Store these rainbow brownies with sprinkles in the fridge. They will store for around 5 days.
You can eat them straight from the refrigerator chilled, or allow them to warm up to room temperature on the counter.
Cosmic brownies freeze really well. Simply place in an airtight container or freezer bag. These homemade cosmic brownies will freeze for about 2 months.
Just sit on the counter to thaw when you want to eat one! I pre-cut my brownies so I can grab just one or two out for the family.
Expert Tips
Make sure to not over mix your brownie batter. Whip up your ingredients until they are just combined. You want your brownies to be moist and chewy.
Look to see if your brownies begin to pull from edges. That is a good sign your brownies are done. You can also do the toothpick test to see if they are fully cooked.
Chocolate ganache is a bit different than a chocolate frosting. It is a thinner consistency and does take some time to harden up. You want your ganache to set a bit before you sprinkle your candy sprinkles over the chocolate brownies.
These little debbies brownies are such a winner. If you want something more than a classic brownie, this recipe might be the perfect treat for you and your family.
FAQs
What are cosmic brownies?
Cosmic Brownies are a chewy and thick brownie that is topped with chocolate ganache and topped with candy coated sprinkles.
An easy brownie recipe that you will want to make over and over again.
Little Debbie is the brand you can buy, or if you want to make homemade fudgy brownies like this recipe!
How to know when brownies are done?
Brownies will pull away a bit from the edges of the pan. Then you will want to take a toothpick and stick in the center and lift up making sure there is no wet batter on the toothpick.
Do I have to put on the frosting?
If you don't want to make the frosting, go ahead and skip it. You can dust with a confectioner sugar or serve the brownies plain.
Can I double the recipe?
If you double this recipe you can reach for a larger pan or do 2 pans of brownies. Then you can bake at the same time if it fits in your oven or batch cook the fudge brownies.
Here are more easy treats to whip up
Have you tried the recipe? If so, please leave a star ⭐️⭐️⭐️⭐️⭐️ rating in the recipe card below or drop a comment. Also stay in touch with me through social media by following me on Facebook, Pinterest, or My Facebook Group!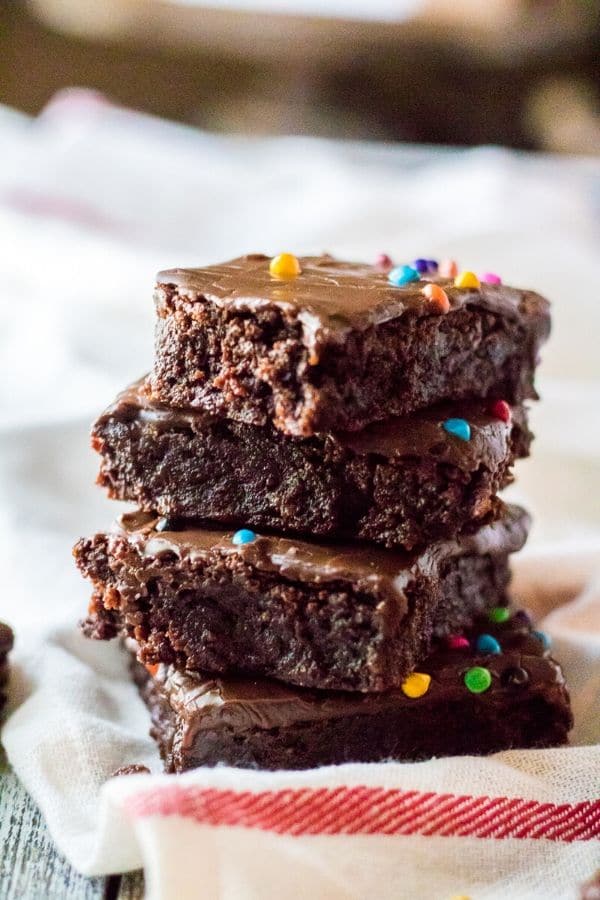 Cosmic Brownies
Servings 24
Cosmic Brownies are a fudge brownie topped with a chocolate ganache and rainbow sprinkles. Similar to the classic Little Debbie cosmic brownies we grew up eating. These easy fudge brownies will win over a crowd.
Ingredients
Brownie
1 cup granulated sugar
1 cup brown sugar
2 teaspoons vanilla extract
2 large eggs room temperature plus 2 yolks
1/2 teaspoon salt
1 stick 8 tablespoons unsalted butter, melted
8 ounces semisweet chocolate chips
1/2 cup vegetable oil or canola oil
1 1/4 cups all-purpose flour
1/4 cup cocoa powder
Chocolate Ganache Glaze
4 Tablespoons unsalted butter softened
8 ounces semisweet chocolate chips
1/2 cup sweetened condensed milk
Topping
¼ cup rainbow Chocolate Chips
Instructions
Start by preheating your oven to 350 degrees Farenheit. Then place parchment paper in your 9×13 pan on bottom and sides then spray cooking spray to prevent sticking.

In a stand mixer or bowl whip up your granulated sugar, brown sugar, whole eggs and yolks, vanilla, and salt. Mix until creamy.

Now in a double boiler or microwave melt your butter ahd chocolate together for the fudge brownies. Once it is melted whisk in your vegetable oil.

Pour the chocolate mixture into your sugar mixture and mix until it begins to combine. Slowly stir in all purpose flour and cocoa powder.

Pour your easy fudge brownies into your baking pan, and cook for 25-35 minutes or until done. Stick a toothpick in your brownies to see if the toothpick comes out clean.

While your brownies are cooking you can work on your chocolate ganache glaze. Grate your chocolate into a heatproof bowl and set aside.

Now you will add sweetened condensed milk and butter in another bowl and heat up in the microwave or a double boiler. You want it to melt. Stir frequently. I did every 30 seconds in the microwave stirring in between.

When the butter is melted add in your chocolate chips, and stir until they are all melted.

Once your brownies are done, pour over the ganache, and your rainbow chip sprinkles.

Let your brownies cool completely before you try to remove and slice.
Notes
Brownies – These are a fudge brownie, not cake-like. Frosting – Make sure to mix up the chocolate ganache well before you pour over the brownies. It will give it that shiny smooth look. Where To Buy Candy Sprinkles – I found my sprinkles online at Amazon. You can also look in the baking aisle at the grocery store. Freezer Friendly – These brownies can be frozen for up to 3 months. Then thaw on the counter or place in the fridge to thaw overnight.
Nutrition
Serving: 1gCalories: 267kcalCarbohydrates: 34gProtein: 2gFat: 15gSaturated Fat: 6gPolyunsaturated Fat: 8gCholesterol: 39mgSodium: 67mgFiber: 1gSugar: 31g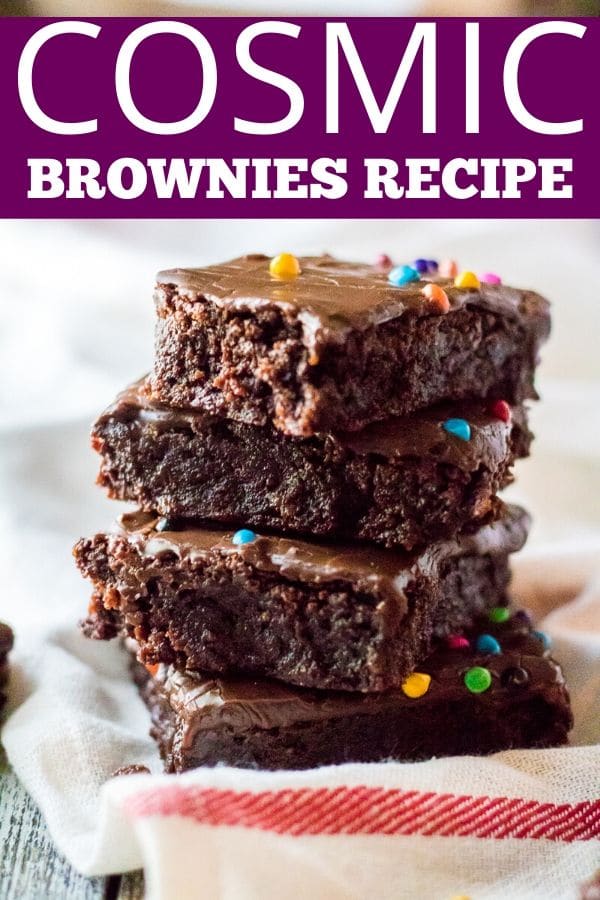 Reader Interactions