Blackstone Philly Cheesesteak Sandwiches are restaurant quality cheesesteaks made on your propane flattop grills! Shaved ribeye steak, peppers, onions, mushrooms, and of course golden toasted hoagies. A simple dinner you can make any night of the week.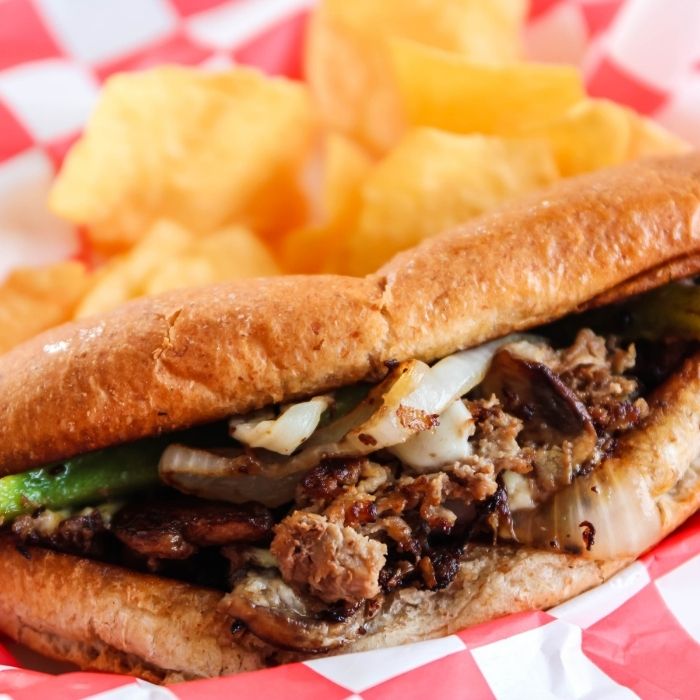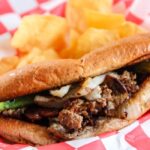 Blackstone Philly Cheesesteaks are a shaved ribeye, peppers, onions, mushrooms, and of course toasted hoagie rolls. These simple seasoned Philly cheesesteaks are over the top in flavor, and will leave you filling satisfied.
Give this griddle Philly cheesesteak recipe a try. This recipe does work on any flattop grill, or you could even use a cast iron skillet on the stove. But I will say I find it tastes better on our grill. Try my Blackstone Steak Bites as well!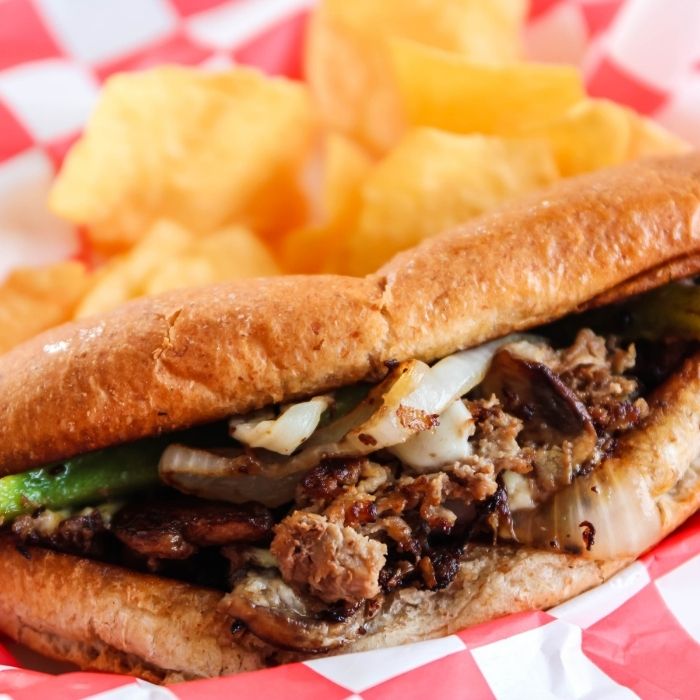 This is by far my most favorite Blackstone recipe I have made so far. A simple dinner for entertaining guests or a weekday dinner for the family. Try my grinder sandwiches for another quick and easy lunch or dinner option.
This Blackstone Philly Steak Sandwich Is..
Made with simple ingredients
Easy to make
Shaved steak recipe
Easy to change up ingredients
Learn how to season a Blackstone if you find it is sticking, or is brand new and needs seasoned. Also, here are some great Blackstone Accessories to try out!
Ingredients
Here is the ingredient list I used for this Philly Cheesesteak Blackstone Grill recipe.
Shaved steak- You can use shaved ribeye or other cuts of been that are shaved thin. The idea is to ensure it is very thin meat to give it the right texture.
Vegetables– I used bell peppers, onion, and sliced mushrooms. The mushrooms are optional but my husband loves them.
Provolone Cheese – I used sliced provolone cheese, but you can use Swiss, Cheez-Whiz, or another variety of cheese.
Hoagie Rolls – Grab any hoagie rolls to pile in the steak and veggies. We used a whole wheat hoagie.
Butter – The butter helps add flavor to the meat and vegetables. I also added extra butter to help roast the buns.
Oil – You will want to add a little oil to help sear meat and veggies and prevent any sticking.
Seasonings – Salt, pepper, garlic powder and Worcestershire sauce are all I used to flavor the dish.
Tips for Success
Let your Blackstone Griddle get nice and hot so when you toss down the meat and veggies it sears nicely.
Thinly slice veggies so they have time to soften and create a golden grilled texture.
I waited till the meat and vegetables were done. Then I added cheese on top and began roasting my buns.
You can place a dome over meat and cheese if you want it to melt faster on the cheese steak Philly's.
How to Make
Full directions on this Blackstone Philly cheesesteak recipe are in the printable recipe card. This is a visual walk through on how to make the Philadelphia cheesesteaks.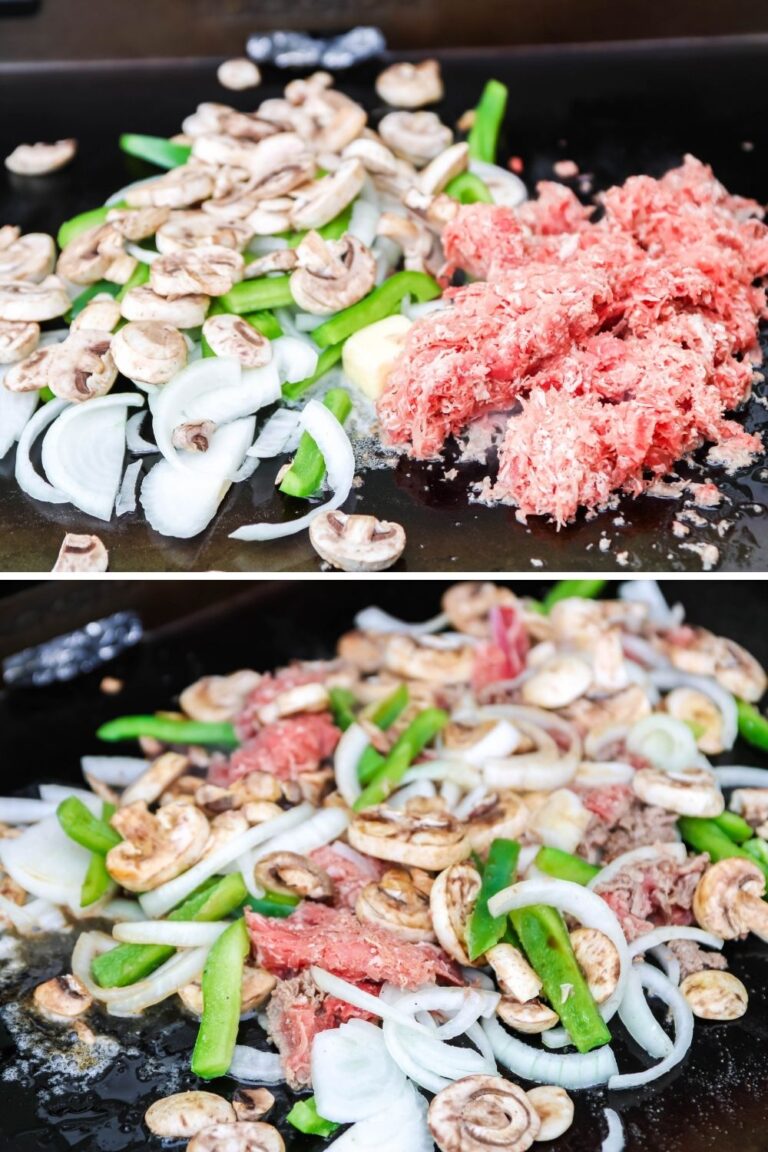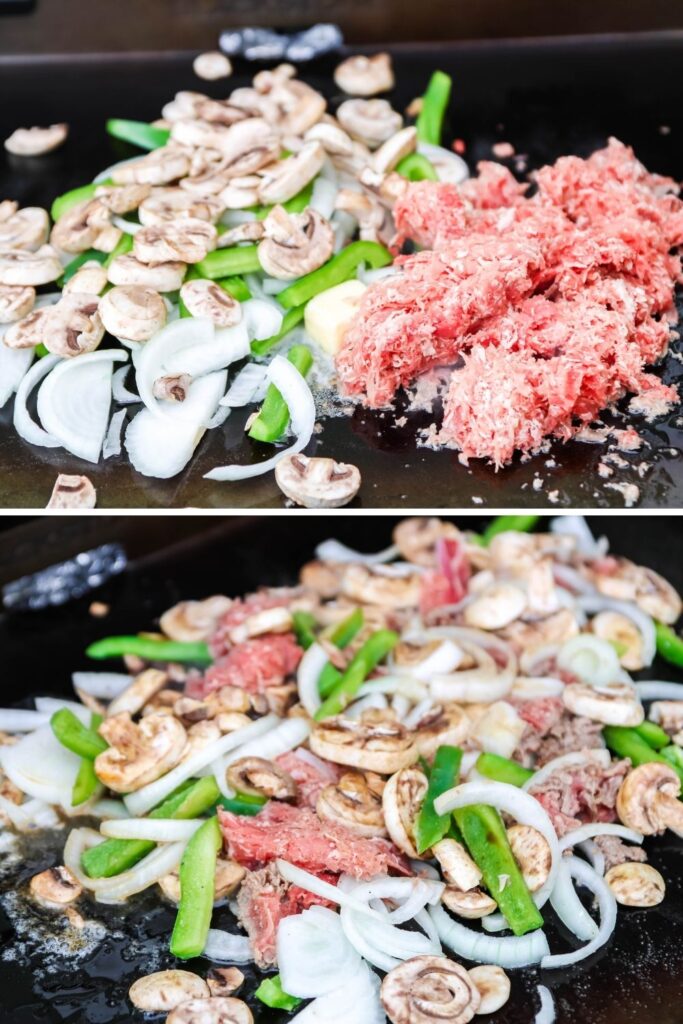 Step One: Get your Blackstone flattop nice and hot, I did the high heat. I added a little oil to help create a non-stick surface.
Step Two: Toss down your shaved meat, sliced peppers, onions, and mushrooms. Add a tablespoon of butter down to help flavor the meat and veggies.
Step Three: Next you will sprinkle on the seasonings. Then pour over the Worcestershire sauce, and then stir well.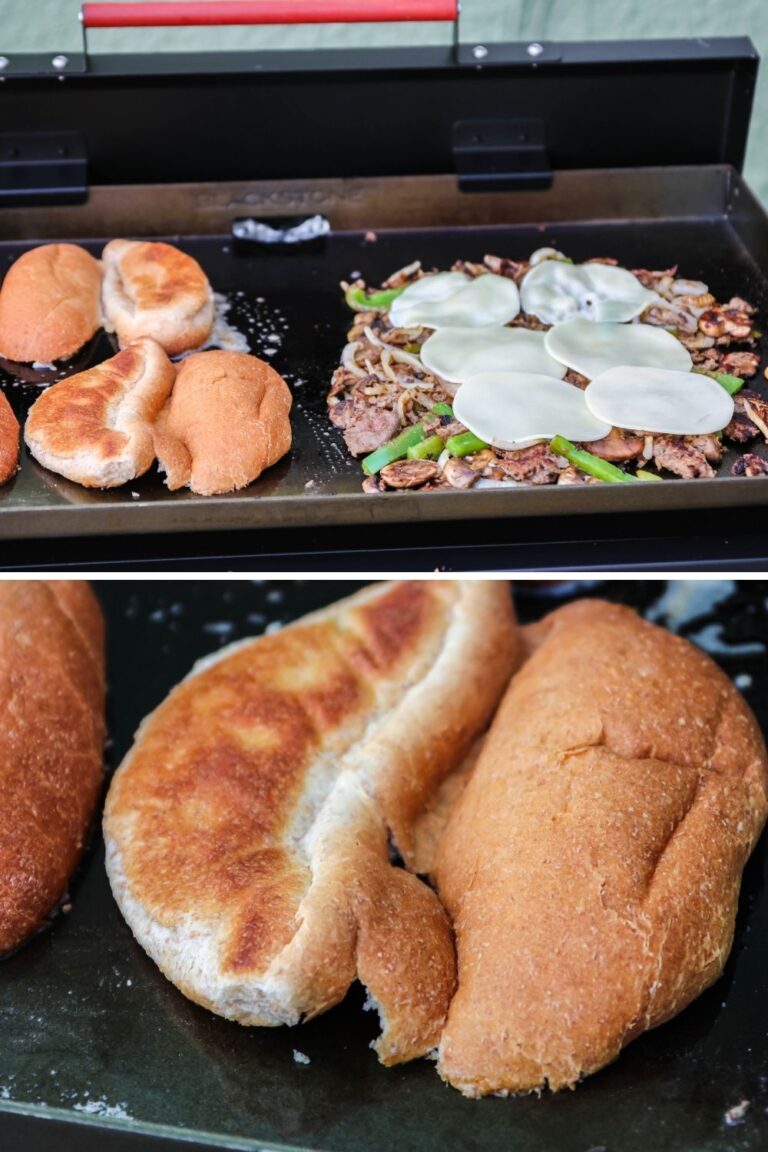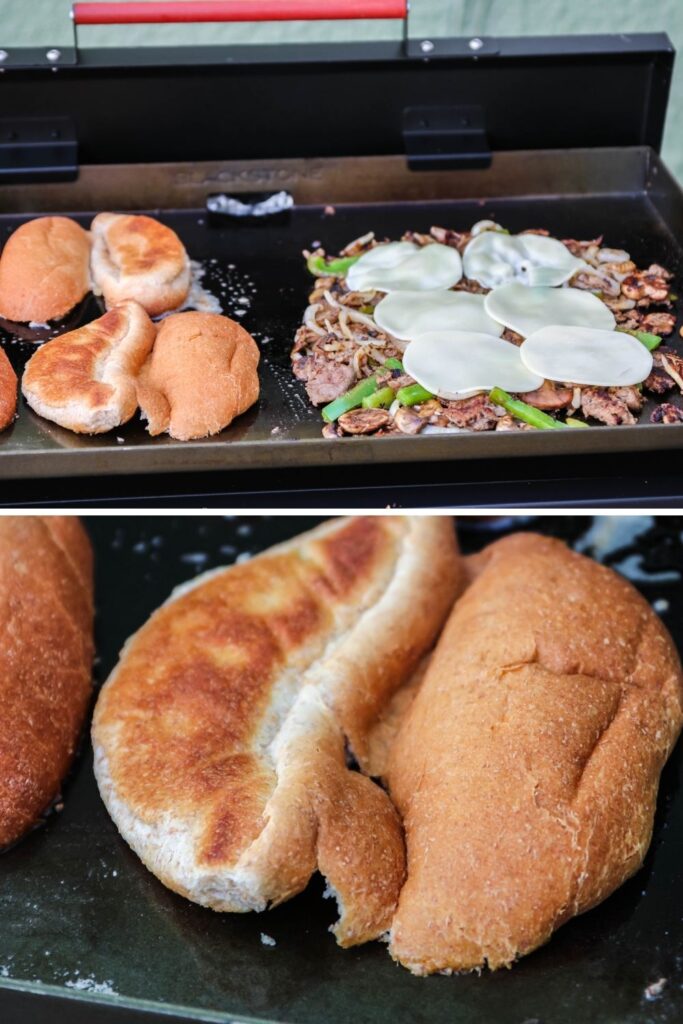 Step Four: Allow the mixture to sear, tossing every few minutes. You want to cook the steak fully, and get a nice golden sear on meat and veggies. Add on your provolone cheese and let it melt.
Step Five: Once the meat and veggies are close, add the remaining butter down on the other half of the griddle. Then place your hoagie rolls down to toast till golden in color. This takes just a couple minutes.
Step Six: Once hoagies are toasted, pile in the meat and cheese mixture, and serve and devour!
Modifications to Recipe
Here are some modifications to this Philly cheesesteak on Blackstone recipe.
You can leave out the mushrooms if you don't want to make it with mushrooms. The mushrooms help add flavor but also make helps stretch it. You are more than welcome to skip it.
For the seasoning feel free to change up what you use. I did simple, and it worked great. But you can add any flavors you want. From garlic and onion powder, to Creole seasoning. Feel free to adjust to your liking.
Want to make it low carb? Stuff the meat and veggie mixture into bell peppers for a lighter version. Use low carb tortillas to stuff in, etc. We can eat this just as a meal without the bun but we sure love the toasted bun.
Storing Leftovers
If you do not eat all Blackstone cheesesteaks just store in the fridge for 2-3 days. Then reheat in the microwave, back on the griddle, etc.
Now if you want you can freeze leftovers as well. But you will find the texture of the pepper and onions will become very soggy. It is up to you if like the texture or not.
FAQs
More Blackstone Recipes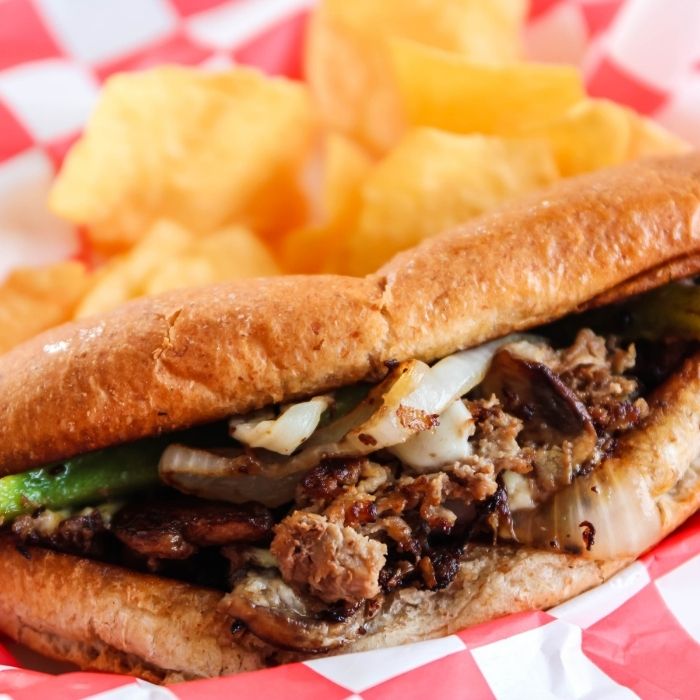 Blackstone Philly Cheesesteak Sandwiches
Servings 4 -6
Blackstone Philly Cheesesteak Sandwiches are restaurant quality cheesesteaks made on your propane flattop grills! Shaved ribeye steak, peppers, onions, mushrooms, and of course golden toasted hoagies. A simple dinner you can make any night of the week.
Ingredients
1 tablespoon oil
2 pounds shaved steak
1 large white onion thinly sliced
1-2 bell peppers thinly sliced
1/2 cup sliced mushrooms
1 teaspoon salt
1/2 teaspoon pepper
1/2 teaspoon garlic powder
2 tablespoons Worcestershire
4-6 Hoagie Rolls
6 slices of Provolone Cheese
5 tablespoons butter divided
Instructions
To start you will turn on your Blackstone on high heat, and add on the oil. Let the flattop grill get nice and hot.

Toss on the shaved steak, and sliced peppers, sliced onions, and mushrooms.

Add on the seasonings, and toss on a tablespoon of the butter. Let it melt down a bit, and mix up the steak mixture.

Pour on the Worcestershire sauce, and mix well and then sear the steak and veggies on the Blackstone grill.

Once the meat is close to done, toss to the side, and make an even layer. Place the sliced cheese over the meat and vegetable mixture.

On the other side of your grill you will drop down the 3 tablespoons butter and let it melt.

Then place your sliced Hoagie rolls on top of butter mixture to help create a crispy crust on the inside of each roll.

Once rolls are toasted, this takes just a few minutes, remove and then fill each hoagie with the meat mixture.

Serve up these Blackstone Philly cheesesteaks and enjoy a simple dinner or lunch.
Notes
Meat – I used a shaved steak I bought. If you can't find shaved steak you can make your own. Very thin meat is key, as it gives you the traditional texture of the Philly. Double Recipe – Go right ahead and make extra if you need. I just did enough for our family. You can make as much as you want. Toasting Rolls – If you own a smaller Blackstone Grill you can remove the steak and vegetables and then in the same area toast the rolls if need be. Just add a tent of foil over the meat to keep it warm as you are toasting the rolls. Flattop Grill – This works on other flattop style grills and griddles! You can even cook in a skillet on the stove. I just find the seasoned Blackstone top transforms the flavor quite a bit.
Nutrition
Serving: 1gCalories: 736kcalCarbohydrates: 16gProtein: 52gFat: 51gSaturated Fat: 23gPolyunsaturated Fat: 22gCholesterol: 200mgSodium: 1022mgFiber: 2gSugar: 4g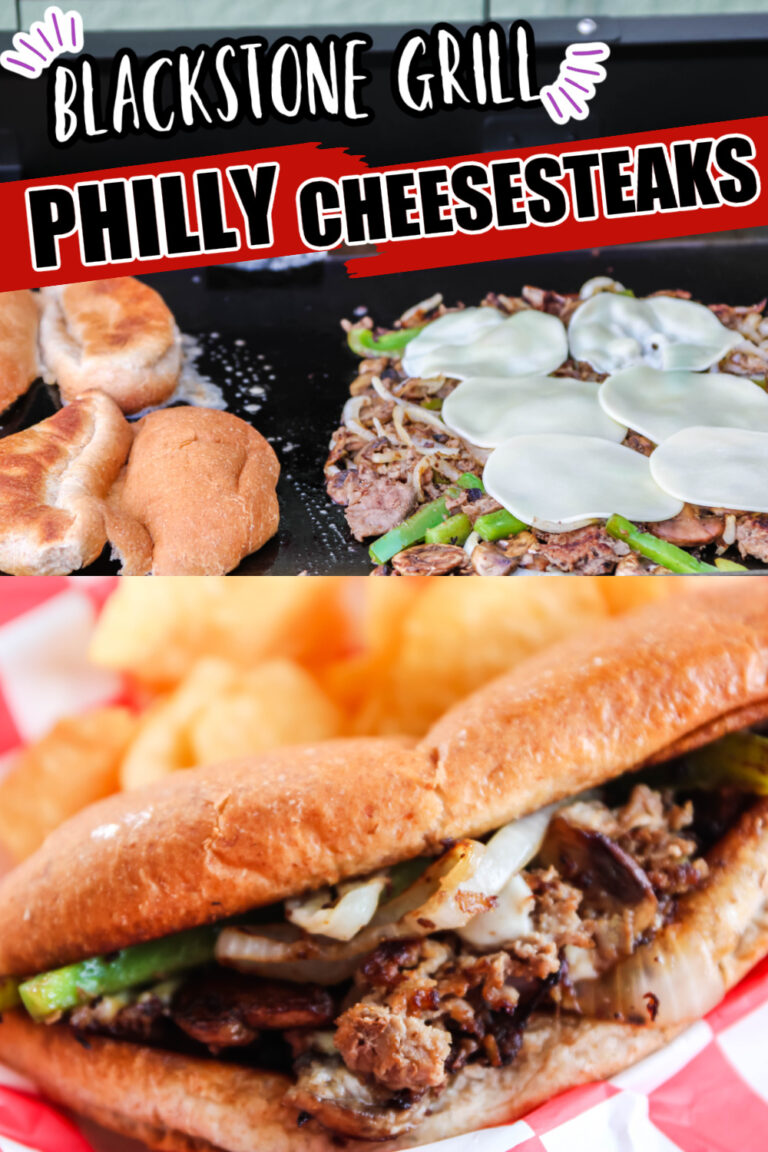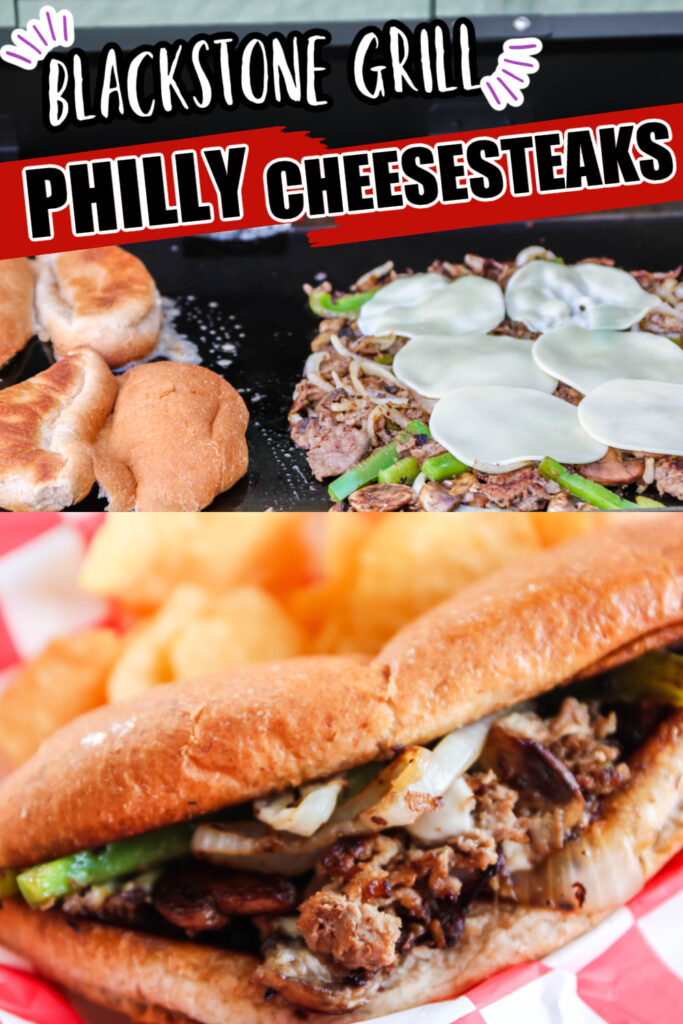 Reader Interactions