Check out these must make Blackstone Griddle Recipes! These Blackstone recipes are a must make for anyone who enjoys flat top griddle cooking!
These griddle grill recipes can be used on any flat top griddle. Whether it is Pit Boss, Blackstone grill, Cuisinart, or any other brand. Outdoor cooking at its finest! These flat top griddle recipes will be a treat for dinner, lunch, breakfast or even a dessert.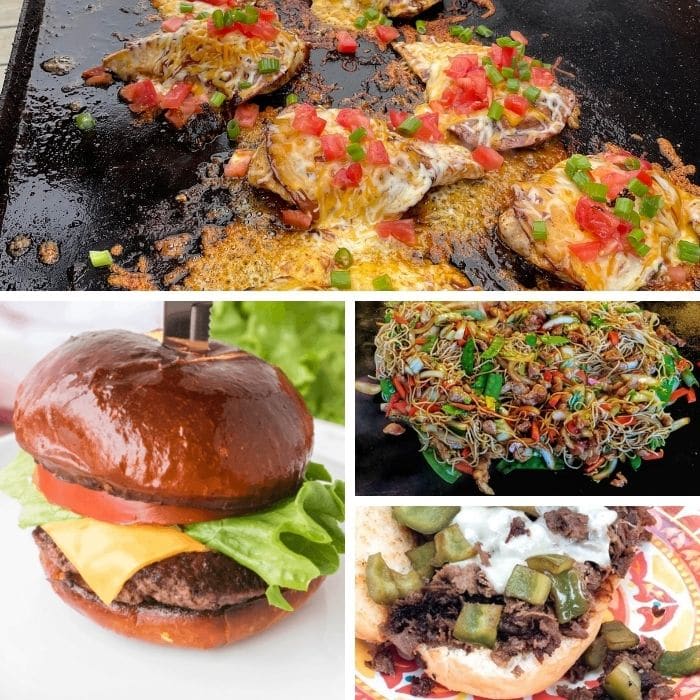 Why You Will Enjoy These Blackstone Grill Recipes
New Recipes to Try
Simple Ingredients with Big Flavor
A fun change compared to say a pellet grill
New ideas on cooking on the Blackstone griddle
Recipes for breakfast, lunch, and dinner
Large cooking surface so you can cook multiple things at once
Types of Griddle Recipes
Breakfast – Great starter recipes from the classic bacon and eggs, to a French toast.
Lunch and Dinner – These meals can be used to cook anytime of the day for a meal. You can even serve up for a crowd if you are entertaining.
Desserts – Did you know you can cook desserts on your Blackstone grill? They are awesome for sweet treats.
How to Season A Blackstone Grill
Learn how to season a Blackstone grill with my tutorial. I even have a video that helps with visual learners. Use this for when you first get your griddle or when you find your food begins to stick.
Blackstone Griddle Recipes
Here are some delicious high quality Blackstone griddle recipes. These outdoor griddles are taking the world by storm. If you own one, give these easy griddle grill recipes a try!
Common Questions
Also, before you go check out must have Blackstone Griddle accessories!
Looking For More Easy Grilling Recipes
Let me know if you try one or more of these Blackstone griddle recipes! It is a fun appliance to start using, if you are a foodie like myself.