Learn how to make Blackstone Omelettes for breakfast or even a dinner. So easy to make, and loaded with ham, bacon, cheese, peppers and onions. This omelette on Blackstone is so simple and similar to a diner omelette.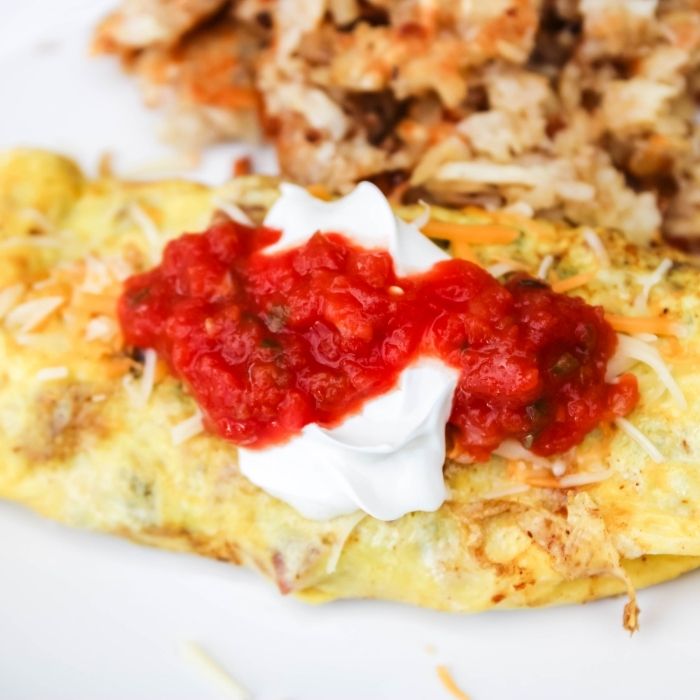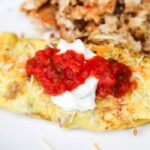 Have you tried my Blackstone omelette? A delicious egg omelette loaded with diced ham, bacon, and sautéed onions and peppers. Rolled up and topped with cheese. This omelette on the Blackstone is always a hit.
If you haven't tried making a flattop omelette I suggest adding to your menu. It cooks up like a diner omelette you would order from your favorite diner. Try this breakfast casserole for another easy recipe. Or try my Blackstone loaded hashbrowns.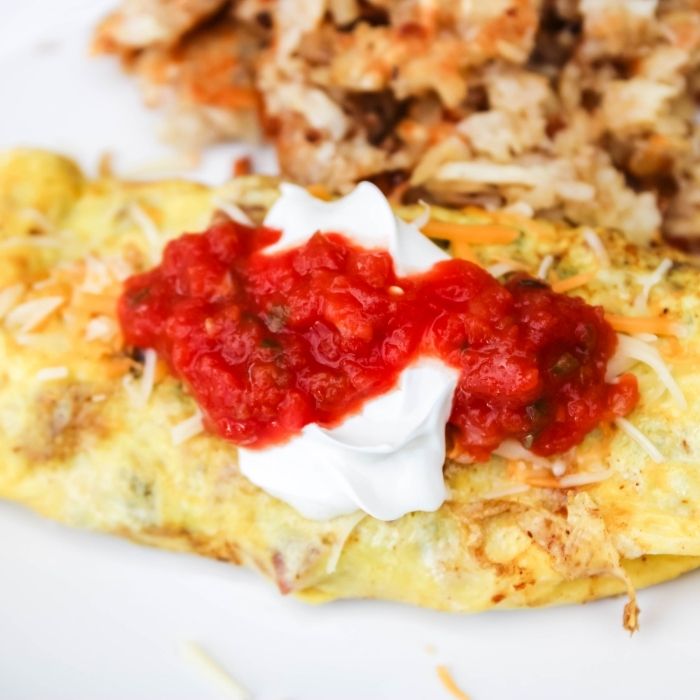 Best part of all you can do is just a plain cheese omelette, or load it up. Create your perfect omelette and dive in, fork first.
Also, if you are new to the Blackstone family, here are some helpful posts. Popular griddle accessories, or this guide on how to season a Blackstone.
This Blackstone Omelette Recipe Is…
Easy to Make
Blackstone Breakfast Recipe
Double Meat
Quick Breakfast or Dinner Idea
Quick Cook Time
Diner Style Omelette
Ingredients Needed
Here are the ingredients you will need for this Blackstone egg recipe! These griddled eggs are fully loaded.
Eggs – It is up to you on how large or small you make each of your omelette's. I did about a 4 egg omelette for each one I made.
Vegetables – I sautéed peppers and onions on the grill and then added them into the center once they were cooked down.
Meat – I cooked up diced ham and some bacon. Feel free to swap with sausage or even do a meatless omelette if you choose.
Cheese – Shredded cheese adds a nice tang and kick of flavor. Any flavor of cheese will work,
Butter and Oil – Both are used in making this recipe. The butter flavors the eggs a bit as they cook on the griddle.
Other Ingredients for Omelettes
Want more ideas on how to dress up your breakfast omelettes? Here are a few simple ideas
Mushrooms
Diced tomatoes
Jalapeno
Steak
Sausage
Hash browns or diced potatoes
Etc.
How to Make
Full directions on how to make Blackstone omelettes are in the printable recipe card at the bottom of the post. This is a visual walk through.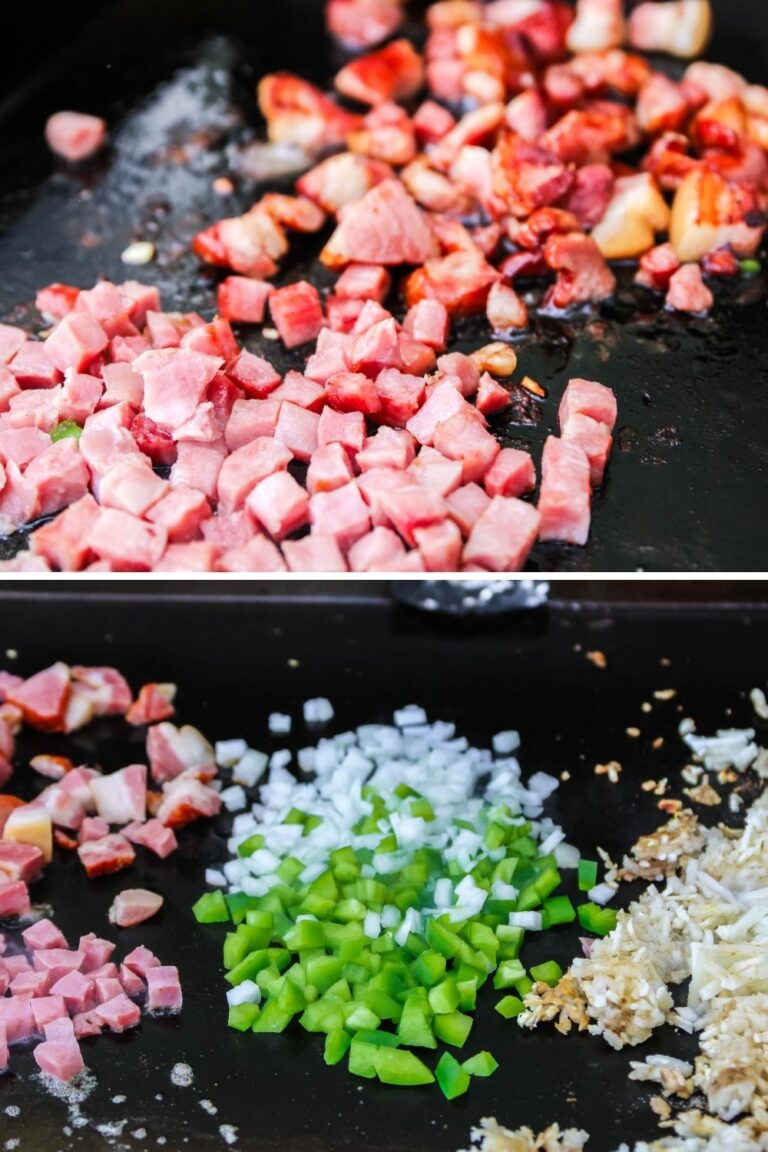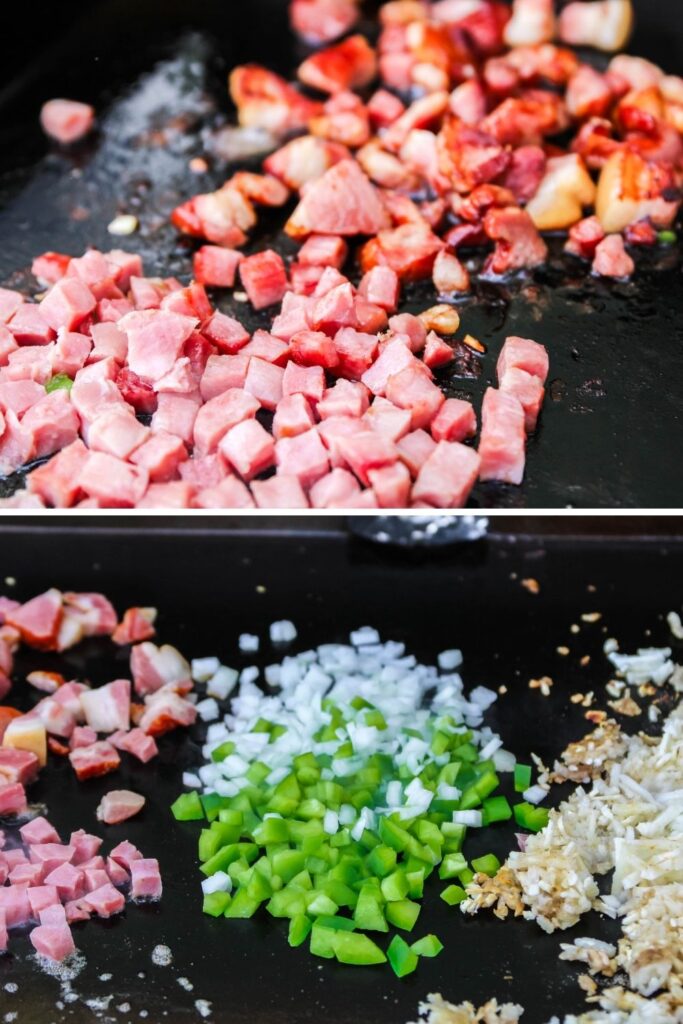 Step One: The first step is cooking your bacon and heating up the meat on the Blackstone.
Step Two: For me I chopped up peppers and onions as well and tossed them down with a little oil to prevent drying and burning them. Saute till they are softened and a little charred.
Step Three: Once veggies and meats are cooked push over to the edge. Add a little butter down, and let it melt.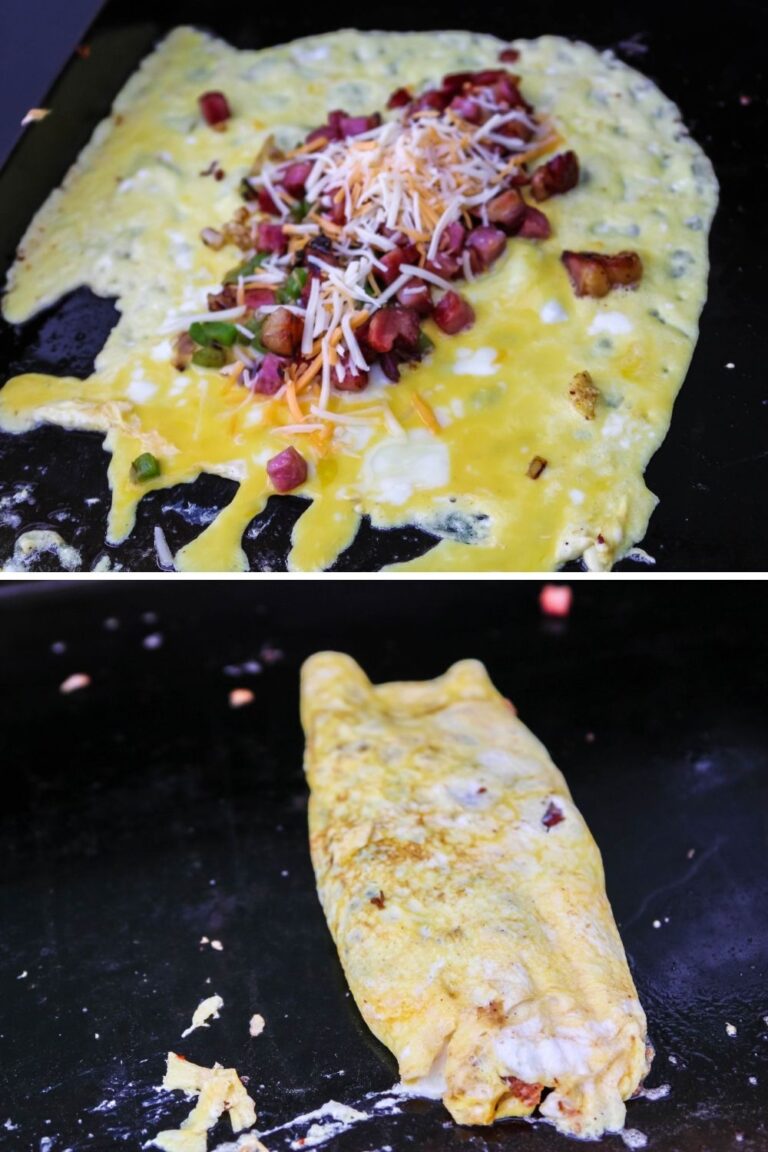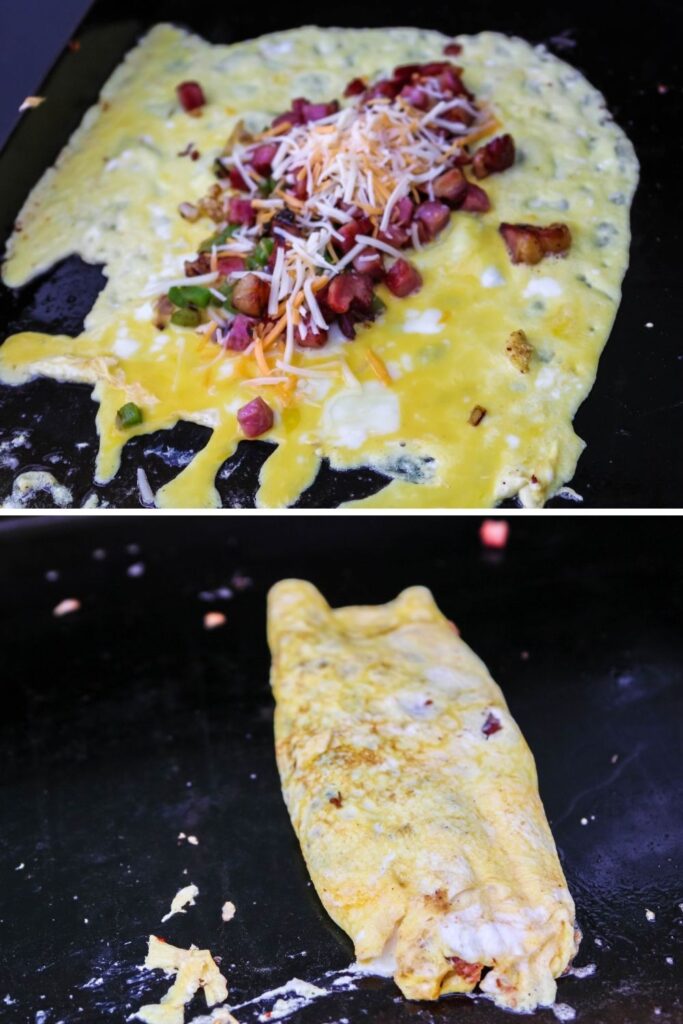 Step Four: Slowly pour your scrambled eggs, using the spatula to help catch the egg and prevent it from running too far.
Step Five: Add all your toppings in the center of the egg mixture. I did bacon, ham, peppers, onions, and then cheese.
Step Six: Carefully roll up the omelet, and slide over on the griddle and let it cook a bit longer, ensuring it cooks the center of the egg in omelette.
Step Seven: Repeat to make as many omelettes as you would like. Then top with your favorite toppings. Added cheese, sour cream, salsa, etc.
Storing Leftovers
If you happen to not eat all the omelettes they can store in the fridge for 1-2 days. I find that the veggies inside will go bad first. Reheat in the microwave or in a skillet on the stove.
Helpful Tips For Making Omelettes on Blackstone
Griddle temperature should be low, otherwise it will cook the eggs too fast and your eggs will be overcooked and rubbery.
Saute any veggies first and cook meats for this Blackstone griddle omelette. The veggies will need to soften a bit or it will be too crunchy when you bite into the omelettes. Or that is my personal preference.
When you pour the eggs, pour it very slowly. Otherwise the eggs will run all over the griddle.
Make sure you have butter or a little oil down on the griddle to prevent sticking of the egg mixture.
Use a larger spatula to help with flipping the eggs on top of each other. If you don't do this then you can tear the omelettes.
FAQs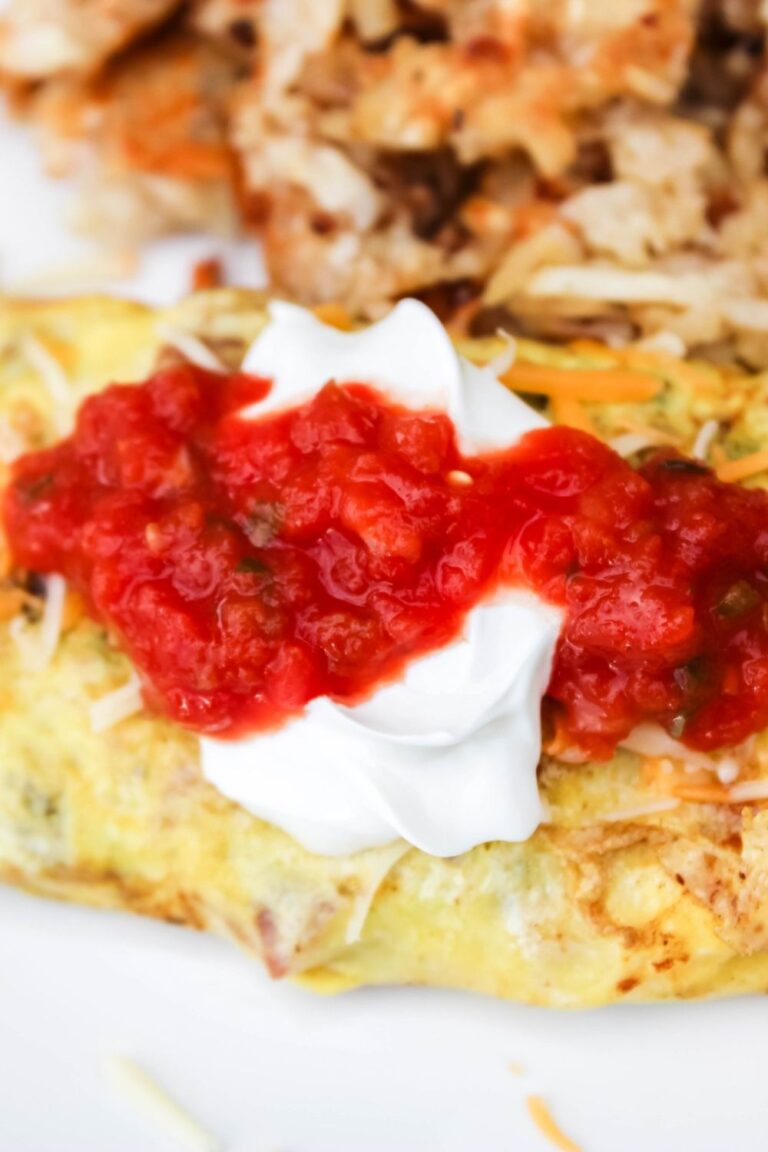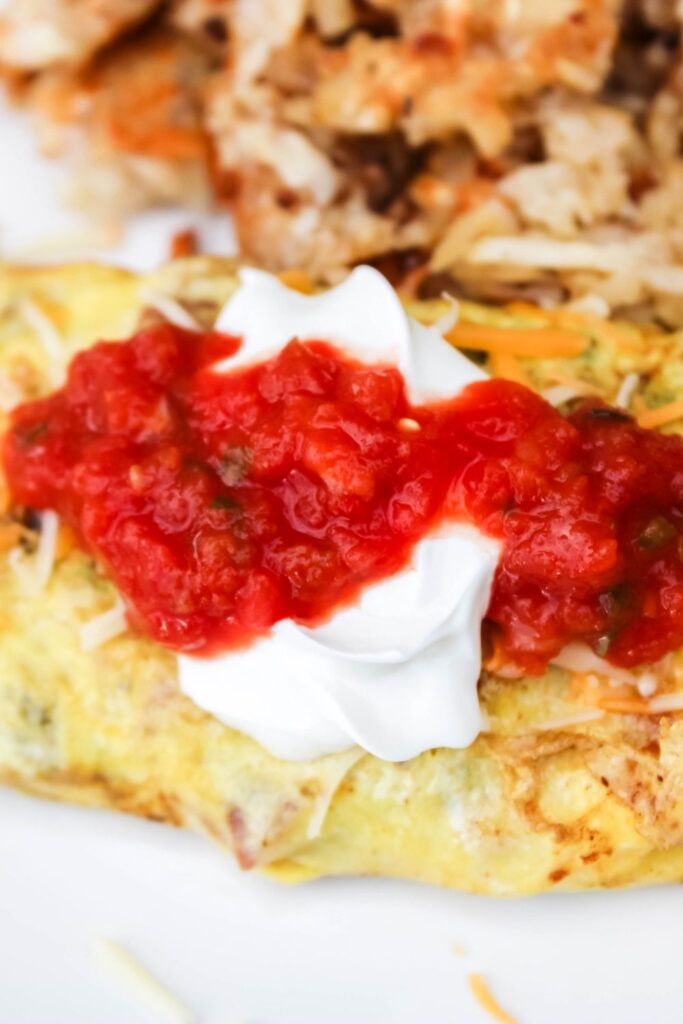 More Blackstone Recipes To Try
Have you tried the recipe? If so, please leave a star ⭐️⭐️⭐️⭐️⭐️ rating in the recipe card below or drop a comment. Also stay in touch with me through social media by following me on Facebook, Pinterest, or My Facebook Group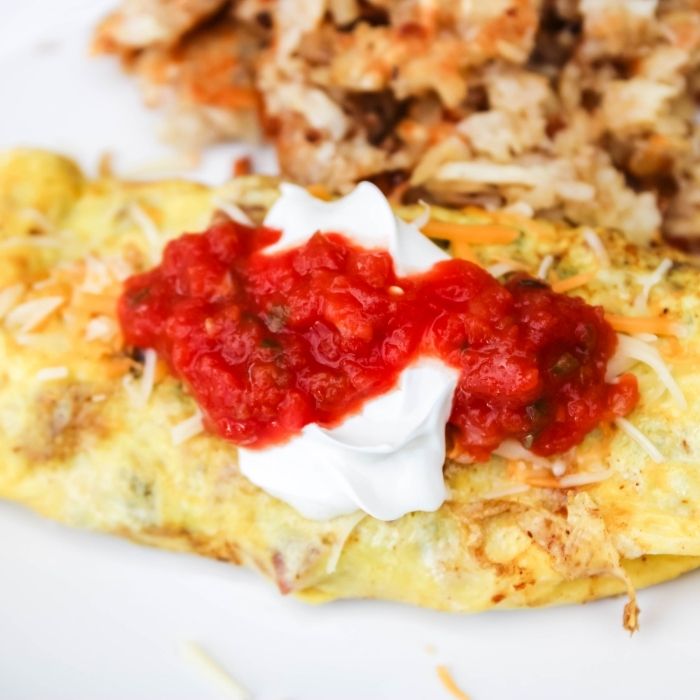 Blackstone Omelettes
Servings 3
Learn how to make Blackstone Omelettes for breakfast or even a dinner. So easy to make, and loaded with ham, bacon, cheese, peppers and onions. This omelette on Blackstone is so simple and similar to a diner omelette.
Ingredients
2-3 slices of bacon
1/2 cup cubed ham
1 small bell pepper diced
1/2 small onion diced
1 cup shredded cheese
9 eggs whisked
2 tablespoons butter
1 tablespoon oil
Instructions
Start by dicing up the bacon and adding it to the Blackstone on Medium heat, along with ham and diced peppers and onions and cook until fully cooked through.

I did add a little oil to the peppers and onions to help ensure they didn't burn.

Once meat and veggies are done, push to side and then add a tablespoon or so of butter on the griddle. Make sure the griddle is not too hot.

Slowly pour about 3 eggs worth on the griddle. I used my spatula to help act as a barrier to prevent it from eggs running too big.

Place meat, vegetables, and some cheese in the center of the egg omelette.

Then slowly begin to fold the egg onto itself. Be gentle or it can break the egg.

Once the omelette is rolled up, move to the side and let it finish cooking. You want to make sure the center gets fully cooked.

Repeat the same steps to make the next omelette on the Blackstone griddle.

Once the meat loaded omelettes are done, top with sour cream, salsa, shredded cheese, etc.
Notes
Filling – You can do just cheese only, or add tons of veggies. You can fill your omelettes with any fillings you want. Heat – All Blackstone grills heat slightly different. Just aim for a low heat to ensure it doesn't sear the eggs as soon as you dump them. Eggs – Aim for 3-4 eggs per omelette. If you want a super large one you can do up to 5 eggs.
Nutrition
Serving: 1gCalories: 576kcalCarbohydrates: 6gProtein: 37gFat: 44gSaturated Fat: 19gPolyunsaturated Fat: 22gTrans Fat: 1gCholesterol: 641mgSodium: 933mgFiber: 1gSugar: 2g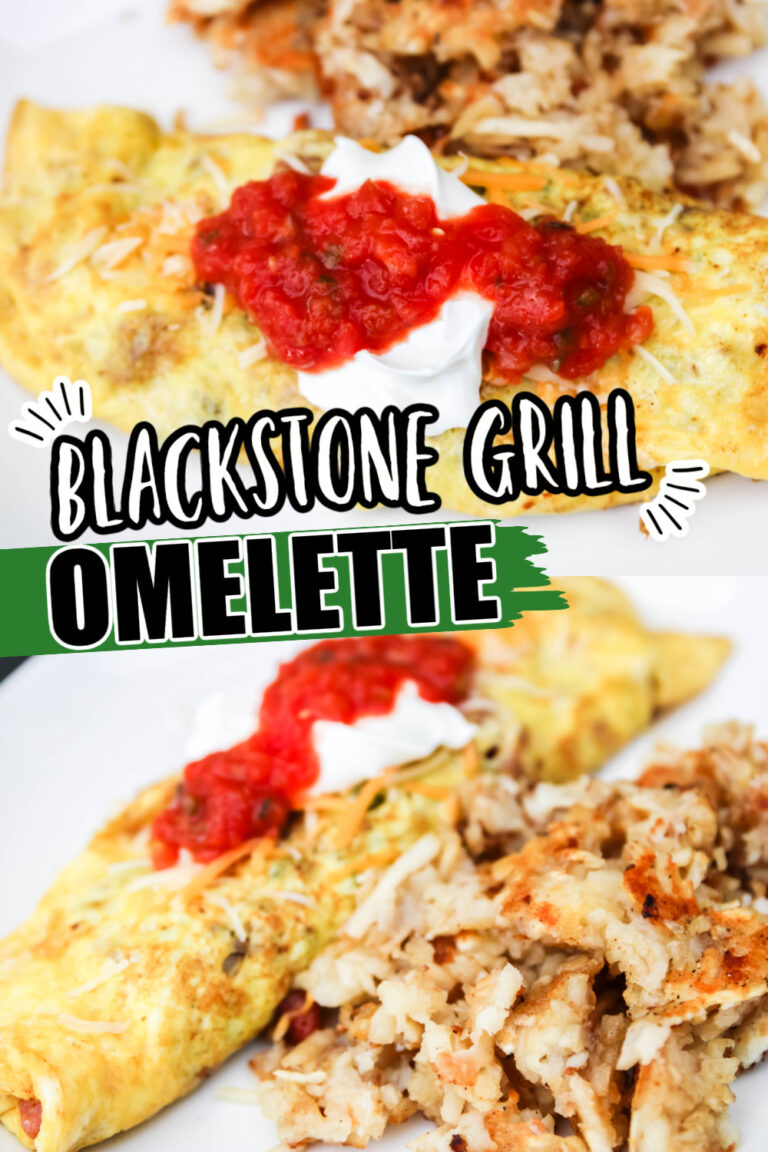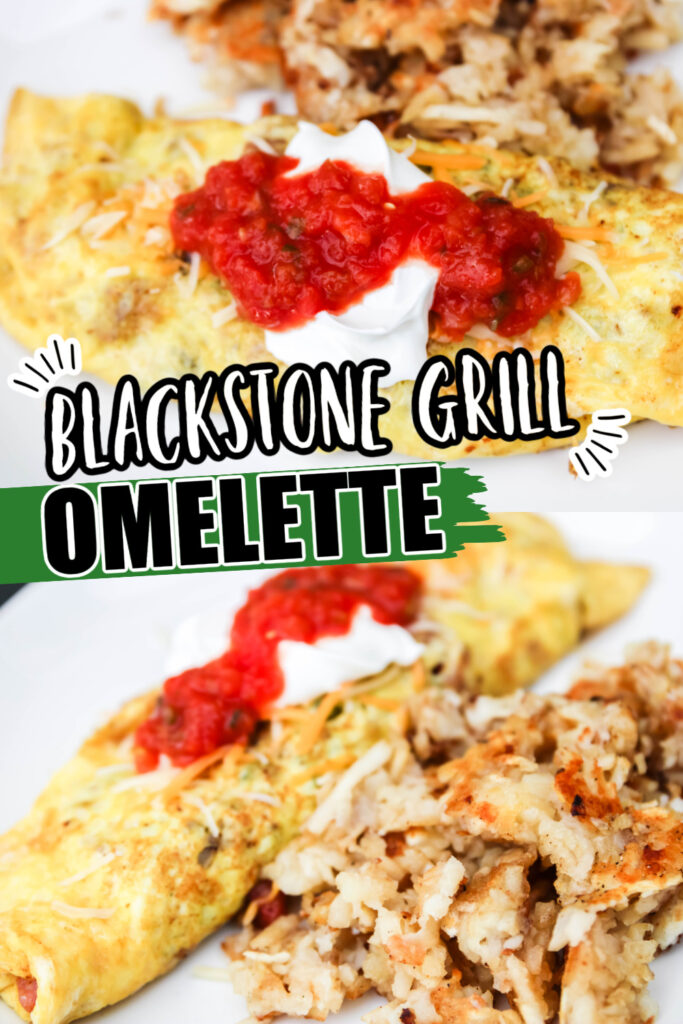 Reader Interactions