Blackstone Loaded Hashbrowns are a Blackstone griddle breakfast recipe. This is a crispy hashbrown that is topped with bacon, eggs and cheese. A delicious breakfast recipe, brunch, or dinner idea.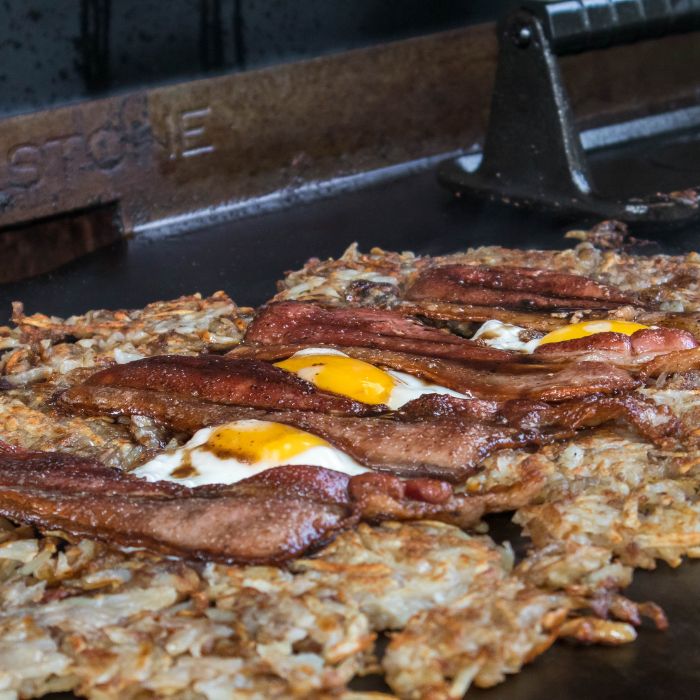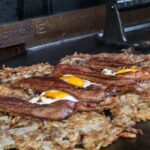 If you own a Blackstone consider making this Blackstone loaded hashbrowns recipe. Seared hashbrowns that are topped with salty bacon and eggs cooked to perfection. Grab a fork and dive into this savory Blackstone breakfast recipe.
I love my Blackstone my sister got me as a birthday gift. If you love cooking on your Blackstone try out my Blackstone hashbrowns that are topped with bacon and eggs.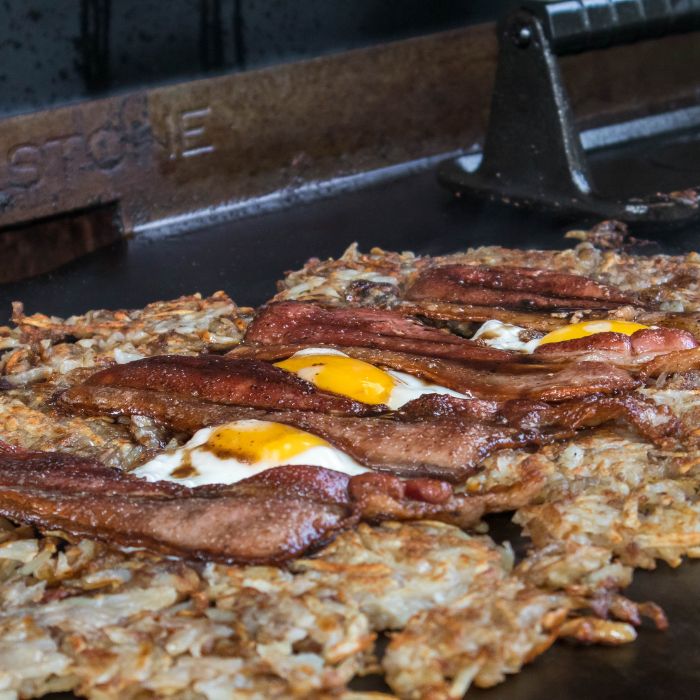 Want more Blackstone recipes? Make sure to try out these tasty creations: Smash Burgers, Omelettes, or Smashed Potatoes.
This breakfast cooks so fast on the Blackstone griddle! You can serve this up for breakfast or dinner any night of the week.
This Blackstone Hashbrown Recipe Is…
Cheesy hashbrowns that are topped with bacon and eggs.
Serve up for breakfast, lunch, or dinner.
This Blackstone recipe cooks fast and takes minimal effort to make.
Simple ingredients you might have on hand already.
Family-friendly loaded hashbrowns recipe!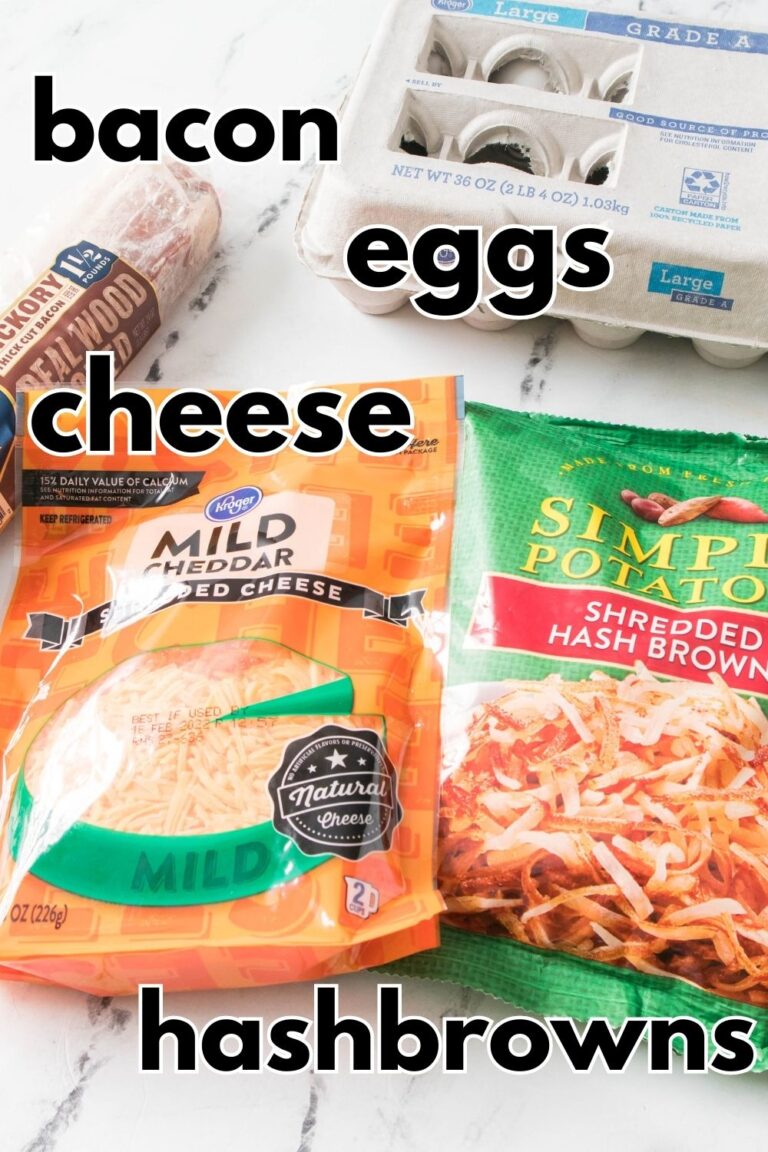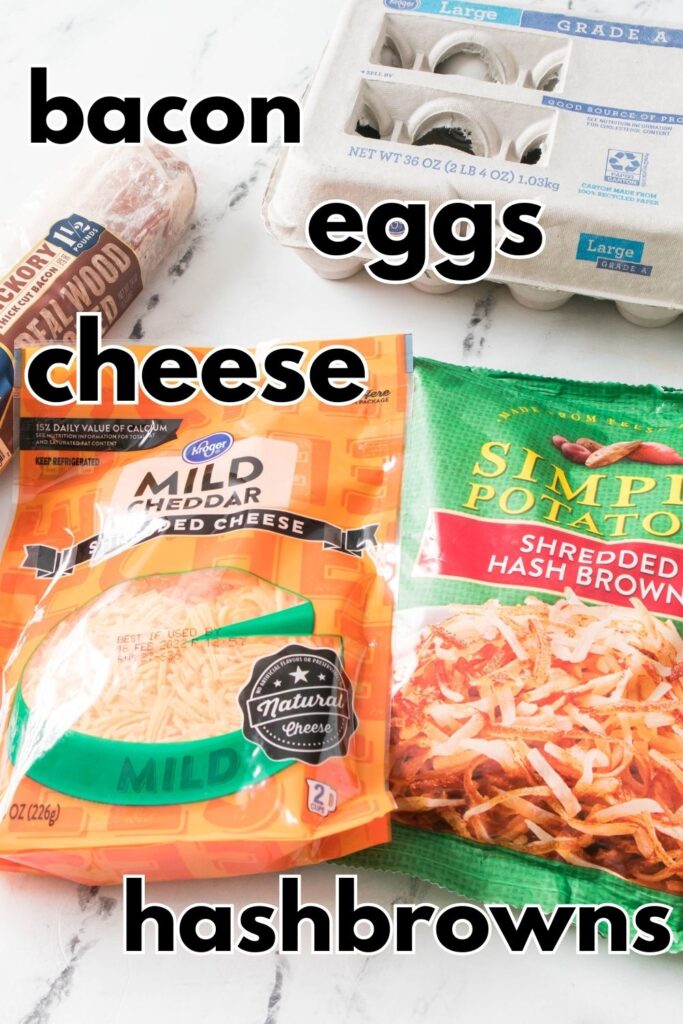 Ingredients
Bacon – Reach for any cut or variety of bacon you would like.
Hashbrowns – I used store-bought hashbrowns. You are welcome to use frozen I just recommend thawing first as you don't want the frozen potatoes to warp the hot blackstone.
Eggs – If you like eggs here is a great way to add extra protein to your recipe.
Cheese – I love cheesy hashbrowns so I wanted to add this in for added goodness. The cheese is optional!
Butter – Real butter that is unsalted is what I prefer as the bacon has enough salt for my liking.
Salt and Pepper – Season to taste.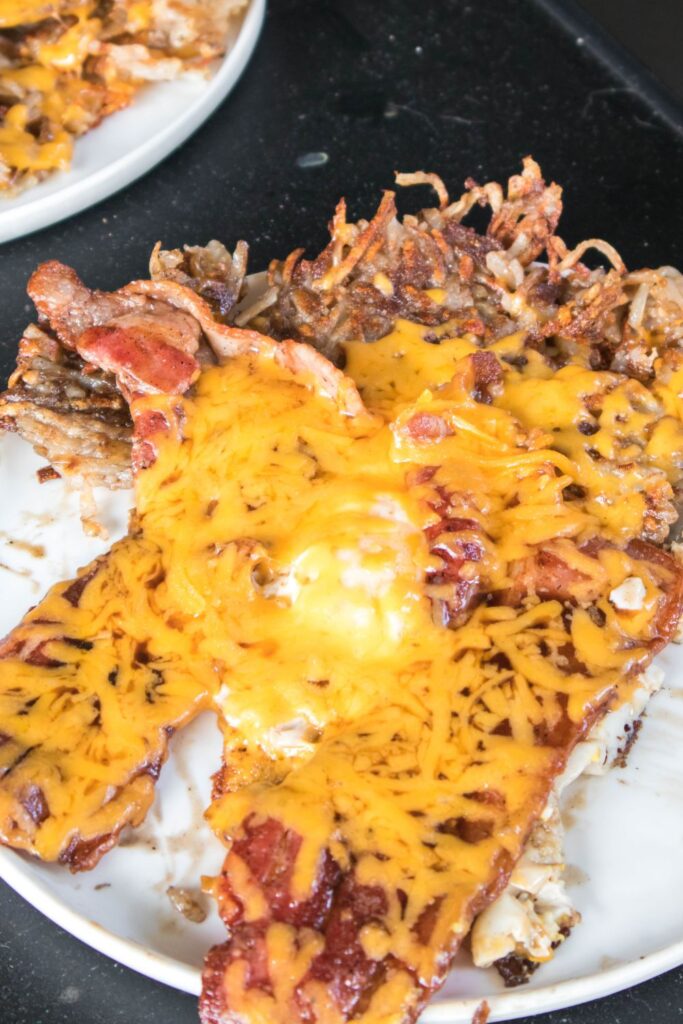 Variations to Recipe
Meat – you can use any type of meat you would like. You can cook sausage, chorizo, or even steak. Feel free to reach for whatever protein you would like.
Eggs – Skip over easy or fried eggs feel free to whip up scrambled and top of the hashbrowns.
Potatoes – Reach for shredded or opt for cubed potatoes. You will just cook the potatoes a bit longer as cubed potatoes will take longer.
Veggies – Dice up peppers, onions, and even mushrooms or other vegetables of your choice to mix in the loaded hash browns.
How to Make
Full steps are below, this is a quick walkthrough on how it is made with visual images.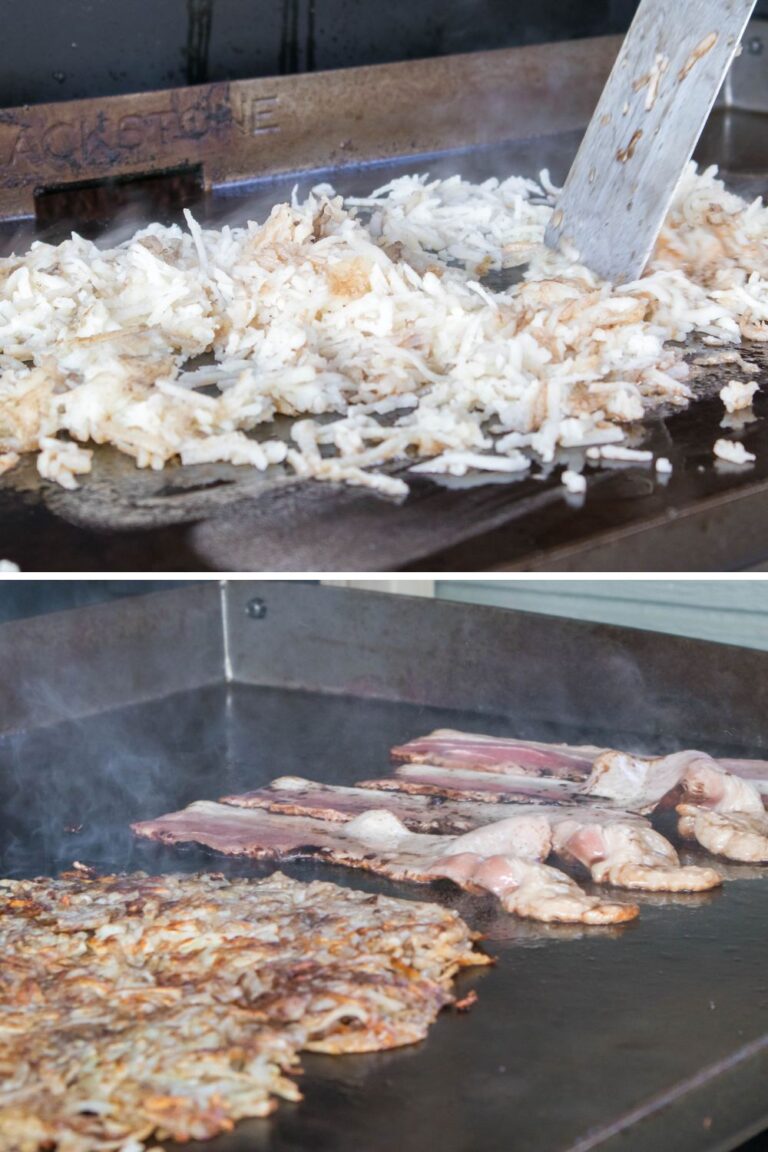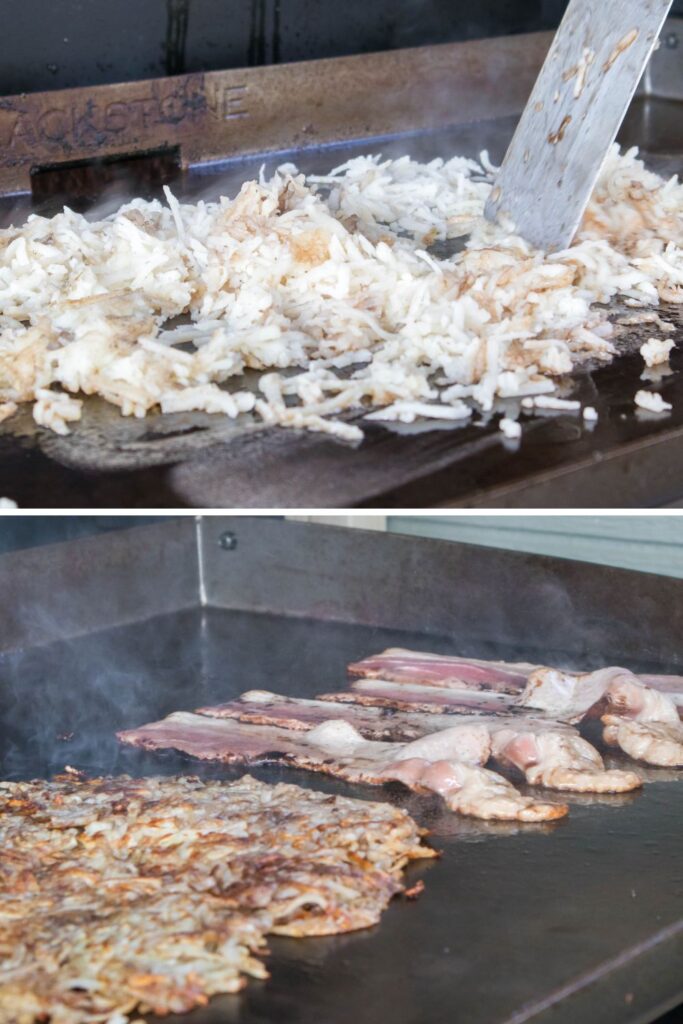 Heat your griddle on medium to medium-low heat. Add butter and let it melt on the Blackstone.
Once the griddle is hot add your hashbrowns in a thin layer. Season with salt and pepper.
Allow the hashbrowns to set for a few minutes to create a nice golden brown crust.
Flip hashbrowns. On the other side of the griddle lay out your bacon and cook until your bacon is fully cooked.
Expert Tip: Adding frozen hashbrowns to a hot griddle can warp the metal top. Make sure to thaw the hashbrowns first.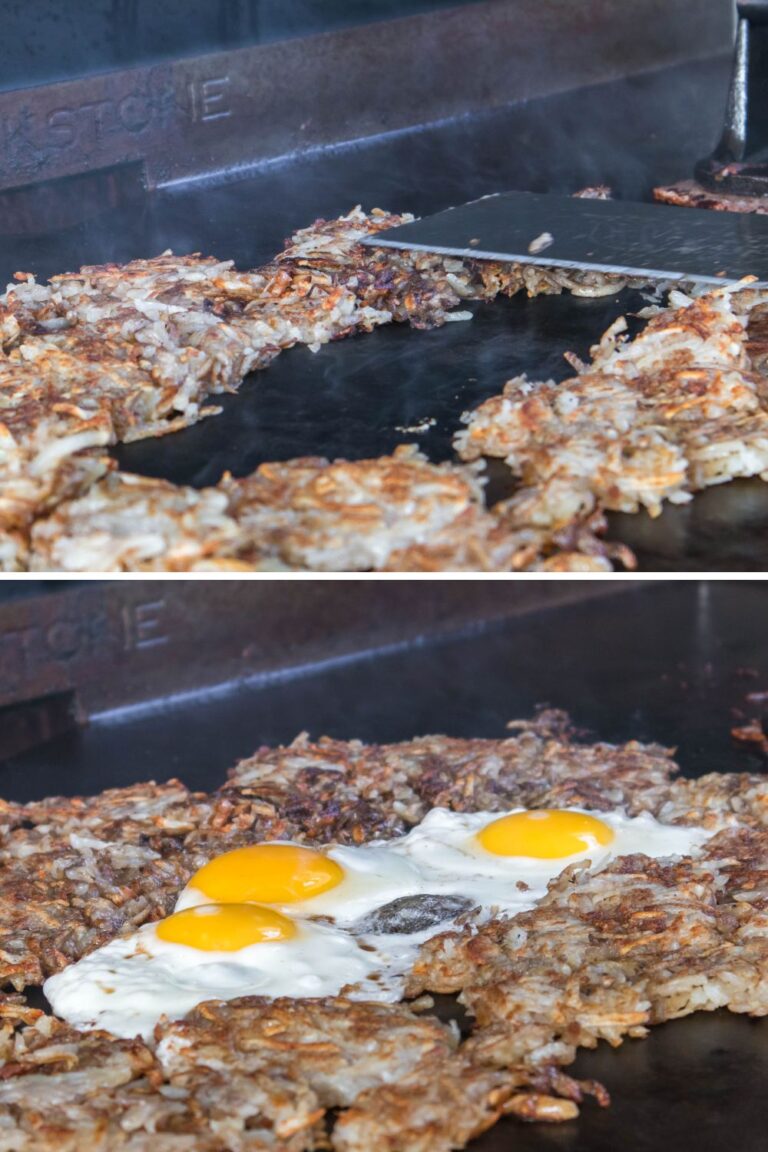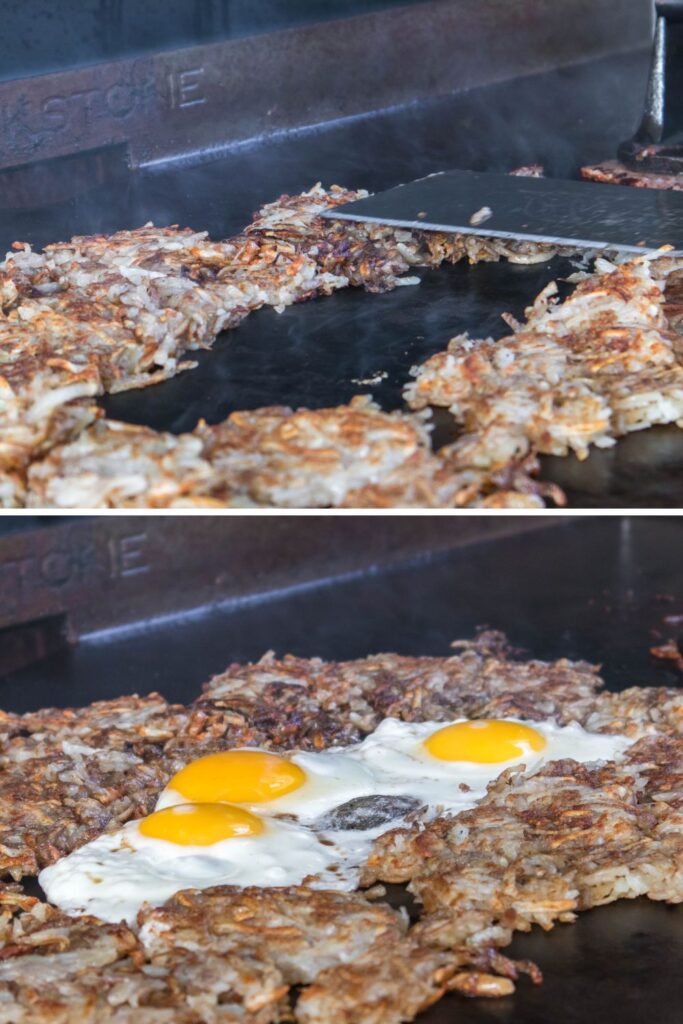 Once hashbrowns are fully browned on both sides create a circle with the hashbrowns, like a well.
Add your eggs in the center and cook to sunny side up, over easy, or even scramble them.
Once the eggs are done, top with the cooked bacon, and sprinkle on cheese.
Let the cheese melt and then dish up this Blackstone breakfast!
Storing
Any leftovers you have can be stored in the fridge in a sealed container. The mixture will last 2-3 days. Then reheat in the microwave or even on the Blackstone or on a pan on the stovetop.
FAQs
Can I use homemade hashbrowns instead of frozen ones?
You are welcome to grate your own potatoes and cook them on the Blackstone griddle. One thing to do is once grated place in cold water to prevent the potatoes from browning. Then drain off the water before placing it on the griddle.
Can I flavor the hashbrowns with spices?
Go right ahead and season with Creole, season salt, garlic powder, onion powder, or your favorite spices.
Why are my hashbrowns soggy?
The key to hashbrowns is allowing time for the potatoes to sear on both sides. If you flip too soon it will not create that golden crust on the potatoes. So be patient and flip the hashbrowns once the bottom side gets golden brown in color.
More Blackstone Recipes
Have you tried the recipe? If so, please leave a star ⭐️⭐️⭐️⭐️⭐️ rating in the recipe card below or drop a comment. Also stay in touch with me through social media by following me on Facebook, Pinterest, or My Facebook Group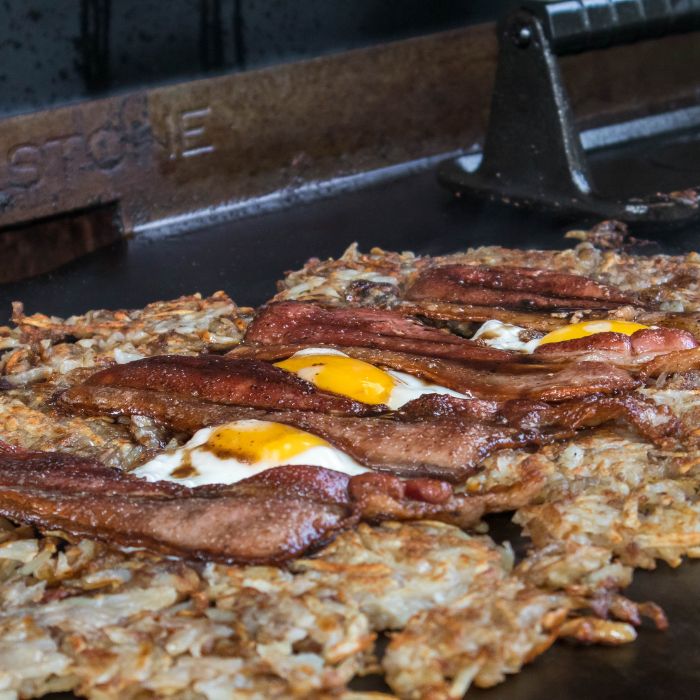 Blackstone Loaded Hashbrowns
Servings 4 servings
Blackstone Loaded Hashbrowns are a Blackstone griddle breakfast recipe. This is a crispy hashbrown that is topped with bacon, eggs and cheese. A delicious breakfast recipe, brunch, or dinner idea.
Ingredients
1-2 tablespoons butter
1 tablespoon oil
1 pound hash browns – thawed and patted dry if frozen
4 slices bacon
4 eggs
1 cup shredded cheddar cheese
salt and pepper – to taste
Instructions
Heat your Blackstone on medium-low heat. Then add your butter onto the griddle and let it melt.

Once the butter is melted and the griddle top is nice and hot you will place a thin layer of hashbrowns on the Blackstone. Add your oil to help create that nonstick surface. Season as you would like.

Let it cook for a few minutes, until it creates a golden and crispy crust to the potatoes.

While the hashbowns are cooking place your bacon to the other side of the Blackstone. I like to put a press on the bacon to help prevent it from shriking.

Next once the hashbrowns are fully cooked make a hole in the center of the hashbrowns. Add your eggs in the center of hashbrowns and cook until they are done to your desired preference.

Once the eggs and bacon are done, place bacon on top of the hashbrowns and eggs. Then sprinkle with cheese. Once the cheese is melted dish up and season with salt and pepepr and enjoy.
Notes
Cook Time: Depending on how hot your griddle is will vary on how long it takes to cook the potatoes, bacon, and eggs.  Eggs: You can cook your eggs over easy, sunny side up, scramble, etc. The choice is yours. Leaving the hashbrowns around the eggs helps keep the eggs in place.  Hashbrowns – Sometimes the hashbrowns can be dry out so if you need you can add a splash of water or oil to help keep the hashbrowns moist.  Bacon: You can do turkey bacon, opt for sausage, chorizo, or go meatless.  Veggies: Saute up some onion and peppers for added flavor to the hashbrowns. 
Nutrition
Serving: 1gCalories: 212kcalCarbohydrates: 1gProtein: 12gFat: 18gSaturated Fat: 9gPolyunsaturated Fat: 1gMonounsaturated Fat: 5gTrans Fat: 0.1gCholesterol: 200mgSodium: 271mgPotassium: 83mgSugar: 0.3gVitamin A: 608IUCalcium: 225mgIron: 1mg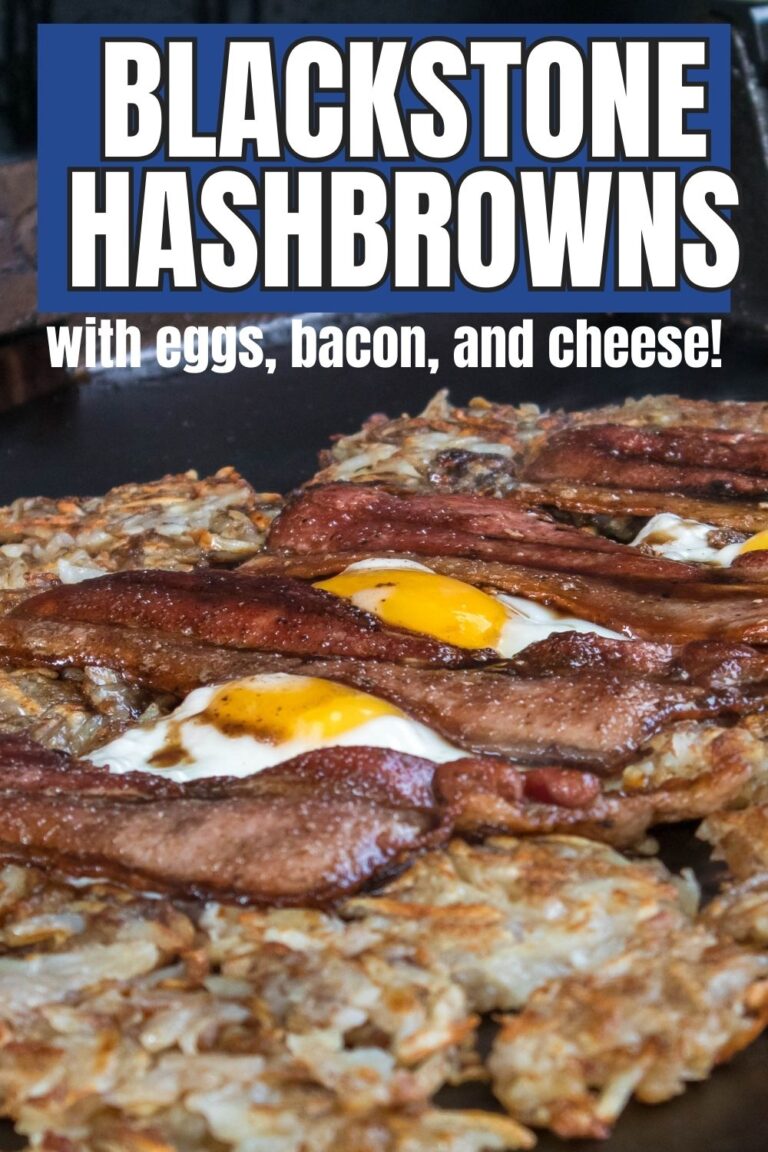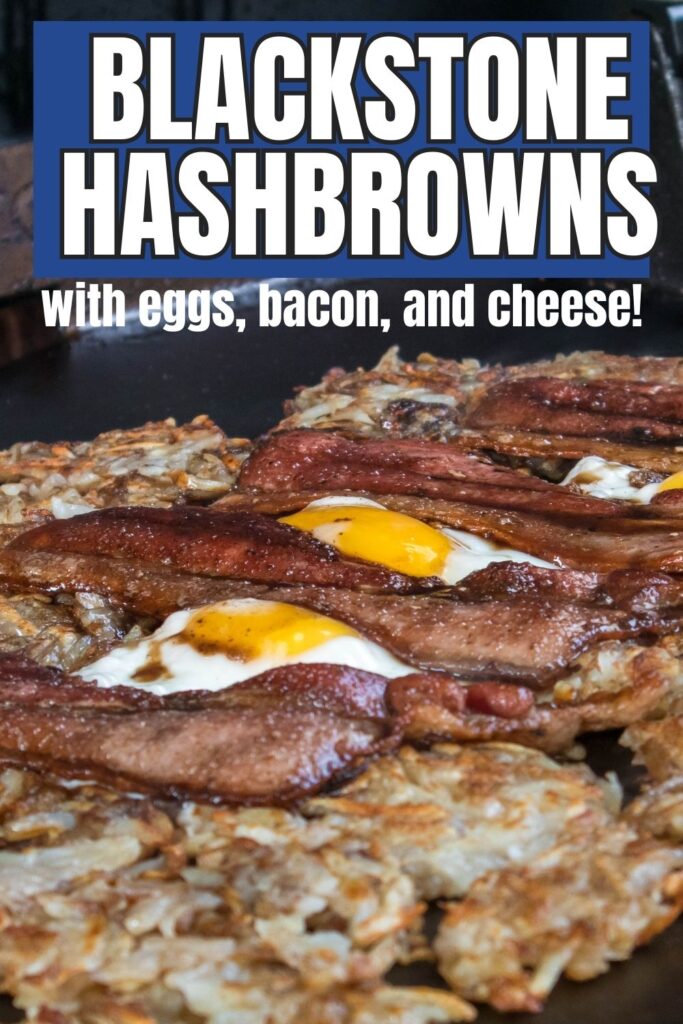 Reader Interactions