Learn how to make Blackstone Smash Burgers. Now you can cook your burgers on a large cast iron skillet or any other flat top griddle. This smashburger recipe is so simple and loaded with flavor.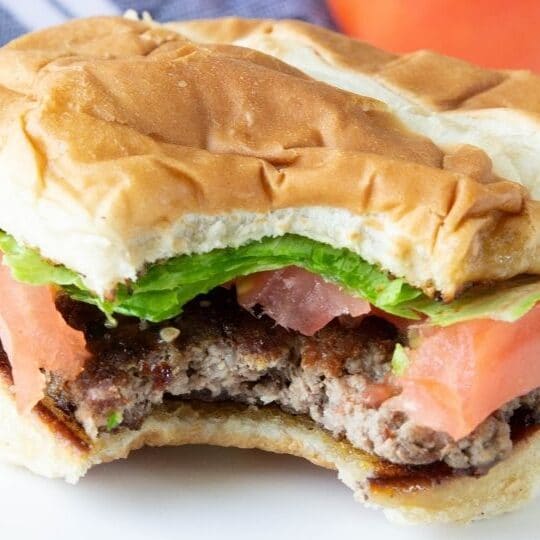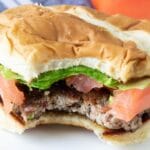 Whip up a batch of these smash burgers for dinner tonight. A thin crispy crust hamburger patty cooked on a griddle or even a cast iron skillet. I made these Blackstone Smash Burgers for dinner and they were a hit.
Smash burgers on the Blackstone aka flat top grill are truly delicious. If you enjoy bar/pub style burgers you are in for a treat. You also might know these as smash patty's, flat top burgers, or Blackstone smashburgers. No matter what you call these burgers on griddle they are a hit. Check out my White Castle copycat recipe as well.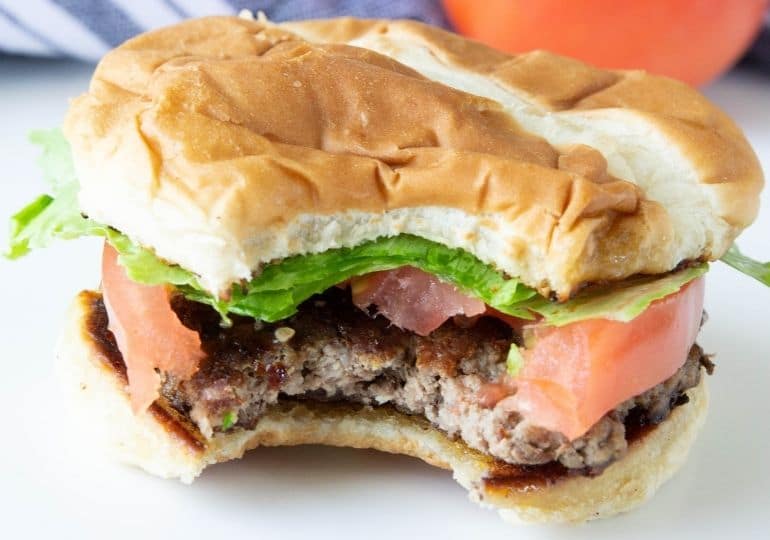 Also, try my baked burgers, where you bake them in the oven! They are so juicy, it is shocking how good they are. Also, head over and check out my Blackstone steak and potatoes recipe!
Toast your buns and pile high with all your favorite toppings. This Blackstone smash burger recipe is gonna be a hit! Check out this flat top grill dinner recipe for a simple meal the whole crew will enjoy. Or do my shaved steak sandwiches, Philly Cheesesteaks!
What Is A Smash Burger
You might know smash burgers from the restaurant or how everyone talks about these delicious thin burgers.
A round ball of meat is tossed in a hot griddle or grill then smashed and seared. Crispy texture is created on the outside which locks in big flavor!
Also try out my burger sliders. for an easy dinner or appetizer.
Why Make Smash Burgers
Flavorful Burger – These are such delicious and flavorful burger. The sear at high heat adds so much flavor to the meat.
Flat Top Grill or Cast Iron Skillet – So I made these burgers on my Blackstone griddle. But any flat top grill or even a large cast iron skillet works.
Simple Prep – Simple ingredients and simple steps needed to get this burger recipe cooking. Add any seasonings you would like to this ground beef burger recipe.
Ingredients
Ground Beef – We get our beef from a butcher shop locally and I used 85/15. Feel free to reach for any beef you enjoy.
Seasonings of Choice – For us we did just salt and pepper. But on occasion I will use a Kansas City Blend spice that we love on burgers.
Buns – For this go around I used sourdough buns. Feel free to skip buns for a low carb or go grab what you enjoy. Pretzel buns would be awesome or even an onion bun.
Toppings – Lettuce, tomato, onions, etc. load your burgers up or keep them simple.
Butter – You can add butter to your buns before you toast. This helps your buns crisp up but also adds flavor to your smash burgers.
How to Make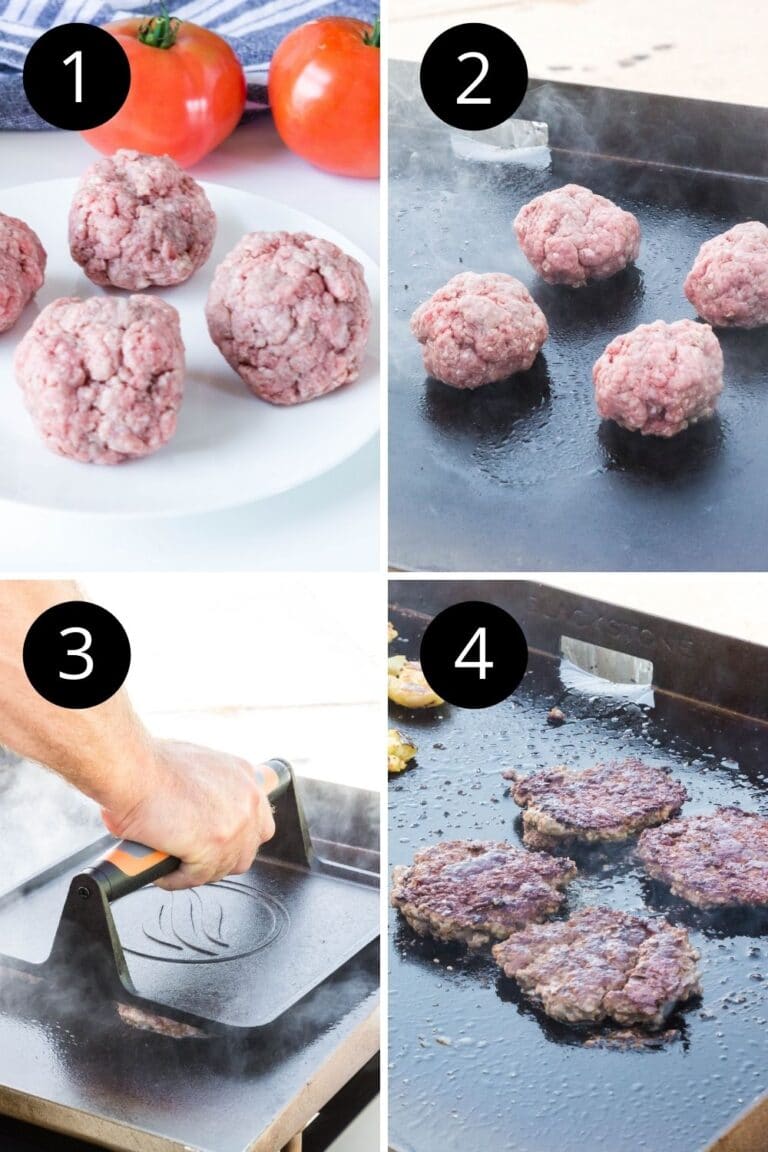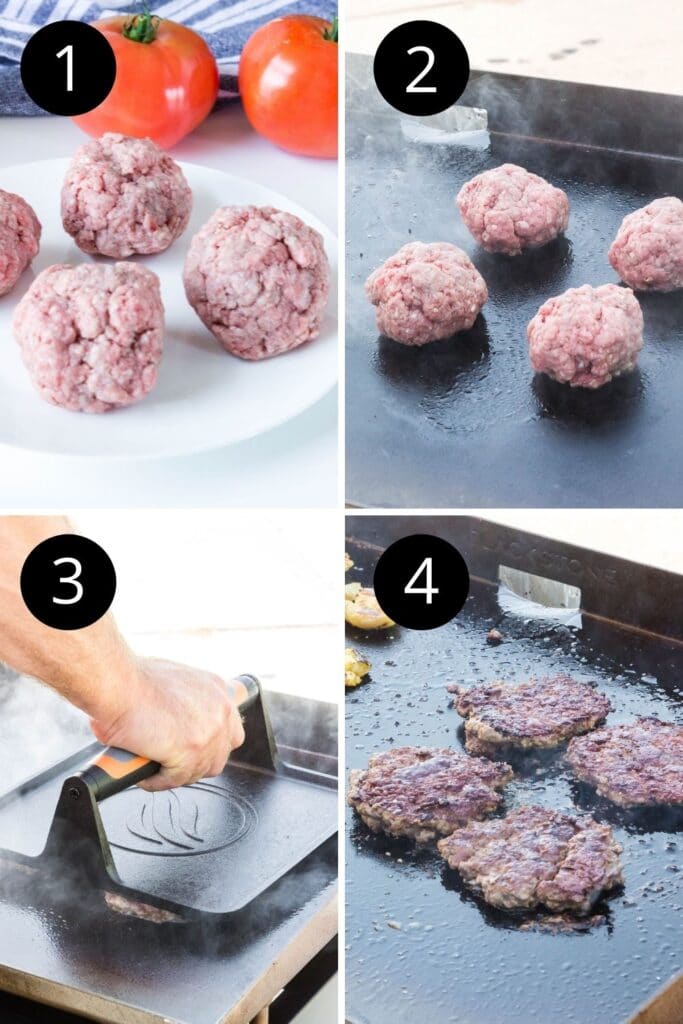 Step 1: First you want to put your ground beef in a bowl and lightly break it up. Then grab some meat and lightly roll into a ball.
Don't pack the meat in a tight ball, it needs to be loosely formed. I did 4 balls from 1 pound meat. Feel free to adjust burger size.
Step 2: Turn your Blackstone on high and let it get nice and hot. Or if you are cooking on a cast iron skillet turn to high, add a little oil and let it get hot.
Place burger balls on hot griddle. Searing your burgers really well is key.
Step 3: Then with your burger press, press down firmly to flatten your patties. Sprinkle with seasoning and let cook. We made ours pretty thin.
The thin texture and hot griddle creates a crispy crust texture on the outside of the burger.
Step 4: Around 3-5 minutes check your burger to see if it is crispy on the bottom, and if so flip, season again, and let the other side crisp up.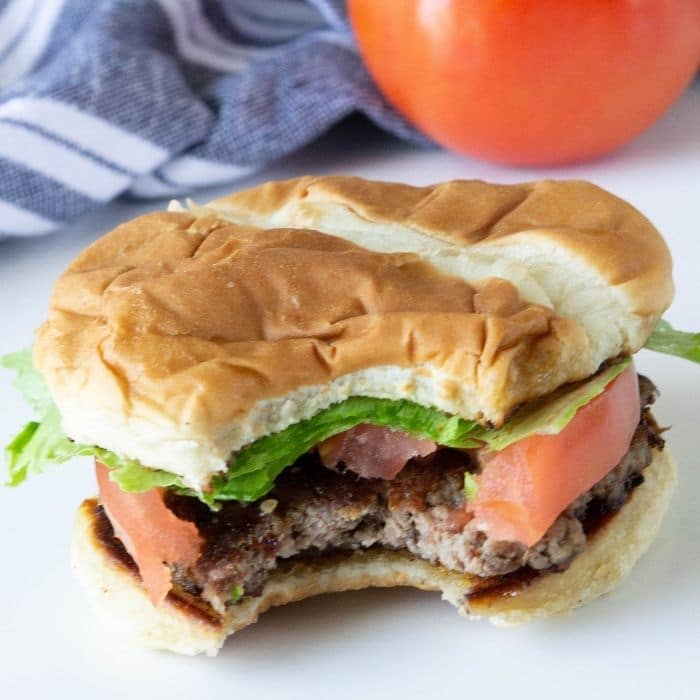 Step 5: Place buns on griddle to toast. Remove buns once a slight golden color. You can butter your buns or drizzle with light oil on grill to help the buns toast.
Expert Tip: Depending on size of burger balls you make the cook time will vary.
Storing Leftovers
If you don't eat all your burgers, no worries, store in the fridge. Just place in a sealed bag or container for up to 3 days.
Rehear as you would like and enjoy. The homemade smash burgers are best served warm and fresh.
Ways to Use Up Leftover Burger Patties
Big Mac Salad – Chop up your patties and then add to a salad. We have made Big Mac style salads and it's so tasty. Any toppings and dressing works!
Chili – If you are planning to make chili cook up some extras burgers. Then chop into pieces and add all your ingredients for chili. The flavor from the smash burgers will change up the flavor.
Quesadilla Burgers – Of course you can make a classic burger with a bun if you so choose. It's delicious to do a quesadilla style burger the next day for a slight change.
Baked Beans with Ground Beef – Make my popular beef and beans recipe and just cut up the burger into pieces. It works great and is delicious served with a side of cornbread for an easy dinner idea.
There are so many fun and creative way of use up leftovers. Changing up how you serve will really help make eating leftovers feel like a whole new meal. I hope you guys love this Blackstone Griddle recipe like we do.
Expert Tips
Here are so many techniques used around the the world, but here is how I do it, and my tips!
Greasing your flat top griddle or cast iron pan will help prevent sticking. Pressing and searing is the key to the smash burger technique.
I used a cast iron burger press. You can place parchment paper or spread oil on it before you press as it can stick to burgers.
If you don't have a burger press use a sturdy heavy gauge stainless steel spatula that doesn't have holes. Then press firmly.
The key is for thin burgers when smashing. That's why you don't want your ball to be firm or it won't smash.
Burgers are cooked when the internal temperature reaches 160-165 degrees.
Toasting your bun is going to truly add so much flavor to your hamburger.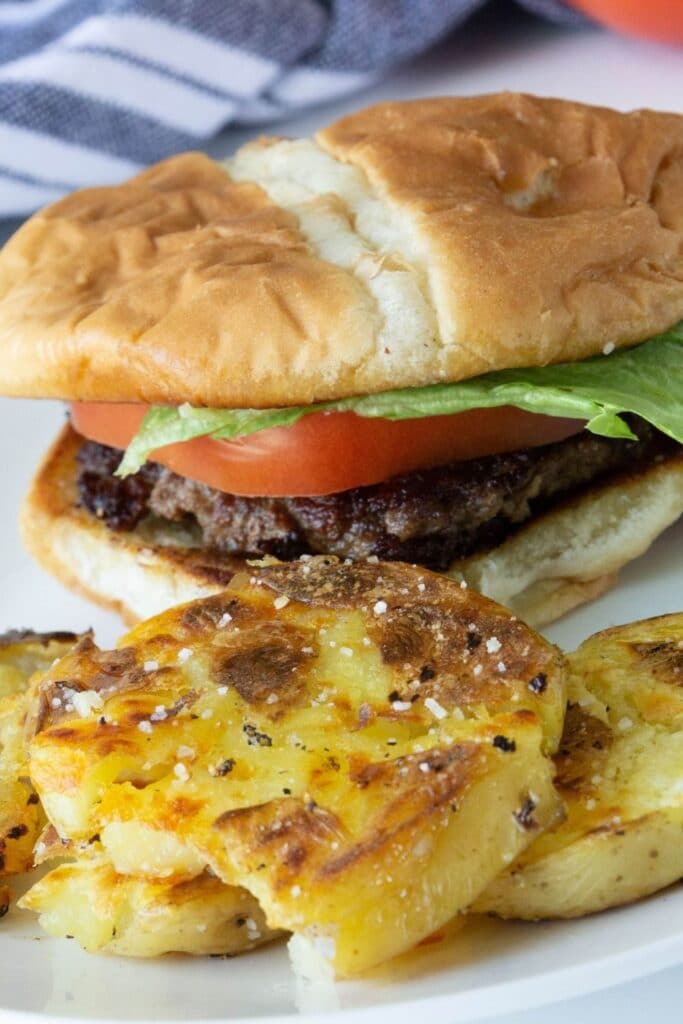 Variations
Mix in seasonings – When making your burger balls season the meat before forming to add extra flavor.
Cheese – Go right ahead and top your smashburgers with cheese if you want cheeseburgers. Once you flip your burger and flatten again if needed top it with cheese.
Bacon – Cook up some bacon on the side and then create a loaded bacon burger.
Onions – You can toss onions on the grill for topping your burger. Add some oil, a little sprinkle of salt and cook to soften onions. Yellow or sweet onions are best.
Etc – There are so many ways to change up this smashburger recipe. Give it a try today!
FAQs
Related Recipes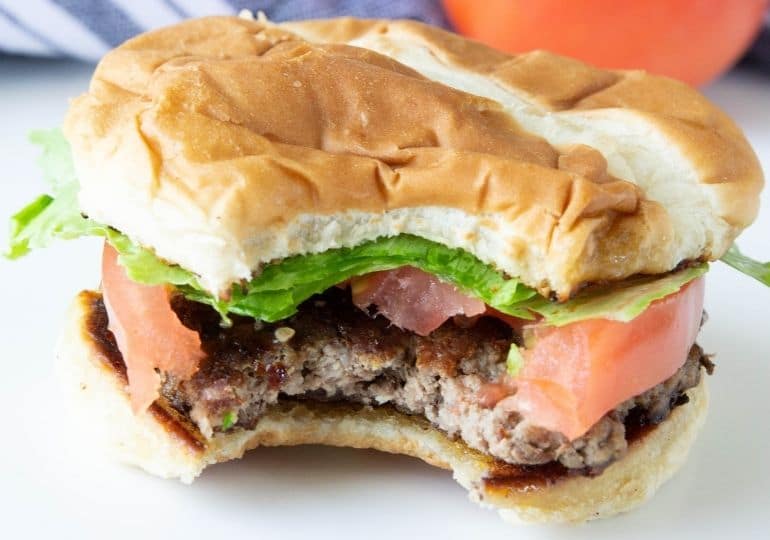 Blackstone Smash Burgers Recipe
Servings 4 burgers
Learn how to make Blackstone Smash Burgers. Now you can cook your burgers on a large cast iron skillet or any other flat top griddle. This smashburger recipe is so simple and loaded with flavor.
Ingredients
1 pound ground beef I did 85/15
Seasoning of choice I did just salt and pepper
Oil
1 tablespoon Butter optional
4 Hamburger buns
Toppings optional (lettuce, tomato, onion, condiments, etc)
Instructions
The first thing you are going to do is start heating up your Blackstone on high heat. Add oil to the griddle and let it fully get warm. I placed my burger press on the grill to get it warm up as well as it is heating up the grill.

Now you will crumble up your burger meat, and then loosely make 4 burger patties. Make sure to not pack the burgers together in balls or it will not smash properly.

Once the griddle is screaming hot, place your burger balls on the griddle. Use your burger press, or a spatula with no holes, and press firmly, smashing the burger to a thin patty.

Once your patties are smashed you will let them cook 3-4 minutes on the first side. Add seasoning on top of the patties.

Flip once the bottom has a crust layer on it. This is going to add incredible flavor. Flip and repeat the cooking process. Season the other side of the burger.

Place your buttered buns on the griddle top to toast, and then remove once golden brown.

Once done, assemble your burger and pile on your favorite toppings. If you want feel free to make cheeseburgers with the smashburgers!

Serve up the Smash Burger recipe with all your favorite toppings.
Notes
Burger – You can make your patties as large or small as you would like. Just adjust the cooking time to fit the size of your burgers. Seasoning – You can mix seasonings in while you are forming your balls or once the smash burgers are on the Blackstone. It is up to you. Any of your favorite seasonings will work for this recipe. Cast Iron Directions – If you have a cast iron skillet oil and heat on high and get it screaming hot. Place balls in the hot skillet, press down to smash and cook the same. Parchment paper – You can place parchment paper in between burger and press or spatula to help prevent sticking. If you use parchment don't heat your burger press up.
Nutrition
Serving: 1gCalories: 493kcalCarbohydrates: 23gProtein: 35gFat: 28gSaturated Fat: 10gPolyunsaturated Fat: 14gTrans Fat: 1gCholesterol: 109mgSodium: 522mgFiber: 1gSugar: 3g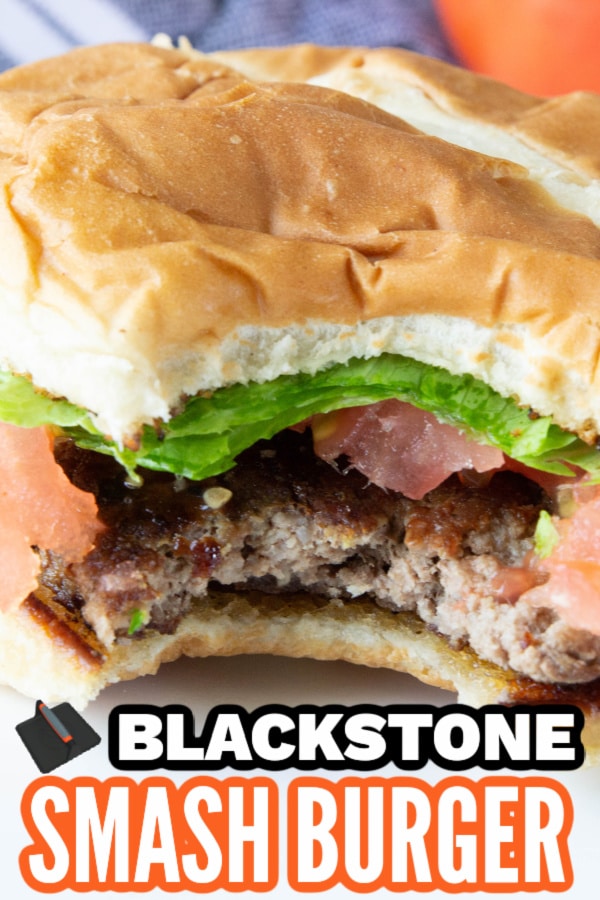 Reader Interactions