Seasoned beef, onions, cheese, Hawaiian rolls, join forces to create these crowd worthy burger sliders. Make this slider recipe for dinner or a party appetizer.
Add cheese for a tasty cheeseburger slider or leave off, I did half cheeseburgers and half burgers. This ground beef dinner idea is very simple! Want more of a traditional burger? Try my Blackstone Smash Burgers! Or try my roast beef sliders or even my White Castle burgers.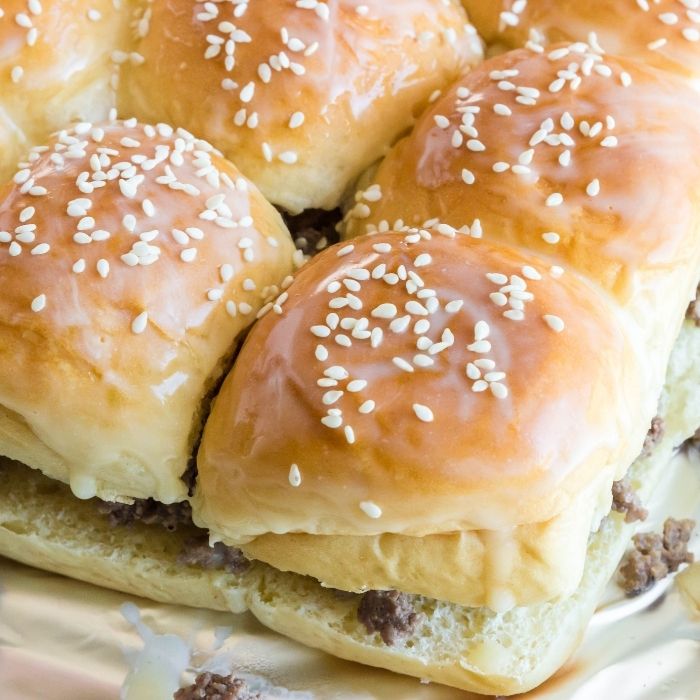 I have a video tutorial that will walk you through how to make these cheeseburger sliders. Or leave off the cheese for a flavorful burger recipe.
This Burger Slider Recipe Is…
30 minute recipe
Great as an appetizer or dinner option
Crispy topped bun with a tender center, and flavorful meat.
Affordable to ground beef recipe make.
A family favorite Hawaiian roll burger sliders recipe.
Can be made with Hawaiian sweet rolls or Butter rolls.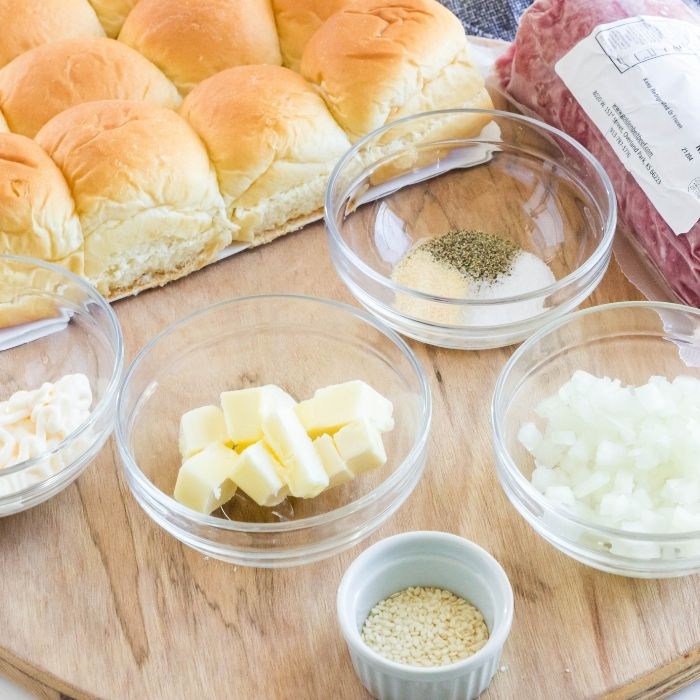 Ingredients You Will Need
Ground Beef – Now I recommend using a leaner meat so you have less grease to drain off. You could also swap with turkey for a turkey burger slider if you want.
Seasonings – Salt, Pepper, Garlic powder are simple but help add flavor to the meat.
Onion – This is optional if you do not want onion in your meat.
Cheese – Sliced cheese or shredded cheese works. I did part cheeseburger sliders and the other hamburger. As my family doesn't all like cheese.
Rolls – Hawaiian butter rolls are what I used, but any brand or flavor works. For this Hawaiian bun sliders recipe we like savory, but sweet rolls do work.
Sesame Seeds – This is a fun topping to this hamburger recipe. You could swap it out or leave it off if you want.
Mayonnaise and Mustard – This is the mix-in I added to the burgers. It helps to flavor the meat a bit before tossing on the buns.
Substitutes and Variations to Recipe
Swap out the meat for ground turkey, chicken, or even pork.
Top with Everything But The Bagel Seasoning instead of Sesame seeds.
Use shredded cheese instead of sliced for these mini burger sliders.
Mix in some ketchup and mustard and mayo, or even a BBQ sauce to flavor the meat.
Top with some bacon for a bacon cheeseburger slider recipe!
Etc.
The possibilities for this are endless. Whip up any or all the new ways and create a dish that fits you. These are awesome for a no-fuss weeknight dinner. That is what I do a lot when I am cooking these. But they are also a great game-day appetizer, and party food.
How to Make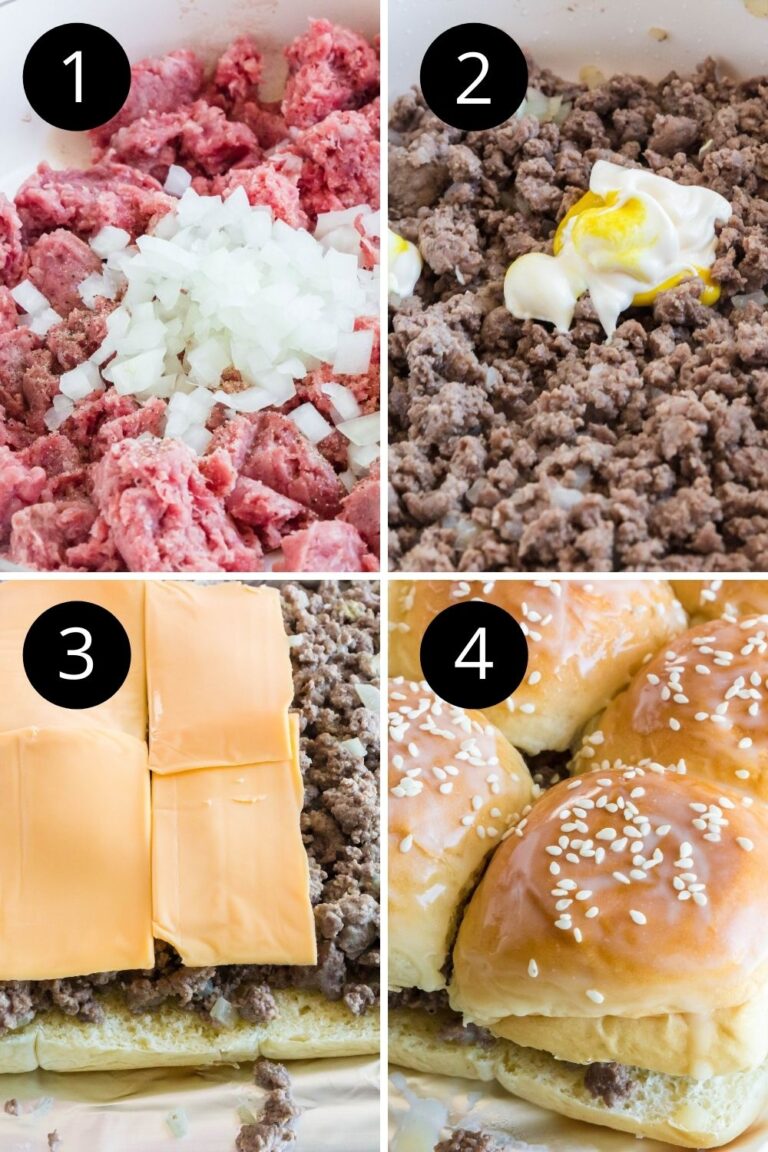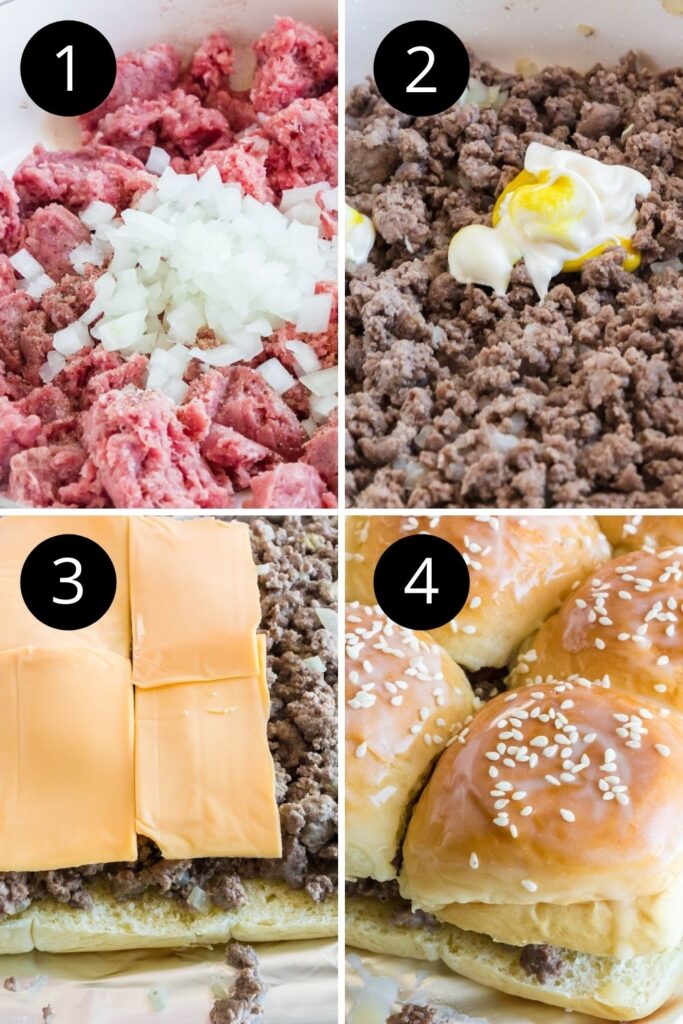 Step One: Start by cooking your hamburger in a skillet over medium heat. Add in the salt, pepper, and garlic powder, and the finely diced onion.
Once the ground beef is fully cooked, drain off any grease.
Step Two: Now add in the mayonnaise and mustard, and mix well.
Step Three: Slice your Hawaiian rolls or other brand in half, and place the bottom layer of buns on a prepared pan. Top the buns with the ground meat mixture. Top with cheese if you would like, then place your buns on top.
Step Four: Melt the butter and brush all over the top of the buns. Then sprinkle with sesame seeds.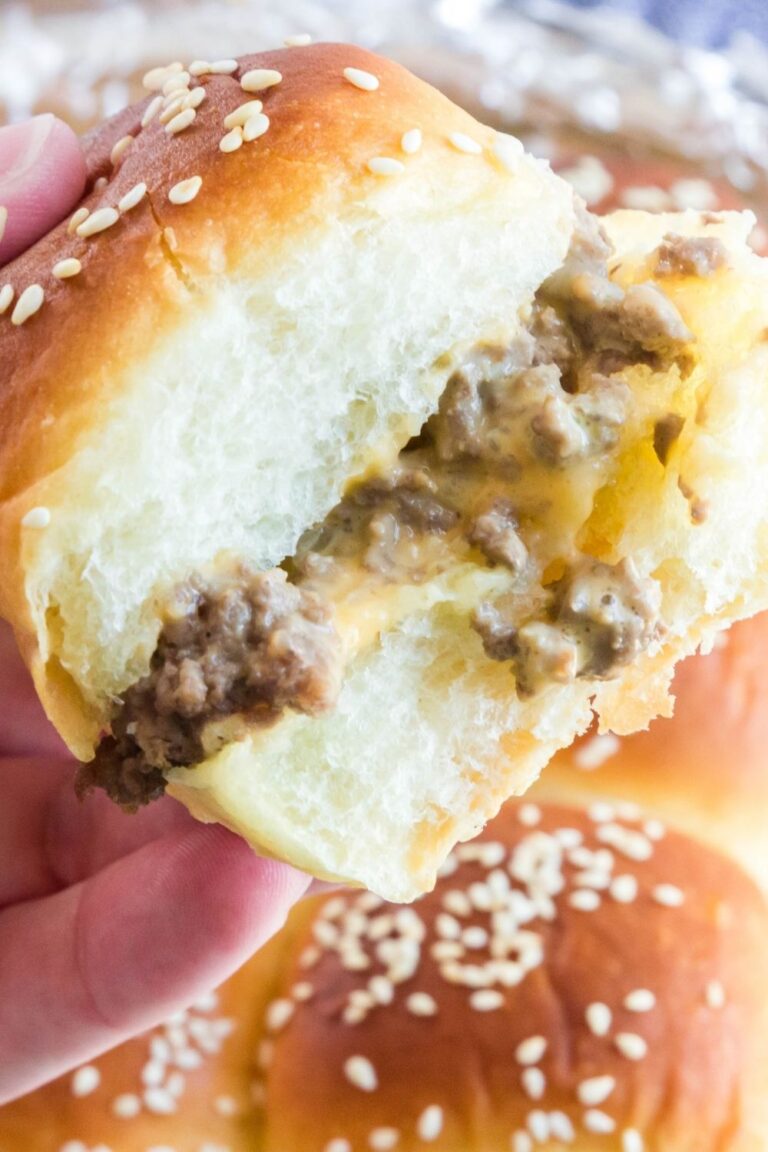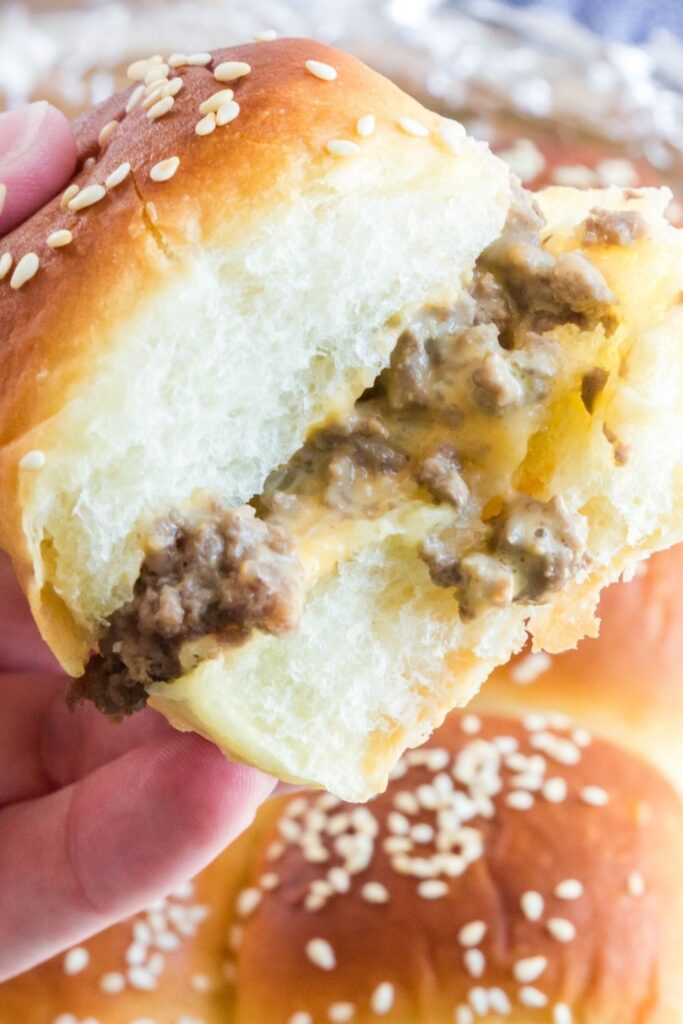 Step Five: Toss in a preheated oven for 12-15 minutes or until cheese is melted and the tops of the buns have darkened up a little bit.
Pro Tips
Here are some tips and tricks on how to make burger sliders!
Make sure to fully cook the meat then drain grease or it will sog up the bottom of the buns.
You have to brush slider rolls with butter or they will dry out as they heat up in the oven.
I did an oven burger slider, but you could also heat up in the air fryer if you have an air fryer.
Top the ground beef slider buns with anything you want. You could even create an onion bun if you want.
Frequently Asked Questions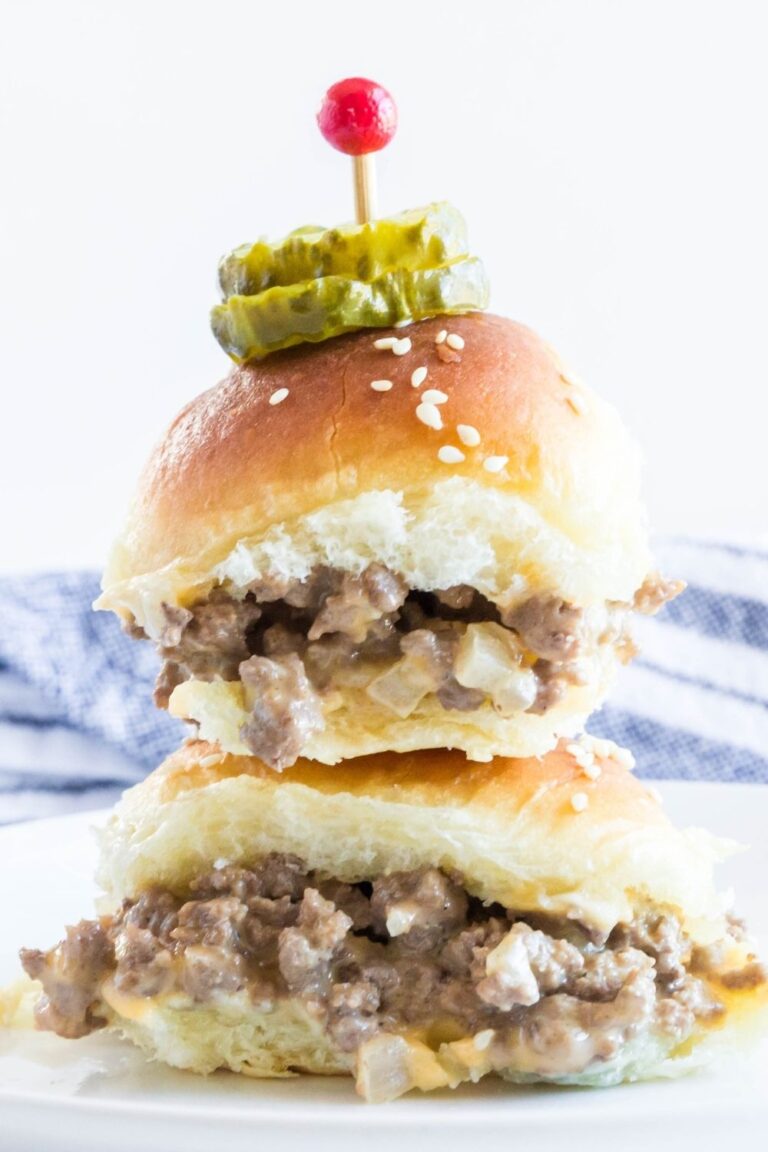 Related Recipes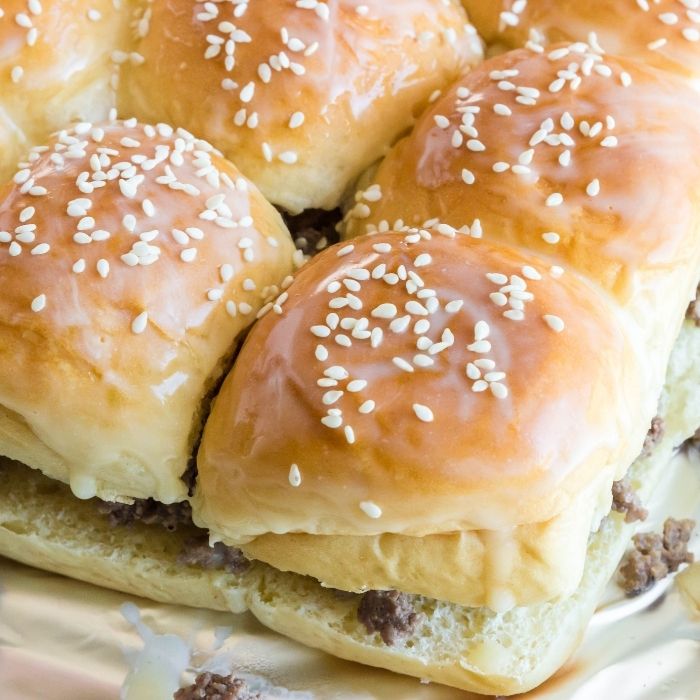 Burger Sliders Recipe
Servings 24
Burger sliders are an easy 30 minute recipe. Seasoned ground beef, Hawaiian slider buns, cheese, and a sesame seed topping. A tasty and delicious party appetizer or weeknight dinner that your family or a crowd will enjoy.
Ingredients
1 pound ground beef
1 teaspoon salt
1/2 teaspoon pepper
1/2 teaspoon garlic
1 package Hawaiian Butter Rolls
1/2 small yellow onion diced fine
2 tablespoons butter
1 tablespoons sesame seeds
2 tablespoons mayonnaise
1 teaspoon yellow mustard
sliced cheese optional
Instructions
Preheat the oven to 350 degrees. Then place aluminum foil on a baking sheet or prep your pan with cooking spray.

Cook your ground beef in a skillet over medium heat. Add in the salt, pepper and garlic powder, and onion.

Once the meat is fully cooked, drain off grease.

Slice the buns in half, and place the bottom layer on the baking sheet. Top with the ground meat mixture.

Then add cheese if you would like cheeseburgers. Place the top layer of buns on top.

Melt your butter and brush the buns all over. This will prevent them from drying out. Then sprinkle with sesame seeds.

Place the slider burgers in a preheated oven for 12-15 minutes.

Once done, serve the burger sliders with your favorite toppings!
Notes
Cutting Rolls – I find using a serrated knife works best for getting a nice clean cut on the soft rolls. Meat – I used ground beef but you can totally do ground turkey or other ground meats. Flavor – Stir in ketchup, BBQ sauce, or other flavors if you don't want mayonnaise and mustard. Bacon – Consider adding some cooked bacon on top of your sliders for a bacon cheesebuger slider. Cheese or No Cheese – You can do cheese or skip the cheese. Any flavor of cheese works from pepper jack to cheddar even to shredded cheese. Toppings: Once the burgers are done you can place lettuce, pickles, tomatoes, etc. on the burgers. Feel free to dress your burgers as you would like. Storing Leftovers – If you don't eat all your burgers, you can store in an airtight container in the fridge for 1-2 days. You will find the buns can become a bit soggy. Reheat in the microwave.
Nutrition
Serving: 1g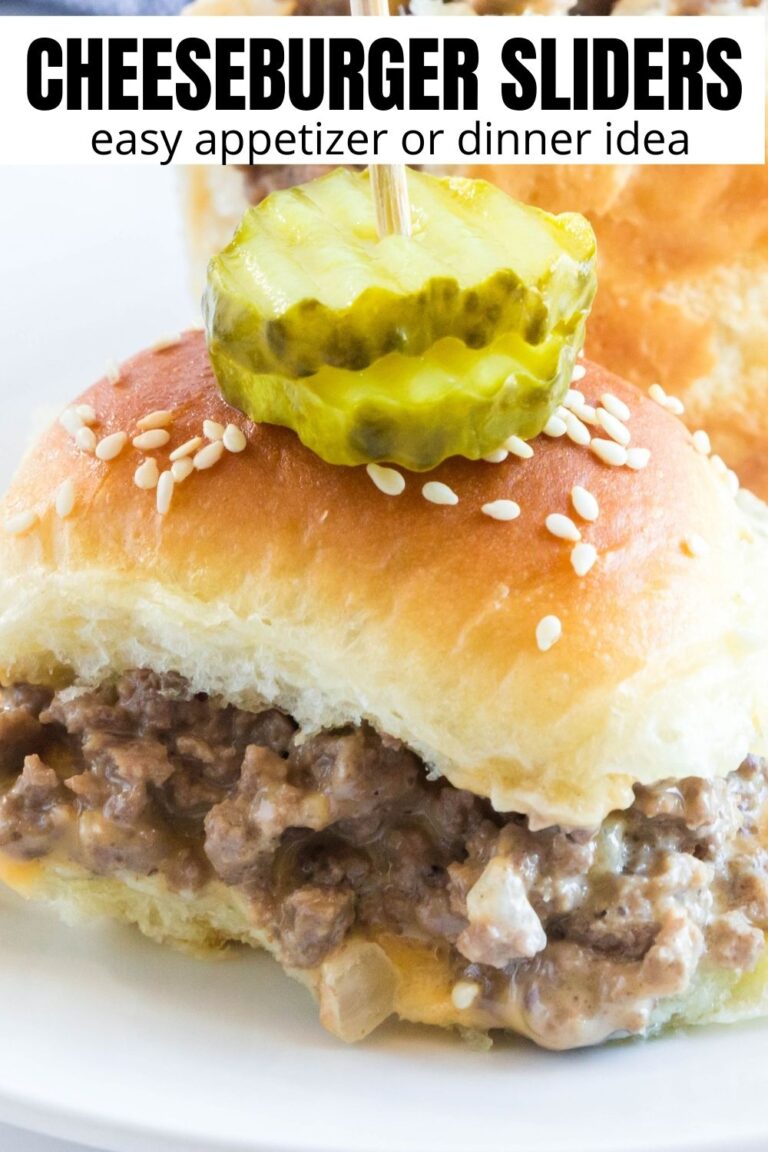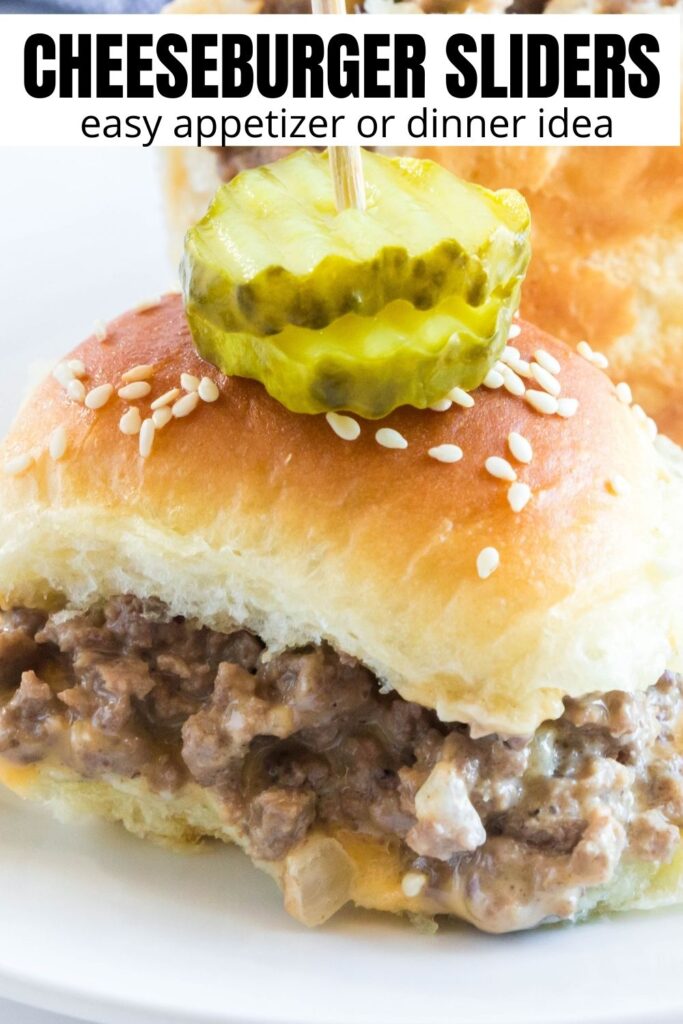 Reader Interactions