Lunches can be just as fun as they are yummy. Here are 5 delicious lunch ideas for kids! Whether you are looking for toddler lunch ideas for at home that appeals to little fingers or easy school lunches.
However here are tasty ideas that are more than a basic sandwich lunch. Plus I give you a 4 page Free Printable on deciding what to serve up!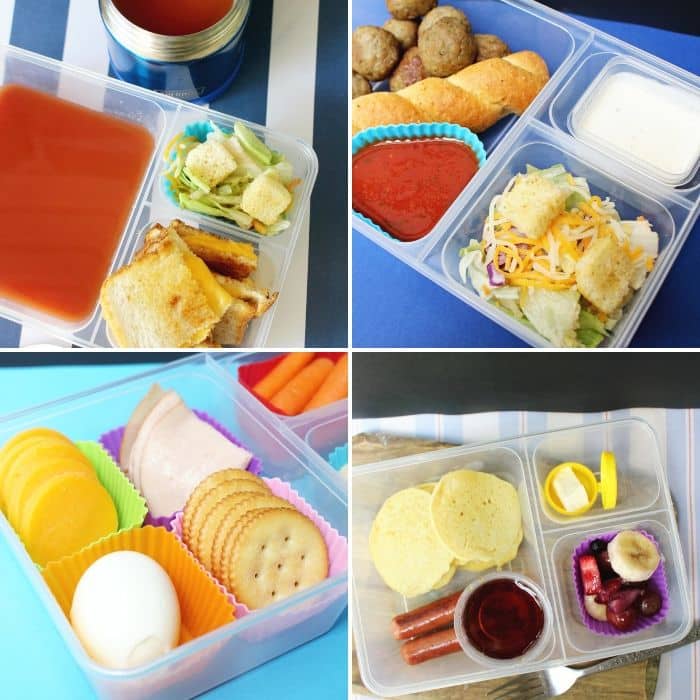 Toddler meals can be tricky, same thing goes for growing kids. You can pack lunches, and send and only to have half the meal not eaten. Let me walk you through some easy lunch ideas to consider.
Why You Will Love This List
Tasty ideas kids enjoy
Free printable with TONS of ideas on what to pack for lunches
Warm and cold options
Easy, no fuss ideas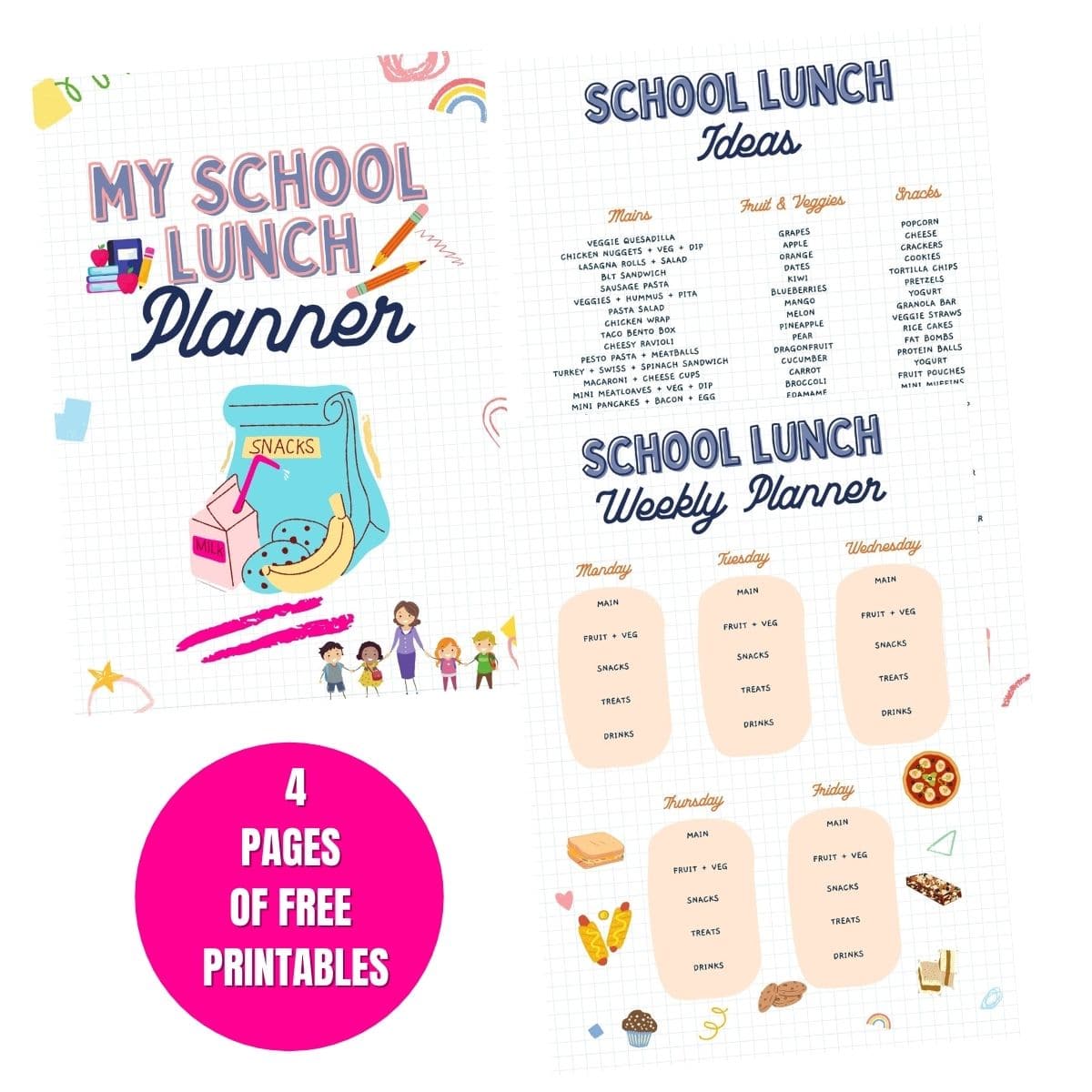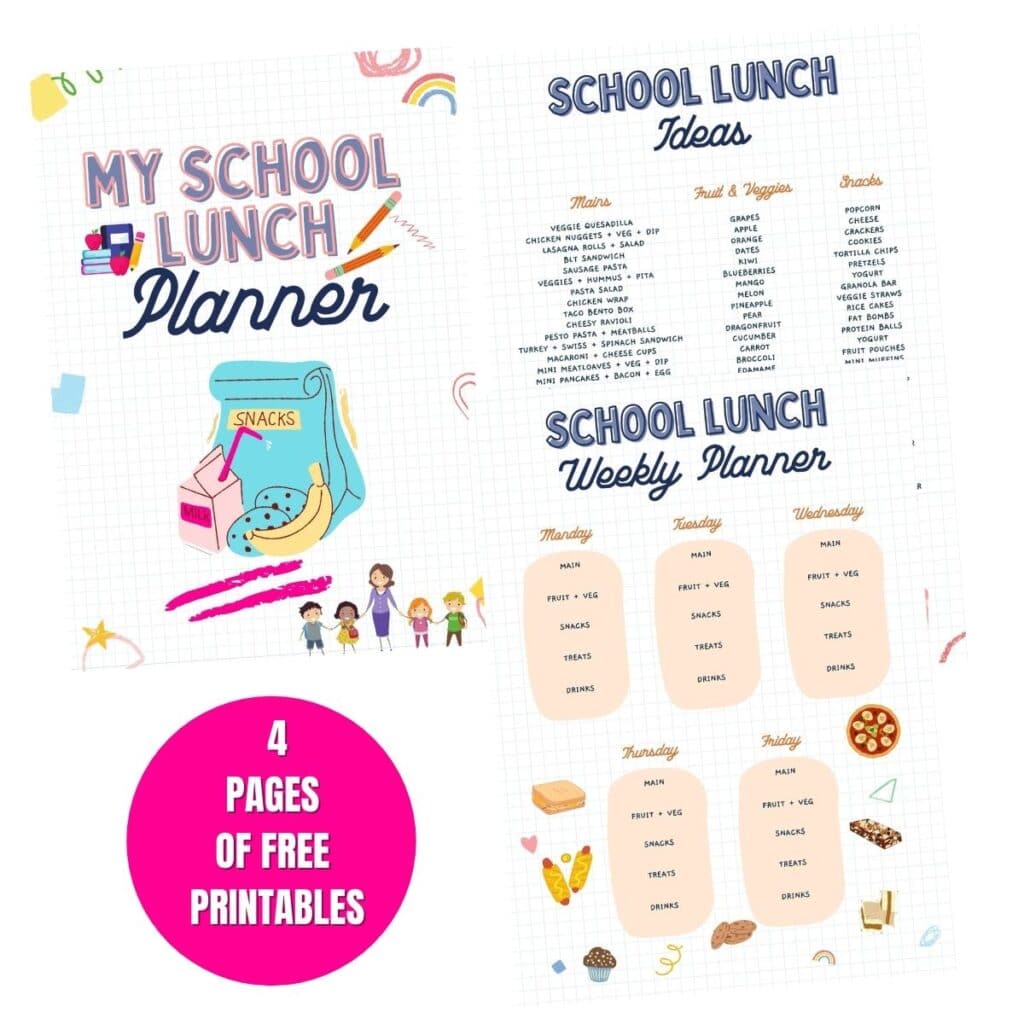 Free Lunch Planning Printable For Kids
Snag this 4 Pages of Free Lunch Ideas Printable for Back to School! A list of ideas on what to pack in your lunch, schedule to write out all your lunches you want to pack up, and more.
School Lunch Ideas – Main dish ideas, snacks, treats, drinks and more!
Weekly Planner – Spots to write out all you want to serve that week.
Monthly Planner – If you enjoy planning do a whole month of planning at once.
School Lunch Grocery List – This printable helps you make sure you have supplies on hand each week.
Now check out my favorite lunch ideas for kids below for a little inspiration!
Download the Free School Lunch Planner Bundle Here for FREE!

Protein Lunch Box
Turkey cheese, crackers, hummus, and a hard-boiled egg. When I'm on the go, one of my favorite lunches to grab is a protein box.
(Especially from Starbucks, yum!) This is a nut-free version of a protein box that your kids will eat up!


Packing tips: Change out the protein or add a mix! Ham, turkey, or salami are all great options!
Make your cheese in fun shapes for an added surprise! These small cutters are perfect!
Meatballs Lunch Idea
My kids love meatballs. With this lunch, they are great on their own to dunk in marinara sauce (because isn't everything better for kids when they get to dunk it?) or include a hoagie bun and cheese for a meatball sub.
A small side salad (here is container I used) and a breadstick complete the meal.
Packing tips: If you want to keep your meatballs warm until lunch, put them in a Fun Thermos!

Breakfast Lunch Box Idea
Pancakes (or waffles), sausage, and fruit salad. This lunch will be requested time and time again!
Silver dollar pancakes can be made in a variety of flavors like whole wheat, banana, cinnamon apple, blueberry or even chocolate chip. Sausage and fruit salad are classic breakfast-for-lunch sides.
Packing tips: This is another great container lunch, but my kids will gobble them up in or out of the containers.
Don't forget butter for the pancakes.  These containers are perfect!


Grilled cheese bites and tomato soup. 
This is a great fall lunch. Funtainers make packing a nice warm soup easy and mess-free.
Pack a gooey cheesy grilled cheese for snacking and dunking and a side salad. Here is a great homemade tomato soup recipe.

Sliders and Potato Lunch
Sliders, yogurt and loaded baked potato. One of my favorite things to pack for my kids is sliders. You can make slider burgers ahead of time, making them easy to grab and pack.
A baked potato is fun for kids to load up with things like butter, cheese, and bacon. And who can resist a creamy yogurt?
Packing tips: A potato can fit great in a Funtainer. Just be sure to cut it open first before packing.

Sliders can be served warm or cold. If your kids prefer them warm, they can get their own container or can fit in with the potato. Don't forget the cheese separate though!
How do you pack a healthy school lunch
Lean proteins
Vegetables
Fruits
Low Fat Dairy Items
Making healthy food items look more appealing will help your child want to eat what you serve them. Healthy lunches don't have to be hard. Think finger foods that are kid-friendly.
Swap chips out with kale chips
or veggie straws
. Skip items like mac and cheese and add in crisp vegetables, or even diced up sweet potatoes for a savory snack.
These all work great for toddler meal ideas as well.
Here are More Kid-Friendly Dinner Ideas
Since we covered lunch, let's check out some dinner options!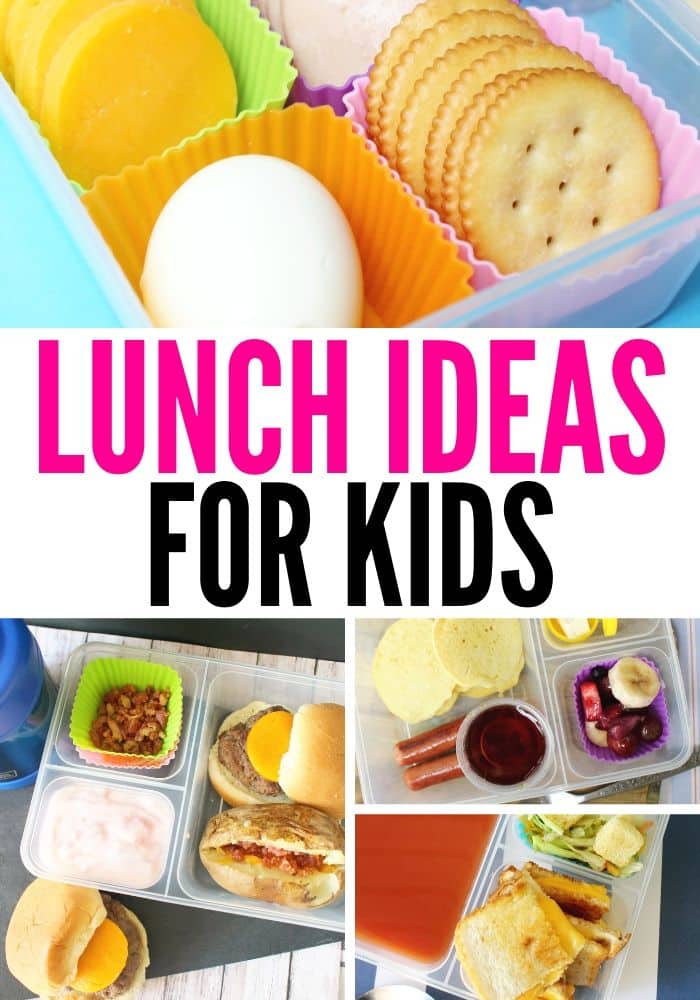 What is your favorite lunch ideas for kids? Let me know in the comments what you like to pack or serve up to your child!