Hummus deviled eggs are a delicious and easy clean eating snack or fast appetizer to whip up. Healthy deviled eggs with hummus are a protein packed deviled egg that is incredible.
We love deviled eggs in our home. Try my everything bagel deviled eggs, cream cheese deviled eggs, or deep fried deviled eggs. Those are a few of my fave hard boiled egg recipes.
You might not have thought of hummus and eggs, but these hummus eggs are really delicious. Sprinkle with smoked paprika and serve up.
This can be a healthy appetizer idea or a hard boiled egg snack to give you some energy to get through the day. Either way, this is a crowd pleaser.
Why This Hummus Deviled Eggs Recipe Works Well
Delicious: Who doesn't want a delicious and easy recipe like this one. This clean eating appetizer is not only healthy but absolutely delicious.
Unique: Step out of the box and try something new for a fun twist to a vintage appetizer like deviled eggs.
Quick: A great last minute appetizer or snack to whip up. You can speed up the process and instead of homemade hummus reach for store bought.
Ingredients
Hard Boiled Eggs
Hummus – homemade hummus or store bought works. Any flavor you prefer.
Lemon Juice – I recommend fresh squeezed
Hot Sauce – optional. Great if you like a bit of heat
Salt
Parsley
Smoked Paprika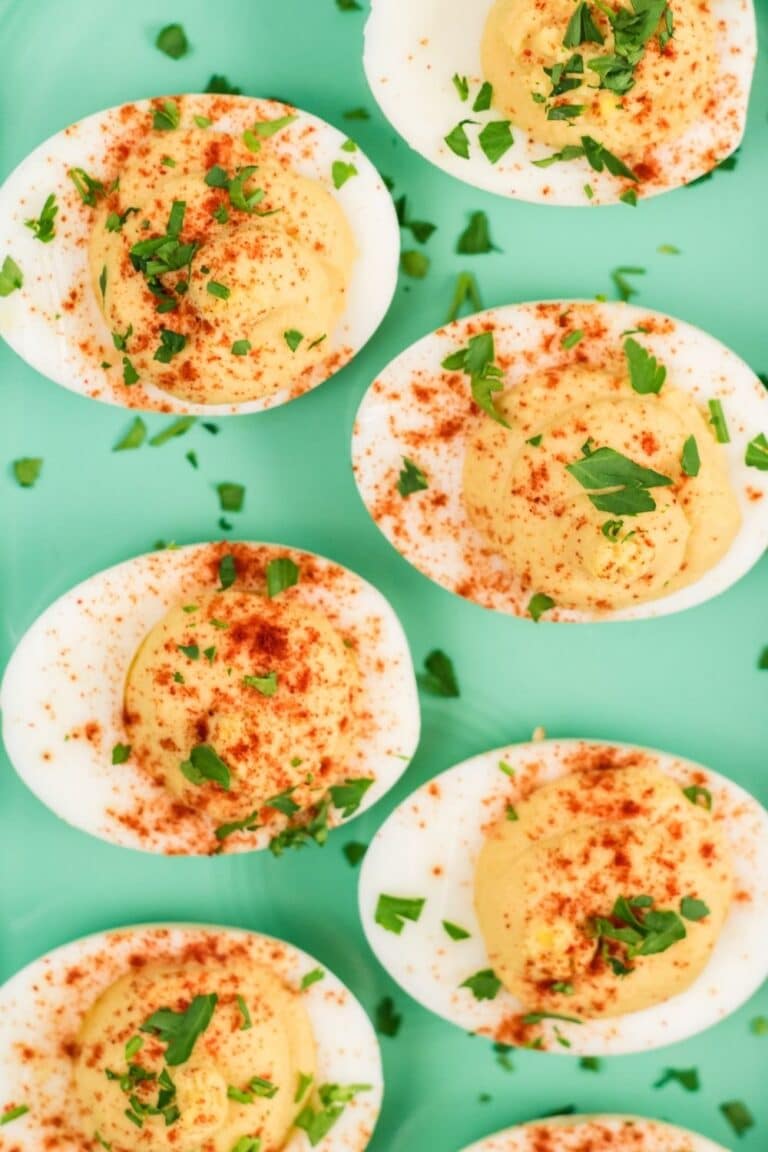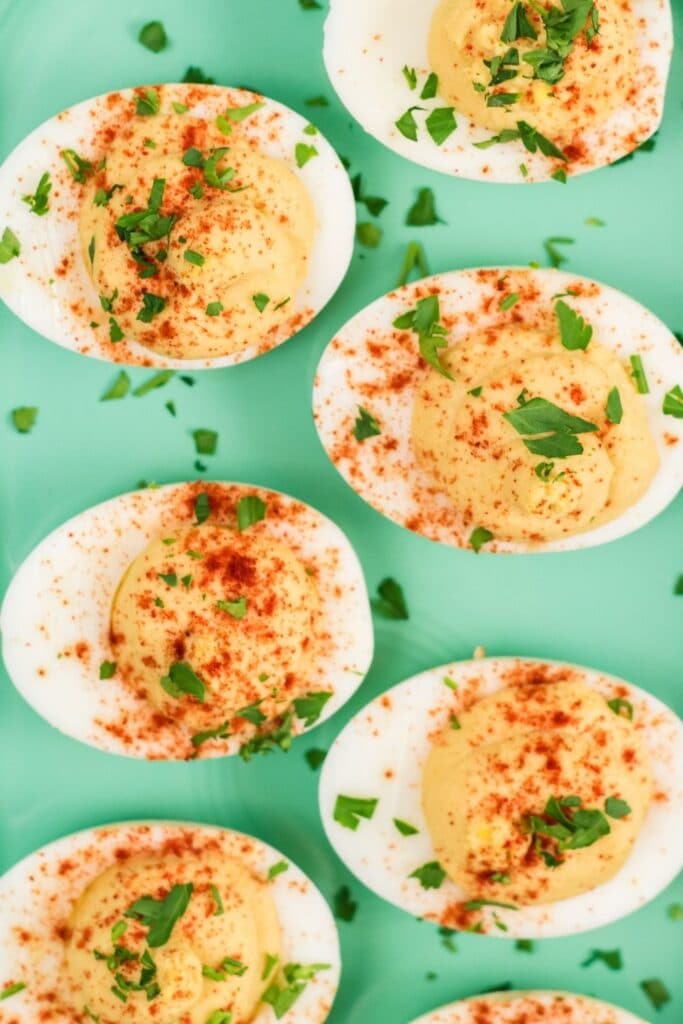 How To Make
Step 1: Start by taking your hard boiled eggs and peel and rinse them.
Step 2: Grab a knife and slice eggs in half lengthwise down the center, making two haves. Then remove the yolks and place in a medium bowl.
Step 3: Next you will use a fork to break up the yolks in the bowl, then add in the hummus, lemon juice, and hot sauce. Mix up well until creamy. Salt to taste.
Step 4: Use a spoon or pastry bag to pipe the mixture into the egg whites, and then top with parsley and paprika if you would like.
Expert Tips
Cooking hard boiled eggs on the stove, add water 2 inches above eggs in a pot. Bring to a full boil, then turn off the heat and place lid on the eggs. Let sit for 13 minutes. Then drain and add to ice water bath. Then peel and serve.
Add in a splash of lemon juice to water when boiling eggs, to make less difficult to peel.
I love using homemade hummus but in a pinch of time, I use Sabra Hummus for these deviled eggs.
You will want to refrigerate your eggs until you are ready to serve.
Feel free to make these a day in advance, then top with parsley and paprika right before serving.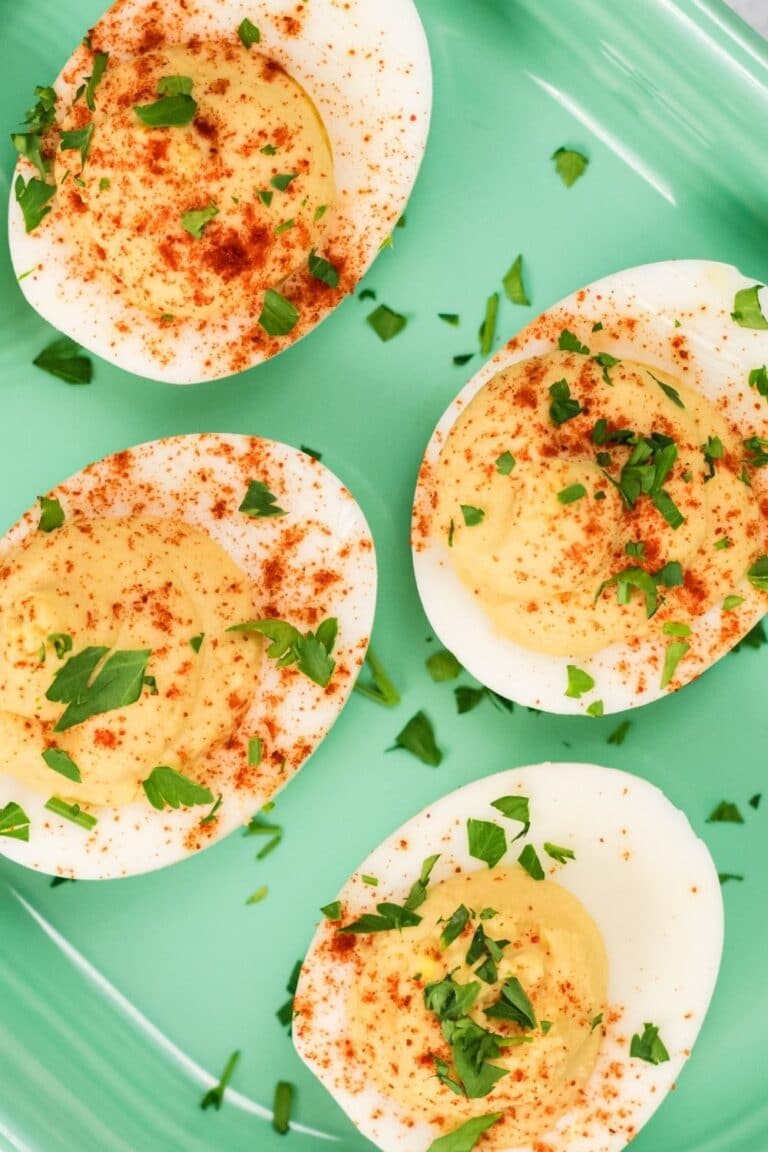 Variations
Stir in 1/3 cup Greek yogurt for added creaminess to this healthy snack.
Sprinkle with goat cheese, feta, or even blue cheese.
Add in some cayenne pepper if you want to ramp up the spicy flavor.
You can use any flavor of hummus. I love the Walmart Everything Bagel Seasoning Hummus.
Craving More Simple Appetizers
Hummus Deviled Eggs
Servings 24
Hummus Deviled Eggs are a hard boiled egg that is stuffed with a hummus filling. A healthy appetizer recipe that is protein packed and mouthwatering good. A great last minute appetizer recipe that is so simple to make.
Ingredients
12 eggs hard boiled
1 cup hummus any flavor you would like
2 tablespoons lemon juice
1 teaspoon hot sauce optional
Salt to taste
Fresh Parsley optional
Smoked Paprika optional
Instructions
Peel your hard boiled eggs, and then rinse well.

With a sharp knife you will want to slice your eggs lengthwise, down the center. Then remove the yolks and place in a bowl.

In the bowl with egg yolks, use a fork to break up the egg yolks to a crumble.

Add in the hummus, lemon juice and hot sauce. Then taste, and add salt if you would like.

Use a spoon or place the mixture in a piping bag, and fill your egg whites with the mixture.

Sprinkle with fresh chopped parsley or smoked paprika.

Refrigerate until you are ready to serve up these hummus deviled eggs.
Notes
Best way to cook hard boiled eggs – Place eggs in a pan, and add water to cover eggs 2 inches above. Bring the water to a full boil. Place the lid on the eggs, and turn the heat off. Let the eggs sit for 13 minutes. Once the time is up, remove eggs and place in an ice water bath. Once cooled then peel. Adding lemon juice to water when boiling eggs helps to make the eggs easy to peel. Make Ahead: You can make these eggs up to 24 hours in advance. Store in an airtight container in the fridge until ready to serve. Best Hummus To Use: Go right ahead and use homemade or opt for store bought. It is all about what you prefer to use for the filling of the eggs.
Nutrition
Serving: 1gCalories: 56kcalCarbohydrates: 2gProtein: 4gFat: 4gSaturated Fat: 1gPolyunsaturated Fat: 2gCholesterol: 93mgSodium: 94mgFiber: 1g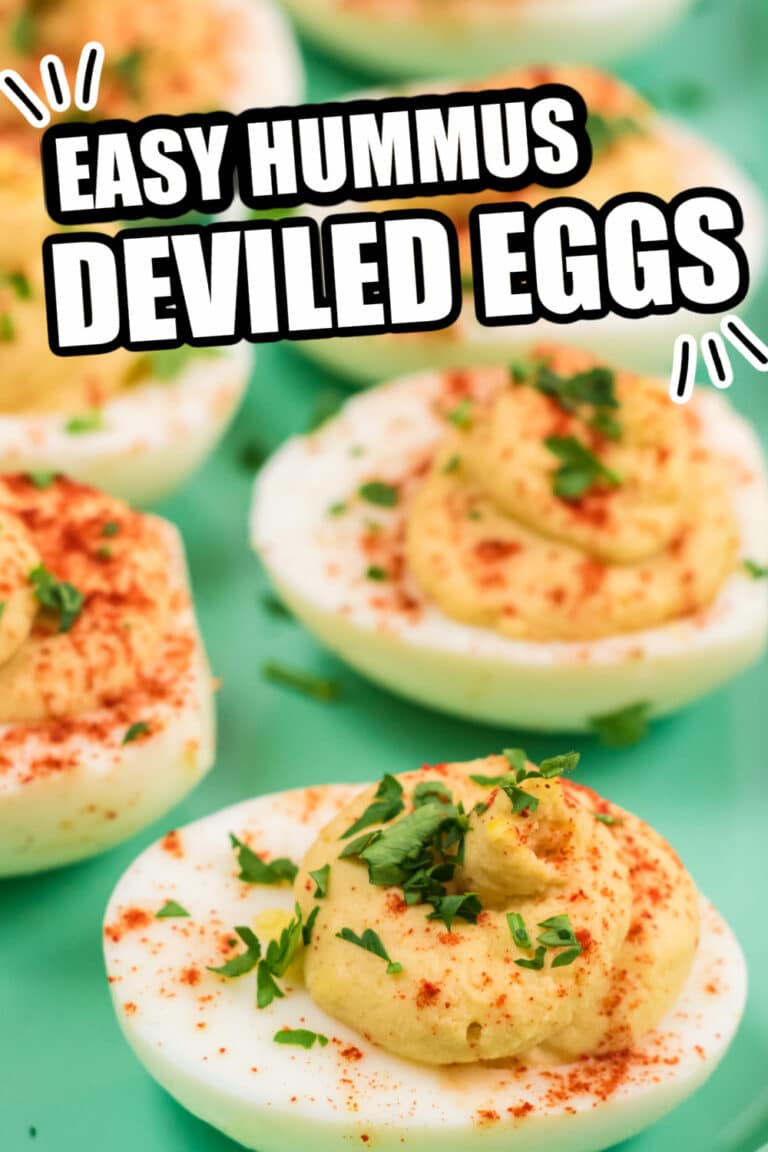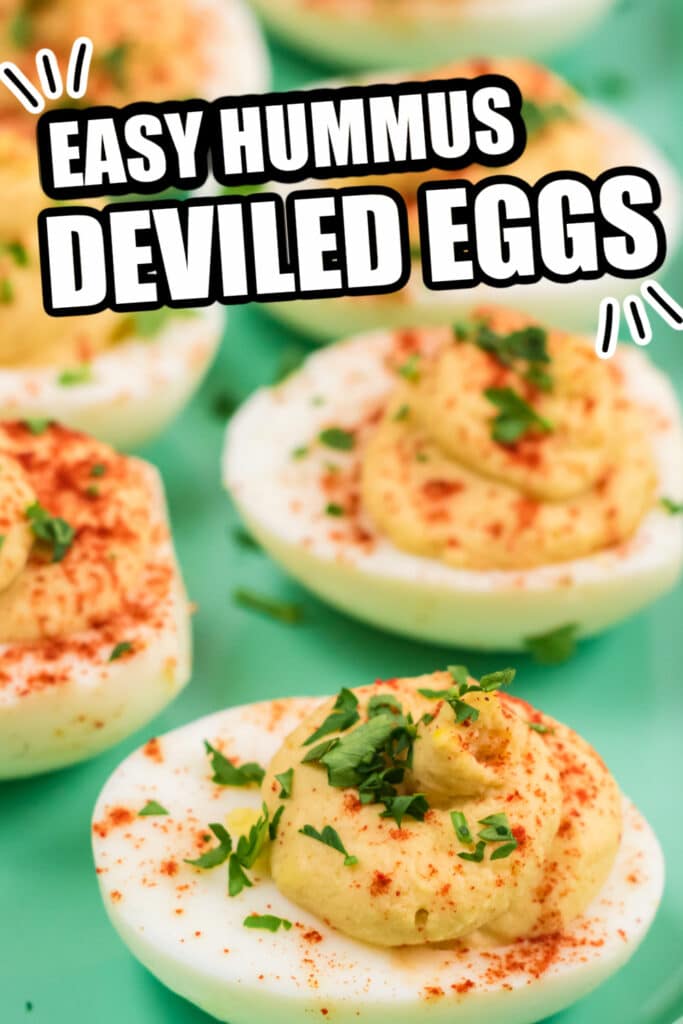 Reader Interactions