Have you tried a fried deviled egg yet? It is a battered and fried hard-boiled egg that is filled with a deviled egg filling. Top with crumbled bacon and jalapeno. This deep fried deviled egg is a must make fried appetizer.
The crunch of the battered outside, with a piping of a spicy mustard deviled egg filling. These deviled eggs are epic, and loaded with crunchy savory flavors.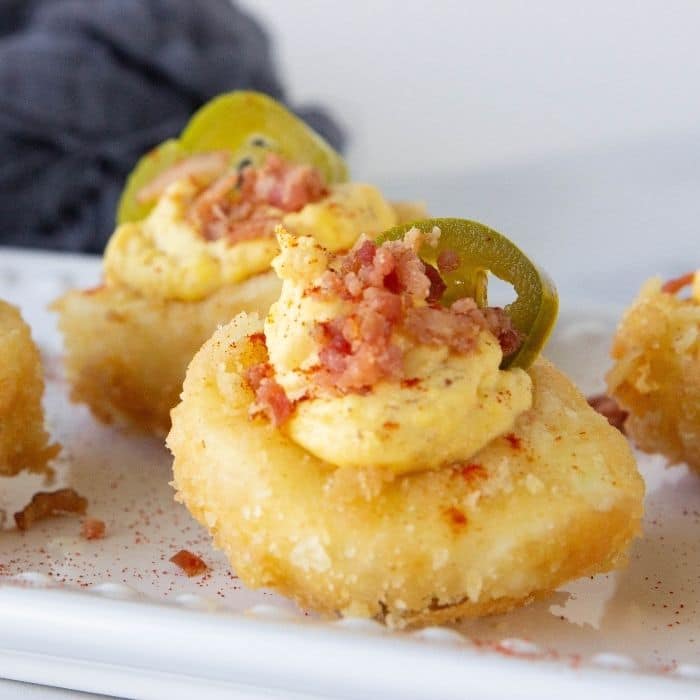 Deep-fried eggs are just as popular as the famous hot chocolate bombs. You can boil these eggs in a pot on the stove or transform them into air fryer fried deviled eggs. For another party food try my warm bean dip, great for a crowd.
🥚 Why This Recipe Is A Must Make
Crispy coating
Tender hard-boiled egg
Spicy mustard and mayo-based filling
Jalapeno and bacon crumbles add tons of savory flavors
Tasty finger food
Deep-fried appetizer everyone will love
Perfect party appetizer for game day snacking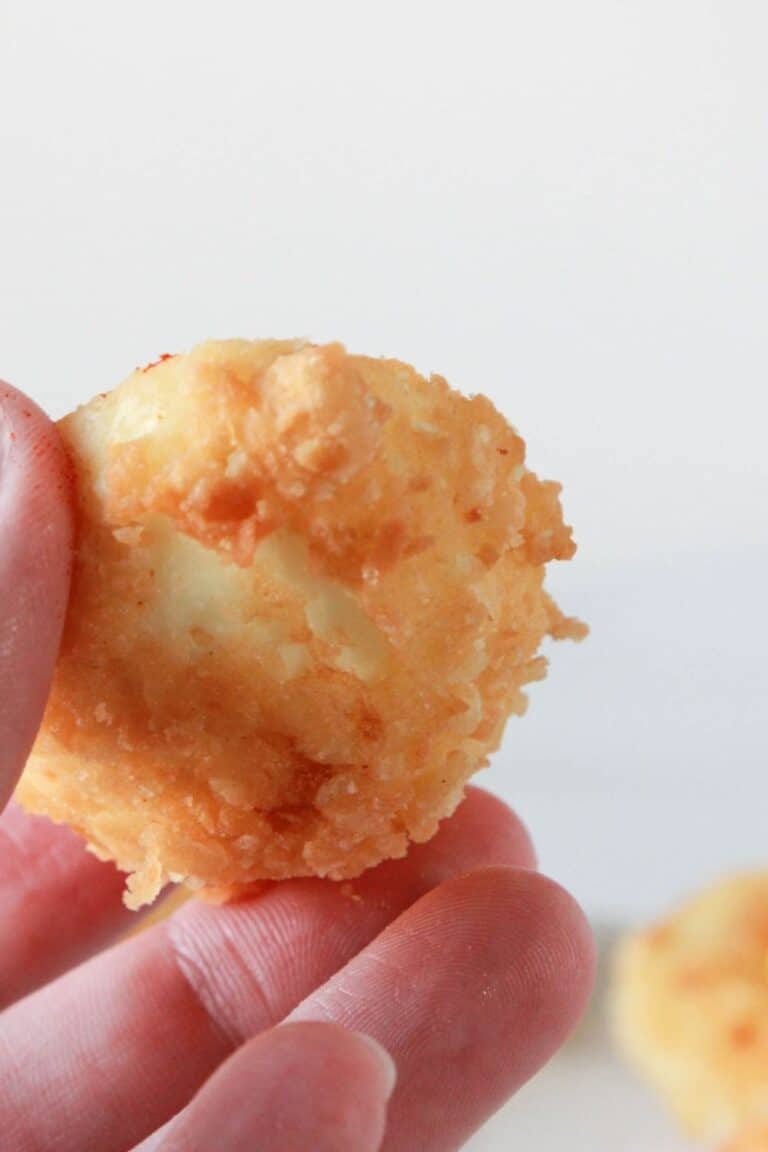 🍳 Ingredients for Fried Deviled Eggs
Eggs
Mayonnaise
Spicy Mustard
Vinegar
Salt & Pepper
Flour
Saltine Crackers or Breadcrumbs
Egg + Milk (egg wash)
Oil
Paprika
Jalapeno and Bacon crumbles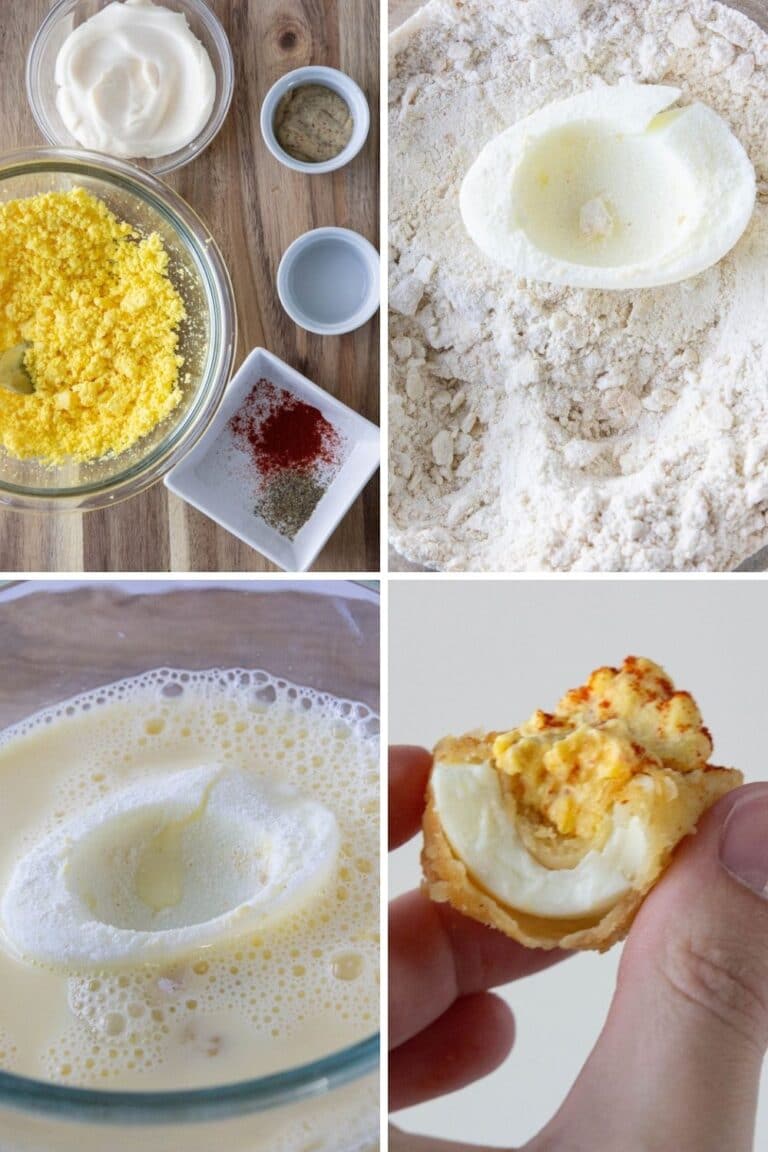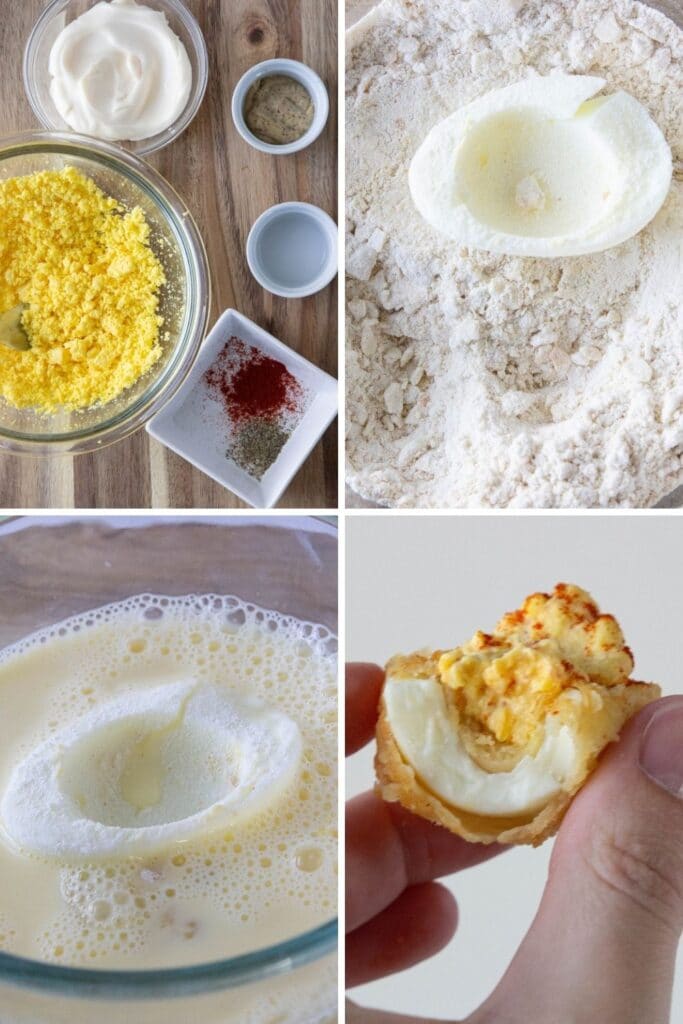 🧀 How To Make
Make your hard boiled eggs. Then peel, slice in half, and place cooked yolk in a bowl.
Smash your cooked yolks and mash with a fork. Add in your mayonnaise, spicy mustard, vinegar, salt, pepper, smoked paprika.
Create your egg wash, and crush your crackers and mix with flour.
Batter the hard boiled egg whites and deep fry or air fry.
Once golden brown, remove from oil and place on paper towel.
Allow the eggs to cool, then pipe with the the deviled egg filling.
Top with paprika, or add some crumbled bacon and jalapeno slice!
🌶️ Storing
Like any deep fried recipe, they are best served warm. This deep fried boiled eggs recipe is best when served warm. If you happen to have leftovers you can store in an airtight container.
They will store 1-2 days in the refrigerator. Then eat them chilled, as you do not want to reheat the eggs due to the filling.
These fried deviled eggs are so incredible, it will be hard to not eat them all right away.
Air Fryer Deep Fried Eggs
If you wanted you could air fry your hard boiled battered eggs. All you have to do is place in an air fryer at 350 degrees. Cook for 3-4 minutes, flipping and cook longer.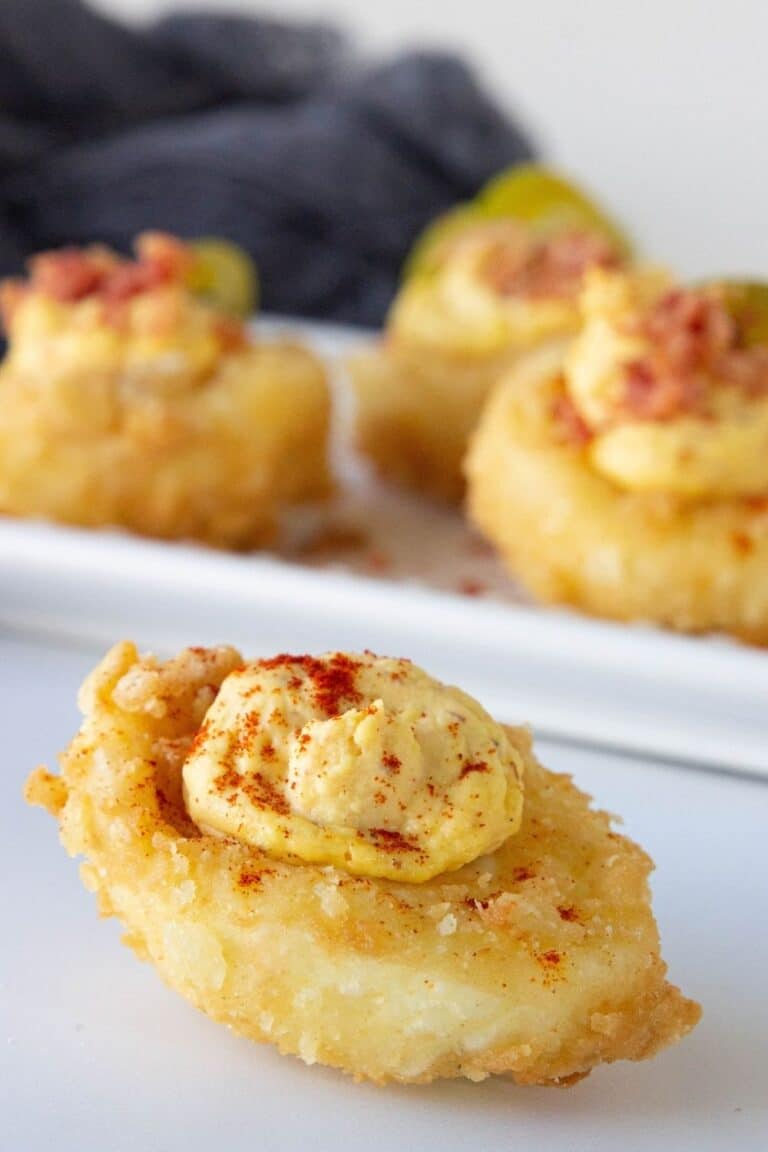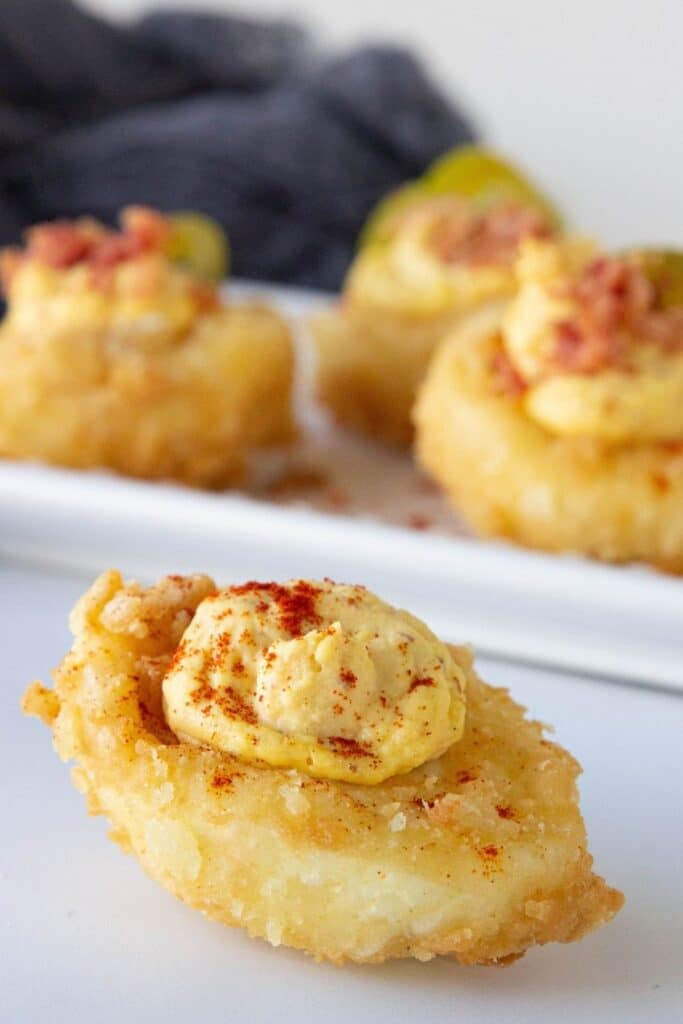 📌Expert Tips and Variations
You can use panko bread crumbs in replace of flour.
I used spicy mustard but you can easily swap for a classic yellow mustard.
Serve plain with some smoked paprika, change up the toppings, etc.
Make as many or as few as you would like.
Pour the deviled egg filling in a sealable bag and cut the tip to pipe the filling into the eggs.
👩‍🍳 Recipe FAQs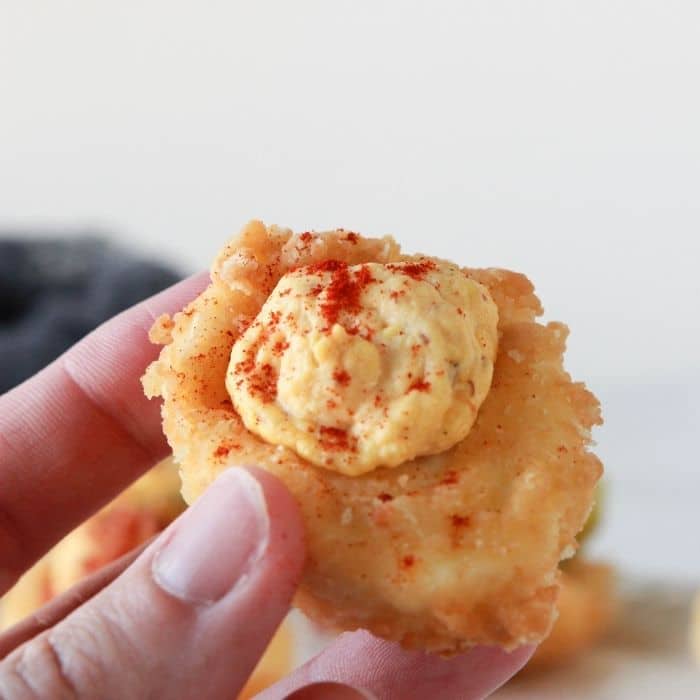 More Crave-Worthy Egg Recipes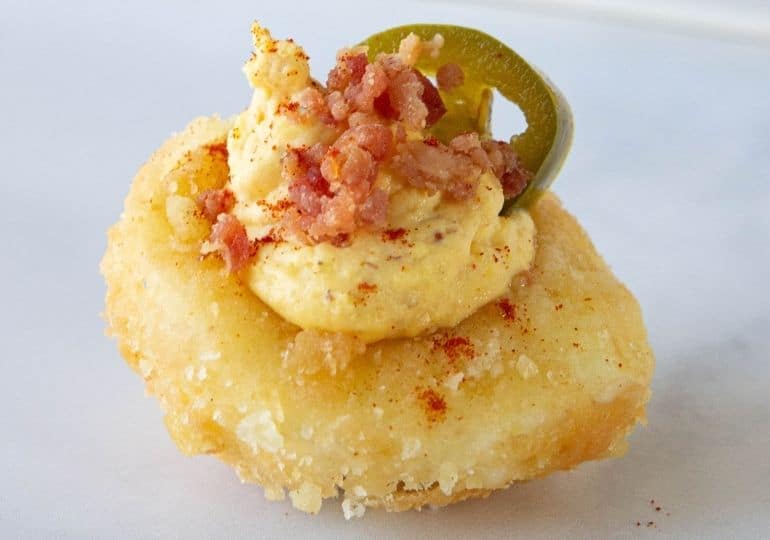 Deep Fried Deviled Eggs
Servings 10
Fried Deviled Eggs are a tasty deep fried deviled egg recipe. This makes a delicious appetizer for game day snacking, entertaining guests, etc. You can make these deviled eggs in the air fryer or deep fry.
Ingredients
5-6 hard-boiled eggs
1/4 cup mayonnaise
1 teaspoon spicy mustard
1 teaspoon white distilled vinegar
Dash of salt and pepper
1/8 teaspoon paprika
1/2 cup flour
12 saltine crackers crumbled fine
1 egg + 1/4 cup milk egg wash
Toppings
Smoked Paprika
Crumbled Bacon optional
Jalapeno slices optional
Instructions
Take your hard-boiled eggs, peel, and slice in half. Add the white part of the egg on a plate and the yellow cooked yolks in a bowl.

With a fork crumble your yolks until finely crumbled. Add in your mayonnaise, vinegar, mustard, a dash of salt, pepper, and 1/8 teaspoon paprika.

Stir until combined. Cover and place in the fridge.

Now you will work on deep frying your eggs. In a bowl add your flour and finely crumbled saltines.

In another bowl add your raw egg and milk, and whisk to make an egg wash.

Dip one of your white hard-boiled egg halves in the flour mixture, then dip in the egg mixture, back into the flour to coat.

Deep fry your eggs in oil in a pan on the stove. You want to get a golden brown coating. Remove and place your egg on a paper towel.

Once all your eggs are deep-fried and cooled a little, grab your filling and spoon into the fried eggs or pipe into your eggs.

Top with some crumbled bacon, a jalapeno slice, or a dusting of paprika or chili powder.

Serve up your fried deviled eggs right away, as they will soften after they fully cool down.
Notes
Air Fryer Directions
You will do the same instructions as listed above. The only difference is you will spritz your eggs that have been battered with an oil mister. Then cook at 350 degrees. After 2-3 minutes, flip eggs. Repeat until the eggs are golden brown. Spritzing with oil is key.
You can use bread crumbs or panko bread crumbs instead of flour and saltines
Leave out the jalapeno and bacon on toppings if you want. It adds tons of flavor.
Add a splash of hot sauce to the egg wash to add a kick of spice.
Nutrition
Serving: 1gCalories: 150kcalCarbohydrates: 8gProtein: 7gFat: 10gSaturated Fat: 2gPolyunsaturated Fat: 6gCholesterol: 137mgSodium: 195mgSugar: 1g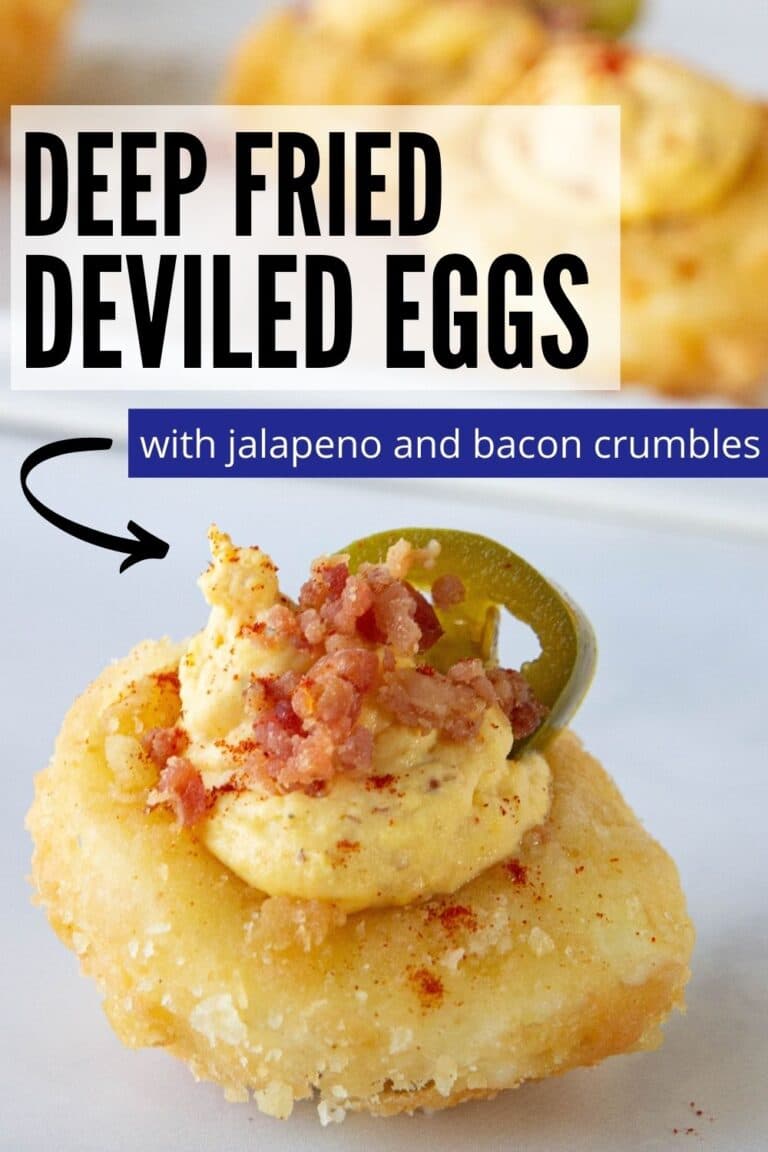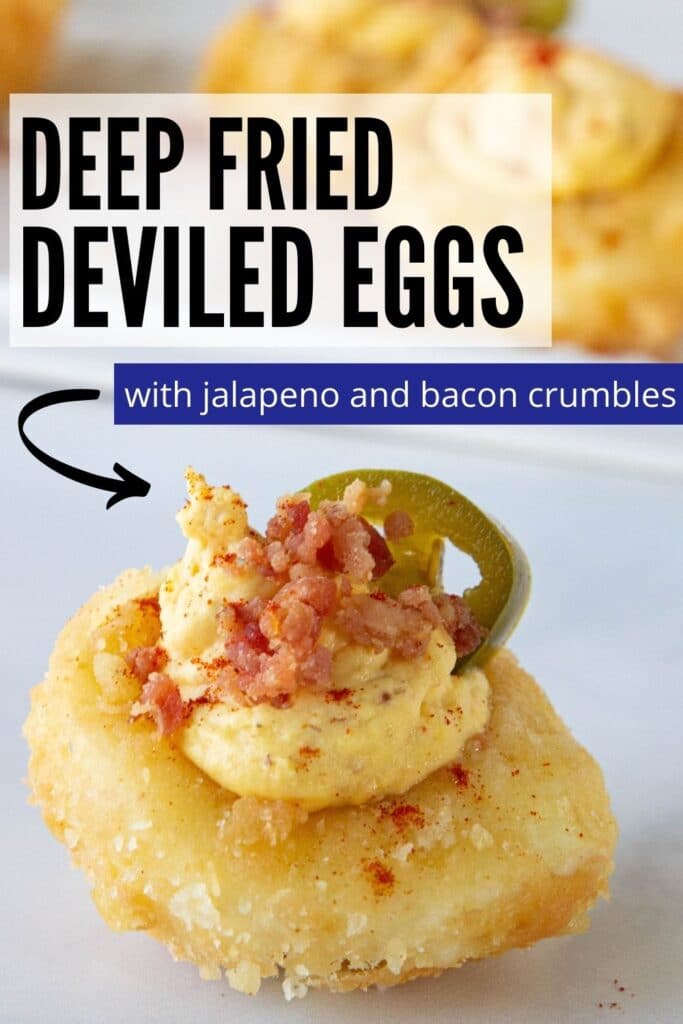 Do you think you would like these fried deviled eggs?
Reader Interactions