Deviled Eggs are a must-have appetizer or holidays, summer BBQs and more. I have the best deviled eggs recipe with cream cheese below. The cream cheese really gives these eggs a silky and creamy filling that is bursting with flavor. This is a twist to a classic deviled egg recipe.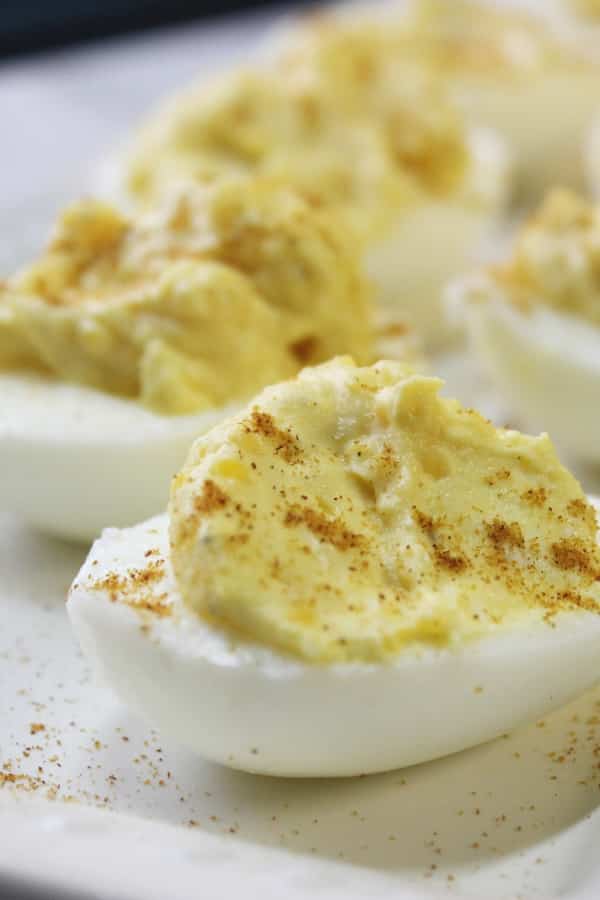 I love a classic deviled egg, but I wanted something more and a little twist the other day. The cream cheese in the deviled eggs recipe brings a whole new element of flavor. I love finding new ways to make eggs taste better!
Easy Appetizer Recipes
Best Deviled Eggs
It's extra creamy, adds a tangy aspect, that leaves you wanting one more bite! Let me share how to make deviled eggs so you can have winning eggs each and every time. Adding in cream cheese you get a whole new texture. Even my husband's coworker who tried these eggs was impressed with the flavor and texture.
How much ahead of time can I make deviled eggs?
If you want to make your deviled eggs ahead of time, you can do it up to 2 days in advance. By doing this you want to cook your eggs til hard-boiled, and then separate the egg yolks from the eggs. Put the egg white halves in a container and seal it up. Then take the yolks and place in a sealable bag and remove as much air as you can.
Then when you are ready, prep the filling and then fill your eggs and serve. If you want to make the filling and do the eggs, you can do this the night before you are ready to serve. Then just sprinkle on paprika or cayenne before serving.
How does the Pioneer Woman make hard-boiled eggs?
She takes a slotted spoon and lays the eggs down in a pot of boiling water. Then she covers with lid and lets it simmer for 10 minutes. Once the timer goes off remove eggs from heat and run under cold water till cooled. Peel eggs and then scoop out eggs like directed!
How do you hard boil eggs so they peel easily?
In your pot add a splash of vinegar with a pinch of salt. This will help you to have a better chance of getting clean peeled eggs. Then just boil your eggs like you normally would. The vinegar will not flavor the eggs.
How long should eggs boil?
10-12 Minutes. You want to bring your water to a boil, and then drop your eggs into the water. Then lower heat to a simmer and cook for 12 minutes. Then rinse in cold water or do ice water to chill eggs quickly.
What Are Deviled Eggs?
Deviled eggs are a hard boiled egg that has the yolk removed to make a creamy filling. Generally, you will see deviled eggs made with mayo, mustard, vinegar, etc. It gives a creamy and velvety texture next to the cooked egg whites.

Deviled Eggs With Cream Cheese
I added cream cheese to give a classic deviled egg recipe a twist. This really dresses up the filling for flavor and a more silky texture. The key is to use room temperature cream cheese. This will make it easier to stir together when you go to mix up your filling.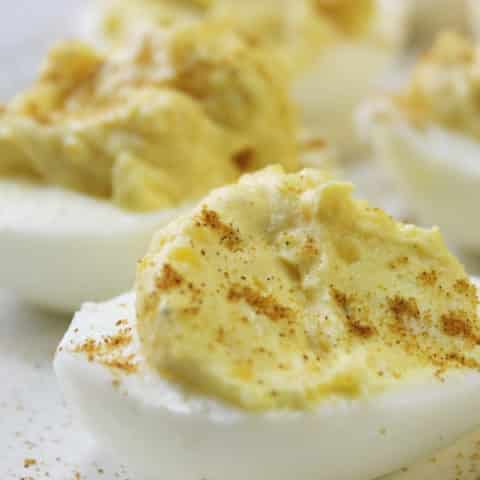 Best Deviled Eggs Made With Cream Cheese!
Yield:
24 Deviled Egg Halves
The Best Deviled Egg recipe is here! A cream cheese mixture that gives these deviled eggs a velvety filling that will leave you reaching for one more bite.
Ingredients
12 hard-boiled eggs
3 oz softened cream cheese
1/3 cup mayo
1/2 teaspoon vinegar
1/8 teaspoon pepper
1/2 teaspoon mustard
Dash of Salt
Paprika or Cayenne for topping (optional)
Instructions
Bring water to a boil and drop in 12 eggs, and then lower heat to a simmer and cover for 10-12 minutes.
Once done, rinse and chill eggs in an ice bath, to stop the cooking process. Then peel eggs and set them aside.
Once all eggs are peeled slice each egg in half, and place the yolk in a bowl, and put the egg white halves on a plate. Repeat till all eggs are done.
In the bowl with egg yolks, grab a fork and break up all the egg yolks until they are crumbly.
Then add in the cream cheese, mayo, mustard, salt and pepper, and vinegar. Mix until nice and creamy.
Spoon the mixture into each egg yolk half, and place on a plate or platter. Then add a sprinkle of paprika or cayenne pepper on top for looks and the cayenne will add a kick of flavor.
Chill in fridge until ready to serve.
Recommended Products
As an Amazon Associate and member of other affiliate programs, I earn from qualifying purchases.
Nutrition Information:
Yield:

12
Serving Size:

2 eggs
Amount Per Serving:
Calories:

145
Total Fat:

12g
Saturated Fat:

4g
Trans Fat:

0g
Unsaturated Fat:

7g
Cholesterol:

196mg
Sodium:

138mg
Carbohydrates:

1g
Fiber:

0g
Sugar:

1g
Protein:

7g
Snap 'N Stack 2-Layer Food Storage Container with Egg Holder Trays
Egg Keeper Food Storage Container
Deviled Egg Trays with Snap On Lids, Set of 2
Cold Cut Keeper + Deviled Egg Insert Trays
Serving and Storing Deviled Eggs
Once you get your eggs prepared, you can store them for up to 1 day in advanced prepared. Just keep them in the refrigerator. I find that this deviled egg carrier is a great way to store the eggs, safely, and works great for traveling with them as well. As you can see you have many options to find the best food storage option for you.
Deviled Egg Variations To Try
Want to dress up the flavors of your deviled eggs?! You know I am game for that, here are some great toppers to sprinkle on top of your easy and delicious deviled eggs.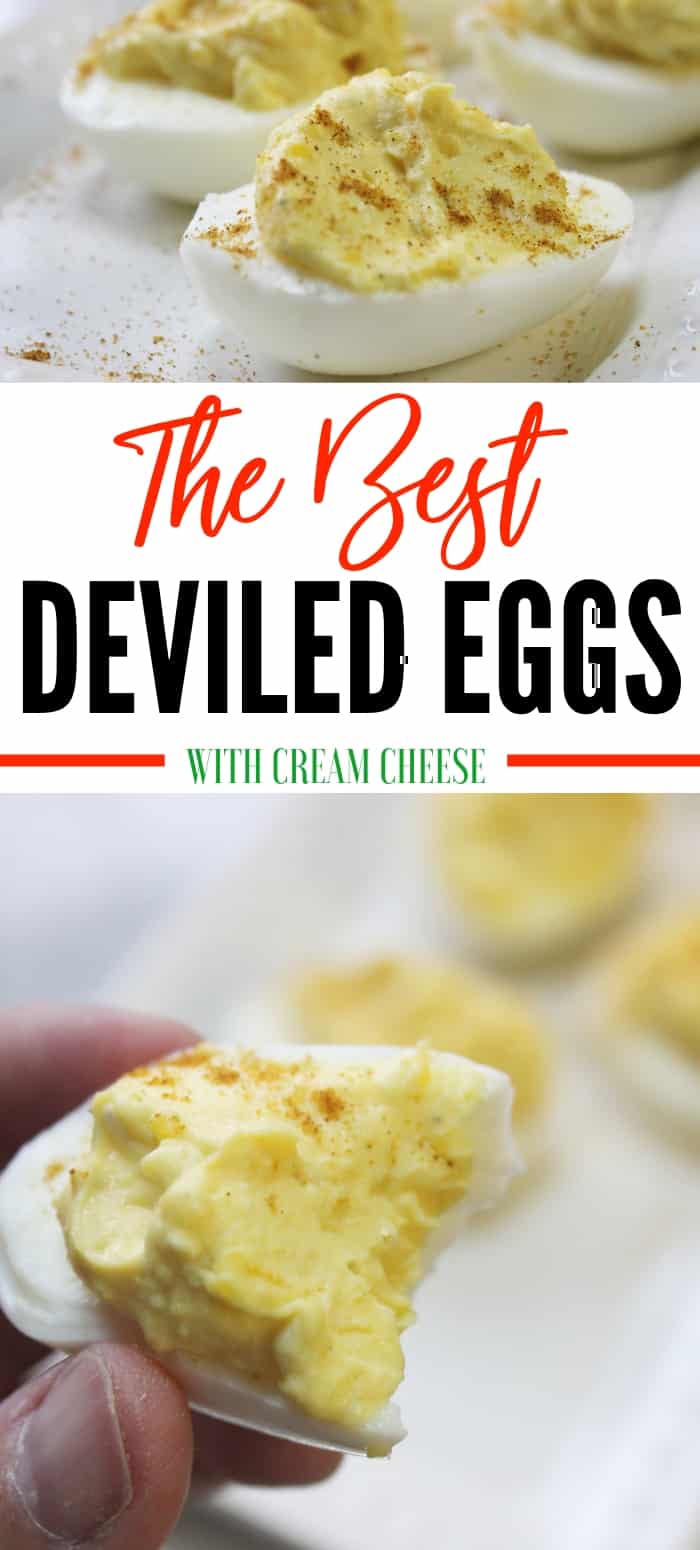 I hope you enjoy this best deviled egg recipe! Let me know how you like it!