The Best Deviled Egg recipe is here! A cream cheese mixture that gives these deviled eggs a velvety filling that will leave you reaching for one more bite. Deviled eggs with cream cheese are ultra creamy.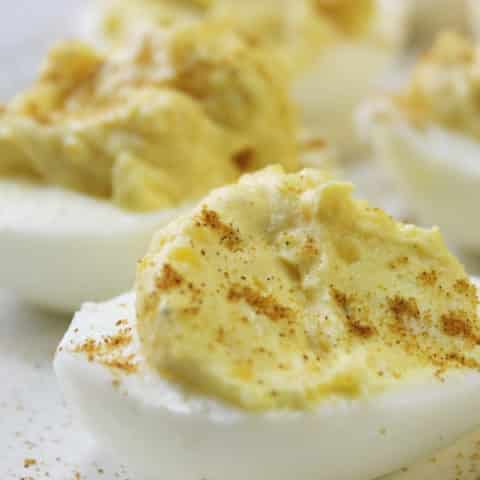 Deviled Eggs are a must-have appetizer or holidays, summer BBQs and more. I have the best deviled eggs recipe with cream cheese below. The cream cheese really gives these eggs a silky and creamy filling that is bursting with flavor.
This is a twist to a classic deviled egg recipe. Similar to the Pioneer Woman deviled eggs recipe. Or my deep-fried deviled eggs!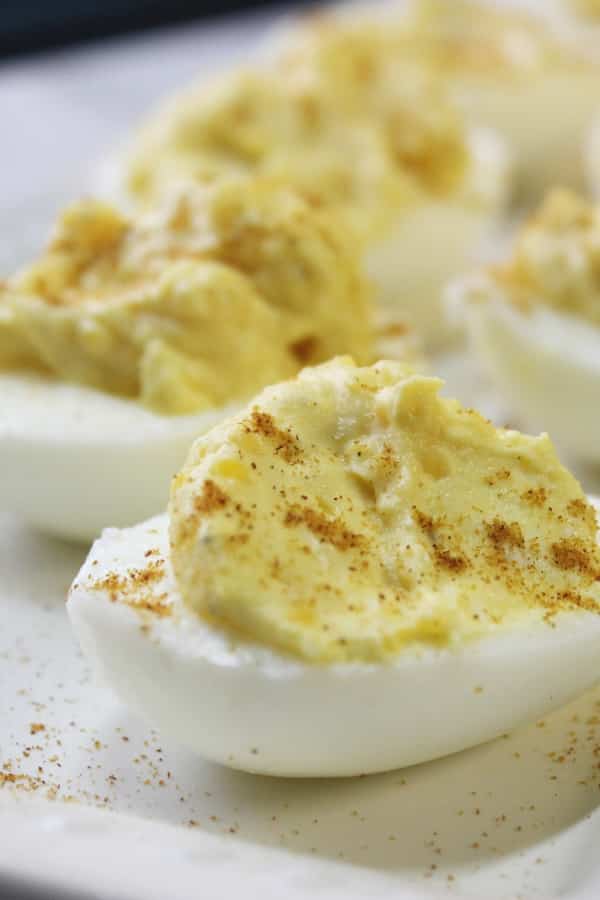 I love a classic deviled egg, but I wanted something more and a little twist the other day. The cream cheese in the deviled eggs recipe brings a whole new element of flavor. I love finding new ways to make eggs taste better!
Deviled eggs made with cream cheese recipe are the best egg appetizer in my opinion.
Why You Will Think These Are The Best Deviled Eggs..
Ultra creamy
Cream cheese and mustard work well together
A cheap appetizer to make
Family friendly
Great appetizer for potlucks
Quick
Easy Appetizer Recipes
How much ahead of time can I make deviled eggs?
If you want to make your deviled eggs ahead of time, you can do it up to 2 days in advance. By doing this you want to cook your eggs til hard-boiled, and then separate the egg yolks from the eggs.
Put the egg white halves in a container and seal it up. Then take the yolks and place in a sealable bag and remove as much air as you can.
Then when you are ready, prep the filling and then fill your eggs and serve.
If you want to make the filling and do the eggs, you can do this the night before you are ready to serve. Then just sprinkle on paprika or cayenne before serving.
Ingredients
Eggs
Mayonnaise
Vinegar
Yellow Mustard
Salt & Pepper
Paprika
How to Make
Step 1: Start by cooking your eggs to hard boil. I place eggs in cold water in a pan and add a splash of lemon juice. Bring water to a full boil, then turn off heat, and set timer for 13 minutes.
Once eggs are done, transfer to an ice bath to cool, peel, and slice.
Step 2: Peel and rinse eggs, then slice in half and place the yolk in a bowl, and egg whites on a plate.
Step 3: With a fork smash your egg yolks to crumble them. Mix in the remaining ingredients till creamy.
Step 4: Spoon or pipe the filling into the egg whites, and top with paprika or cayenne pepper for a kick of heat.

How does the Pioneer Woman make hard-boiled eggs?
She takes a slotted spoon and lays the eggs down in a pot of boiling water. Then she covers with lid and lets it simmer for 10 minutes.
Once the timer goes off remove eggs from heat and run under cold water till cooled. Peel eggs and then scoop out eggs like directed!
Recipe FAQs
How long should eggs boil?
10-12 Minutes. You want to bring your water to a boil, and then drop your eggs into the water. Then lower heat to a simmer and cook for 12 minutes. Then rinse in cold water or do ice water to chill eggs quickly.
How do you hard boil eggs so they peel easily?
In your pot add a splash of vinegar with a pinch of salt. This will help you to have a better chance of getting clean peeled eggs.

Then just boil your eggs like you normally would. The vinegar will not flavor the eggs.
What Are Deviled Eggs?
Deviled eggs are a hard boiled egg that has the yolk removed to make a creamy filling. Generally, you will see deviled eggs made with mayo, mustard, vinegar, etc. It gives a creamy and velvety texture next to the cooked egg whites.
What does cream cheese do to deviled eggs?
I added cream cheese to give a classic deviled egg recipe a twist. This really dresses up the filling for flavor and a more silky texture.

The key is to use room temperature cream cheese. This will make it easier to stir together when you go to mix up your filling.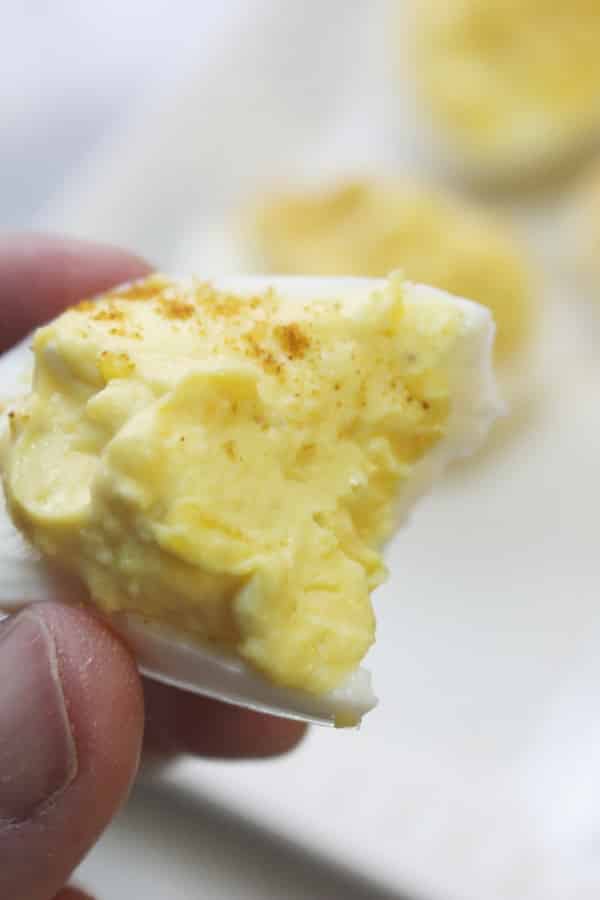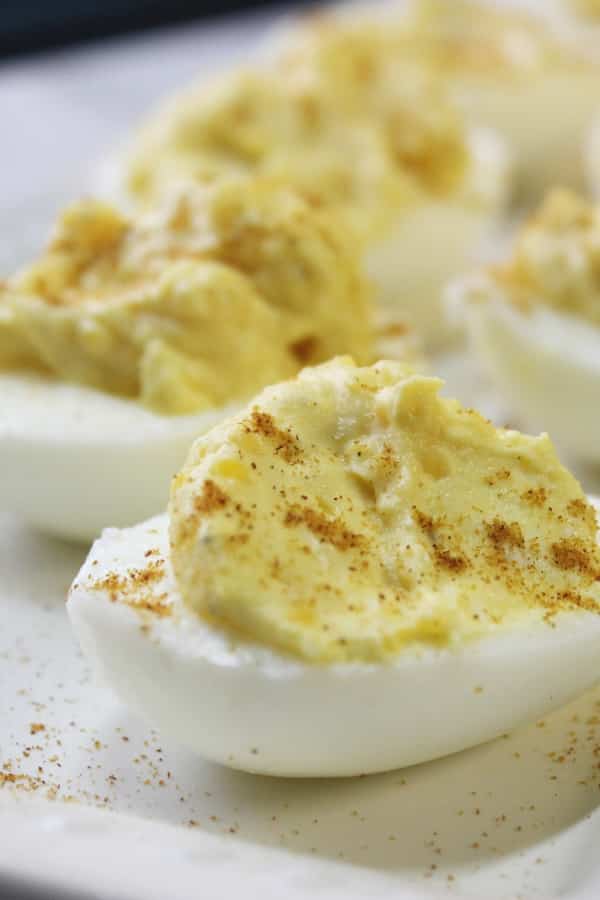 Best Deviled Eggs Made With Cream Cheese!
Servings 24 Deviled Egg Halves
The Best Deviled Egg recipe is here! A cream cheese mixture that gives these deviled eggs a velvety filling that will leave you reaching for one more bite. Deviled eggs with cream cheese are ultra creamy.
Ingredients
Supplies
Deviled Egg Tray for holding
12 hard-boiled eggs
3 oz softened cream cheese
1/3 cup mayo
1/2 teaspoon vinegar
1/8 teaspoon pepper
1/2 teaspoon mustard
Dash of Salt
Paprika or Cayenne for topping optional
Instructions
Bring water to a boil and drop in 12 eggs, and then lower heat to a simmer and cover for 10-12 minutes.

Once done, rinse and chill eggs in an ice bath, to stop the cooking process. Then peel eggs and set them aside.

Once all eggs are peeled slice each egg in half, and place the yolk in a bowl, and put the egg white halves on a plate. Repeat till all eggs are done.

In the bowl with egg yolks, grab a fork and break up all the egg yolks until they are crumbly.

Then add in the cream cheese, mayo, mustard, salt and pepper, and vinegar. Mix until nice and creamy.

Spoon the mixture into each egg yolk half, and place on a plate or platter. Then add a sprinkle of paprika or cayenne pepper on top for looks and the cayenne will add a kick of flavor.

Chill your cream cheese deviled eggs in the fridge until ready to serve.
Notes
Feel free to use a low fat cream cheese if you want. Make as many or as few as you would like of the cream cheese deviled eggs. Make sure the cream cheese is softened, or it will not mix up creamy. Use a spicy or ground mustard in replace of the classic yellow mustard
Nutrition
Serving: 2eggsCalories: 145kcalCarbohydrates: 1gProtein: 7gFat: 12gSaturated Fat: 4gPolyunsaturated Fat: 7gCholesterol: 196mgSodium: 138mgSugar: 1g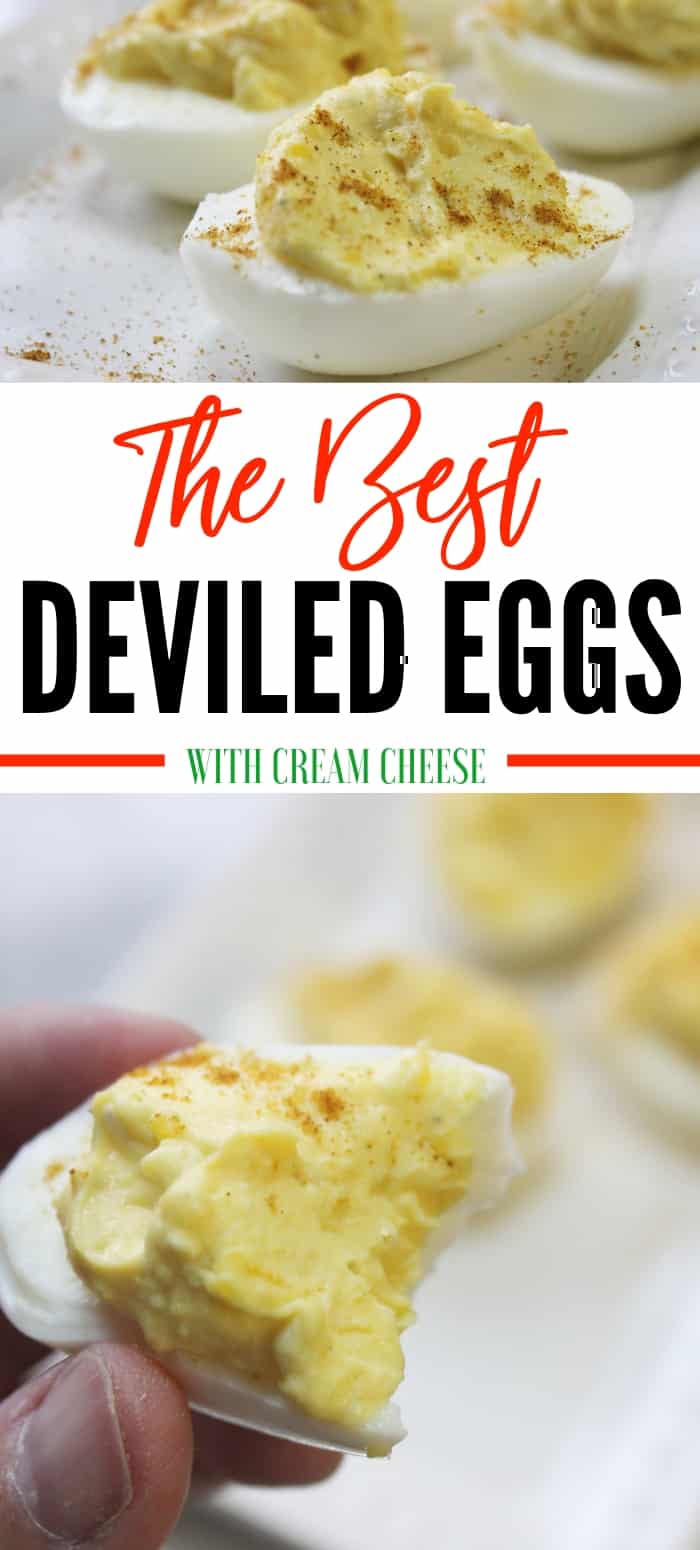 I hope you enjoy this deviled eggs with cream cheese recipe! It is so popular in our home.
Reader Interactions
We've Been Featured On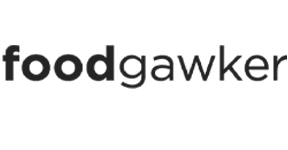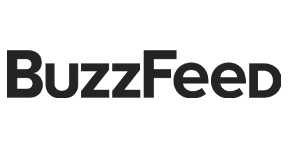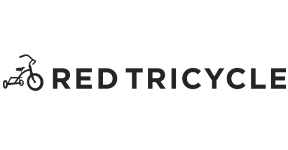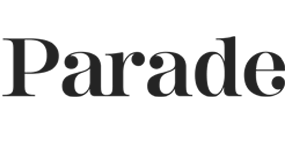 We are a participant in the Amazon Services LLC Associates Program, an affiliate advertising program designed to provide a means for us to earn fees by linking to Amazon.com and affiliated sites.