Instant Pot Corned Beef is loaded with flavor and brushed with horseradish mustard. Then broiled in the oven to perfection. Corned beef in Instant Pot is fall-apart tender.
No veggies needed for this tender corned beef brisket recipe.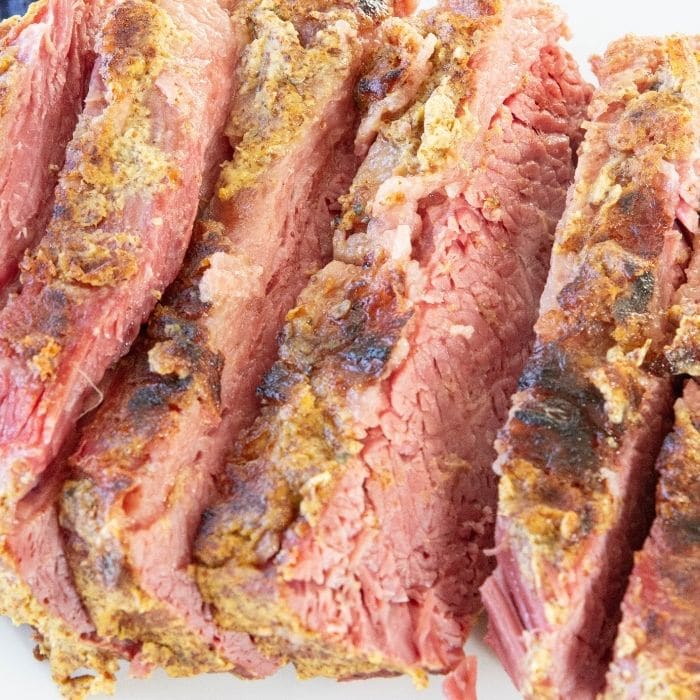 This pressure cooker corned beef is so easy to make. You get that tender fall apart beef, that was so moist and flavorful. Also, use leftover corned beef for this Reuben roll recipe that uses pizza dough!
You do have the option to add in cabbage and vegetables if you want to transform it into a whole meal.
Why You Will Love This Corned Beef Recipe
Minutes to prep
Hands off cooking
Fall apart tender
Juicy
Great for St. Patrick's Day.
Loaded with flavor
Versatile in what you pair with it
Easy
🧅 Ingredients
Corned Beef – I just bought a classic bagged one, with pickling spices packet.
Beef broth – You can use bone broth as well.
Onion – One onion will do sliced into quarters.
Horseradish Mustard – This carries a little punch, to mellow down reach for Dijon mustard.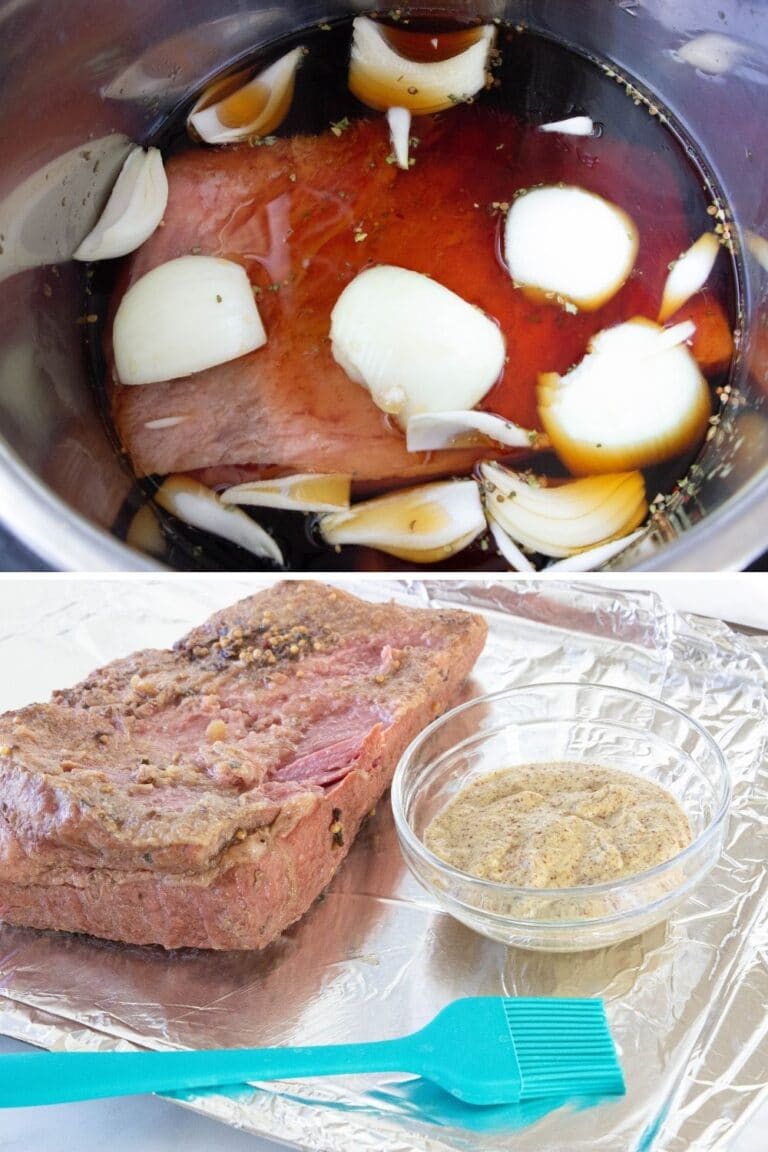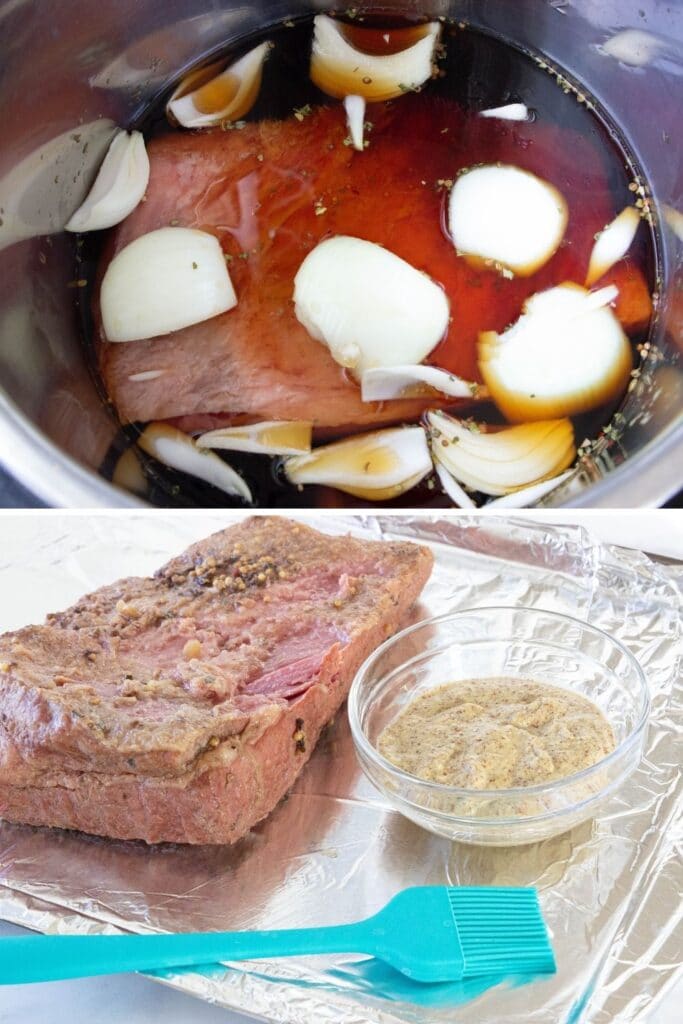 🥩 How to Make
Step 1: Remove his corned beef from the packet along with pickling spices.
I rinsed my corned beef brisket and pat it dry.
Step 2: Place your brisket fat side up in the pressure cooker. Sprinkle pickling spices on top.
Step 3: Pour over the beef broth and top with quartered onion.
Step 4: Cover the corned beef in broth, if need be add more or water to top it off. Close the lid.
Step 5: Valve on the Instant Pot needs to be set to sealing. Do manual high pressure for 1 hour and 10 minutes.
Step 6: Next, allow the meat to natural release for 20 minutes on the timer goes off when the meat is done. Push off any excess pressure after the 20 minute mark.
Step 7: Carefully remove beef and place on a lined baking sheet. Brush with mustard and broil in the oven till browned.
Step 8: Alow the meat to cook a bit then slice and serve with your favorite sides!
Storage
You can store any leftover corned beef brisket in the refrigerator for up to three days.
Anything after that I recommend placing in a freezer bag or vacuum seal bag and freeze. You can freeze the meat for up to three months in a freezer friendly container.
Or extend the the freezer life by vacuum sealing.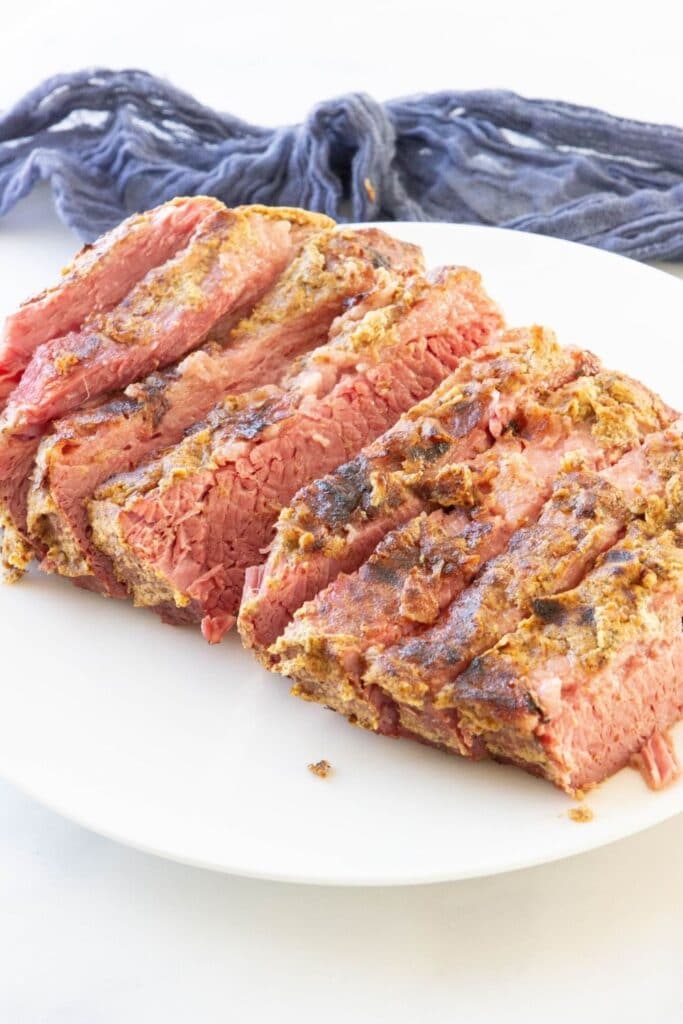 💡 Expert Tips and Variations For Corned Beef Brisket In Instant Pot
Here are some great instapot corned beef tips and tricks. Pressure cooker corned beef brisket is easy and these tips help to get a perfect recipe every time.
You can use Dijon mustard or horseradish mustard on top of the brisket. If you want some sweetness to sprinkle some brown sugar on as well.
Leave the mustard off if you want.
If you want to cook with cabbage and vegetables. Toss in your vegetables at the end of cooking. Do a 10 minute high pressure with a quick release. Cabbage, diced potatoes, carrots are all great.
Place fat side up on the brisket in the Instant Pot.
Use leftovers to make corned beef hash
You can do a slow cooker, just cook on low for 8-9 hours.
Swap seasoning packet with homemade pickling spice blend if you want.
Great Instant Pot corned beef brisket to make corned beef and cabbage.
Cook time will go up if you use a larger beef.
Recipe FAQs
What is corned beef and how is it made?
Corned beef is made using a brisket cut piece of beef. The brisket is brined and then pairs with a pickling packet to use. The beef is brined in a heavy rock salt.
Why is corned beef pink?
Because the corned beef is brined in salt and a sodium nitrite mixture, you will find that the corned beef remains pink even once it is fully cooked.
Do you Rinse corned beef before cooking?
Rinsing corned beef is not required. I find rinsing the corned beef brisket helps to remove the excess salt from the brining process.
What temperature should corned beef?
Corned beef needs to reach an internal temperature of 145 degrees, to be done. I recommend using a meat thermometer to check it.
More Instant Pot Recipes
Here is my Free Instant Pot Cheat Sheet Printable to use as well for your cooking needs.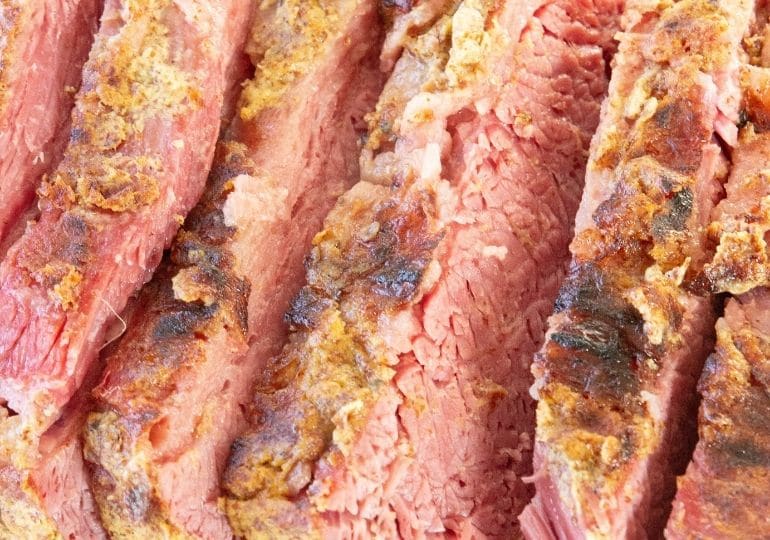 4 Ingredient Instant Pot Corned Beef
Servings 1 corned beef brisket
4 Ingredient Instant Pot Corned Beef that is so delicious. This instapot corned beef is so easy to whip up, and fall-apart tender. A pressure cooker corned beef that does not disappoint. Whip this up for dinner tonight to pair with your favorite sides.
Ingredients
Corned Beef Ingredients
Corned Beef Brisket with Pickling Spices 2-4 lbs
4 cups beef broth
1 onion diced into quarters
Horseradish Mustard or Dijon Mustard
Instructions
Rinse and pat dry your corned beef, then place it in the Instant Pot.

Sprinkle the pickling spices on the corned beef.

Toss in the onions, and pour the beef broth over the top.

You want the broth to cover the brisket, if not add more broth or a little water.

Place lid on the pressure cooker, and then make sure the valve is set to sealing.

Pressure cook manual high pressure for 1 hour and 15 minutes, followed by 20 minutes of natural releasing.

Press off any remaining pressure at this time, and then carefully remove the corned beef brisket and place it on an aluminum foil-lined baking sheet.

Brush with the mustard, and place in the oven on high broil to lightly brown the mustard. You can also use your air fryer lid if you have a Duo Crisp with the crisping lid.

Allow the brisket to cool, slice, and serve with all your favorite sides.
Notes
If you use a larger corned beef in the Instant Pot, add more broth. You can easily swap to your own favorite pickling spices if you don't want to use the packet that came with corned beef. Use your air fryer lid to toast up the mustard at the end, if you don't want to broil in the oven. Great to use in a Ninja Foodi or Instant Pot Duo Crisp You can skip the mustard if you prefer. If you want to cook this pressure corned beef with cabbage and vegetables, simply open lid at the end, toss in the veggies and cook for another 10 minutes. Quick-release and then serve.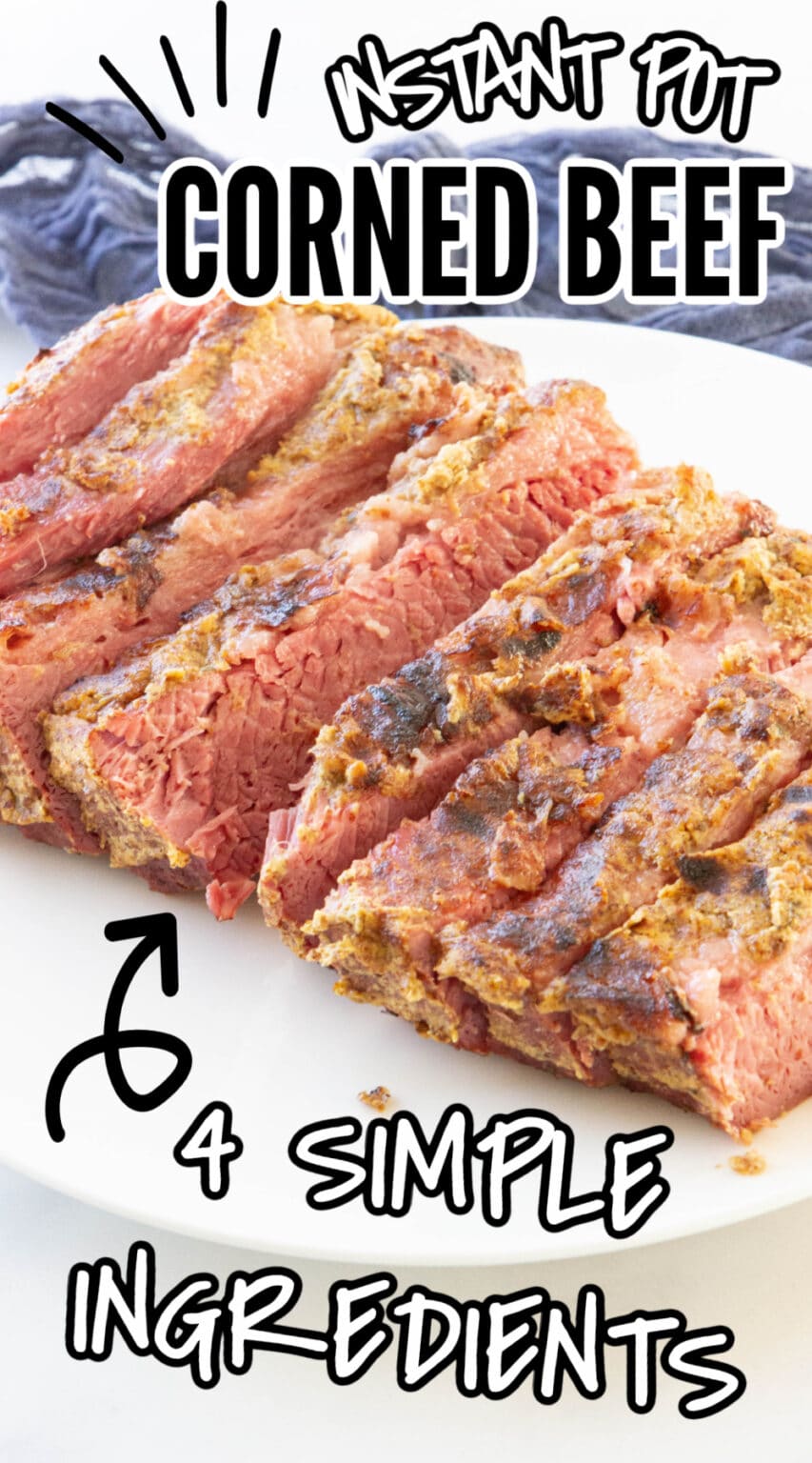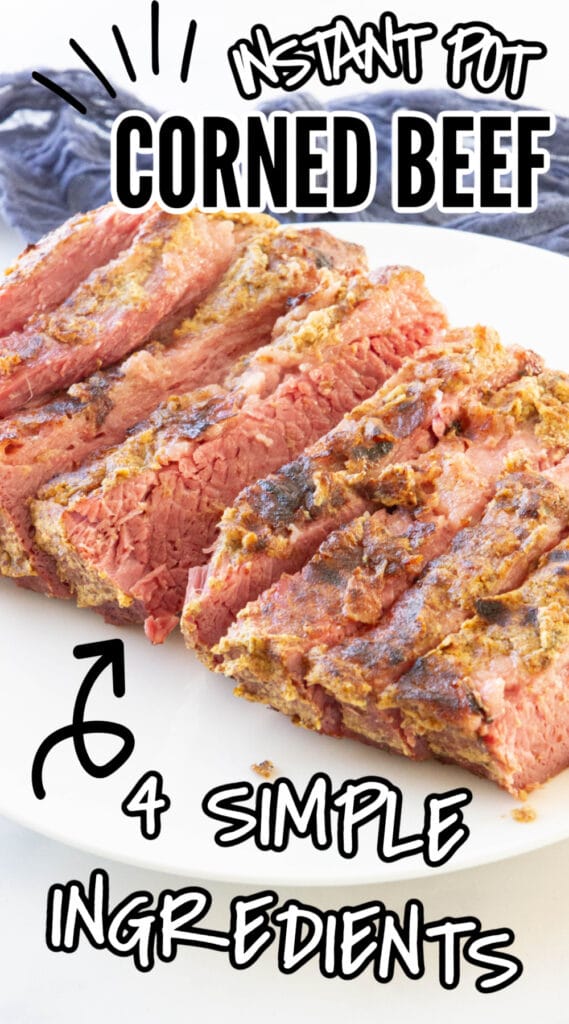 Reader Interactions