Have you tried making Instant Pot salmon yet? This garlic ginger Asian salmon is one of my favorite pressure cooker salmon recipes. Fresh ginger, garlic, soy sauce, brown sugar, and more. This salmon recipe is bursting with flavor.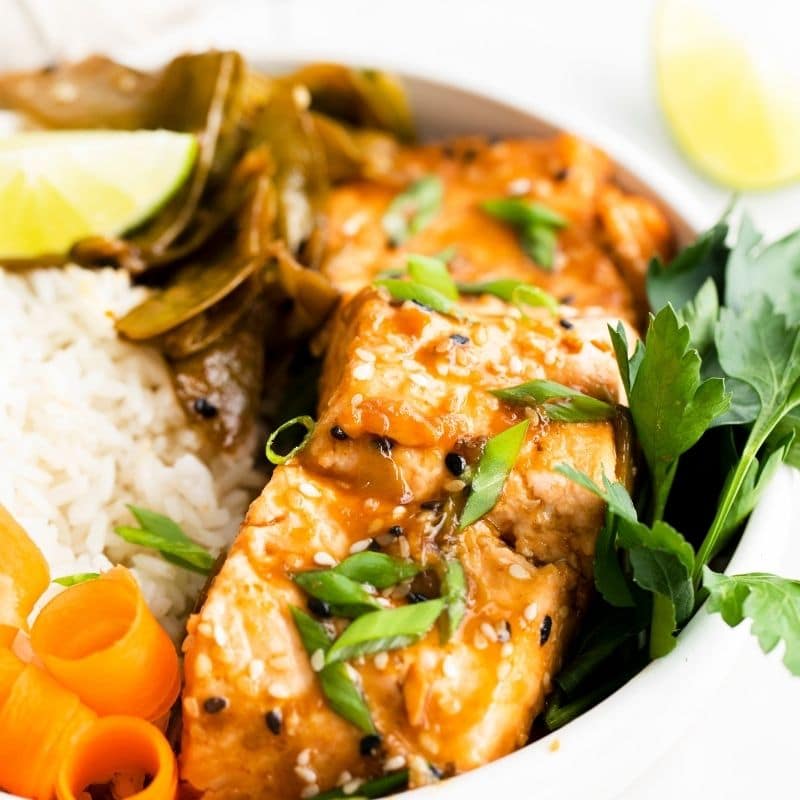 You can use fresh or frozen salmon in the Instant Pot. I love using fresh but this recipe does work with frozen as well. I will also share steamed salmon directions if you prefer that method.
Also you can make this a Ninja Foodi salmon, just reach for the pressure cooker lid. Fresh fish never tasted so good. Grab your salmon fillets and let's get to cooking.
This Instant Pot Salmon Is…
Gluten-Free
20-minute dinner
Can use frozen or fresh salmon
Great for meal prepping
Has a homemade sweet and savory glaze
Pairs well with rice, quinoa, cauliflower rice, etc.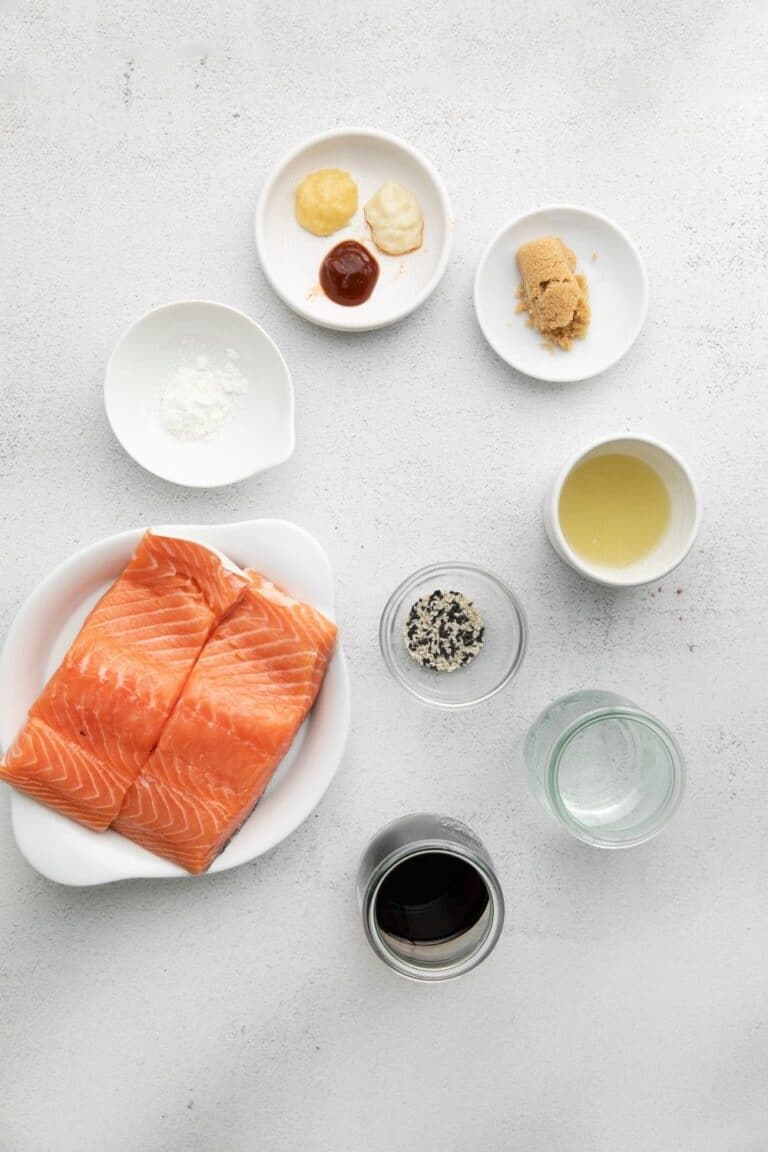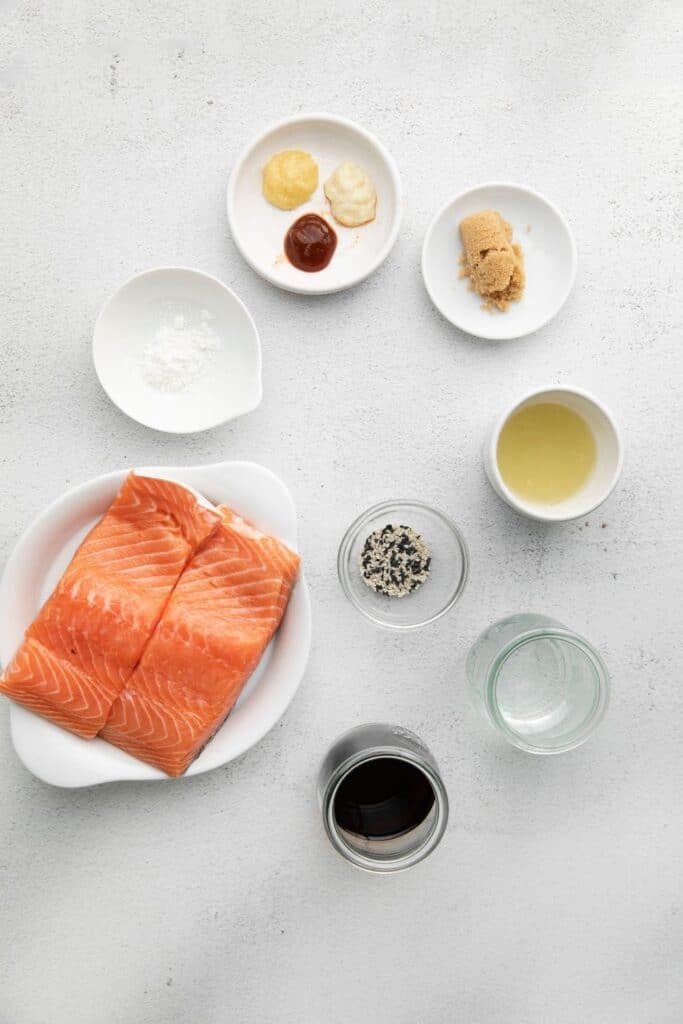 🍣 Ingredients Needed
Salmon Fillets
Soy Sauce
Honey or Brown Sugar
Lime
Sesame Oil
Garlic
Ginger
Sesame Seeds
Cornstarch + water
Sriracha (optional)
Snow or Snap Peas (optional)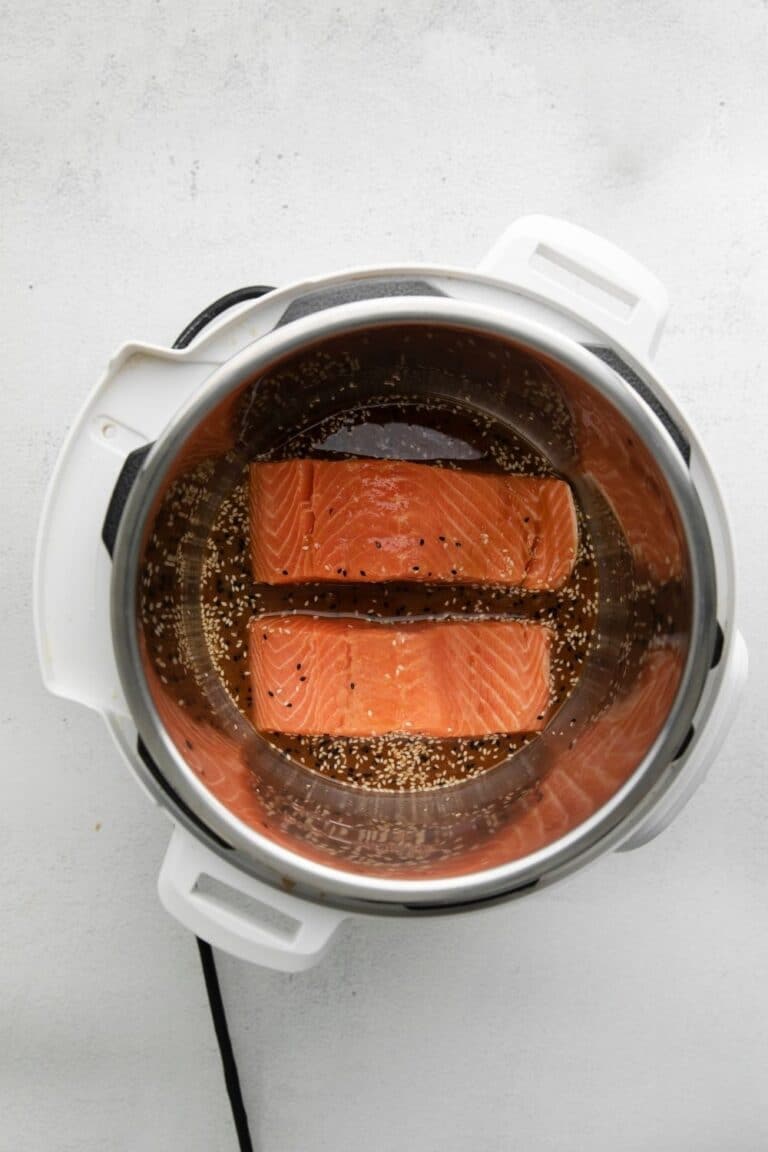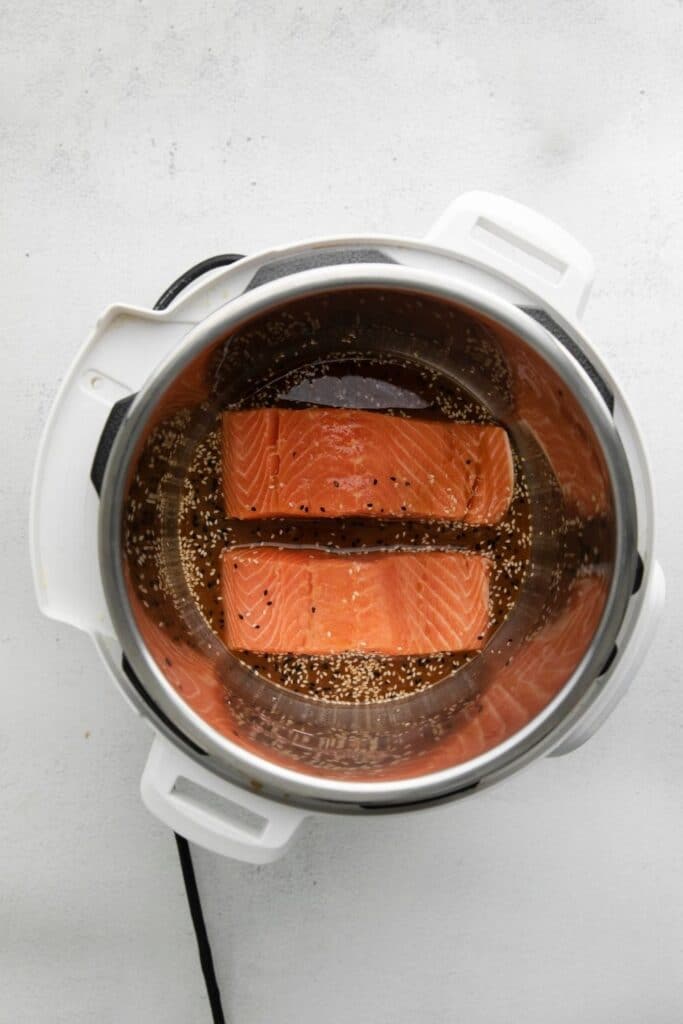 🌶️ How to Make
Step 1: Start by making your brown sugar or honey glaze sauce by whisking up all the ingredients but the salmon, cornstarch, and the snap peas.
Step 2: Pour the sauce in the Instant and place salmon on top. Make sure to flip the salmon around coating it in the sauce. Then place the salmon skin side down.
Step 3: Place the lid on the Instant Pot and seal the valve. Pressure cook 1 minute followed by a quick release once done.
Step 4: Remove the salmon from the Instant Pot. Turn the saute function on and mix up the cornstarch with 3 tablespoons water. Stir in and allow it to thicken the sauce.
Step 5: Stir the sauce continuously until thickened, then spoon the sauce over the salmon. Serve your salmon with rice, quinoa, salad, etc.
📌 Expert Tips
You can use honey or brown sugar in this recipe. I have done it both ways and they are equally delicious.
If you don't like a lot of heat, leave out the Sriracha. If you like spice add it, and even some crushed red pepper flakes.
Once your done cooking salmon you remove it, and the sauce you need to bring to a boil. Pour in the cornstarch slurry to thicken.
The salmon is cooked on high pressure.
Make sure the valve is set to sealing.
Those are some tips for this salmon Instant Pot recipe! It is super easy to make and I hop you enjoy this fish recipe.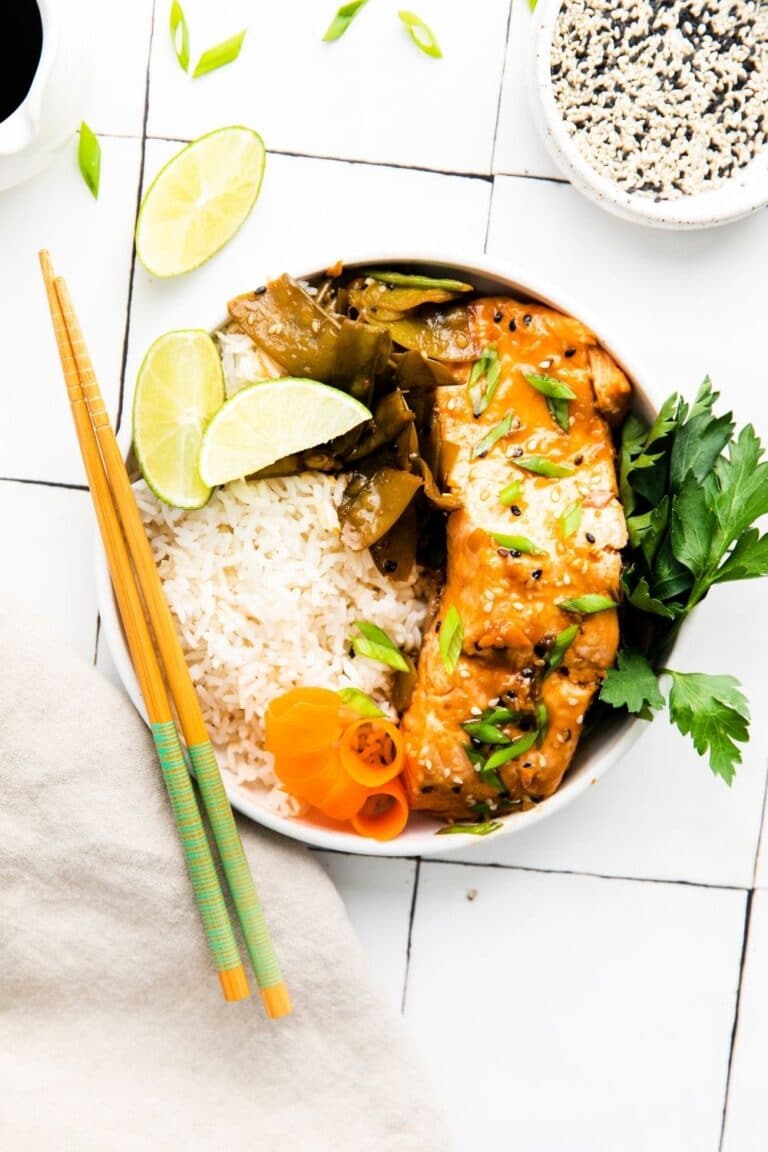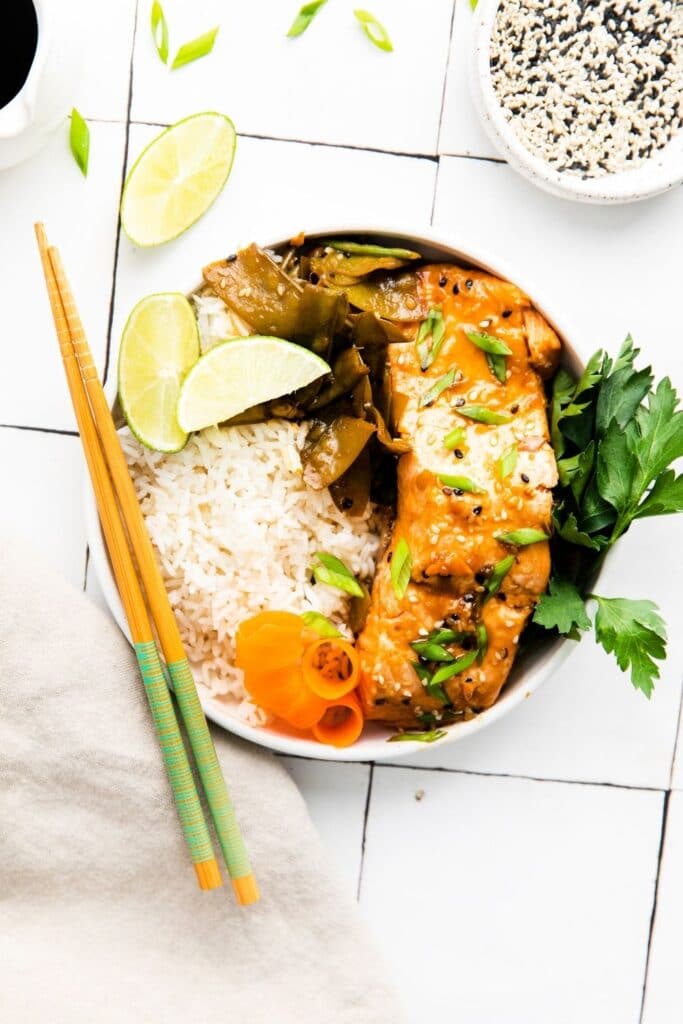 More Instant Pot Seafood Recipes
We love a good Instant Pot fish recipe and other seafood. I hope you enjoy these recipes.
👩‍🍳 Variations To Recipe
You could swap the lime with lemon juice if you prefer. Pair with lemon slices on the side as well. We prefer lime.
If you want to steam the salmon, place a trivet or silicone sling in, and place salmon on the trivet to steam. I find having in the sauce keeps the salmon moist.
You can skip the sauce and just do water in the bottom of the pot and fish on the trivet. This will steam. Add in lemon and garlic for flavoring salmon or whatever you may one.
Here is my Free Instant Pot Cheat Sheet Printable to use as well for your cooking needs.
🥢 Recipe FAQs
Can you cook frozen salmon in Instant Pot?
You can cook Instant Pot frozen salmon. You will need to add 2 additional minutes to the cook time. So you will cook for 3 minutes instead of 1.
Which salmon is best?
You will find many prefer a wild-caught Alaskan salmon. Or you might find your store sells sockeye salmon. I find that cooking salmon with skin on helps ensure it doesn't fall apart.
What is the internal temperature of salmon when fully cooked?
Your salmon needs to reach 145 degrees internally to be fully cooked.

You will find I cooked my salmon for 1 minute at manual high pressure. But if you have a thick fillet you might find you need to cook for 2-3 minutes.

Place the lid back on and cook an extra minute or two, quick release and re-check.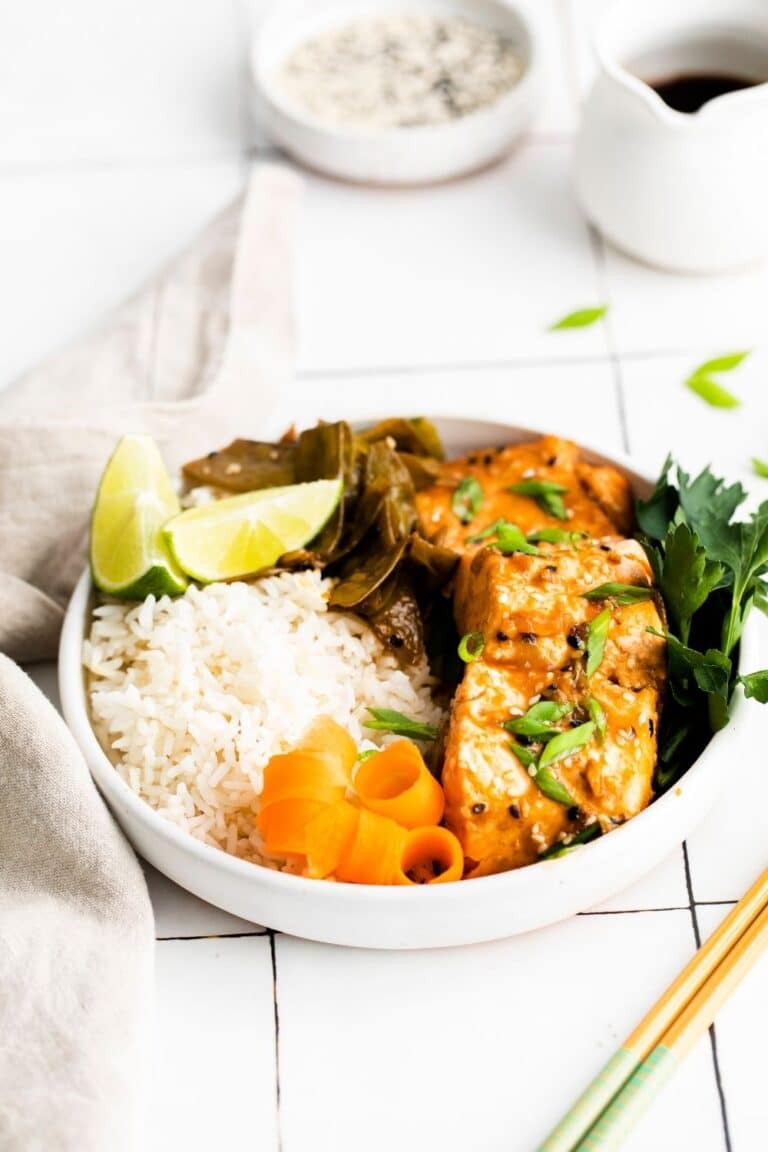 More Seafood Recipes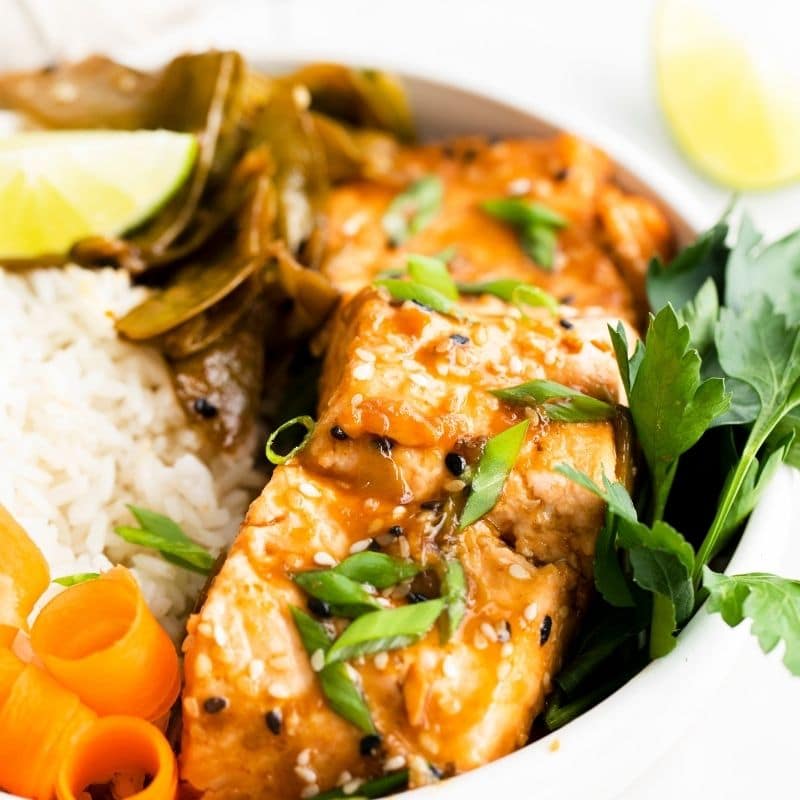 Instant Pot Salmon Recipe (Fresh or Frozen)
Servings 2 -4 filets
Instant Pot salmon is one of my favorites. This is an Instant Pot sesame salmon that offers a glaze to spread over your cooked salmon. Make into a salmon rice bowl, pair with your favorite sides, etc.
Ingredients
2-4 center cut salmon filets 1/2 pound to 1 pound
1/4 cup soy sauce or Coconut Aminos
1 tablespoon honey or brown sugar
1/4 cup water
1 lime juiced
1 tablespoon sesame oil
1 teaspoon sesame seeds
1 teaspoon ginger grated
1 teaspoon garlic minced
1/2 teaspoon Sriracha – optional
1 cup snow or snap peas – optional
1 teaspoon cornstarch + 3 tablespoons water
Instructions
Start by whisking your soy sauce, 1/4 cup water, brown sugar, lime juice, sesame oil, ginger, garlic, and sriracha in a bowl. Pour into the Instant Pot.

Place your salmon in the sauce and flip it all around making sure the sauce coats the salmon. Place the salmon skin side down.

Put the lid on the Instant Pot and make sure the valve is set to sealing. Do a manual high pressure cook for 1 minute followed by a quick release.

Check the internal temperature of the salmon to ensure it is done. If so, remove the salmon.

Turn the saute mode on, and then allow the sauce to heat up. Toss in the snow peas at this point. Mix the cornstarch and the water together as listed in ingredients. Pour in and whisk continuously to thicken the sauce.

Once the sauce is thick and your peas are done to your preference, pour the mixture over your salmon filets.

Top the salmon with sesame seeds if you want, green onions, and serve up!

I served my Instant Pot salmon with a bowl of rice, lime wedge, shredded carrots.
Notes
Salmon is done when the internal temperature is 145 degrees.
You can use honey or brown sugar.
If you don't like heat leave the Sriracha out.
Salmon will store for 2 days in the fridge in an airtight container.
If you have larger salmon fillets you might need to cook for 2-3 minutes instead of 1.
Serve with rice, cauliflower rice, pad that noodles, over salad, etc.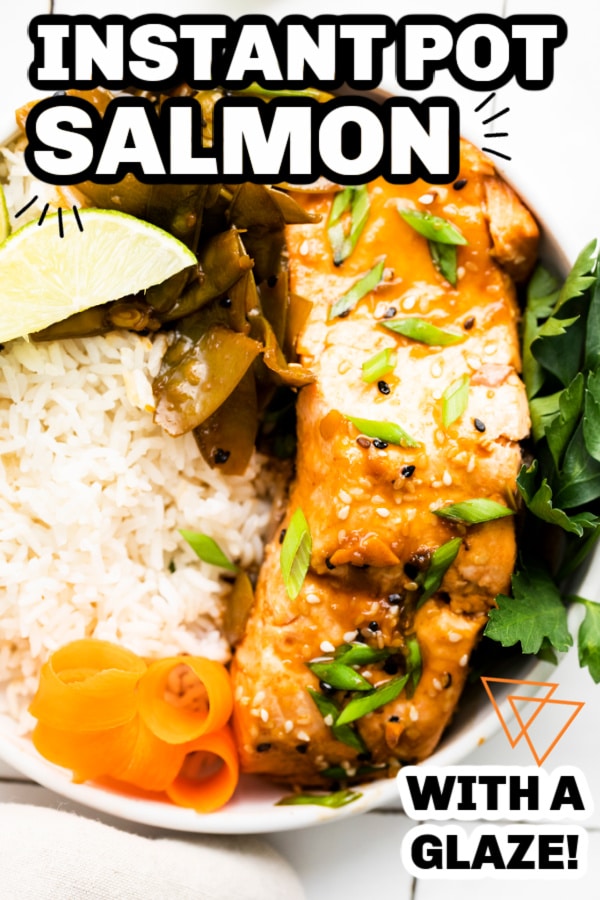 Reader Interactions