Ninja Foodi Rotisserie Chicken is a pressure cooked whole chicken that is then finished off with air frying. Tender juicy lemon pepper seasoned chicken with a crispy crust. Rotisserie-style chicken made in the Ninja Foodi.
Rotisserie Chicken in the Ninja Foodi is crazy simple to do! It does take steps but you get a store-bought quality, and in my opinion, it tastes even better.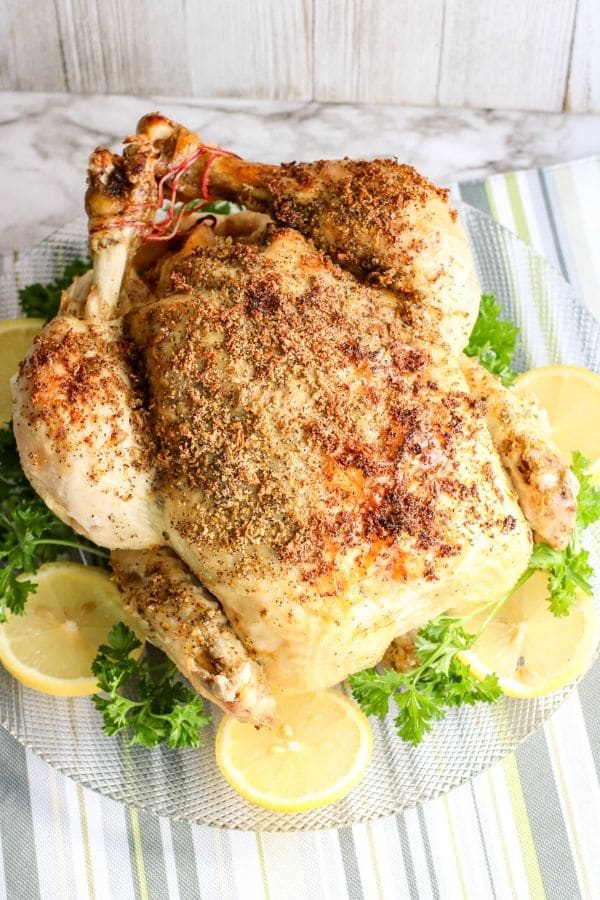 Try my Ninja Foodi Corned Beef and Cabbage recipe!
What if I Don't Own A Ninja Foodi?
Don't have a Ninja Foodi? You can make this rotisserie chicken in the Instant Pot! You follow the same directions below. Then you can finish off cooking the chicken in the oven, or if you have the Instant Pot Duo Crisp, you can use the air fryer lid.
Either route will work great. I love my Instant Pot Duo Crisp, it is a favorite accessory in my kitchen. Make sure to check out my Dr. Pepper Pulled Pork!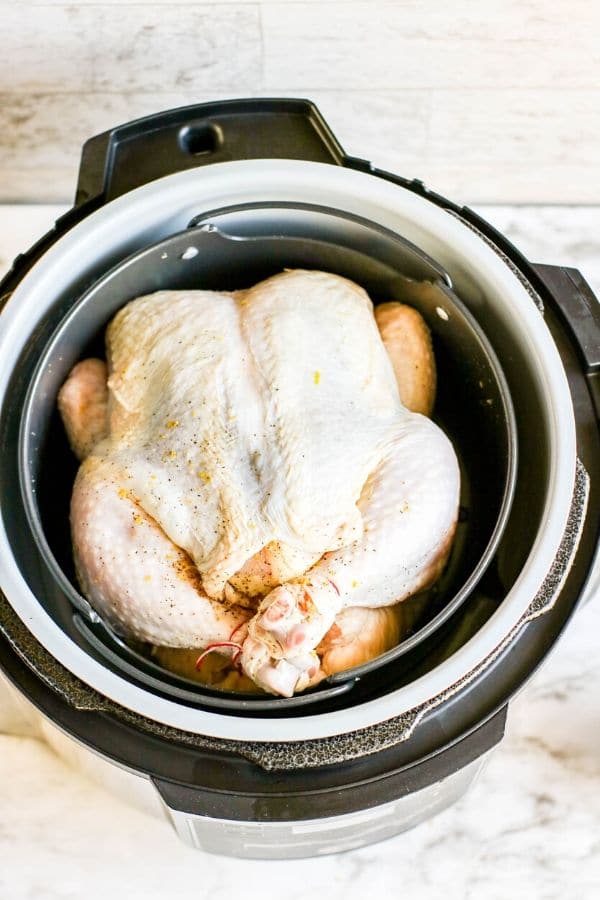 I am an Amazon Affiliate, so if you purchase through my link I can earn a commission on sales.
How Long Does It Take To Cook A Rotisserie Chicken
With a Ninja Foodi chicken you will start by pressure cooking your chicken for 22 minutes and then natural release for 5 minutes then let out the rest of the pressure.
Then you move over to the crisping and you will cook for 8 minutes or until your chicken reaches 165 degrees internal temperature.
Depending on your size of chicken will depend on the cooking time. So use this as a guide not a guarantee the chicken will be fully cooked. Once it is fully cooked you allow it to rest for 10 minutes before slicing.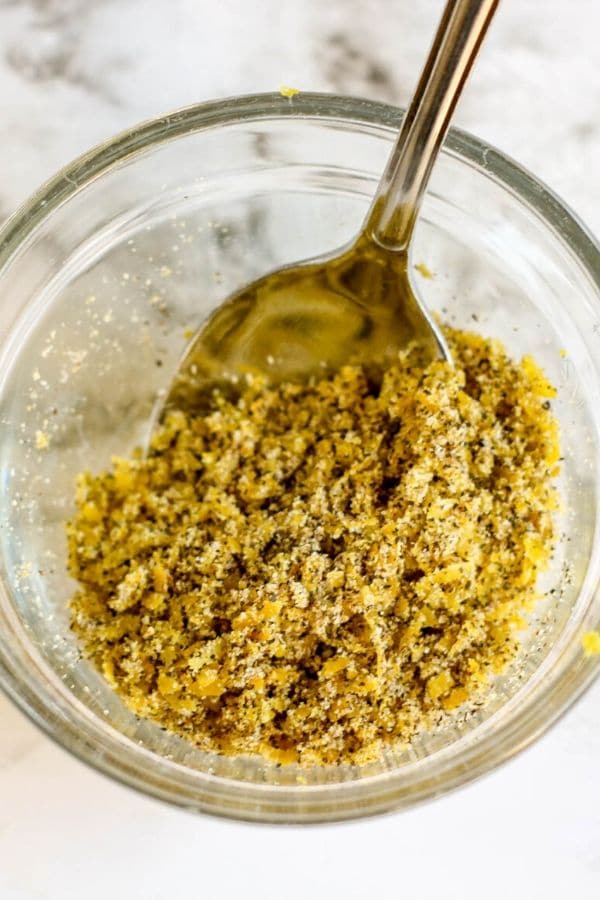 Lemon Pepper Seasoning for Foodi Roast Chicken
I used a lemon pepper seasoning for my Foodi roast chicken. Now, if you want to season your chicken with a different mixture, you go right ahead!
I love lemon pepper paired to chicken so I made a homemade mixture. The full recipe is down in the recipe box below!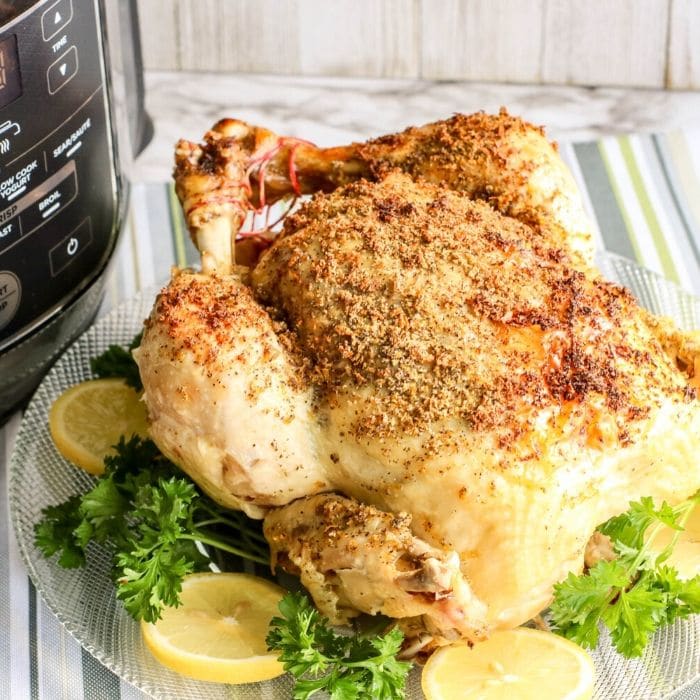 Is Rotisserie Chicken The Same As Roasted Chicken
While rotisserie chicken and roasted chicken used to be a bit different in cooking methods, you will find nowadays the words can be used interchangeably.
Depending on where you live will depend what you call your whole chicken.
Why Do You Let Rotisserie Chicken Rest Before Slicing
You might find that your chicken is 163 degrees when you pull it from the Ninja. If you let it sit you will find the temperature will still finish cooking your chicken.
I cover my chicken with a little aluminum foil to let the heat stay in. Letting chicken rest also allows for a juicy meat when you slice. Otherwise, you will find your chicken dries out as you slice.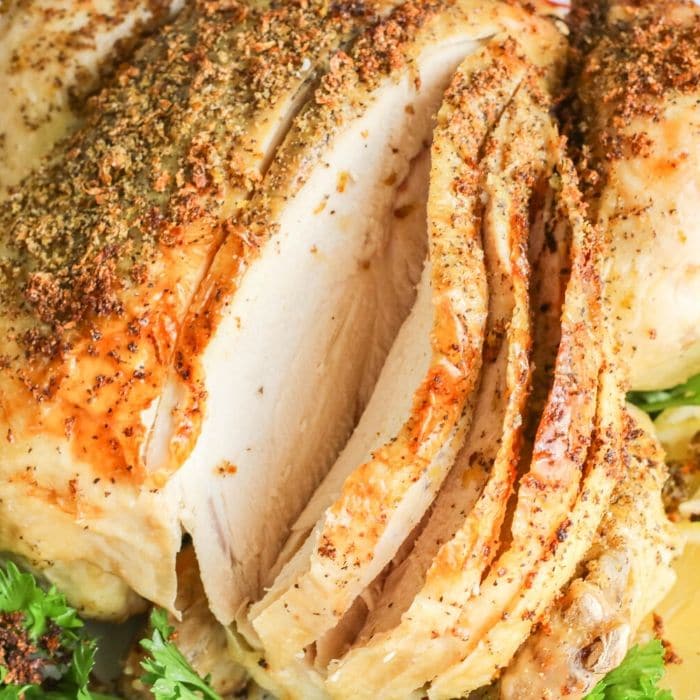 Best Way to Freeze Leftover Chicken
Prep your chicken how you would like. You will want to place in an airtight container or even use a Food Saver bag and vacuum seal it.
Then store for up to three months for a sealable bag, or longer if you use a vacuum seal bag.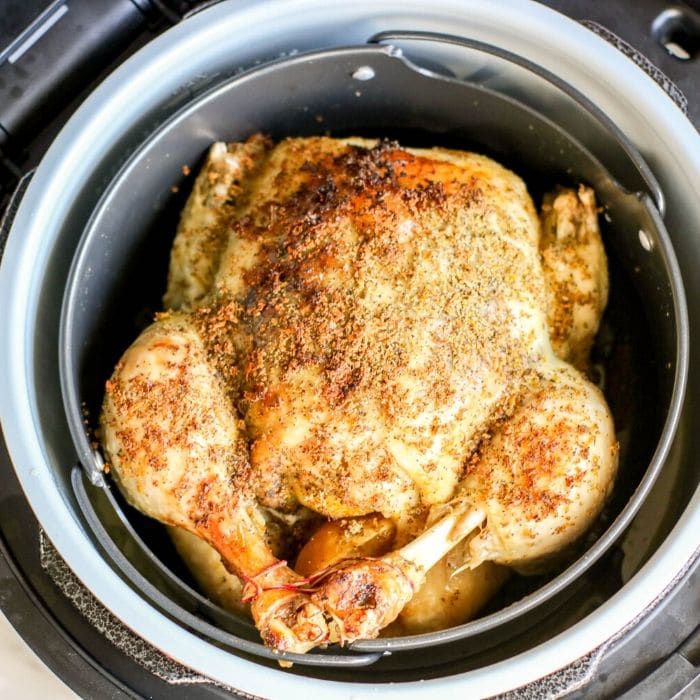 What Size Chicken Fits In Ninja Foodi
The recommended size of a whole chicken to use in your Foodi is up to 4.5-5 pounds top. Anything over that you will find it doesn't fit.
My chicken was at the top of that weight and it was a close fit. I got a little nervous it might not fit!
Ingredients You Need for Lemon Pepper Rotisserie Chicken
Whole Chicken
Butter
Lemons
Salt
Pepper
Onion
Garlic
Water
How To Make A Ninja Foodi Whole Chicken
Full directions and measurements for this recipe are in the printable recipe card below.
Start by cleaning out the chicken and patting it dry.
Now mix up your seasoning and then lift the skin of the chicken over the breast, and rub part of the seasoning blend. Then put lemon halves inside and tie up the legs.
Now pour water into the pot, place chicken in a basket, and tuck wings in.
Cook with the pressure lid, for 22 minutes, and then allow it to natural release for 5 minutes.
Brush chicken with melted butter and then finish topping with the rest of your seasoning. I held back half.
Put crisping lid on and then cook for 8 minutes. Full instructions are in recipe card.
How Long Will Rotisserie Chicken Store For
You can store your chicken in the fridge in an airtight container for up to three days. If you don't want to eat it all right away, feel free to freeze leftover chicken.
What To Serve With Lemon Pepper Chicken
Tried this recipe? Make sure to rate ⭐️⭐️⭐️⭐️⭐️ and leave a comment to let me know how you like it! Plus get more Instant Pot Recipes or Home Cooked Recipes Facebook Page on my Facebook. Stay up to date and Follow Me On Pinterest!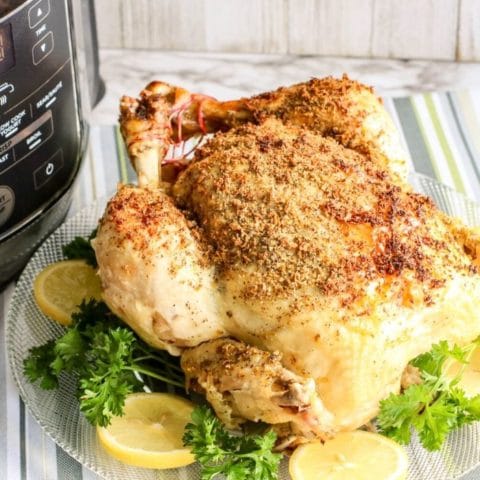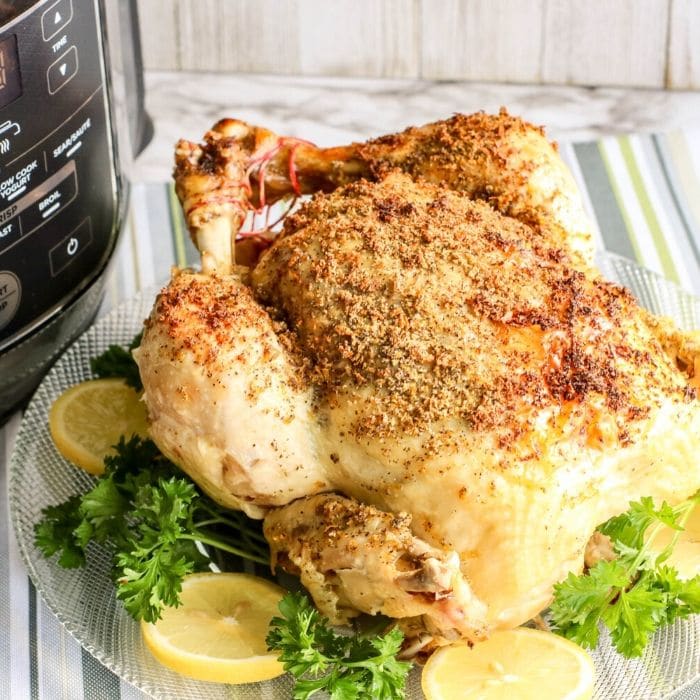 Ninja Foodi Rotisserie Chicken
Additional Time:
15 minutes
Ninja Foodi Rotisserie Chicken is an incredible dinner to serve up any day of the week. Easy and crispy skinned rotisserie chicken with a lemon pepper seasoning.
Ingredients
4-5 lb whole pound chicken (remove giblets and pat dry)
2 tablespoons butter, melted
1 1/2 cups water
3 lemons, zested and halved
1/4 teaspoon salt
1 1/2 teaspoons black pepper
1 teaspoon onion pwoder
1/2 teaspoon garlic powder
Instructions
Start by prepping your bird. Remove giblets and packets inside the chicken. Then with a paper towel or clean towel pat the chicken dry.
Now in a small bowl add your lemon zest, salt, pepper, onion powder, and garlic.
Lift up the skin on the chicken brease and smear half the rub onto the chicken. Put your lemon halves inside the chicken.
Tie the legs with bakers twine.
Put water in the cooker pot, and then place chicken in the crisping basket. Tuck wings under the bird.
Cover with pressure cooker lid, make sure it is sealed, and then do pressure cooker for 22 minutes. Natural release for 5 minutes, then remove the rest of the pressure.
Now with melted butter brush over the top of the chicken and then sprinkle with the rest of the seasoning.
Cover with crisping lid and do air crisp function at 400 degrees for 8 minutes.
Make sure the chicken reaches 165 internal temperature. If your chicken needs longer go ahead and cook it more.
Let chicken rest for 10 minutes on counter before you slice.
Recommended Products
As an Amazon Associate and member of other affiliate programs, I earn from qualifying purchases.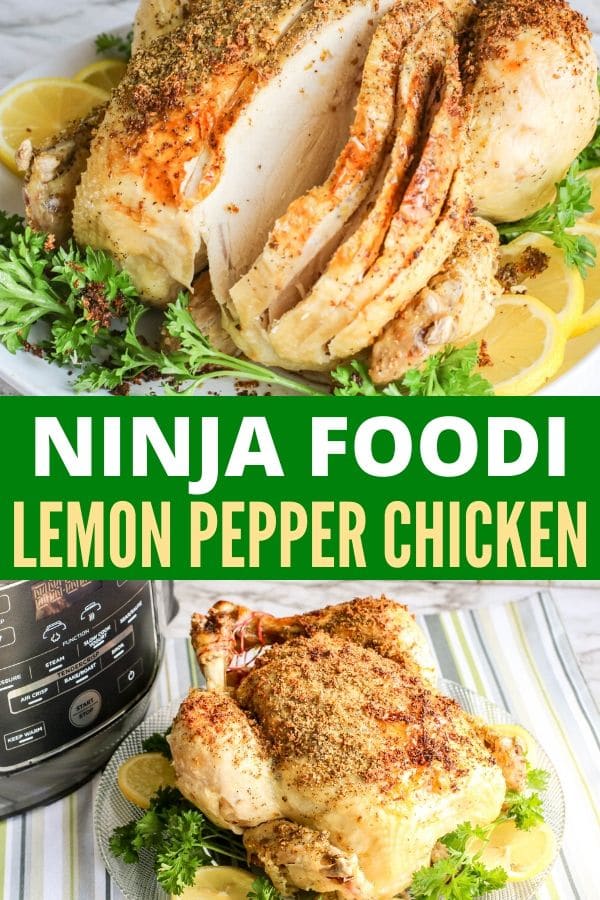 Have you made a whole chicken in the Ninja Foodi yet?