Instant Pot Green Beans and Potatoes is one incredible side dish that you can make for dinner any day of the week. Instant Pot side dishes are always a delight. They are easy, quick to whip up, and the Instant Pot really locks in the flavors of the ingredients. Green Beans Potatoes and Bacon will win you over for sure.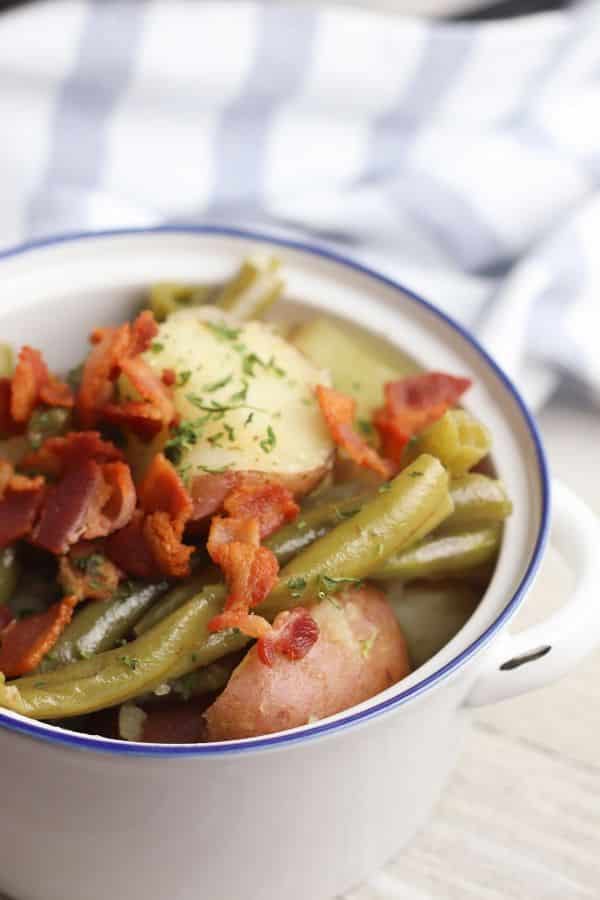 I can't get enough of fresh green beans right now. I am eating them in any and every dish I make. My latest obsession is this green bean and new potato dish. If you have green beans in your garden or a farmer's market near you, try this recipe out. Country green beans or Southern Green beans are other names I have heard these called. No matter what you name it, these are fantastic.
Instant Pot Green Beans and Potatoes
Let me help walk you through some tips and tricks and answer common questions, to set yourself up for success with this Instant Pot recipe!
Why Are Red Potatoes Called "New" Potatoes
I always got confused when I heard the word "new" potatoes. New potatoes mean that they are freshly harvested potatoes for that growing season. If you don't see any at the store, you can always reach for red potatoes. Many refer to new potatoes as a new potato.
Tools Needed For Potatoes and Green Beans In Instant Pot
Spatula (scraping bottom of the pan after cooked bacon)
Spoon
How Do You Wash Fresh Green Beans
I toss my green beans in a strainer and run cold water over the beans. Then I gently scrub the beans with my hands and then set it on a towel once it is washed. I repeat until I get all the beans cleaned. Green beans tend to have dirt and debris that needs to be washed.
What Does It Mean To Snap Green Beans
If you go to break off an end of a green bean you might find that there is a tougher end that naturally snaps off when you go to do it. The ends need to be discarded off the green beans. They are super chewy and offer a tough texture that won't soften if cooked.

How To Trim Green Beans
I am quick to do mine. You can snap off the ends of green beans one by one, or you can line the beans up on a cutting board and slice off a handful of ends all at once. This speeds up the process a ton.
Even More Side Dishes To Try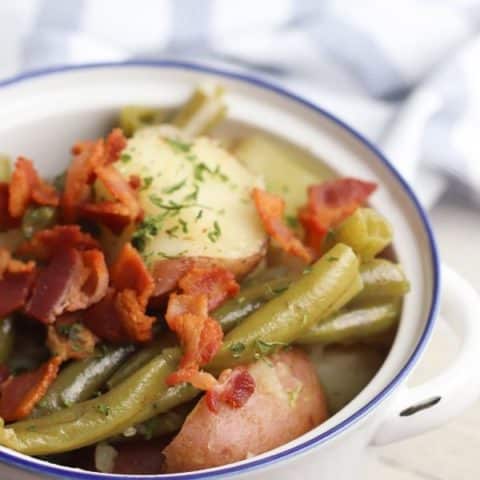 Instant Pot Green Beans and Potatoes Recipe
Instant Pot Green Beans and Potatoes is a delicious side dish great for anytime of year. Serve up this Green Bean, Potatoes and Bacon recipe for dinner tonight.
Ingredients
8 strips bacon, cut into small pieces
¾ cup chicken stock
2 pounds red potatoes, quartered
1 ½ pounds fresh green beans, ends removed
1 teaspoon parsley
1 teaspoon salt
½ teaspoon pepper
Instructions
Set Instant Pot to Saute and place bacon inside. Cook bacon until crisp, then remove bacon from Instant Pot leaving grease in the bottom of the pot.
Turn off Instant Pot and add chicken stock. Using a spatula, de-glaze pot by scraping off stuck-on bacon pieces from bottom of pot.
Add potatoes and green beans. Season with parsley, salt and pepper. Stir to combine and coat ingredients with stock and bacon grease.
Place lid on Instant Pot and seal vent. Set pot to pressure cook for 6 minutes.
When cooking time is up, do a quick release and remove lid. Add bacon and stir to combine.
Nutrition Information:
Yield:

6
Serving Size:

1
Amount Per Serving:
Calories:

253
Total Fat:

6g
Saturated Fat:

2g
Trans Fat:

0g
Unsaturated Fat:

4g
Cholesterol:

16mg
Sodium:

679mg
Carbohydrates:

39g
Fiber:

6g
Sugar:

6g
Protein:

12g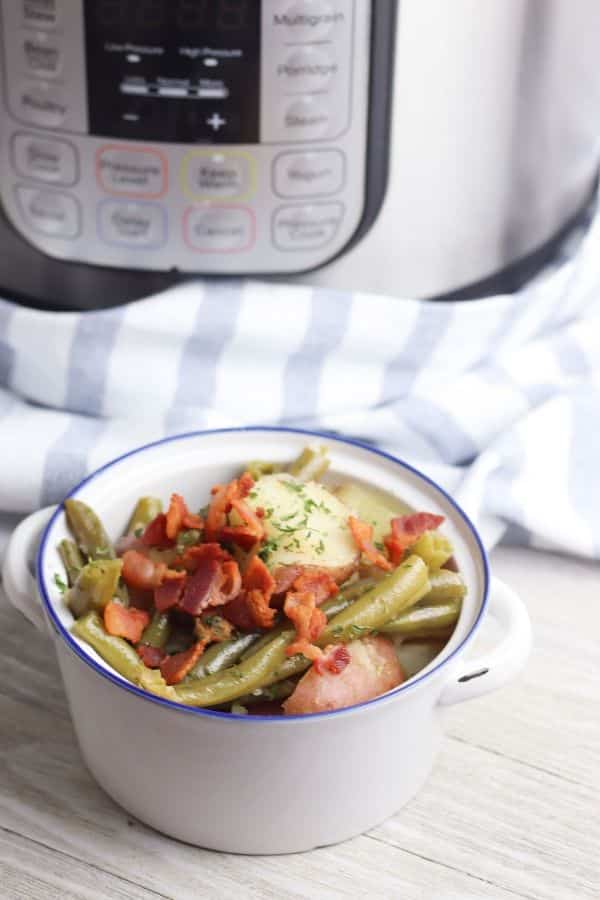 Can I Use A Different Type of Potato In Southern Style Recipe
Absolutely! You will find other varieties of potatoes can break down a bit more, but they will still hold the flavor nicely. I have used russets and Yukon and both worked just as good. Just dice them up in smaller size like a red potato.
How To Store Leftover Southern Green Beans and Potatoes
Keep any leftovers you have in the fridge for up to four days. I always tell people to use your best judgment as to if you feel you need to throw them out for going bad. Each fridge cools differently so if refrigerated properly this recipe will last that long.
Best Way to Reheat Country Green Beans
Simply warm up in a pan on the stove, or toss in the microwave. Either way, works, and boy are they tasty leftover. I almost think the next day flavor is even better than night one!
Have you ever made Instant Pot Green Beans and Potatoes?