Bacon wrapped stuffed chicken is an easy and delicious grilled chicken recipe. You can bake this bacon stuffed chicken as well. A cream cheese stuffed chicken with poblano pepper and pepper jack cheese.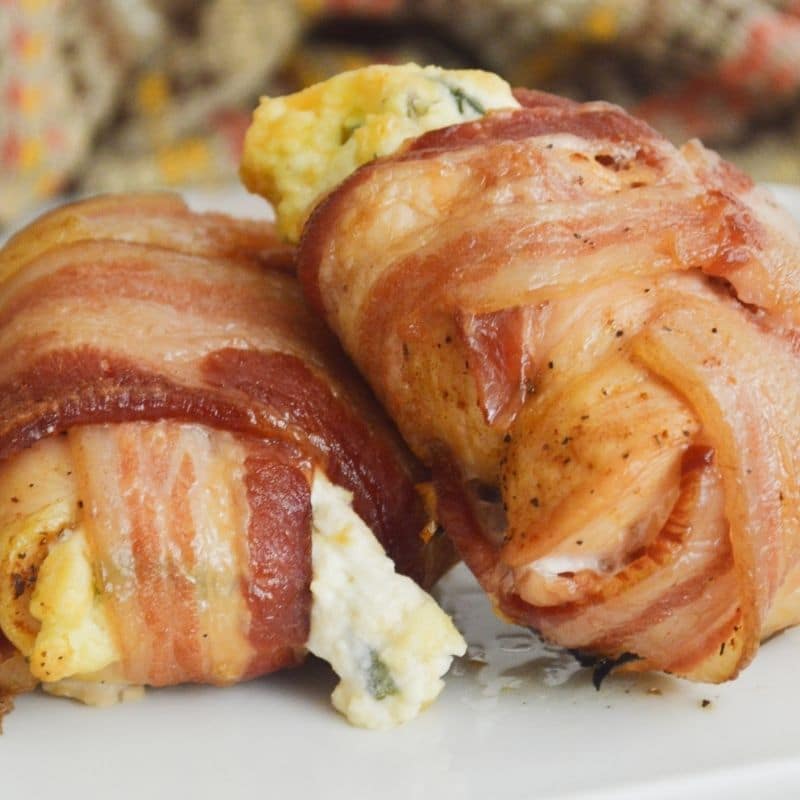 Bacon stuffed chicken breast never tasted so good. These chicken bombs are legit heaven.
If you are a fan of chicken, bacon and cream cheese, you have to give this recipe a try.
I used our outdoor grill but you can bake the chicken, toss on a Ninja Foodi Grill, or even air fry!
Why I Recommend This Bacon Wrapped Stuffed Chicken…
A perfect summer grilling recipe
Can bake chicken in the oven
The poblano pepper adds tons of flavor
More than a basic grilled chicken breast
Cheesy
Wrapped in bacon… need I say more?
Ingredients Needed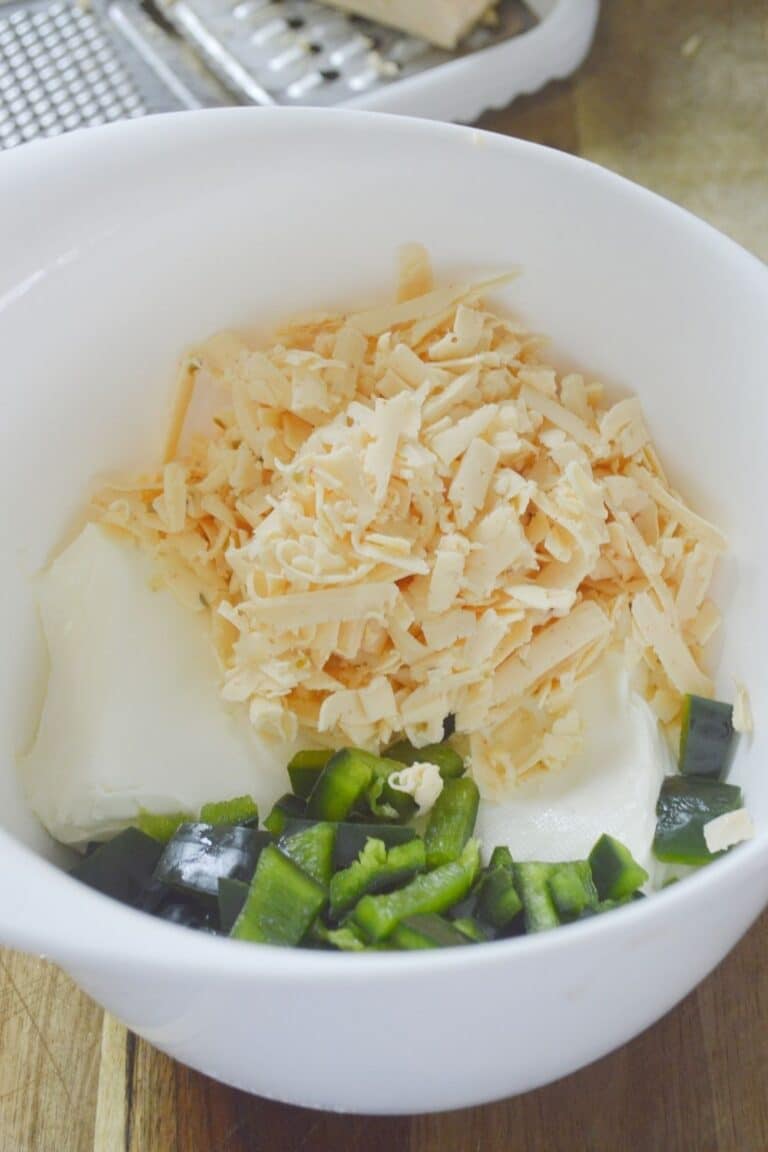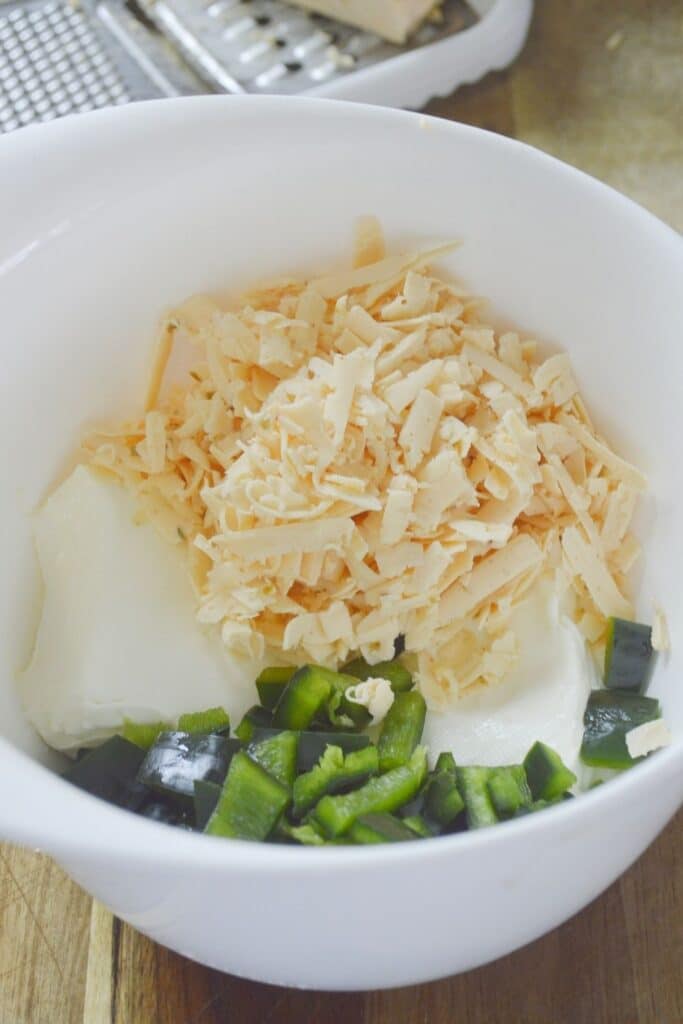 Chicken Breast
Bacon
Cream Cheese
Poblano Peppers
Pepper Jack Cheese
BBQ Rub of your choice
How to Make
Step 1: Preheat your grill to 400 degrees. Start by laying out your chicken breast and then make sure to use a mallet and pound out the chicken to make it thinner.
Step 2: Season it with a dry BBQ rub or salt, pepper and garlic.
Step 3: Then in a bowl you will add your softened cream cheese, diced poblano pepper, and pepper jack shredded cheese. Mix until combined.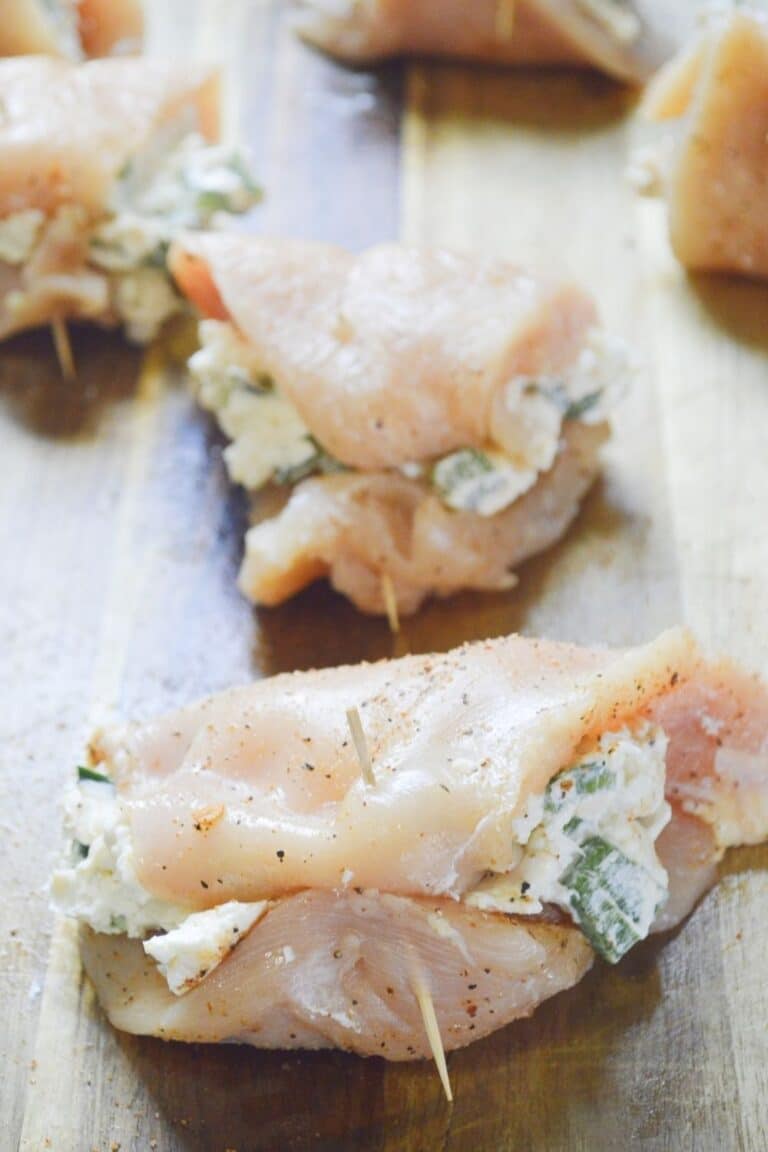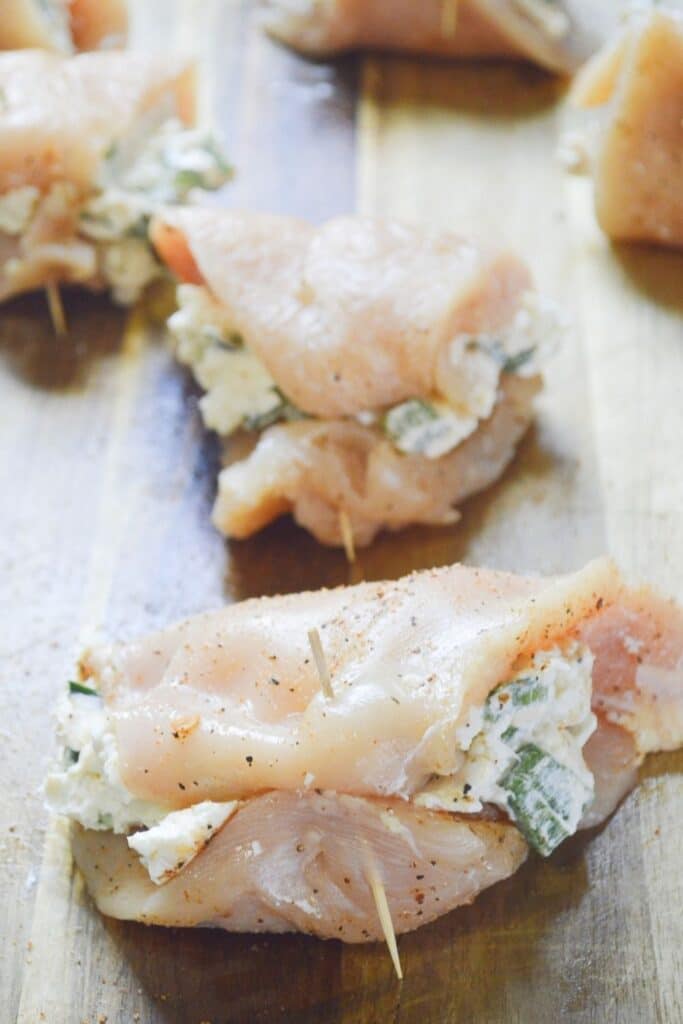 Step 4: Spoon some of the mixture into the center of each chicken breast. Then you will roll up the chicken to form a ball. Use toothpicks to secure the chicken together.
Step 5: Now you will wrap each chicken with 2-3 pieces of your bacon. Tuck the ends at the bottom of the chicken. Use toothpicks to secure if you need.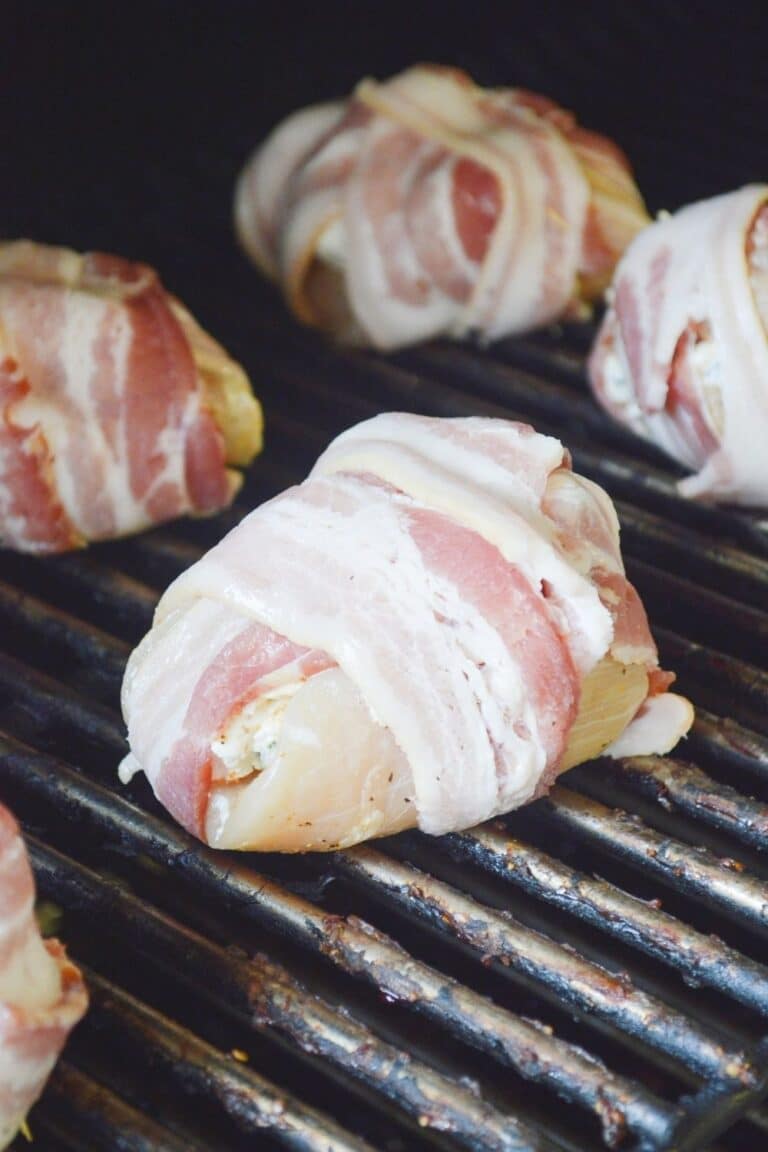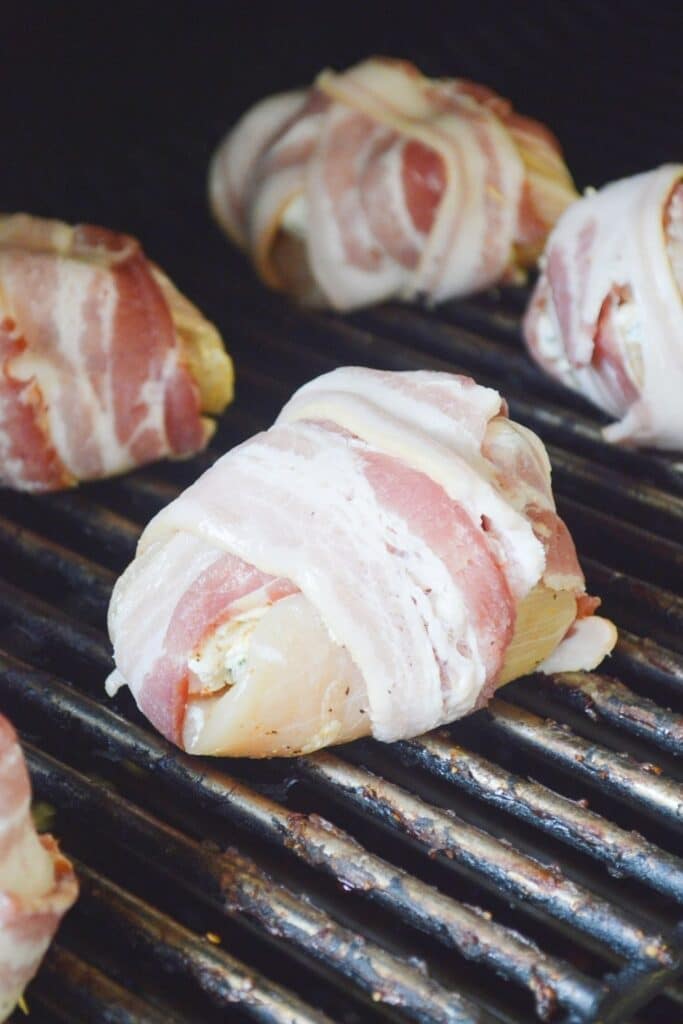 Step 6: Place chicken on a preheated grill and cook for 15-20 minutes or until the chicken and bacon are fully cooked.
Step 7: You will need to rotate the chicken. If you would like at the end of cooking brush with your favorite BBQ sauce to add even more flavor to your chicken bombs.
Serve and enjoy a delicious bacon wrapped stuffed chicken breast.
How Do You Bake In The Oven
Follow the same directions as above, just place in a baking dish, that is greased. Cook for 30 minutes or so at 375 degrees. You want to cook until the bacon and chicken are fully cooked.
The baked chicken with bacon will offer similar flavor to grilling.
Storage
If you happen to not eat all your chicken right away, store it in the fridge for up to three days.
This is delicious leftover. Just reheat in oven or in the microwave. Or you can freeze your chicken as well. Just place in a proper container and freeze for up to three months.
Expert Tips
Make sure to use thinner chicken, or you will run into the chicken taking a lot longer to cook, leaving the chicken overdone.
The toothpicks can be removed once you are done cooking before serving.
Use jalapeno peppers in replace of poblano if you would like.
Allow the chicken to rest for 5 minutes once you pull it from the grill. This will prevent the chicken from drying out.
The chicken needs to read 165 degrees internal temperature to be done.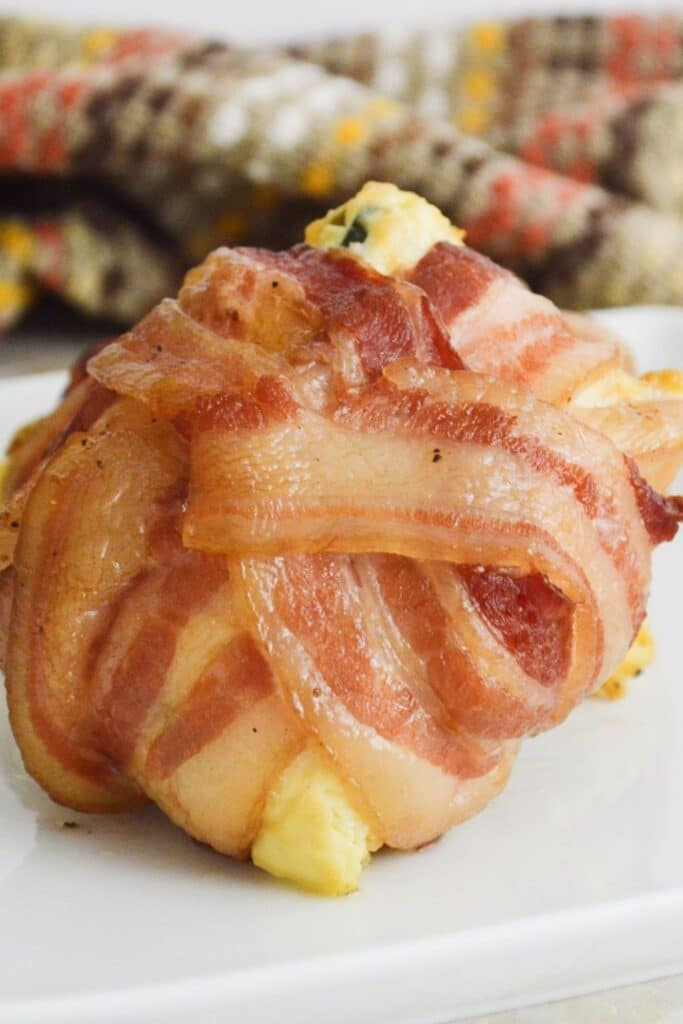 Recipe FAQs
More Grilling Recipes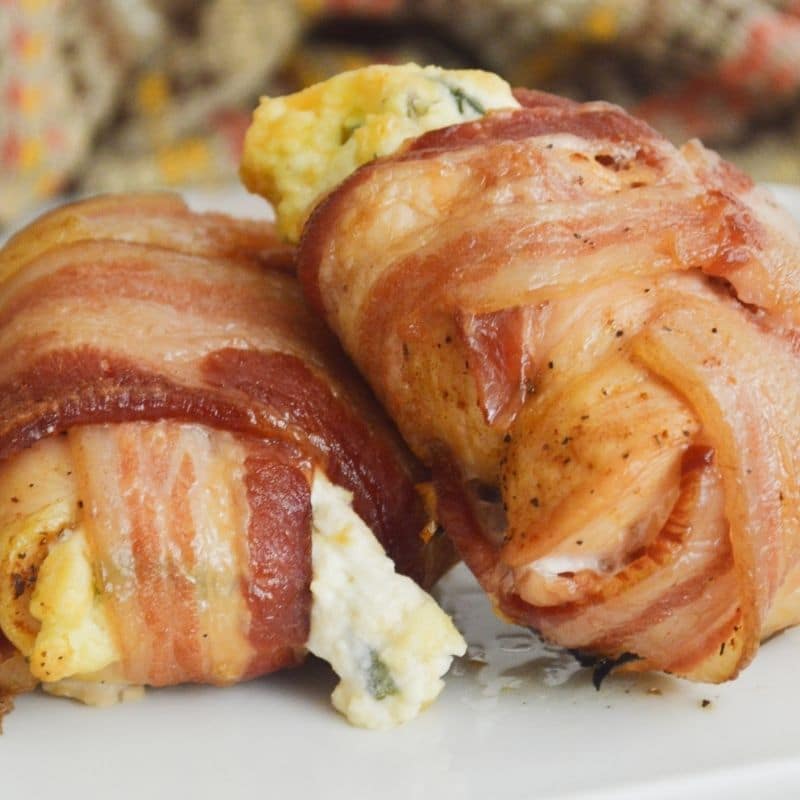 Bacon-Wrapped Stuffed Chicken Recipe
Servings 6
Bacon-Wrapped Stuffed Chicken are a delicious chicken breast that are stuffed with cream cheese and peppers, wrapped in bacon. Toss this stuffed chicken on the grill and cook to perfection. This chicken can also be baked in the oven.
Ingredients
Supplies
Ingredients For Stuffed Chicken
6 Thin Sliced Chicken Breasts
1 8 oz. Package of Cream Cheese softened
1 Large Poblano Pepper diced
1 Cup Shredded Pepper Jack Cheese
BBQ Rub or seasonings of choice
1 16 oz Package of bacon
1/3 cup BBQ Sauce – Optional
Instructions
Start by preheating your grill to 400 degrees.

Then in a bowl, you will add your cream cheese, diced pepper, and shredded pepper jack cheese. Mix until creamy. Set aside.

Now with your chicken, you want to flatten out the chicken to a thinner layer. Use a mallet if you need it. Season with bbq seasoning or do something simple like salt, pepper, and garlic powder.

Drop some cream cheese in the center of the chicken and begin wrapping the chicken together. Use toothpicks to secure the chicken.

Wrap in 2-3 pieces of bacon. Secure the bacon to chicken with toothpicks. Try to make all areas of the chicken sealed so the cream cheese doesn't ooze out.

Toss the chicken bombs on the grill and cook for 20-30 minutes or until the chicken and the bacon are fully cooked. Rotate the chicken as it cooks to get an even cook.

If you want brush the chicken with bbq sauce right before you remove, to help add extra flavor to your bacon-wrapped chicken. This is optional.

Allow your bacon-wrapped stuffed chicken to rest for 5 minutes once cooked. Then serve up with your favorite side dishes.
Notes
Ninja Foodi Grill or Indoor Grill of Choice – If you own an indoor grill you can cook the chicken on your indoor grill. Just preheat the grill and cook as you would on the regular grill. Depending on how thick or thin your chicken and bacon are, the cooking time will vary. You can bake the chicken at 375 degrees in the oven if you don't want to grill. Chicken is fully cooked once it reaches 165 degrees internally. You can store your chicken in the fridge for up to three days. Or freeze for up to three months. If you want to make it ahead of time, prep the chicken 24 hours in advance. Cover and store in the fridge. Then let the chicken rest on the counter 15-30 minutes before grilling. Then grill as normal.
Nutrition
Serving: 1gCalories: 417kcalCarbohydrates: 15gProtein: 50gFat: 16gSaturated Fat: 7gPolyunsaturated Fat: 7gCholesterol: 145mgSodium: 760mgFiber: 1gSugar: 12g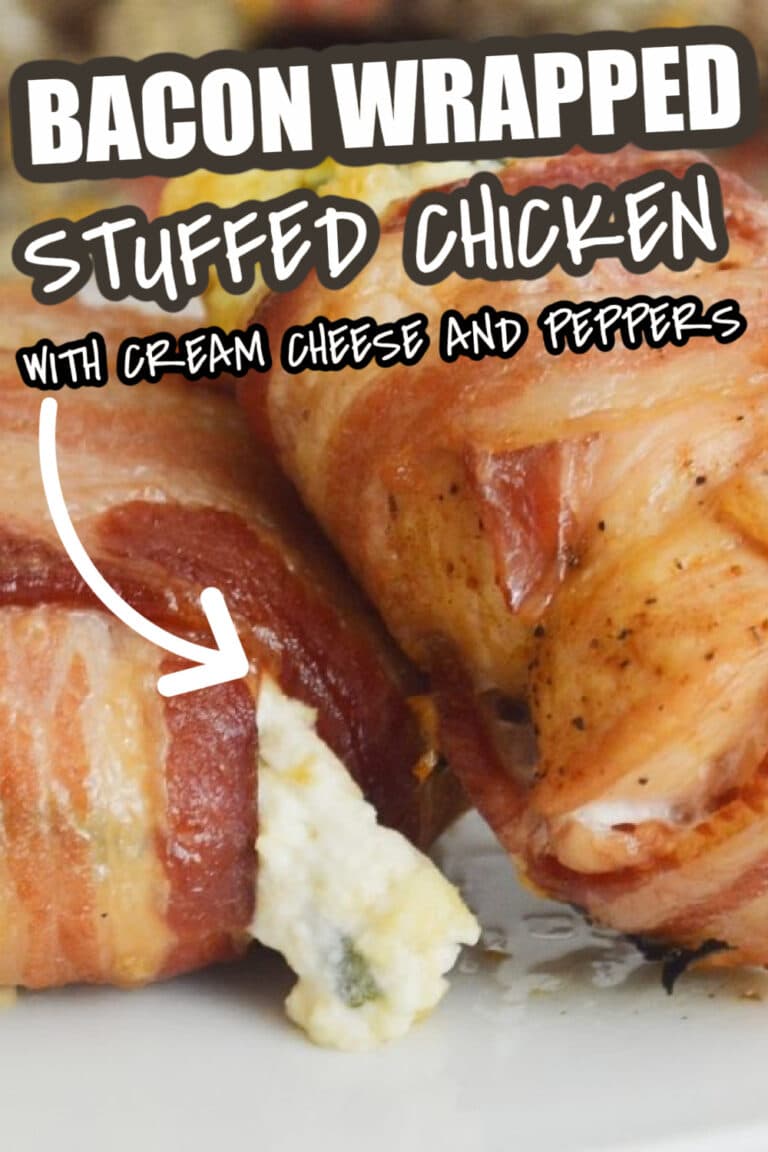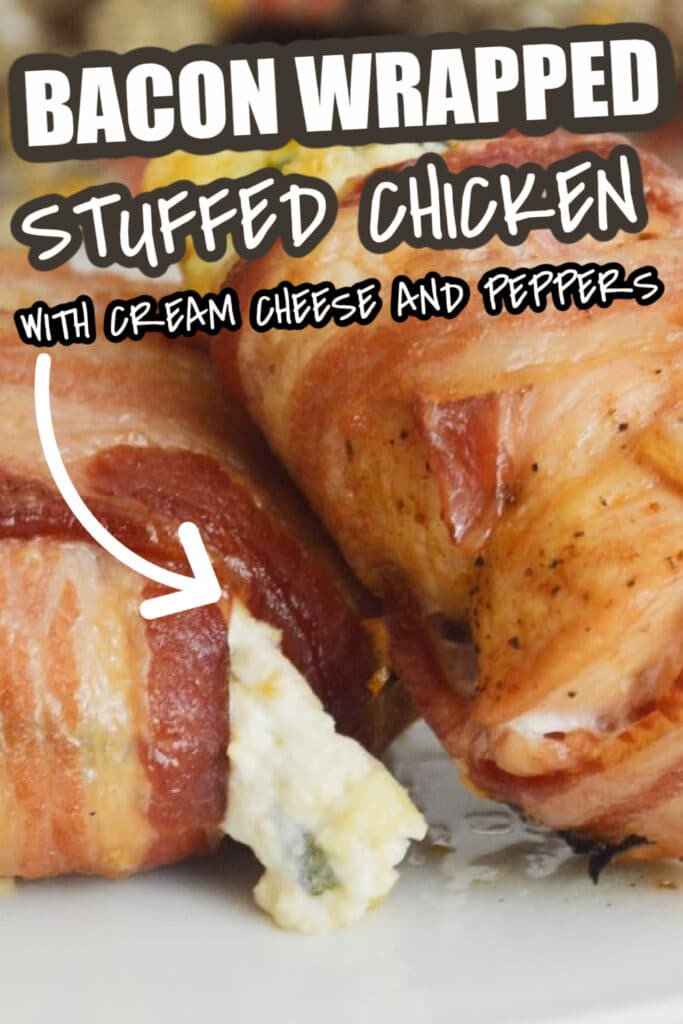 Let me know how you enjoy this grilled bacon wrapped chicken! This cream cheese stuffed chicken breast is easily one of my family's favorites!
Reader Interactions