Orange cheesecake is one dessert you have to try. This Instant Pot cheesecake is filled with vibrant orange flavor in every bite. An orange creamsicle cheesecake that is highly addictive.
If you love creamsicle desserts, this orange and cream summer cheesecake is a must make. Golden graham crust, filled with an orange cream cheesecake cooked in your Instant pot.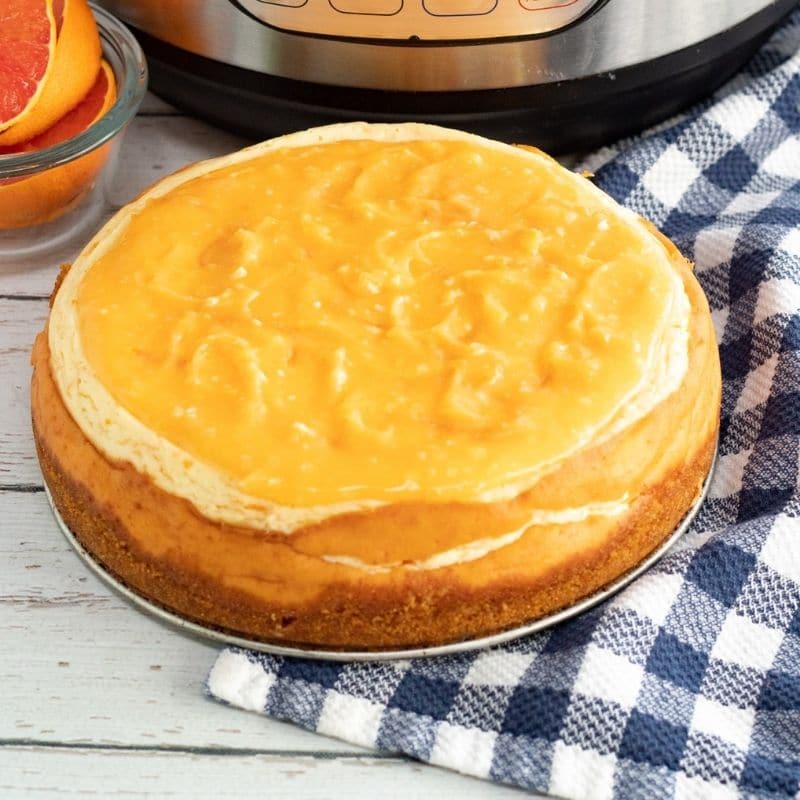 Cheesecake with orange zest is something I was a bit unsure about. But I dived in and was so surprised how incredible the orange vanilla cheesecake turned out.
Why You Will Love This Orange Cheesecake…
Made in the Instant Pot
A delicious orange dessert
Easy Instant Pot dessert
Great for spring or summer
Orange Curd Topping
Made with fresh orange zest
Graham cracker crust
Gorgeous presentation value
Ingredients Needed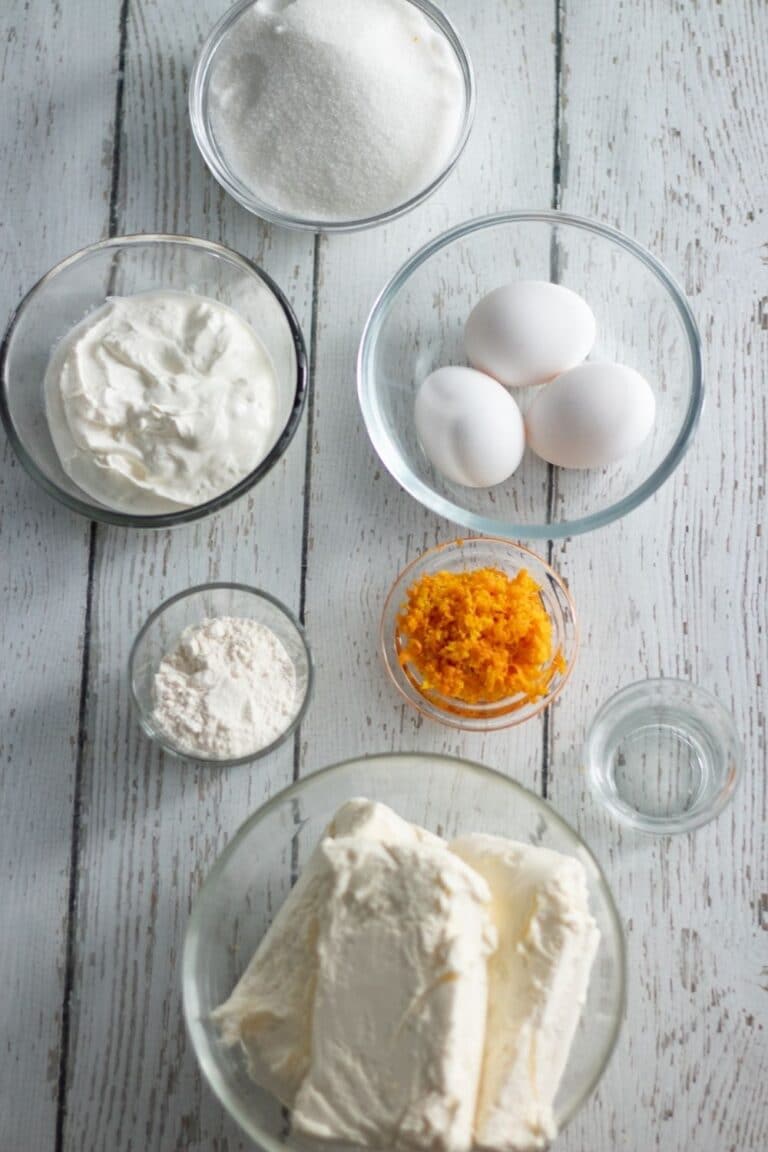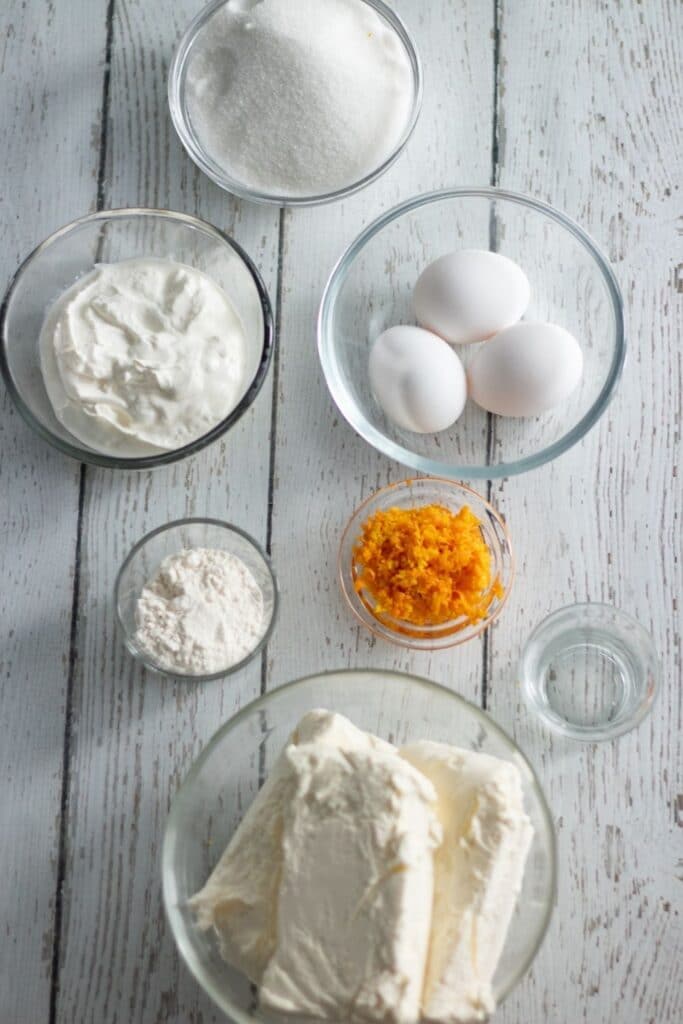 Graham Cracker Crumbs
Butter
Brown Sugar
Cream Cheese
Flour
Sour Cream
Orange Extract
Orange Zest
Eggs
Granulated Sugar
Orange Juice
Lemon Juice
How to Make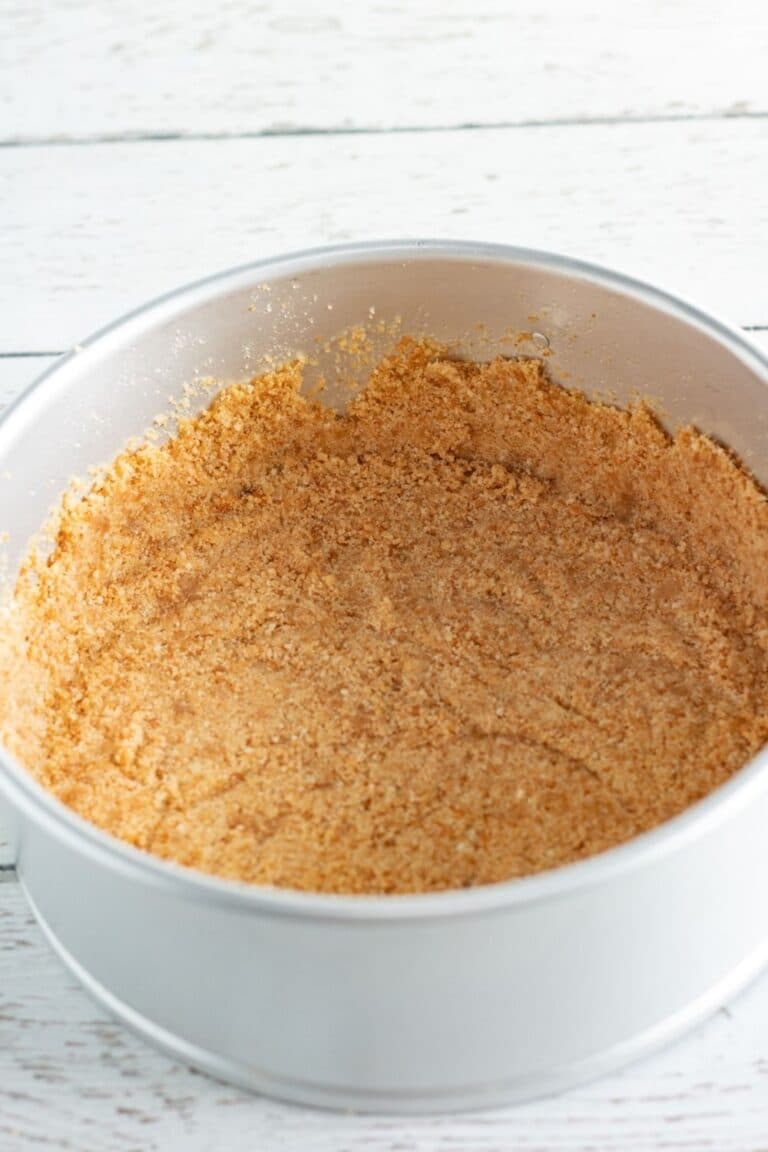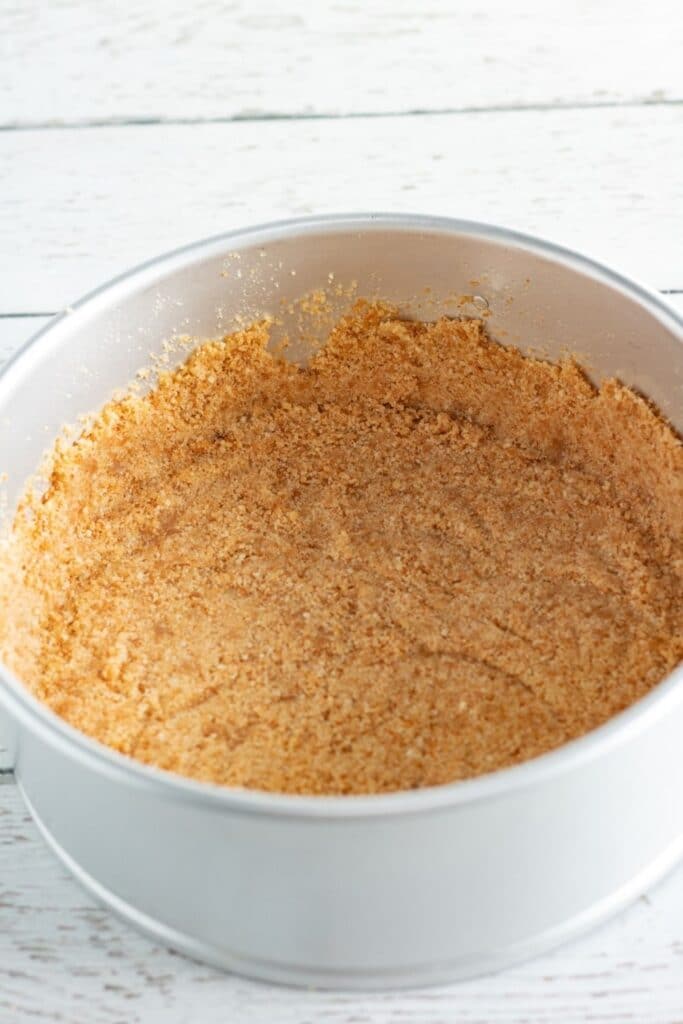 Step 1: Start by working on your crust. Spray your 7 or 8 inch springform pan or Push Pan with cooking spray and lay down a parchment paper circle.
Step 2: Mix your melted butter, brown sugar, and graham cracker crumbs together. Use your fingers to press down the crust into the pan. I did around an inch up on the sides. Place in the freezer until ready to use.
Step 3: Now in a mixer mix your cream cheese and sugar until fluffy.
Step 4: Next, add in the sour cream, flour, orange zest, and extract. Mix well till combined. Make sure to use a spatula to scrape down the sides.
Step 5: Add in the eggs one at a time, making sure to not overmix. You just want to ensure it mixes well.
Step 6: Next, pour the cheesecake into the crust, and tap the cheesecake on the counter to help remove air bubbles.
Step 7: Then, cover the cheesecake tightly with foil, and add 1 1/2 cup water into the Instant Pot. If you have a 6 quart Instant Pot you can add 1 cup water instead of 1 1/2 cup.
Step 8: Next you will place the cheesecake on a trivet or use a silicone ring. You want the cheesecake to sit in the Instant Pot above the water.
Step 9: Pressure cook 35 minutes, and do a 10 minute natural release. You want the cheesecake to jiggle just slightly in the center. If too jiggly, cook for another 5 minutes.
Step 10: Place cheesecake on a cooling rack for an hour to cool. And then cover tightly and refrigerate overnight.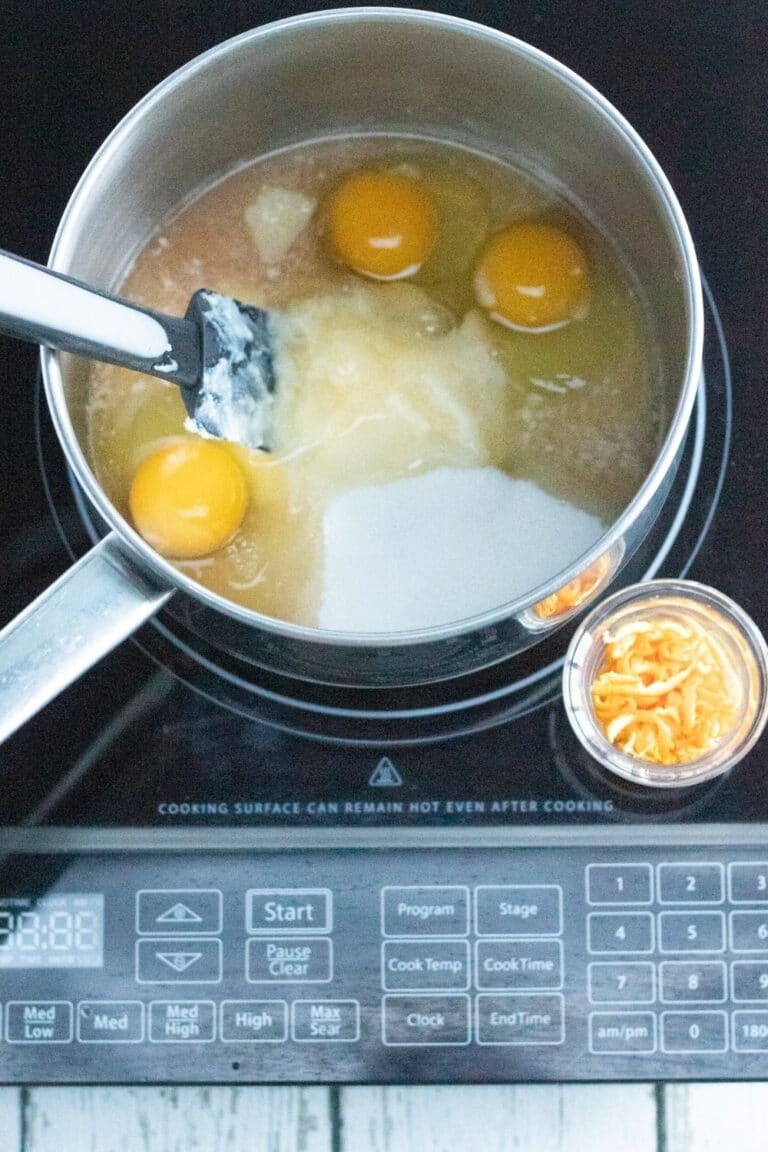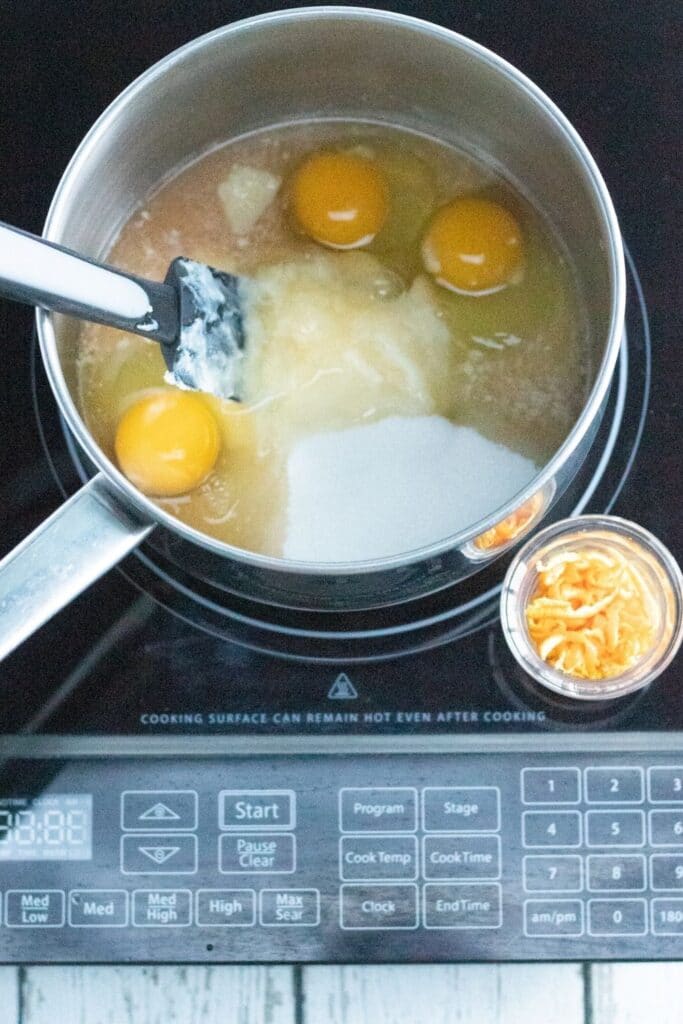 Step 11: Once the cheesecake is fully set, you will add your egg, sugar, orange zest and lemon juice, and orange juice into a pot on the stove. Whisk together.
Step 12: Allow the mixture to become thick, stirring often to prevent burning. You can use a whisk or silicone spatula.
Step 13: Add in the butter and stir till smooth. Then remove from heat and allow to cool.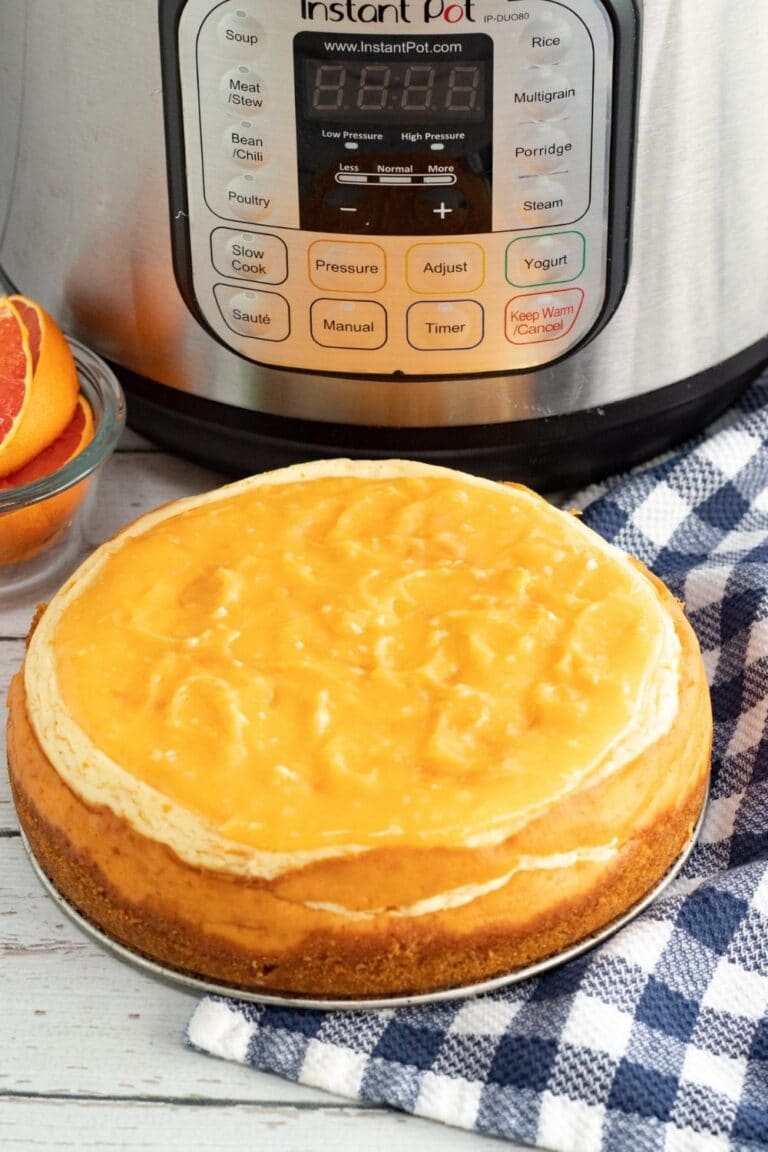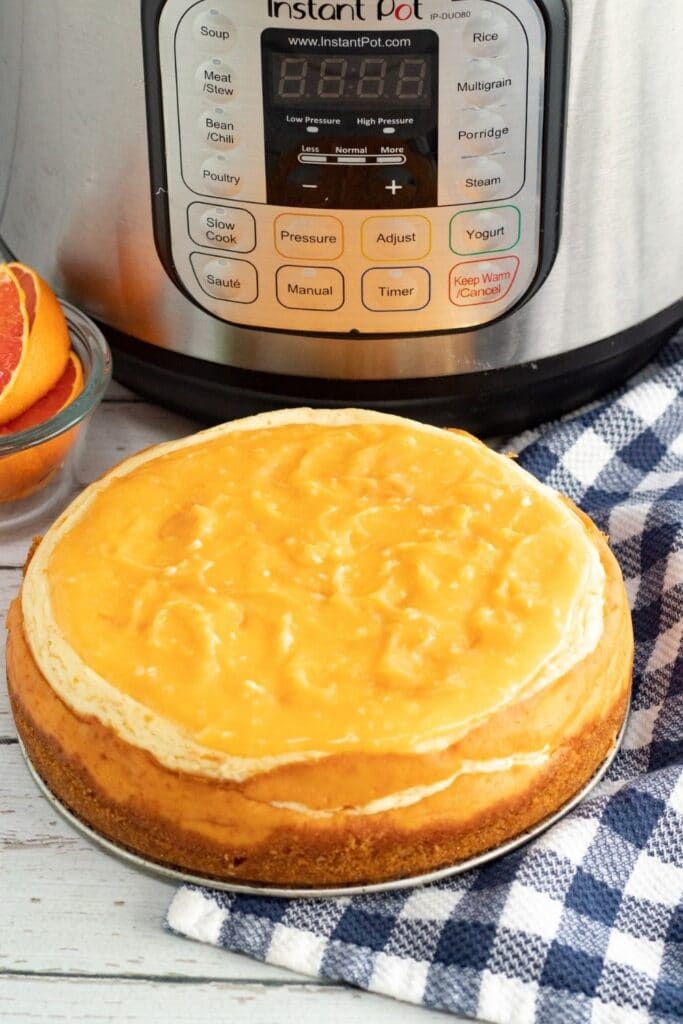 Step 14: Pour the orange curd on the cooled cheesecake, slice and serve up the orange cheesecake.
Great Instant Pot Cheesecake Accessories
Pan | I recommend using a push pan or a classic springform pan.
Silicone Sling| Place your cheesecake on this silicone sling to lift it easily out of the pressure cooker. This is a great accessory I use all the time.
Parchment Rounds | Instead of having to cut classic parchment paper these parchment rounds make it easy to just place right in your round pan!
Container Carrier | So when I put my decorated cheesecake in the fridge I use a container carrier. That way the whopper cheesecake is in a container to protect it and I don't worry about the toppings getting smashed by aluminum foil wrapped around it.
Storage
Cheesecake needs to be stored in the refrigerator. You never want your cheesecake to sit out on the counter for more than 2 hours at a time.
That can cause bacteria to grow at a rapid pace if it sits for more than 2 hours.
Store in an airtight container in the fridge. Or freeze any cheesecake you don't eat for up to 3 months.
Expert Tips
Here are some expert tips for making this Instant Pot Dreamsicle cheesecake recipe.
Make sure to tap your cheesecake lightly on the counter once you pour the cheesecake batter. The reason being is you need to release any air bubbles. Or you can run the risk of the cheesecake cracking.
Wrap tightly in aluminum foil to prevent condensation getting into the cheesecake.
You have to allow your cheesecake to fully set up, or it will not be the right texture.
Make sure to use softened cream cheese or you will get a curdled texture to the cheesecake.
Recipe FAQs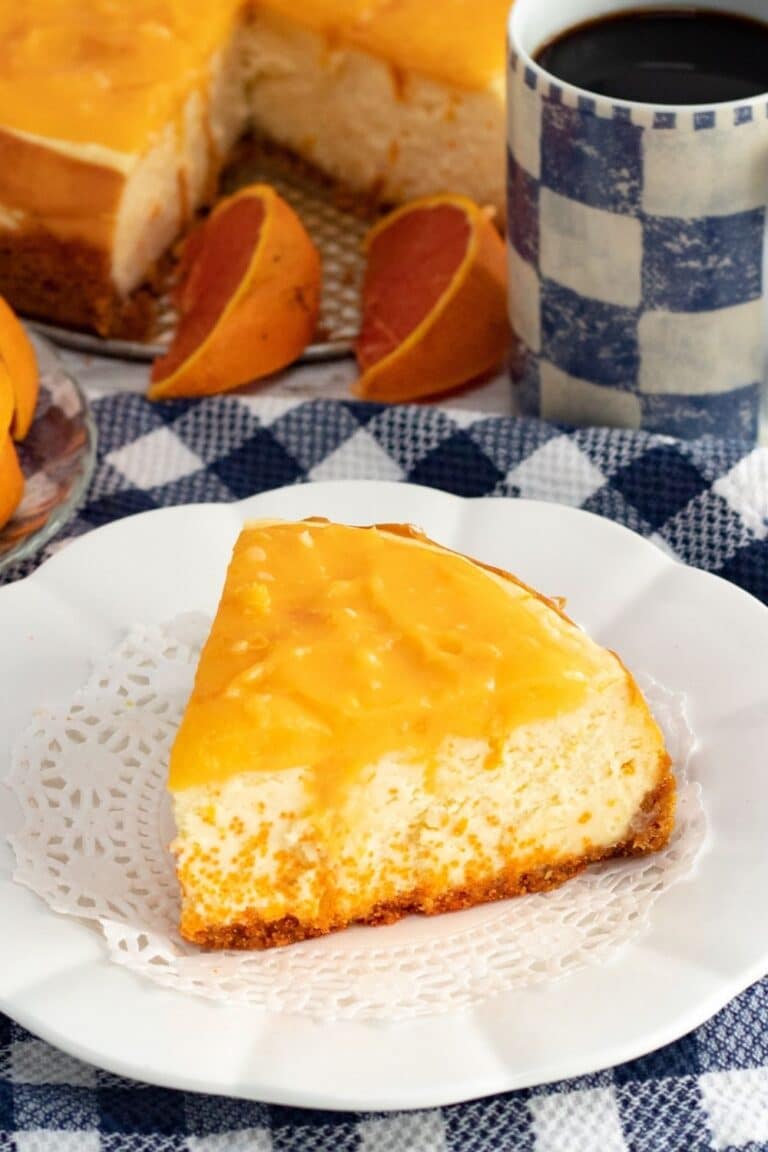 More Instant Pot Cheesecake Recipes
I love this Instant Pot orange cheesecake, but if you want more pressure cooker cheesecakes, here are more ideas.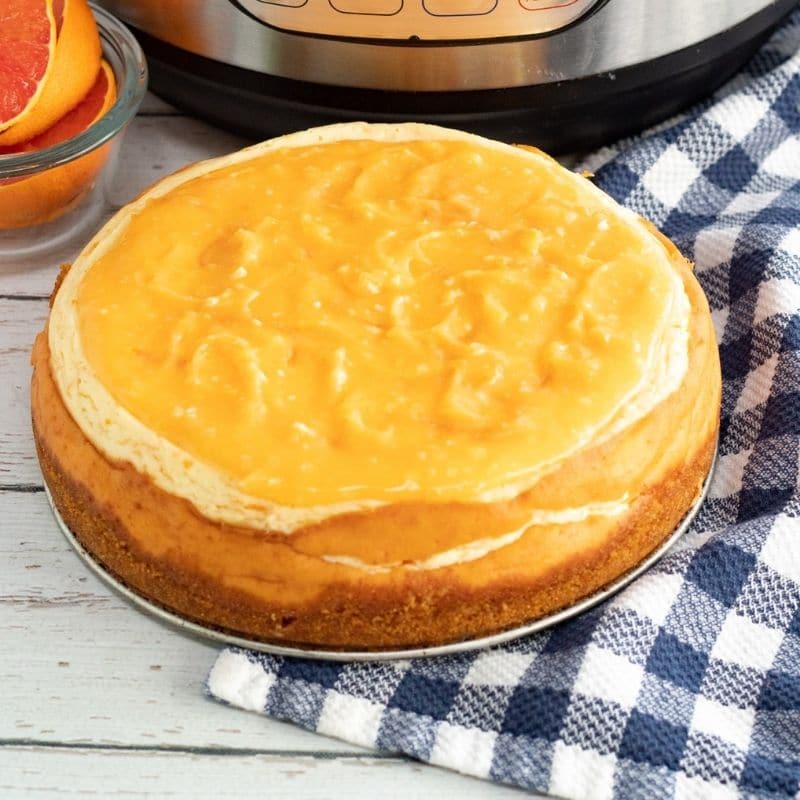 Instant Pot Orange Cheesecake
Servings 1 cheesecake
Instant Pot Orange Cheesecake is an orange cheesecake recipe topped with an orange curd. Slice and serve this rich and decadent creamsicle cheesecake.
Ingredients
Ingredients for Cheesecake Crust
1 ½ cups Graham cracker crumbs
½ cup Brown sugar
6 tablespoons butter melted
Ingredients for Orange Cheesecake Filling
24 ounces Cream cheese 3 packs, softened
3 tablespoons all-purpose flour
¾ cup Sour cream
3 large eggs room temperature
1 cup Granulated sugar
½ cup Orange zest
1 teaspoon orange extract
Ingredients for Orange Curd Topping
⅔ cup Granulated sugar
4 tablespoons Butter softened
3 large eggs room temperature
⅓ cup Fresh orange juice
2 tablespoons lemon juice
Instructions
Start by making the cheesecake crust. In a bowl add your melted butter, brown sugar, and graham cracker crumbs. Mix until it is sand-like texture.

Grease your 7 or 8 inch cheesecake springform pan, and then place a layer of parchment paper on the bottom. Press the crust tightly into the pan. Come up around an inch on the sides.

Place the crust in the freezer while you work on the orange cheesecake batter.

In a stand mixer or hand mixer cream your sugar and softened cream cheese together. Add in the flour, sour cream, along with orange zest and extract. Mix well till blended.

Now you will add in the eggs one at time. Make sure to mix till combined without overmixing the batter.

Pour the cheesecake batter into the pan, and gently tap the cheesecake on counter to help release any air bubbles in the batter.

Cover tightly with aluminum foil, and pour 1 1/2 cups water into the Instant Pot.

Place your cheesecake on the trivet or use a silicone sling. You want cheesecake out of the water, so you need a sling or trivet.

Place the Instant Pot lid on and make sure the valve is set to sealing. Cook high pressure 35 minutes, and a 10 minute natural release. Then manually release any leftover pressure.

Place the cheesecake on a cooling rack and let it cool for an hour. Then run a knife around the edges of the pan, and place in the fridge to set up overnight.

Once cheesecake is fully set, you will then work on the orange curd. In a pan on the stove, add your eggs, sugar, orange zest and lemon juice along with orange juice. Whisk together and allow the mixture to thicken. Stir constantly to prevent burning.

You want the mixture to be on medium heat, once it begins to thicken add in your butter and stir until mixed. Then remove from heat and allow it to cool.

Pour the thick orange curd on top of the orange cheesecake, then slice and serve. Or refrigerate the orange cream cheesecake until you are ready to eat.
Notes
You want only the center of the cheesecake to offer a little wiggle when done. If you find your cheesecake seems undercooked, cover again and cook another 5 minutes in the Instant Pot. You can leave off the orange curd if you want, but I find it adds tons of flavor to the cheesecake. Make sure to let your cheesecake set up overnight in the fridge or the texture will not be right.
Nutrition
Serving: 1gCalories: 544kcalCarbohydrates: 51gProtein: 8gFat: 35gSaturated Fat: 20gPolyunsaturated Fat: 12gTrans Fat: 1gCholesterol: 184mgSodium: 346mgFiber: 1gSugar: 41g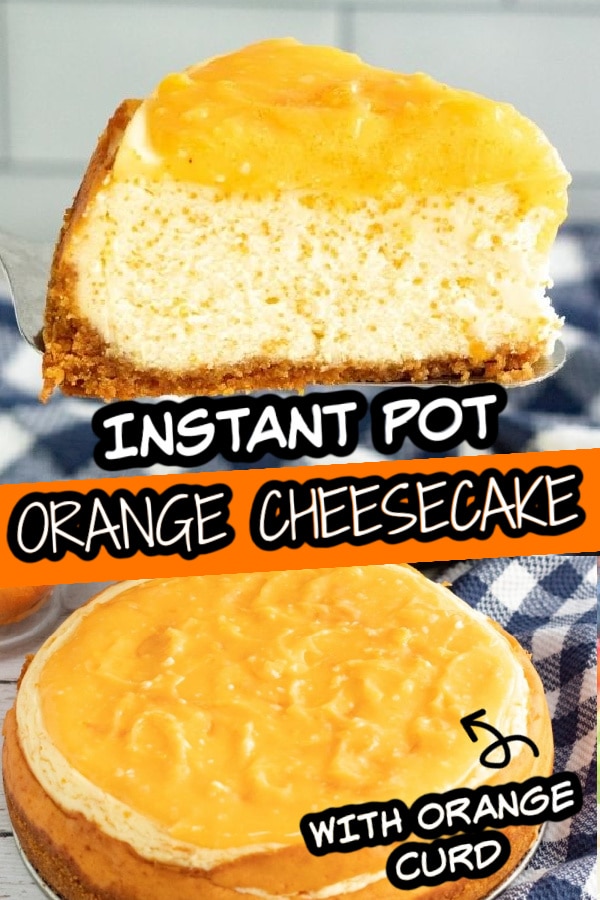 Let me know how you like this Instant Pot orange cheesecake! It is one of my favorites.
Reader Interactions