Whip up these mini Dulce De Leche Cheesecake bites today. This is a simple and easy Instant Pot mini cheesecakes you make in the silicone egg bite accessory. Creamy cheesecake topped with a thick and sweet dulce de leche!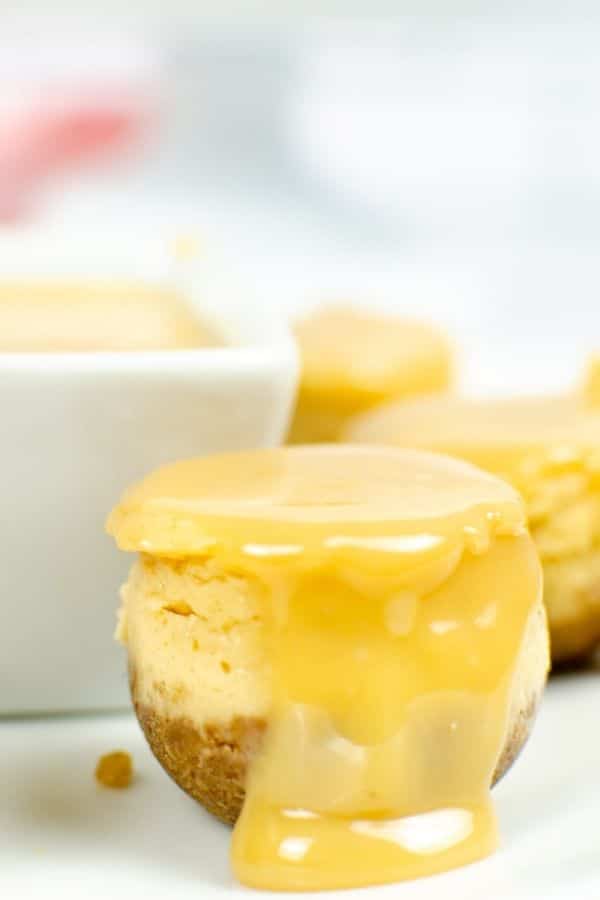 Here are more Instant Pot cheesecake recipes to try! Instant Pot Savory Crab Cheesecake, peanut butter cheesecake, sweet potato cheesecake, or this peppermint cheesecake.
Instant Pot Dulce De Leche Cheesecake
These mini dulce de leche cheesecakes are a bite-size dessert that is great for entertaining, holiday parties, weeknight dessert, potlucks, and more. To me, there is never a wrong time to eat tres leches cheesecake.
📌Main Ingredients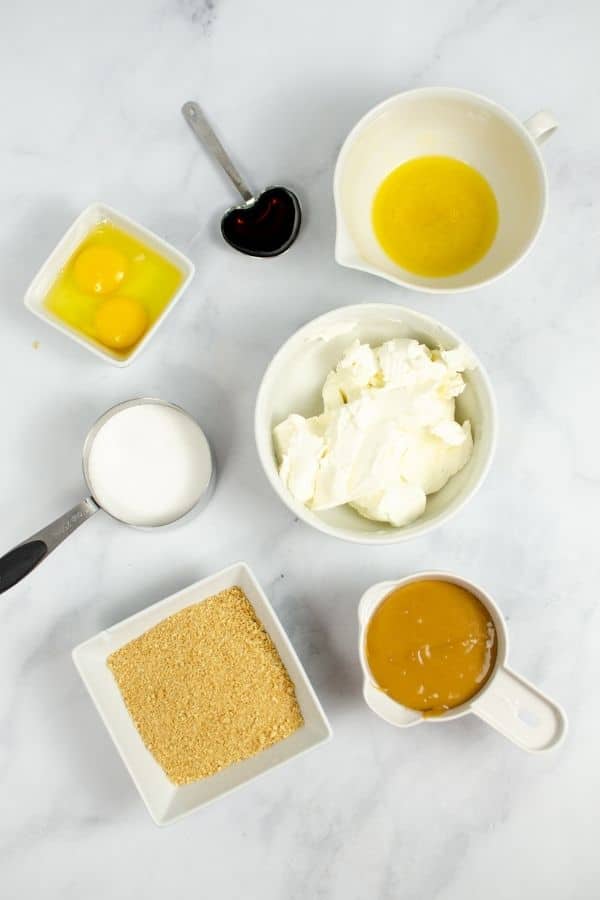 Cream Cheese| Softened cream cheese is key. It will be what helps along with the eggs to bring you that velvety creamy texture.
Dulce De Leche | You can use caramel in replace of leche, but the leche is thicker and creamier.
Graham Crackers | I made a traditional graham cracker crust.
🍴 How to Make
Full directions for this Instant Pot Cheesecake Bites recipe along with measurements is listed in the printable recipe below.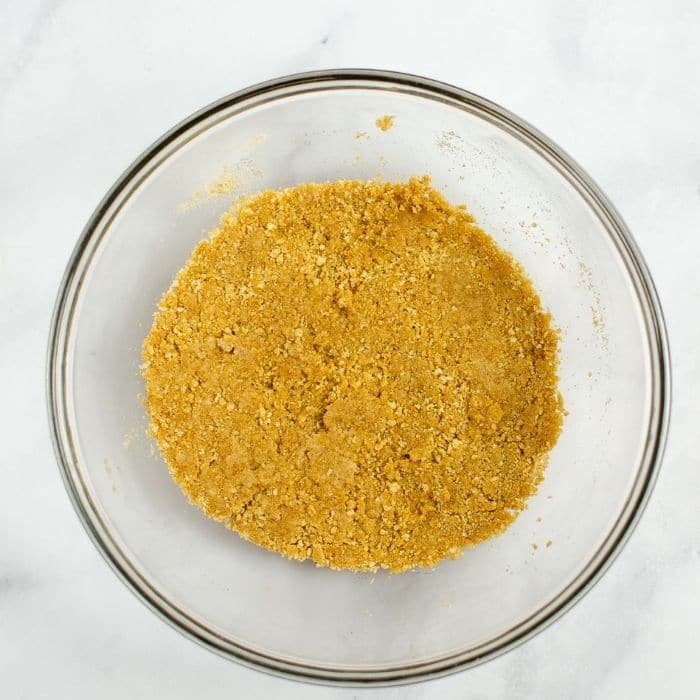 Step 1: The first thing you want to do is grab your graham cracker crumbs and work on making the crust. Place a bit of the crust in each egg bite pan and then press it down.
If you don't have the crumbs use whole graham crackers in a food processor and pulse until crumbled like sand.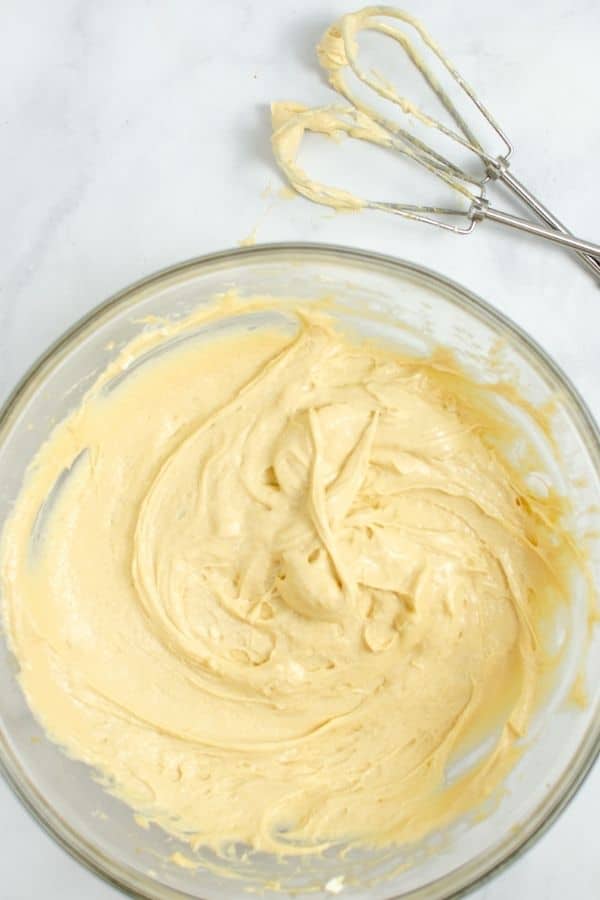 Step 2: Now you will want to work on the dulce de leche cheesecake batter. Whip up your softened cream cheese, vanilla, sugar, and dulce de leche.
Slowly incorporate the eggs. Don't overmix or it can affect the cheesecake and cause cracks.
Step 3: Pour your cheesecake batter into the egg bite pan. Then tap them on the table to help push out any air bubbles.
Cover with aluminum foil. You can stack two egg bite pans on top of each other.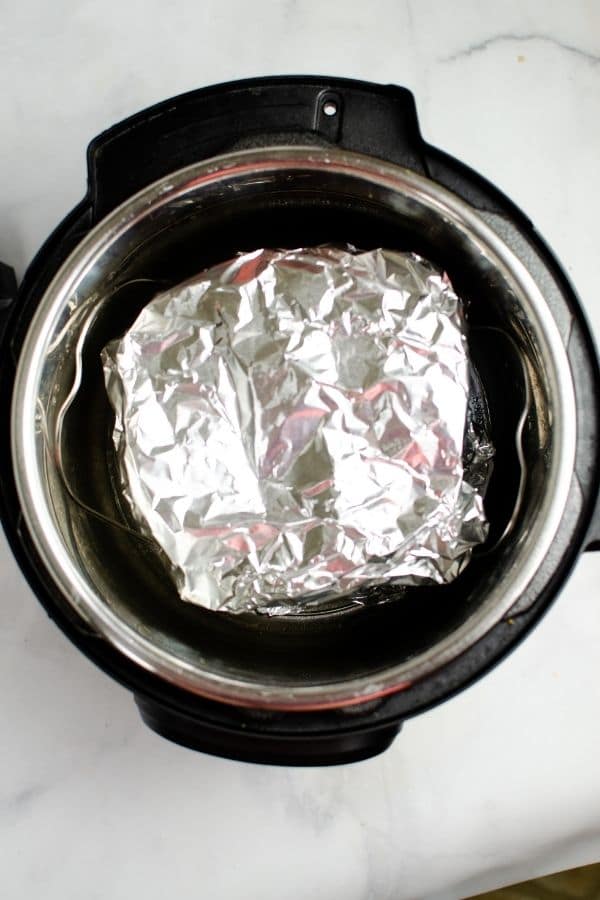 Step 4: Add water into the Instant Pot. Place trivet or silicone sling into the Instant Pot, and cook as directed!
Step 5: Once done, remove and place on a cooling rack for 15-30 minutes. Then place in the fridge and allow them to cool down and fully set up.
Then when cheesecakes are set up you will want to remove from the egg bite pan and pour some dulce de leche or caramel sauce on each bite.
Is Caramel And Dulce De Leche The Same
Caramel and Dulce De Leche are very close in flavor. The biggest thing about the two is the texture. Caramel is a thinner texture where de leche is very thick.
The caramel de leche also offers a richer and more vibrant flavor. At least, I feel that way.
Can I Swap Graham Cracker Crust
Feel free to use gingersnap cookies, Oreo cookies, etc. I loved the buttery graham cracker mixture but feel free to swap it out if you prefer something else.
Shortbread cookies would also make a really fun twist.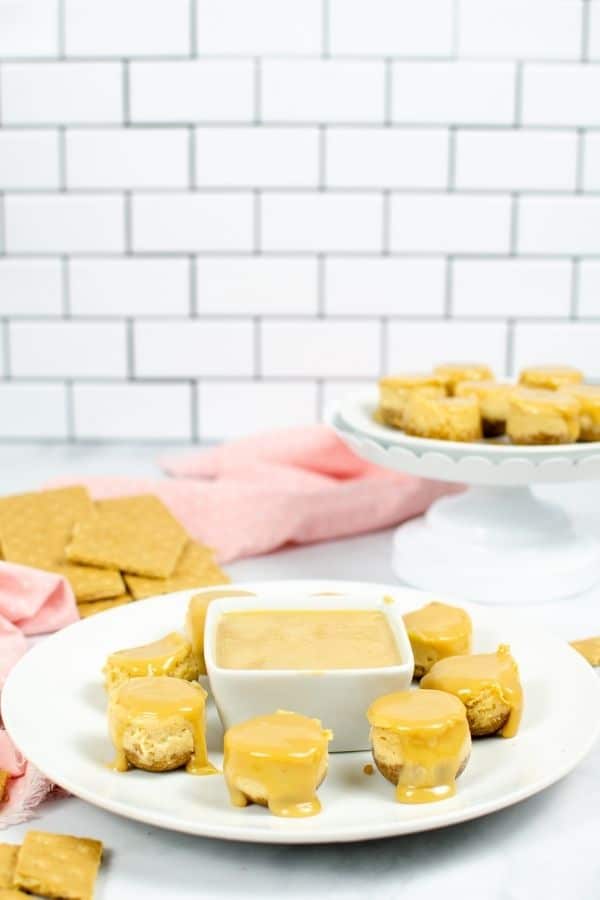 Tips and Tricks For Making Cheesecake in Instant Pot
Don't over mix once you add the eggs into the batter. It will cause cracks into the cheesecake.
Tap the pan on the counter once you get the batter poured in to help release air bubbles.
Use cooking spray to spray the pan will help to ensure cheesecakes won't stick.
You can't skip letting the cheesecakes set up the fridge. If you try to remove them early they will fall apart.
Can I Double This Cheesecake Recipe
You are more than welcome to double the recipe. Just make sure that you batch cook. Only 2 egg bite pans will fit at a time.
Or if you have multiple pressure cookers you can go that route. This pressure cooker caramel cheesecake is so good, it's hard to stop eating them! So doubling is always a great idea.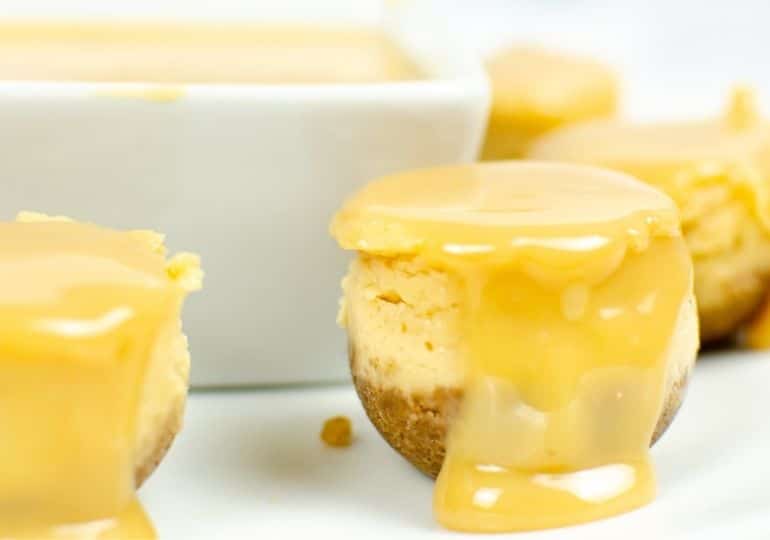 Instant Pot Dulce De Leche Cheesecake Bites
Servings 14
Instant Pot Dulce De Leche Cheesecake Bites are an easy Instant Pot mini cheesecakes. This is the ultimate cheesecake dessert to serve up bite-size treat.
Ingredients
Graham Cracker Crust
1 1/2 cup graham cracker crumbs about 10 rectangular crackers
4 Tablespoon melted butter
Dulce De Leche Cheesecake Filling
12 ounces cream cheese softened
¾ cup of sugar
1 1/2 teaspoon vanilla
3/4 cup dulce de leche
2 eggs
Instructions
Start by taking your graham cracker crumbs and mix with melted butter. Mix until it is all mixed and crumbly.

Spray each egg bite mold with cooking spray. Then add 1 1/2 tablespoons of the crust mixture and press it down into each egg bite pan.

Now in a new bowl, you want to beat your softened cream cheese, sugar, dulce de leche, and vanilla together.

Slowly add in your eggs, and gently mix until well combined.

Spoon the cheesecake batter into each egg bite hole. I did around 3 tablespoons of mixture to each hole. Cover tightly with foil so moisture can't get in.

Add 1 cup of water into your Instant Pot.

Place 2 egg bite pans on top of each other and use trivet or silicone sling. Cook on High Pressure/Manual for 6 minutes. Make sure the valve is set to sealing.

Once the timer goes off allow your pressure cooker to naturally release for 10 minutes. After 10 minutes go ahead and manually release any remaining pressure.

Take the molds out and place them on a cooking rack for 15-30 minutes.

Once cooled down you will place your caramel cheesecakes in the fridge to cool down and set up. I normally let them set up for 6 hours.

When the mini dulce de leche cheesecakes are fully cooled, carefully remove from the egg bite pan. Then use more dulce de leche to pour over the top of your cheesecake bites.

Serve up your Instant Pot dulce de leche cheesecake bites for any and every occasion.

 




Nutrition
Serving: 1gCalories: 411kcalCarbohydrates: 42gProtein: 7gFat: 24gSaturated Fat: 14gPolyunsaturated Fat: 8gCholesterol: 95mgSodium: 279mgSugar: 34g
Craving More Instant Pot Desserts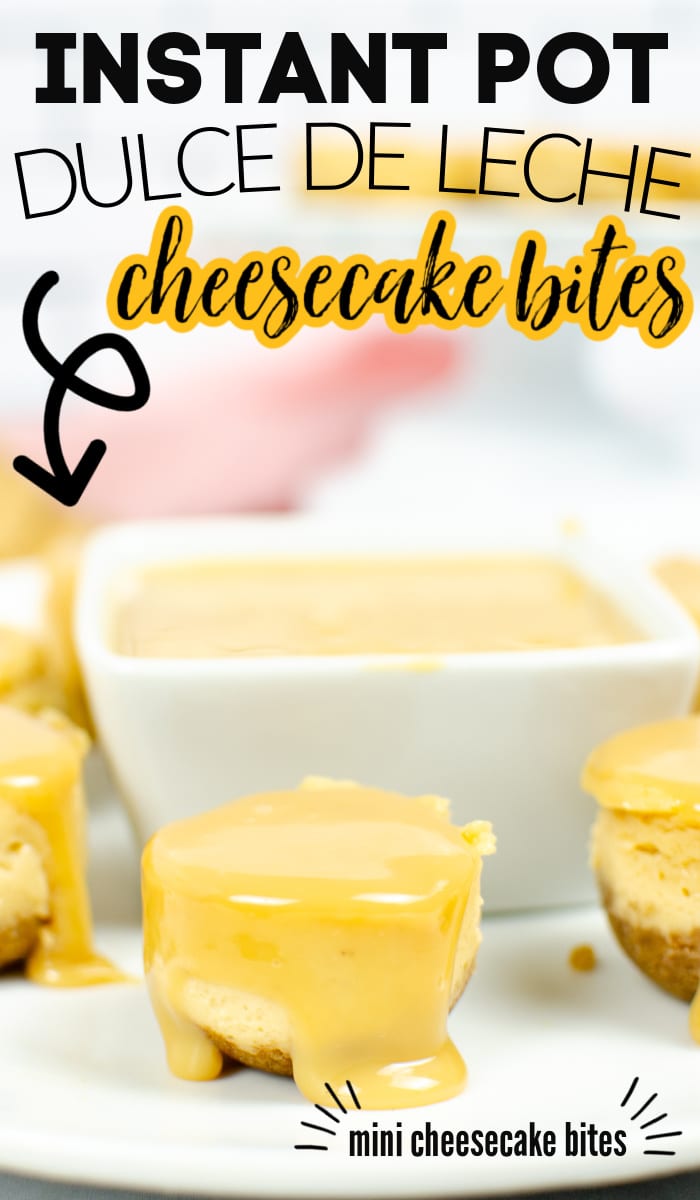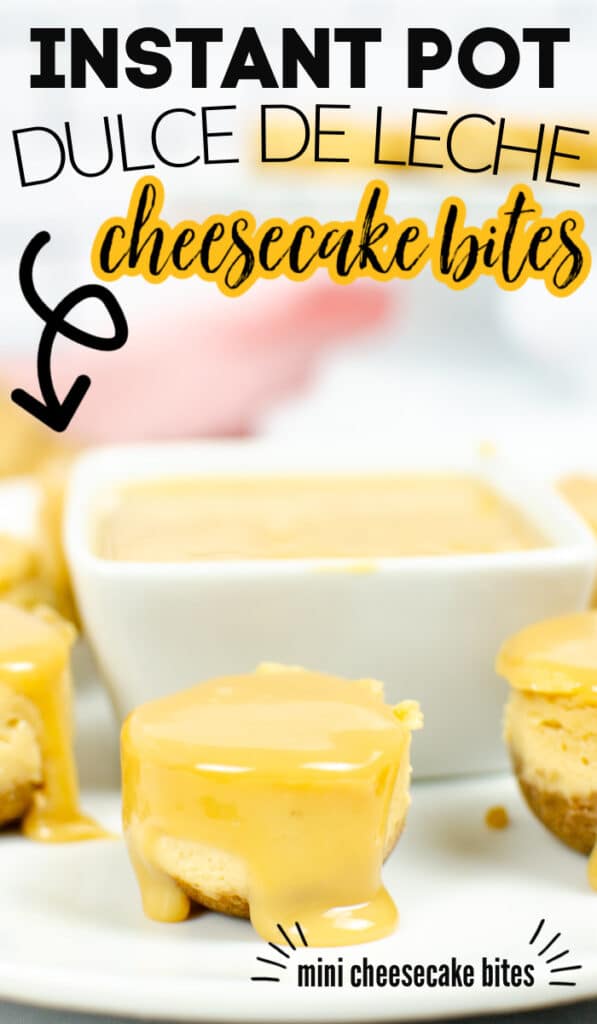 Do you think you would like this Instant Pot dulce de leche cheesecake?
Reader Interactions