Instant Pot Chocolate Zucchini Cake is the perfect way to use up fresh zucchini from your garden. This is a super-rich, decadent fudgy zucchini cake that is sinfully delicious.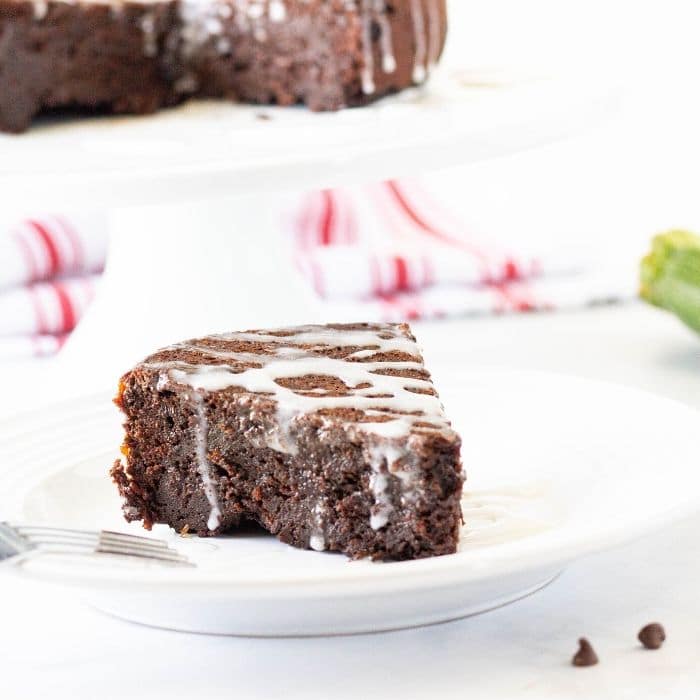 I used cocoa powder and chocolate chips in this chocolate zucchini cake. So, I prefer to call this truly a double chocolate zucchini cake!
Whip this up for your weekday dessert, party food, or your summer cookout dessert. No matter when you slice and serve this zucchini cake you will love the taste.
A chocolate chip zucchini cake that will blow your mind on flavor. So, if you are looking for an Instant Pot zucchini recipe, give this one a try.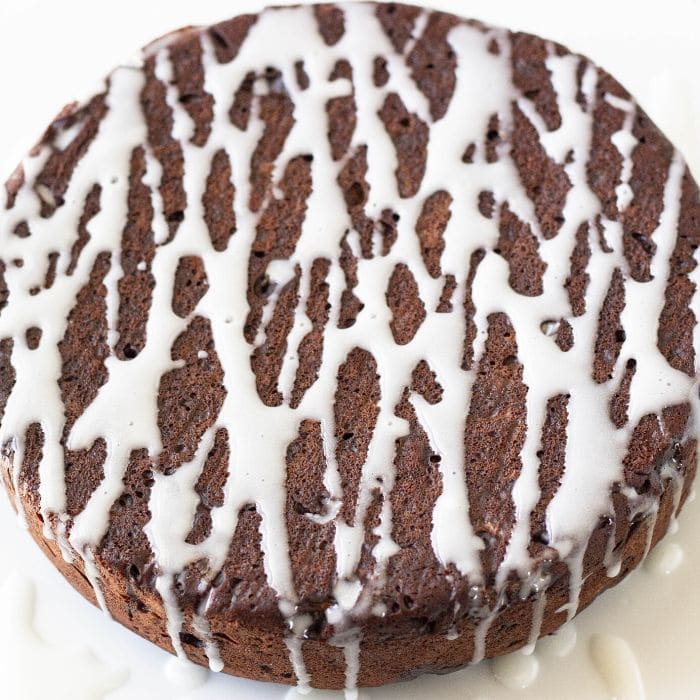 Can You Cook Cake In The Instant Pot
Cooking cake in the Instant Pot can be done. Instead of a traditional oven, you will more "steam" your cake. It will change the texture of a cake and make it more fudge-like in texture and a bit denser.
I used my 7-inch cake pan for my Instant Pot. Then you wrap in aluminum foil to prevent liquid from getting in cake! This Instant Pot Chocolate Zucchini Cake recipe is so easy and I think you will love it.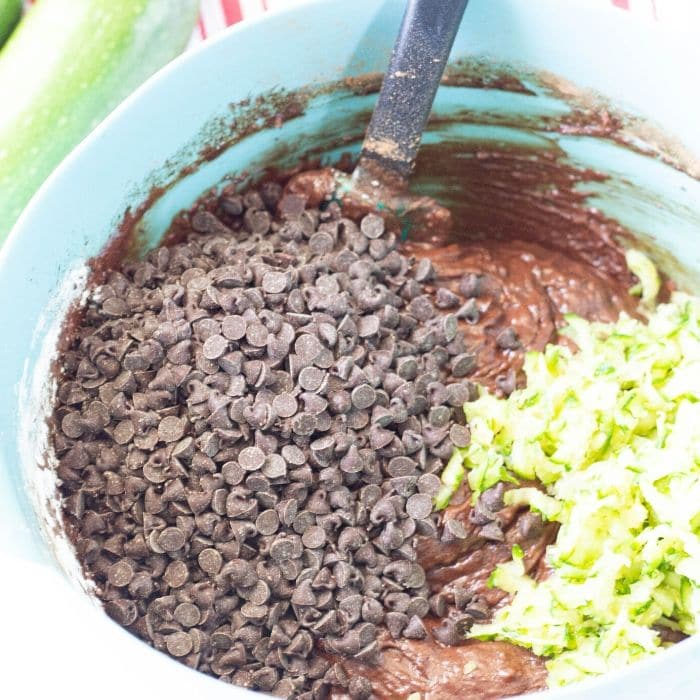 How To Make This Double Chocolate Zucchini Cake In Oven
To make this zucchini cake in the oven simply place in a preheated oven at 350 degrees. Prepare the cake the exact same way as what is written in the printable recipe card below.
Bake for 20-25 minutes or until you can stick a toothpick in and the toothpick comes out clean.
Allow the zucchini chocolate cake to cool then drizzle with the powdered sugar icing.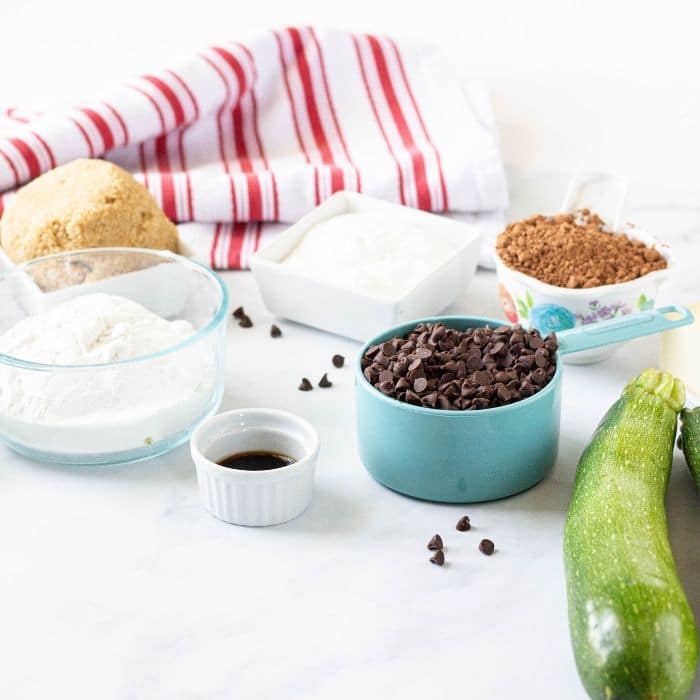 What Do You Need For Zucchini Cake
All-purpose flour
Cocoa Powder
Brown Sugar
Salt
Baking Soda
Butter
Oil
Sour Cream
Zucchini
Vanilla
Eggs
Chocolate Chips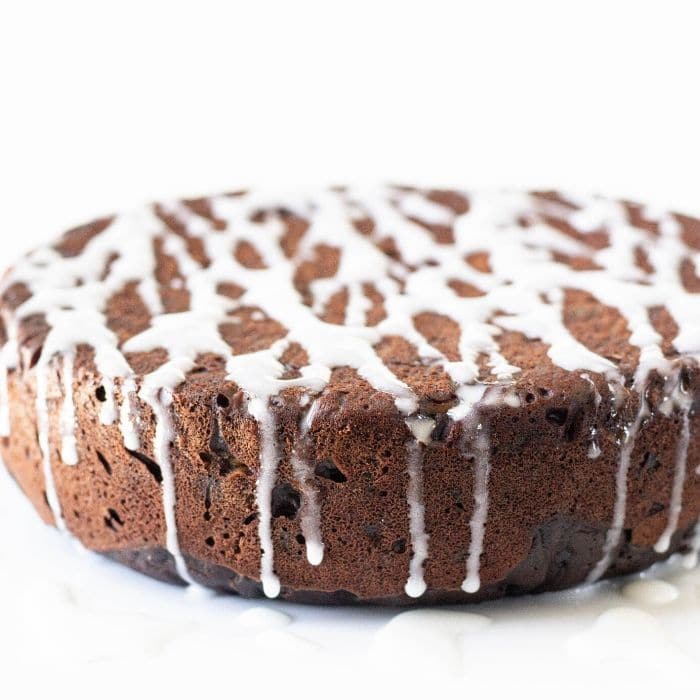 How To Make Instant Pot Chocolate Zucchini Cake
Start by mixing brown sugar, oil, and butter together.
Stir in sour cream, vanilla, eggs, and mix until combined.
Mix in your cocoa powder followed by your dry ingredients.
Let your zucchini drain off excess liquid, squeeze it out.
Stir in the zucchini and chocolate chips.
Pour into pan and then cover with aluminum foil.
Place in Instant Pot and cook on high pressure for 45 minutes with a natural release of 20 minutes.
Then whip up the powdered sugar icing and drizzle over the cooled zucchini cake.
Grab my Free Kitchen Conversions Printable! This shows you how many cups are in a quart, pint, etc. A great printable to keep handy for when you need to convert a recipe.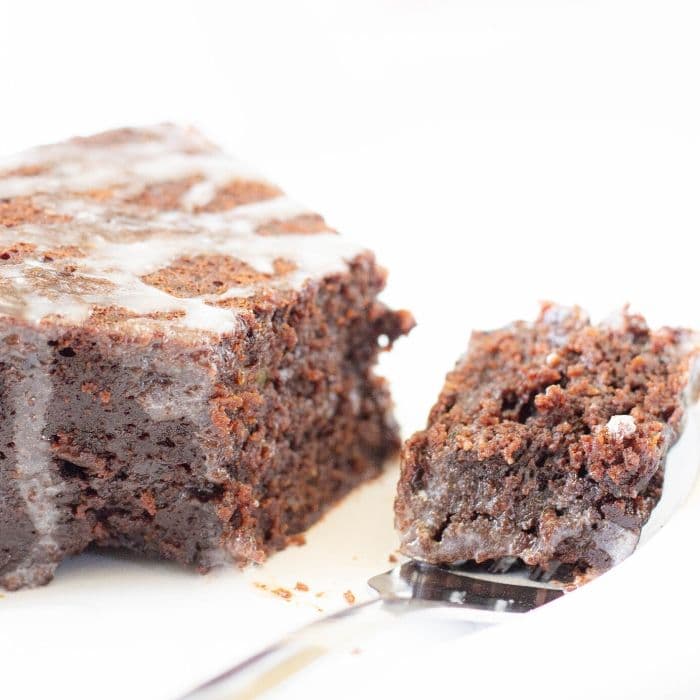 Why Do You Strain And Squeeze Zucchini
Zucchini holds a lot of water inside. It is very important as you shred your zucchini you then lightly sprinkle with salt and then place in a strainer.
That way the excess liquid can drip off the zucchini. Then one last step is using a cheesecloth or even a paper towel to squeeze out any excess liquid.
For the 1 cup of zucchini, I shredded I pulled off probably 1/2 cup of liquid once It was all done.
If you don't get the liquid removed your cake will be soggy and it won't cook properly.
How To Store
You will need to store your cake in the fridge. It is best to do this as it can go bad if left on the counter.
The cake will store for around 3-4 days. This cake will dry out with each day so it is best when eaten fresh.
Craving More Instant Pot Dessert Recipes
Can You Freeze This Cake
Absolutely! You are more than welcome to wrap up in aluminum foil and then place in freezer bag or airtight container.
Store for up to three months. Then thaw in the fridge overnight or on the counter for a quick thaw. I like to pre-slice it so when I get a craving I pull just one slice out of the freezer.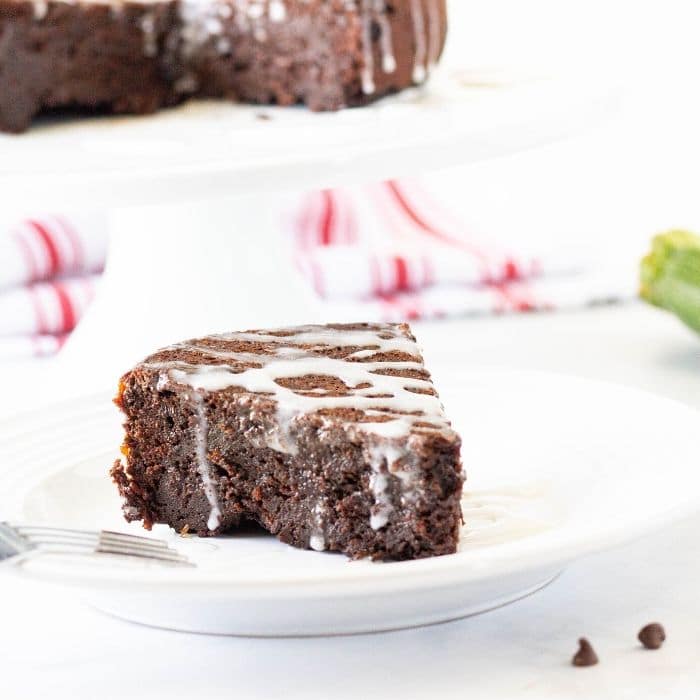 Instant Pot Chocolate Zucchini Cake
Servings 1 cake
Instant Pot Chocolate Zucchini Cake is a double chocolate zucchini cake. This is the best Instant Pot zucchini recipe I have made by far. Moist, fudgy, and loaded with sweet chocolate morsels in every bite.
Ingredients
1 cup + 2 tablespoons all-purpose flour
1/2 cup cocoa powder
1 cup brown sugar
1 teaspoon salt divided
1 teaspoon baking soda
1/4 cup vegetable or canola oil
1/4 cup butter melted
1/2 cup sour cream full fat
2 large eggs + 1 egg yolk room temperature
1 cup shredded zucchini
1/2 teaspoon vanilla extract
3/4 cup chocolate chips milk chocolate or semi-sweet
Icing
1/2 cup powdered sugar
1 tablespoon milk
Instructions
The first thing you want to do is shred your zucchini and then place it in a strainer. Sprinkle with 1/2 a teaspoon of salt and let sit. Every now and again go and press it down to try and get the liquid to strain from zucchini.

Now in a bowl, you want to add your brown sugar, oil, melted butter, and give a good mix.

Then toss in your sour cream, eggs, and vanilla. Mix again.

Once creamy, stir in your cocoa powder and whip it up.

Once incorporated you will add in all your flour, baking soda, and the other 1/2 teaspoon of salt.

Now grab your zucchini and place it in a cheesecloth or paper towel and squeeze it hard to release any more liquid.

Pour zucchini and chocolate chips in the bowl, and whip it up.

Now pour your cake batter into a parchment-lined 7-inch pan and then wrap tightly with aluminum foil. Make sure the center is up a bit or the cake will stick to the top of the aluminum foil as it rises.

Pour 1 1/2 cup of water in Instant Pot, and then place a trivet or a silicone sling with cake sitting on top.

Place Instant Pot lid and ensure the vent is sealed. Do high pressure for 50 minutes, with a natural release of 20 minutes.

Remove any extra pressure off after 20 minutes. Remove cake and allow to cool on a cooling rack.

Once the cake is cool whisk powdered sugar and milk together and then drizzle over your chocolate zucchini cake.
Notes
Make sure to stick a toothpick in your cake to ensure it comes out clean. If not you can return the cake and cook for another 5-10 minutes. This is a pretty rich cake, so feel free to do 1/2 cup of chocolate chips if you would prefer less rich.
Nutrition
Serving: 1sliceCalories: 276kcalCarbohydrates: 37gProtein: 4gFat: 14gSaturated Fat: 7gPolyunsaturated Fat: 6gCholesterol: 75mgSodium: 402mgFiber: 2gSugar: 31g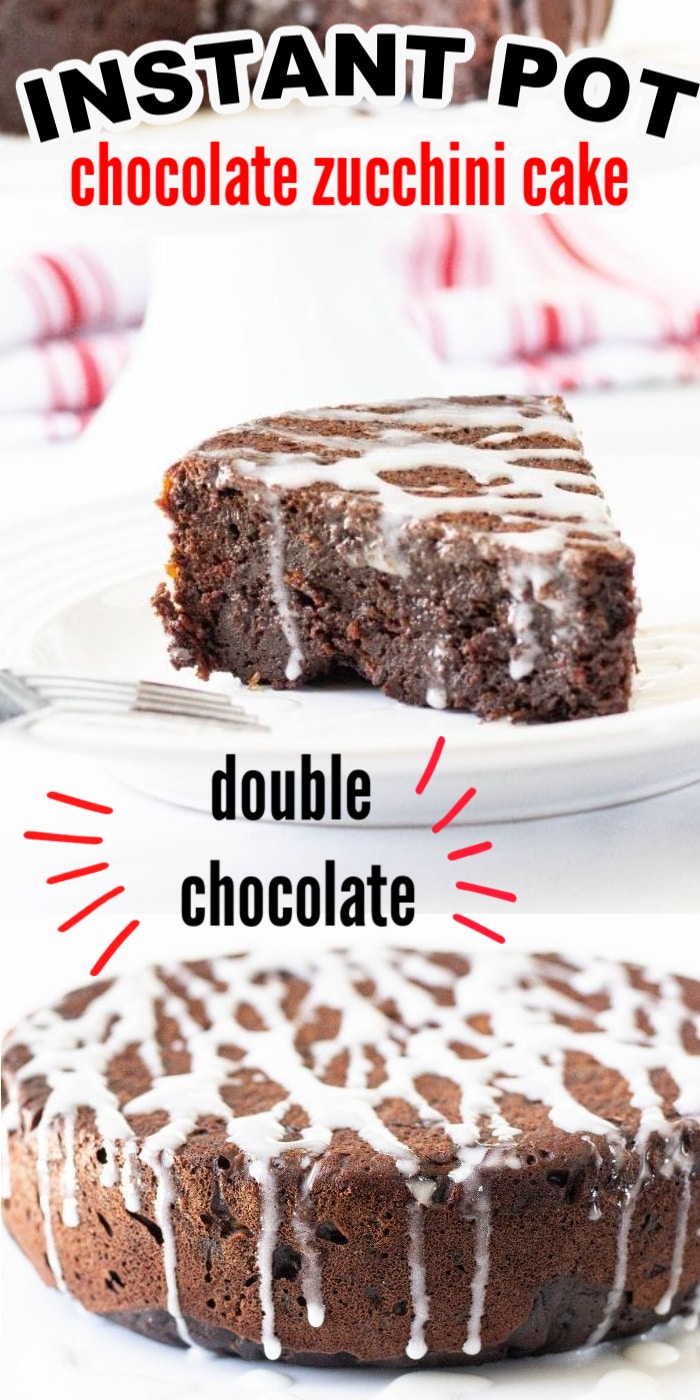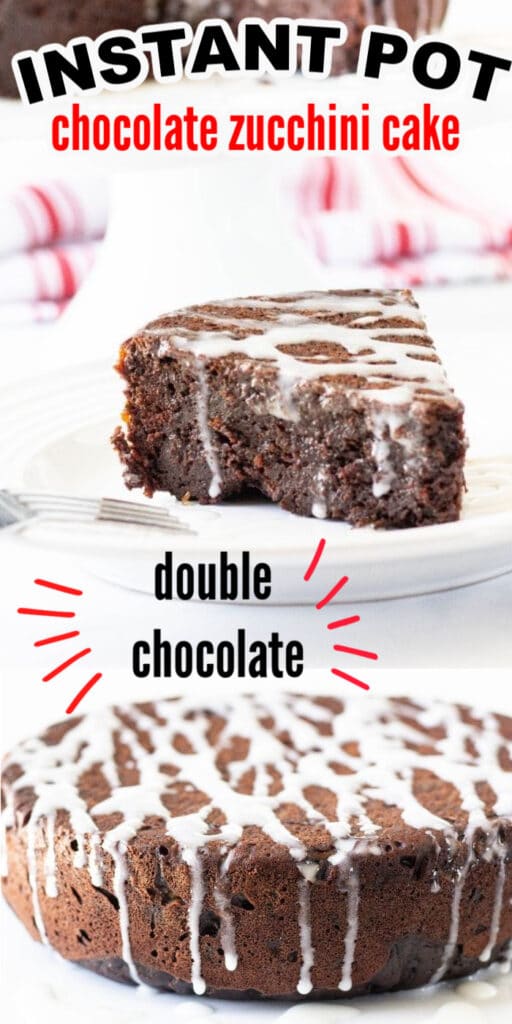 Have you ever made an Instant Pot Chocolate Zucchini Cake?
Reader Interactions