Vegan Caesar Salad with Roasted Chickpeas is a light and healthy lunch or dinner option. Try this homemade vegan caesar salad dressing and roasted chickpeas for the ultimate crunch.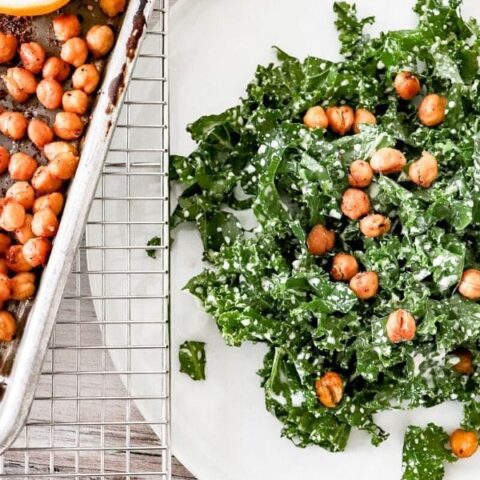 Who says kale salad can't be a "thing"? If you love the taste of kale but are looking for a new recipe to make it at home, this Vegan Caesar Salad is perfect.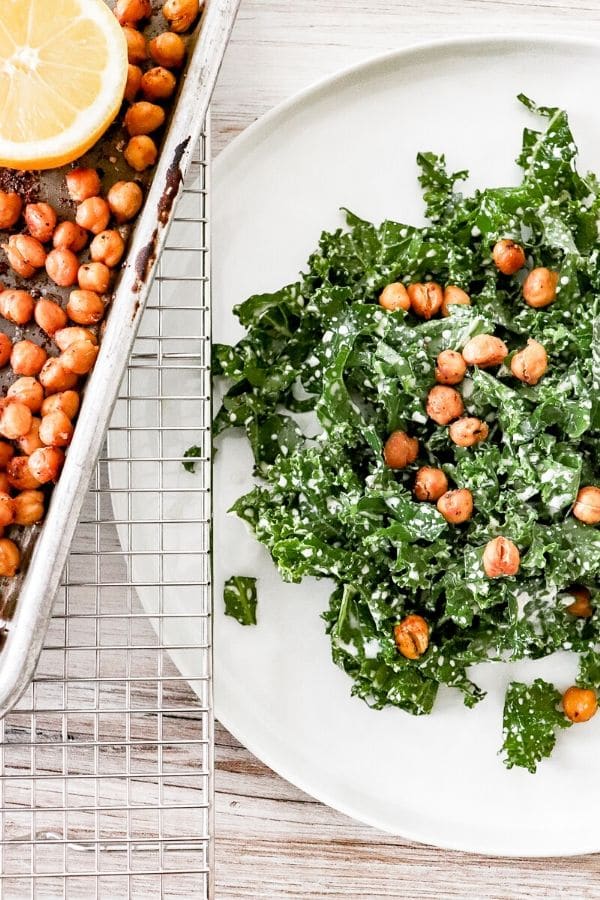 Vegan Caesar Salad
Hard to believe that healthy can be this good! Roasted chickpeas on top gives it a crunchy texture that really amplifies the flavor.
When it comes to making a simple recipe for a nice meal at home, this Kale Salad recipe is calling your name.
With just a few simple ingredients and the willingness to try something new, this delicious dish is certain to be a treat for your tastebuds.
There is so much more to a salad than just a pile of green lettuce. Take your salad to the next level with this delicious dish! 
If you like chickpeas try my shrimp avocado salad!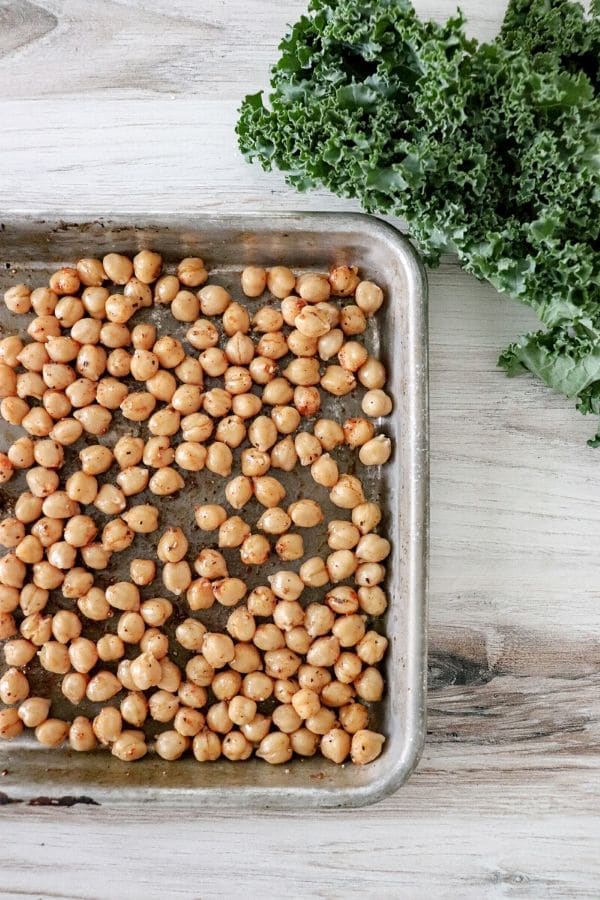 Can I Just Make Chickpeas Without Making Salad
You can. A lot of people actually cook up chickpeas and just eat them as they are for snacking. You can also use chickpeas to branch off a make an amazing hummus as well.
What people don't understand entirely about chickpeas is that they're really versatile to cook with. This is because most people just don't think about them when trying to figure out what to cook and eat.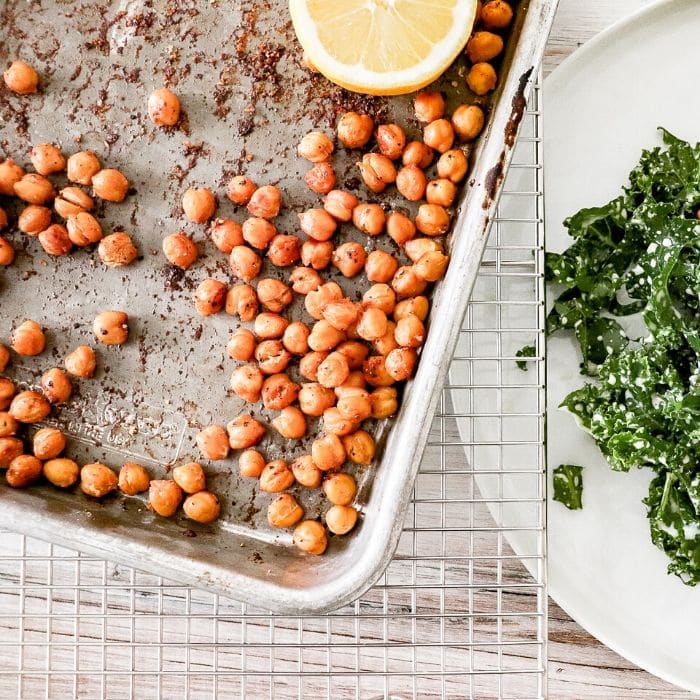 Can I Change Up Seasoning On Chickpeas
This is another big "yes". Chickpeas are really versatile and do a great job of taking on new flavors and tastes. Whatever seasoning that you love and want to use, do so without worry.
Some people like to add more spices to their chickpeas so adding in red pepper flakes or cayenne pepper can add a slow burn and easy heat that can really take the taste and flavor over the top.
How To Make Roasted Chickpeas
The good news is that it's really quite simple to make roasted chickpeas. For this simple recipe, all you have to do is open and drain the can of chickpeas, then toss them in olive oil so that they're all coated.
Preheat oven to 425 degrees, season your drained chickpeas and toss in oil. Bake until crunchy, this takes around 25 minutes.
How To Store Leftover Air Fryer Roasted Chickpeas
Once you make up a batch, you need to have a plan in place on how you're going to store the leftover chickpeas. The best way to store them is to add them to an airtight container to try to keep that crunch for as long as possible.
If you notice that they are no longer crispy, you can attempt to heat them up again in the air fryer for a short amount of time but make certain to keep an eye on them the whole time so that you don't overcook them or burn them.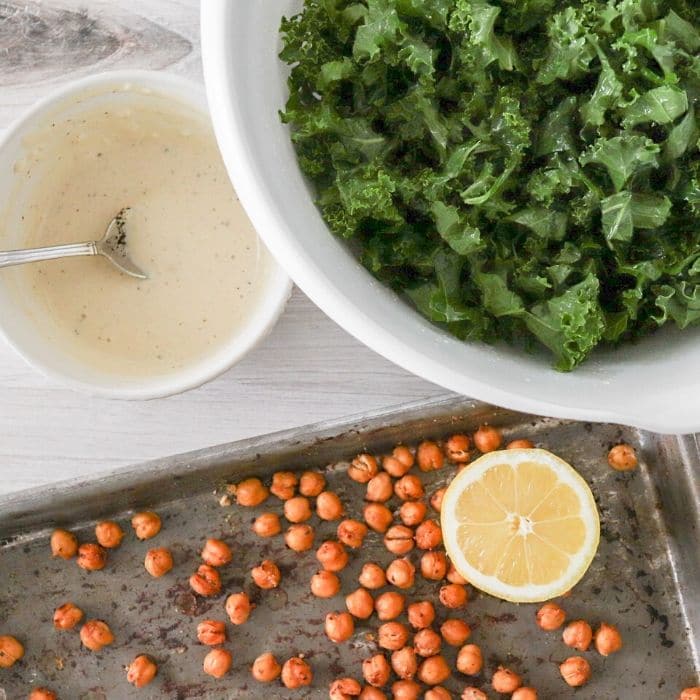 How to Make Homemade Vegan Salad Dressing
One of the best flavors of this recipe is the delicious homemade salad dressing. And I love the fact that it's vegan, too!
The flavor and taste are so nice and refreshing and it's such a great accompaniment to this delicious kale salad. 
More Vegan Recipes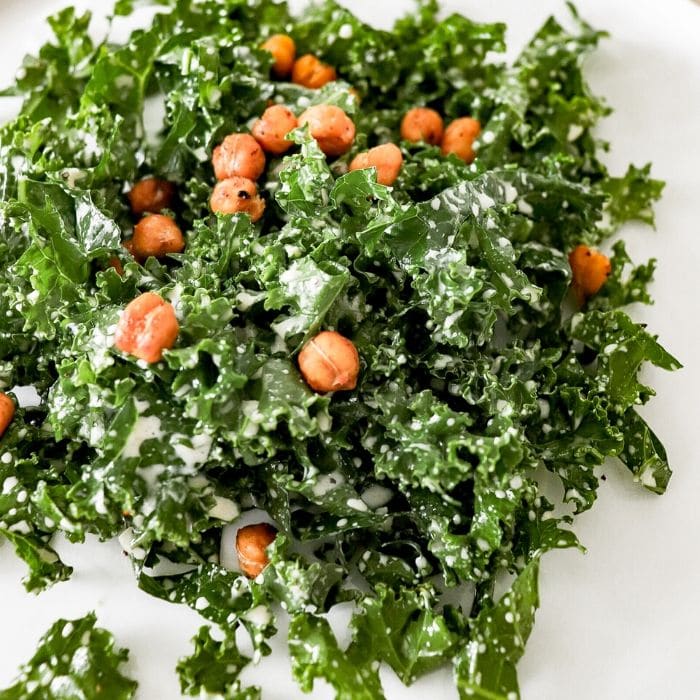 To make the homemade vegan salad dressing, you need to add together all the ingredients that you'll find in the recipe below and stir until smooth. Literally that's it.
Make certain that you give it a taste test so that you like it and add in any other ingredients that you feel might make it more your taste if you feel the need.
Are you excited to try this new simple salad recipe? With the hot weather here, now is the perfect time to whip up this light and delicious dish! 
Kale Caesar Salad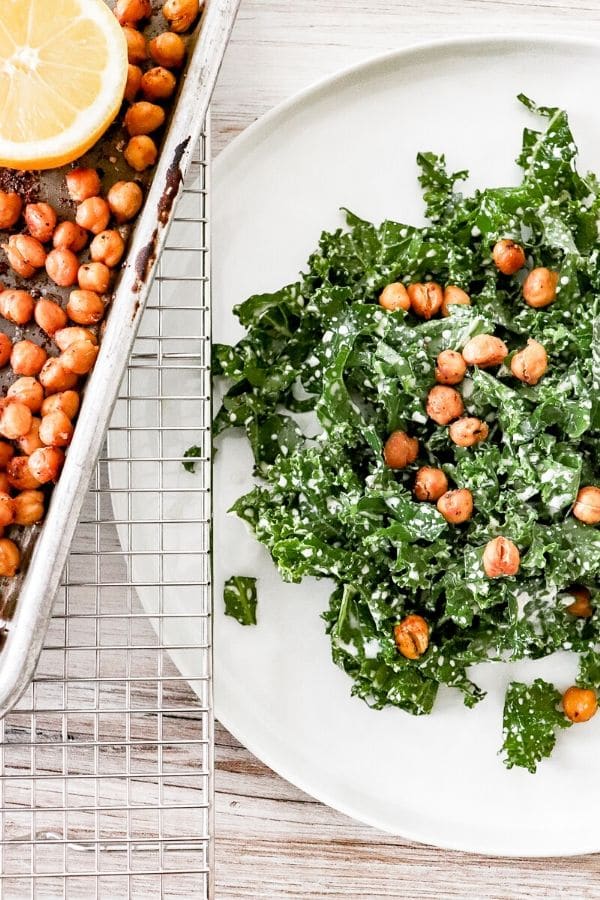 Vegan Caesar Salad with Roasted Chickpeas
Servings 4 servings
Vegan Caesar Salad with Roasted Chickpeas is a light and healthy lunch or dinner option. Try this homemade vegan caesar salad dressing and roasted chickpeas for the ultimate crunch.
Ingredients
Spicy Roasted Chickpeas
15 ounce can chickpeas drained
1 tablespoon oil
Combo of seasonings sprinkled over the chickpeas smoked paprika, salt, pepper, garlic powder Season to taste
Vegan Caesar Salad
1/4 cup vegan mayo or you can use tahini if not vegan you can use regular mayo
1/2 lemon freshly squeezed
1 teaspoon garlic minced
1 tablespoon dijon mustard
4 capers smashed and a splash of caper juice
kosher salt & freshly ground black pepper to taste
1 large bunch kale
Instructions
Preheat your oven to 425 degrees. On a cookie sheet you are going to lay out your drained chickpeas. Drizzle the oil over the chickpeas and then sprinkle with all your favorite seasonings. I used a blend listed above.

Toss your chickpeas so they are coated in oil and seasoning and then roast in the oven for around 25 minutes or until they are crispy. Remove and set on a cooling rack.

For the salad dressing you are going to place your vegan mayo, lemon juice, garlic, mustard, smashed capers and the juice, salt and pepper to taste. Whisk it up in a bowl or use a salad dressing mixer.

Once smooth you will want to taste and adjust to your liking.

To assemble your vegan caesar salad you will remove the tough stems from the kale. Then rinse well and shake off excess water on leaves. Place in a bowl and make sure to rip up leaves or use a lettuce knife to chop.

Toss the leaves with dressing and then top with the roasted chickpeas.

Serve up your homemade kale caesar salad for lunch, dinner or a side dish.
Notes
You can store yur leftover dressing in the fridge for up to three days. Make sure to keep the kale, chickpeas, and dressing seperate until you assemble the salad for serving or it will wilt the kale.
Nutrition
Serving: 1/2 saladCalories: 319kcalCarbohydrates: 39gProtein: 9gFat: 16gSaturated Fat: 2gPolyunsaturated Fat: 12gSodium: 784mgFiber: 9gSugar: 13g
I can't wait to hear what you think about this wonderful lunch and dinner recipe. It's certain to change your perception of salads from now on!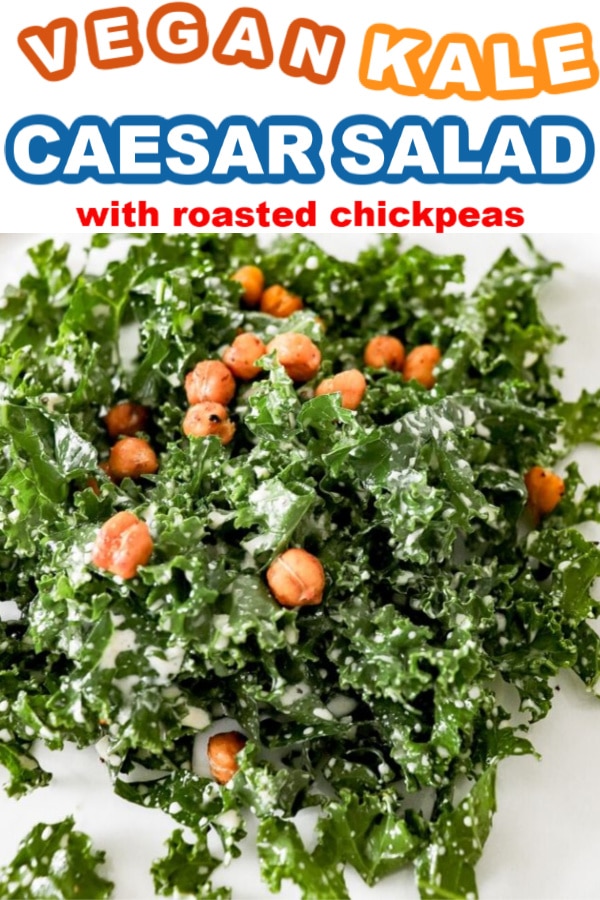 Would you enjoy this vegan Caesar salad?
Reader Interactions