Instant Pot carrot ginger soup is creamy, savory, and downright delicious. Vegan and gluten free and the perfect light lunch or dinner.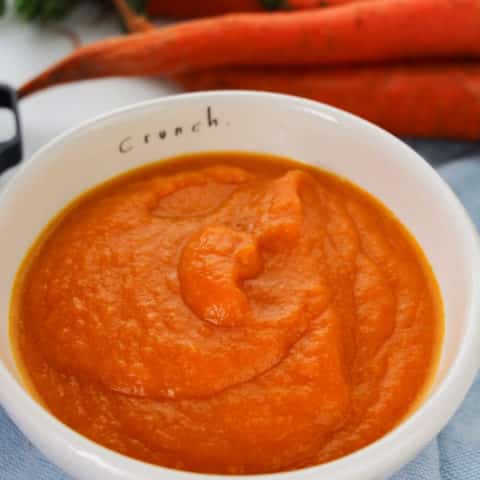 Serve up a bowl of this Carrot Ginger Soup! This Carrot Soup is made with fresh carrots, a hint of ginger and is blended into a creamy and velvety texture. This is a vegan and gluten-free carrot soup recipe that is perfect for lunch or dinner.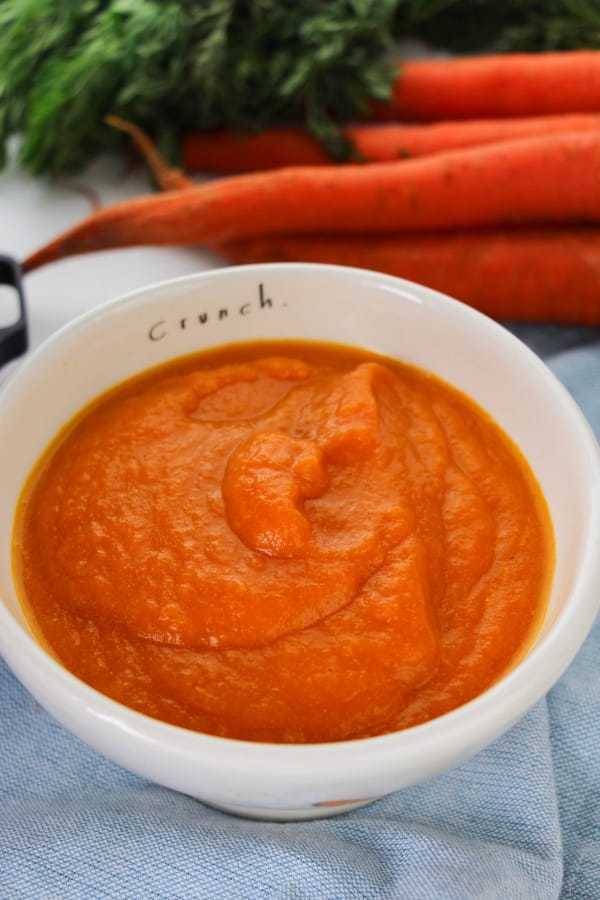 Carrot soup always reminds me of butternut squash soup. They both are silky smooth, loaded with flavor and light enough you walk away feeling satisfied. Instant Pot Carrot Ginger Soup is quick, flavorful, and an instant family favorite in the making.
Carrot Ginger Soup
Fresh ginger for bold flavor, no heavy cream, and opt for vegetable broth to make it vegan-friendly. Absolutely delicious and my favorite carrot soup recipe I have made to date.
Craving More Instant Pot Recipes
What to Serve With Carrot Ginger Soup
Sandwich (grilled cheese is my go-to)
Pita Bread, Garlic Rolls or Cloverleaf rolls
Shrimp (if you are not vegan)
Crisp green salad
Baked chicken (if not vegan)

Ways to Top Carrot Ginger Soup
Heavy Cream or even Coconut Milk (if vegan). Just swirl it on to add a really creamy texture to the soup.
Pumpkin Seeds adds a nice crunch factor. I also have used sunflower seeds.
Freshly grated ginger if you enjoy the ginger flavor.
A swirl of Greek plain yogurt, sour cream, or even a splash of hot sauce for heat.
Can I Make Carrot Soup Ahead of Time
Absolutely! This soup is fantastic for serving a crowd, meal prepping for quick lunches and sides for dinner. Just cook your carrot soup and store in a glass container
in the fridge for up to 3 to 4 days.
When you go to reheat place on stove and heat on medium-low heat. If the soup isn't thin enough add in some more broth and whisk.
Will Carrot Soup Freeze
Because I don't use creams in this soup, you can easily freeze this carrot soup. Allow the soup to fully cool, and then transfer into freezer-safe containers. Then thaw in the fridge overnight before you reheat.
Same as above if you reheat and it is too thick, add more broth and stir.
You can also freeze this carrot ginger soup in single-serve containers, which is great for packing for lunch during the week. I just toss one of the containers in the fridge the night before, and then grab and take to work!
What Can I Substitute For Vegan Broth in Carrot Ginger Soup
You can use any broth you prefer in this soup. I wanted to have an option for anyone who follows a vegan diet. But you can use vegetable broth, chicken, or even beef if you prefer. I would lean towards vegetable or chicken over beef though, as it will vary the flavor.
Can I Cook Carrot Ginger Soup On The Stove
Absolutely! Start by sauteing your vegetables on medium heat. You want your onions to be translucent and the carrots to be tender.
Add in your garlic and ginger, and then lower the temperature to low and add in your broth and rest of ingredients. Allow to cook on low for thirty minutes or so. You want the carrots to be very tender.
Then grab an immersion blender
and puree the soup. Or opt for the soup to cool a bit and toss in your blender
.
Should I Roast Carrots Before Making Carrot Soup
Feel free to roast your carrots if you would like. Roasting carrots will add even more depth to the soup, but it is totally optional.
How to Make Carrot Ginger Soup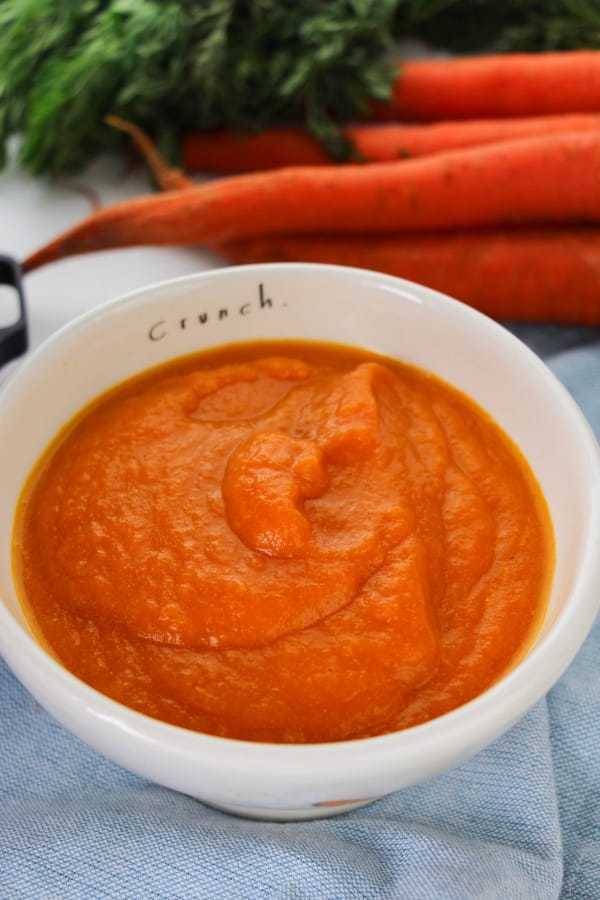 Instant Pot Carrot Ginger Soup
Servings 8 bowls
Instant Pot carrot ginger soup is creamy, savory, and downright delicious. Vegan and gluten free and the perfect light lunch or dinner.
Ingredients
1 Tablespoon oil of choice
1 onion minced
3 cups carrots chopped (approximately 6-7)
3 cloves garlic sliced
1 Tablespoon ginger minced (or add more for a bolder flavor)
2 cups broth of choice
Salt and pepper to taste
Tumeric optional
Instructions
Prepare all vegetables and ingredients before starting recipe.

Set IP to saute and add the oil.

Once the oil is hot, add the onion and carrots. Stir occasionally, until onions are translucent. (Can cook the carrots for a few minutes on their own before adding the onions.)

About 2-3 minutes.

Add the garlic and ginger, and stir for one minute.

Turn off the saute setting and add in broth and seasoning.

Secure IP lid and cook on soup setting for 15 minutes.

Natural release then either use an immersion blender to puree soup, or wait until it has cooled and use a blender.

Taste and adjust seasoning before serving.
Nutrition
Serving: 1cupCalories: 66kcalCarbohydrates: 9gProtein: 2gFat: 3gPolyunsaturated Fat: 2gCholesterol: 2mgSodium: 157mgFiber: 2gSugar: 4g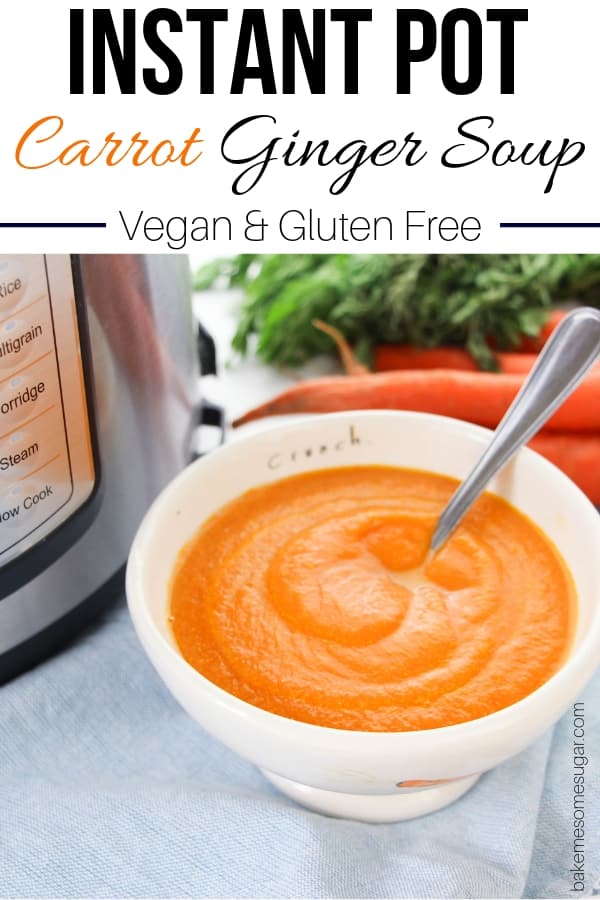 Give this easy Carrot Ginger Instant Pot Soup recipe a try today! If you love carrot soup, I think you will appreciate the ease that comes with making it in the Instant Pot!
Reader Interactions