A nice summer drink to cool you down that packs a little punch. An adult beverage with a mix of jack and tea for a perfectly refreshing drink.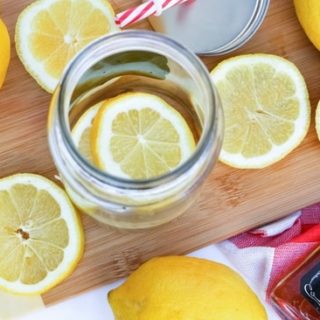 Looking for a boozy iced tea to sip on this summer? Check out my Jack Daniels Ice Tea Recipe below. It gives you that adult beverage you desire but with a twist, as it is mixed with tea and some lemon for that citrus tang at the end. Whiskey and Tea is refreshing and light for summer.
This spiked iced tea recipe is great for whipping up for summer BBQs and pool parties. While it is very affordable but tasty to sip on. Best of all, just a couple ingredients and a spoon to stir is all this jack tea requires. Grab your favorite tea bags and get brewing.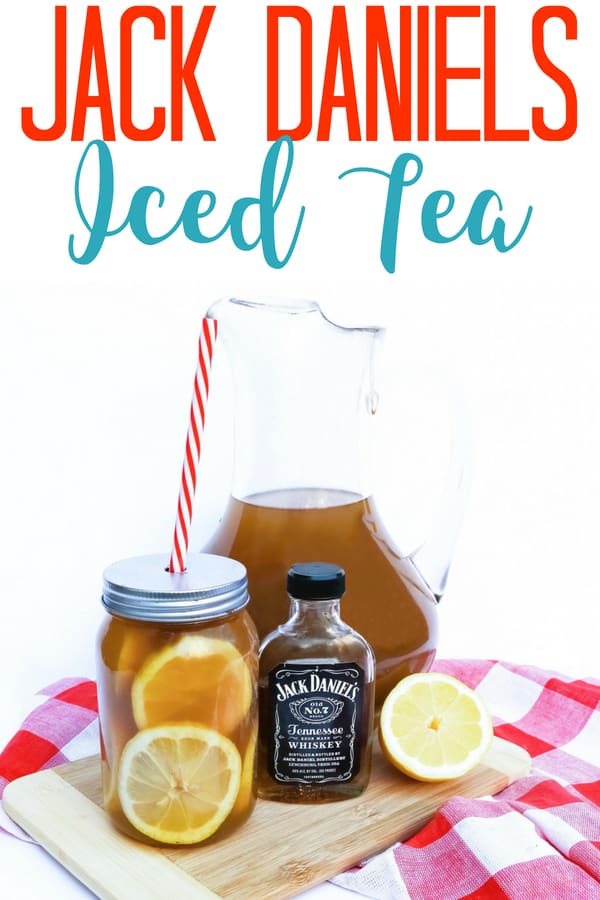 What I love about this jack tea is that you can make it up in a pitcher or create single-serve mason jar cups, and then twist on a lid and toss in a cooler of ice. Then when the guests arrive they can grab a mason jar of jack tea and twist the lid off and get an instant drink right at their fingertips.
Whiskey and Tea
I find that to be a very helpful hack for summer parties, I make a bunch of drinks ahead of time and put in mason jars with lids. Add a label that says what it is, and to give a shake, and then drink, is all your guest have to do. Prep ahead so they are ready to serve drinks.
More Boozy Delights
Refreshing Jack Daniels Iced Tea Recipe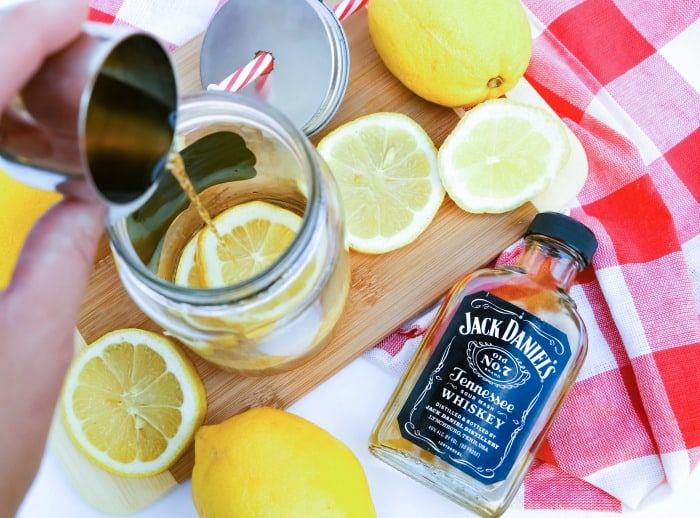 Simply slice up your lemon into really thin slices and set aside. Then add in half the lemons into your glasses, I aim to do 1/2 a lemon per cocktail, but tweak to your liking. Then toss in a shot of Jack Daniels, and top it off with your favorite lemon flavored iced tea or just regular unsweetened iced tea. Toss in some ice and shake or stir and sip and enjoy.
Now if you are having a really hard day, feel free to toss in another shot of Jack, but be warned these drinks pack some punch, and they go down nice and smooth! Don't say I didn't warn you!
What Tea Goes Well With Whiskey
Personally, I think iced tea goes well with whiskey! It is refreshing, light enough and mixes well to create a jack drink that leaves you craving more.
Can I Use Sweet Tea for Whiskey Tea
Sure, whiskey and sweet tea is a great combination as well. Just make sweet tea to your liking or buy your favorite brand and mix it right up. I know sweet tea is something that varies depending on what part of the country you live in.
3 Weight Watcher Freestyle Points for this Jack Daniels Iced Tea Recipe
If you want that adult beverage that fits into your Weight Watchers points, this drink is only 3 Weight Watcher Freestyle Points! Consider serving this up at your next party, or evening drink after a long week.
Can You Put Honey In Whiskey
Of course. Just drizzle in a little at a time, stir and taste to match the sweetness you would like for this jack tea recipe. This is a great alternative than to use sweet tea.
Can I Use Jack Daniel Honey Whiskey for Jack Tea
Absolutely! Pick whatever whiskey you prefer to make this whiskey tea recipe. It doesn't have to be Jack Daniels. You could even use Crown Royal, Maker's Mark, or whatever brand you generally reach for.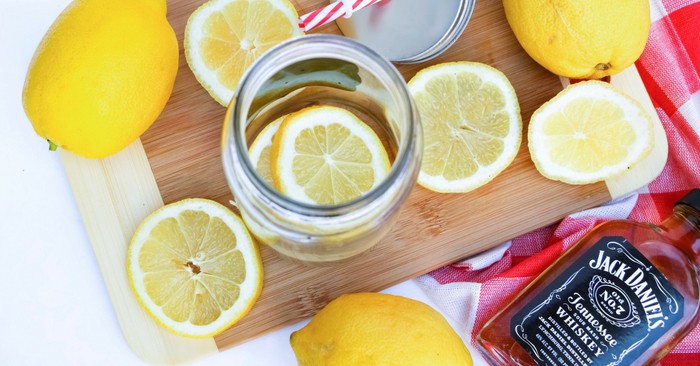 Jack Daniels Iced Tea Recipe
Servings 1 drink
A nice summer drink to cool you down that packs a little punch. An adult beverage with a mix of jack and tea for a perfectly refreshing drink. 
Ingredients
1 shot Jack Daniels
1/2 cup Iced Tea unsweetened or lemon flavor
2 sliced lemons
Instructions
Simply slice up your lemons into thin pieces, and put half of a lemon in each glass.

Add a shot of Jack Daniels to each glass. Toss in some ice, and then top it off with Iced Tea. You can adjust the ratio of tea to fit your flavor needs.
Nutrition
Serving: 1gCalories: 179kcalCarbohydrates: 24gProtein: 3gFat: 1gSodium: 9mgFiber: 7gSugar: 6g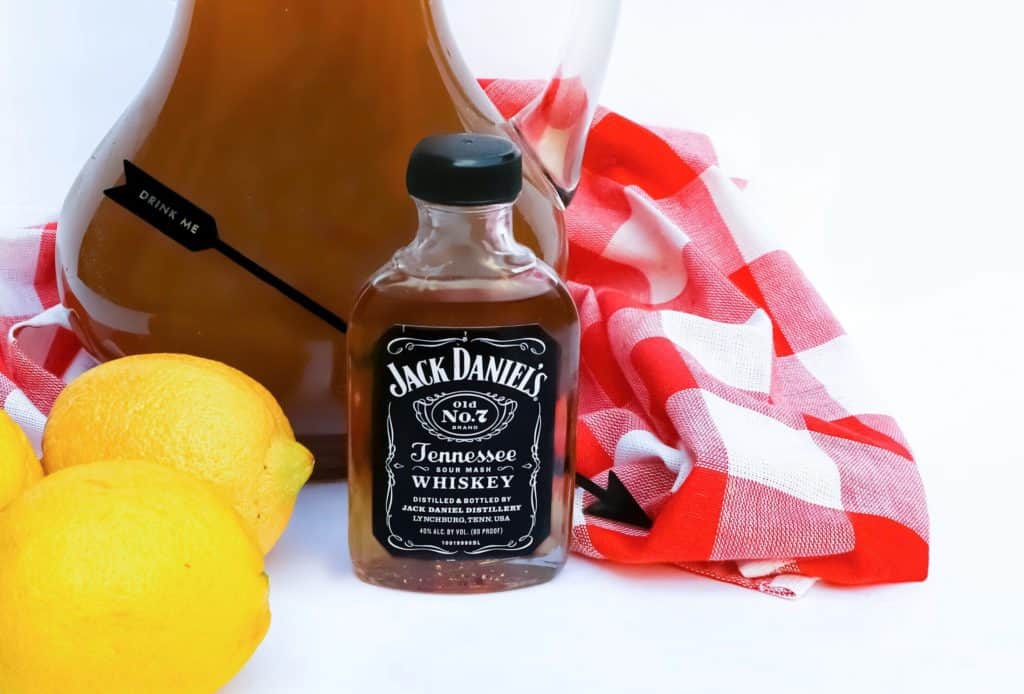 This Jack Tea is really tasty and great for those nights where it was a long day at work and all you want to do is unwind. Mix it as light or as strong as you would like, and just sit on your front porch and enjoy.
Can You Substitute Other Alcohols For Jack Tea
While the name includes Jack Daniels, you could find other alcohols that you like to swap out the Jack in this jack tea recipe. It will change up the flavor, but you might really enjoy the pairing of tea and alcohol. I personally reach for Jack Daniels, but it is also more a preference of liquor you enjoy.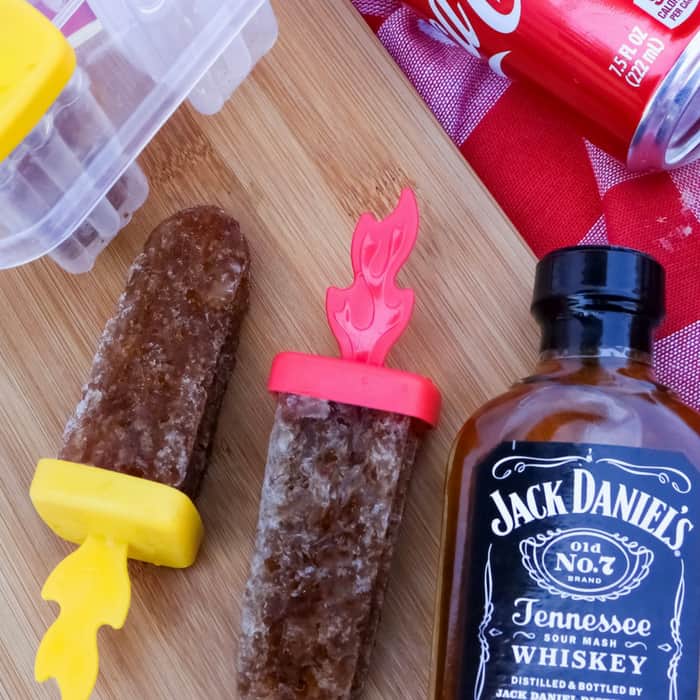 Also, check out these Jack and Coke Ice Pops to cool you off this summer!
What is your favorite whiskey drink?
Reader Interactions